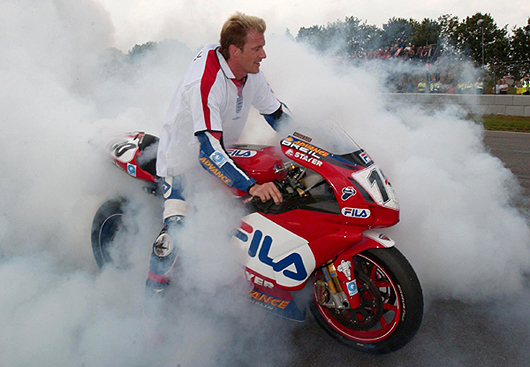 The new World Champion celebrates his title with a prerequisite burnout after Race One.

SBK World Superbike Championship, Assen Round 10 of 12

Wet Superpole to Franki Chili,
Ducati Fila Teammates Xaus and Hodgson Trade Race Wins as
Hodgson Clinches World Superbike Championship

Assen, Holland, September 5-7th: Britain's Neil Hodgson (Ducati Fila) wrapped up the 2003 World Superbike Championship with second place in a very heated battle in Race 1 with team mate Ruben Xaus and a thrilling victory in race 2 at the Dutch circuit today. Hodgson, who needed just ten points to clinch the title, and his Spanish team-mate put on a fantastic show for the 76,000 strong crowd, which included thousands of British supporters who had crossed the Channel to see Hodgson's title win.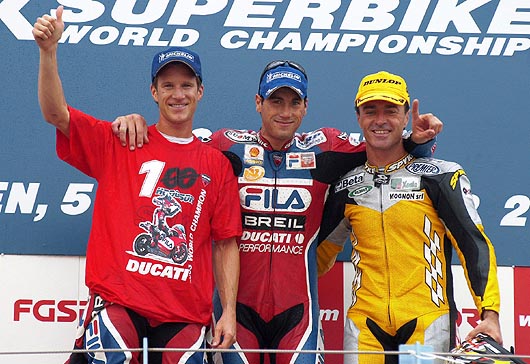 Neil Hodgson sports his new number 1/100 T-shirt on the podium with Xaus and Chili after clinching the Championship with a 2nd behind Ruben in Race One.

Hodgson becomes the second British rider to win the Superbike crown after Ducati legend Carl Fogarty, and the tenth Ducati rider to win the coveted world title. The Italian manufacturer has dominated the 2003 WSBK championship for streetbike-derived machines and this year, with the new-for-2003 Ducati 999, it has won both the Riders' and Manufacturers' titles.
Ducati Motor Holding President Federico Minoli, commenting on the victory, said: "This is another important chapter in the history of Ducati and the championship-winning 999 will take its pride of place in the Ducati museum! We are very proud of the 999's performance in its first year of racing".
Qualifying and Superpole has Frankie on top
The anticipated wet weather made its mark on the second day of qualifying at Assen, and despite a largely dry track surface under the tyres of the riders, a"Wet" Superpole was declared. Under these rules each rider has a maximum of 12 pit exits in a 50-minute period in which to set his best lap time, with the final top 16 grid positions allocated on those times alone.
A flurry of early activity gave the first fastest lap to the man who had scored the fastest lap in regulation qualifying, Gregorio Lavilla, on the Alstare Suzuki. His team-mate Vittorio Iannuzzo did not make the final day of qualifying action, having suffered a severe concussion the previous day. Chris Walker was another missing rider from the Superpole session, having suffered a crash in the morning on Saturday. James Haydon's fall in the morningís timed session also meant that his was out of action in the final untimed session, even though he did not qualify for Superpole per se.
The fully dry track conditions midway through the 50-minute Superpole session was enough to allow a multitude of riders to make their individual fastest lap times and the fastest man of them all was Frankie Chili (PSG-1 Ducati) who finally secured the pole position status he had so desired all season. His late fast lap went unchallenged by Hodgson, despite the Englishman having three laps left to complete, and enough time to get one last attempt in.
Despite hitting the inside of the kerb at the chicane on his earlier fastest lap of the day Neil Hodgson (Ducati Fila 999 F03) stayed aboard to record the second best time, a still impressive 2:01.226, well under the previous track best. In third and fourth places respectively, Gregorio Lavilla (Alstare Suzuki GSX-R1000) and Ruben Xaus (Ducati Fila 999 F3) swept all except Chili and Hodgson before them, and were both just in the 2:02 bracket, only a few hundredths away from a 2:01.
The 6.027km Assen track was a challenge for most of the top riders in this battle against the stopwatch, wildcards and regulars alike. John Reynolds, a wild card from the BSB Championship series, was fifth fastest on his Rizla Suzuki, with Regis Laconi in sixth place on his NCR Ducati. James Toseland, the lone HM Plant man in the Superpole session after Walker's medical woes, went seventh, ahead of Chris Walker.
The young British talent from BSB, Leon Haslam (Renegade Ducati 998) went ninth, the top ten rounded out by Ivan Clementi, in the top six after regulation qualifying, was ninth quickest overall, while Troy Corser (Foggy Petronas FP-1) went 11th on his recently modified three-cylinder machine.
Race Day
"It hasn't sunk in yet" declared Neil immediately after he stepped off the podium. "All I can think about is the race, which I was trying to win. I've never suffered from concentration so bad, but at a certain point I was thinking 'this is it, this is it, I'm world champion'. I've been focussed all weekend but because of the battle with Ruben, I just tensed up and was unable to relax and go for the race win.
"It means so much to me to win this championship" he added. "I've been racing since 1990, I've had an up-and-down career but now I've proved a few people wrong by winning the title and I truly feel I can move on from here. I'd just like to dedicate the title to Kathryn and our baby girl, as well as my chief engineer and right-hand man Ernesto Marinelli, who couldn't make it here due to a recent accident".
Race One
The race began with Spainard Gregorio LaVilla powering his Alstare Corona Suzuki GSXR1000 into the lead ahead of Xaus, Hodgsen and Chili who were to take up a 3-way scap for second position as Lavilla dominated the lead. But then on lap 7 Gavilla went off line in one corner and hit a patch of suspected fluid that spit the Suzuki's front end out from under him and sent him bouncing into the gravel trap and out of the race.
The race quickly changed into a heated 2-way battle for the lead between the Ducati Fila team mates of Xaus and Hodgson as they traded the lead as often as twice a lap and looked like they were ready to take each other out and any moment. Ruben needed to finish up the season on a winning streak to secure a contract for next season. While Neil, said afterwards, he didn't want to secure the Championship in Race One (he only mneed to finsh 6th or better to secure the remaining points needed for his crown) without being on the top of the podium. He didn't want to have to give some critics who had hounded him his whole career the chance to say he lucked into the this Championship. But with so much running through his head (including becoming a first time father just a few days earlier), Neil found he wasjust too tense on his bike and just didn't have the presence of mind to retake the lead from Xaus on the final lap. Ruben would take the race win by just half a second over Hodgsen, followed by Frankie Chili on the PSG 998F 02 and James Toseland on the HM Plant 998F 02 and of hios team mate Chris Walker. Troy Corser would bring the underpowered Foggy Petronas home in 6th for its best ever finsih in World Superbike.
Ruben Xaus, who rode a storming race to take his fourth win of the year in Race 1, immediately congratulated his Ducati Fila team-mate on his championship victory. "Congratulations to Neil and Ducati Fila, who have done a fantastic job all through the year. It was a pretty difficult race because there was so much tension between Neil and myself. I didn't want to make any mistakes but I did, throughout the race. Sometimes I was faster than him, and he was faster than me, we had to take the battle right down to the last lap, when I think Neil relaxed a bit because he knew he was going to be world champion".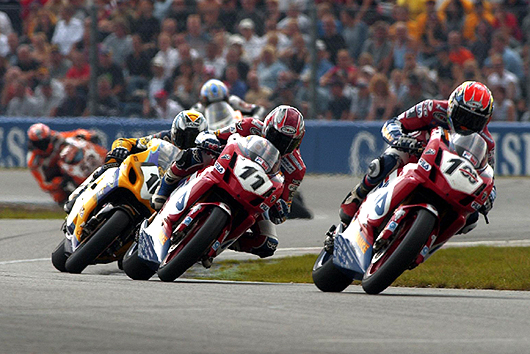 Neil leading with his newly installed 1/100 front number panel ahead of Ruben (11) and Gregori (22) in Race Two. With reigning #1plate holder, 2002 champ Colin Edwards not racing in World Superbike this season, and with Hodgson possibly headed to MotoGP next year as well, this modified #1/100 plate was a great idea by Ducati and the only chance in the next few weeks for Neil to carry the coveted #1 plate.
Race Two
With the 2003 Superbike Championship in his pocket, Hodgsen was much more confident and relaxed for Race Two and would lead it from start to finish, hounded every foot of the way by team mate Ruben Xaus. Hot on Ruben's exhaust pipe was Gregorio Lavilla with the GSXR and James Toseland on the HM Pant Ducati, but in the closing laps both riders found their Dunlop rear tires chunking and Toseland had to retire to the pits. Dunlop has being trying to enter the World Championship arena, but even in American Superbike, has been having a difficult time developing a new tire for the new generation of high horsepower 1000cc Superbikes.
The Ducati 999's triumphant day was completed with another victory for the promising young Italian Lorenzo Lanzi (Team Rox Ducati) in the round of the European Superstock Championship.
Race 1: (Laps 16 = 96,432 Km)
Pos /Rider /Nat. /Team /Gap
1/R. XAUS/ESP/Ducati Fila/33'07.249
2/N.HODGSON/GBR/Ducati Fila/0.609
3/P. CHILI/ITA/Team PSG-1/0.835
4/J. TOSELAND/GBR/HM Plant Ducati/1.062
5/C.WALKER/GBR/HM Plant Ducati/14.737
6/T. CORSER/AUS/Foggy PETRONAS Racing/22.981
7/L. HASLAM/GBR/Renegade Ducati/23.118
8/I. CLEMENTI/ITA/Kawasaki Bertocchi/23.350
9/S. MARTIN/AUS/D.F.X. Racing Team/45.862
10/M.SANCHINI/ITA/Kawasaki Bertocchi/54.164
11/A. GRAMIGNI/ITA/Nuvolari 391/1'05.147
12/L. PEDERCINI/ITA/Team Pedercini/1'39.774
13/H. SAIGER/AUT/Remus Racing Austria/1'51.449
14/G.LIVERANI/ITA/UnionBike GiMotorsport/1'51.917
15/J. MRKYVKA/CZE/JM SBK Team/1'52.416
Fastest Lap =2° Gregorio Lavilla 2'03.081 176,284 Km/h
Race 2 : (Laps 16 = 96,432 Km)
Pos /Rider /Nat. /Team /Gap
1/N.HODGSON/GBR/Ducati Fila/32'57.759
2/R. XAUS/ESP/Ducati Fila/0.466
3/G.LAVILLA/ESP/Alstare Suzuki/7.799
4/R. LACONI/FRA/Caracchi NCR Nortel Net./14.884
5/P. CHILI/ITA/Team PSG-1/19.868
6/L. HASLAM/GBR/Renegade Ducati/27.997
7/I. CLEMENTI/ITA/Kawasaki Bertocchi/39.006
8/C.WALKER/GBR/HM Plant Ducati/41.568
9/T. CORSER/AUS/Foggy PETRONAS Racing/43.155
10/J. REYNOLDS/GBR/Rizla Suzuki/48.883
11/S. MARTIN/AUS/D.F.X. Racing Team/57.319
12/M.SANCHINI/ITA/Kawasaki Bertocchi/1'06.208
13/M.BORCIANI/ITA/D.F.X. Racing Team/1'08.487
14/L. PEDERCINI/ITA/Team Pedercini/1'15.103
15/A. GRAMIGNI/ITA/Nuvolari 391/1'27.128
Fastest Lap =16° Neil Hodgson 2'02.649, 176,905 Km/h
Riders Championship Standings:
1 HODGSON 431, 2 XAUS 291, 3 TOSELAND 240, 4 LACONI 221, 5 LAVILLA 201, 6 WALKER 191, 7 CHILI 186, 8 MARTIN 109, 9 BORCIANI 98, 10 PEDERCINI 97, 11 CORSER 81, 12 SANCHINI 80, 13 CLEMENTI 62, 14 BORJA 59, 15 BUSSEI 52

Manufacturers Standings:
1 DUCATI 500, 2 SUZUKI 251, 3 KAWASAKI 101,
4 PETRONAS 92, 5 YAMAHA 56, 6 HONDA 25.
---
2003 MotoGP World Championship, Spain Round 11
Capirossi destroys the Pole in Qualifying on Ducati, but...
Rossi and Honda Dominate the Race in Spain
Estoril, Spain, September 7th: The reigning World Champion Valentino Rossi (Repsol Honda RC211V) stole the show again here in sunny Estoril with a win in front of a 45,000 crowd. His performance showed precisely why he is now leading one of his toughest World Championships so far by 46 points from his nearest rival Sete Gibernau (Telefonica Movistar Honda RC211V).

Ducati MotoGP Team rider Loris Capirossi stormed to pole position at windswept Estoril on Saturday to break the track lap record by over 1-second, with team-mate Troy Bayliss securing a second-row start for his first race at this challenging circuit. Capirossi's third pole of the year highlights recent detail improvements to the team's awesomely fast Desmosedici MotoGP bike. These upgrades include a new Ohlins front fork, a new chassis and new bodywork which improve the bike's rideability.


Rossi after his win. 220hp held a bay with one hand. A god, or what?
This photo deserves a Caption Contest: Mail to :Editorial @ FastDates.com
"I'm very happy," grinned Capirossi, whose pole time was a phenomenal 1.38 seconds inside last year's Estoril pole. "We've done a great job here over the past two days, and this pole position is like a present for everyone in the team. The bike was perfect this afternoon. This morning I was joking with (Sete) Gibernau that I'd do a 1m 38.5, but I went even faster than that, which is great. The race will be very difficult but after today I'm confident that I can be part of the fight for victory."
But on Sunday for the race Va;entino Rossi was measured and merciless and neither Max Biaggi (Camel Pramac Pons RC211V) who finished second nor Loris Capirossi (Ducati) who was third had any answers to his dominance. Rossi made his usual scything progress through the field on the opening lap after a mediocre start from the front row and once he was behind Biaggi by lap two, he looked at ease matching the Roman's pace in the first half of the 28-lap race. At mid-distance on lap 14 he slipped past Biaggi at turn one at the end of the long start/finish straight and began putting some distance between himself and his rival. He pulled out one second in one lap and then turned up the heat in the next set of ten laps to lie 3.6 seconds ahead three laps from the end.
Biaggi finished a determined second, never letting up for a moment and keeping the duel for third between Capirossi and Gibernau well behind him. Capirossi had stalked Gibernau in the closing laps and on the final lap he went through at turn one before getting out of shape and allowing Gibernau through at the chicane. But Capirossi drafted the Spaniard on the straight and then beat him by just over a hundredth of a second across the line.

Rossi needed this win to steady himself for the title run-in after two of the most closely-fought Grands Prix of the MotoGP era. After narrowly losing out to Gibernau in Germany and then beating him in the Czech Republic by a similarly wafer-thin margin, he had to show that he still had the muscle to dictate a race on his terms.
He was utterly convincing today. Fourth out of turn one, he dispatched Gibernau and Capirossi on lap one, but had to chisel away at Max Biaggi who was leading by a clear 0.6s as the pack crossed the line for lap two. By lap four he was right on Max's tail and in his usual early-race fashion he chose to wait and watch as Max coolly stayed in front, riding smoothly and refusing to be pushed into doing anything rash.
Biaggi and Rossi were shadowed closely in the early stages by a Capirossi/Gibernau pairing, but neither of them could make any impression on the front men who were running hot in the low 1m 39s bracket. The pace was too much for them and they were destined to have an epic last lap scrap between themselves as Rossi and Biaggi made the running.
But Biaggi had no answer when Rossi finally decided to make a break at half race distance. Rossi moved into the lead on lap 14 slipping underneath Max at turn one. In that one lap he pulled out a one second lead and then gradually extended it further once he got into his own rhythm. He worked the hard compound front and rear Michelins to their maximum, sliding his RC211V around the 4.182km track almost like a 200mph dirt track machine at times.
By the end of the race Rossi had a comfortable 2 second advantage over Biaggi, although it had been as high as 3.6s before he eased off during the final lap. Biaggi finished comfortably ahead of eventual third-place man Capirossi, but there was nothing comfortable about how Capirossi had to fight for his podium place.
On the last lap he inched past Gibernau at the popular turn one overtaking spot and Gibernau stuck as close as he dared when the pair went into turn seven. But Capirossi had a huge slide on the exit and Gibernau used this slip to glide by into the chicane. But Capirossi wasn't done and the Italian drafted the Spaniard along the straight before diving out his slipstream and crossing the line half a bike-length ahead.
Tohru Ukawa (Camel Pramac Pons RC211V) rode a strong race to fifth place while rookie Nicky Hayden (Repsol Honda RC211V) made the top ten in ninth at this difficult track. Makoto Tamada (Pramac Honda RC211V) was another man in the top ten in tenth while Ryuichi Kiyonari (Telefonica Movistar Honda RC211V) was 16th. Rossi leads the World Championship with 237 points from Gibernau with 191 and Biaggi with 161 as the MotoGP bandwagon heads to Rio in Brazil in two weeks time.
1). 46 Valentino ROSSI ITA Honda RC211V(4) Repsol Honda Team 0:46:48.005; 2). 3 Max BIAGGI ITA Honda RC211V(4) Camel Pramac Pons 0:46:50.099; 3). 65 Loris CAPIROSSI ITA Ducati Ducati Marlboro Team 0:46:53.259; 4 15 Sete GIBERNAU ESP Honda RC211V(4) Team Telefonica Movistar Honda 0:46:53.274; 5). 11 Tohru UKAWA JPN Honda RC211V(4) Camel Pramac Pons 0:46:58.586; 6). 12 Troy BAYLISS AUS Ducati Ducati Marlboro Team 0:47:02.251; 7). 33 Marco MELANDRI ITA Yamaha Fortuna Yamaha Team 0:47:04.148; 8). 7 Carlos CHECA ESP Yamaha Fortuna Yamaha Team 0:47:06.088; 9). 69 Nicky HAYDEN USA Honda RC211V(4) Repsol Honda Team 0:47:06.289; 10). 6 Makoto TAMADA JPN Honda RC211V(4) Pramac Honda Team 0:47:09.820; 11). 4 Alex BARROS BRA Yamaha Gauloises Yamaha Team 0:47:12.064; 12). 56 Shinya NAKANO JPN Yamaha d'Antin Yamaha Team 0:47:15.087; 13). 19Olivier JACQUE FRA Yamaha Gauloises Yamaha Team 0:47:15.656; 14). 45 Colin EDWARDS USA Aprilia Alice Aprilia Racing 0:47:19.510; 15). 41 Noriyuki HAGA JPN
Aprilia Alice Aprilia Racing 0:47:45.123; 16). 23 Ryuichi KIYONARI JPN Honda RC211V(4) Team Telefonica Movistar Honda 0:47:49.417; 17 10 Kenny ROBERTS Jr. USA Suzuki Suzuki Grand Prix Team 0:47:49.547; 18). 21 John HOPKINS USA Suzuki Suzuki Grand Prix Team 0:47:54.606; 19). 99 Jeremy McWILLIAMS GBR Proton KR Proton Team KR 0:47:58.963; 20). 9 Nobuatsu AOKI JPN Proton KR Proton Team KR 0:47:59.528; 21). 88
Andrew PITT AUS Kawasaki Kawasaki Racing Team 0:48:06.555; 22). 52 David DE GEA ESP Harris WCM WCM 0:46:58.734; DNF 8 Garry McCOY AUS Kawasaki Kawasaki Racing Team, DNF 35 Chris BURNS GBRHarris WCM.
Tony Elias won the 250 race comfortably from Manuel Poggiali, with Randy de Puniet third (all Aprilia). But the scrap for second and third places was the high point of the race, with Roberto Rolfo (Fortuna Honda RS250RW) losing out on a probable third and possible second when Sebastian Porto (Telefonica Movistar Junior Team RS250RW) collided with him at the chicane on the final lap.
After a restart due to a second lap incident involving Marco Simoncelli (Aprilia) and Youichi Ui (Derbi), the 125 race was won by Pablo Nieto from his team-mate Hector Barbera with Alex de Angelis (all Aprilia) third. It was Nieto's first ever Grand Prix win. Daniel Pedrosa (Telefonica Movistar Junior Team RS125R) was fourth and increased his World Championship lead to 38 points over Stefano Perugini (Aprilia) who crashed out of the race.