Rio Moto Grand Prix at Jacarepagua, Round 12
Rossi's Rio Win Secures
Manufacturers' Crown for Honda
Nelson Piquet Circuit, Jacarepagua, Brazil, September 19th :Valentino Rossi (Repsol Honda RC211V) scored a controlled and cool race win at the Rio GP and in the process delivered himself his sixth victory of the year, his third in succession and the MotoGP Manufacturers Title to Honda. Honda has now won 15 such honours in the premier class of GP racing.
The 24-lap race was held in warmer conditions than most of practice, adding to the pre-race uncertainty but most riders erred on the side of safety in their choice of tire compounds. Rossi who secured second place until lap nine, conserved his tires until the ninth lap when he opened up an instant gap over early leader and eventual second place rider Sete Gibernau (Telefonica Movistar Honda RC211V).
Gibernau was unchallenged by the race sensation Makoto Tamada (Pramac Honda RC211V), who used his Bridgestone tires to great effect to pass much more experienced riders in his first ever visit to Rio to secure 3rd place. 67,000 Spectators filled the Nelson Piquet circuit over the race weekend.
Max Biaggi (Camel Pramac Pons RC211V) secured fourth place after fighting off the attentions of another Honda rookie Nicky Hayden (Repsol Honda RC211V). Fading somewhat towards the end Hayden was nonetheless once more showing true grit in race conditions. His result made it five Hondas in the top five, completing an excellent weekend of collective work.

Final Qualifying: Rossi's Rio Pole After Record Breaking Session
Valentino Rossi (Repsol Honda RC211V) had to ride to the full extent of his powers to take pole position at the 4.933km Nelson Piquet circuit in Rio, pushing the qualifying record to a new best of 1:49.038 in the process. In what turned out to be a three-way duel for supremacy between Rossi, Loris Capirossi (Ducati) and Sete Gibernau (Telefonica Movistar Honda RC211V) the action was all packed into the final ten minutes, with the relatively warm track temperatures also playing their part in proceedings.
Theoretically, the warmer track on day two, after a grey and cool opening session on Thursday, should have offered greater scope for improvement in lap times but the opposite appeared to be true at the bumpy Brazilian circuit. It thus took some time for the riders to find their optimum set-ups, and they had to devote a lot of time and effort in finding good race set-ups. Once they had finally fitted qualifying tyres, it was a different story.
Loris Capirossi had propelled himself to a clear lead on the times sheets in the final few minutes, outpacing Gibernau with a last throw of the dice but Rossi was waiting in the wings, riding aggressively to secure the pole position by a margin of 0.302 seconds.
Despite a last attempt by provisional pole position man Max Biaggi (Camel Pramac Pons RC211V) to reinstate himself at the top of the timesheets his last lap was an imperfect one, and he had to settle for a front row start in fourth. On the second row Troy Bayliss (Ducati) leads off top Yamaha rider thus far Shinya Nakano. Nicky Hayden ran out seventh, with Tohru Ukawa eighth, the last man on the second row.
The real test for the race will be tyre selection, as the track has already presented problems in this area, proving to be very hard to read as the weather changes. All being well, Rossi is the best-placed rider pre-race and is in a good position to go about adding to his already impressive Rio race record.
"To make the pole position is always good," said Rossi. "Today we tried hard because yesterday we didn't have enough time to test the qualifying tyre. Today the plan was to try two but we were only able to use one because we worked a lot on race set-up for tomorrow. 1:49.0! I rode very well and the qualification tyre was very good."
MotoGP
Gibernau was the leader over the line for the first lap, despite Loris Capirossi (Ducati) taking the initial holeshot. Gibernau's early advantage was nullified by Valentino Rossi shortly after Gibernau plotted his escape, with the Italian first catching and then holding station on Gibernau's tail for nine laps. An almost processional first few laps were close, with only 2.6 seconds separating first and seventh after the early exchanges of fire.
A superb surge by Bridgestone tire user Makoto Tamada took his Pramac Honda into the fight for the podium places by lap six. He harried fourth place Max Biaggi, with Nicky Hayden and Troy Bayliss just behind. Biaggi was the one to pounce first, however, passing third placed Capirossi on lap eight, the same lap Olivier Jacque (Yamaha) entered the pits to retire through practice injury.
Tamada tired of sitting in the wake of Capirossi and he passed the slowing Ducati rider with ease on lap nine. With the first four all Honda riders, Rossi determined to alter the order, passing Gibernau with 15 laps to go. He immediately set the fastest lap of the race, and a new lap record of 1:50.539, as he pushed the pace out front, soon achieving a leading margin of 1.5 seconds. He broke the lap record again on lap 10, with a 1:50.453, just as Nobuatsu Aoki retired one of the Protons and Tamada passed Biaggi for third.
With 12 laps to go only seven seconds separated the leader and eighth place man Shinya Nakano (Yamaha) with the running order now Rossi, Gibernau, Tamada, Biaggi, Capirossi, Hayden, Bayliss and Nakano. Toiling with set-up and grip woes, Ukawa was in an uncomfortable ninth place, ten seconds from Rossi. His lot was to improve as other riders lost grip and drive on the slick Rio tarmac, and he would move up to finish seventh.
Nicky Hayden's continual improvement took him past Capirossi on lap 12 making it five-for-five RC211Vs in front. Starting to pressurise Biaggi, Hayden found the four times 250cc champion a tough nut to crack and he had to give best to the Roman Emperor. Biaggi felt he suffered lack of grip at exiting corners and his machine had a slight lack of top speed, just like his team-mate Ukawa. In his turn Ukawa was enjoying the second half of the race more than the first, as he motored up to seventh with seven laps to go.
Ducati Marlboro Team riders Loris Capirossi and Troy Bayliss completed this afternoon's Rio GP in sixth and tenth positions, a result that didn't fully live up to the squad's pre-race expectations. The duo had qualified second and fifth yesterday and had high hopes of giving their crew a fourth-consecutive podium finish.
"We expected better than that," said Ducati Marlboro Team technical director Corrado Cecchinelli. "The only people who beat us here were Honda, except this time there were too many of them in front of us! Now we need to sit down and have a chat with our riders to see what happened. This is our first time here, but I don't want to make excuses."
Loris Capirossi qualified just three tenths off pole position yesterday, but the Ducati Marlboro Team man was unable to reproduce that kind of performance over full-race distance. He started well, running third in the early stages before slipping back to sixth. The result was good enough to preserve Capirossi's fourth place in the World Championship standings.
"We had some minor worries with the engine-braking system in warm-up, the bike was a little difficult to control into the turns, and we couldn't resolve the problem for the race," explained Capirossi. "We had changed the engine yesterday, but that was just a normal maintenance procedure. Anyway this is a learning year for us, and when you have problems like this, for sure you learn for the future."

Ducati Marlboro Team rider Troy Bayliss rode to a dogged tenth-place finish, unaware that wife Kim had given birth to their third child in Monaco earlier in the day. The Aussie, who had high expectations for today's race after qualifying just a fraction of a second off the front row, rode as hard as ever but slipped to tenth at the flag.
The race order changed little at the front in the last few laps, but Shinya Nakano (Yamaha) and Carlos Checa (Yamaha) picked off the struggling Troy Bayliss who eventually finished tenth. Marco Melandri (Yamaha), Alex Barros (Yamaha), Colin Edwards (Aprilia), Noriyuki Haga (Aprilia) and Ryuichi Kiyonari scored the last points in 11th to 15th places, and Jeremy McWilliams just missed scoring a point by taking 16th on the Proton KR V5. Kenny Roberts scored 17th on the Suzuki, Andrew Pitt 18th on the Kawasaki; WCM rider David De Gea was 19th in a race with four non-finishers.
In the championship a familiar trio of Honda riders dominate, with Rossi on 262, Gibernau on 211 and Biaggi on 174. The Ducati pairing of Capirossi and Bayliss have 123 and 112 points respectively, as Ukawa good placing today helps him regain sixth spot, with 94 points.
MotoGP Results:
1). 46 Valentino ROSSI ITA Honda RC211V(4) Repsol Honda Team 0:44:36.633; 2). 15 Sete GIBERNAU ESP Honda RC211V(4) Team Telefonica Movistar Honda 0:44:39.742; 3). 6 Makoto TAMADA JPN Honda RC211V(4) Pramac Honda Team; 0:44:43.931; 4). 3 Max BIAGGI ITA Honda RC211V(4) Camel Pramac Pons; 0:44:45.868; 5). 69 Nicky HAYDEN USA HondRC211V(4) Repsol Honda Team; 0:44:47.798; 6) 65 Loris CAPIROSSI ITA Ducati Ducati Marlboro Team; 0:44:51.459; 7). 11 Tohru UKAWA JPN Honda RC211V(4) Camel Pramac Pons 0:44:53.994; 8).56 Shinya NAKANO JPN Yamaha d'Antin Yamaha Team 0:44:57.872; 9). 7 Carlos CHECA ESP Yamaha Fortuna Yamaha Team 0:44:58.155; 10). 12 Troy BAYLISS AUS Ducati Ducati Marlboro Team 0:44:59.604; 11). 33 Marco MELANDRI ITA Yamaha Fortuna Yamaha Team 0:45:09.543; 12).4 Alex BARROS BRA Yamaha Gauloises Yamaha Team 0:45:16.769; 13).45 Colin EDWARDS USA Aprilia Alice Aprilia Racing 0:45:30.732; 14).41Noriyuki HAGA JPN Aprilia Alice Aprilia Racing 0:45:33.867; 15). 23 Ryuichi KIYONARI JPN Honda RC211V(4) Team Telefonica Movistar Honda 0:45:34.311; 16). 99 Jeremy McWILLIAMS GBR Proton KR Proton Team KR 0:45:42.702; 17).10 Kenny ROBERTS Jr. USA Suzuki Suzuki Grand Prix Team 0:45:46.077; 18). 88 Andrew PITT AUS Kawasaki Kawasaki Racing Team 0:45:59.096; 19). 52 David DE GEA ESP Harris WCM WCM 0:44:54.808. DNF: 8 Garry McCOY AUS Kawasaki Kawasaki Racing Team 0:26:49.708; DNF: 9 Nobuatsu AOKI JPN Proton KR Proton Team KR 0:21:18.796; DNF: 35 Chris BURNS GBR Harris WCM WCM 0:18:33.563; DNF: 19 Olivier JACQUE FRA Yamaha Gauloises Yamaha Team 0:13:37.459.
---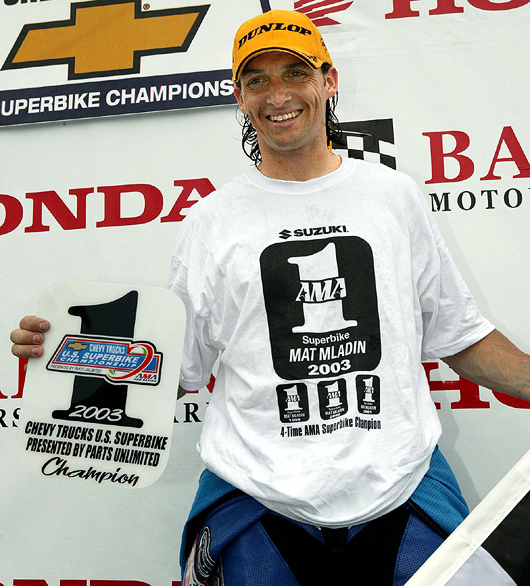 The man we love to hate, Australian Matt Mladin on the podium with is 4th consecutive Number One.
Mat Mladin clinches his 4th consecutive AMA Superbike Title at Barber Season Finale
Aaron Yates Tates Home the Bacon at Barber on Saturday
Burmingham, AL, Sept 20-21st: Despite facing the fiercest race action of the season, Yoshimura Suzuki's Aaron Yates had no choice but to impress in Race One todayon Saturday if he wanted to keep his slim title hopes afloat for tomorrow's Race two final in The AMA Superbike National Championship. The Georgian did come through in a major way, surviving an epic multi-rider battle at Barber Motorsports Park to take his eighth career Chevy Trucks U.S. Superbike victory.
The early laps of RaceOne were pure havoc. The Honda twins, typically stronger off the line than the Suzuki fours, ran into Turn 1 for the first time 1-2-3, with cagey Miguel DuHamel leading the charge. VIR winner Kurtis Roberts made his presence felt early as well, zapping both American Honda RC51s in less than a lap-and-a-half, and then setting about protecting his lead furiously. It didn't take long for the sluggish-starting Suzukis to join the mix, as Yates and Mladin flew in formation to break up the all-Honda party within three laps.
The middle of the race was even more frantic, with each of the top five riders taking a turn at the front thanks to some dazzling overtaking maneuvers. Following several near falls and collisions amongst the fast guys, DuHamel became the race's first victim, tumbling off into the gravel in Turn 2 on lap 10. It quickly became a five-man pack at the front again, however, as Ducati Austin's Giovanni Bussei had found his groove by that point and reeled in the leaders.
Then on lap 16, Roberts and Yates finally established themselves as the primary contenders with a huge championship lead to protect, Mladin decided he had seen enough and eased his pursuit. "It was a good ride today, had a go in the first half of the race and kept it out of trouble after that," said Mladin. "I got through to the lead and led a few laps, but the boys were getting a bit close and it's not the time of the year for me to be getting rough and banging bars with people. Halfway through the race I was actually having a ball out there and a bit of fun, but then I decided that this isn't really the thing to be doing at this point. Aaron needed to have a go and he was, while all of the others had nothing to lose and were just having a good go at each other. It was close hard racing, but something I didn't need to be close to, so I was happy to roll off the throttle a little and bring it home behind them." Mladin dropped back to fifth momentarily, but crossed the line in fourth after Bussei took an off-track excursion.
Team Honda's Ben Bostrom ended up a lonely third, but was responsible for enough fireworks in first half of the contest to make up for several races. The Californian was pushing exceptionally hard on Saturday, and looked very much like the rider that had won several World Superbike races in the recent past. "That was the most fun race I've had all year," Bostrom remarked. "It was definitely great to be up there racing with the guys again; it felt good. I don't think we've slid the front or rear this much all year. This is one of the better racetracks we have, and I think that's why everyone was hanging it out."
Meanwhile at the front, Yates and Roberts relived their VIR Monday battle, but this time Yates was the victor. He actually broke his rival's spirit a few laps from the end with some nifty passes in traffic. Roberts accepted defeat, which resulted in a deceptive 5.931-second margin of victory for the Suzuki ace. Afterwards Yates remarked, "Yeah, that race was a lot of fun for me. It turned out to be a really good race. I guess so much for me saying earlier that it's hard to pass out here. There were passes going on in just about every turn. This place is just a blast to ride."
Roberts laughed. "That was definitely too exciting for me! I would have rather had it easy. First sixteen laps were fun, like Ben said -- except for when me and him about took each other out. I just kind of settled for second there when he got that second on us. I was a bit sore from crashing earlier in the day, and I was happy to take what we got."
Austin Ducati's Bussei reentered the race after running into the grass to take fifth, while DuHamel remounted and fought his way back up to seventh. Shawn Higbee was the top privateer in sixth. Jordan Szoke, Tom Kipp, and Vincent Haskovec rounded out the top 10. As a result of Yates' victory, Mladin's title lead was trimmed down to a still-healthy 29-point advantage heading into Sunday's finale.
Saturday Superbike:
1. Aaron Yates (Suzuki); 2. Kurtis Roberts (Honda); 3. Ben Bostrom (Honda); 4. Mat Mladin (Suzuki); 5. Giovanni Bussei (Ducati); 6. Shawn Higbee (Suzuki); 7. Miguel Duhamel (Honda); 8. Jordan Szoke (Suzuki); 9. Tom Kipp (Kawasaki); 10. Vincent Haskovec (Suzuki)
In other racing on Sunday, the Pro Honda Oils 600cc Supersport race was won by Tommy Hayden (Kawasaki) over Damon Buckmaster (Yamaha), with Duhamel in third. Buckmaster's teammate, Jamie Hacking, won the 750cc Supersport title. Yamaha's Hacking won in Formula Xtreme,with Erion Honda's Jake Zemke riding to a strong second for the title as well, with Suzuki's Ben Spies finishing third and earning the Xtreme title.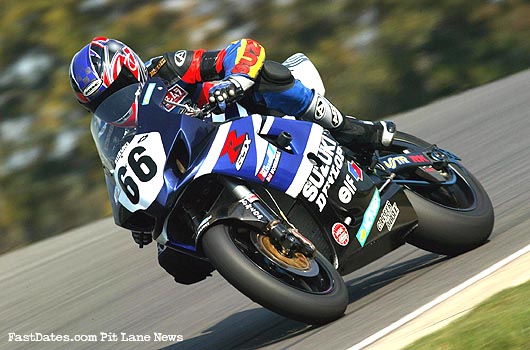 Australian Matt Mladin wrapped up his 4th consecutive AMA Superbike Championship.
Kurtis Roberts wins on Sunday, Mladin Wraps up Title
Erion Honda's Kurtis Roberts ended the 2003 AMA/Chevy Trucks U.S. Superbike in style, winning the final of 17 rounds at the all-new Barber Motorsports Park in Birmingham, Alabama. Only an unfortunate run-in with a lapped rider caused by team mate Ben Bostrom on the 25th of 28 laps which also took our Miguel DuHamel, kept Honda from sweeping the podium. Italian new comer Giovanni Bussei brought the Austin Ducati 998R home in 2nd place, possibly securing him a return contract to AMA Superbike next season on an expanded Ducati factory supported team with Ruben Xaus.
Matt Mladin rode a strong but conservative race to inherit 3rd place after the Honda duo crashed out, although any finishing position would have been good enough for Mladin to the wrap up his 4th consecutive AMA Superbike title. Saturday 's Superbike race winner and Yoshimura Suzuki team mate Aaron Yates was hindered by an electrical cut-out porblem the first half of the race. But once the big GSXR1000 sorted itself out, Yates turned in the quickest laps of the race as he entertained race watchers with brilliant tire spoking power slides out of the corners. Aaron finished the race in 4th, secured 2nd overall in the Championship behind Suzuki team mate Mladin. Hondas finished three-four-five in the championship, with Roberts third in front of Bostrom and Duhamel.
"I've got to take my hat off to the crew," Roberts said. They did an awesome job and never gave up all year. They wanted to win their first one and I'm glad we gave them more than one."
Sunday's race was red-flagged twice due to accidents, but each time Hondas were in the lead, as they'd be once it was run to term. The trio of Honda Superbike riders formed up at the front on the eighth lap and stayed there, with Bostrom and Roberts swapping the lead, until the mishap with the lapper. Then it was Roberts alone, sailing to his second win of the year, this time by 5.237 seconds. Second went to Giovanni Bussei (Ducati), a career AMA best, with Suzuki's Mat Mladin clinching the Superbike championship with a cautious third.
In Saturday's race, Roberts had less luck. He started feeling a vibration in his rear tire early in the race, slowing the pace after leading across the stripe for the most of the first 13 of 28 laps. Then he was passed by Aaron Yates, the two swapping the lead until the 19th lap when he settled into the lead. Roberts was second with Ben Bostrom third. Duhamel, who'd led the first lap, crashed out of fourth place on the 10th lap, re-mounting to finish seventh.
Kurtis Roberts, First Place Sunday. "The race was pretty tough with my teammates pushing quite hard. We all knew it was the last race of the year. Ben (Bostrom) was riding really hard and you could tell he wanted to stay in the front and pace. He was leading a pretty fast pace so I didn't mind following him. I got by him a little earlier than I wanted to and he went back by me in some lappers. I came back by again and it was plus eight so I looked over my shoulder and there was no one there. I saw Miguel's bike being picked up, but I thought maybe he just tucked the front. There wasn't any marks from any big havoc. I think it was just Miguel lying there. For two laps, I couldn't kind of believe it. It was like, 'why didn't I get one of these earlier in the year?'
It was team mate Ben Bostom who caused the crashed which took out a lapped privateer and teammate Miguel Duhamel as they chased leader Roberts into a corner. The privateer was holding the normal race line, having just been passed by leader Roberts going into the corner. Duhamel kept up his speed and went wide around the outside of the lapped privateer, but Bostom was determined to hang with team mate Duhamel and did not slow enough to go insidee or avoid the lapped rider, instead nailing him hard in the rear of his bike and sending them both down. The lapped rider was knocked into DuHamel's pstch where he was run over by Miguel and then the other Honda rider went down as well.
Bostrom was less than apoligetic afterwards for the accident and injuries which he caused, no aware that the live Speed TV coverage of the race showed him to be clearly at fault. Nor was Miguel told that Bostrom had knocked the lapped rider into him and caused him to crash as well.
Ben Bostrom, DNF Sunday, "This was the funnest race by far. Everyone rode really well. The track's got all kinds of great passing. Even though there's no straightaways, there's all kind of passing. That was a fantastic race ruined by some lappers. They've got a wonderful racetrack here. It was so exciting to see the Hondas one-two-three, kind of like Daytona all over again. All three of us were ecstatic being up there again.
Miguel Duhamel, DNF Sunday, "It's really disappointing for myself and Honda because we would have had 1-2-3 easy. I believe we would have won, but I didn't and Kurtis did. I went in that corner there a little bit slower than usual, just in case that would happen. When that guy fell, I picked it up and kind of clipped his arm, but his momentum got underneath my bike and wedged me up and I hit the grass. I felt bad because I rode over him a bit and I fell on him and the bike fell on him. I got up real quick to look at the bike, then i realized I couldn't breathe. My elbow came into my ribs, so I just lay back down trying to catch my breath."
Sunday Superbike:
1. Kurtis Roberts (Honda); 2. Giovanni Bussei (Ducati); 3. Mat Mladin (Suzuki); 4. Aaron Yates (Suzuki)
5. Steve Rapp (Suzuki); 6. Shawn Higbee (Suzuki); 7. Tom Kipp (Kawasaki); 8. Vincent Haskovec (Suzuki); 9. Eric Wood (Suzuki); 10. Michael Barnes (Suzuki)
Superbike Final Standings:
1.Mat Mladin (550/10 wins); 2. Aaron Yates (519/3 wins); 3. Kurtis Roberts (474/2 wins); 4. Ben Bostrom (462)
5. Miguel Duhamel (417/1 wins); 6. Shawn Higbee (396); 7. Eric Bostrom (350); 8. Jason Pridmore (339); 9. Vincent Haskovec (285); 10. Jordan Szoke (283)