Your Exclusive Invitation...
Iron & Lace does Barfly on the Sunset Strip, Saturday Oct. 11th
Sure, they don't corner, stop or accelerate very well, but they sure do look good. And we haven't even gotten to talking about the custom bikes yet! Join us a we throw a special party to celebrate the 12th anniversary of the Iron & Lace Custom Bike & Pinup Calendar with famed photographer Jim Gianatsis, the FastDates.com Calendar Angels including our SBK World Superbike girls Chandi Mason and Janelle Perzina, some well known celebrity custom bike builders and a few special friends at one of the hottest clubs on the famed Sunset Strip in Hollywood. It will be a night to remember.
---
You need tank stickers to tell them apart...
The all-new 2004 J-Model inline four 1000cc Superbikes
Yamaha Introduces the new 2004 YZF-R1
Something old, something new, something borrowed and it also comes in blue. Yamaha introduces the new 3rd generation 2004 R1. Revised 998cc 20-valve, DOHC, in-line four-cylinder enginehas the biggest bore of the bunch: Bore x Stroke 77 x 53.6mm. Complete details on another new 1000cc Superbike that, disapointedly, another major factory won't be racing next year in World Superbike. Plus the updated 2004 R6 details
HERE
.

Honda Introduces the new 2004 CBR1000RR Fireblade
Now up to a full 998cc from the previous generation CBR954, an all new engine features a 75x56.4 bore and stroke at a 14,500 redline. Single pipe under seat exhaust mimics the CBR600 and MotoGP bike, but overall it looks a little cluttered and unfinished. Braced swingarm is definetly cobby looking.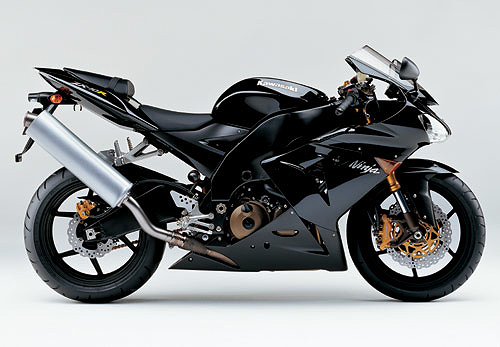 Kawasaki Introduces the new 2004 ZX10
Another new full 998cc engine, this one from Kawasaki falls inbetween the Honda Yamaha at 76x55 bore x stroke.The think spoke wheels look nice. The exhaust system looks like a hideous design afterthought.
---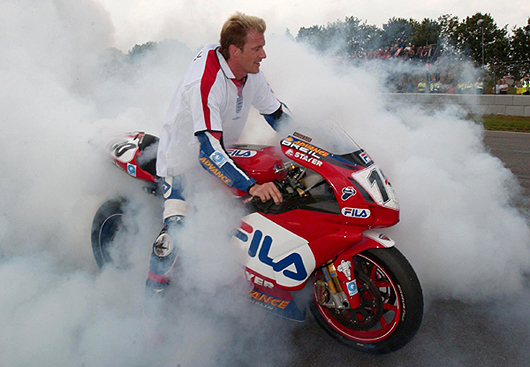 The new Superbike World Champion celebrates his title with a prerequisite burnout after Race One at Assen.
Neil Hodgsen Confirms Move to MotoGP in 2004
Sept 7. 2003: Just hours after stepping off the Assen podium with the 2003 World Superbike Championship trophy in his hands, Ducati Fila's Neil Hodgson faced up to questioning from the world's press. What follows is a transcript of Neil's press conference curtsey Ducati.com:
What does this title mean for you?
It means everything, the reward for 20 years' hard work.
Many people say that with the loss of the factory teams and top riders, the championship has become devalued. Do you see it that way?
No, I beat everyone last year except Colin and Troy who were on factory bikes and Michelin tyres. I was very close to beating them on many occasions as well so I believed that I was going to be champion whoever I rode against this year if I was on the best bike and best tyres, which I was.
What is the future of the Superbike championship in your opinion?
I feel that when the championship needed a boost, it has taken a step down again and it can't really afford that.
It was a formality but you still had to win the title. Did you have any moments this year when you lost concentration, seeing as your lead was so great?
Everything went absolutely perfect until Misano where I lost 30 points in one weekend. And it changed my mentality and I rode defensive instead of attacking everything, which is a shame, but there again you win a championship with consistency.
Were you bothered by the fact that you didn't win the first race?
Yes, very much. But all I can say is I tried my best and I was so tense on the bike. My body was like a piece of iron and I was riding so bad.
Are you going to MotoGP next year?
It looks like it's going to happen but anything can happen and it's not 100%.
How do you think you will go in MotoGP?
I've learnt over the last few years that if you never give in, anything is achievable. I didn't think four years ago that I would become World Superbike champion. I'm not going to say I will be world champion but I will say that I will hopefully go to MotoGP and ride every lap of every race and give 100%.
Will it be a problem for you to go to MotoGP?
To be honest I would be happy to stay in World Superbikes, but the "old" World Superbikes, because I've raced it now for many years. I understand Ducati, the circuits, the people, so my goal would be to win more championships than Foggy, but the decision has been made for me really because I have to ride against the best competition.
It looks as if you won't be riding for the full-factory team. Will this be a problem for you?
No, I don't think so because the Ducati looks very strong this year and that would eventually be the bike I'm riding. There will surely be less pressure than being in the factory team. And there is a goal: If I succeed then it will be a perfect step into the factory team.
This is the first season Ducati ha't done much pre-season testing. How hard has that been?
It's not been too easy, but in a way it's been good for me as a rider because it's made me work really hard every weekend at tracks. I can't waste a lap – every lap I've got to be on it to get the best information from the bike to get the handling better. It's a sensitive bike and I can only compare it to last year's bike, which had six or seven years' development and did everything you wanted. On the 999 the parameters are wider; the bike is unbelievably fast and is so good. This will be good for me if I do go to MotoGP next year, because the bikes are more sensitive.
Would you would be sitting here today if you hadn't gone back to British Superbikes and toughened up?
No, what could have happened was that if I had got a ride in 1999 in WSBK, things might have been different. I would probably have got spat out after three or four years for being too old. I got spat out at 25 and won the championship when I was 26 so I still had a few more years left in me. I've got to thank GSE racing immensely. They were the right team at the right time and I've got to thank Darrell Healey, who gave me this opportunity. I was lucky to win the championship with them and be with a team that wanted to go to the next level and win the world championship. He's like a member of the family now, but it's a shame I didn't win it for him. GSE built the foundations around me and Fila Ducati built the house!
---
Just a reminder...
All the new 2004 Fast Dates Calendar images and more, including giant screensavers, are waiting for you in Members Corner. Not to forget sexy pictorials of all the Fastdates.com Calendar girls including Miss Great Britain 2003 Nicki Lane pictured way overdresseded above. Plus you'll get the inside line on all the AMA factory race team setup and tuning tricks for their 600cc, 750cc, 1000cc SuperStock and Superbikes in Paddock Garage. Joining one Area gives you FREE access to the Other. Who loves ya? We do baby!
---
DOWNTOWN COLUMBUS, OHIO TO HOST
AMA RED BULL SUPERMOTO CHAMPIONSHIP EVENT
Motorcycle Hall of Fame Ceremonies make Greater Columbus a double-play
for motorcycling enthusiasts

PICKERINGTON, Ohio (Sept. 11, 2003)
-- Round three of the AMA Red Bull Supermoto Championship will be held in Columbus, Ohio on Sunday, Oct. 5. Sponsored by local Harley-Davidson dealer A.D. Farrow Co., The A.D. Farrow Cup will take place in the streets of Ohio's capital city.
That same weekend, the Motorcycle Hall of Fame Museum, located just minutes from Columbus on the grounds of the American Motorcyclist Association, will celebrate the Motorcycle Hall of Fame Class of 2003 with a reception, concours d'elegance, and induction ceremonies. That ceremony will see 13 legendary figures in motorcycling take their place of honor in the Motorcycle Hall of Fame.
The Columbus AMA Supermoto race will run on a track built around PromoWest Pavilion, an indoor/outdoor music amphitheater located in the city's new Arena District, which features a wide array of restaurants, night spots, and is home to the National Hockey League's Columbus Blue Jackets. Chris Bradley, AMA Pro Racing Associate Director of Commercial Development, says the venue will offer a unique experience for fans.
"The first two rounds of the series took place at traditional racing venues. The Columbus event will be our first stop in an urban environment, skyscrapers and all," said Bradley. "The Arena District is an excellent destination for AMA Pro Racing to introduce AMA Supermoto to a new audience in a new racing environment."
Bob Althoff, principal owner of A.D. Farrow Harley-Davidson, the country's oldest Harley-Davidson dealership, is excited about the upcoming race."We're seeing a great deal of interest in AMA Supermoto, so to bring this event to this city in this venue is a terrific opportunity for us," said Althoff.
The Motorcycle Hall of Fame Class of 2003 -- including AMA Motocross and Supercross legend Jeremy McGrath, who is competing in the AMA Red Bull Supermoto Championship -- will be inducted during ceremonies at the Museum on Sunday, Oct. 5. The weekend's festivities also will include a special Museum reception and dinner at 6 pm on Saturday, October 4, where visitors can meet many Motorcycle Hall of Fame members, including this year's inductees; and Sunday's 2nd annual Concours d'Elegance, which drew over 100 entries in 2002.
For more information about the Motorcycle Hall of Fame induction weekend, visit www.motorcyclemuseum.org or call (614) 856-2222.
Tickets for the Columbus round of the AMA Red Bull Supermoto Championship go on sale Monday, Sept. 15 at all Ticketmaster locations. Fans can purchase tickets by phone at (800) 326-4000 or online at www.ticketmaster.com.
The AMA Red Bull Supermoto Championship runs from July through November. The championship finale will take place on Nov. 21, 2003 in Las Vegas in connection with the AMA Pro Racing Awards Banquet. For more information on the AMA Red Bull Supermoto Championship, visit www.amaproracing.com.