Valentino increased his total GP World Championship titles to 5 at Sepang: 1 in 125cc, 1 in 250cc, 3 in Open.
This week's costume theme had Rossi, the prisoner, escaping from prison with a little help.

MotoGP World Championship, Malaysian GP at Sepang, Round 14 of 16

Rossi Wins His 3rd MotoGP
Open Class World Championship at Sepang

Sepang, Malaysia, Oct 12th: Rain changed everything here in steamy Sepang when a heavy early morning fall altered track conditions on raceday – but it couldn't change the destiny of Valentino Rossi (Repsol Honda RC211V) who won in style. In front of a 30,000 crowd he won his seventh MotoGP race of the season, his third premier class title and his fifth title in all classes. Sete Gibernau (Telefonica Movistar Honda RC211V) was second and Max Biaggi (Camel Pramac Pons RC211V) third.
The 24-year-old Rossi is now elevated to the top five all-time Grand Prix winners with his tally of 57 wins: 12 in 125, 14 in 250 and now 31 in the big class. He currently stands head and shoulders above the competition and Honda's remarkable RC211V has now won 13 of the 14 races held so far in 2003.
This was not an easy win, few are in the white heat of MotoGP competition, but it was still a dominant performance by any standards. Rossi had already pulverised the opposition with his qualifying performance (a stunning 2m 02.480 second lap) and he was in no mood to let the title slip from his grasp with three rounds to go. He badly wanted to wrap it up here – and it showed.

Sete Gibernau (Telefonica Movistar Honda RC211V) got the holeshot and the Spanish title challenger gave it his all from the lights to try and get away from Rossi while the Italian was lodged in fourth place on the opening lap. But on lap two Rossi was on the move and he dealt first with Loris Capirossi (Ducati) for third and then Carlos Checa (Yamaha) for second.

Right: Sete Giberneau and Max Biaggi douse Valentino in victory champaign to celebrate his third Open MotoGP Championship title.
By lap six he was right up with Gibernau and although he had posted the fastest lap of the race at 2m 03.822 seconds on lap three in his bid to keep Gibernau within range, he could clearly afford to sit back and plan his attack. He put his plan into action on lap eight when he slipped past on the brakes into a medium-speed left-hander.
That was it for Gibernau's persistent title challenge. Although he gamely kept the Italian in sight, Rossi worked his advantage without taking any unnecessary risks and when Gibernau sailed wide at turn one Rossi opened up the gap. By mid-race distance Rossi was 1.2 seconds ahead and by the end of the race he had just over a two second cushion.
There was plenty of action behind the leading trio of Rossi, Gibernau and Biaggi. Nicky Hayden (Repsol Honda RC211V) fought hard for fourth, taking Carlos Checa (Yamaha) on the penultimate lap and the American rookie has impressed in his first season of MotoGP.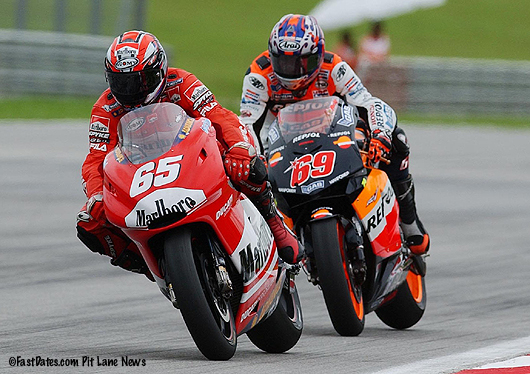 Nicky Hayden (46) followed Loris Capirossi until mid race when Nicky passed him and Checa for 4th.
Fortuna Yamaha Team rider Carlos Checa, who'd qualified second behind Rossi for today's 21 lap race, produce a solid start to enter turn one in third place. The Spaniard trailed Gibernau and Loris Capirossi (Ducati) on the opening lap before fending off a challenge from the champion elect. Staying focused Checa produce a string of fast and consistent laps, but eventually he had to relinquish second to a determined Rossi. Unperturbed, the 30-year-old continued to chase race leaders Gibernau and Rossi, before eventually coming under the attack of Max Biaggi (Honda) and Nicky Hayden (Honda) – leaving Checa to finish fifth.
Loris Capirossi came home in sixth place at Sepang this afternoon, reinforcing his fourth position in the MotoGP World Championship. The Ducati Marlboro Team rider made a great start from the second row to race into second place at the first turn. But the first few laps weren't kind to the Italian who slipped back a little before upping his pace and enjoying and entertaining tussle with Nicky Hayden (Honda) and Carlos Checa (Yamaha).
"I made a great start, lost some time, then pushed hard to recover that time," said Capirossi after what is the most gruelling race of the season. "We knew we didn't have the set-up 100 per cent here but the race was better than Motegi. This track is very slippery in the heat, so I was sliding around a lot. We don't lack power, just traction because we didn't have perfect settings for this circuit. But this is our first year, a learning year, and we're learning plenty. Finally, my congratulations to Valentino for winning the championship, he rode a great season."
Ducati Marlboro Team rider Troy Bayliss rode to ninth place in his Sepang debut today, running a good pace during the early stages but slipping back as he lost traction in the later laps. At half distance he had been looking good for a seventh-place finish.
"It was actually quite a good race, I was feeling okay," said Bayliss, who had started from the third row of the grid. "But even when things were good the bike was lacking something, then the set-up we used wrecked the rear tyre. From two-thirds distance, even before, the rear was coming around as I rolled into turns and I was losing the rear on the gas. I was just sitting on the bike and not going anywhere. But we'll learn from this, I'll be having a long debrief with my guys this evening."
Rossi was understandably delighted. "This is like a dream, this fifth title," he said. "It was a very hard race – just like all season, but very good fun. Sete put me under a lot of pressure and I had to work hard. I think we won overall because of our consistency and we fought hard for every win. I want to thank Honda for the constant development of the bike that's made this possible."
Gibernau was fulsome in his praise for the Champion. "We've tried to push Valentino the whole season," he said. "We knew he was quick here and Max was a top man here too. Overall we knew we could win races and just tried to push. It's been a great season and there are still two races to go, but congratulations to Vale, and to Max – Vale deserves this."
Max too was generous and typically realistic. "I couldn't close the gap with the first two," he said. "The start was not brilliant for me and I had a lonely race. Rossi is a great rider and he's had a top-level season. He's having a 'gold period' as we say in Italy. And we'll try to make sure that he has a less easy time in 2004."
Nicky Hayden now lies sixth in the World Championship standings after his fourth place here. "That was great," he said. "I got a good start and made up a few places. I wanted to go with Biaggi but got into a fight with Capirossi. Then I got past him and got past Checa and made the pass stick. When I tested here I really struggled – I've definitely learned a lot since then."
Tohru Ukawa (Camel Pramac Pons RC211V) was seventh. "It was hard to match the pace of the leaders," he said. "Once again I didn't get a great start but I lost a few places, then got them back, but didn't have enough time to catch Capirossi. The rear tyre was spinning-up and it's a problem we've had all year, but there are only two races left to find a solution."
Results MotoGP 999cc : (21 laps = 116.508 km)
Pos/Rider /Nat /Team /Motorcycle /Time/KM/H
1/Valentino ROSSI /ITA /Repsol Honda /HONDA/43'41.457/159.998
2/Sete GIBERNAU /SPA /Telefónica Movistar Honda /HONDA/43'43.499/159.873
3/Max BIAGGI /ITA /Camel Pramac Pons /HONDA/43'49.101/159.533
4/Nicky HAYDEN /USA /Repsol Honda /HONDA/43'55.190/159.164
5/Carlos CHECA /SPA /Fortuna Yamaha Team /YAMAHA/43'55.246/159.161
6/Loris CAPIROSSI /ITA /Ducati Marlboro Team /DUCATI/44'02.024/158.752
7/Tohru UKAWA /JPN /Camel Pramac Pons /HONDA/44'04.906/158.579
8/Shinya NAKANO /JPN /d'Antín Yamaha Team /YAMAHA/44'08.197/158.382
9/Troy BAYLISS /AUS /Ducati Marlboro Team /DUCATI/44'13.606/158.059
10/Makoto TAMADA /JPN /Pramac Honda /HONDA/44'22.013/157.560
11/Marco MELANDRI /ITA /Fortuna Yamaha Team /YAMAHA/44'25.320/157.365
12/Noriyuki HAGA /JPN /Alice Aprilia Racing /APRILIA/44'26.070/157.321
13/Colin EDWARDS /USA /Alice Aprilia Racing /APRILIA/44'36.124/156.729
14/Kenny ROBERTS /USA /Suzuki Grand Prix Team /SUZUKI/44'44.144/156.261
15/Alex BARROS /BRA /Gauloises Yamaha Team /YAMAHA/44'44.463/156.243
Fastest Lap: Valentino ROSSI 2'03.822 161.302 Km/h Lap 3
World Championship Positions:
1 ROSSI 307, 2 GIBERNAU 244, 3 BIAGGI 215, 4 CAPIROSSI 141, 5 BAYLISS 119,
6 HAYDEN 114, 7 UKAWA 112, 8 CHECA 104, 9 NAKANO 92, 10 BARROS 91,
11 TAMADA 75, 12 JACQUE 61, 13 EDWARDS 54, 14 MELANDRI 45, 15 HAGA 44.

Elias Leads Aprilia Sweep in MotoGP 250cc
In the 250cc class it was form-rider Tony Elias (Aprilia) who won by nearly ten seconds from World Championship points leader Manuel Poggiali (Aprilia) who was second. Fonsi Nieto (Aprilia) was third.
Elias had utterly dominated qualifying, lapping just under a second quicker than his rivals – but he wasted his pole start and was fourth on lap one. But he didn't waste any time hoisting himself into second place at the end of the opening lap – and then taking the lead on lap four from early pace-setter Nieto.
Roberto Rolfo (Fortuna Honda RS250RW) had a torrid time in qualifying and began this 20-lap race from tenth on the grid. But Rolfo is nothing if not determined and he fought tooth and nail to collect as many vital points as he could here, with only two World Championship rounds remaining. The Italian eventually finished fourth to garner 13 valuable points.
Sebastian Porto (Telefonica Movistar Junior Team RS250RW) endured a jump-start penalty of ten seconds and pitted on lap six to receive his punishment. He rejoined the race in 21st place and the gritty Argentine refused to lie down and languish at the back, working his way back to finish eighth at the flag.
The fight for second place that developed between Poggiali and Nieto was the high-point of the contest and although Poggiali had nailed Nieto by lap eight, the Spaniard held onto his tail and wouldn't let go. Nieto went past and led on the last lap, but Poggiali waited until the final turn before diving inside on the brakes to win by 0.011 seconds across the line.
"I'm not very satisfied with the result," said Rolfo. "But I have to recognise that the way things have gone for us this weekend, the result is not so bad. It's at least left me optimistic that I can still fight for the World Championship. But it was less good that I couldn't get into the fight for the podium positions as we have done in previous races."
The World Championship points classification shows Poggiali in the lead with 226, Elias and Rolfo tied on 201 with French Aprilia rider Randy de Puniet on 183.
Pedrosa Clinches 125cc MotoGP Championship Title for Honda
Spanish teenager Daniel Pedrosa (Telefonica Movistar Junior Team RS125R) secured his first ever World Championship with a win here at Sepang. His main title rival Stefano Perugini (Aprilia) dropped out of the race on lap four and that eased the pressure on the 18-year-old. Mika Kallio (KTM) was second and the young Finn has now given the Austrian factory its first podium finish in its debut year of competition. Jorge Lorenzo (Derbi) was third after a compelling dice with Masao Azuma (Ajo Motorsports Honda RS125R), Thomas Luthi (Elit Grand Prix Honda RS125R) and Alex de Angelis (Aprilia).
Australian Aprilia rider Casey Stoner was also in the hunt after getting a poor start from the front row of the grid. He lay 12th in the opening laps, but clawed his way back to second setting fastest lap of the race on lap 12 before crashing a lap later. But Pedrosa was totally in control from the off. He led into turn one on the opening lap and worked his advantage remorselessly. Two laps from the end he held a seven second lead over his pursuers who had little hope of catching him, so engrossed were they in their own fight for the podium positions.
"I don't really have any words to describe how I feel," said an emotional Pedrosa. "I just want to thank everyone who helped me towards this, everyone who gave their maximum to achieve this Championship: the Movistar Team, Honda, Alberto Puig and all the people in the team."
There are still the remaining World Championship positions to be disputed and with Pedrosa home clear with an unassailable 223 points, the rest of thetable shows Perugini on 159, de Angelis with 157 and Andrea Dovisioso (Team Scot Honda RS125R), who finished 13th here, with 149.
---

Iron & Lace brings down the house at Barfly on the Sunset Strip
Oct. 11th, Los Angeles: Our special party to celebrate the 12th anniversary of the Mikuni and Performance Machine sponsored Iron & Lace Custom Bike & Pinup Calendar with famed photographer Jim Gianatsis and the FastDates.com Calendar Angels was a wild blowout success tonight at the exclusive Barfly dinner club on West Hollywood's Sunset Strip. Our special guests included World Superbike and Iron & Lace Calendar girls Janelle Perzina and Taylor McKegney, together with many of the calendar's sponsors, celebrity custom bike builders and their crew including Harold Pontarelli of HD Performance, Russell Mitchell of Exile Cycles, Don Chica of Chica Customs, Roland Sands of Performance Machine, and our own LA Calendar Best of Show winner Jesse Rooke of Jesse Rooke Customs.
The mob scene at Barfly's
front door went all night.


Anonymous builder
getting lucky.

Anonymous builder
getting wasted.

Roland Sands from
Performance Machine.

Jesse Rooke with his LA
Calendar Bike Show winner.

Anonymous builder,
lucky again, glassely
eyed, nearly comatose.

Barfly packed to capacity
until the party's 2am closing.

Go Go Girl goes wild.
She wore a lot less...

...as the night went on,
but by then we couldn't
focus our camera...


... so you'll have to settle
for these in-focus shots.
Sorry!

Lee Chapin from calendar sponsor Mikuni Carbruetor, together with Calendar makeup girl Lisa Ruckh.

The evening kicked off with a private dinner party at Barfly for selected FastDates.com Calendar guests featuring the builders' latest custom bike creations parked throughout the club, and The Making of The FastDates.com Calendar Videos playing on the big screen above the dance floor. By 10pm the club was really jumping with hot dance music and beautiful girls everywhere! 10:30 and the club was packed to capacity, people were waiting in line to get in, pleading to bribe the doormen above the $20 cover charge if they weren't on the Iron & Lace complimentary guest list.

Things really broke loose inside when two perfectly blessed Playboy models ascended the go-go podiums and shook their incredible booties to the music's beat in nothing more than lace thong underwear and 5-inch platform boots. It was pandemonium, festivities and decadence beyond that of the old Roman empire.
The Iron & Lace Night party was filmed as part of a special documentary on builder Russ Mitchell for Spike TV. The girls of Los Angeles definitely dig custom bikes and bikers with our calendar builders having hands full, literally, keeping all the hot spectator chicks off their bikes -each of them wanting to full fill their secret fantasy to be a sexy calendar girl, posing for there friends' cameras.
The Iron & Lace custom builders were even more enthusiastic fighting the girls off themselves. No one went home alone, including one celebrity builder (who shall remain nameless) who was lip locked and chugging shots with one particular beautiful young lady until they both were so inebriated and unable to function they had to be stuffed into a taxi just halfway through the evening. Word has it he had no memory of anything that happen at the party when he finally woke up late Sunday afternoon. Another builder finished off his night giving lucky girls bike rides down Sunset Boulevard on his $80,000 open piped calendar bike at 3am in the morning after the club closed.
By the end of the night the consensus from everyone attending was our Iron & Lace Night at Barfly in Hollywood was a huge success and it needs to return on a regular basis. We're investigating now the City of West Hollywood's morality, public safety and noise statutes, as well as consulting with our attorneys, and will let you know as soon as we sober up.