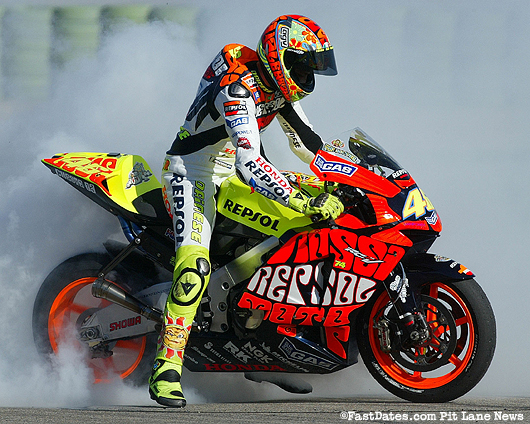 Always different, for his final race with Honda, Rossi showed up and won at Valencia with Austin Powers style graphics on his bike, leathers and helmet.

Rossi and Honda part with a Smile and an Embrace
Sunday Nov 2nd, 2003. Valencia: In a packed pressroom at Valencia after the final race of the 2003 season it was officially announced that World Champion, Valentino Rossi and Honda were not renewing any contract for the 2004. Appearing alongside the Repsol Honda Team's Manager, Carlo Fiorani and Team Manager Shoji Tachikawa, Rossi explained to the press he loved his time at Honda but after winning three consecutive World Championships feels that the time is right to move onto a new challenge. Fiorani thanked Rossi on behalf of all of Honda and finished up presenting the 24-year-old Italian with a painting signed by all his friends and colleagues at the Repsol Honda Team.
Carlo Fiorani, Repsol Honda Team Sporting Manager-"Everyone in this room knows; indeed anyone with even the slightest interest in motorcycle racing around the world will know that we at Honda have been in contract negotiations with Valentino Rossi's management for much of this season. We at Honda have done everything in our power to secure Valentino's services for next year. In the end we understand that it is not about money, sponsor obligations or any of the standard issues that are negotiated over in more general contract discussions. The area we have had difficulty in, is one of providing Valentino with a new challenge and it is an area we at Honda totally understand. This is totally a Valentino choice.
Throughout his career Valentino has moved onto a new challenge every season and in the end, it is this that Valentino seeks. In many ways his driving force is reflected in the spirit of this great company. Soichiro Honda who founded the business over 50 years ago understood and rejoiced in this spirit. So, on the evening of the final Grand Prix of 2003, and Valentino's 64th with Honda, we announce officially today that Honda and Valentino Rossi will not be renewing any contract for the 2004 season.
We are obviously very sad on the one hand to see Valentino go but feel that we as a manufacturer and Valentino as a rider part company as friends with the best memories of our time together. We now have to look forward to next season when we will gather a team of riders capable of retaining the World Championship for Honda.
I'd like to publicly thank Valentino for all the success and fun we've had over the last four years. The Honda / Rossi partnership has been an incredible one. Together we have won three World Championships, three Manufacturers Titles and 33 races in four very special years. We have had this situation before when riders either move teams or retire. Mike Hailwood, Freddie Spencer, Wayne Gardner, Eddie Lawson, Mick Doohan and now Valentino Rossi. On behalf of all at Honda, the racing community and fans world-wide I thank you for your efforts Valentino and I wish you well in the future and we look forward to the challenge of 2004 and beyond!"
Valentino Rossi-
"I have to say thank you very much to Honda. It is true. Next year we don't race together. For sure it has been a fantastic period for me to work together for four years. It's been unforgettable. We've won 50% of the races when we have been together. The story is only four years but for me it seems much longer.
Together we start in 2000 with a new challenge with the 500. There were many problems to start with. Straightaway we were working with HRC and it as amazing. To work with HRC for a rider is like a dream. If you are able to give the right information to the engineers they are able to change. At the end of the first year we arrive in second position in the championship and take more podiums than anyone else.
The next year I have a new NSR – after six or seven years of the old NSR. We win 11 races and the championship. It was a great championship as it was the last of the 500's. The 500cc was the story of the sport. To win the last 500cc race was like a dream. Maybe one of the best races of my career.
After, we sign a new contract and we start another time from zero with the new 4 –stroke. I first ride at Suzuka in 2001 in August. It was already a good bike. But even at the beginning I was wondering if it was as good as the 500's as it was not as fast. We work hard and the bike was ready for the first GP and we win. At the end of last season the Yamaha was at the same level and we make a good step over the winter in testing and arrive this season in good shape.
This year was great for me. We make many emotional races. We had a good second part of the championship. At a point after Sepang the idea arrived about making a change because we win in the dry, we win in the wet, we win at circuits I like and like today, we win at circuits I have not had such good luck at in the past. We finish our work with the bike.
So, we don't race together next year. I try a new challenge. Maybe to make this choice at this point is a little mad. We see next year if it is possible or not. For sure all the fans will be happy, as it will make a great show! Unforgettable our time together. The HRC engineers, and all my friends at Honda.
Thank you all."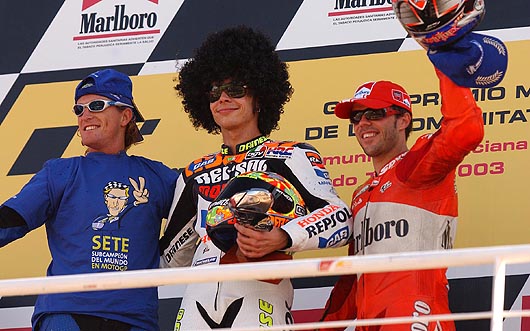 Race and Championship winners: Yah Baby! Austin "Disco" Rossi on the podium's top step at Valencia celebrating the win and his 3rd MotoGP Open class title, flanked by Sete Giberna sporting a "#2 SubChampion" T-shirt, and 3rd place race and title finisher Loris Capirossi.
Valencia MotoGP Grand Prix at Circuito Ricardo Tormo, Final Round 16 of 16

Pole Position with the Fast Lap Ever at Valencia
Rossi Dominates the Race to the Checkered Flag
Valencia Italy, Nov. 1-2nd, 2003 -The final MotoGP race of the 2003 World Championship season, held at Valencia Spain, was dominated by recently crowned world champion Valentino Rossi (Honda). The Italian stamped his authority on the main event, and the championship, with a clean and consistent performance. After breaking the tow of Sete Gibernau (Honda), Loris Capirossi (Ducati), Max Biaggi (Honda) and Carlos Checa (Fortuna Yamaha Team) – the quintet eventually finishing first to fifth respectively – Rossi went on to take the final race win of the year by 0.681 seconds.
Final Qualifying Saturday - Rossi Sets Fastest Lap Ever
The high winds that had marked the first day of qualifying at Valencia abated to some degree, and the warmer track conditions allowed world Champion Valentino Rossi (Repsol Honda RC211V) to secure pole position, his ninth of the year, with a superb time of 1:32.478. Rossi is now well placed to score an equal number of race wins, his total currently halted on eight after his most recent success in Australia.
This fastest ever lap of the 4.005km circuit came late in the session, after two of Valentino's great championship rivals from the early season, Sete Gibernau (Telefonica Movistar Honda RC211V) and Loris Capirossi (Marlboro Ducati) had beaten his previous best from the first qualifying session on Friday, temporarily displacing Rossi to third on the timesheets. Rossi had regained the advantage near the end yet still pushed to the edge even at the very end of the session, to ensure his pole position.
Gibernau, guaranteed second in the championship already, matched his finishing position by securing second in qualifying, with Capirossi third and Rossi's ever-more impressive team-mate Nicky Hayden (Repsol Honda RC211V) in fourth spot. Hayden had been fast all weekend, and was the biggest threat to Rossi for the majority of the two hours of timed qualifying. He was also the first of the top riders to secure a time faster than his Friday best, after only ten minutes of the final hour.
Max Biaggi (Camel Pramac Pons RC211V) was the only rider out on the same final lap as the late charging Rossi, but could make no impact on the front row places, finishing sixth, behind top Yamaha rider Carlo Checa. Colin Edwards (Aprilia) and Alex Barros (Yamaha) went seventh and eighth, in a field of 23 riders.
Biaggi's team-mate, Tohru Ukawa (Camel Pramac Pons RC211V) finished 1.808 seconds from pole in ninth position, and the Bridgestone shod RC211V of Makoto Tamada was an unlucky 13th.
For Rossi the Valencia circuit has seldom been kind but this year he has made his intentions clear from the outset. "The last lap was very, very good," said the understated Rossi. "I used two qualifiers, the first wasn't so good but the second one was very good. Usually I find this track harder than the others but so far so good and we'll see what happens tomorrow."
Gibernau, who has won four races so far this season, put in his usual fighting performance, and is pleased with his work so far on one of his home circuits. "We are pushing hard and fighting to win," said Gibernau. "The bike is working very well but tomorrow's race will be difficult. We are fighting for a podium at every race so we are doing OK. I have mixed emotions because I have already got second place in the championship but the home crowd will stop me from relaxing and keep me pushing."
Hayden was delighted with his front row start, a new landmark in the rookie rider's GP experience.
"I am taking it one day at a time," said Hayden, "The bike is working good on a track that I don't know that well. But it is a track that I am sort of used to - tight and twisty - and you've got to let it all hang out. This is our first front row and I had my first P1 in this morning's unofficial session too and that has never happened before. I'm getting stronger all the time."
Biaggi was mystified by the lack of lap time but looks to the race itself for salvation. "I'm not very happy today," said the four-time 250cc champion. "Compared to the winter tests we did here, our time is worse. It's not that I don't like the track because last year I was on pole. Tomorrow I'll have to try really hard to stay in contention but at least the tyre choice is already made."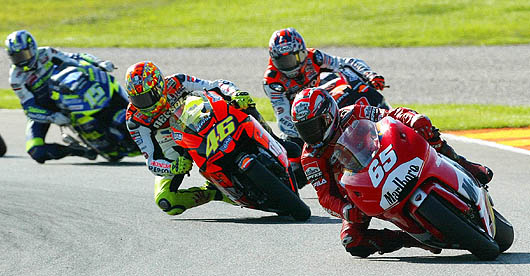 Loris Capirossi (65) lead the first two laps on the Ducati Desmodici ahead of Rossi (46), American Nicky Hayden (69) who crashed on lap 5, and Stte Giberneau (15).
Sunday's Race: Rossi fights off challanges
from Capirossi and Giberneau for a record Points Score
Valentino Rossi (Repsol Honda RC211V) today rode his last race for Honda (for the immediate future at least). The three times premier class World Champion is leaving after one of the most dominant displays of consistent winning for Honda since the days of Mick Doohan. In front of a crowd of 121,000 Spaniards Rossi fended off the challenge of local hero Sete Gibernau (Telefonica Movistar Honda RC211V) who was second, and he chalked up win number 59 in all classes and his ninth this season in MotoGP. Loris Capirossi (Ducati) finished a distant third.
Rossi is now looking for a new challenge after scoring the highest ever points tally of 357 in the blue ribband class. He beat the previous record (his own) by two points and has now scored 22 consecutive podium finishes equalling the record set by Giacomo Agostini from 1967 to 1969. The Italian ace will leave Honda to try and repeat his phenomenal success with another factory next season after achieving all he felt he could with the most successful factory in Grand Prix racing.
The sun was out and the wind that had caused big problems for riders on Thursday, and to a lesser extent Friday, had dropped significantly. The track temperature was 30 degrees and the ambient temperature 22. Rossi started from pole after pulverising the opposition with a 1m 32.478s qualifying lap and he led into turn one when the lights went green at 2:00 this afternoon. With 30 tortuous laps of the 4.005km Ricardo Tormo Circuit ahead of him, he was in no mood to make the race last any longer than it had to. He wanted a win and he wanted it fast.
But Capirossi fired his Ducati past him at turn two on the opening lap and Rossi responded by blasting past Capirossi on the next lap as the riders gradually shifted into an early race order. That order was Rossi, Capirossi, Nicky Hayden (Repsol Honda RC211V), Gibernau, Max Biaggi (Camel Pramac Pons RC211V) and Carlos Checa (Yamaha).
But then Hayden lost the back end of his RC211V on lap four and hit the dirt. But the American, who collected the coveted Rookie of the Year title here after the race, held onto the bars as the bike spun and then was on his feet with the RC211V upright again almost before they had come to rest. He restarted the bike and rejoined the race – in 20th place. Hayden eventually finished 16th.
Out front Rossi was finding it hard to shake off the man who has posed him the most problems this season: Sete Gibernau. The Spaniard eventually made it past Rossi briefly on lap 11, but that was to be his only experience of leading this contest. Rossi turned up the heat and pulled out a gap of 0.250 seconds, a significant margin after they had been locked in close combat for ten laps. But Gibernau responded with a fastest lap of the race so far at 1m 33.657s and it looked as if this would be a battle on a par with the epic tussles at Welkom, Le Mans and the Sachsenring between these Championship rivals.
But Rossi, as so often, had more to give and on lap 21 he scorched round the track in 1m 33.518s to set a fastest lap aimed at breaking Gibernau's spirit. The gap between the two now stood at just over half a second. But the Spaniard, as he showed many times this year, was never going to lie down and meekly accept the inevitable. He came back again with a 1m 33.404s circuit on lap 23 to keep the fight alive.
But Rossi had more in store and cut a 1m 33.317s lap on the next tour to put 1.7 seconds between himself and his pursuer. By now Capirossi was six seconds adrift of the leading duo and Biaggi was three seconds back on Capirossi. They would remain there until the flag.
Rossi eased off on his final lap to pull a monumental stand-up wheelie across the line to sign off his Honda days in style. "I've never won at this track before," said Rossi. "And this is a really good feeling this time. The weekend was perfect with the pole position but today was hard because Sete is in good shape and riding well. This has been a great season for MotoGP."
Gibernau was typically generous to Rossi. "This race resembles the picture of the whole year," he said. "Battling away until the end of each race and this Championship. It was a fun race at a high pace but in the final laps I started losing a few tenths of seconds as the bike started moving around a bit more. I've been competitive in races this year and to end the Championship in second is not bad."
Hayden was disappointed. "I got a good start, felt good and was going good," he said. "Then I got a little bit too excited and got into turn two a bit hot. It was a stupid mistake and I've got to learn from that. I'm really not happy about it because I was running strong."
Max Biaggi is looking forward to another year on the RC211V after his fourth-place finish today and conceded that this year had been tough. "I had trouble with engine braking today and after five laps I had to brake deep into the turns and that destroyed my front tyre," he said. "I knew this year would be hard and now I'm looking forward to another season with Honda."
His team-mate Tohru Ukawa (Camel Pramac Pons RC211V) had a luckless time, the Japanese was punted into the gravel by Shinya Nakano (Yamaha) on lap five. "Nakano hit me from behind," said the disappointed man. "This result is dreadful."
Makoto Tamada (Pramac Honda RC211V) finished tenth after starting from the fourth row of the grid. "The race conditions were hotter than yesterday," said the Japanese rookie. "And that suited us. I was in good shape for the race and enjoyed a bit of overtaking. So the Championship is finished for this year and in some ways I'm cross with myself as a rider, but overall things have been good."
Ryuichi Kiyonari (Telefonica Movistar Honda RC211V) finished 14th. "Valencia is the end of MotoGP for me," said the debutant. "But it has been like a fantastic dream. I've learnt a great deal of technical knowledge about the RC211V and that will be very useful for me. I'm happy about the success the team has had and I thank Fausto Gresini and everyone for my time with them."
The final points standings show Rossi, the World Champion with 357, Gibernau with 277 and Max Biaggi on 228. Nicky Hayden finished a creditable fifth overall with 130.
MotoGP Race Classification : (30 laps = 120.15 km)
Pos/Rider /Nat /Team /Motorcycle /Time/KM/H
1/Valentino ROSSI /ITA /Repsol Honda /HONDA/47'13.078/152.674
2/Sete GIBERNAU /SPA /Telefónica Movistar Honda /HONDA/47'13.759/152.638
3/Loris CAPIROSSI /ITA /Ducati Marlboro Team /DUCATI/47'24.305/152.072
4/Max BIAGGI /ITA /Camel Pramac Pons /HONDA/47'29.371/151.801
5/Carlos CHECA /SPA /Fortuna Yamaha Team /YAMAHA/47'33.946/151.558
6/Alex BARROS /BRA /Gauloises Yamaha Team /YAMAHA/47'43.929/151.030
7/Troy BAYLISS /AUS /Ducati Marlboro Team /DUCATI/47'50.848/150.666
8/Colin EDWARDS /USA /Alice Aprilia Racing /APRILIA/47'52.000/150.605
9/Norick ABE /JPN /Fortuna Yamaha Team /YAMAHA/47'53.307/150.537
10/Makoto TAMADA /JPN /Pramac Honda /HONDA/47'59.578/150.209
11/Kenny ROBERTS /USA /Suzuki Grand Prix Team /SUZUKI/48'14.574/149.431
12/Jeremy McWILLIAMS /GBR /Proton Team KR /PROTON KR/48'17.588/149.275
13/John HOPKINS /USA /Suzuki Grand Prix Team /SUZUKI/48'18.269/149.240
14/Ryuichi KIYONARI /JPN /Telefonica Movistar Honda /HONDA/48'19.090/149.198
15/Noriyuki HAGA /JPN /Alice Aprilia Racing /APRILIA/48'19.232/149.191
Fastest Lap: Valentino ROSSI 1'33.317 154.505 Km/h Lap 24
World Championship Positions:
1 ROSSI 357, 2 GIBERNAU 277, 3 BIAGGI 228, 4 CAPIROSSI 177, 5 HAYDEN 130, 6 BAYLISS 128, 7 CHECA 123, 8 UKAWA 123, 9 BARROS 101, 10 NAKANO 101, 11 TAMADA 87, 12 JACQUE 71, 13 EDWARDS 62, 14 HAGA 47, 15 MELANDRI 45.
Puniet and Poggiali Win 250cc race and tile for Aprilia
Randy de Puniet (Aprilia) won the final 250 race of the season with a tense last lap cliffhanger win from Tony Elias (Aprilia). The Frenchman led from turn one on the first lap, but was harried by the Spanish home-hope from mid-race distance. Elias and de Puniet swapped the lead four times in the closing stages and the last lap was frantic as Elias tried everything in the book to squeeze past de Puniet – in vain.
The major result was that Manuel Poggiali (Aprilia) finished third to clinch the 250cc World Championship after crashing heavily in the morning warm-up. He rode clear of the chasing pack by lap five and circulated on his own to cross the line and secure his first 250 crown to add to the 125cc Championship he won in 2001.
Brave Roberto Rolfo (Fortuna Honda RS250RW) who came to Valencia with hopes of snatching the crown from his San Marinese rival could only manage seventh, which would have been enough to net nine points and overhaul Poggiali had the 20-year-old not finished the race. But Poggiali was up for the task and made no mistakes.
The final World Championship points table finished like this: Poggiali 249, Rolfo 235, Tony Elias 226. Poggiali is the third youngest 250 World Champion aged 20 behind Marco Melandri and Valentino Rossi.
250cc Race Classification: (27 laps = 108.135 km)
Pos/Rider /Nat /Team /Motorcycle /Time/KM/H
1/Randy De Punet /FRA /Safilo Oxydo-LCR /APRILIA/44'01.924/147.349
2/Toni ELIAS /SPA /Team Repsol Telefonica Movistar /APRILIA/44'01.996/147.345
3/Manuel POGGIALI /RSM /MS Aprilia Team /APRILIA/44'14.734/146.638
4/Sylvain GUINTOLI /FRA /Campetella Racing /APRILIA/44'24.420/146.105
5/Fonsi NIETO /SPA /Team Repsol Telefonica Movistar /APRILIA/44'32.655/145.655
6/Sebastian PORTO /ARG /Telefonica Movistar jnr Team /HONDA/44'34.305/145.565
7/Roberto ROLFO /ITA /Fortuna Honda /HONDA/44'37.471/145.393
8/Franco BATTAINI /ITA /Campetella Racing /APRILIA/44'38.911/145.315
9/Eric BATAILLE /FRA /Troll Honda BQR /HONDA/44'40.596/145.223
10/Alex DEBON /SPA /Troll Honda BQR /HONDA/44'43.672/145.057
11/Naoki MATSUDO /JPN /Yamaha Kurz /YAMAHA/44'57.080/144.336
12/Dirk HEIDORF /GER /Aprilia Germany /APRILIA/45'05.041/143.911
13/Chaz DAVIES /GBR /Aprilia Germany /APRILIA/45'09.942/143.651
14/Jakub SMRZ /CZE /Elit Grand Prix /HONDA/45'19.965/143.121
15/Radomi ROUS /CZE /Campetella Racing /APRILIA/45'25.995/142.805
Fastest Lap: Toni ELIAS 1'36.840 148.884 Km/h Lap 14

World Championship Positions:
1 POGGIALI 249, 2 ROLFO 235, 3 ELIAS 226, 4 DE PUNIET 208, 5 NIETO 194,
6 BATTAINI 148, 7 WEST 145, 8 PORTO 127, 9 MATSUDO 119, 10 GUINTOLI 101,
11 DEBON 81, 12 OLIVE 38, 13 FAUBEL 34, 14 DAVIES 33, 15 AOYAMA 31.
125cc Race to Stoner, Title to Pedrosa
Casey Stoner (Aprilia) won an enthralling 125cc contest by keeping his composure on the last lap while disputing the lead with Hector Barbera (Aprilia). The young Australian has now finished the season with the win he threatened to achieve several times this year while leading races. Steve Jenkner (Aprilia) was second.
Stoner now becomes the ninth different winner of a 125 race this season and it could so easily have been Barbera's victory after a daring last turn move where he rode around the outside of Stoner. But the 17-year-old Spaniard couldn't celebrate his birthday with a win – the podium for third place would have to do.
He ran wide after slipping past Stoner and was lucky to stay on track after carrying too much speed onto the final straight.
Andrea Dovizioso (Team Scot Honda RS125R) was eighth after running off the track at the final turn too. The Italian Honda man was in the running for fifth place at least when he overshot. Daniel Pedrosa (Telefonica Movistar Junior Team RS125R) was not racing, but the injured World Champion was on hand to watch Masao Azuma (Ajo Motorsports Honda RS125R) finish his last race in 15th. The Japanese stalwart concludes his career with a tally of 10 wins and a third place overall in the 1999 World Championship. He has been riding in Grands Prix since 1996.
The final 125cc World Championship standings show Pedrosa home clear with 223 points, with Alex de Angelis just pipping Stefano Perugini (both Aprilia) for second overall with 166 points to Perugini's 162. Sandwiched between them is third-placed Hector Barbera with 164.
125cc Race Classification: (24 laps = 96.12 km)
Pos/Rider /Nat /Team /Motorcycle /Time/KM/H
1/Casey STONER /AUS /Safilo Oxydo-LCR /APRILIA/40'27.662/142.537
2/Steve JENKNER /GER /Exalt Cycle Red Devil /APRILIA/40'27.930/142.521
3/Hector BARBERA /SPA /Master-MXOnda-Aspar Team /APRILIA/40'28.763/142.472
4/Marco SIMONCELLI /ITA /Matteoni Racing /APRILIA/40'30.867/142.349
5/Mirko GIANSANTI /ITA /Matteoni Racing /APRILIA/40'36.422/142.024
6/Alvaro BAUTISTA /SPA /Seedorf Racing /APRILIA/40'36.550/142.017
7/Pablo NIETO /SPA /Master-MXOnda-Aspar Team /APRILIA/40'39.927/141.820
8/Andrea DOVIZIOSO /ITA /Team Scot /HONDA/40'44.400/141.561
9/Lucio CECCHINELLO /ITA /Safilo Oxydo-LCR /APRILIA/40'48.751/141.309
10/Gino BORSOI /ITA /Globet.com Racing /APRILIA/40'58.335/140.758
11/Jorge LORENZO /SPA /Caja Madrid Derbi Racing /DERBI/41'00.509/140.634
12/Gabor TALMACSI /HUN /Exalt Cycle Red Devil /APRILIA/41'00.616/140.628
13/Stefano PERUGINI /ITA /Abruzzo Racing Team /APRILIA/41'01.011/140.605
14/Robbin HARMS /DAN /Seedorf Racing /APRILIA/41'02.551/140.517
15/Masao Azuma /JPN / Ajo Motorsports / HONDA/41'02.620/140.513
Fastest Lap : Steve JENKNER 1'40.253 143.816 Km/h Lap 17

World Championship Positions:
1 PEDROSA 223, 2 DE ANGELIS 166, 3 BARBERA 164, 4 PERUGINI 162, 5 DOVIZIOSO 157,
6 JENKNER 151, 7 NIETO 148, 8 STONER 125, 9 CECCHINELLO 112, 10 GIANSANTI 93,
11 KALLIO 88, 12 LORENZO 79, 13 UI 76, 14 TALMACSI 70, 15 LUTHI 68.
---
The
Sexiest
Night
on Television

You will be watching on Wednesday Nov 19th 10/9 pm on CBS as Victoria's Secret kicks off the holiday season with their 2003 fashion show with a special performance by Sting.

Last year's broadcast was disappointing with poor direction, editing, and cameras that were always out of focus. And far too many jiggling butts with models on the catwalk who didn't work out, with the lone exception of hardbody Naomi Campbell. Hopefully this year will be better.

Meanwhile, we do highly recommend the new TV series SKIN on Fox Mondays featuring sexy young Cameron Richardson and FastDates.com Calendar girl and adult fim star Jessica Drake.

Its a modern day version of Romeo & Juliett, with waring families in city government and the porn industry, with Cameron's porn mogul father the good guy!