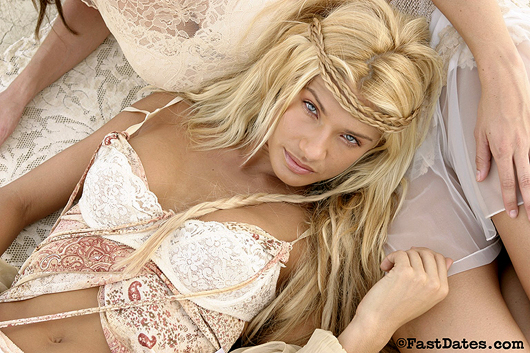 Angel Janelle takes us to heaven.
Our Miss World Superbike Janelle Turns Down Playboy
Dec 8th - Our offical SBK Fast Dates World Superbike and Ducati Corse girl Janelle Pierzina is featured front and center in this month's December issue of Playboy magazine in a full page picture with Playboy publisher Hugh Hefner and about 50 other bikini clad girls as a lead-in to Playboy's 50th Anniversay Playmate search. It's quite obvious in the group picture that our beautiful Janeelle is the prettiest girl of the bunch, so we called the former Miss Minnesota contestant and asked her what's the deal, is she going to be a Playmate or what....
" About the Playboy thing...........your so funny. Ok, the lady that invites me to all the playboy parties called me and a bunch of my girlfriends to come up to the mansion for an afternoon get together. She said we would be poloroided, and that this year they are looking for a girl who will pose for the magazine in a bikini, so of course my friends and I were like, "Hell, why not, we've already been up there at least ten times (for parties)."
So we went. There were like tons of camerea crews, news reporters and lots of girls. I had no idea we were just there for publicity!!! Of course they asked me to be in the front of the picture with Hef, but I was kind of embarrassed because I knew I would never pose. I mean my agent Tracy has already talked to Playboy's Marilyn about me posing. I just don't feel comfortable doing that, you know???
I mean, I would totally do it for a movie or acting or something, but not just not playboy. I would pose for playboy after I had more acting! credits, or a small part in a movie, plus, I would get more money. Hopefully not too many people saw the magazine. Oh, and I guess the whole posing in a bikini was just bullshit!! It was just to get us to coup to the mansion. LAME!!!!
Anyways...... Lots of hugs and kisses, your little angel, Janelle xoox "
Well, Playboy couldn't get her but we did! See a lot more pictures of her in Meet the Models and Fast Dates and Iron & Lace News sections. Plus, Janelle Pierzina is featured in all of our 2004 and upcoming 2005 FastDates.com Calendars, and in some very sexy pictorials in our Members Corner.
Also, check out Janelle's test of the Ducati 999S HERE.
---
Yamaha Confirms Signing Valentino Rossi
Nov. 9th: Yamaha Motor Co., Ltd. has concluded an agreement with 2003 World Champion Valentino Rossi to head its MotoGP line-up in 2004 and 2005. Rossi will join Yamaha's wholly-owned factory racing team from 1st January and will begin the 2004 championship on board the Yamaha YZR-M1 in South Africa on 18th April this next season.
| | |
| --- | --- |
| Rossi eventually won nine of the 16 races in this year's MotoGP World Championship having sealed his third consecutive premier class title with a victory in the Malaysian Grand Prix on 12 October. He celebrated the feat with emphatic race wins the following weekend in Australia and at the season finale in Valencia, Spain on Sunday, 2 November. | |
The 24-year-old Italian's three MotoGP crowns followed a glittering career in the smaller classes that saw him take 125cc and 250cc World Championships before stepping up to motorcycle racing's premier series. Rossi and Honda held a joint press conference at the Valencia circuit after last weekend's race to announce the end of their four-year relationship. The formal announcement cleared the way for Yamaha to conclude an agreement with Rossi.
"We are all extremely happy that Valentino will be joining Yamaha in 2004," commented Mr Lin Jarvis, Managing Director of Yamaha Motor Racing. "In our discussions with him it is clear that he relishes the challenge of achieving our goal in MotoGP as much as we do. He is an incredible talent and will make a huge difference. Obviously there is a lot of hard work ahead of us, but we are confident that we can give Valentino the means to achieve more World Championships and we look forward to the challenge ahead. This is a very important step in our plan to re-establish Yamaha as a leading force in Grand Prix racing."
Rossi will be joining Spaniard Carlos Checa in the Yamaha factory team based near Monza in Italy and run by team director Davide Brivio. Checa's current team-mate, Italian Marco Melandri, will move to the Tech 3 Yamaha team (currently the Gauloises Yamaha Team). Managed by team principal Hervé Poncharal, the French based squad is a close partner of Yamaha. The combination ensures a strong line-up for Yamaha in 2004 and both teams will continue under the Yamaha-Altadis umbrella sponsorship agreement with the Gauloises and Fortuna brands. Final colours and co-sponsors for the 2004 season have yet to be announced.
---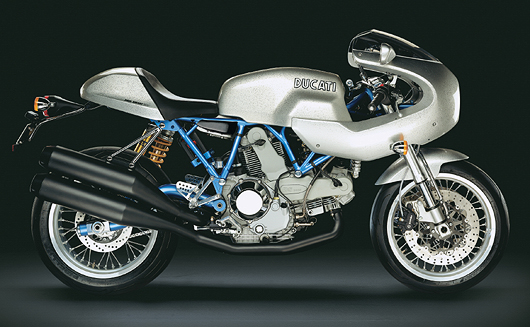 The Paul Smart Replica features the new DS1000 aircooled engine in a retro 750 Imola chassis complete with wire spoke wheels, but with modern concessions for suspenison, brakes and electronics. More HERE
Ducati to Preview Dream Machines at Cycle World Shows,
Long Beach - Dec 12-14th and New York - Jan 2-4th
November 7th - Ducati North America will be bringing to America their 3 new "Dream Machine" Sport Classic prototypes which were premiered at last month's Tokyo Motorcycle Show. Inspired by the Sportbikes of the 1970s, Ducati's Three SportClassic Prototypes are the Stuff of Enthusiast's Dreams Bologna Italy, 1 November 2003– "Our dreams live in the legends of racing, in riders like Paul Smart who helped us to write some of the most wonderful pages in the history of world motorcycling. Our dreams live in the simple and classic lines, the rich details and the colours of those trail-blazing Ducati sport bikes of the 1970s" remarks Federico Minoli, President of Ducati Motor Holding.
Minoli continues with "The three bikes to be unveiled represent the perfect mixture of winning technology - always a Ducati hallmark - with the timeless beauty of Ducati Design. PaulSmart, Sport, GT - three motorcycles designed to wet the appetites of enthusiasts everywhere, giving our Ducatisti, we hope, something to dream about. The bikes you will see are design studies. They are not for sale. And yet, at Ducati we know that dreams sometimes come true."
The weekend the Dream Machines were unveiled at Tokyo (Coincidently just 2 weeks after the huge Intermot Bike Show in Milan, Italy, where now prototypes are normally introduced, just goes to show how big and important the Japanese market is to Ducati), Ducati E-mailed their current base of registerd owners and surveyed their impression s of the Dream bikes and their marketability. And now with their visit to America there can be no doubt Ducati is priming the market for their introduction.
Whilst all three machines embody the same essential concept, timeless Ducati design linked with high performance, the individual designs, named PaulSmart 1000, GT 1000 and Sport 1000 offer three particular expressions of Ducati heritage while utilizing the latest and most innovative Ducati technologies.
The PaulSmart 1000 is inspired by the 750 Imola on which Paul Smart rode to victory in the historic 200 Miles of Imola in 1972. The PaulSmart 1000 bike brings the spirit of its predecessor back to life with levels of performance able that surpass the expectations of today's most demanding two-wheel enthusiasts.
The GT 1000 is a sport bike eminently suitable for everyday use, striking a perfect balance between the comfort of a two-seater and the performance of a twin-cylinder Desmo engine. Tradition and stylish elegance are merged seamlessly in this machine, made even more interesting by high-spec componentry and the road performance modern Ducati motorcycles.The Sport 1000 is a gutsy "Café Racer". Ducati through-and-through, with a coat of bold Ducati yellow paint, the Sport delivers timeless good looks and excitement that fans and enthusiasts expect of all Ducati sport bikes.
The unveiling will take place at the Long Beach Convention Center in Southern California December 11th 2003, and the Jacob Javits Convention Center in New York City January 2nd 2004. You can see more details and pictures on all three Ducati Dream Machines HERE.
---
The
Sexiest
Night
on Television

You will be watching on Wednesday Nov 19th 10/9 pm on CBS as Victoria's Secret kicks off the holiday season with their 2003 fashion show with a special performance by Sting.

Last year's broadcast was disappointing with poor direction, editing, and cameras that were always out of focus. And far too many jiggling butts with models on the catwalk who didn't work out, with the lone exception of hardbody Naomi Campbell. Hopefully this year will be better.

Meanwhile, we do highly recommend the new TV series SKIN on Fox Mondays featuring sexy young Cameron Richardson and FastDates.com Calendar girl and adult fim star Jessica Drake.

Its a modern day version of Romeo & Juliett, with waring families in city government and the porn industry, with Cameron's porn mogul father the good guy!
---
MotoGP Teams, Journalists Test at Valencia
Valencia, Spain, November 4-5th: Present at the Valencia track today were teams and riders from Ducati, Aprilia, Kawasaki, Pramac and Proton KR. The 2 days of testing were being used for numerous purposes from testing new parts, to letting motojournalists track test the factory MotoGP from this past weekend's just complete race season, to letting new team riders like Colin Edwards try out the factory Repsol Honda RC211V.
The Fortuna Yamaha Team stayed on at the Valencia circuit in Spain to complete the first of a two-day test today. Carlos Checa and Norick Abe took advantage of the clement weather to continue to test the new evolution of Yamaha's Deltabox frame on their YZR-M1 machines, having both raced with the new chassis in the final round of the 2003 World Championship in Valencia on Sunday.
Carlos Checa, who concluded his 2003 season on Sunday seventh in the championship, switched between the new chassis spec and his existing chassis today, completing a total of 81 laps, with a best lap time of 1'33.78. The Spanish rider enjoyed the opportunity to continue set-up on the new chassis, and will continue testing it tomorrow.
"We tried the current spec chassis this morning to confirm that we're heading in the right direction when we compare it to the new chassis, with which I raced on Sunday," said the 31-year-old. "Then this afternoon we
went back to the new one to improve my race set-up. We reconfirmed today that the new one is good - we only had a couple of hours using it during the race weekend, and today we can see more clearly that it has a lot of potential.
"I was here at the Valencia track yesterday as well because Yamaha had invited some journalists to test my bike. It was really interesting to hear their comments when they got off the bike, even though they generally rode about 10 or 15 seconds slower around the track than the MotoGP riders do!"
Norick Abe, who replaced the injured Marco Melandri during the race weekend, spent the day testing some new parts for Yamaha.
---
Walker signs for Foggy PETRONAS Racing
Tuesday, 11 October, 2003: Carl Fogarty today revealed that British race fans' favourite Chris Walker as the new rider for his Foggy PETRONAS Racing team in the 2004 World Superbike championship. And the 31-year-old from Nottingham, England, will have an immediate chance to put the FP1 - the first Malaysian superbike - through its paces when he joins new team-mate Troy Corser at the team's two-day test in Valencia, starting tomorrow.

Walker, known as The Stalker for his gutsy and aggressive style of riding, finished sixth in the 2003 SBK World Superbike Championship championship with six podium finishes and replaces fellow-Brit, James Haydon, at FPR. And four-times World Superbike champion Foggy, believes that his new man will be a key factor in his team's bid to turn the progress made in their debut season into tangible results next year.
Carl said: "This is a great signing for us and Chris will bring a lot to the team. Everyone knows he is fast and that he always gives 110 per cent, which is all I can ever ask for. I am hoping that he will also help Troy by providing more competition within the team. I think Chris' style is more suited to a four-cylinder bike and, having been on our triple, it definitely behaves more like a four than a twin. So I am hoping that the FP1 will really suit him and that both riders will be up there in the top three. And I have always said that I want a British rider in my team, and Chris is by far the most popular rider in Britain today."
Chris said: "I am really excited about this opportunity. It is going to be a challenge, but it will be an inspiration to be working with people like Carl and Troy - there are world champions everywhere in this team! And it meant a lot to me to know how much Carl wanted me to join. Carl and chief engineer Steve Thompson have told me all about the potential of this bike and there is no doubt it has the capability to improve more than any other bike on the grid next year. So who knows where we might be finishing by the end of the season."
The Valencia test will be the first test of Pirelli tyres, which all teams will be using for next year's championship.
Walker's career highlights:
2003 - 6th, World Superbike championship, with HM Plant Ducati. Six podiums
2002 - 9th, World Superbike championship with Kawasaki Racing. Best result: 4th
2001 - 500cc GPs with Shell Honda. Best result 12th
2000 - 2nd, British Superbike championship, with Crescent Suzuki. 2nd WSBK round at Donnington, twice 3rd at Brands
1999 - 2nd, British Superbike championship with Kawasaki UK
1998 - 2nd, British Superbike championship with Kawasaki UK
1997 - 2nd, British Superbike championship with Cadbury's Boost Yamaha
1996 - Debut season in British Superbike championship with Old Spice Ducati
1995 - 1st British 250cc championship, 2nd in 250cc Supercup, with Padgetts GP Racing
1994 - Shell National Clubmans Championship
TEAM PARTNERS: Hewlett Packard, Oakley, Gerard Mann, Thomas's Vehicle Solutions, Basilica. Scooters from Peugeot Motorcycles
TRADE SUPPLIERS: Michelin, OZ Racing, Brembo, Ohlins, Denso, Performance Friction, Regina, Goodridge, Talon, Facom, Autocom, Tensator, Alphabet
TECHNOLOGY PARTNERS: Micron, WebEurope
---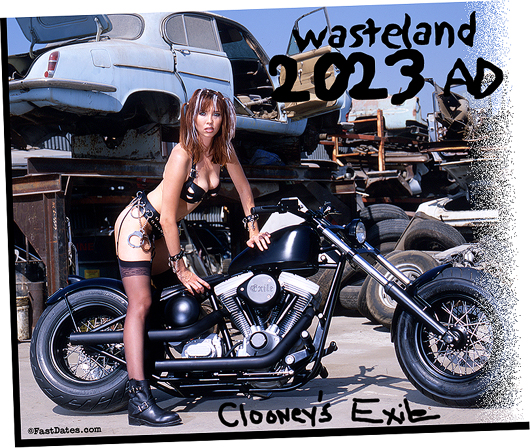 Actor George Clooney's Exile Big Twin Sport Custom
FastDates.com Calendar photographer Jim Gianatsis just had the exciting opportunity to photograph celebrated Hollywood actor George Clooney's new Exile Cycles custom big twin for the upcoming 2005 Iron & Lace Calendar sponsored by Mikuni, Performance Machine and Jardine Performance. Exile Cycles is the extension of former British male fashion model, Russell Mitchell, now cutom builder who's trademark bike is this basic rigid frame, all black American V-Twin boulevard cruiser. This Clooney spec bike sells for around $35,000, just pocket change if you're making $20 million per movie like George. The bike was photographed in an auto wrecking yard for an Apocolypse Now type set to match the bike with model Andrea in Mad Max warrior garb. We've seen the future and it is black. Go to see more of Exile Cycles