NEW!!! FastDates.com Apparel
Xaus to Race Ducati Desmosedici for Team D'Antin in 2004 MotoGP
Nov 17th - Having confirmed Neil Hodgson´s place in the team at the final race of the year in Valencia, Team D'Antin has now announce that Spanish rider, Ruben Xaus, will also be joining their MotoGP team for 2004.
With Hodgson winning the 2003 Superbike World Championship and Xaus securing 2nd position in the series as team mates, Team D'Antin, which will be the only Ducati satellite team in the series, are full of confidence for the 2004 season. The team will start testing their Ducati Desmosedici's on December 10th, 11th and 12th at Valencia.
Ruben Xaus: "I'm excited with the new challenge and would like to personally thank Luis d´Antin for this opportunity. I'm going to give it everything, 200% for him and for the team. I'm happy to be in a Spanish team and to continue racing with Neil. I have a good relationship with him and off the track we respect each other. I've been with Ducati for the past 4 years and I'm pleased to be able to continue. Until now I haven't had the chance to try the MotoGP bike and I'm really looking forward to it."
Luis d´Antin: "I'm pleased to have Neil and Ruben with us next year. Both are great characters and the whole team will do their best to have everything ready for them. Having seen the performance of other riders that have made the move from Superbike to MotoGP last year, I truly believe that we can expect great things from our new team."
Shakey to AMA Superbike?
This means Xaus will not be coming to America next year to race in AMA Superbike for the Ducati Austin team under contract to Ducati as Ducati SpA had hoped, earlier, to bolster promotion in their important US market. The next rider in line to ride for Ducati in Americain 2004 is reigning British Superbike Champion Shane "Shakey" Burns.
DuHamel -3 more years at Honda in AMA Superbike
Nov 10th -American Honda's veteran superbike star Yvon DuHamel has confirmed he has resigned with American Honda's roadracing team for 3 more years. The former AMA National Champion has always been the pillar on the team and in most recent years finishing runner-up in the AMA championship behind teammates Ben Bostrom and Nicky Hayden.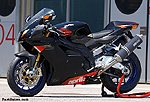 2004 Aprilia RS1000RF!
New Aprilia R Sold Out!
Nov 10th -Did you miss it? Aprilia USA marketing director Robert Pandya just told us the 2003 production run of the sensational new 2004 model RS1000R and RF models which were released this past September are now sold out.
FastDates.com was the first publication in the world to release a test of the new RS Mille back in September.
Aprilia USA won't be taking delivery of any more of the new '04 models until the spring of 2004, just about the time all the new Japanese 1000cc superbikes are expected to make their way to America as well. If you've been chomping at the bit to get one of the new 2004 superbikes from anyone other than Ducati, you can expect to wait another 4 months until at least March '04. Still, if you've got the hots for a new Mille, still might be one left at a local Aprilia dealer, somewhere. Every new British sportbike magazine, as well as FastDates.com test rider and World Superbike girl Janelle Pierzina has raved about how great the new Mille is, and how great a price value it is compared to its Italian rival.
FastDates.com
Tuono Project Bike
Anyone that's ridden an Aprilia Tunono or Tuono R knows what a blast the big bore naked bike is. Putting a set of motocross handlebars on the now previous generation Mille turns the big and bulky superbike into the ultimate boy toy (calendar girls excepted).
But if the price of a $12,000 - $20,000 Tuono is what is holding you back from getting one of these great bikes, have no fear. The previous generation 1999 to 2003 Milles will soon be flooding the market in the next year at huge discount as the new generation superbikes become available, and used previous generation Milles will be avaialble for half the cost of a Tuono. With just about a $1,000 in conversion parts you can turn a Mille into a Tuono.
In fact, that's what we suggest in the test of the new '04 Mille a few months back, is to get an old Mille and convert it to a Tuono which is just what what editor Jim Gianatsis is doing now. We bought an insurance "totaled" 2001 Mille R for $3,800
The bike was actually perfect mechinacally, with just minor cosmetic scratches on the bodywork, decals and gas tank (which could be left as is or easily repainted), but since a Tuono is nothing more than a Mille without bodywork we didn;t have to worry.
The biggest part of the conversion is getting the Tuono upper tripple clamp and handlebar mounts for the Ohlins front forks which are available from Aprilia USA. Other conversion parts like the small headlight cowling and longer hydralic lines for the taller handlebars were placed on backorder by Aprilia. And no aftermarket product companies offered hydraulic lines for the Tuonos.
But just this week we discovered that Galfer, the brake people, also offered and could custom make hydraulic lines. We drew them up the schematics for the longer lines, faxed them over to Dean at Galfer, and by return overnight UPS we had a full set of race spec clear plastic sleeved stainless steel braid hydraulic lines for our Tuono project bike. If you need lines for a Tuono conversion, or for any other other bike just have your dealer give Galfer a call at
ph: 1-805-653-5012.
Look for our feature article on our Mille to Tuono conversion in the coming weeks.
The New 2004 FastDates.com Calendars now available!

Covergirls Janelle, Chandi and Joanna Krupa get down to work
in the 2004 Garage Girls calendar available right here.
Capirossi and Desmosedici V race
with F104 Starfighter
cancelled
Nov 10th - Motociclismo magazine and the Italian Air Force had organized a runway race between the Ducati Desmosedici – the Ducati MotoGP racebike which set an all-time speed record of 332.4 km/h at Mugello – and a Lockheed F104 Starfire of the 9th Fighter Wing and the Italian airbase of Grazzanise (Caserta).
However, the unfortunate tragedy in Iraq just the day before the scheduled race, where 12 Italian soldiers and 34 people total were killed in a terrorist bambing, caused the Italian military to cancel the publicity stunt out of respect.
For Italy, this was their biggest military death till since World War II and the entire country was in shock and mourning.
---
More Exciting
2004 Calendars!
Click to shop...
---
Foggy Petronas team make first test with new rider Chris Walker
Thursday 13 November 2003-
Carl Fogarty was provided with immediate proof of the value of new signing Chris Walker during his Foggy PETRONAS Racing team's two-day test at Valencia.
Chris was in action on the FP1 for the first time since signing for FPR and joined team-mate Troy Corser in the first chance to test the Pirelli tyres that all World Superbike championship teams will be using for the 2004
season. But the focus of four-times world champion Foggy was firmly on his new man, who has replaced fellow Brit James Haydon.

Carl said: "This has been one of the best tests I have been to and the atmosphere within the team has been really positive. Chris had a few mechanical problems on the second day but the first day went very well. He
loved the bike from the word go, especially the way it handled in the corners. And I was very surprised to see that he was nearly as fast as Troy at such an early stage. Chris did not really have much of a chance to test thePirelli tyres, but Troy went very well on them on the second day.

"I was very impressed with Troy's performance. He did around 16 laps on the same tyre, with his last lap quicker than the first. I don't think I ever saw that with our Michelins. We still have a bit of work to find the perfect tyre for our bike but Troy said the Pirelli tyres gave good consistent grip throughout. So everything looks good for exciting racing and close competition in the championship next year."

Chris had finished the first day with a best time of 1:38.2, just half a second down on his team-mate. But, while Troy broke into the 1:36s, mechanical problems prevented Chris from making progress with lap times on the
second day.

Chris commented: "I spent the first day familiarising with the bike and the way the team works, but I was unable
to make much progress on the second day because of a few problems with the bike. But I already know that the
bike does certain things very well. All I can do at this early stage is use Troy as a benchmark and I was only half
a second behind him on the first day which was very encouraging. I didn't get much chance to test the new tyres
but there will be time for that."

Troy said: "I was doing lap times today as good as the ones at our last test here, with similar engine performance. It is still early days in our selection but the signs are that the one-tyre rule is going to work well for the championship."