The new KTM 990cc RC8 Superbike Prototype: just 385 pounds and dirt bike simplicity!
2004 KTM 990 RC8 Superbike Prototype
WORLD PREMIERE: KTM-SUPERBIKE CONCEPT
"RC8" RELEASED AT TOKYO MOTORSHOW
KTM, one of the world's leading off-road bike manufacturers with World Championship Motocross, Cross Country and SuperMoto titles to its credits, is expanding its motorcycle product line into the streetbike market. They know, like Ducati, winning performance is what sells bikes to the enthusiast bike markets which they target, so their entry into the streetbike market will be harolded with a new leading edge superbike and a factory team entry in the 2006 World Superbike Championship.
The bike you see here is the RC8, the "concept" or first prototype for the new KTM superbike, unveiled at the Tokyo Motor Show this month. The bike employs a proven Ducati style trelis chromoly tube frame with a stressed member 990cc 75-degree V-Twin engine of KTM's own manufacture. The design is very simple and clean like a dirt bike, and features a few new innovations like the under seat fuel tank, complete under engine exhaust system, and dry sump lubrication (oil tank in the swingarm?). Obviously midsing on this clean looking prototype are the rear view mirrors and turn signal for street use, along with side number panels.
KTM says they welcome the new production based FIM superbike rules which help to reduce costs and it could be conceivable this bike could go into production for well under $20,000. Hopefully KTM can get the bike into production even sooner than 2006 and possibly enter World Superbike in 2005?
Bonus! KTM RC8 Screensaver and more photos- Click Here
---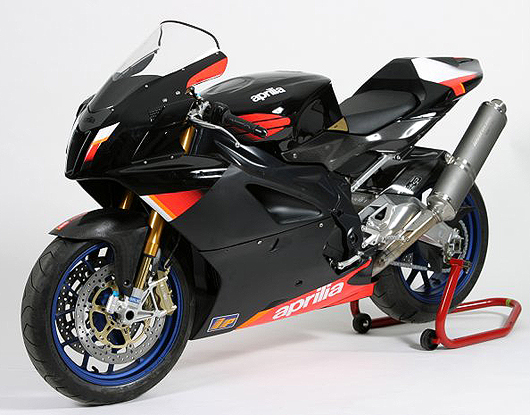 New Aprilia RSV1000RF Racing
Bolonga, IT, Dec 6th, 2003: Aprilia is presenting racing versions of the RSV 1000, RS 250 and RS 125 at the Bologna MotorShow. Also making its debut will be the brand new SXV 4.5 Supermotard. The introduction of the racetrack specials has been in response to the global growing demand for track-dedicated bikes. All the bikes feature aviation fibre fairings, unrestricted exhausts and dispense with unnecessary items such as the lights, horns and mirrors. The 'racing' colourway and graphics scheme is common across all three models.

The RSV 1000 R Factory features a 102dB Aprilia Racing titanium exhaust, which equates to a further 10hp in the mid-range and an extra 4hp on the top end with a weight reduction of 8kg (This pipe kit is also avaialble separetly to fit the over 2004 RSV1000 models). The RS 250 'Pista' has lightweight Aprilia exhausts with Kevlar carbon silencers like those found on the RSW 250 GP bike. The RS 125 'Pista' is designed as the bike for young talent to launch them into motorcycle racing. The bike comes fitted with a special exhaust that features internal welds and a Kevlar carbon silencer.
Road homologation kits will be made available for the RSV and RS 125. The SXV 4.5 is going to race in the World Supermotard Championships next season. Also appearing on the Aprilia stand will be the bikes that raced in the 2003 season: the RS3, RSW 250 and RS GP 125. On Sunday 7th, racers Manuel Poggiali and Alex De Angelis will be on the stand and on Monday 8th, new MotoGP rider and current British Superbike Champion Shane Byrne will be on hand to sign autographs and meet fans.
For More Information on the new Aprilia Mille Racing and Nera models go to: New Bikes Aprilia
British Superbike Champ Shane Byrne
Moves to Aprila MotoGP Team
Nov 23, 2003 -Shane Byrne made his debut for the Aprilia MotoGP team on the second day of a three-day test shared with the Ducati team at Jerez in Spain. The 26-year-old was forced to sit out the first day due to wet conditions, but was able to put in his first MotoGP laps on Tuesday, November 25. Despite a minor crash, the reigning British Superbike champion completed a number of laps on his own before spending a session following test rider Marcelino Lucchi.
Despite his tumble, Byrne was impressed with the bike: " It's incredible! Very fast. Everything is different to last year's superbike and I've got to change my style and learn how to ride an Aprilia. There's lots of room for me to improve but I am confident in Aprilia and that the work carried out so far by Lucchi will benefit me. "
On the third and final day of the test on Wednesday, November 26, Byrne completed 63 laps with a best time of 1:44.7. This time would have qualified him for the 2003 Spanish GP, albeit in 20th place.
The Ducati team was also positive after the test. Working on new components for the 2004 Desmosedici race bikes, Loris Capirossi completed 46 laps, with a best time of 1:42.8. Troy Bayliss managed 52 laps, recording a time of 1:43.1. Both riders were using a race set-up for their updated 2003 machines to test new Michelin front tyres on the last day.

Eric Bostrom will be at the controls of the World Championship winning factory Ducati 999F 03 in AMA Superbike next season, but only if he can first work his way past our beautiful SBK Fast Dates Ducati Corse girls -
Miss Minnesota Janelle Pierzina, Miss Great Brirain Nicki Lane, and Chandi Mason.

FastDates.com sponsored Nicki in the Miss Britain pageant.

Miss Great Britain Nicki Takes on the World
She's off to Venezuela for Miss World Finals
London GB, Dec 1st: Our own Fast Dates and Iron & Lace Calendar cover model and official SBK World Superbike Fast Dates.com Ducati Corse umbrella girl Nicola Lane is off to Venezula this month to take on the world! Our beautiful Miss Great Britain 2003 will be competing in the Tourism World sponsored Miss World finals. Nicki writies us-

"I'm on on the mend from being sick the last 2 months and back to evil exercise again!!! Ha! I've done five bikram yoga classes in five days to get ready. The final for Miss Tourism World isn`t in Hong Kong anymore for two reasons: Loads of girls wouldn`t go 'cos of the SARS scare, and China came in with a massive bid with the condition that Miss China would be placed in the top five! I am therefore off to Venezuela, home of the beauty pageants for the finals Dec. 12th to 21st. You should look at Miss Europe. the winner was a Russian girl, only 16 but absolutely stunning, tall slim and a model.All the info is on their website www.misstourismworld.com."
For More Nicki go: Meet the Models • Fast Dates News

" I saw our Chandi in the ad pages in British Cosmo! She was advertising some bizarre strapless bra thing, but she looked as gorgeous as ever. Tell her I want her teeth!"
---
Michelin Tire Tests at Daytona
Eric Bostrom and Ducati Warm Up At Daytona
Daytona Beach, FL, Dec. 4, 2003: Eric Bostrom put on his new red and orange Ducati leathers and turned his first laps aboard the Ducati 999 factory motorcycle on Thursday at Daytona International Speedway as Ducati Austin and Valvoline EMGO Suzuki kicked off a three-day Michelin tire test in preparation for the 63rd Daytona 200 By Arai motorcycle classic on Saturday, March 6.
Bostrom had been riding for Kawasaki USA since 2000, but the distributor's pulled out of AMA Chevy Trucks U.S. Superbike for 2004 opening the door for the 27-year-old San Francisco rider to join Ducati.

Bostrom turned his first laps on the Ducati 999 that he'll race in the season-opening Daytona 200 By Arai, being held on a Saturday for the first time in event history. Bostrom's first impressions on the motorcycle were positive.
"The thing is really fun to ride," Bostrom said. "Daytona is a very difficult track to learn a new bike because it's so different from any other track we ride. Everything that comes here is different whether it's tires or big straightaways.
"My initial feelings when I jumped on the bike . . . it was really easy. Right now, we're just trying to figure out how to get in the turns a little bit quicker. The thing is really solid on the exits. Through the middle, it's probably the easiest bike I've ever ridden. Right now, we're just trying to get the entry down. Things are looking pretty good."

Bostrom, who along with Valvoline EMGO Suzuki's Steve Rapp and Vince Haskovec, will test on the historic 3.56-mile road course through Saturday. Beginning Monday, Dunlop will have a three-day tire test in preparation for the Daytona 200 By Arai.

Bostrom hopes his three days of tire testing can lead to a solid run in the Daytona 200 By Arai."Already I've got a good feeling for the tires," said Eric, whose best finish in the Daytona 200 By Arai was a second in 2001.
"I think probably the biggest part of the puzzle to winning this race is to have a bike go around here for 57 quick laps. It's very difficult. Here, a lot of times if you have a good setup for brand new tires, it'll be a poor setup for used tires. You'll have some screaming laps (in the beginning of a run) but you'll fade to the back as soon as the tires go off."
One fact that Bostrom is aware of is that Ducati has never won the Daytona 200 By Arai. He says it would be special if he could lead the Italian motorcycle manufacturer to Gatorade Victory Lane at Daytona for the first time in the legendary race.
"I've heard about that," Bostrom said of Ducati's woes at Daytona. "It would be special. They've already showed me a huge amount of commitment to my program. Realistically, it's going to be a big job. There are a lot of teams that come here with a lot of history. To say we're going to come in and win doesn't seem like an educated statement. We're going to come out here with our race face on. I'm sure we'll know more after the next couple of days of testing where we stand."
Michelin tire testing continues on Friday. The session is free and open to the public with access to the Oldfield Grandstand through the lobby of DAYTONA USA. Tickets for the Daytona 200 By Arai on Saturday, March 6 and the inaugural nighttime running of the Daytona Supercross By Honda on Friday night, March 5 are available online or by calling (386) 253-7223.
---
Recommended Christmas Gifts from FastDates.com thru Amazon.com

Liz Phair
With songs like "Rock Me All Night Long, Hot White Cum, this sexy songstress needs to be triming your tree this Christmas


FastDates.com Apparel
Cool T-Shirts for fast boys and bad girls. HERE

Save $$$ on Top Name Computers, Components!
Low Discount Prices -
No Sales Tax!

MotoGP3
Realistic and Exciting!

Great Tool Sets
Low prices $$$$
---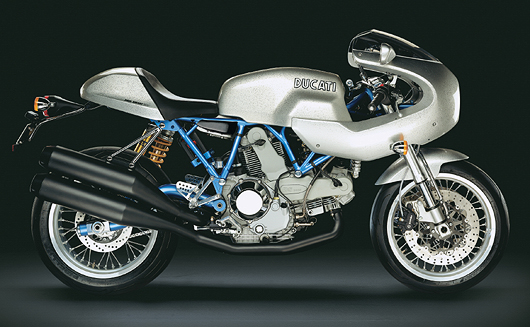 The Ducati Paul Smart Replica features the new DS1000 aircooled engine in a retro unfaired chassis complete with wire spoke wheells, a weird conventional swongarm with side mounted single shock, and modern front forks, brakes and electronics. More
HERE
Ducati to Preview Dream Machines at Cycle World Shows,
Long Beach - Dec 12-14th and New York - Jan 2-4th
November 7th - Ducati North America will be bringing to America their 3 new "Dream Machine" Sport Classic prototypes which were premiered at last month's Tokyo Motorcycle Show. Inspired by the Sportbikes of the 1970s, Ducati's Three SportClassic Prototypes are the Stuff of Enthusiast's Dreams
The USA unveiling will take place at the Long Beach Convention Center in Southern California December 11th 2003, and the Jacob Javits Convention Center in New York City January 2nd 2004. You can see more details and pictures on all three Ducati Dream Machines HERE.
Eric Bostrom will also be visiting the Show – in his first public appearance as a Ducati rider. The 2004 Los Angeles International Motorcycle Show will be at the Long Beach Convention Center on December 12th through 14th, 2003. In addition to the new 2004 Ducati range and the US debut of the Sport Classic concept bikes, Ducati AMA Superbike rider Eric Bostrom will attend on Saturday and Sunday to sign autographs.
Eric won the 2001 AMA Supersport 600 championship and finished 2nd in the AMA Superbike series during the same year. In 2002 his efforts realized a respectable 2nd place finish in AMA Superbike. Unfortunately, an injury in 2003 prevented him from finishing better than 7th in the championship points. Now Eric is back and his partnership with Ducati's world-famous racing division leads the effort to regain the AMA Superbike title. Eric will be riding a factory-supported 999 for Ducati Austin, a bike that has recently conquered the World Superbike Series. Eric is really eager to get started. He said, "Obviously, jumping onto the World Championship machine brings high expectations, but at the moment I just can't wait to get on the bike. Between the 999, myself, and the Michelins, 2004 is going to be an exciting year."