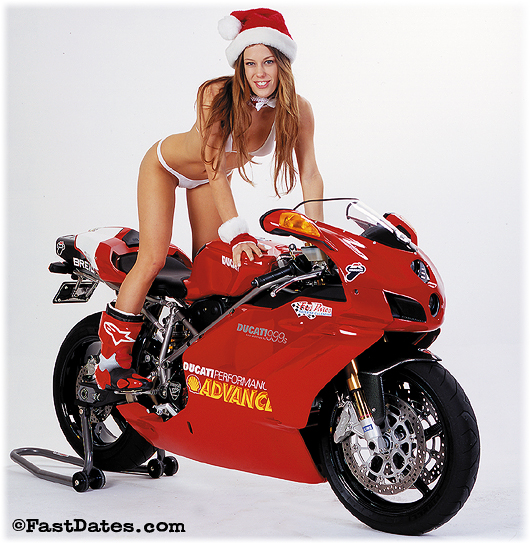 Happy Holidays from FastDates.com!
Our newest calendar girl Laura Niles is ready to ring out the old and bring in the new aboard our tricked out FastDates.com Ducati 999S project bike. Laura has been naughty, and nice, and has helped us put together a special FastDates.com Season's Greeting Screensaver as our special Christmas presnt for FastDates.com Pit Laane news readers. Just click on the links below to download and find out more cool stuff!
FastDates.com 1224 x 864 Holiday Screensaver

HERE

FastDates.com Ducati 999S Project Superbike

HERE

Order the 2004 FastDates.com Calendars

HERE

!
---
Dunlop Tire Blowouts and High Speed Crashes
" SUPERBIKES HAVE OUTGROWN DAYTONA!"
- AMA Superbike Champion Matt Mladin

Daytona Beach, Florida, USA (Thursday, 11 December) – The annual Dunlop tyre test at the famed Daytona International Speedway in Florida, came to an abrupt end after two of the scheduled three days and has raised serious questions and doubts about the leading superbike riders taking to the circuit for the opening round of the 2004 Chevy Trucks US Superbike Championship on March 6.

The drama began after Yamaha rider, Jason DiSalvo crashed at over 270kph (170mph) on the circuit's ultra-fast banked section on the second day of the test. The cause of the accident was an alleged rear tyre failure and is the fourth high-speed incident to have occurred this year. The incident saw Dunlop officials call a premature end to the test for the Superbike riders, leaving just the 600cc Supersport competitors out on the track for the third and final day.

The 2003 season saw a number of high speed tyre failures, including that of four-times American Superbike Champion Mat Mladin who had a rear tyre let go at 270kph (170mph) while leading the opening race at Road Atlanta in May. The day prior a privateer rider had a tyre fail at almost the same place as Mladin, leaving the rider with multiple injuries. In October, Mladin's Yoshimura Suzuki teammate Ben Spies had a rear tyre fail at Daytona during an end of season test at Daytona. He suffered severe abrasions and is still unable to ride.

The spate of tyre problems has left chief supplier Dunlop working frantically on finding a solution. This week's three-day test was designed to sort through more tyres in preparation for next March's opening round of the championship the Daytona 200. This week's tyre failure has left a number of riders concerned and undecided as to the role that they will play in that opening race, including Mladin, a two-time winner at Daytona and he is very concerned at the latest incident and it's ramifications.

"We were told in a meeting with Dunlop, the day before the test started, that they essentially assured us (the riders) there wasn't going to be any trouble with the tyres of the same sort we have had in the past, with tyre deflation etc," said Mladin.

"Unfortunately there was one such incident on the second day of the test and as I've said many times, the bikes and the speed of the new 1000cc motorbikes has gotten beyond what this race track is capable of and the tyres cannot handle the abuse that they are given around here."

"The point that must be made and I've said before, Dunlop cannot be held totally responsible for what is happening. Any tyre manufacturer that would come here and see what goes on with tyres would be pulling their hair out with trying to develop tyres for this track. They (Dunlop) cannot be held responsible, we have to hold someone responsible at other tracks and Dunlop may be partly to blame there, but here the AMA need to look at what's going on and the performance of the motorcycle."

"The bikes have increased in performance so much in the past five years that it is becoming frightening. The new Honda did essentially 310kph (190mph) on the 31° banking and with all of the funny things that happen on the banking, the G forces are unbelievable."

"If something is not done about it, I certainly won't be racing in the 200 under the circumstances we are at, at the moment. I would rather put a set of tyres on a 600 Supersport and race that, rather than a 200+hp Superbike as no one can guarantee our safety when it comes to tyres here. Motorcycle racing is full of inherent dangers and things that go wrong, but it has come to a point where there are no guarantees that you'll come around the next lap, even if you don't do anything wrong and I think that's a risk not worth taking."

"Tyre wear is also not the issue or the reason why for the failures. Ben (Spies) had a tyre fail after about four or five laps and then (Jason) DiSalvo had one let go after about ten laps on a 1000cc Superstock bike and we've got to do 20 laps on a tyre in the 200 race."

"The problem Dunlop is facing is that they just don't know why it's happening. They think they've got a handle on why it happened and then they've got another failure. Don't get me wrong, I'm not criticising Dunlop for not working on the problem as I know that they've worked day and night on this. I can't fault them for the amount of work and time they've put in over the past three months, it's been incredible. The bottom line is that the speeds and the forces generated on the banking, I don't think can be replicated in a closed testing environment and that makes it hard. The banking does have what feels like very sharp holes, what would feel like stutter bumps on a motocross bike, but at 270kph, so is this additional load causing the tyre to fracture. That's the thing at the moment, we just don't know."

"This is a big problem and it needs to be addressed now. What is going to happen in a few years time when the manufacturers start to develop 240hp bikes? Just six years ago we had 155hp and now we have just over 200. One day it has to come to a point where it seriously needs to be addressed."

"We know that Daytona is the worst track on the calendar as far as safety goes (Because of the concrete walls on the banking it can not qualiy for FIM races -Ed.), but getting it taken off the calendar won't happen next year, so something has to be done quickly. I think the series has outgrown Daytona. Even the 600cc Supersport bikes are doing 270kph (170mph) on the banking."

"We're going to speeds with these 1000cc bikes of over 320kph after they've been in the draft and that's crazy as you are surrounded by a concrete wall. So far thDunlop Tire Blowouts and Crashese recent incidents have been during practice, but what will happen if a tyre fails during the race when there's a five-bike train happening and there are five riders on the track at 270k's and a field of bikes following them. You can imagine it's not going to be good."

"We met the AMA officials late on Wednesday afternoon to discuss ways of fixing it so that the race will happen next year with less than three months before the race, a lot of things will need to be sorted out."

Mladin left the Daytona circuit on Wednesday afternoon and will return to Australia for the festive season, before resuming his testing commitments with Yoshimura Suzuki in January.
Editor's note: Michelin successfully concluded it's Superbike tire tests at Daytona the week before with Team Austin Ducati running theWorld Championship winning factory 999 Superbike and Valvoline EMGO Suzuki their GSXR1000, both without tire failures. Troy Corser reportedly broke 200mph at Daytona on his Michelin tire equipped factory Ducati back in 1999 without tire problems. Nor has Michelin experienced any major tire failures in MotoGP where the factory bikes turn out 200-240hp. The tire failure problems in AMA Superbike are definetlyan inherent Dunlop design problem and the factory teams Yoshimua Suzuki and Honda may be forced to leave theirbig bucks tire sponsor Dunlop for another tire brand.
---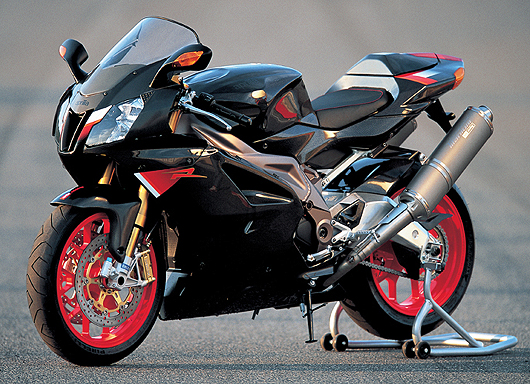 New Aprilia RSV1000R Nera
Bolonga, IT, Dec 10th, 2003: Aprilia is offering for sale on its website the new limited edition Nera which wlil be produced in a quantity of just 200 bikes for the dear cost of $40,000. For $23,000 above the cost of the new Aprilia RSV1000R Factory model with its already trick components like the Ohlins suspension. The Nera offers lots of trick stuff in Magnesium, Titanium and Carbon Fibre, as well as the cool looking bronze color anodived aluminum frame. The engine's heads and case covers, as well as the sexy red wheels replace the stock aluminum components for magnesium. The fairing changes fromthe stock plastic to carbon fibre. And the engine gets the optional Titanium Race Exhaust System and new EPU programing which ups the power across the RPM range (advertised peak power of 136hp is actually increased from magazine dyno tested 123 to 125hp). The bike's dry weight drops to a mere 385 pounds.
Plus, Nera owners get a custom made matching set of Dainese leathers, and an invitation to hang with the Aprilia MotoGP team at a race round of their choice. It's a pricey, but cool deal for serious Aprilia enthusiasts with too much money to spend. We'd like to see Aprilia offer a more reasonably priced $25,000 model with all the same feaures and 15hp more to compete with Ducati 139hp 999R.
The first Nera off the production line went to "Friends" TV actor Matt LeBlanc who owns and rides a previous generation Mille R. Aprilia USA made a big "To Do" of presenting Matt with his new bike in public at their display at Long Beach International Cycle Show on Dec. 13th, which probably means the $1 million per TV episide actor got his Nera for free. When we asked Aprilia's marketing director if we could pull off a Fast Dates Calendar shoot of the Nera with model before they gave it to LeBlanc. He said he had to ask LeBlanc first, and then reported back that leBlanc had said "No." So if Aprilia did give the bike to LeBlanc they certainly wasted their money for the negative publicity the less-than-personable actor, gave them. Aprilia now won't be represented in the 2005 Fast Dates calendar because we feature trick exotic and race bikes, not showroom stock production bikes.
For More Information on the new 2004 Aprilia RSV Mille, Racing and Nera models go to: New Bikes Aprilia
---
Recommended Christmas Gifts from FastDates.com thru Amazon.com

Liz Phair
With songs like "Rock Me All Night Long, Hot White Cum, this sexy songstress needs to be triming your tree this Christmas


FastDates.com Apparel
Cool T-Shirts for fast boys and bad girls. HERE

Save $$$ on Top Name Computers, Components!
Low Discount Prices -
No Sales Tax!

MotoGP3
Realistic and Exciting!

Great Tool Sets
Low prices $$$$
---
Performance Machine and Jardine Performance
sign multi-year sponsorships of our
LA Calendar Motorcycle Show and FastDates.com Calendars
December 8th, Los Angeles, CA - Two of the leading motorcycle aftermarket product manufacturers in America, Performance Machine and Jardine Performance, have just just signed long term multi-year sponsorship agreements for The Los Angeles Calendar Motorcycle Show and the related FastDates.com Calendars. Beginning in 2004 the agreement sees both manufacturers being major participants of The Los Angeles Calendar Motorcycle Show -the largest custom and performance streetbike show in America, and the FastDates.com Calendars -the world's most popular line of motorcycle pinup calendars and the leading streetbike website in America.
The new agreement extends Performance Machine's previously established title sponsorship of the Los Angeles Calendar Motorcycle Show with the continued participation of the popular Performance Machine big rig display truck, and the Performance Machine Best of Show Award for what is the premier custom bike contest on the West Coast. PM is the leading manufacturer of streetbike custom and racing wheels, handlebar and foot controls in America.
The new agreement sees Jardine Performance joining The Los Angeles Calendar Motorcycle Show as one of the event's important associate sponsors, with the hugely popular Jardine West Coast Horsepower Dyno Shootout which premiered at the Show in 2003, now becoming an annual major component of the Bike Show weekend. Jardine Performance is a leading manufacturer of automotive performance exhaust systems, and the leading American manufacturer of custom and performance cruiser and sportbike exhaust systems, and the official exhaust system supplier to American Honda's Roadracing Team.
The Los Angeles Calendar Motorcycle Show Weekend is held at the Queen Mary Event Park in Long Beach, CA, and continues to grow each year as the most popular streetbike show in America catering to the custom, cruiser and sport streetbike markets. Always the 3rd weekend of July, the 13th Annual Show is scheduled for Saturday July 17th and Sunday July 18th, 2004. The Show features major spectator attendance with over 150 major manufacturers, race teams and leading custom bike builders from across North America. Performance Machine is the event's title sponsor, with associate sponsors including Iron Works magazine, Jardine Performance, Corona Extra beer, the FastDates.com Calendars, The Los Angeles Times / ReCycler / Cycle Buys, together with Trader Publications and SPEED TV's American Thunder, The LA Calendar Motorcycle Show is the premier streetbike event weekend in America. The weekend includes a charity ride-in hosted by Iron Works magazine to benefit the Olive Crest Shelter for homeless and abused children and families.

Jardine now joins Performance Machine and Mikuni Carburetors as associate sponsors the Iron & Lace Custom Bike Pinup Calendar produced by FastDates.com which premiers at the Bike Show each July. The most popular and well known motorcycle calendar in the world today, Iron & Lace features the finest custom bikes from the top celebrity builders in America, photographed together with sexy lingerie clad celebrity models. Featured in the upcoming 2005 calendar will be this past year's LA Calendar Bike Show Performance Machine Best of Show winner, Jesse Rooke's "Rockett" with Playboy Playmate Michelle LaVoie.

Jardine also joins Performance Machine, together with the SBK World Superbike Championship and MotoWheels.com as associate sponsors of the Fast Dates Racebike Pinup Calendar produced by FastDates.com. The world's most popular racebike calendar, Fast Dates features the top factory race bikes of the SBK World Superbike Championship and AMA Superbike Championship, photographed together with the beautiful SBK Fast Dates World Superbike Girls. Featured in the upcoming 2005 calendar will be 2003 World Superbike Champion Neil Hodgson's Ducati 999F03 together with Miss Great Britain 2003 and SBK Fast Dates Ducati Corse umbrella girl Nicki Lane.
The announcement was made by Jim Gianatsis , Director of Gianatsis Design Associates, the well known motorsports marketing and photography agency and producer of the LA Calendar Bike Show and FastDates.com Calendars. "We are really excited to have the support of two of the motorcycle industry's leading product manufacturers joining us on a long term basis. It provides increased recognition for us and the sport in general, it offers more value and excitement for motorcycle fans, and assures the continued growth and popularity of both the Bike Show and Calendars."
For complete information about The LA Calendar Motorcycle Show and the FastDates.com Calendars just visit http://www.FastDates.com
---
Go to Pit Lane News Previous Page
Hot Calendar Girl News! Go to: Fast Dates • Berm Busters • Iron & Lace
---

Cycle World International Motorcycle Show Coverage
The New 2004 FastDates.com Calendars now available!



Covergirls Janelle, Chandi and Joanna Krupa get down to work
in the 2004 Garage Girls calendar available right here.
Josh Hays to Race
Attack Kawasaki
in AMA Superbike
Dec 20th - Josh Hayes has renewed his contract with the Attack team in AMA for 2004 aboard new Kawasaki bikes. There was initial talk that Josh might go with an in-house Kawasaki factory team until it was decided there would be no factory B team. Personal manager Gina Prochard felt staying with team Attack where he will ride in Superbike and Superstock class.
Team Volvoline Suzuki team owner John Ulrich is said to be extreamely angry as John had expected Josh to return to his team under a factory Suzuki contract. But no firm contract was forthcoming from Suzuki and Gina had a contract in hand from Kawasaki that need to be signed. "Suzuki could have matched and kept us but they did not, and John thinks we're wrong for not staying. they had 4 months to sign Josh and didn't. We just couldn't wait any longer."
Superbike girl
Janelle stars in
National Lampoon's Infamous Cuisine
cooking show on
Comedy Central
Dec 20th: Our own FastDates.com Calendar Angel and SBK Fast Dates Ducati Corse umbrella girl for Ruben Xaus, Janelle Perzina is staring in her own new TV cooking show on Comedy Central. Never one to be taken too seriously, Janelle's show on Comedy central is called National Lampoon's Infamous Cuisine.
The show and Janelle take a comedic approach to Penelope Cruz's role in the movie Woman on Top where Tom's squeeze hosts a spicy cooking show to raise ratings. In her own real TV show our Janelle will be whipping up such grade school delicacies as Jello, Smores, and PB & J sandwiches.
The Master of Slide
McCoy moves to WSB
Dec 11th - Garry McCoy has confirmed that he will ride for the NCR Ducati squad in the 2004 World Superbike Championship.
The Australian rider, who was with the Kawasaki MotoGP team this year, will replace Regis Laconi after the Frenchman left to ride for the factory Ducati WSB squad in 2004.
A long time GP rider, McCoy is renowned for his spectacular all action riding style and will be a welcome addition to the WSB championship.
He said: " It's great to get the ride. I was open to most offers but the deal with NCR just came together easily. I'm looking forward to being on a competitive bike and the WSB paddock seems a fair bit more relaxed than MotoGP. "
McCoy was a front line GP winning rider with the Red Bull Yamaha GP team back in 2001, but lack of rides on competitive bikes during the '02 - '03 season had relagated him to the back of the pack. Now with a factory spec NCR Ducati superbike in WSB, Garry will be adding a lot of excitement to the 2004 superbike season.
AMA Pro Racing
to assess Daytona
tire test situation
December 11, 2003 - AMA Pro Racing, in concert with teams, riders, Daytona International Speedway (DIS) officials and representatives from the major tire manufacturers will work together in assessing the situation resulting from two tire-failure related crashes that occurred while tire testing at Daytona International Speedway.
Much was learned from the just-concluded tests at the speedway, but two dramatic incidents have forced all involved to carefully re-evaluate the situation. Yamaha's Jason DiSalvo walked away from a crash on Tuesday, day two of the Dunlop-hosted test, and Yoshimura Suzuki's Ben Spies had a similar crash while testing in October. Both incidents were the result of tire failure at high speed.
AMA Pro Racing, CEO Scott Hollingsworth was on hand at the Dunlop test and commented on the situation: "Obviously we're thankful that both Jason and Ben are okay and that their injuries weren't more extensive," said Hollingsworth. "We're taking this matter very seriously and are exploring all possible options in terms of dealing with it. We've met with, and will continue to meet with, every major team, DIS officials and representatives from the tire companies to explore possible solutions. It's premature to say what those solutions may be, but restoring the confidence level in the minds of each and every one of our racers is just one of our objectives."
Hollingsworth was upbeat about the valuable input put forth by several participants in the test. "By and large, everyone has a good grasp of the challenges and most are offering good, productive ideas to mitigate the concerns," said Hollingsworth. "It's a matter of 'do you want to be part of the problem or part of the solution.' I'm happy to report that there's a high level of effort being expended to arrive at answers."
Hollingsworth welcomes the opportunity for the teams to test again at Daytona before the 2004 AMA road racing season begins in March. "Ultimately it's going to require additional testing to resolve this matter and DIS was able to free-up a date in late January for another tire test." said Hollingsworth. "That's significant because it will now allow the tire makers to analyze their data, determine what's causing these failures and arrive at new solutions. Essentially it comes down to a balancing act between grip and wear and this added test should go a long way towards delivering tires that adequately achieve both objectives." Hollingsworth added that the additional test will be open to all tire makers competing in AMA Superbike racing.
A Daytona Speedway official expressed the opionion that the tire failures were a result of the new high horsepower superbikes and the tire manufacturers' attempts to build softer compounds, and that the problem needs to be corrected by the tire companies. "Daytona is the one constant in this equation that has not changed over the years."

MotoGPTest
Valencia, Spain, Dec 11, 2003.
Temperature: 15 degrees C
Weather: Sunny
Weather Improves, Times Drop
Brilliant sunshine greeted riders on Thursday morning for the second day of the three-day end of season test at the Ricardo Tormo Circuit in Valencia, Spain, and with it came a vast improvement in lap times. All of the Honda riders went faster, with some running better than their race pace from the season-ending grand prix just over a month ago. Most put it to the next generation engine parts that were being tested as a prelude to the new Honda RC-211V that will debut in the new year.
Top honors went to Camel Pramac Pons' Max Biaggi who lapped consistently in the low 1:33 range with a best of 1:32.8. With good weather from the start of the day, Biaggi was able to work on the various engine combinations for a full 88 laps, coming away with nothing but praise for the pace of development. "Normally to test something different you have to wait to February," the Roman said.
Telefonica MoviStar Honda's Sete Gibernau and Pramac Honda's Makoto Tamada both lapped at 1:33.4, with Gibernau constantly on the number while trying the new Michelin 16.5 in front tyre. This was purely a development tactic and Gibernau was swimming in uncharted territories, knowing full well that lap times might not show the progress of the new engine. "It's difficult to get the right feeling from it," he said.
Tamada continued to work with the new engine parts while refining his chassis settings. The Japanese rider, who just finished his debut season in MotoGP, took delivery of a new chassis at a test just after the season ended and is using the Valencia test to continue his learning curve. So far, so good, he said. "We had a test right after the race and my lap time was much better than the race," he said.
Telefonica MoviStar Honda's Colin Edwards, a longtime proponent of the 16.5 inch front-he rode it to the 2002 World Superbike Championship on the Castrol Honda-struggled with it on the Honda RC-211V. Regardless of how many laps were on the tyre, he couldn't crack the 1:34 barrier. "To me it's telling me there's a wall there where it's comfortable and after that I have to find the limits," the lanky Texan said.
The test concludes on Friday, after which there's a one-month moratorium on testing which will end with the Honda teams testing in Malaysia in mid-January.
---
More Exciting
2004 Calendars!
Click to shop...
---
Extensive Coverage of
SUPERBIKE and
SUPERSPORT WORLD CHAMPIONSHIPS
on EUROSPORT
The 2004 Superbike and Supersport World Championships will enjoy extensive live coverage on Eurosport following recently concluded negotiations with the leading pan-European sports channel.
Full live coverage of the entire season will be provided on Eurosportnews as well as British Eurosport. This will be supported by additional broadcast coverage on both a live and deferred basis on the continental Eurosport channel.
In 2003 Eurosport flighted more than 45 hours of World Superbike and Supersport coverage.
"Eurosport is delighted to continuing its partnership with Superbike by offering a large exposure of all 2004 superbike and supersport events. The Superbike series is very popular among motorcycling riders and completes the unique and extensive 2 wheels offer of the Eurosport Group", said Vincent Chupin, Program Acquisitions Director of Eurosport.
FGSport President, Paolo Flammini, added: "We are delighted at the coverage that will be generated over the course of next season and are very pleased that we can offer fans, sponsors, teams and partners this level of improvement across so many key markets."
World Superbike Championships will benefit a large coverage as Eurosport reaches over 250 million viewers in 95 million homes in 54 countries.