This year's running of the Daytona 200 will certainly go down in the history books as one of the most interesting races ever, from another almost win by underdog Ducati in the highly skilled hands of their lone factory rider Eric Bostrom, to the 3rd Daytona race victory by Suzuki's Matt Mladin, arguably the least liked but one of the most highly talented and calculating riders we have ever had the questionable pleasure of watching compete in American Superbike. The 63rd running of this uniquely American motorcycle classic also requires that the following observations be noted by the AMA sanctioning body and the motorcycle manufacturers for the safety, validity and good of Superbike in America:
1. Adding to the excitement, drama, and now extreame danger of the Daytona race were the new 200hp 1000cc Superbikes which have twice the power to weight ratio of a NASCAR stock car, and are now much too fast for the high banked Daytona super speedway were the riders bounced and weaved at 190 mph without traction, or any vehicle safety protection from the solid concrete walls and armco barriers -just inches away. Riders spoke in fear and respect of the bikes which were spinning their tires in every gear under acceleration, right up to 190 mph on the banking where only aerodynamic drag held them back as their rear tires continued to spin up over 200 mph. Many of the factory riders including Miguel duHamel and jake Zemke said they were often drifting both wheels in full slides at top speed on the banking, particularly across the start/finish line of the tri-oval.
It should be noted that NASCAR limits their race car speeds to 185 mph for safety, and their drivers have the added control of four huge tire patches, spoilers and modified bodywork for added down force traction, plus the significant protection of a 3,600 lb steel car with full roll cage, protective seat, full body and neck safety harnesses. There is no way in any sense of intelligent responsibility or safety that the AMA can allow modern Superbikes to return to Daytona Speedway without making significant changes to the course layout to eliminate much of the banking and reduce top speeds. Very few tracks in America meet FIA / FIM safety standards and Daytona is not one of them. FIM World Superbike will not sanction a race at Daytona because of the safety issues of the outdated track with its solid walls and no safe runoff areas.
2). It was extremely disappointing to see just 3 brands, Ducati, Honda and Suzuki in contention for the Daytona 200 Superbike race. Neither Kawasaki or Yamaha are campaigning the Superbike Class this year, although both manufacturers have highly competitive bikes in their new ZX10 and R1. In fact, just the day before on Friday these two brands had an extraordionary 6 way battle in the new 1000cc Superstock class where eventual winner Damon Buckmaster and his challengers were turning extremely fast 1:52 laps with 185mph top speeds on what were essentially stock bikes - just 2 seconds and 5mph off Saturday's race leading Superbikes, and just as quick or quicker than the privateers filling out the rest of Saturday's Superbike field behind the sparse 6 factory riders who were racing the classs. Put a front line factory rider on a Supersport bike and they would certainly be in the top 5-10 in the Superbike class. Bolt on works suspension and wheels on a Supersport bike and they could be racing for the win. The AMA and the manufacturers need to admit they make a mistake in creating the repetitive 1000cc Superstock and Supersport class, and combine it with the Superbike class to return American Superbike to the premier class it has always been. -JG
We were excited to feature the Beu Sisters in their first major national concert appearance at our Los Angeles Calendar Motorcycle Show this past July 2003 following the release of their critically acclaimed first album "DECISIONS." Our favorite girls are now really breaking out into the big time as part of a huge American Idol national concert touras the opening act for Kelly Clarkston & Clay Aiken! The tour kicked off in Charolette on February 21st and makes 31 stops across the country at huge venues including the Nasasau Coliseum in New York, and the Staples Center and Anaheim Pond in the Los Angeles area before ending on April 17th. Our congradulations go out to Danielle, Candice, Christie and Julie for their well deserved success. They are four of the sweetest girls were ever had the pleasure to meet and party with for an entire great weekend. We're guessing the crew of the Queen Mary is still trying to figure out how the girls' foot dirty naked prints were left walking up the sides of the pristine white ship
These four young teenage girls are the hottest, best new girl group on the music scene since the Coors. If you miss the harmonies of Wilson-Phillips and like the pop rock ballads of the Coors, these four beautiful young Beu sisters will totally blow you away. Songs like "I was only Seventeen" might get us arrested, "Stop! Stay away from my Sister!" tells us they'll kick our butt, but then they lead us into temptation with 'Why Don't You Just Kiss Me." You saw them here first on FastDates.com 1 year ago! Meet the Beu Sisters and catch their 2004 National tour HERE
FastDates.com and Performance Machine present the 2004
Los Angeles Calendar Motorcycle Show Weekend
July 17-18th 2004
Iron Works Charity Ride, Jardine Performance West Coast Dyno Shootout,
America's Top Builders, Live Blues and Rock Concert Festivals, Las Vegas Extremes, Calendar Models and the Purrfect Angelz featured
The Los Angeles Calendar Motorcycle Show Weekend sponsored by Performance Machine held at the Queen Mary Event Park in Long Beach, CA, continues to grow every year as the most popular consumer street bike show in America catering to custom, cruiser, classic and sportbike enthusiasts. Always the 3rd weekend of July, the 13th Annual Show is scheduled for Saturday July 17th and Sunday July 18th, 2004. The Show features a huge weekend of activities with over 160 major motorcycle and product manufacturers, exhibitors and venders, together with the leading custom bike from across America. This year Show producer Gianatsis Design has focus on increased parking for continued growth in spectator attendance. Associate Sponsorship support for the premier streetbike event weekend in America is provided by Iron Works magazine, Jardine Performance, Corona Extra, Trader Publications, FastDates.com Calendars & Website, The Los Angeles Times / ReCycler / Cycle Buys, and SPEED TV's American Thunder.
There's an incredible lineup of activities including the Jardine Performance West Coast Horsepower Dyno Shootout - now an exclusive permanent feature attraction at the Show, new bike demo rides from select motorcycle manufacturers, and complimentary admission to the Queen Mary historic ocean liner (Normally a separate $26 charge to tourists, Queen Mary admission is included free to Bike Show spectators with their low $20 admission to the Bike Show). The LA Calendar Motorcycle Show again supports an important charity, the Iron Works magazine Readers Ride to benefit Olive Crest Children's Shelters (the biggest shelter for orphans, abused children and families in Southern California), as its ride-to destination. Saturday morning the 17th riders will start at the Olive Crest Children's Home in Santa Ana, CA, from where they will then ride to the Calendar Bike Show in Long Beach, just 25 miles away and receive VIP parking, a complimentary lunch and weekend admission for their charity donation.
As always the LA Calendar Show offers the premier Performance Machine Custom, Sportbike and Classic Bike Contest on the West Coast featuring many of top bike Pro and Amateur builders in America vying for the prestigious Performance Machine Best of Show Trophy. Jesse Rooke will return to premier his latest cutting edge custom in a bid to secure Best of Show for the 3rd year in a row, but competition will again be intense from many other top builders normally in attendance including Paul Yaffe, Don Chica, Ron Simms, Mike Stafford, Roger Goldammer, Harold Pontarelli and many others. The Calendar Show, its bikes and builders, and exhibitors receive more national media coverage in major motorcycle magazines including Iron Works and in TV programs on Discovery, Spike, and with our Show's associate sponsor Speed TV's American Thunder.
Each year's Show features exciting live on-stage entertainment. This year will there will be different musical themes each day. Saturday the 17th will feature an all day Mini Blues Festival headlined by 2000 lbs of Blues, one of Los Angeles' most popular blues bands, together with a number of special guests. On Sunday the 18th the Show will shift to a Classic Rock 'n' Roll Festival with the hugely popular Unauthorized Rolling Stones out of San Francisco, together with the Janis Joplin style rock/blues vocals of the beautiful Boudeeka.
Joining us for the first time this year will be the Purrfect Angelzs with special on-stage shows both days. The Angelz are a group of 5 beautiful girls performing dance, gymnastic and comedy magic routines. Also making a special appearance all weekend long will be the Las Vegas Extremes team, famous for their wild sportbike stunts and videos, staring the crazed Pauly Sherer and the beautiful 21 year old Jolleen "JoJo" Farmer. They promise a lot of smokey burnouts followed by exploding rear tires to keep things exciting all weekend long.
Showcasing the Calendar Girls theme of the Calendar Bike Show will be the premier of the 2005 FastDates.com Calendars with the beautiful SBK World Superbike Calendar Angels in attendance including Miss Great Britain Nicki Lane, Comedy Central's Janelle Perzina, The Man Show's Chandi Mason, and beautiful new Calendar Angels Andra Cobb and Laura Niles. Plus there will be the FastDates.com Calendar Girl Model Pageant both days, the beautiful Corona Extra and Archie's Ice Cream Girls. Also planed are special promotions from Playboy, Penthouse and Maxim magazine with appearances by their models and Hometown Honeys.
"Motorcycle enthusiasts love The Los Angeles Calendar Motorcycle Show because of its quality of attractions and weekend long excitement, plus the participation of many of the major bike and product manufacturers, and top custom bike builders in America. Plus our beautiful FastDates.com Calendar models!" explains event producer Jim Gianatsis of Gianatsis Design, a motorsports advertising design agency which also produces the popular FastDates.com Motorcycle Pinup Calendars. "This outdoor event located on the ocean's edge at the beautiful Queen Mary Park, in the heart of America's motorcycle industry makes our Show even more significant. With everything that Long Beach has to offers including the ferry boat to Catalina Island, the Aquarium, the downtown restaurants and clubs, and the attractions Los Angeles has to offer, the LA Calendar Motorcycle Show is a must do weekend for streetbike fans."
Spectators and Exhibitors can find out more about The LA Calendar Motorcycle Show, the Bike Contest and all the available weekend activities online at BIKE SHOW
---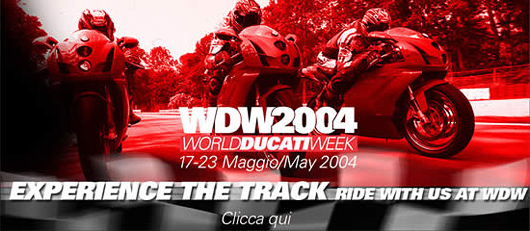 WORLD DUCATI WEEK 2004 IS COMING
A vast range of racetrack activities and special events await sportbikers from around the world

Bologna, Italy, 20 February 2004: The offices at Borgo Panigale are a whirl of activity in
preparation for Ducati's fourth international meeting, to be from May 17 to 23 at the Santa Monica track, Misano. WDW 2004 is a full week of activity dedicated to the passion for sport motorcycles. Tens of thousands of Ducatisti are expected but lovers of sportbiking in general are also invited. The event is open to motorcyclists of all ages, tastes and abilities. For those without a Ducati, WDW2004 gives them the opportunity to test the bikes that have made Borgo Panigale – the home of Ducati – world famous.
The following activities have already been scheduled:
TRACK AREA: An exciting aspect of this year's event is the use of the track for the entire week; participants will be able to ride the track on all 7 days.
TEST RIDE AREA: From Tuesday to Sunday, participants will be able to try out the new Ducati 2004 range of motorcycles on the test ride track.
TECHNICAL AREA AND SALES AREA: A technical area will be created in the track pits to support events on the track itself. Furthermore, a 1100 square metre sales area for Ducati products will be provided, with the entire range of Ducati accessories and apparel on display.
RELAXATION AREA: In conformity with the principles of Zen philosophy, a relaxation area will be provided where participants can listen to chill-out music, relax on Stokke ergonomic chairs and enjoy free massages by professional masseurs using the "fast massage" technique. The massages will last for around fifteen minutes, using traditional Chinese micro-massage, reflexology, decontraction, anti-stress and shiatsu techniques. A gym will also be made available for all participants, with the most modern Technogym equipment.
DUCATI RIDING EXPERIENCE: The first day, Monday 17 May, will be a Ducati Riding Experience (DRE) day, dedicated to the motorcycle riding course organised by Ducati. Participation depends on purchase of a WDW week ticket at a special rate. On subsequent days brief basic and advanced courses will be held to give everyone the opportunity to experience the unique sensations of the DRE.
BIKE WASH: A stand will be provided where participants can have their
motorcycles washed by young assistants. You will also be able to immortalise this
unique moment and send your pictures to your friends via MMS.
BEACH AREA: For participants who enjoy sports, an area of the paddock will be outfitted for beach sports, including beach soccer and beach volley. There will also be a genuine Mexican bar where you can enjoy colourful cocktails in a relaxed atmosphere with cool music.
TOURS: Three types of tour will be organised in collaboration with "Curve e Tornanti", which will visit the most beautiful areas of Emilia Romagna, especially designed for riders who enjoy exploring the world on their motorcycles.
A range of ticket options are available:
- week ticket for Ducati owners: reservations by 18 April, 95 euro; after 18/04, 110 euro.
- weekend ticket for Ducati owners: reservations by 18 April, 50 euro; after 18/04 60 euro.
- week ticket for non-Ducati owners: 120 euro.
- weekend ticket for non-Ducati owners: 70 euro.
- week ticket for guest without motorcycle or passenger: 90 euro.
- weekend ticket for guest without motorcycle or passenger: 45 euro.
All participants who reserve their week tickets (of any type) by 18 April, will qualify for a lottery for 100 guest places at a dinner with the official Ducati Corse riders.

Registration and further information about the event: www.wdw2004.com.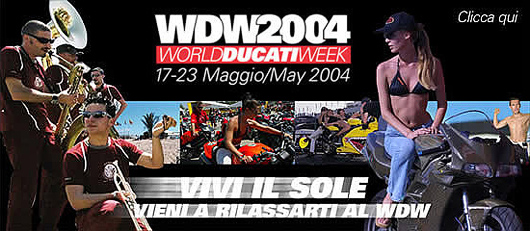 AMA Team Ducati Austin tests at Barber Motorsports Park
March 18-19th, Montgomery AL -Eric Bostrom tested the Parts Unlimited Ducati Austin 999 for the first time at Barber Motorsports Park on Thursday, putting in 71 laps at the fast and flowing track under overcast but mild conditions. With this being the first true road course for Bostrom on the 999, the focus was on the front end and continuing to get Eric comfortable with the bike on a track new to the 999.
The 27-year-old Bostrom from Las Vegas, Nevada had ridden the 2.3-mile track only once before in a short practice session, having missed last season's final race at the Alabama venue due to injury. "It was fun to shake the 999 down on a real road course type track," said an enthusiastic Bostrom.
The track, repaved late last year, created a specific challenge in tire selection. "It's just unfortunate that the track is so green. It feels different from the brief test I did here on the old pavement," said Bostrom. "With so many blind drop-away turns, it's a challenging track to learn and judging the correct corner entry speed is critical. We made good progress today and I had a great time pushing the bike hard on this course."
Italian race engineer Luca Ferraccioli explained, "With the condition of the repaved track we are concentrating on finding the correct front tire. Michelin has more front tires for us to try tomorrow so we will continue focusing on that."
The Parts Unlimited Ducati Austin team wrapped up a productive two-day test at Barber Motorsports Park with Eric Bostrom turning a total of 101 laps in warm and sunny conditions.
"Things went really well today," said Bostrom. "I'm really curious about what the pace is going to be on this new asphalt. We worked with Michelin to find the right tire and I got my time down by a couple of seconds over yesterday. I'm happy about the progress because things just keep coming together."
The team's test follows an incredible AMA debut at the Daytona 200 where Bostrom proved the potential of the Ducati 999 by qualifying in pole position and running at the front of the field until a stone-damaged oil cooler forced his early retirement from the race.
"The main goal of our test was to find the ideal front tire and we found a solution that we are happy with," explained race engineer Luca Ferraccioli. "With the increased confidence Eric is showing with the set-up, we feel that good things can happen at Fontana," declared the team's racing manager Tom Bodenbach. Fontana is one of the few tracks where Bostrom has had the opportunity to test the 999. A test session in mid February gave the team critical data to work with as they head into the next round at the Southern California venue.
Round 2 of the AMA series will be held April 2-4 at California Speedway in Fontana.