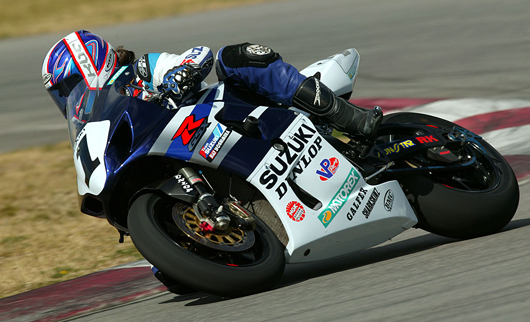 Matt Mladin out smarted and out survived the competiton to win the 63rd running of the Daytona 200.

2004 AMA National Superbike Championship, Round One Daytona
Dangerous Hign Bank Drifting and Three Pit Strategy by Jim Gianatsis
Underdog Mladin Wins his 3rd Daytona 200
Daytona International Speedway,FL, Mar 6th- American Superbike Champion Matt Mladin garnered his 3rd win of the prestegious Daytona 200 by Arai today in spactular style aboard his factory Yoshimra Suzuki GSXR1000. Matt bested the faster factory bikes from Honda and Ducati by relying on his 4-time National Championship winning consistancy, speed, and a 3 pit stop strategy for new tires. The one additinal pit stop -one more than usual, allowed him to turn quicker lap times on fresher tires, more than making up for the additional time spent in the pits.
At the completion of the 57-lap race distance, Yoshimura Suzuki GSX-R1000 mounted Mladin had stretched his race lead to 7.081 seconds over the dueling factory Honda pair of Jake Zemke and Miguel DuHamel who had opted for a 2 pit stop strategy, with the lead trio of riders finishing well ahead of the remainder of the field. Up until lap 42 of the 57 lap race the action was extreamely exciting with a 6-way battle for first for the lead headed by fastest qualifier Eric Bostom on the Austin Ducati 999F, Team Honda race win favorites brother Ben Bostom and 4-time Daytona winner Yvon DuHamel on the new Honda CBR100RRs, plus Suzuki team mates Mladin and Aaron Yates on their slighly less powerful GSXRs, and Erion Honda Racing's Jake Zemke on the another factory supported CBR1000RR.
Adding to the drama and excitement of the race were the new 200hp 1000cc Superbikes which are now much too fast for the high banked Daytona super speedway were the riders bounced and weaved at 190 mph without traction to the pavement or any protection from the concrete walls just inches away. Riders spoke in fear and respect of thire bikes which were spinning their tires in every gear under acceleration, right up to their 190 mph top speed on the banking where only aerodynamic drag held them back as their rear tires continued to spin up over 200 mph. Many of the factory riders including duHamel and Zemke said they were often drifting both wheels in full slides at top speed on the 31 degree banking, particularly across the turn of start/finish line of the tri-oval.
It should be noted that NASCAR limits their race car speeds to 185 mph for safety, and their drivers have the added control of four huge tire patches, spoilers and modified bodywork for added downforce traction, plus the protection of a 3,600 lb car with full roll cage, protective seat and safety harness. There is no way in any sense of intelligent responsibility or safety that the AMA can allow modern Superbikes to return to Daytona Speedway without making significant changes to the course layout to eliminate much of the banking and reduce top speeds. Only 3 race tracks in America meet FIA / FIM safety standards and Daytona is not one of them.
Superbike Qualifying– Eric Bostom puts Ducati on the Pole by .483 seconds
Daytona International Speedway, Mar 3rd and 4th- Ducati's lone AMA Superbike rider Eric Bostrom threw down the gauntlet on Wednesday, the first day of Qualifying with an incredible time of 1:46.835 - the fastest ever lap turned by a motorcycle at Daytona International Speedway - posted on his Michelin-shod Austin Ducati 999F 04, to claim the Provisional Pole for Saturday's Daytona AMA Chevrolet Superbike National season opening round.
Eric's time smashed Nicky Hayden's existing two-year-old mark of 1:47.174 and left Eric 1.3 seconds clear of his nearest rival on the first day of Qualifying. The all new factory Hondas CBR1000RRs were expected to impress this weekend, and they have, but they were definetly overshadowed by Bostrom and the performance of his factory Ducati. Miguel DuHamel and Jake Zemke put the new CBR1000RR second and third on the provisional order with best times of 1:48.116 and 1:48.344, respectively.

On Thursday, Eric's bother Ben Bostom put his new factory Honda CBR1000RR in second spot on the grid with a 1:47.318, followed by Yoshimura Suzuki's Matt Mladin, blasting his GSX-R1000 Superbike to a best lap time of 1-min 47.640 around the 5.729km (3.56 miles) famed banked circuit to move up to a third place start on Row 1. Completing the front row of the grid is Canadian Miguel DuHamel (Honda) who set a best lap of 1:47.679 today.

"As usual tyre strategy will play a part in the race,"predicted 4 time Superbike champion Mladin. "There's been a lot of talk about tyres here over the past few months, now we get to see the outcome. Pit stops will be crucial for sure as they always are, so it will be interesting to see who does what in the race."
Daytona 200 final Qualifying Superbike Combined Qualifying Session Times, Wednesday and Thursday
1. Eric Bostrom (Ducati Austin) 1:46.835 mins
2. Ben Bostrom (American Honda) 1: 47.318
3. Mat Mladin (Yoshimura Suzuki) 1: 47.640
4. Miguel DuHamel (American Honda) 1: 47.679
5. Jake Zemke (Erion Honda) 1: 48.257
6. Aaron Yates (Yoshimura Suzuki) 1: 48.333
7. Larry Pegram (Yamaha) 1: 50.727
8. Pascal Picotte (Yamaha Canada) 1:51.417
9. Eric Wood (Suzuki) 1:51.431
10. Josh Hayes (Attack Kawasaki) 1:51.652

Eric Bostrom on the Ducati leads a 6-way battle for the lead into the Chicane before the first pit stops, chased by Duhamel (17), brother Ben (155), Mladin (1), Yates and Zemke.
The Superbike 200 by Arai
An Extra Pit Stop for Tires Helps Mladin Win
Mar 6th- The strategy for Saturday's 200 Mile Superbike National was to be the longevity of the race tires and the number of pit stops each rider made. It past years on less powerful superbikes a set of tires and a tank of gas would usually last up to around 20 laps, meaning a top finishing rider would only make 2 stops around laps 20 and 40 in the 57 lap race around the 3.56 mile Daytona combined infield road course and high speed banked tri-oval.
But this year with the 190hp superbikes and higher sustained top speeds placing increased heat and stress on the tires, both the Michelins and the Dunlops were going away and loosing their grip after about 12 laps. So the individual teams need to decide if they wanted to nurse their race rubber at a slightly slower pace to go 20 laps and make just 2 stops. Or to run a faster pace and make three stops every 12-14 laps for tires and fuel, so their tires could be run at the limit.
None of the factory teams made their pit stragety known until the race unfolded. an unfoled it did in spectactular fashion as the race got off to a clean start and the two front rows immediately becan a 6 rider battle for the race lead that would continue right through to the first set of pit stops.
Matt Mladin got the best jump off the line and led into the first corner ahead of Yoshimura Suzuki team mate Aaron Yates, followed by Eric Bostrom (Austin Ducati) Ben Bostrom and Miiguel Duhamel (Honda), with a slight ways back Jake Zemle (Erion Honda. Once up on the banking the AMA handicapped GSXR1000s were at a slight power disadvantage to the Ducati and Hondas and were easily passed, but once in their draft both Mladin and Yates were able to run with them on the banking and make up for any lost feet in the infield sections. The front became a 3 way battle for the lead between Eric, Miguel and Ben as the other 3 followed closely.
It was extreamely disappointing to see just 3 brands, Ducati, Honda and Suzuki in contention for the lead. Neither Kawasaki or Yamaha are campaigning the Superbike Class this year, although both manufacturers have highly competive bikes in their new ZX10 and R1. In fact, just the day before on Friday the two brands also had an extradionary 6 way battle in the new 1000cc Superstock class where eventual winner Damon Buckmaster and his challengers were turning extreamly fast 1:52 laps with 185mph top speeds on what were essentially stock bikes - just 2 seconds off and 5mph off the race leading Superbikes, and just as quick or quicker than the privateers filling out the rest of todays's Superbike field behind the sparse 6 factory riders that are racing the classs. Josh Hayes' lone Attack Kawasaki ZX10 dropped out of the Superbike race
Everyone in the media box was expecting to see just 2 pit stops for all the fsctory team riders, and when Eric Bostrom pulled his race leading Parts Unlimited sponosored Austin Ducati factory 999F04 into the pits on laps 16, it was thought their might be a problem. But then Matt Mladin brought his Suzuki GSXR1000 into the pit as well ,followed a lap later by Aaron Yates and it soon became apparent th factory Ducati and Suzuki teams were running a 3 pit stop race.
Their early pit stops turned the race lead over to Honda's trio of Bostrom, Duhamel and Zmeke who remained in control trading the the lead unitl lap 20 when they dived in for their first stop, of what would be team Honda's 2 pit stop strategy race. It would later play out to be their downfall.
Ben Bostrom's shared race lead came to an end with his first pit stop. He shouted at his mechanics to check the rear sprocket and chain which looked fine so he return to the track, attempted one more race lap, then returned to the pts to retire. "I might have broken something inside the clutch. When I was coming off the line I did a real agressive start and I heard something snap."
Asked for his assessment of how the race had been going, Ben said, "Honda's got the best bike out there. That's why Miguel and Jake are doing so well. But Eric's riding his best, but I understand he's done an extra pit stop? But I'm cheering on my brother...."
"Doing just 15 laps on a tire is a safety issue. No one has done more than 12 laps on a tire in practice. But once in the race we're (Team Honda) just trying to push it past 18 laps."
As it played out, one pit stop might cost a rider about 20 seconds in lap time, 10 seconds for a fresh set of tires and fuel, plus the time pulling in and out of the pits. A front running factory rider like Eric Bostrom could consistantly knock off race lap times of 1:49 with fresher tires that only need to go 15 laps. The team Honda riders on the other hand who had to stretch out their tires to last 20 laps, were forced to drop a second off the lap times which were in the 1:50's. It wasn't until the mid point of the race that it became obvious that Eric bostrom on the Ducati, despite his terribly long 14 second tire changes (compared to 9 seconds for the Hondas) was going to end up with a 10-15 second lead by the end of the race.
But then on lap 42 while leading the race with a few seconds cushion, Ducati's famed Daytona curse struck again. Eric's 999F began billowing a cloud of oil smoke from inside the fairing, and while the engine was still running good, it was certainly throwing oil on the rear tire. Eric was forced to retire from his lead and the race, and aftewardsin the pits it was discovered something had punctured the engines oil cooler. It would be interesting to know if the bike had been running the normal protective screen in front of the cooler which is positioned low in the front of the fairing next to the pavement where it is vulnerable to gravel kicked up by the front tire.
On lap 46 everyone was done with their pit stops and the 3 stop strategy had worked for the two Yoshimura Suzuki riders as well, with Matt Mladin leading his team mate Yates by a few seconds, followed further back by Duhamel and Zmeke.
What happened next is probably the most stupid and thoughtless incident the sport has ever seen, and it took place right on live television on Speed Channel. Aaron Yates was racing hard, secure in his second spot about 3 seconds behing team mate Mladin and ahead of the Honda duo. Aaron wanted to catch Mladin for the lead and the win in the wost way, to the point his determinitation and concentration was focused no where else
| | |
| --- | --- |
| | Coming up fast on an tight infield corner with privateer rider Anthony Fania in front of him, Yates wasn't about to loose any time following a slower lapped rider throught the corner. Aaron went to the outside of the corner to pass Fania, out braked him late, and then cut across Fania's front wheel to make the corner. Fania's bike was knocked to the ground at about 60 mph, and now the out of control rider and bike slammed slid into Yates's bike and knocked them all cartwheeling into the haybales. |
The incident seen across America on Speed TV from top left: Aaron Yates comes up from behind Anthony Fania to pass on the outside of the corner, Yates cuts across Fania's line and takes out the front end of Fania's bike which then sends Fania crashing into the back end of Yates's bike, slamming them both into the tire barriers. Yates jumps up and kicks the still dazed Fania from behind, returns and then helment butts Fania in the face
The NHL just suspensed and fined a hcokey player for a year for sucker punching a player, the AMA only gave Yates a 1 race suspension on March 9th (see story above right). But then, with only 4 factory riders in the AMA Superbike class what kind of season would that be?
Both riders got up immediately with Fania walking over to a safer spot. Yates, however, was in an uncontrolled rage for the nobody lapped rider he figured had just cost him the possible win of the prestegious Daytona 2000 and the opening round of the Superbike Championship. Jumping up and down like a 4 year old in a tirate in nursery school, Yates ran over and knee kicked Fania squarely in the back as he walked over to safely. The lunging knee kick left Yates on the sprawled out on the ground, from where he got back up, walked around in a circle screaming more insults at Farina until Yate's rage again got the better of him and he went back over and helmet butted Farina in the face.
The final laps saw Mladin secure in a 6-8 second lead ahead of Zmeke, who knew he was in trouble with Daytona veteran Duhamel sitting on his rear fender. Miguel knew he had to sit there so he'd be in the cat bird's seat to draft past Jake on the fina lap's run down the banking to the finish line and sling shot past for a 2nd place finish ahead of Jake.
And the kid knew that, too. "I had some problems with my clutch coming off the start and had to roach my rear tire to catch up with the leaders before the first pit stop. After that I just hung onto Miguel and he showed me around the track untill I got in front of him after the last stop.
"I'm sitting there going into turn one one the last lap talking to my crew chief Dave McGrath (on his helmet radio). 'How come I feel like asitting duck her?'
"I parked it in the chicane, he parked it (Miguel not wanting to pass Jake until they left the chicane and came out of Turn four on the banking). I said to myself, since he showed me all around, I just better go! He went down low, i went high and actually got the thing sideways across the line!"
Zmeke on the Erion Honda retook second place from Duhamel by a scant few inches as they crossed the finsih line together in a photo finish after 200 miles of one of the most exciting Daytona's ever. But it was Matt Mladin on the slightly slower Suzuki GSXR1000 who took his 3rd Daytona win with a highly talented ride, a little luck, and a 3 Pit Stop Strategy that allowed him to run with the faster bikes.
Daytona 200 Final Results
1 1 Mathew Mladin Henderson, NV Suzuki GSX-R1000 57 --- American Suzuki / Yoshimura
2 98 Jake P Zemke Paso Robles, CA Honda CBR1000RR 57 7.081 Honda / Parts Unlimited
3 17 Miguel Duhamel Repentigny, QC Honda CBR1000RR 57 7.095 American Honda
4 77 Jack E Pfeifer Las Vegas, NV Suzuki GSX-R1000 55 ---
5 45 Lee Acree Jamestown, NC Suzuki GSX-R1000 55 --- Empire / Suzuki
6 12 Ricky Orlando Erie, CO Suzuki GSX-R1000 54 --- Sun Racing
7 21 Pascal Picotte Repentigny, QC Yamaha YZF-R1 54 --- Yamaha Canada
8 47 Opie Caylor Marietta, GA Suzuki GSX-R1000 54 --- Pirelli / Empire Racing / SuzukiArai
9 61 Scott Jensen Phoenix, AZ Suzuki GSX-R1000 54 --- JQ Moto Racing
10 96 Eric C Wood Mansfield, MA Suzuki GSX-R1000 54 --- Hooters Suzuki
11 25 Marco Martinez Fort Lauderdale, FL Suzuki GSX-R1000 54 --- Champion Racing
12 81 C R Gittere Charlotte, NC Suzuki GSX-R1000 54 --- Repairmanual.com
13 187 Cory Denton West Eureka Springs, AR Suzuki GSX-R1000 54 ---
14 561 Frank Trombino Kleinburg, ON Yamaha YZF-R1 53 --- Brooklin Cycle Racing & Factory Yamaha Canada
15 44 John Haner Pearland, TX Suzuki GSX-R1000 53 --- Hooters Suzuki
16 940 J J Roetlin Kalona, IA Suzuki GSX-R1000 53 --- Twin Count Dairy
17 199 Geoff May Alpharetta, GA Suzuki GSX-R1000 53 --- Self
18 78 David Bell San Francisco, CA Suzuki GSX-R1000 53 ---
19 119 Roger Bell Lexington, KY Suzuki GSX-R1000 53 --- Bells Suzuki / Honda
20 301 Craig Fitzpatrick Suffolk, Suzuki GSX-R1000 52 --- C.F. Racing
21 100 Byron Barbour Lithia Springs, GA Suzuki GSX-R1000 52 --- Barbour Road Racing
22 58 Rick R Narup Hollywood, FL Suzuki GSX-R1000 50 --- Palmetto Mtrsprts
23 20 Aaron W Yates Milledgeville, GA Suzuki GSX-R1000 48 --- American Suzuki / Yoshimura
24 38 Dean Mizdal Huntington Beach, CA Suzuki GSX-R1000 45 --- Star School
25 84 Anthony W Fania Frenchtown, NJ Suzuki GSX-R1000 44 --- KSW Racing
26 32 Eric Bostrom Las Vegas, NV Ducati 999R 42 --- Ducati Austin / Parts Unlimited
27 72 Larry Pegram Baltimore, OH Yamaha YZF-R1 33 --- Yamaha / Triangle Cycle
28 116 K Mark Crozier Port Orange, FL Suzuki GSX-R1000 29 --- Team Extreme Suzuki
29 74 Mike Sullivan Centralia, WA Yamaha YZF-R1 27 --- The Brothers Powersports
30 155 Ben D Bostrom Las Vegas, NV Honda CBR1000RR 25 --- Honda / Parts Unlmtd
31 120 Ron McGill Exton, PA Suzuki GSX-R1000 25 --- VP Fuels
32 90 Jeffrey S Tigert San Leandro, CA Suzuki GSX-R1000 20 --- Honda
33 41 Joshua Kurt Hayes Gulfport, MS Kawasaki ZX-10R 9 --- Kawasaki Motors
34 851 Michael A Hanley Miami, FL Suzuki GSX-R1000 6 --- CDLSCHOOL.COM
35 97 Scott E Carpenter Raleigh, NC Suzuki GSX-R1000 0-DNF --- Ron Ayers.com
36 101 Jordan M Szoke Brantford, ON Honda CBR1000RR 0-DNS --- Honda
37 53 John Dugan Washougal, WA Suzuki GSX-R1000 0-DNS

RACE TIME: 106:51.49 min.
WINNER'S AVG. SPEED: 113.938 mph
WINNER'S AVG. LAP TIME: 1:52.482
2004 AMA Chevrolet Superbike Championship (Points after 1 of 18 rounds)
1. Mat Mladin (37); 2. Jake Zemke (32); 3. Miguel DuHamel (29); 4. Jack Pfeifer (27); 5. Lee Acree (26); 6. Rick Orlando (25); 7. Pascal Picotte (24); 8. Chris Caylor (23); 9. Scott Jensen (22); 10. Eric Wood (21).
1000cc Supersport: The Other Daytona Superbike race
Aaron Gobert comes out on top of a slug fest
between the new Yamaha R1s and Kawasaki ZX10s
March 4th - If you were wondering were the other two Japanese factory teams were for the Dayona 200 Superbike race, they were hanging out down in the new and needlesly repetitive 1000cc Repsol Superstock class. Gone was the previous 750cc Superstock class for which many manufacturers still build bikes, now replaced with a higher 1000cc class limit to let in the new 1000cc factory production Superbikes in Supersport trim limited to simple race exhaust system, fuel injection remaping and aftermarket shock replacement modifications . What you got were bikes that were still every bit as fast as the full on factory modified race bikes in the real Superbike class.
Race winner Aaron Gobert's average lap time of 1:50. 491 was every bit as fast as the race winner's lap time in the Superbike class, pit stops aside. Australian Aaron Gobert pulled off a classic drafting maneuver to leap up from fifth on the final lap to take the checkered flag in a photo finish over his Yamaha teammate Jamie Hacking on Yamaha's just released new generation R1.
Why Yamaha and Kawasaki weren't racing the Superbike class, but rather the 1000cc Supersport class with support team riders won't be revealed in full. They could tell us the new generation R1 and ZX10 bikes arrived too late in the winter to prepare for the more modified Superbike class. But the 2 new bikes' performances at Motorcycle Week showed they were already fast enough in stock form and might have won the Superbike class if entered there. But it might of been a matter of budgets (or lack thereof) to field a full factory Superbike team. And perhaps Yamaha or Kawasaki had enough faith in their support team riders to think they could be competitive or win in the Superbike class. Where they ever wrong.

The Superstock class featured an exciting race-long battlebetween eight riders in the lead pack for the majority of the contest and boiled down to the four official Yamaha riders and two works Kawasaki men in a strategic final two laps. Gobert took the victory by a scant .01 seconds, and the top five men crossed the line in a bunch separated by just .135 seconds!
The win allowed Aaron Gobert to finally put his horrific '02 Daytona crash behind him. Afterwards, the Graves-prepped Yamaha R1 pilot commented, "The first time I ever came to Daytona to race it was on an Aprilia, and it was going good and then everything went bad. The first time I raced an AMA National here I ended up in a coma somewhere. I've just been working hard for two years to get back. I don't care too much about that accident anymore."
"I started out really quick, and to finally get a win was incredible. That last lap all I could think of was (Dave) Sadowski's voice in the back my mind, thinking of him saying on TV, 'You know who's in the perfect position on the exit of the chicane,' and I was there. I was thinking this is perfect. It was just incredible; I couldn't believe I won. I still wasn't sure into Turn 1."
For the British-born Hacking, it was yet another achingly close Daytona race that went the other's way. "It's sort of disappointing to see it go away, but just to get through that race was an accomplishment. It was a very hard race for me to run. It was the first here in the year on this type of motorcycle, and you have pretty much a bunch of guys who haven't ridden a big bike around here. It seemed like everybody did a good job and kept it safe.
"The start of the green light to the checkered flag was pretty much all a big moment." Tommy Hayden slipped his ZX-10R onto the final spot on the podium, building (and losing, and building) momentum throughout the contest.
"Definitely, I didn't get the start I wanted, I was down there in eighth or something," the Kentuckian stated. "I got up to third or fourth there pretty quick and felt pretty good. Then I kind of had a few moments and made a few mistakes and worked my way to the back of the pack again. I kind of got going again and came back. I was just a little too timid there for a while. On the last couple laps I just went for it, but ended up a little bit short at the line. It was a pretty fun race having that big of a pack and everyone so close. It was cool seeing everyone fighting to get hooked up"
The two men that did most of the scrapping over the lead, Damon Buckmaster and Roger Hayden, were bumped down to fourth in fifth, respectively, in the last-second shuffle. Buckmaster crossed the line in the lead for 10 of the 12 laps, while Hayden ran up out of the chicane and onto the backstraight for the final time in the lead.
Pre-race favorite Jason DiSalvo completed the top six, just a handful of tenths behind the victor. Reining class champ Josh Hayes ran with the lead pack for much of the race before falling back to a relatively lonely seventh. Meanwhile, pole qualifier Ben Spies was brought in for a stop-and-go after race officials determined he jumped the start. The Yoshimura Suzuki ace put on an impressive show to battle his way back up to an eventual eighth on his GSX-R1000. Team Valvoline EMGO Suzuki's Steve Rapp and early race hero John Haner completed the top ten.
Daytona 1000cc Superstock Results
1 96 Aaron Gobert Lake Elsinore, CA Yamaha YZF-R1 12 --- Yamaha
2 2 Jamie A Hacking Denver, NC Yamaha YZF-R1 12 0.010 Yamaha
3 22 Tommy Hayden Owensboro, KY Kawasaki ZX-10R 12 0.068 Team Kawasaki
4 6 Damon S Buckmaster Rancho Cucamonga, CA Yamaha YZF-R1 12 0.100 Yamaha
5 95 Roger Lee Hayden Owensboro, KY Kawasaki ZX-10R 12 0.131 Kawasaki
6 40 Jason Disalvo Stafford, NY Yamaha YZF-R1 12 0.862 Yamaha
7 1 Joshua Kurt Hayes Gulfport, MS Kawasaki ZX-10R 12 8.001 Kawasaki Motors / Dunlop / Arai / Teknic / KMC
8 11 Ben Spies Longview, TX Suzuki GSX-R1000 12 15.159 American Suzuki / Yoshimura / Motorex / Dunlop
9 5 Steve Rapp Perris, CA Suzuki GSX-R1000 12 16.844 Valvoline Emgo Suzuki / Michelin / M4 / Alpinestars
10 44 John Haner Pearland, TX Suzuki GSX-R1000 12 16.951 Hooters Suzuki / Dunlop / HJC / Joe Rocket
11 14 Shawn M Higbee Big Bend, WI Suzuki GSX-R1000 12 17.207 Millenium Technologies / KWS Mtrsprts
12 36 Eric C Wood Mansfield, MA Suzuki GSX-R1000 12 21.138 Hooters Suzuki / Dunlop / Ti Force / EMA
13 45 Lee Acree Jamestown, NC Suzuki GSX-R1000 12 24.274 Empire / Suzuki / Pirelli / Leo Vince
14 43 Jason R Pridmore Ventura, CA Suzuki GSX-R1000 12 29.487 American Suzuki / Dunlop / HJC
15 59 Jacob L Holden Puyallup, WA Suzuki GSX-R1000 12 29.532 Hypercycle / Pirelli Tires / Arai Helmets
16 101 Jordan M Szoke Brantford, ON Honda CBR1000RR 12 29.640 Honda / Fast Co / Dunlop / Joe Rocket
17 199 Geoff May Alpharetta, GA Suzuki GSX-R1000 12 29.640 -none listed-
18 86 Jimmy Moore Eugene, OR Suzuki GSX-R1000 12 36.229 No Limit Suzuki / Dunlop / Shoei / Sidi
19 561 Frank Trombino Kleinburg, ON Yamaha YZF-R1 12 42.038 Brooklin Cycle Racing & Yamaha Canada h
20 47 Opie Caylor Marietta, GA Suzuki GSX-R1000 12 44.744 Pirelli / Empire Racing / Suzuki / Teknic / Arai
21 29 Corey D Eaton Placerville, CA Suzuki GSX-R1000 12 48.626 Lion Racing / American Suzuki / Yoshimura / Dunlop / Arai / Maxima / Barnett / Nutec / Motion Pro / Sprocket Specialist / Lockhart Phillips / Airtech / Helimot
22 23 Alex Gobert Lake Elsinore, CA Honda CBR1000RR 12 48.626 American Honda / Erion Racing
23 3 Vincent Haskovec Lake Elsinore, CA Suzuki GSX-R750 12 56.366 Valvoline Emgo Suzuki / Michelin
24 19 Jason Curtis Canyon Country, CA Suzuki GSX-R1000 12 66.857 No Limit Motorsports Suzuki
25 940 J J Roetlin Kalona, IA Suzuki GSX-R1000 12 72.521 Twin Count Dairy / Arai / Dunlop / Iowa City Mtrsprts

WINNER'S AVG. SPEED: 115.991 mph
WINNER'S AVG. LAP TIME: 1:50.491