Colin was quickest on the RC211V on day one of of MotoGP testing at Phillip Island.
MotoGP World Championship 2004 Pre Season Testing
Edwards / Honda quickest on Day 1 at Phillip Island,
Capirossi / Ducati fastest Day Two, Biaggi / Honda quickest Day 3
as Valentino Rossi looks for more Yamaha horsepower

Phillip Island, Australia, Feb 17, 2004 - Work got underway in Australia today as Yamaha's MotoGP teams began a three-day test in a windy yet sunny Phillip Island alongside Honda, Ducati and Aprilia. The teams arrived directly from Malaysia, where Yamaha spent a total of six days testing so far this year. World Champion and Yamaha new-recruit Valentino Rossi, who celebrated his 25th birthday yesterday, posted the third fastest unofficial time of the day, recording 1'31.40 towards the end of the session. Just ahead of the Italian were Honda riders Colin Edwards (1'31.06) and Sete Gibernau (1'31.37) whilst fellow Italian Max Biaggi (Honda) recorded exactly the same time as Rossi. New Honda team-mates Nicky Hayden (1'31.67) and Alex Barros (1'31.75) came next, with Gauloises Fortuna Yamaha rider Carlos Checa put in a 1'32.32.
Gauloises Fortuna Yamaha men Rossi and Checa both began the day with the set-ups they used in Sepang, keen to see how the bikes would respond at the new circuit. Rossi carried on working with one of the new engine specs he tested last week while team-mate Checa continued to work on general set-up rather than pushing for a 'hot-lap.'
The Fortuna Gauloises Yamaha squad of Marco Melandri and Norick Abe had a day of mixed fortunes. Melandri, who fought for the lead here in October before falling, was pleased with his progress today but Abe had a more frustrating time and was unable to find a comfortable set up.
Max Biaggi fell foul of the temperature change from Malaysia to the breezy Phillip Island, feeling a little under the weather today with a slight cold. He was as determined as ever on the track though to improve the
set-up of his Camel Honda machine, although recognised that the team would need more work for him to feel happy with the bike before they leave the 4,448 metre circuit.
The Telefonica MoviStar pairing of Sete Gibernau and Colin Edwards are still going about their work in a methodical fashion, which has proved fruitful for both so far this pre-season. Edwards in particular today
looked at home on the Australian track and set the fastest time of all the riders out on a busy day. Gibernau was close behind, with Biaggi, Nicky Hayden, Alex Barros and Makoto Tamada following in that order in terms of lap times.
Repsol Honda's Hayden, fastest in the last test at Sepang, searched for a better set-up with his Honda after putting in a massive amount of laps, but was still left wanting, whilst team-mate Alex Barros is beginning to shrug off the stiffness around his recovering right shoulder. Finally, Camel Honda's Makoto Tamada has in turn recovered from the bout of flu that struck him in Sepang, only to be affected by a problem out of his control with his tyres.
MOTOGP - PHILLIP ISLAND TESTING - DAY 1
Colin Edwards (Repsol Honda) - 1m 31.06s +- 70 laps
The bike feels good here, it's like I'm learning more about it every single day, and I get faster with everything I learn, I'm becoming competent with it now! The Aprilia I rode last year was a real handful here; but with all
the information from previous years, advice from my crew chief Fabrizio, and the things gathered from Rossi and Gibernau here in the race last year, my Honda was set-up great when I showed up. It's different to the Sepang set-up definitely. The track is special here with all the left-handers, so the Michelins have to cope with that and the heat. I feel they have a lot more to give though, it's just a matter of gathering more data. As I said, I feel good, I don't feel as though I'm in over my head or at the limit yet. I'm just cruising around and I feel there's a lot more time to gain in there.
Sete Gibernau (Honda) - 1m 31.37s 80 laps
"For sure Phillip Island is not one of my favourite circuits but I put in around 80 laps today, mostly testing tyres for Michelin both fronts and rears. Now I ca say I'm happy with the feeling with he bike on these tyres,
and I'm getting comfortable with Phillip Island. We have two more days of testing ahead of us and I'm confident we will be in really good shape when we leave here."
Valentino Rossi (Gauloises Fortuna Yamaha) 89 laps, 1'31.40
"This is one of my favourite circuits; some of my best memories of winning have been here. This is a really important test for us because we are seeing how the bike responds at a new circuit, and so far we've only tested in Sepang. I'm quite happy so far but have had some small problems today with the gearbox, something we've already fixed. Yamaha are really motivated and are helping me to try the new things I want to try. The response of the bike here is good in general, and this is normally a very difficult track so I'm fairly happy. We need to get as many kilometers as possible under our belt this week."
Nicky Hayden (Repsol Honda) - 1m 31.50s. 100 laps
"We tested quite a lot of tyres today and got through quite a bit of work for Michelin. We seemed to go in one direction then tried another - not the greatest of days - but all part of the testin' process. Tomorrow we really
want to work on the bikes set-up. I'm not that happy with the way we have it now. It's been clear and windy today. Nice to get on a new track after being at Sepang for two back-to-back sessions. It's definitely a breath of fresh air to go at it on another circuit and see what carries from one circuit to another."
Carlos Checa (Gauloises Fortuna Yamaha) 76 laps, 1'32.58
"I've still got big problems with the bike when turning. I can't find stability at certain points of the track, which is frustrating. We've been trying different settings again today but I feel a bit like we are against a wall with nowhere to go! We began with the same set-up as at the race last year and then softened the front and rear, which was an improvement. Hopefully tomorrow will be better."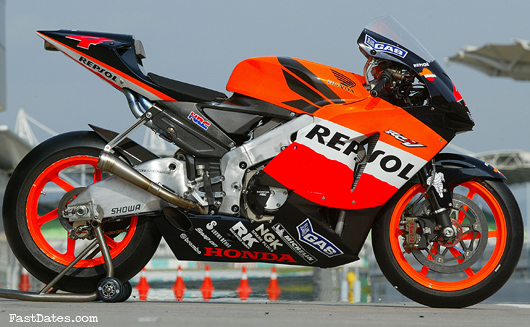 Giant screen saver images of the new 2004 MotoGP bikes including the Honda RC211V 04 and Ducati GP4 D16 are wating for you to download in The Paddock Garage.
MOTOGP - PHILLIP ISLAND TESTING - DAY 2
Ducati Corse Press, Feb 18th- Loris Capirossi powered to the quickest time in today's second day of testing at the Phillip Island circuit in Australia, where the Desmosedici GP4's development programme is continuing. Both Loris Capirossi and Troy Bayliss made major progress from yesterday and the early indications given by the Ducati MotoGP Team riders to the engineers are beginning to confirm the new bike's potential. Today's weather conditions saw clear skies and a light wind typical of the spectacular Australian circuit, while temperatures were similar to yesterday (air 19° - 25°; track 21° - 48°).
Loris Capirossi (Marlboro Fila Ducati Corse) 1"30.71
Loris Capirossi saw all the hard work of the past few days rewarded with a superb lap time of 1'30.71 in his 65 laps. This was not only the best time of the day, but also almost two seconds quicker than yesterday, and just two tenths of a second slower than the time he set in Australian GP qualifying last year on soft tyres.

"That was really good," commented Capirossi at the end of today's session. "The changes we made to the set-up confirmed that the bike has great potential. I lapped most of the day with the familiar 17" front tyre to verify the new set-up of the GP4 and it was only towards the end of the session that I used the 16.5" front. Tomorrow I'll concentrate exclusively on this new tyre."
Troy Bayliss also focussed on finding the best set-up for the Desmosedici on his home circuit, the Australian knocking almost a second off yesterday's time. Troy completed 63 laps, recording 1'31.56. "I'm pleased with the progress we made today," declared the Australian. "I'm still missing a bit of feeling with the front, but we're gradually getting there. We're working on it and we know exactly where to intervene to improve the bike."
Loris in the fast groove at Phillip Island.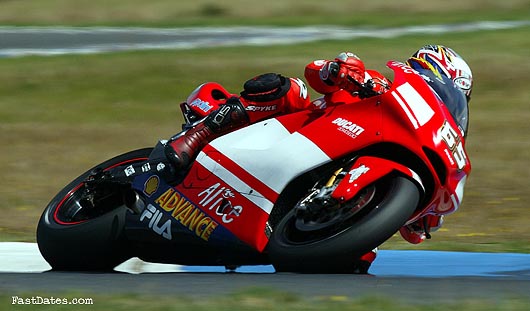 MOTOGP - PHILLIP ISLAND TESTING - Final DAY 3
Feb 19th- Once again the sun shone brilliantly for the final day at the dramatic Australian circuit. Yamaha continued to test alongside Honda, Ducati and Aprilia, the latter without new signing Jeremy McWilliams who flew home to recover from a broken rib sustained in Sepang last week.
Unofficial fastest time of the day was set by Italian Honda rider Max Biaggi, who recorded 1'30.27. He was closely followed by his Honda colleagues Colin Edwards (1'30.45) and Sete Gibernau (1'30.60) who both stopped before the lunch break after completing just 31 and 41 laps respectively. American Nicky Hayden (Honda) posted exactly the same time as Gibernau. New Yamaha rider and reigning world champion Valentino Rossi finished fifth fastest today with a time of 1'30.80 after 78 laps, just a fraction slower than the time he set yesterday. Fellow Gauloises Fortuna Yamaha rider Carlos Checa finished ninth with a time of 1'31.96.
Loris Capirossi, who yesterday had the satisfaction of being the quickest rider around the track, today concentrated more on testing than the fastest lap time, completing a total of 56 laps with a best time of 1'30.97. The Italian rider continued to focus on finding the best feeling with the new 16.5" front tyre, and was just two-tenths of a second away from yesterday's time.
"I am quite pleased with the way todayís testing went," declared Capirossi. "I did my quickest laps in the morning, while in the afternoon I lost a little bit of feeling with the front, but for the moment itís OK. We've done a lot of work over the past two weeks. The GP4 is a new bike and it is already giving us a lot of satisfaction despite being at the start of its development phase."
Max Biaggi - 1m 30.27s. 62 laps
" I'm quite happy, we have a good rhythm, good lap time and things are working very well. A lot of confidence so at the moment I'm looking okay. The consistency today was very good today, and for sure much better than the race distance from last year. My bike is working good, and I ma, what can I say, the tyre performance is improving and it all looks good. The race is two months away but I can't wait for it to come. We confirmed that the problem with the bike chattering is a structural problem today, maybe we can change the chassis or something. We mixed the two bike's settings up so now I have one good bike and one which needs fixing, but hopefully it can be sorted for the next test or for the Barcelona MotoGP test."
Valentino Rossi (Gauloises Fortuna Yamaha) 78 laps, 1'30.80
"I'm pretty happy. This test's been quite good and we have already improved a lot since we began testing. I still need more horsepower and it is more difficult to ride at the moment because I have to push much harder. Today I did more than 25 consecutive laps and already the bike seems to work quite well when the tyres are wearing down, which is very important to know. In an ideal world I will have more horsepower for the next test here in two weeks time. Yamaha has worked so hard and so quickly so I am sure we can continue in this way."
Jeremy Burgess (Valentino Rossi's crew chief)
"We're alright. We just need some more push from the engine, which Yamaha is working on. This engine spec is still very new for us but everything we wanted to test is done. Yamaha is on track and they seem happy. This circuit requires quite a lot of horsepower and our times have been slightly off but the bike reliability is good. We've been developing new tyres with Michelin over the three days; they like using Valentino for testing because he gives such great feedback. We are now looking forward to the next test here and also to testing the bike in tracks such as Barcelona during the final stage in the lead-up to the first race."
---
Andra Cobb
Your Valentine Special Treat and our
newest 2005 FastDates.com Angel
We discovered beautiful 5'8" Andra Cobb by an incredible stroke of fate, and luck. We had booked one of our calendar models for the newt, cutting edge Mikuni Carburetor advertising campaign "Explicit Performace." Everyone showed up for the scheduled ad shoot at our studio... the client, the engine, the photographer and makeup artist... everyone except the model! In a panic we called Brand Model & Talent Agency and asked them to send us the best model they could to save the day, immediately.

We had never heard of or ever seen a picture of Andra Cobb, but we booked her sight unseen, only to be totally blown away when she arrived at our studio 2 hours later. Andra is one of the most beautiful models we had ever met and the most fun to work with!

Jim Gianatsis enjoyed working with Andra so much for Iron & Lace calendar sponsor Mikuni's ad campaign which turned out incredible, that Jim brought Andra back to the studio the next week to photograph with the hot new Confederate Wraith bike to include them in the already completed 2005 FastDates.com Calendars. Andra willalso be one of our official SBK Fast Dates World Superbike girls at Laguna Seca World Superbike and our LA Calendar Motorcycle Show this July 2004.


Andra's Portfolio • Andra in Member's Corner
---

Our official SBK World Superbike FastDates.com Calendar Angels Janelle Perzina, Chandi Mason and Miss Great Britain 2003 Nicki Lane heat things up on Troy Corser's Foggy Petronas Superbike.


Regis Laconi Sets Fastest Time in Final SBK Testing
Valencia, Feb 11, 2004- A frantic final day of testing at the Ricardo Tormo Circuit in Valencia saw the morning session delayed twice because of two separate oil spills. The afternoon session delivered the fastest lap of the test to Regis Laconi (Ducati Fila), the Frenchman taking a best overall time of 1:35. 393. His hard work over the whole three days saw him set a total of 156 laps as he installed himself in the position of first among equals, after what is the last test before the laps start to count for real.

Laconi was the first rider into the 1:35 bracket but he was not the last, as Steve Martin (DFX Ducati) improved on his previous best personal performance to secure a lap time of 1:35.574, finishing second overall. On a private Ducati compared to Laconiís factory machine, Martin was impressive throughout, even if he did experience a couple of gremlins on the final day.

James Toseland (Ducati Fila) was third fastest overall in the tests, his lap total also being one of the best, a massive 190. He beat his own previous quickest mark from Thursday to take a time of 1:36.162 on the final day, 0.8 seconds shy of his team-mate Laconi.

Finishing his final day with a rush to the airport and home Leon Haslam (Renegade Ducati), joined his new SBK peer group in more than respectable style, improving despite his finger injury and setting a best time of 1:36.201; good enough for fourth quickest of all sessions.

Marco Borciani (DFX Ducati 999RS) put in a massive leap on the final day, stripping 1.2 seconds from his Thursday performance to record a lap of 1:36.303 and edge out 1996 World Champion Troy Corser (Foggy Petronas FP-1). Ending his weekend sixth fastest, Corser made steady improvements each day on the unique three-cylinder 900cc machine, which remains largely unchanged from last yearís spec. Returning World Superbike hero Noriyuki Haga finished his first official test on the Renegade 999 Ducati in seventh overall, using only one of his two bikes. He set a better time on the second day than the last, with a personal best of 1:36.676 his eventual top reward.

The new Honda CBR1000RR FireBlade finished its first proper SBK test in ninth place, after Chris Vermeulen (Ten Kate Honda) gradually brought his times down to 1:36.907. His was nonetheless the fastest four-cylinder machine on display, displacing Spaniard Sergio Fuertesí MIR GSX-R1000 Suzuki. Fuertes had to sit out the second day after a crash on day one damaged his machine too much to continue without replacement of some key parts.

Ivan Clementi and Mauro Sanchini (Kawasaki Bertocchi ZX-10) rode their relatively stock fours into tenth and eleventh, with Clementi overtaking his team-mate in the final standings on the very last day.
Chris Walker gained more knowledge of his Petronas triple to finish in the top 12, but one even more experienced rider found his new Ducati a tricky machine to set-up to his liking. Swapping back to his 998 Ducati for a period to make comparisons, Pierfrancesco Chili (PSG-1 Ducati 999RS) eventually finished 13th overall, two seconds down on Laconiís quickest time.

Riding a single bike at the test Garry McCoy (Xerox Ducati NCR 999) was disappointed with his 14th classification on the stopwatch, never feeling comfortable on a bike which is a big change from the multi-cylinder machines he has been used to.

SBK perennial fixture Lucio Pedercini was one of the few 998RS riders on show and ended his test 15th out of 24 entrants. Piergiorgio Bontempi was the fastest rider out of the two Zongshen Suzuki pilots, in 18th, two places ahead of SBK new boy Miguel Praia (Xerox Ducati 999RS).

In World Supersport Karl Muggeridge (Ten Kate Honda CBR600RR) showed the fact that his team had tested twice before at Valencia by setting his best time of all sessions, a 1:37.665, on the very first day. His machine also topped the speeds with a 267kmph best.

Running out fastest by a narrow margin over Sebastien Charpentier (Klaffi Honda CBR600RR) Muggeridge set only 82 laps in total, in comparison to the 120 plus put in by most others. The Ten Kate riders Muggeridge and Broc Parkes finished their tasks a session early and packed up as most other teams continued to lap the 4.005km Spanish circuit.

Three Hondas were followed by three Yamahas, the fastest of them Kevin Curtain (Yamaha Motor Germany YZFR6) in overall fourth classification. Christian Kellner (Yamaha Motor Germany) was fifth, 2002 World Champion Fabien Foret (Yamaha Belgarda) sixth. All three Yamaha men improved their best times on the final day. Suzukiís best rider proved to be Katsuaki Fujiwara, on the latest GSX-R600, in seventh quickest position on the timesheets. Lorenzo Lanziís Ducati Fila 749RS went 15th overall.

The tests mark the end of the pre-season preparations as the team return to Valencia for the first meeting of the 2004 SBK World Superbike season, 27-29 February.