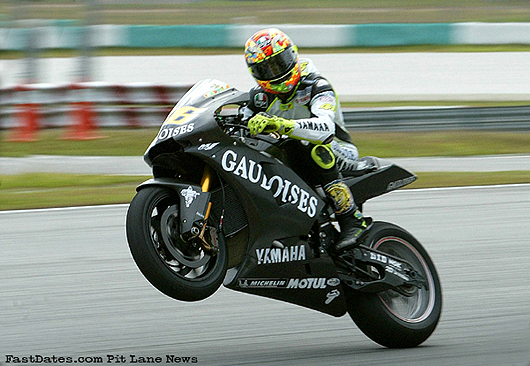 Valentino had a wheelie fun time with his first ride on the Yamaha M1.
Team Yamaha's first 2004 preseason test at Sepang
Rossi on record pace his first ride on the M1
Jan 24-26th, Sepang, Malaysia: In gruelling heat and humidity Valentino Rossi (Gauloises Fortuna Yamaha Team) was inside his own previous lap record of 2m 03.82 seconds at the 5.548km Sepang track in testing today. He recorded a best time of 2m 02.75 seconds in the final session of this intensive three-day test putting in a total of 59 laps. But the reigning MotoGP World Champion is still keen to put in more hard development work here in just over two weeks time.
The test was extreamely note worthy in that Valentino showed, in his first ever ride on the Yamaha M1 which was esentially an old 2003 spec bike, that he could better the lap times of his previous season's Championship winning Honda RC211V with the M1, a bike, opinioned by many not to be as good.

With even more practice time and many new 2004 performance upgrades to try before the MotoGP season gets under way on April 18th in South Africa, there is now little doubt that Valentino will be able to continue his winning ways in 2004 on the Yamaha.


Valentino prepares to plant his number on the front of the M1. "This should be big enough for Max to see it coming in his rear view mirror."
"We did some good work," he said. "The time we made was good for a first test, but tyres and chassis settings were the main aim here. I've really enjoyed my first three days with Yamaha, I'm very happy. There's still work to do on the engine and we'll carry on with that, but overall things have been good."
The World Champion's Crew Chief Jerry Burgess was quietly satisfied with events. "I guess we're doing okay," he said. "We've achieved enough for a fast time and we were running according to the Michelin test programme. Things have been very harmonious in terms of integration with Yamaha and now we'll go away and work on whatever the Yamaha Development Group have got for us."

Rossi's team-mate Carlos Checa (Gauloises Fortuna Yamaha Team) who rode a best lap of 2m 03.72 seconds during an arduous 88-lap stint, was happy with the endurance work he did and feels there is more to come from chassis settings in the weeks ahead.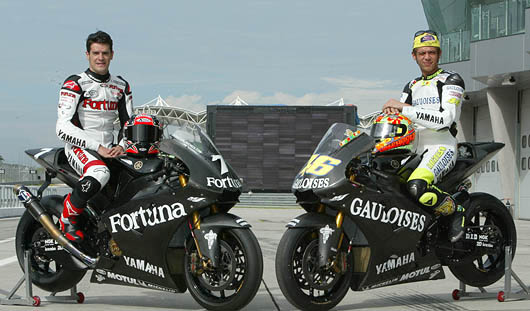 "Carlos and Valentino" - a great restaurant name, and a hot talent Latino combo special for the MotoGP appetite.
"The bike feels better with the 16.5-inch front tyre," said the hard-charging Spaniard who tried both 17-inch and 16.5-inch fronts. "The race endurance test was not so bad, and this was only the first test of the season. Of course we've got more to do but we have all we need to achieve results."
Checa's Crew Chief Antonio Jimenez was content with the three days work at this early stage of the testing programme. "The race simulation distance test provided valuable information for us," he said. "We were focussed on that and this is just the beginning of our programme."
Gauloises Fortuna Yamaha Team Director Davide Brivio was frank about his surprise at the rapid progress made here at Sepang. "I didn't honestly expect we'd be at his level so soon," he said. But the Italian expressed caution too. "All our competitors will work hard this winter too, but this is a good first test to motivate everyone in the team and everyone from Yamaha."
Marco Melandri (Fortuna Gauloises Tech 3 Team) rode 52 laps and put in a best time of 2m 05.55 seconds. "Better than yesterday," said the tough Italian, still sore from recent shoulder surgery. "In the end the bike was okay but I took time to adjust to the 16.5-inch front tyre I tried today. At the moment my mind is strong but not my body."
Norick Abe (Fortuna Gauloises Tech 3 Team) couldn't quite make the most of a selection of Michelin tyres that suited his style well. "That was a bit so-so," said the experienced Japanese rider. "We're still not quite there with the settings, but we have not worked together before as a team. Even so I couldn't get the time I felt the tyres were capable of." Abe rode 52 laps with a best lap of 2m 05.05 seconds.
Fortuna Gauloises Tech 3 Team Director Herve Poncharal believes his newly formed team benefited greatly from this Yamaha-only test. "We needed this first test to establish communication with new riders. For Marco this is his first ride since Phillip Island last year and he's not 100% fit yet. The 16.5-inch front tyre is helping him and we weren't here for lap times anyway - that's not an excuse - it's a fact. Norick is more of a racer than a tester and he looks very motivated. As the team begins to understand his needs more, we can expect more from him too."
---
FastDates.com Calendar girl Jaime Pressly's "Torque"Screensaver

Read our movie review and download Jaime's screensaver
HERE
---
Josh Hayes to Attack AMA Superbike on Kawasaki ZX-10R
Jan 22nd
- Thinks are really starting to brighten up for Superbike fans this year with the announcement that Josh Hayes will finally get his chance to race the AMA Chevrolet Superbike Championship as the lone Kawasaki entry aboard the Attack Kawasaki ZX-10R.
Josh won the closest of all AMA road racing series last season in Superstock and it came down to the final laps of the last round at Barber Motorsports Park. Hayes beat out factory Kawasaki rival Tommy Hayden, who rode the nimble handling Kawasaki ZX636 Superstock special. After finally breaking through and winning his first AMA title Hayes sees Superbike as the logical next step in his career. 28-year-old Josh hails from the Gulf Coast of Mississippi, home of such other noteable sportbike heros as our own FastDates.com editor Jim Gianatsis.
"Superbike has always been the goal," Hayes says. "I always said I wouldn't want to go to Superbike unless it was a factory ride, but I really believe in the Attack team. I think Richard (Stanboli) can build a competitive Superbike team. Kawasaki is behind us and I think they'll be even more so if we start having good results."
Hayes' faith in Stanboli and the Attack squad is well founded. Not only did Hayes ride to the AMA Superstock title last year with the team, but his former teammate Jason Pridmore scored AMA Superbike podium finishes at Mid-Ohio last year, marking the best result in the championship for a non-factory team in eight years.

A high performance aftermarket company, Attack Performance has moved from an alliance with Suzuki to Kawasaki in 2004. "With Yoshimura there, we were probably never going to have a chance to grow into a real factory Superbike team with Suzuki," said Stanboli. "I believe our opportunities are much greater with Kawasaki."
Stanboli envisions becoming Kawasaki's factory representative like Rob Muzzy was in the past, but he adds he's pretty sure the factory will come back to the championship in 2005. Attack is not a newcomer to AMA Superbike racing. The company was formed in 1990 and first entered Superbike racing in 1994 with Paul Harrell on a Yamaha YZF750.
A former champ in WERA, Hayes made his AMA debut in 1998 on a Valvoline EMGO Suzuki in Formula Xtreme. He shocked the racing establishment when he won the AMA 750 Supersport race at Daytona in 1999. Josh has remained a leading class contender each season, later joining the Bruce Transportation Honda support team, but crash injuries and resulting missed races plauged him more than any other front runner and it would be a long four years before he finally scored his second AMA victory. That came in the Superstock race at Mazda Raceway Laguna Seca last year.

At the Daytona tires tests in December, Josh showed up driving a sparkling new BMW M5. He rewarded himself with the sports car after earning $50,000 for winning the Toyota 200 held at Willow Springs Raceway last fall. Josh will race both AMA Superbike and Superstock this season and wants to do well in both. He admits that the team may place a little more emphasis on Superbike since Kawasaki has the Hayden brothers on the factory squad in Superstock. He does feel that the spotlight will be on him a little more than normal since he's going to be the sole Kawasaki on the Superbike grid.

"I feel some pressure to perform," Josh concedes. "As far as the fans see I'm going to be the Kawasaki rider in Superbike racing. So Kawasaki's image to a certain extent is based on how I do out there."

"The bike's not that far off. I'm excited about the potential of the ZX-10; it could prove to be a phenomenal Superbike. The power of the bike, even in stock form, is more than you can use on most tracks."

The Attack Kawasaki ZX-10R Superbike willl debute at Daytona in March with the start of the 2004 AMA Superbike Championship. "Hey, we're the underdog team and I like that. I think I can at least be very consistent in the race. Hopefully we'll catch a little luck and you never know."
Our Annual Review for 2004
Naked and Exposed!
British Sportbike Magazines
FastDates.com rates the top 7 hard core British sportbike magazines where bikes, half naked babes and roadracing are the norm -not the exception. In England, a county the size of just California, sportbike enthusiasts are blessed with 7 major monthly sportbike magazines! - America's got just 1 monthly newspaper and 2 semi monthlies.The Brits are so successful because they cover the topics sportbike enthusiasts want to see and read about, including beautiful girls. These great British sportbike magazines are now more readily available on your favorite newstands here in America. British Sportbike mag Review HERE