Eric Bostom's Michelin shod Ducati 999F 03 performed flawlessly at Daytona in tests last month, while the separate Dunlop tests for their contracted factory teams saw dramatic tire failures and high speed crashes, forcing cancellation and rescheduling of new AMA endorsed Dunlop team tests this month.
AMA and Dunlop exclude
Eric Bostrom's Michelin Ducati from AMA Tests
Jan 9th: Eric Bostrom Press Release: Commenting on the recent news reported on Roadracing World's website that Dunlop had bought up the AMA preseason test dates to the exclusion of non-Dunlop teams, is Michelin rider Eric Bostrom. "It's disappointing for us, because when everyone's on the track together it's a much better measuring tool for where you stand against everyone else, not just with bikes but with tires. It's beneficial for everyone. You have the same conditions on the same day, and I would think that from a competitive standpoint you would welcome that, because that is the challenge you want in racing. And it's the same challenge that you face on race day."

"Ultimately, all it's done for us, and maybe this was the purpose, was made it difficult for us to secure track dates because we had a testing schedule that doesn't exist anymore and it's very late in the off season for us to secure track dates. So it's put our team behind the gun a little bit on testing."

"And it's a shame because I really enjoy riding on the bikes and the tires so much that I'd like to be on the track more. But I don't suspect it's going to have too much of an impact on us. I have a tremendous amount of confidence in my team and my tires."

• See also: 1/8/04 - "Dunlop Buys Up AMA Team Test Dates, Excludes Non-Dunlop Teams"
www.RoadRacingWorld.com
• And visit www.EricBostrom.com for a new photos of Eric and his Michelin-shod Ducati
Brother Ben and Team Honda do Laguna
Jan 8th: Ben Bostrom completed a preseason test at Laguna Seca today, cutting laps on his new Honda Superbike. "We fought some serious rain for the first couple of days, but finally got some dry time. The bike was fantastic. Once again, I am just in awe of this machine, it's unreal. We did 26 flats and I know there is another half a second there. The bike is that good." (Mladin turned a 1:25.549 top qualifying at the AMA National last there last year, and was slightly slower with the top World Superbike Superpole time of 1:25.561-Ed).
The new Honda Superbike has Ben rejuvenated and poised to make waves in 2004. "I'm more enthused now than I've ever been. Every time I get on the bike, it makes me feel like a kid again. It makes me feel like I never road raced before and puts a smile back on my face."
Our Annual Review for 2004
British Sportbike
Magazines Naked and Exposed!
FastDates.com rates the top 7 hard core British sportbike magazines where bikes, half naked babes and roadracing are the norm -not the exception. In England, a county the size of just California, sportbike enthusiasts are blessed with 7 major monthly sportbike magazines! - America's got just 1 monthly newspaper and 2 semi monthlies.The Brits are so successful because they cover the topics sportbike enthusiasts want to see and read about, including beautiful girls. These great British sportbike magazines are now more readily available on your favorite newstands here in America. British Sportbike mag Review HERE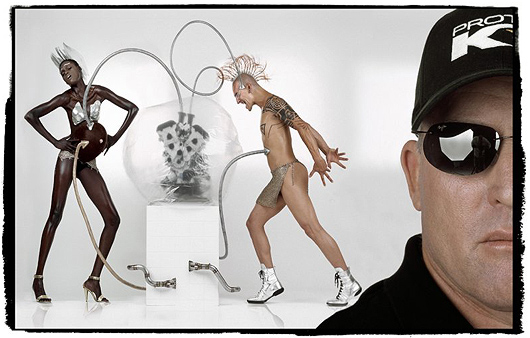 Mr. Roberts Meets Artist Rancinan Team KR: `The Spirit´
Photographic artist Gerard Rancinan, famed in MotoGP circles for his Ducati Speedart project which was displayed last November in Valencia, has once again turned his hand to the pinnacle of two-wheeled sport with his latest creation – a concept photograph of multi-World Champion Kenny Roberts. 'King' Kenny, one of the most charismatic and inspirational racers in the history of the sport, who has been a key influence in the evolution of the MotoGP World Championship in his role as a team manager and team owner, particularly with the creation of his own 3-cylinder two-stroke and 5-cylinder four-stroke machines. It is this pioneering and revolutionary attitude which Rancinan has tried to capture in his image of the American.\
Rancinan juxtaposes the stern image of Kenny's face – granite jaw set, visionary eyes just a hint behind his trade-mark shades – with two figures expressing the joy and agony of creation. Explaining the concept of the image. "Between them is the motorcycle's 990cc V5 engine, linked to the models by umbilical and intravenous tubes.
"She displays the distended grace of pregnancy; he the distorted arched back of passion. They are Yin and Yang, positive and negative. They stand for the power of Kenny's dream, and the inevitable pain of realisation." - (Ed. OK, so far.....)
"The engine, shrouded in cellophane, is visible but with the clarity obscured. After creation comes mystery. Nobody knows what will ultimately transpire. Another test of courage. And another inspiration from King Kenny." (Ed. Ahhh... yea? And as art critic Robert Huges once offered, "Art has no social redeeming value. It exhists for its entertainmnet value." -And we are entertained.)
---
Stripped down and hard at work, lovely Laura Niles tightenes our nuts on the FastDates.com killer Tuono R Project Bike featured in Paddock Garage. You can see a lot more of our upcomming new 2005 Calendar model Lauraright now in Members Corner which is free with your Membership to The
Paddock Garage
Meet FastDates.com Calendar Girl Laura
HERE
and
HERE
.
Build FastDates.com's $5,000 Tuono R Project Bike!
jWhen Aprilia introduced their new Tuono naked bikes back in the fall of 2002 they were an immediate hit, both in the press and on the showroom floor where they sold out immediately. A full-on contemporary Mille R Superbike stripped naked with motocross bars and a minimalist bikini headlight fairing was the meanest, nastiest bike on the planet. We had to have one, but the the high end limited edition Tuono R with its trick race wheels and Ohlins suspenion was priced close to $20,000 and every one was pre sold even before they arrived at dealers in December. Our check book breathed a sigh of relief.
Fast forward to the summer of 2003 when we got the chance to ride a 2003 Tuono R on both the street and the race track, back-to-back with the out going 2003 Mille R and the new incoming 2004 Mille RSVR a Factory Superbike models. The new 2004 Mille Superbike is a huge improvement in handling, performance and comfort in a direct comparison to the old Mille which now feels huge and bulbous when you're bent over the tank holding onto the clip-ons. The now previous generation Mille's of which 10s of thousands were built starting with their introduction by Aprilia in 1999 to the end of the 2003 model year were now dinasours in comparison to the new model. And effectively dropping the bottom out of their resale value on the used bike market....
But wait! The Tuono R we tested at the same time as the old and new genertation Mille's was actually our favotite bike! Replace the Mille R's clip-ons with a set of higher positioned motocross bars and the Mille is transfored into the ultimate short course roadracer, canyon thrasher and around town cruiser. The gas tank is no longer stuffed in your stomach and whole bike becomes really comfortable, while the tall handlebars make bike really light and agile -a pure blast to ride!
When we rode the Tuono R on the tight roadrace track at Pahrump, NV, where speeds are limited under 110 mph we could turn quicker lap times on the Tuono than on the old Mille R and new 2004 model RSVR Superbikes. Which got the cogs in our little head to start turning.... why not pick up a cheap used or crashed Mille R and turn it into a Tuono? Build our own killer Tuono R on the cheap!
Well we've done just that. For just $3,995 we purchased a crashed but nearly immaculat, almost new 2001Mille R with just 1,500 miles on the clock. And for just about $1,000 in conversion parts we've built our own Aprilia Tuono R valued at nearly $20,000 ($17,995 plus tax & setup) at your dealer for a mere $5,000. Is this the deal of the century or what? In FastDates.com's Paddock Garage we give you a blow by blow description of what it takes to convert a Mille to a Tuono with all necessary factory part numbers, prices, and a list of sources for alternative and more readily available conversion parts. Go to: Paddock Garage
---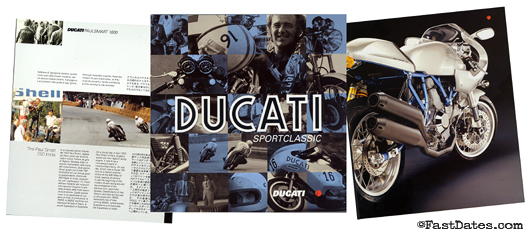 Ducati Classics already geared for production?

A look at possibly the best new motorcycle marketing campaign ever


Jan 1st 2004
: Ducati North America was handing out to us press types at the recent Cycle World International Motorcycle Show at
Long Beach
this beautiful 10x10 inch 32 page color catalog featuring their 3 new Sport Classic "Concept" bikes, the "prototypes" of which were also on display at the Show. The Ducati Sport Classic Catalog provides a historical review of the origional 1971 GT 750, 1973 Sport 750, and 1974 Paul Smart Imola Supersport 750 racer, on which the three new 1000 Sport Classics are based. It also contains beautiful photographed pictures of the new Classics, full marketing descriptions complete with all final technical specifications, described in both English and Japanese (one of Ducati's biggest markets).
Ducati has been playing this "concept' theme to the hilt, even to the point of sending an Email Questionaire to registered Ducati owners and conducting an opion poll to visitors on their website, asking whether or not the bikes should be produced (www.Ducati.com/sportclassic). And while Ducati corporate is mum on if, and, or when the bikes will be produced, we think this culvert operation is the biggest new model marketing introduction the motorcycle industry has ever seen. In the words of Ducati NA general magager Michael Locke "Ducati has a marketing presence and an enthusiast base which belies the company's true size and rivals most other much larger motorcycle manufacturers."
The Classic "prototype' bikes on display at the Show and in the Catalog are clearly finished production bikes with no hand made components or rough fiberglass bodywork. The production Sport Classics could be well into production right now, and we guess their immediate release" Do to Overwhelming Demand"' will be announced to the faithfull at World Ducati Week, May 17-23th at Misano Italy. Complete details and photos of the Ducati Sport Classics HERE.
Below: The 2004 Ducati Main Sportbike Catalog featuring 80 pages of beautiful photography, details and specifications on the world's largest line of sportbikes (not even including the new Sport Classics featured in their own separate 32 page catalog shown above). Beg, borrow or steal one from your Ducati dealer if you can - they cost him $2 each. It is a real collectors piece. In comparison, the major Japanese manufacturers like Honda, Yamaha and Suzuki offer much smaller 8-16 page sportbike line brochures.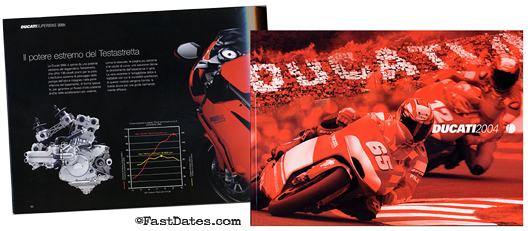 Cycle World International Motorcycle Show Coverage!
The New 2004 FastDates.com Calendars now available!



Covergirls Janelle, Chandi and Joanna Krupa get down to work
in the 2004 Garage Girls calendar available right here.
---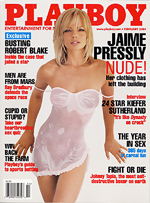 Click to subscribe...


FastDates.com
Calendar Girl and actress
Jaime Pressly
in February Playboy
Jan 15th - Our own FastDates.com Calendar girl and actress Jaime had her second feature pictorial and first cover of Playboy magizine in the February 2004 issue photographed by famed fashion and Sports illustrated Swimsuit Calendar photographer Patrick Demarchelier. The sexy calendar girl talked about the release of her latest movie, the biker action flick Torque which also comes out this month, featuring both extreame sportbike action, and some custom bikes from our regularly featuredcelebrity Iron & Lace Calendar custom bike builder Harold Pontarelli.

Harold provided two $60,000 custom Harelys for the movie, and was paid $2,000 per day per bike for 7 days to have the bike parked in the background on the set. His customs fared a lot better than a number of Aprilia Mille Rs which were thrashed and trashed in the movie, making a perfect starting point for a similar Tuono R Project Bike as featured on this page and in Paddock Garage.

During the long days of shooting and waiting to be on set of Torque, Jaime also sketch and designed her own lingerie and sleep wear clothining line aptly named J'aime. She also just completed co-produced and oo-stared in her own feature film Death to the Supermodel, and has landed a recurring role on the TV series Becker staring Ted Danson.

to see a lot more of beautiful Jaime visit Members Corner where we have the beggest jaime pressly photo gallery on in the known universe.

Norick Abe
returnsto MotoGP
Jan 1st - Norick Abe has announced that he is preparing for a comeback to the MotoGP World Championship as a full time rider in 2004. However, the experienced 28 year old said that he is not yet able to reveal details of the deal, amidst rumours that he could replace Alex Barros in the factory Yamaha squad should the Brazilian seal a supposed switch to Repsol Honda.

"I have reached an agreement to contest the MotoGP World Championship in 2004," said Abe on his personal website. "I will announce the details of the team on my website shortly and am due to begin testing at the end of January."

Abe spent last season as an official test rider for Yamaha and ended up making five MotoGP appearances as a wildcard and as a replacement for Marco Melandri in the Fortuna Yamaha team. Despite missing eleven races, he still managed to finish 16th overall in the championship, ahead of the likes of Kenny Roberts Jr and Garry McCoy, and just fourteen points behind Melandri, who could become his new team-mate in the next few days.

FastDates.com Apparel
Cool T-Shirts for fast boys and bad girls. HERE
More MotoGP Teams moving to Michelin 16.5 inch front tires for 2004

The recent end of year tests including those conducted by Team Ducati with rider Loris capirossi and Troy Bayliss have seen more teams of the potential concerning new Michelin's 16.5" front tyre as opposed to the accepted standard 17".
The rear tyre, so magnificently introduced to Grand Prix racing as Garry McCoy slid his way around circuits in 2000, was considered a success. Many teams and riders are now looking towards the new rubber on the front of their machinery so motograndprix.com decided to plunder the knowledge of Michelin racing manager Nicolas Goubert to gain some more information regarding the advancement.
"The 16.5 front is something that we really wanted to work on because we ran the tyre this season with the Aprilia team due to the fact that both of their riders preferred the size and both Noriyuki and Colin asked us to develop one for MotoGP," remarked the Frenchman. "They were quite happy with the result by the end of the year so we thought we would ask the other teams to try it over the winter. However it is a long process to get the tyre generally accepted. Right now we don't know if it is the main direction we will take for next year, it is too early to say.

A lot of riders have their own tastes so we will see."
"The biggest difficulty with making any kind of major innovation with tyres is that you are upsetting the stability and settings of the bike. They are all tuned around a specific aspect. If you change one part drastically, no matter if it is the tyre or some other component, it will upset the balance. Even if you are convinced it will help, time is needed to adjust everything around it to make sure that you gain something," he continued. "We were convinced that the 16.5 rear would work but getting to the stage where you can actually show the teams the improvement is not always so easy. We got lucky with the rear because Garry McCoy was the first rider to like it and use it and won the first time out in 2000 at Welkom, everybody then thought that it must be the way forwards if Garry was winning."
"It then took between half a season to a season for that tyre to be suited to all conditions and the teams to adapt their bikes to the new model and, for this reason, concerning the front, it is too early to say the impact it will have."
Goubert insists the alternative size label masks significant differences: "The two tyres have completely different constructions. We worked in one direction with the 16.5 using the requirements of Colin and Nori and ended up with a diverse construction compared to the 17". There are many other factors behind the size label, such as compound, profile, construction."
Having used the 16.5 from his World Superbike days Colin Edwards is naturally more familiar with its characteristics and is leading the tyre's evolution in MotoGP. "It's a feel thing," Honda's new recruit stated. "Just a contact patch preference. I've been developing it since 2000 and I really like the footprint that it puts on the ground. We are always working to develop bigger and better stuff."
Virtually all of the riders at the recent Valencia test had a go with the 16.5, the factory Ducati team in particular devoted a sizeable chunk of track time to evaluate the tyre's performance. Another former Superbike Champ with experience of the 16.5, Troy Bayliss, feels that the new 'boot' could be a favoured addition if embraced by the majority of his peers.
"I used the 16.5 in all my time in WSB but then had to switch to the 17 here because that was what everybody was using," he said. "When everybody follows in one direction all the development takes place in that area. I know Colin used the 16.5 this year and I tested it at Jerez and liked it. It depends on how many people feel the same and want to work with it; it'll just keep getting better then."
CORRECTION
Do to a misunderstanding, the FastDates.com Calendars and Website have previously refered to our model Janelle Perzina (true name Pierzina) , as Miss Minnesota, when in fact Janelle was a "Miss Minnesota contestant" in the year 2000 pageant and not the winner.
We apologise for any confusion this may have caused. Paige Swenson was the Miss Minnesota USA 2000 winner.
More Calendars HERE
Click to shop...