FastDates.com Calendar Girl
Jaime Pressly
gets Torque'd off!
Cycle World International Motorcycle Show Coverage!
Ducati Sport Classics Confirmed for Production
Bolonga, Italy, Feb 2nd: We told you last month the production of the new Ducati Classics were a near certainty and now Ducati has confirmed it. Since the launch of the Ducati SportClassic family of concept bikes at the Tokyo Motorshow, and their subsequent exhibition at the most important motorcycle shows in the world, they have received an incredible response. Ducati also considered the results of their SportClassic Survey on Ducati.com. Over 310,000 people visited the SportClassic site while over 16,000 fans took the survey, expressing their opinions of the three models.
Ducati has always made an effort to include our enthusiasts in our sporting and commercial decisions. We simply could not stand aside while the world clamoured for us to build these dream bikes and have therefore decided to put all three SportClassic models into production.
The first of the three models to go into production will be the beautiful and exclusive Paul Smart 1000. It will be available starting November 2005, with an initial limited production run of 1000 units. The silver colour scheme will be that of the original legendary "750 Imola Racer" on which Paul Smart won his stunning victory in 1972. The first series production run of the Paul Smart - the Paul Smart 1000 L.E. - will be characterized by the highest quality componentry, such as Öhlins forks and rear shock.
Following this, Ducati will go forward with the Sport 1000 in March, 2006: beautiful, original, and particularly aggressive, it is a motorcycle destined to become a true cult object and social phenomenon. With aggressive "Café Racer" styling and a paint scheme in unmistakable Ducati yellow, the Sport 1000 offers timeless beauty matched by the performance our fans have come to demand of us.
Six months later it will be possible to buy the GT 1000, scheduled to begin production in September, 2006. This new GT is fuses a long tradition of elegant styling, high quality componentry with the handling of today's motorcycles.
Manufacturer's Suggested Retail Prices will range from $16,000 for the Paul Smart Replica racer down to $13,000 for the more basic GT1000. For those who want to own one of these dreams, it will be possible to reserve the motorcycles beginning March 1st and ending September 1st of this year, at the minimum prices specified. Reservations will be taken at your local dealer, following normal procedures. Deliveries will be made in line with Ducati's production schedule.
"I am extremely enthusiastic about the tremendous success of these bikes," said Federico Minoli, President and CEO of Ducati. "The three SportClassics are an unparalleled blend of the winning technologies that have always characterized Ducati and the dream of timeless beauty. We have always believed in our fans. Now, thanks to their passion, our dreams are becoming a reality."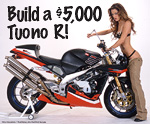 New motorcycle
magazine premiers
Robb Report Motorcycling
MALIBU, CA – CurtCo Media today announced the premiere of Robb Report MotorCycling, a luxury lifestyle publication targeted to an exclusive audience of active, affluent two-wheel enthusiasts.
Debuting on newsstands on February 10, the new quarterly title will have an initial distribution of 100,000 copies, targeted to subscribers, newsstands and bookstores. The publication will also be available at select motorcycle dealerships, races and shows, as well as at international luxury lifestyle events.
The premiere issue's "Then and Now" theme is reflected in its cover story on Confederate Motor Company's exotic new prototype, the Wraith, as well as its coverage of legendary marques such as HRD Vincent, Triumph and Moto Guzzi. This spring issue also looks ahead to the latest offerings from Aprilia, Ducati, BMW and Honda.
The premiere issue of Robb Report MotorCycling also takes to the open road, beginning in New York with a display of the latest fashions from Dainese and Harley-Davidson. The magazine then heads to Las Vegas for expert instruction from champion racer Freddie Spencer. A final stop in Sedona, Arizona, provides the ultimate biking excursion, with breathtaking vistas and a visit to the CopperWynd mountaintop resort.
"This new title will address a growing audience of established, affluent executives that are truly passionate about motorcycling," said William J. Curtis, Chief Executive Officer of CurtCo Media. "It provides us with the unique opportunity to combine our love for motorcycles with the well-defined affluent market that Robb Report has addressed for more than a quarter-century."
Robb Report MotorCycling will operate under the direction of CurtCo Senior Vice President Arthur Coldwells, who assumes the title of Publisher. A 30-year motorcycle enthusiast, Mr. Coldwells has competed at national and club levels of the American Motorcycle Association and previously spearheaded motorcycling special sections in Robb Report.
Order Now. The New 2004 FastDates.com Calendars are almost sold out!



Covergirls Janelle, Chandi and Joanna Krupa get down to work
in the 2004 Garage Girls calendar available right here.
Parts Unlimited and Drag Specialities return with the FastDates.com Calendars for the upcoming 2005 season
Feb 14th, 2004 - Thousands of dealerships across the country where very disappointed this past 2004 calendar season when they couldn't order our popular FastDates.com calendars from their favorite distributor Parts Unlimited / Lemans / Drag Specialites.
Our apologies for the inconvenience. But the little hickup in our distribution has now been fixed in America's largest motorcycle parts distribution chain and beginning with the 2005 FastDates.com calendars which will be available August 1st, 2004, the FastDates.com calendars will again be available for Parts Unlimed and Drag Specialities, as well as through many other major distributors including Global Motorsport's Motorcycle Stuff, Custom Chrome and Chrome Specialities, plus Van Leeuween and Lockhart-Phillips in America, Kimpex in Canada, Crossbow in England, and Northern Accessories in new Zealand. Complete contact information for all our distributors can be found in Chain Links.
Remember friends, our calendars are 16-month calendars beginning Sewptember 1st, so it is important to order them early in July / August preceeding the cover year to help assure a successful sell through season. Not to mention that ordering early also asures our calendars won't alreqady be sold out when you go to look for them around December.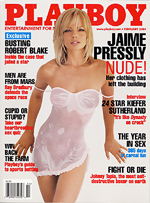 Click to subscribe...
FastDates.com
Calendar Girl and actress
Jaime Pressly
in February Playboy
Jan 15th - Our own FastDates.com Calendar girl and actress Jaime had her second feature pictorial and first cover of Playboy magizine in the February 2004 issue photographed by famed fashion and Sports illustrated Swimsuit Calendar photographer Patrick Demarchelier. The sexy calendar girl talked about the release of her latest movie, the biker action flick Torque which also comes out this month, featuring both extreame sportbike action, and some custom bikes from our regularly featuredcelebrity Iron & Lace Calendar custom bike builder Harold Pontarelli.
to see a lot more of beautiful Jaime visit Members Corner where we have the beggest jaime pressly photo gallery on in the known universe.

New Kylie Minigue
Kylie's hot new CD Body Language gets released in February, but you can get it right now at 21% off.
Click to score now.
Naked and Exposed!
British Sportbike Magazines
FastDates.com rates the top 7 hard core British sportbike magazines where bikes, half naked babes and roadracing are the norm -not the exception. In England, a county the size of just California, sportbike enthusiasts are blessed with 7 major monthly sportbike magazines! - America's got just 1 monthly newspaper and 2 semi monthlies.The Brits are so successful because they cover the topics sportbike enthusiasts want to see and read about, including beautiful girls. These great British sportbike magazines are now more readily available on your favorite newstands here in America. British Sportbike mag Review HERE