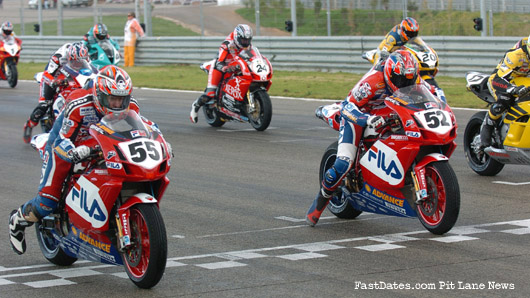 The start of Race One with winner James Toseland (55) getting the jump on team mate Regia Laconi (52) who would crashed in turn 2. Chris Vermeulen (17) qualified the new CBR1000RR Honda in 3rd. Second race winner Noriyuki Haga is partially hidden with his head down behind Toseland.
2004 SBK World Superbike Championship, Round One Valencia
Valencia Fires Up New World Superbike Season
Valencia, Spain, 27-29 February - The World Superbike Championship kicks off in what is by now traditional style, at the Ricardo Tormo Circuit, Valencia, on Sunday 29 February. This will be the 17th year of continuous World Superbike competition, with road-derived machinery from a wide variety of manufacturers once more doing battle on the racetracks of the world, from the historic and contemporary venues in Europe to the intercontinental rounds in Australia and America.
A total of five previous race winners will be competing in World Superbike this season, and all will be in attendance at Valencia, vying with each other for the right to call themselves the first winner in the latest era of global Superbike racing. A modification in the technical rules in the Superbike class sees twin, triples and four-cylinder machines engaging in SBK competition on a truly level footing this year. The adoption of spec Pirelli tyres is also expected to play a major part in making the competiton as close as it possibly can be. With each eligible SBK machine capable of producing up to ñ and over - 200bhp from its roadbike-based motor, the competition is expected to be as exciting as in any one of the previous 16 years.
The official Valencia winter test sessions have normally been a good indicator of how the season itself will go and all the evidence so far points to the pre-eminent SBK forces emanating from the Ducati Fila factory workshops. Fastest man in the earlier Valencia tests was proven SBK race winner Regis Laconi (Ducati Fila 999F04), who was victorious in a dramatic final race of the 2001 season, at Imola. Fourth overall in the championship last year, the Frenchman will have to fight hard in every corner of every race this season, especially with the likes of his very own team-mate James Toseland ñ a rider who also enjoys the status of race winner in this intense category of motorcycle sport. Toseland was a fine third overall last year, heading off Laconi in the final races of the year at Magny Cours, shortly before he too was promoted to the full factory Ducati team for 2004.
Of the current SBK combatants, Troy Corser is the most successful at Valencia, the Foggy Petronas FP-1 rider doing the double in the 2001 season. Corser is joined in the Foggy Petronas team by the exciting talent of Chris Walker, the two men competing on the technically innovative three-cylinder machine, a fusion of Malaysian and European technology.
Among the small army of new or returning SBK talents this year are the Xerox NCR Ducati 999RS rider Garry McCoy and Renegade Ducati 999RS rider, Noriyuki Haga, who was the 2000 season runner-up. Haga is an 11 times World Superbike race winner and a real threat on his brand new 999, while the vastly experienced McCoy is something of an SBK rookie ñ but still looking to score wins in a new form of competition in any case.
Another rapid Aussie in with a chance of real glory this year is Steve Martin (DFX Ducati 999RS) teamed up with Marco Borciani for the second year. Splitting the factory Ducatis on the timesheets at the recent tests, Martin has already shown his potential in measurable terms. A strong list of Ducati privateers also includes the talents of Britainís Leon Haslam (Renegade Ducati 999RS) who will be taking on the SBK world in his rookie season. Already fast in testing in Spain, Haslam starts his full SBK career at the best possible venue.
Having won the Ridersí World Supersport Championship for the past two years, Ten Kate Honda have increased their involvement by accepting the challenge of World Superbike this year. 2003 Supersport Champion Chris Vermeulen will compete on the all-new Honda CBR900RR, and has already shown good speed in testing, despite riding a not fully developed machine.
The Kawasaki Bertocchi and UnionBike Yamaha teams will also compete with four-cylinder bikes, while another new entry in World Superbike will run Suzuki GSX-R1000s. The Zongshen China effort affords an entirely new aspect to the championship and will run the experienced Piergiorgio Bontempi and Endurance racing star Warwick Nowland.
In the Supersport World Championship, which gained full World Championship status in 1999, all the major Japanese manufacturers have enjoyed title wins in the Ridersí category but this year a returning Ducati factory entry brings a whole new emphasis from Europe. Lorenzo Lanzi will be the man charged with running the single Ducati Breil 749 in with the best of the four-cylinder machines. A full effort from Honda, Suzuki and Yamaha sees a whole gridful of potential winners line up for the Valencia season-starter, and Suzuki also unveils a new GSX-R600 to the world of competitive racing.
1999 Champion Stephane Chambon will share the Alstare Suzuki garage with multiple race winner Katsuaki Fujiwara, while Yamaha unleashes four factory bikes, two of which will be ridden by the Belgarda boys, Jurgen van den Goorbergh and 2002 Champion Fabien Foret. The Yamaha Motor Germany team also runs Christian Kellner and Kevin Curtain while Honda has six officially supported entries, from the Ten Kate, Klaffi and Team Italia Megabike squads. In Karl Muggeridge (Ten Kate) and Sebastien Charpentier (Klaffi), Honda has two race-winning riders, while new signing Broc Parkes is a hot prospect for the Dutch masters Ten Kate.
Qualifying for all classes starts on Friday 27 February, finishes on Saturday 28, and for Superbike the excitement of Superpole qualifying - during which the fastest 16 from regulation qualifying race against the stopwatch during a single flying lap, to determine ultimate grid position - returns once more. Racing for real commences on Sunday 29th. For those who do not have access to live TV coverage, the weekend action can be followed in real time on the SBK website, www.worldsbk.com.
---
Mikuni American launches controversal
"Explicit Performance " advertising
campaign featuring beautiful new
Fast Dates.com Calendar model
Andra Cobb

January 20, 2004: Mikuni American, manufacturer of the industry leading Mikuni HSR 42/45/48 aftermamrket performance carburetors for the American V-Twin market and sponsor of the FastDates.com Iron & Lace Calendar, is kicking off an exciting and sexy new advertsing campaign for 2004 which is being featured in many of the major print magazines for the American V-twin market beginning with the March issues. The advertising campaign is produced by Gianatsis Design Associates, Mikuni's contracted advertsing agency, producer of the FastDates.com Calendars and the annual Los Angeles Calendar Motorcycle Show -the biggest consumer streetbike show in America.

The sexy new Mikuni ad campaign is already sparking off a lot of controversey and attention with one major motorcycle magazine publisher refusing to run it because they feel it is too provocative, desite the fact the model is fully covered. Tell us what you think HERE
More Related Stuff -
Read and see more about the Mikuni "Explicit Performance" ad campaign in Iron & Lace News
See beautiful model Andra Cobb's modeling portfolio in Meet The Models
---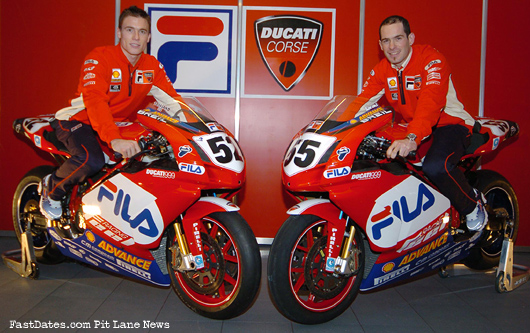 Team Fila Ducati's James Toseland (left) and Regis Laconi (right) on the 999F 04 Superbikes.


Laconi Dominates Valencia Qualifying & Superpole
Valencia, Spain, 28-29 February -It is the first SBK World Superbike round of the 2004 season and the Ducati Fila team with its new rider lineup are again dominating the proceedings with the first pole position for Regis Laconi at Valencia. After dominating the two qualifying sessions with his Ducati 999 Factory '04, the 28-year-old Frenchman then amazed the entire field with a lap of 1'35.935, a full second ahead of the rest of his rivals. Second place for his 22-year-old team-mate James Toseland with a time of 1'36.973, ahead of Chris Vermeulen (Honda) and Leon Haslam (Renegade Ducati 999).

"Like yesterday the conditions were very difficult, the track was still cold and the wind changed direction all the time, but I am really pleased with my second ever Superbike pole position" declared Regis. "I wanted to get down into 1'35 and I did, but only just! Everything is going well, we did a good job with my team this weekend and I am very happy. The tyre I chose for my long-run wasn't entirely satisfactory, but then we tried another tyre that I liked and so I feel confident for the races tomorrow."

James Toseland declared, "Everything is OK, despite my crash in the last minute of the free practice session just before Superpole. It's not easy going from a crash to a quick lap in one go however. We found a good base set-up for the race, I set my quickest time on my race tyre, so I'm sure we'll be able to give it a go tomorrow. For the moment there's a second gap between me and Regis, but I am sure that tomorrow there won't be! Regis is riding really well, he's got more experience than me, but I'm getting there. I probably just need a bit more time to get up to his level but I'm sure I'll be there pretty soon."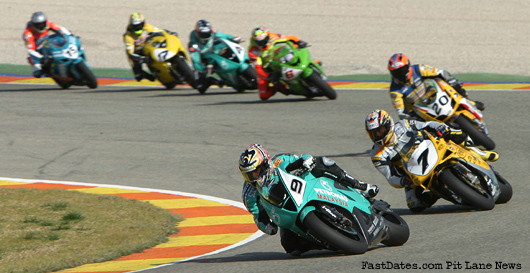 Chris Walker (9) on the Foggy Petronas battles for 2nd with Franki Chili (7) on his old backup 998RS.
Toseland and Haga!
On Top in Valencia World Superbike Opener
Valencia, Spain ,Feb 29th - With bizarre weather conditions affecting the morning of raceday at Valencia Regis Laconi (Ducati Fila 999F04) took an early lead in the first race, only to fall and lose a possible 25 points. His team-mate James Toseland was the man to capitalize most and he duly took the win in the first 23-lap contest. In the second race Laconiís luck continued on its downward spiral, as his chain jumped the sprockets and he had to pull out of the second contest in one day. Noriyuki Haga, from the Renegade Ducati team, rookies in SBK as they are, duly rode like his old self to win the second race convincingly, from second place Toseland.
With all riders on the same spec Pirelli tyres this season the competition in each race, the frequently wet first race and the dry second, the competition was levelled out to a great degree, with riding talent and machine set-up the determining factors overall.
In the first race, some riders opted for slicks, a combination of wets and slicks, or full wets with most of the quickest riders proving to have opted for the full wet combo. Pierfrancesco Chili (PSG-1 Ducati) ripped his way to an immensely satisfying second place after a winter of extreme discontent, and rode his ëoldí 998 Ducati to second place in race one, fourth in race two. Steve Martin (DFX Ducati) was desperately unhappy to be dropped out of contention by a mechanical problem in race one, but made up for his disappointment to secure a career best third place in race two.
A historic moment came to Chris Walker and the Petronas team, with the English rider delivering them their first podium finish, third in race one. Walker went seventh in the dry race two, while his team-mate Troy Corser fell while making a charge in the leading position in race one, easing his way to 11th in the final leg.
Chris Vermeulen had an eventful induction into World Superbike, as did his Ten Kate Honda team, after he had to pit in wet conditions, restart and finish 12th. In race two a terrible start saw him well down the order, only for him to charge back into contention and finish fifth on his CBR1000RR.
A great day in many ways for race two winner Noriyuki Haga started badly in race one, as he was forced to retire with gear selection problems. His team-mate Leon Haslam made up for it in some regards by finishing a battling fifth. He ran off track in race two fighting back to ninth place.
A brilliant result in the changeable race one conditions delivered a sixth place to class rookie Gianluca Nannelli (Pedercini Ducati). Running slick tyres in race one Garry McCoy (Xerox Ducati NCR 999RS) went seventh and then sixth on his SBK debut. Local rider Sergio Fuertes sent the local fansí hearts a flutter with his strong front running in the first race, and his eventual eighth place was a personal best for the Spaniard.
In the World Championship itself, Toseland is a clear leader in Riders points, 45 points to Chiliís 33. Hagaís win and DNF scored him 25 points, for joint third with Chris Walker. The results left PETRONAS, Malaysia's oil and gas giant, in second place in the manufacturers' standings behind Ducati, who achieved two wins with James Toseland and Noriyuki Haga.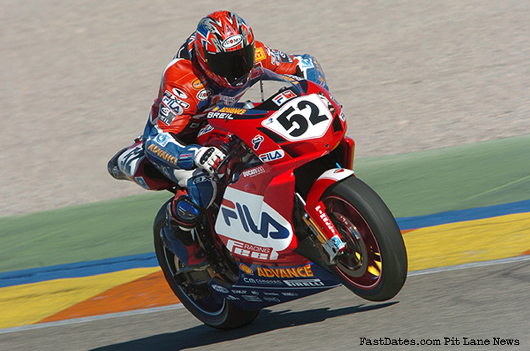 James Toseland ran away with the first race win on the 999F04 by over 4 seconds.
Race One to James Toseland / Fila Ducai
First podium finish for Foggy Petronas with Walker's third in season opener
Chris Walker made racing history today by achieving the first podium finish on the PETRONAS FP1, the first Malaysian superbike. In his first race for Carl Fogarty's Foggy PETRONAS Racing team, the popular British rider finished third in a nerve-jangling first race of the World Superbike season at Valencia, Spain. Lying fourth with two laps remaining, Chris moved into the rostrum positions when the Ducati of Steve Martin blew an engine. With oil coming out of the Ducati, Chris guided his FP1 home to rapturous celebrations from his team. FPR team-mate Troy Corser had earlier crashed out on the third lap of the day's opening race while trying to challenge for second, but escaped injury.
Chris said: "I can't believe it. This is a reflection on the incredible job that PETRONAS and our FPR team have done in such a short space of time. I never imagined I would get this result on my first race on the FP1. My mechanics have been stars this weekend. Half-way through the race I thought there was a chance of a podium so I tried to stay with Frankie Chili. Then, when I saw smoke coming out of Martin's Ducati, I knew that all I had to do was to bring the bike home. I am not usually the luckiest rider in the world so for once my luck was in."
Carl said: "I was getting all nervous and tense - and then I realised we had only done five laps! I am so pleased for PETRONAS and everyone connected with this project. I hope people realise that this bike was just a piece of paper two years ago! I had said that our aim was to get on the rostrum. Now that we have done that, we want to be there all the time. But we know there is still a long way to go and a lot more to come from the engine. And I am so proud of Chris, because he is the man who made this happen by bringing the bike home in those conditions."
The changeable weather at Valencia had caused drama on the Valencia grid even before the start of the race, with pre-race favourite Regis Laconi crashing on his out-lap. Then, with drops of rain falling, the teams had to make a swift choice of tyres. Chief engineer Steve Thompson opted to spread the risk, with Troy choosing full Pirelli wets in both the front and rear, while Chris opted for an intermediate rear tyre - the choice of the first three riders.
The weekend's fastest qualifier and pole sitter Frenchman Laconi crashed out on the warm-up lap of race 1 but was able to get back to the pits in time to mount his second Ducati 999. His luck ran out however as he again went down on the greasy track, this time for good, after just a couple of corners. Chris Walker was already up into the top four from a qualifying position of 10th, Troy crashed while trying to overtake eventual race winner James Toseland on the outside. Then, with a drying line developing after a brief shower, Chris was able to stay on the pace of the leading group positioned behind leader James Toseland before seizing his opportunity of glory.
World Superbike Race One: 1 Toseland (Ducati Fila); 2 Chili (PSG-1) +4.698; 3 Walker (Foggy PETRONAS Racing) +22.109; 4 Borciani (DFX) +53.304; 5 Haslam (Renegade Ducati) +1:02.286; 6 Nannelli (Team Pedercini) +1:11.269; 7 McCoy (Xerox Ducati) +1:25.257; 8 Fuertes (MIR Racing) +1:26.590; 9 Saiger (Lifehouse RT) one lap; 10 Mrkyvka (JM SBK) one lap; 11 Nowland (Zongshen) one lap; 12 Vermeulen (Ten Kate) one lap; 13 Praia (Xerox Ducati) one lap; 14 Sanchini (Kawasaki Bertocchi) three laps; 15 Bontempi (Zongshen) three laps
Race Two: Nori Haga is back!
Race two saw the dramatic return of Japanese star Noriyuki Haga to the front of the field as the former World Superbike title contender pulled away right from the opening laps from first race winner Toseland and built up a 4 second laead by lap 4. Toseland saw Haga's lead narrow back down to 2 seconds when thee Renegade Ducati rider nearly highsided from a viscious slide when his rear tire started to go off in the closing laps, but Nori changed his cornering style to bring the Ducati 999RS off the corners in a more upright position to nurse his spec Pirelli rear to the finish in first position. Toseland was more than happy to settle for 2nd place and the points lead in the championship.
"I was struggling in qualifying and practice with the set-up for the dry, but Nori rode fantastically well and we went with what we knew. Itís been a nerve-racking weekend but Iím just glad to have come out on top and get two consistent finishes in the first round. I made a bit of an aggressive move on Haslam on the first lap and lost a bit of time and then I couldn't do anymore. It's all turned out well", said James afterwards.
Team mate Regis Laconi's misfortune continued in the second race as he parked his Fila Ducati 99F9 against the barriers after just a few corners when the bike chain derailed off the rear sprocket. " I can not say I feel bad because tha tís racing, these things happen, but for sure I'm not happy because I made a mistake in the first race and this is not goodî commented Laconi. ìIn the second race with this problem I had to stop. I didn't do one lap today so I hope everything finishes here and things will be better from now on!"
Chris Walker completed a great opening round of the 2004 World Superbike season for Foggy PETRONAS Racing by following up his third place finish in the opening race – the first podium position for the FP1 – with seventh place in the day's second race at Valencia, Spain. And the performance of his new rider thrilled team owner Carl Fogarty, the four-times World Superbike champion.
Carl said: "It has been a brilliant weekend for us and I never dreamed that we would be celebrating a podium position here. Maybe it will make a few people sit up and take notice and we will soon know exactly what this bike is capable of, with developments to the engine expected within a few rounds.
"It has been especially good for Chris and we were not a million miles off the pace in the second race in dry conditions. We can't argue with seventh place, and nearly having both riders in the top ten, at this stage of the development. Maybe Troy was a little too anxious to get to the front in the first race and it's strange to be saying that so early in the season."
The second race was less dramatic than the opening action, with the morning's rain having disappeared. Pre-race favourite Regis Laconi failed to complete the opening lap for the second time in the day when he suffered a thrown chain. Steve Martin and Frankie Chili brought their Ducatis home 3rd and 4th ahead of reigning '03 Supersport champ Chris Vermeulern on Team Ken Tate's new Honda CBR1000RR and Gary McCpoy on teh Xerox Ducati. Chris Walker managed to fight off a late challenge from the Kawasaki of Marco Borciani to clinch nine more points and finish the first round fourth in the rider standings.
Chris said: "I don't think we could have done a better job this weekend and that's a credit to Petronas, to Carl and to the whole team. To be on the podium in the first race was more than I could have hoped for. In the second race I got a good start, which I was desperate to do, and although I was not as high as I wanted to be I was still in the pack. It took a while to get my head down and then I concentrated on consistent laps. The bike ran really well and the Pirelli tyres worked well."
It was a less pleasing story for team-mate Troy Corser, who crashed out of the first race while challenging for second place and finished the second race in 11th. The Australian said: "I was really pleased for Chris and the team in the first race but that was not an enjoyable day for me personally. I had overheating problems in the second race and the bike was losing power. So I had to try and make up time in the corners and ran wide on a couple of occasions."
World Superbike Race Two: 1 Haga (Renegade Ducati); 2 Toseland (Ducati Fila) +1.769; 3 Martin (DFX) +10.021; 4 Chili (PSG-1) +10.138; 5 Vermeulen (Ten Kate Honda) +17.067; 6 McCoy (Xerox Ducati) +21.140; 7 Walker (Foggy PETRONAS Racing) +21.584; 8 Bporciani (DFX) +21.626; 9 Haslam (Renegade Ducati) +33.387; 10 Sanchini (Kawasaki Bertocchi) +33.537; 11 Corser (Foggy PETRONAS Racing) +36.556; 12 Fuertes (MIR Racing) +40.458; 13 Pedercini (Team Pedercini) +43.819; 14 Clementi (Kawasaki Bertocchi) +46.515; 15 Saiger (Life Haus RT) +57.694