AMA National Superbike Championship, Rounds 2 & 3 California Speedway April 2-4th
They Held a National in SoCal and No One Came, Again -An Editorial Observation.
The other motorcycle media in America wouldn't dare bite the hand that feeds them and risk telling you that spectator turnout at California Speedway for the AMA Superbike Weekend was a disaster -somewhere around 1,500 people per day. If you weren't there to count the heads yourself, you could still see it on Speed TV coverage in glimpses of the empty closed main grandstands, and the 2 infield bleachers with around 500 people in each, give and take 500 more walking the infield, at the SuperMoto race and in the meager vender midway / pits.
To say the speedway lost it's ass financially would be a safe guess considering all the employees and expenses it takes to produce a race weekend. Why haven't riders' purses increased in 20 years? The AMA National races at CA Speedway paid out some $112,000 purse money for the weekend, with Mladin taking home $6,000 for each of his 2 Superbike wins. The money from series and race sponsors Chevy Trucks and Yamaha probably wasn't enough to pay even the purse, let alone all the other advertising, personel and event production costs.
Unfortunately in the heart of America's motorcycle meca, Los Angeles, where more sportbikes are probably sold and ridden then anywhere else in the world, sportbike fans have too much else to do including going riding in the beautiful nearby mountains and along the beaches, to spend a day at an unaccomidating race track facitlity at the end of a grid locked freeway. The California Speedway AMA Weekend is another non happening that previous saw the failure of previous Southern California AMA race weekends at Willow Springs and the Pomona Fairplex. Compounding the problem for CA Speedway is despite its beautiful facility, it is the worse track in America to view motorcycle roadracing with its terrible infield layout. Better to stay home and watch it on Speed TV if you really want to watch the race. Unfortunately Speed TV does not have the viewers and advertsing revenue to pay to the AMA or a racetrack to cover the race.
Can a national caliber roadracing weekend in Souther California be saved? Maybe. Here's our constructive criticism:

To begin ,the AMA and the manufacturers need to get together immediately and combine the repetive and uncompetive class they created this year. The equally quick 1000ccc Superstock needs to be combined with 1000c Superbike, and 600cc Formula Extreme needs to be combined with 600cc Supersport for just 2 feature races per day with all the top riders and manufacturers in just 2 faature 1000cc and 600cc classes to provide exciting racing. This year's AMA National series is a formula for failure as we stated before the year even began.
Next, a motorcycle event weekend needs to be a happening like Daytona Speed Week, Sturgis, Laguna Seca and our own Los Angeles Calendar Motorcycle Show. It needs live rock bands, bikini contests, stunt shows, dyno runs, bike contests to keep people interested all weekend long. And it needs to be promoted to the general public and the Harley biker crowd, and with charity rides, discount group ticket sales and promotions. You can't blow your whole advertising budget in Cycle News which is a national enthusiast newspaper with only 15,000 streetbike readers, just 3,000 of them in California who would rather go to Laguna and Infinion Raceway near San Francisco, and the 1,500 in Southern California who would rather be out riding..
In fact, Gianatsis Design, producers of the successful Los Angeles Calendar Motorcycle Show had met with California Speedway management 4 years ago in an attempt to bring the Calendar Show Concept to the Speedway. Unfortunately, they weren't interested at that time working together in sharing their revenue from a profitably produced motorcycle weekend at the Speedway and they chose to go it alone with a race only weekend the resulting failure.
While the major motorcycle manufacturers like Honda, Yamaha, Suzuki, Kawasaki and Aprila feel they need to support an AMA race weekend with their major big rig displays that very few people see, at the expense of not participating in more cost effective events with larger spectator attendance. That could be onereason why motorcycle sales are down and race team budgets have been slashed this season.
Setting New All Time AMA Superbike Race Win Record
Invincible Mladin Doubles Down at Fontana
Fontana, California, USA, April 2-4th – Australia's four times American Superbike champion Mat Mladin has added his name to the record books once again after victory in Sunday's third round of the AMA Chevrolet Superbike Championship at California Speedway in Fontana earned him his twenty-seventh AMA Superbike race win, the most by any rider in the history of the series. This weekend the 32-year-old Mladin was the rider to beat having set a blistering pace to secure pole position for the double header round on Saturday morning, before taking the first Superbike race later that afternoon. Then following it up with the race win again on Sunday, giving Matt a clean sweep of all 3 AMA Superbike rounds this year including the season opener last month a Daytona.
Mladin has been a revelation since joining the American AMA Championship in 1996. In this time he has written his way to the top of the three most important records in the sport, most Superbike championships won – four (1999, 2000, 2001 & 2003), most Superbike race wins – 27 and has been the all time record holder for the rider scoring the most pole positions for the class with 32, to which he added another earlier this weekend.

To add to those new benchmarks, Mladin has won the prestigious Daytona 200-mile classic on three occasions (2000, 2001 & 2004) and was voted by his peers as the AMA Athlete of the Year in 2000.

His efforts in attaining many of these records have been remarkable as many were achieved on machinery that many may have rated as not being the best of that time, while there have been many notable victories along the way that have very much been a team effort, with Mladin himself being the first to applaud the efforts of his Yoshimura Suzuki crew.


Mladin Takes Provisional Pole on Friday
Friday 2 April– Defending American Superbike champion Mat Mladin had set the fastest time in today's opening qualifying session to claim provisional pole position for this weekend's double header round of the 2004 American AMA Chevrolet Superbike Championship being held at California Speedway, Fontana, California. Mladin blasted his Yoshimura GSX-R1000 to a time of 1-min 25.157-secs on his seventh of twelve laps completed in the session and was fractionally outside of his own existing lap record of 1:25.123 for the 3.70km / 2.30 miles Californian circuit. The four times American Superbike champion had set the pace in both of the morning's free practice sessions and wasted no time in getting down to business as he rolled off a 1:25.859 on just his third lap. By the conclusion he was the only rider to have dropped his times into the 1:25 bracket.

A brace of factory Honda's filled the remaining three positions on the provisional front row, with Ben Bostrom (American Honda) reeling off a last lap time of 1:25.556 to grab second, 1.399 seconds adrift of Mladin's time. Third fastest was Jake Zemke (Erion Honda, 1:26.716) followed by Miguel DuHamel (American Honda, 1:27.085).

"Everything went fine for us out there today," said Mladin. "We got down to business fairly quickly which is always a good thing. The recent track time that we have had here has been a benefit that for sure as we were straight onto the pace this morning. We'll be looking at a few minor changes for tomorrow's final qualifying session and then work on finalising our race set up for tomorrow afternoon."

Qualifying for rounds two and three of this year's AMA Superbike Championship concludes tomorrow morning with the first of the weekend's two 28-lap (100km) Superbike nationals being held later in the afternoon.

QUALIFYING, 2004 AMA Chevrolet Superbike Championship, Friday Top 10
1. Mat Mladin (Yoshimura Suzuki) 1:25.157 mins; 2. Ben Bostrom (American Honda) 1:26.556; 3. Jake Zemke (Erion Honda) 1:26.716; 4. Miguel DuHamel (American Honda) 1:27.085; 5. Eric Bostrom (Ducati Austin) 1:27.627; 6. Geoff May (Suzuki) 1:28.475; 7. Chris Caylor (Suzuki) 1:28.583; 8. Josh Hayes (Attack Kawasaki) 1:28.593
9. Larry Pegram (Yamaha) 1:28.775; 10. Shawn Higbee (KWS Suzuki) 1:29.015
MLADIN EQUALS AMA RECORD WITH SATURDAY SUPERBIKE WIN
Saturday, April 3rd -– A dominating victory in Saturday's 2nd round of the American AMA Chevrolet Superbike Championship at California Speedway saw defending and four time American Superbike champion Mat Mladin equal the long standing AMA Superbike race win record with his second race win of the season increasing his personal win tally to 26. The weekend's double-header Superbike round at Fontana has seen Mladin and his Yoshimura Suzuki GSX-R1000 in command from the start of proceedings on Friday morning and lies in a very strong position with one more 28-lap Superbike national remaining to be run tomorrow.
Smashing lap Record in Morning Qualifying
The day started off strongly as he converted his fastest time from the opening qualifying session yesterday to a pole position winning time this morning as he blasted a staggering four tenths of a second off his own lap record, setting a new mark of 1-min 24.759-secs for the 3.70km / 2.36-mile, 17-turn infield road course. In taking pole for the weekend's round, Mladin has stretched his own AMA All-time pole tally to 32.
"I think the way that qualifying went this morning will set some sort of trend for the year, where now as we have the softer qualifying tyre available, a lot of lap records will be broken before the year is out. Our bike is down on speed from last year, but the tyres have made up for some of that, especially in qualifying."
COMBINED QUALIFYING, Saturday Top 10
1. Mat Mladin (Yoshimura Suzuki) 1:24.759 mins; 2. Jake Zemke (Erion Honda) 1:25.484; 3. Miguel DuHamel (American Honda) 1:25.688; 4. Ben Bostrom (American Honda) 1:25.900; 5. Eric Bostrom (Ducati Austin) 1:26.056
6. Josh Hayes (Attack Kawasaki) 1:27.524; 7. Geoff May (Prieto Suzuki) 1:27.573; 8. Larry Pegram (Yamaha) 1:28.000; 9. Chris Caylor (Empire Racing Suzuki) 1:28.169; 10. Clint McBain (Coors Light Suzuki) 1:28.960
Saturday Superbike National
Starting from pole for Saturday's Superbike Race One, Mladin gained the holeshot and immediately went about working on an early race lead over his rivals. His frantic pace in the opening sector of the race saw him set the fastest lap on the race on lap 2 of the scheduled 28 laps, with a sizzling 1:25.750.

By mid-race distance he had worked a gap of over five seconds to his nearest rival and eventual second place getter Eric Bostrom (Ducati) and by the conclusion of the race held a margin of 9.054 seconds. A race long battle for third saw Miguel DuHamel grab the final podium position from fellow Honda rider Jake Zemke. Duhamel raced Zemke throughout, getting the better of him three laps from the end of the 28-lap race. Ben Bostrom was beginning to close on his brother Eric (Ducati) for second when his aggression caught him out. Bostrom ground the cases of his Honda CBR-1000RR on an inside curb, lifting the wheels and putting him out of the race.
"I was paying attention to what was in front of me and not watching my own line," said ben afterwards. "It's called looking ahead, not looking where you were going. We just started figuring something out. I realized something that they'd done to me down there that was costing half a second a lap. I was thinking what the hell, am I that strong on the brakes and I realized, no. they put a couple of extra banners there and I'm braking way early. And as soon as I figured that out we were like two laps right up on Eric and I was like, oh, we're going fast now."

As the remaining laps wound down, the weather began to close in and with five laps to run, light rain began to fall, but fortunately for all concerned the heavier rain held off until after the race was run over its full distance.

"We scored maximum points out there again today which is the main thing at this early stage of the championship, especially over some of our key rivals," said Mladin. "Our race went to plan, even though it wasn't as fast as last year The weather cooled off a lot today and with the slight rain drops that were falling near the end of the race meant that we just shut the pace down a little to ensure the win."

"You come in contact with lapped traffic around here pretty quickly and generally lose a bit of time, so they key is to make the pass as clean and as quick as possible, so that you don't lose time to the guy that is chasing you. We did a pretty good job getting through the lapped traffic today and that allowed us to stretch it out in the end."
"The bike's running great and we've got awesome top speed; now I just need to hustle through the turns a little faster," explained Ducati's Eric Bostrom. "This morning we made some changes to the chassis and it responded really well. I think if we find a gear choice that works well everywhere, it'll be a much closer race tomorrow.
"There were drops of rain early on in the race, but it was near the end when it started coming down. By then I didn't have a chance of catching Mat, but I still wanted to push the bike within reason. I want to thank Michelin – we picked the right tire and it totally held to the end. And I also want to give a huge thanks to all the fans for sticking through the bad weather! I know the riders really appreciate the support."

With two rounds of the championship complete, Mladin heads into tomorrows third round Superbike national holding a slender 16-point break over Zemke at the top of the table, with DuHamel another point away in third.

RESULTS: Round 2, 2004 AMA Chevrolet Superbike Championship, Top 10
1. Mat Mladin (Yoshimura Suzuki) 40:37.47 mins
2. Eric Bostrom (Ducati Austin) +9.054 seconds
3. Miguel DuHamel (American Honda) +25.873
4. Jake Zemke (Erion Honda) +26.172
5. Geoff May (Prieto Suzuki) +1:09.521 mins
6. Steve Crevier (DXS Diablo Suzuki) +1:10.973
7. Larry Pegram (Yamaha) +1:13.713
8. Marty Craggill (Corona Suzuki) +1:21.151
9.John Haner (Hooters Suzuki) +1:24.630
9. Chris Caylor (Empire Racing Suzuki) - 1 lap

Eric Bostom placed a strong 2nd both days on the factory Austin Ducati 999F03, here followed on Sunday by Honda's Zmeke, bother Ben and Duhamel.

MLADIN COMPLETES SUPERBIKE RACE WIN DOUBLE ON SATURDAY
..…SETS NEW ALL-TIME AMA RACE WIN RECORD
Sunday, April 4th – This weekend 32-year-old Mladin has been the rider to beat having set a blistering pace to secure pole position for the double header round on Saturday morning, before taking the first Superbike race later that afternoon.

As he did yesterday, Mladin launched his Yoshimura Suzuki GSX-R1000 off the start line and into the immediate lead, working hard in the opening laps of the 28-lap race to build a gap over his rivals and set the fastest lap of the race with a 1:25.926 on lap three. After five laps he had built a gap of 2.5 seconds over his nearest pursuer Eric Bostrom (Ducati). The middle stages of the race proved crucial as lapped riders began to play a role. Mladin was able to scythe his way through the field efficiently building on his lead which in the closing laps was out over ten seconds. At the conclusion Mladin took his record-breaking win by 9.917 seconds from Eric Bostrom.
A trio of Honda's followed with Jake Zemke taking third ahead of Miguel DuHamel, who pushed Ben Bostrom back to fifth on the final lap. But the day wasn't over for Zemke and Duhamel.
Rain had forced the postponement of the Formula Xtreme race from Saturday afternoon to Sunday, just after the Superbike race. It meant that the two Honda riders would go from their Honda CBR-1000RR's to Honda CBR-600RR's and continue the battle. This time it was Duhamel in front for most of the race, Zemke passing on course, but never in front at the stripe. It would be no difference at the end, Duhamel winning his second Formula Xtreme race of the year, Zemke second. Erion Honda's Alex Gobert finished fourth.

:"For sure it's good to have broken the race win record, but like with all of my wins, credit not only goes to me but my whole team, as without them I wouldn't have got near any of those records," said Mladin after his second Superbike win of the weekend. "More importantly for us though there are still fifteen more races to run before the championship is decided and that's the one that we really want."

"Today's race went pretty much as it did yesterday where I was able to get the start, build a small lead and then we had to work our way through the traffic. From half race distance I just worked on stretching the lead, stringing together consistent lap times and came away with the win."

"The Suzuki GSX-R1000 is performing very well at the moment and given that the next round of the championship is at Infineon Raceway where it is a little tighter than here I'm looking forward to getting there and keeping the pressure on everyone else."
"I had a pretty good race out there, especially when you consider where we were at on Friday," declared Eric Bostrom. "Our pace was better than yesterday and we had more consistency, which is really encouraging. With every test session and race, we get more and more knowledge. We keep making progress about learning how to set up the bike, and on communicating, too. I'm looking forward to what we can do in the next race."

Having taken victory in the opening three races of this year's 18-round AMA Chevrolet Superbike Championship complete, Mladin leads the title chase with a total of 112 points from Zemke (88) and DuHamel (85). The championship moves to Infineon Raceway (formerly Sears Point) outside of San Francesco for another Superbike double header that will take in rounds four and five on the weekend of May 1 – 2.

RESULTS: Round 3, 2004 AMA Chevrolet Superbike Championship (28 laps), Top 10
1. Mat Mladin (Yoshimura Suzuki) 40:29.31 mins
2. Eric Bostrom (Ducati Austin) +9.917 secs
3. Jake Zemke (Erion Honda) +24.699
4. Miguel DuHamel (American Honda) +27.346
5. Ben Bostrom (American Honda) +27.728
6. Steve Crevier (DXS Diablo Suzuki) +1:14.390 mins
7. Geoff May (Prieto Suzuki) +1:17.192
8. Larry Pegram (Yamaha) - 1 lap
9. Lee Acree (Empire Racing Suzuki) - 1 lap
10. Eric Wood (Hooters Suzuki) - 1 lap

2004 AMA Chevrolet Superbike Championship (Points after 3 of 18 rounds)
1. Mat Mladin (112); 2. Jake Zemke (88); 3. Miguel DuHamel (85); 4. Eric Bostrom (70), 5. Lee Acree (67); 6. Geoff May (64); 7. Scott Jenson / Eric Wood (57), 9. John Haner (53), 10. Cory West (52).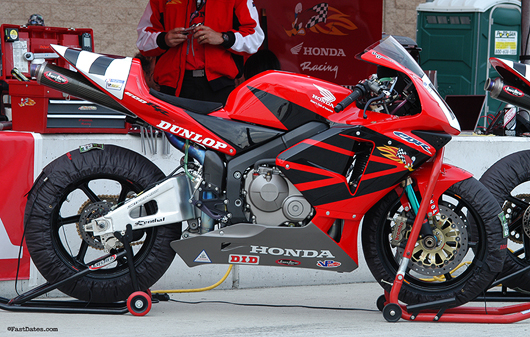 Honda is mounting the only serious factory effort in Formula Extreme with their CBR600RR -here is Miguel's bike.
Look for Al Lundstrum's setup tips in Paddock Garage.
The other races, AMA Superbike Weekend, California Speedway April 2-4th
Miguel and Zemke on Top in Formula Extreme
California Speedway, April 4th- In the AMA Formula Extreme class which is a lightly contested uncontested Honda benefit romp this season, Miguel DuHamel and Jake Zemke closed out the California Speedway round by putting on the only thrilling show of the weekend. The two quickly escaped from the rest of the Lockhart Phillips USA Formula Xtreme pack and engaged in a spectacular struggle for victory. Zemke sat in tow over the race's first half, but as the laps started to wind down, the duo swapped the lead repeatedly.
On the final lap, the Californian lined his slick-shod Erion Honda CBR600RR up behind DuHamel's red American Honda 600RR for a last gasp drafting attempt to steal the win, but fell .102-seconds short of overtaking the 600cc master. It was DuHamel's second FX win on the season, maintaining his perfect career record in the class.
"It was a great race," DuHamel remarked. "I was trying to set a decent pace out there, and after getting off the Superbike it takes a little while to readapt to this bike -- it's lighter and 400cc less. But at the same time, I wanted to make sure the pace was fast so we could break away from the pack. Realistically, there was no way I was going to pull away from Jake, and it was the same thing for him, so we were just trying to measure each other up. I took a bit of a risk leading out of the last corner. It's a long straight -- I was tucking for everything I had."
Lockhart Phillips 600cc Formula Extreme
1). 17 Miguel Duhamel, Repentigny, QC, Honda CBR600RR17---American Honda
2). 98 Jake P Zemke, Paso Robles, CA, Honda CBR600RR170.102Honda
3). 43 Jason R Pridmore, Ventura, CA, Suzuki GSX-R6001719.943American Suzuki
4). 23 Alex Gobert, Lake Elsinore, CA, Honda CBR600RR1726.046American Honda|
5). 3 Vincent Haskovec, Lake Elsinore, C, ASuzuki GSX-R6001727.689Valvoline Emgo Suzuki
6). 72 Larry Pegram, Baltimore, OH, Yamaha YZF-R61734.174Yamaha
7). 259 Jacob L Holden, Puyallup, W, ASuzuki GSX-R600 Hypercycle
8). 110 Marc K Palazzo, Pacific, CAYamaha YZF-R6
9). 29 Corey D Eaton, Placerville, CA, Suzuki GSX-R6001758.043Lion Racing / American Suzuki
10). 69 Danny C Eslick, Broken Arrow, OK, Suzuki GSX-R600 KWS Motorsports.
Honda Pro Oils 600cc Supersport
1). 22 Tommy Hayden, Owensboro, KY, 37 Kawasaki ZX-6RRTeam Kawasaki
2). 11 Ben Spies, Longview, TX, 32Suzuki GSX-R600American Suzuki
3). 95 Roger Lee Hayden, Owensboro, KY29Kawasaki ZX-6RRTeam Kawasaki
4). 1 Jamie A Hacking, Denver, NC 28 Yamaha YZF-R6Yamaha Motor Corp
5). 96 Aaron Gobert, Lake Elsinore, CA
6). 40 Jason DiSalvo, Stafford, NY, 25Yamaha YZF-R6Yamaha Motor Corp
7). 5 Steve Rapp, Perris, CA, 24Suzuki GSX-R600Valvoline Emgo Suzuki
8). 30 8Ben Attard, Birmingham, AL 23Suzuki GSX-R600Corona Extra Suzuki
9). 34 Michael F Barnes, Boca Raton, FL, 22Yamaha YZF-R6Prieto Racing
10). 56Tony Meiring, Tracy, CA, 21Kawasaki ZX-6RRKawasaki Motor Corp.
Repsol 1000cc Superstock
1). 11 Ben Spies, Longview, TX, Suzuki GSX-R100017---American Suzuki / Yoshimura
2). 6 Damon S Buckmaster, Rancho Cucamonga, CA, Yamaha YZF-R1171.847Yamaha Motor Corp, USA
3). 2 Jamie A Hacking, Denver, NC,Yamaha YZF-R1172.026Yamaha Motor Corp
4). 40 Jason DiSalvo, Stafford, NY, Yamaha YZF-R1176.942Yamaha Motor Corp
5). 96 Aaron Gobert, Lake Elsinore, CA, Yamaha YZF-R1178.382Yamaha Motor Corp
6). 95 Roger Lee Hayden, Owensboro, KY, Kawasaki ZX-10R179.411Team Kawasaki
7). 22 Tommy Hayden, Owensboro, KY, Kawasaki ZX-10R179.976Team Kawasaki
8). 5 Steve Rapp, Perris, CA, Suzuki GSX-R10001725.496Valvoline Emgo Suzuki
9). 43 Jason R Pridmore, Ventura, CA, Suzuki GSX-R10001726.918American Suzuki
10). 199 Geoff May, West Palm Beach, FL, Suzuki GSX-R10001727.156Team Prieto Racing