FastDates.com March 2004
Page 1 • Superbike, MotoGP Racing & Calendar Girl News
Official Calendar of the SBK World Superbike Championship
Home of the official SBK Fast Dates & Team Ducati Corse Umbrella Girls

Page 1 - Phillip Island SBK & Barcelona MotoGP Tests

Click Right: The Pirelli Calendar revealed....
Why can't grid girls in the Pirelli World Superbike Championshipd dress like this?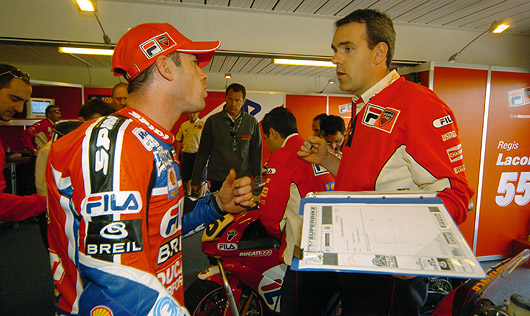 Regis and the Ducati steam roller in the garage
SBK World Superbike Championship 2004, Round 2 Phillip Island
Regis Laconi And Garry McCoy on top at Phillip Island
Phillip Island, Australia, March 26-28th - Regis Laconi (Ducati) followed up his Superpole win in qualifying with his first points score of the season, a perfect 25, in the first 22-lap World Superbike race at Phillip Island. Chris Vermeulen (Ten Kate Honda CBR1000RR) rode the all-new privately entered Fireblade to its first World Superbike podium finish, after a long recovery from ending lap one in seventh place.
Laconi's team-mate James Toseland had to dig in deep to secure third place, after a lack of rear traction had seen him lose an earlier duel with long time second place man, Steve Martin (Ducati), who was an eventual fourth.
In the Second Race early leader Laconi crashed out of contention and new leader Martin's machine broke down, giving local star Garry McCoy (Ducati) his maiden victory on home soil in his 2nd ever Superbike race, followed at a 4.9 second distance by Vermeulen and the more remote 6.4 seconds to Pierfrancesco Chili (Ducati).
Friday Paractice Garry McCoy Pressures Laconi for Fastest on the Island
March 26th - Regis Laconi (Ducati Fila 999F04), who had such poor fortune on raceday at the opening round of the season at Valencia, was once more the king of qualifying, heading the time sheets at Phillip Island after one timed session. His best lap of 1:34.068 netted him overnight pole position, after some serious pressure from SBK new boy Garry McCoy (NCR Ducati Nortel 999). The little Aussie battler was fully on the pace, fastest at one stage before Laconi gritted his teeth against the blustery winds and finally slotted into top placing on the stopwatch, 0.426 seconds clear of McCoy. Second quickest was nonetheless an excellent early result for a rider in only his second World Superbike race. Local riders were well represented on the top of the timesheets, with Steve Martin (DFX Extreme Sterilgarda Ducati 999 RS) securing third fastest time, just ahead of his team-mate Marco Borciani.
Valencia race two winner Noriyuki Haga (Renegade Ducati 999) slipped to fifth place, while 998 Ducati privateer Lucio Pedercini made use of his years of experience and good circuit set-up knowledge to storm through to sixth place – ahead of many more powerful machines.
Young Aussie Chris Vermeulen, the 21-year-old reigning World Supersport champion, battled to seventh on his still developing Ten Kate Honda Fireblade, missing out on the chance to finish higher up the order after
technical gremlins struck just as he fitted a qualifying tyre. Pierfrancesco Chili (PSG-1 Ducati 999RS) rode his newer spec machine to the eighth fastest lap of the day, ahead of 20-year-old Brit Leon Haslam
(Renegade Ducati).
James Toseland (Ducati Fila) had a difficult day, falling from his factory machine on two separate occasions, only qualifying in 10th place. His fellow countryman, Chris Walker, rode his three-cylinder Petronas FP-1 to 11th place, one ahead of his team-mate Troy Corser - still the fastest man around Phillip Island in qualifying and race conditions. The final qualifying session takes place on Saturday morning, with the later Superpole session determining the final grid positions for the top 16 qualifiers.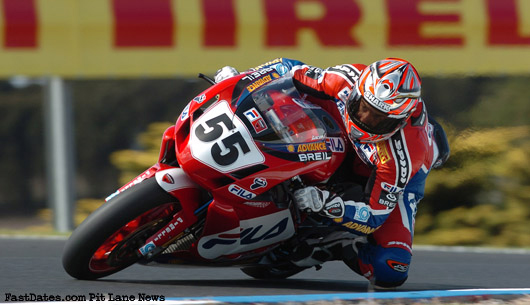 Regis at speed on Phillip Island

Laconi Laps Up Saturday Superpole, Vermeulen 3rd on new Honda CBR
Mar 27th - Regis Laconi (Ducati Fila 999F04) secured his second Superpole in as many attempts after a superb best-of-weekend lap of 1:33.427, sliding and powering his way to the front of the grid for Sunday's 23-lap Superbike races. Laconi set his Superpole lap with only Steve Martin (DFX Extreme Sterilgarda) remaining to set-off, by dint of having been the fastest rider in regulation qualifying. Martin took an eventual third best time, but the sensation of the session was his younger countryman, Chris Vermeulen (Ten Kate Honda CBR1000RR) who went second quickest in only his second outing on the big capacity Honda. His time of 1:34.398 was almost a second slower than Laconi, but a convincing effort all the same.
With Martin third, the last spot on the front row was secured in some style by another SBK rookie, Leon Haslam, the 20-year-old Brit (riding for the Renegade Ducati team) outshone his team-mate, and Valencia race winner, Noriyuki Haga, finishing fourth fastest to the Japanese rider's fifth. With a slippery track surface having twice caught out James Toseland (Ducati Fila) in qualifying it could have been expected that the other Valencia race winner would be somewhat circumspect in Superpole, but despite recurring set-up worries, he went sixth fastest overall after a lap of obvious effort. Home town heroes abound this season is SBK, and another Aussie, 1996 World Champion Troy Corser, rode his Foggy Petronas FP-1 three-cylinder machine to a fine seventh, despite a spectacular crash earlier in the day. Garry McCoy, a force in regulation qualifying, went eighth in Superpole, eliciting a second row start for him and his Xerox Ducati 999RS. The top ten was filled out by the DFX Ducati of practice sensation Marco Borciani, while Pierfrancesco Chili (PSG-1 Ducati) rode a 999 machine fitted with an experimental single-sided swingarm, to help him overcome some serious problems with machine setup for his unique style.
Foggy PETRONAS Racing riders Troy Corser and Chris Walker both survived spectacular high-speed crashes on the second day of qualifying for round two of the World Superbike championship at Phillip Island, Australia, today. Troy was sent somersaulting into the gravel towards the end of the morning qualifying session after a gearbox seizure. But the gritty Australian, who escaped with a sore shoulder, made good progress in the afternoon sessions to improve his qualifying grid position for tomorrow's two races from 12th to 7th with a smooth Superpole lap of 1:35.179 - three tenths of a second better than his previous best of the weekend. Chris's preparations for Superpole were disrupted when he crashed at the final corner with just minutes of the final free practice session remaining. He was forced to sprint back to the garage in order to run in a new front tyre before using the spare bike for his Superpole laps, in which he climbed from 14th onto the third row of the grid with a lap of 1:36.179.
World Superbike Race Day
Laconi And McCoy Run Out Phillip Island Winners
Sunday 28th - Regis Laconi (Ducati Fila 999F04) shook off the ghosts that haunted him in the first round at Valencia and secured a fine win in the first 22-lap Superbike race, streaking to a clear 7.145 margin of victory over his closest challengers. With Superpole winner Laconi in a class of his own after an early race dust up with his team-mate James Toseland and Steve Martin (DFX Ducati), a superb four-way battle for second place supremacy was played out on the final circuits of the first race.
The home crowd and Honda fans could hardly contain their delight when Chris Vermeulen (Ten Kate Honda CBR1000RR) pounced to secure his first podium finish in Superbike, and in second place to boot. Behind him, the hard charging James Toseland, who was leaving huge plumes of tyre smoke in his wake as he attacked the throttle, despite with an imperfect bike set-up, ended his first race in third place.
The second 22-lap event was held in different conditions, still dry and warm, but each of the factory Ducati runners was to find ill fortune awaiting in the gravel, traps, as first early leader Laconi and then Toseland fell. The battle for second between Steve Martin (Ducati DFX) and Garry McCoy (Xerox NCR Ducati) was thus eventually a battle for the win, and was decided in McCoy's favour when Martin's bike blew up.
Despite the second place finish enjoyed once more by Vermeulen, the second race itself proved to be a completely different animal to the opener, as Pierfrancesco Chili (PSG-1) Ducati ripped to third place, having jumped from his first race 999 machine to his more familiar 998.
Outside the podium places the Phillip Island race proved to be a fascinating contest, with many and various participants writing their names on the scoreboard. The first race sort-out for second place saw Martin fourth and Garry McCoy fifth. It was a satisfying event for the all-new Kawasaki Bertocchi machine of Mauro Sanchini, who held off the determined challenge of Marco Borciani and Valencia race winner Noriyuki Haga to take sixth. Borciani's own luck, thanks to the crashes up the front in race two, just got better and he finished race two in fourth place, an excellent result for a rider maturing into a real force to be reckoned with.
Chili, riding his 999 with a single sided swingarm in race one was a lowly ninth, while Chris Walker once more was the fastest Petronas rider in tenth. Four non-finishers included the flying Leon Haslam, the early lap leader in the opener. The minor places in race two were as closely contested as any others, with Troy Corser beating the out-of-sorts Haga to take fifth. Sanchini, Walker and Ivan Clementi (Kawasaki Bertocchi ZX-10) battled for seventh, the Italian taking the upper hand. Tenth place went to Haslam, a poor reward for his front row starts.
In the World Championship itself, Toseland is still the leader, although his race two DNF allowed Pierfrancesco Chili to creep up to within five points of his leading total of 61. One point behind, race winner McCoy shares his 55 points with Chris Vermeulen, but leads in the table because of his single
race win.
SUPERBIKE RACE 1 : (Laps 22 = 97,790 Km), Pos /Rider /Nat. /Team / Time /Gap
1/R. LACONI/FRA/Ducati Fila/35'04.598/
2/C. VERMEULEN/AUS/Ten Kate Honda/35'11.743/7.145
3/J. TOSELAND/GBR/Ducati Fila/35'12.134/7.536
4/S. MARTIN/AUS/D.F.Xtreme Sterilgarda/35'12.215/7.617
5/G.MCCOY/AUS/XEROX - Ducati Nortel Net./35'12.406/7.808
6/M.SANCHINI/ITA/Kawasaki Bertocchi/35'32.436/27.838
7/M.BORCIANI/ITA/D.F.Xtreme Sterilgarda/35'32.522/27.924
8/N.HAGA/JPN/Renegade Ducati/35'32.838/28.240
9/P. CHILI/ITA/PSG - 1 Corse/35'40.638/36.040
10/C.WALKER/GBR/Foggy PETRONAS Racing/35'40.745/36.147
11/I. CLEMENTI/ITA/Kawasaki Bertocchi/35'40.861/36.263
12/G.NANNELLI/ITA/Pedercini/36'07.140/1'02.542
13/T. CORSER/AUS/Foggy PETRONAS Racing/36'13.708/1'09.110
14/A. VELINI/ITA/UnionBike GiMotorsport/36'28.496/1'23.898
15/W.NOWLAND/AUS/Zongshen/35'08.906/1 Lap
Fastest Lap 3° Régis Laconi 1'34.742 168,901 Km/h
SUPERBIKE RACE 2 : (Laps 22 = 97,790 Km), Pos /Rider /Nat. /Team / Time /Gap
1/G.MCCOY/AUS/XEROX - Ducati Nortel Net./35'10.023/
2/C. VERMEULEN/AUS/Ten Kate Honda/35'14.974/4.951
3/P. CHILI/ITA/PSG - 1 Corse/35'16.462/6.439
4/M.BORCIANI/ITA/D.F.Xtreme Sterilgarda/35'18.852/8.829
5/T. CORSER/AUS/Foggy PETRONAS Racing/35'21.847/11.824
6/N.HAGA/JPN/Renegade Ducati/35'22.246/12.223
7/M.SANCHINI/ITA/Kawasaki Bertocchi/35'29.259/19.236
8/C.WALKER/GBR/Foggy PETRONAS Racing/35'29.346/19.323
9/I. CLEMENTI/ITA/Kawasaki Bertocchi/35'29.501/19.478
10/L. HASLAM/GBR/Renegade Ducati/35'45.375/35.352
11/P. BONTEMPI/ITA/Zongshen/35'45.732/35.709
12/G.NANNELLI/ITA/Pedercini/35'46.302/36.279
13/A. VELINI/ITA/UnionBike GiMotorsport/36'20.328/1'10.305
14/W.NOWLAND/AUS/Zongshen/36'20.568/1'10.545
Fastest Lap 2° Garry McCoy 1'34.514 169,308 Km/h
Riders Championship Standings:
1 TOSELAND 61, 2 CHILI 56, 3 MCCOY 55, 4 VERMEULEN 55, 5 HAGA 43, 6 BORCIANI 43,
7 WALKER 39, 8 MARTIN 29, 9 SANCHINI 27, 10 LACONI 25, 11 HASLAM 24, 12 CORSER 19,
13 NANNELLI 18, 14 CLEMENTI 14, 15 FUERTES 12.
Manufacturers Standings:
1 DUCATI 100, 2 HONDA 55, 3 PETRONAS 42, 4 KAWASAKI 27, 5 SUZUKI 18, 6 YAMAHA 13.
World Supersport
Wildcard Wildchild Josh Brookes Rocks The Old Guard at Home
Muggeridge Fastest in Supersport After Day One
Mar 26th - In the Supersport World Championship, local rider Karl Muggeridge (Ten Kate Honda CBR600RR) secured the provisional pole position, leaving it late to record a session best of 1:35.994. An Aussie clean sweep of the top three positions had Yamaha Motor Germany rider Kevin Curtain second, on his return to familiar territory, while Muggeridge's team-mate Broc Parkes took the third quickest lap, 0.591 seconds down on provisional pole. Honda's good early showing continued with Sebastien Charpentier (Klaffi Honda CBR600RR) also on the overnight front row, ahead of fastest Suzuki lapper, Katsuaki Fujiwara (Alstare Suzuki GSX-R600).
Lorenzo Lanzi, the lone Breil Ducati factory entrant on the 749 vee-twin, went fifth fastest, having used his experience of the track from a previous winter test outing. Stephane Chambon (Alstare Suzuki GSX-R600), the 1999 World Champion, was sixth quickest, ahead of top wildcard rider, Josh Brookes on a Castrol Honda.
Muggeridge Secures Second Pole of the Season
Mar 27th - In the Supersport World Championship Karl Muggeridge (Ten Kate Honda) relied on his Friday qualifying time of 1:35.994 to beat his peers to the punch and secure his second successive pole position of the season. It was his ninth pole in World Supersport and the Aussie rider now sits equal second in the list of all time pole setters, alongside Fabien Foret, with a total of nine. Muggeridge fell trying to improve his time still further, causing himself no injury.
A bumper day for riders of Australian origin saw the entire four spots on the front row dominated by Muggeridge, followed by Kevin Curtain (Yamaha Motor Germany), Broc Parkes (Ten Kate Honda) and local wild card Josh Brookes (Honda).
Wildcard Youngster Josh Brookes Takes Supersport Win
Sunday 28th - After another dramatic and unpredictable measure of Supersport racing a raw rookie, 20-year-old Aussie wild card rider Josh Brookes (Castrol Honda) stole the limelight from the WSS establishment, winning his first ever World Supersport race. An Aussie championship regular, Brookes, diced for the lead throughout, finishing off WSS regular Kevin Curtain (Yamaha Motor Germany) on the last sector of the last lap. It was a close run thing, with the gap at the end only 0.025 as Curtain attempted to slipstream on Phillip Island's long front straight.
Jurgen van den Goorbergh, the Valencia race winner, extended his championship advantage by mounting a steady charge to third, as the challenge of the Ten Kate Honda riders, Broc Parkes and Karl Muggeridge
faded. Parkes was an eventual fourth, but engine problems for Muggeridge put him down in 12th, losing a seemingly certain podium finish. Sebastien Charpentier (Klaffi Honda) roared to a fifth place finish, with van den Goorbergh's team-mate Fabien Foret in sixth. Lorenzo Lanzi, the only Ducati finisher, rode through problems with the front to finish ninth. The top Suzuki was that of Stephane Chambon (Alstare Suzuki) with Katsuaki Fujiwara, in 11th.
Van den Goorbergh now leads the table on 41 points, with Foret second on 30 and Curtain third, on 27. The next round for both championships takes place at Misano on Sunday April 18.
SUPERSPORT: RACE : (Laps 21 = 93,345 Km), Pos /Rider /Nat. /Team / Time /Gap
1/J. BROOKES/AUS/Castrol Honda cing/34'12.301/
2/K. CURTAIN/AUS/Yamaha Motor Deutschland/34'12.326/0.025
3/J. VD GOORBERGH/NED/Yamaha Italia/34'18.336/6.035
4/B. PARKES/AUS/Ten Kate Honda/34'21.517/9.216
5/S. CHARPENTIER/FRA/Klaffi Honda/34'23.476/11.175
6/F. FORET/FRA/Yamaha Italia/34'33.589/21.288
7/A. CORRADI/ITA/Italia Megabike/34'33.594/21.293
8/M.NEUKIRCHNER/GER/Klaffi Honda/34'33.970/21.669
9/L. LANZI/ITA/Ducati Breil/34'35.850/23.549
10/S. CHAMBON/FRA/Suzuki Alstare Corona Extra/34'36.325/24.024
11/K. FUJIWARA/JPN/Suzuki Alstare Corona Extra/34'39.750/27.449
12/K. MUGGERIDGE/AUS/Ten Kate Honda/34'49.572/37.271
13/V. IANNUZZO/ITA/Suzuki Alstare Corona Extra/34'56.164/43.863
14/S. CRUCIANI/ITA/Kawasaki Bertocchi/34'58.998/46.697
15/M.LAGRIVE/FRA/Moto 1/35'05.530/53.229
Fastest Lap 6° Jurgen Vd Goorbergh 1'37.084 164,826 Km/h
Riders Championship Standings:
1 VD GOORBERGH 41, 2 FORET 30, 3 CURTAIN 27, 4 BROOKES 25, 5 FUJIWARA 21,
6 LANZI 20, 7 CHAMBON 17, 8 PARKES 13, 9 IANNUZZO 13, 10 MUGGERIDGE 12,
11 CHARPENTIER 11, 12 NEUKIRCHNER 10, 13 CORRADI 9, 14 DAEMEN 9,
15 CRUCIANI 8.
Manufacturers Standings:
1 YAMAHA 45, 2 HONDA 34, 3 SUZUKI 22, 4 DUCATI 20, 5 KAWASAKI 8.
---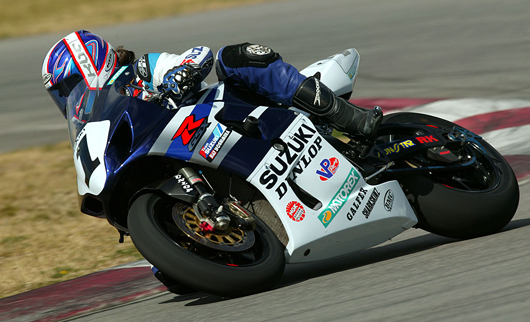 AMA Superbike Preview, California Speedway April 2-4th
Hectic Testing Program since Daytona has Mladin ready for California Speedway
3/24/04 -Victory at the opening round of the 2004 American AMA Chevrolet Superbike Championship at Daytona on March 6 has not left defending series champion Mat Mladin and his Yoshimura Suzuki team sitting in any sort of comfort zone, having just completed two, two-day test sessions as the second round of the championship looms close next weekend, April 3 & 4.

In the past two weeks, Mladin and his crew have tested their Suzuki GSX-R1000 Superbike at Infineon Raceway at Sonoma, California and more recently have just completed a test at Monterey's Laguna Seca Raceway. Mladin was very happy with the results and information gathered by his team at both venues, but his trip to Laguna was met with a minor incident on the opening day that left the four times American Superbike champion slightly winded.

"I ran a little wide on the first hander and the front tucked under as it it the white line, I got it back together, but I ran out of space with the wall being so close and was forced to jump off the bike before it impacted the wall," said Mladin in reference to his opening day crash. "I followed the bike in and when it rebounded I caught the rear wheel in the chest and it knocked me about a bit. I managed to get out of it without and injury and the guys were able to get the bike back together ready for that afternoon."

"The test went very well aside from that. It was very productive for us. We worked through the disruption of the first day and then today, we started and made the most of perfect conditions until just after lunch when the wind picked up. Any time when you have a crash and your body ploughs into something, you are battered and bruised and I was feeling some effects of it today. We learned a lot of stuff from this test and I think it's got us in good shape for next weeks race at Fontana."

A week earlier Mladin had posted the fastest time of the contingent of Superbike riders who tested at Infineon. His best time was a reported 1-min 37.4-secs.

"The test there went really well. The lap time s were promising, but we are struggling a bit with acceleration and speed, but I enjoy tracks like Infineon because you don't need a lot of that to go fast, it's all about getting the bike set up as best you can. The resurfaced track has made it very smooth, making it a lot safer than what it was 12 months ago and I think everyone is looking forward to heading back there for the race. Also if the circuit continues to work on some of the track safety issues, I feel it can develop into a very good and enjoyable race track."

With testing complete for the interim, Mladin and his Yoshimura team will prepare for next weekend's round at California Speedway. Mladin was a dominant force at the corresponding round last year, taking both race wins which followed a lap record breaking run to take pole position. With his Daytona win now behind him, Mladin arrives at California holding a five-point lead over Jake Zemke (37 – 32), with Miguel DuHamel third with 29.
---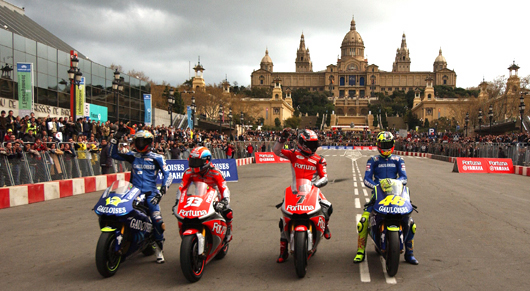 Yamaha's MotoGP team lannch in Barcelona drew a bigger crowd than most AMA Nationals in America.

BARCELONA CROWDS TREATED TO AN ACTION PREVIEW AS
YAMAHA UNVEILS ITS NEW MotoGP LINE-UP
Spain, March 25th - Yamaha launched its MotoGP effort for 2004 with an action-packed ceremony in the centre of Barcelona this afternoon. Gauloises Fortuna Yamaha riders Valentino Rossi and Carlos Checa were joined by Fortuna Gauloises Tech 3 team-mates Marco Melandri and Norick Abe as they unveiled their 2004 MotoGP machines in full race livery for the first time in front of a packed press conference. The local public were then treated to a stunning display of wheelies and burn-outs as the four riders took to the streets in the shadow of Montjuic Castle and showed off the power of their YZR-M1s.

Speaking about his move from Honda to Yamaha, Italian World Champion and Yamaha new recruit Valentino Rossi said: "For sure it was a big decision, a big change and a big challenge for me, my mechanics and Yamaha. We know that it's going to be more difficult than last year, but I'm confident we can get some good results. My situation is different from 2003, we know that we are still a little behind and need more time to work on the bike, so that means that there's not as much pressure to win each race. But all this is a big motivation! I am very happy with where we are at the moment and with what we've achieved in only two months - Yamaha has worked very hard and that looks good for the future."

Local star Carlos Checa, who starts his sixth season in the Yamaha Factory Team this year, said: "Each year you expect a lot from the new season, but so far this year the impression I have is even more positive than usual. Yamaha has made a big change since last year. We'll have to wait and see what happens when the racing starts but I do feel optimistic. It's a great pleasure for me to have Valentino Rossi as my team mate and to stay working with Yamaha. He's the number one rider in the world so it's a big motivation to ride with him."

Presented by BBC Motorsport Correspondent Suzi Perry, Barcelona's Sports Minister Mr Pere Alcober welcomed the guests to Barcelona. He was followed by Masao Furusawa, General Manager of Yamaha Motor Company's Technology Development Division, who spoke briefly about his excitement for the coming season and the arrival of the five-time World Champion. Mr. Jean-Dominique Comolli and Mr. Pablo Isla, co-presidents of Altadis, the parent company of Yamaha's title sponsors Gauloises and Fortuna, also spoke for a short time about the forthcoming season and the importance of the MotoGP programme to their brands.

The riders were preceded on stage by their Team Managers - Gauloises Fortuna Yamaha Team Director Davide Brivio and his Fortuna Gauloises Tech 3 counterpart Herve Poncharal. Brivio commented: "It's been a very busy winter with something new to try and evaluate at every test. But the machinery is getting better each time. It's going to be interesting at these last two tests to see where we are with the competition before we start racing."
After the press conference the four riders took their M1 race bikes in new 2004 livery out onto the avenue to great applause and cheers from the crowd, who had been gathering for hours in the sunshine. The presentation finished just in time. After a 20 minute display, during which the riders took turns to show off their new-look bikes in the dramatic surroundings, the sun disappeared and Barcelona was treated to a violent hail and thunderstorm.
The Gauloises Fortuna Yamaha team, which has completed four tests so far this year in Malaysia and Australia, begins the first of the two official IRTA group tests tomorrow at the Circuit de Catalunya near Barcelona. They will test there for three days before moving on to Jerez in southern Spain next week for the final test before the season-opening Grand Prix in South Africa on 18 April.