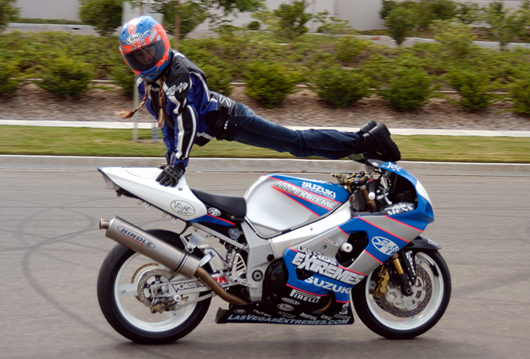 Jolleen "JoJo" Farmer
of Las Vegas Extremes
appearing at the
LA Calendar Bike Show
July 17 & 18th, 2004
The world's most talent and beautiful woman stunt rider, 19 year old JoJo Farmer will bemaking her first SoCal appearance with debonaire team mate Pauly Sheer both days as just one of the many attractions at our big Los Angeles Calendar Motorcycle the July 17-18th weekend. Wild riding antics and smolkey burnouts, dyno shootouts, live bands, cool bikes, hot chicks, what more is there to life? Mark your calendar and join us at the Show! Details Here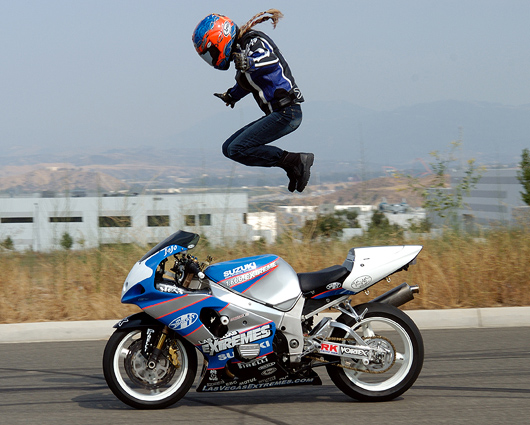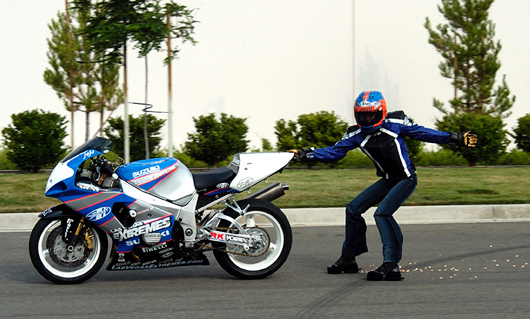 Girls Gone Wild, or in this case its JoJo Farmer getting loose at our big LA Calendar Motorcycle Show in July.
---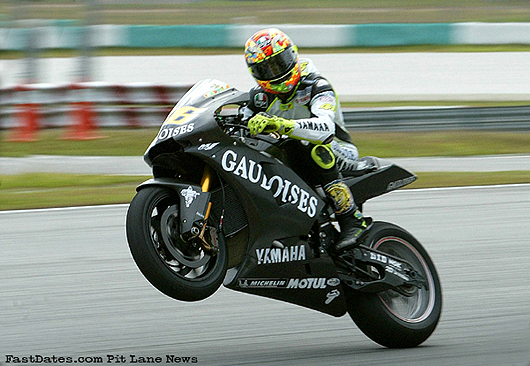 MotoGP 2004 Season Opener Preview
Yamaha Opens a new Chapter with Valentino Rossi
Africa's Grand Prix, Welkom, South Africa April 16/17/18 2004 - After the re-introduction of four-stroke machinery to MotoGP racing in 2002 the public interest and levels of factory participation in the premier motorcycle racing class have grown to all-time record levels, a fact the recently restructured Gauloises Fortuna Yamaha Team and its riders Valentino Ross and Carlos Checa have played a solid part in achieving. On the eve of the 2004 World Championship season, which starts in South Africa on 18 April, a glittering array of talent lines up to do battle after an exhausting off-season of testing and machine development.

For the Gauloises Fortuna Yamaha Team, 2004 heralds a new stage in the development of Yamaha's factory squad, after a series of encouraging winter tests. In pre-season 2003 the Team confined its testing operations to Europe, but so far in 2004 the squad has completed two tests in Malaysia, two in Australia and most recently two in Spain. This gruelling programme has given Yamaha newcomer Valentino Rossi, his team-mate Carlos Checa and the Yamaha engineers and crews ample opportunity to get to know the newest version of the Yamaha YZR-M1.

The newly-named Gauloises Fortuna Yamaha Team was officially unveiled to the world in an extravagant flurry of publicity, with a special display of the bikes, livery and riding skill prior to the recent IRTA tests in Barcelona. Rossi and Checa pulled wheelies and performed stoppies and burnouts for an appreciative crowd under the shadow of Montjuic Castle in Barcelona, during an event that was beamed worldwide on television.

The Factory Team's intimate knowledge of the YZR-M1's ever expanding capabilities, allied to the prowess of five times World Champion Rossi and proven top level race winner Checa has delivered some impressive results in pre-season and Rossi has topped the test time sheets in the two most recent Barcelona and Jerez IRTA sessions. The 25-year-old set the fastest lap of all in the special timed session at the Barcelona test, scooping his and Yamaha's first prize of their new association – a BMW car. The IRTA tests are always a significant moment, taking place right before the race season begins. Virtually every team and rider attends, vying for that last fragment of psychological advantage to take into the first race of the season. The good performance of both Gauloises Fortuna Yamaha riders at these tests is a vindication of the development work carried out by Yamaha, under the supervision of Yamaha's MotoGP Technical Director Masao Furusawa.

The arrival to the Yamaha Factory Team of Rossi, 125cc, 250cc, 500cc and double MotoGP World Champion, along with his experienced pit crew headed up by Jerry Burgess, has brought an added impetus to Yamaha's MotoGP efforts, and the long-running development programme of the M1 has gone from strength to strength in the last few months. Checa, the 31-year-old Spaniard, is twice a race winner in the premier class and has also played a strong role in the team's resurgence. He demonstrated his personal progress recently at the Jerez IRTA tests, where he took his M1 to fourth best time overall. The competition in MotoGP has never been stronger but the Gauloises Fortuna Yamaha Team is looking forward to a competitive season as it moves to Welkom for the betandwin.com Africa's Grand Prix.

ROSSI RELISHES NEW 2004 CHALLENGE
Since signing for Yamaha, reigning World Champion Rossi has enjoyed some memorable moments, on track and off. Alongside Checa he was a guest at the recent Australian F1 round, where he found a myriad of fans on both sides of the pit wall. Rossi, as big a star in Japan as anywhere, was also the guest of Yamaha at a Tokyo press conference, when he was officially presented to the local media.

After the final, very wet, session at the recent Jerez IRTA tests the Italian said: "There's not very much to say because of the bad weather, except that I'm pleased with the way the bike has gone in the wet. It is still not bad to ride and the tyres felt okay too. Anyway this is the end of the winter tests and I'm very happy with our progress.

"I completely feel I am a Yamaha rider now. In fact I felt this even by our second day together in Sepang in January! It's great, we are working together to improve the bike and to get to the top together. Certainly every test so far has been really important for us because we started from the beginning with this bike and are all working to the same goal.

"When I spoke with Yamaha in the beginning I got a great feeling from them because they wanted me so much to come and join them to go for victory. My work with Honda was finished so now with Yamaha we are trying to make another dream, to make a fresh start and to come back to the top. This is so good for motivation and to keep that motivation at 100 per cent."

When asked of his hopes for first race he stated: "It's difficult to say, we hope to improve a bit from now, and to arrive at the first race ready to fight for the podium. That is our target, it might not be easy but we will try."

CHECA LOOKING FOR RESURGENT FORM TO CONTINUE
It's been a busy winter for Carlos Checa. Having put in sterling work at the Phillip Island test sessions Carlos also put in an appearance at the Yamaha World press test of the new R1 at the Eastern Creek circuit near Sydney, before coming back to Europe via California, where he dropped in to visit old friend and Yamaha legend Wayne Rainey.

Always a force to be reckoned with when all things are equal, Checa is enthused beyond measure at the prospect of the new season, and feels Welkom will be good to him.

"Welkom is a circuit I like quite a lot," said the London resident. "It feels like we are going to our first race this year at just the right moment in our development. Anything can happen but for sure it's going to be really tough this year because everyone is at such a high level. It's really not easy to predict who could win the first race. The new rule change to have three guys per row on the starting grid will make things very tricky, but exciting."

In relation to some previous seasons, Checa thinks he and his machinery are in perfect shape to challenge. "I feel completely different in my approach to the championship this year compared to last year. At the start of 2003 we had some problems with the bike and it did not evolve as much as I would have liked during the winter. I didn't really feel ready to start racing at the Suzuka GP and it was the same at Welkom last year, when I had problems with rear grip and stability, and just could not break through the pack to fight with the top guys. By the time of Jerez we had made significantly good progress with the bike but unfortunately I had some unlucky problems with the engine in the race there.

"We have made great progress with the M1 since then and I really want to prove that at this first race, where the results will give us our reference point for the rest of the season. I am very excited, in fact I think maybe this is the most excited I have felt before a season in all my years with Yamaha. It's going to be great."

DAVIDE BRIVIO LOOKS FORWARD TO THE CHALLENGE AHEAD
"I'm happy to start racing finally!" said Davide Brivio, Gauloises Fortuna Yamaha Team Director, summing up the feelings of his motivated and determined team. "We're all very curious to see how competitive we are going to be. It's seemed like a longer winter than ever with all the testing and it will be great to go racing. It feels like an extra special moment because we are involved in this new challenge that Valentino chose to take on board with Yamaha. We are fully committed to giving him the necessary support, and to succeed with him in the challenge. It's just the beginning of a two-year plan so we still have a lot of time to develop our bike and grow up further."

Brivio is confident that his riders will be well able to handle the challenge of the first event of the year, but stops short of making predictions. "At the last two tests in Spain we had very strange and difficult weather conditions but even then our bike showed good potential, both with Valentino and Carlos, and with the other Yamaha riders. We aim of course to do our best, and I don't want to make any specific results predictions now!" he stated.

"All I can say is that Yamaha has been very busy for many months redesigning many chassis parts and reviewing the engine. Valentino seems quite satisfied with the bike and that makes me relaxed, as it's a good sign that our engineers have done a good job so far. We need to see how the bike copes at the last part of the race under race conditions."

Brivio explained the team's technical approach to Welkom. "Valentino has tested four different chassis and four different engine specs during the winter. He has selected a final race package that was also given to Carlos at the recent test in Barcelona and that combination seems to be the right one to use for Welkom. Carlos also had an important part to play in the bike's winter development as he has worked a lot on the chassis. At the IRTA tests we saw that he can be up there in the top positions. We hope to see both him and Valentino in the top group from Welkom onwards. We are motivated, excited, and ready to race!"
DUCATI READIES FOR ITS FIRST SERIOUS ASSAULT ON THE MOTO GO TITLE
Ducati MotoGP Team riders Loris Capirossi and Troy Bayliss have been busy since the end of the 2003 World Championship developing the team's new Desmosedici GP4 which races in anger for the first time this Sunday. The 2004 machine is a brand-new version of the bike that took last year's MotoGP series by storm, winning Ducati's first MotoGP race and taking second overall in the Constructors' World Championship.
NEW GP4 IS GOOD AND GETTING BETTER
The Ducati MotoGP Team comes to Welkom to race its Desmosedici GP4 for the first time. The machine has already impressed with its pace during tests in Australia, Asia and Europe.
"It seems like the winter has lasted a long, long time, so we can't wait to start racing again!" smiles Ducati MotoGP Team director Livio Suppo. "Overall we are happy because the bike has been on track since January and since then we've been progressing in a good direction. We have been faster than last year at Philip Island, Sepang and Valencia. Unfortunately last month's tests at Barcelona and Jerez were mostly spoiled by poor weather, although at Barcelona Loris was faster than last year on race tyres. I would say the bike is at 70 per cent of its ultimate potential at the moment. We knew that it would take time to develop a new machine, but we believe that this bike was necessary to improve our performance throughout the World Championship."
Ducati MotoGP Team technical director Corrado Cecchinelli reckons the new Desmosedici GP4 promises great things ahead. "This machine has much more potential than our 2003 bike," he says. "We are still developing it, and there's a lot more to come. Our aim with the GP4 is to be faster everywhere. We have worked on every aspect of performance, particularly engine power and rideability, handling and rider comfort. This last factor is particularly important at Welkom. It can be the hottest race of the year, and we have to help the riders to be in the best shape throughout the race."
CAPIROSSI READY FOR FIRST GP
Loris Capirossi knows that the first race of the season is always crucial. The Ducati MotoGP Team rider made a stunning start to the 2003 MotoGP series, scoring a podium finish in his first race on the Desmosedici at Suzuka.
"The first race is always very important to demonstrate that you are going in the right direction," says Capirossi. "I'm ready for the first GP and, as always, I'll give 100 per cent for a good result. Our winter testing went quite well – the bike is better and faster than last year's – it's just a shame that bad weather prevented us from testing effectively in Spain last month.
"I really like Welkom. It's unusual because it's a long way above sea level, which makes the engines 'sweeter' than usual. It's a bumpy and technical circuit, for which you need a really good engine and chassis."
BAYLISS BEGINS SECOND MOTOGP SEASON
Former World Superbike champ Troy Bayliss was a MotoGP rookie at Welkom last year, although that didn't stop him having a great race to fourth place. Despite starting from row 3, Troy led the race for 10 laps and had an extraordinary battle with Valentino Rossi. This season the Ducati MotoGP Team man expects to benefit from his 2003 experiences.
"I now know the people I'm racing against and I know all the tracks, apart from the Qatar circuit, which is new for everybody," says the Aussie. "Second years have been good to me in the past (Bayliss won the British and World Superbike titles at his second attempts), so I can't wait to start racing. We're making progress with the new bike. I really believe that it's better than what we had last year. The motor is a bit smoother, the bike is cooler and I think it's going to handle better once we've sorted a few things out.
"I don't mind Welkom as a racetrack – I got a pretty good result last there year. It's quite bumpy, with plenty of sharp little bumps, but I like to ride it."
THE BATTLEGROUND AT WELKOM
The Phakisa circuit, a stand-alone facility near Welkom in the South African gold fields, is a flat and frequently dusty track, ringed by a speed bowl designed for CART-style car racing. Not used as a venue for pre-season testing, it always throws up some peculiarities come race weekend and has a consistent reputation of featuring a slippery surface due to the dusty environment.

More than most tracks, the key to a quick lap time at Welkom is good machine balance, with a harmonious relationship of chassis and engine, allied to a keen tyre choice for the prevailing conditions. Always bumpy, the low change in gradient over the lap distance of 4.242 kilometres is a factor in suspension set-up. The front and rear suspension needs enough pliability to handle the staccato bumps at full lean, but enough firmness during acceleration to keep the rear tyre in contact with the tarmac at all times, thus preventing understeer on the exit.

Softer springing and damping rates are generally the starting point for the Phakisa set-up, moving progressively firmer as the lap times drop and the work done by the suspension becomes more demanding.

The most significant factor affecting the performance of the engine is the relatively high altitude in that part of South Africa. The thinner air robs any engine of outright power, due to the decreased density of the incoming fuel/air mixture and thus the lower energy yield of each combustion cycle. With all MotoGP machines producing comfortably over 200bhp at present, this may be less of a factor across the board than it may at first appear. Fast work in qualifying, and reference to data from previous seasons, will nonetheless be required to make the necessary fuelling adjustments to the M1 in preparation for raceday.

---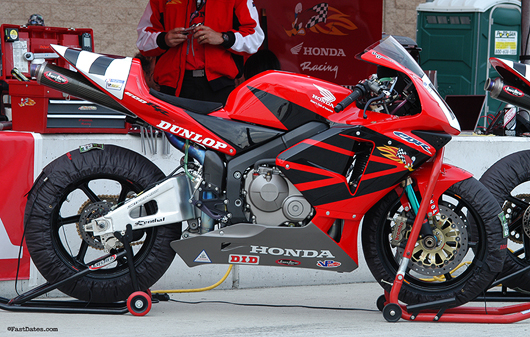 Honda is mounting the only serious factory effort in Formula Extreme with their CBR600RR -here is Miguel's bike.
Look for Al Lundstrum's setup tips in Paddock Garage.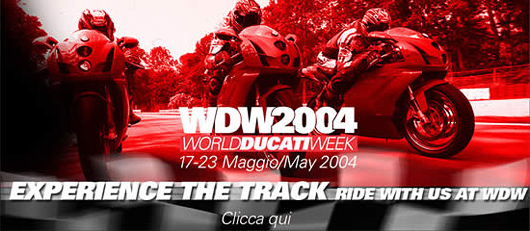 AMA Pro Racing and Daytona International Speedway Officials to Meet
(See our Editorial that helped prompt this needed meeting)

Pickerington, Ohio (April 12, 2004) -- Officials from AMA Pro Racing and Daytona International Speedway are scheduled to meet this week to discuss AMA-sanctioned motorcycle racing at the race track. Issues related to the AMA Superbike Championship as well as the track's upcoming renovation project are agenda items to be discussed during the meeting.
AMA Pro Racing Vice President, Director of Communications Kerry Graeber confirmed that Daytona remains an essential part of the championship. "There is so much history and importance surrounding Daytona," says Graeber. "We're looking forward to sitting down with Daytona's leadership to map out the future of AMA motorcycle racing at the facility."
Motorcycles have raced at Daytona International Speedway since 1961. The Daytona 200 by Arai is the cornerstone of motorcycle racing activities occurring each March. In addition to the AMA-sanctioned road races held at the facility, AMA Pro Racing sanctions a supercross race that's part of the AMA Supercross Series as well as an AMA Flat Track Championship event at nearby Municipal Stadium. All of the races are held during Daytona's "Bike Week" which draws thousands of motorcycle enthusiasts from all over the country. The 2004 event drew the largest crowds in recent years to view motorcycle racing at the facility.
Graeber stated that the major motorcycle manufacturers view Daytona as the premier event on the championship calendar. "Winning at Daytona is a tremendous accomplishment for any individual and, to a large extent, defines him as racer," said Graeber. "Plus, when you consider the amount of effort put forth by the manufacturers in promoting their success at Daytona through advertising and marketing support, it's obvious how important this single event is in everyone's mind."
Hot New ICS Damper!
Click for full details
FastDates.com Readers Only! Ask for your special
10% discount off list price
when you call now.
---
Yamaha 2004 R1 Tuning
Just Added in
Paddock Garage!
Factory parts and setip tips for the Daytona Superstock winner!
Includes giant Screensavers.
---
Endurance World Championship
Round One – Assen
R1 bags double podium
Assen, The Netherlands
12/4/2004
The Endurance World Championship kicked off with the 500km race at the historic Assen circuit in the Netherlands today – and Yamaha's new third-generation YZF-R1 proved itself on its world championship debut by scoring two podium placings.
French teams Yamaha GMT94 and Endurance Moto 38 finished second and third in the 129 lap race, to give a solid start for their still developing endurance racers. Choosing a three-stop strategy like most of their rivals, GMT94 started with former 500GP rider Sebastien Gimbert who held second until the end of his stint. Spaniard David Checa took over from Gimbert after 29 laps and put in a stunning session to ensure the Yamaha was in the lead at the halfway point, despite the fact that they were running a mildly tuned engine against opposition using full superbike-spec motors.
However Gimbert succumbed to the Suzuki team of Vincent Phillippe, Olivier Four and Matthieu Lagrive during the third session. Checa did put in a stunning last shift to close the gap to just over 18 seconds after three hours of racing, but was unable to give the bike a maiden victory.

Defending world champions Phase One Endurance suffered misfortune on their debut with the new R1. The British-based team was running in fourth place when an electrical problem caused their bike cut out on lap 63. Sebastien Scarnato was able to push the machine back to the pits, where it fired into life. Dean Ellison and Stephane Mertens were able to complete the race and give their team good feedback on the new R1, but could not salvage any points – finishing 25th.
Yamaha Motor France-backed Endurance Moto 38 finished third, three laps behind the leaders and a comfortable two ahead of the fourth-placed team.

China plays host to its first ever world championship motorcycle race when the new Zhuhai circuit hosts round two of the series with a six-hour race on 2 May.

William Costes (Yamaha GMT94)
"We made the decision to use the Super Production-spec engine for the race, so we were pleased to be competitive with the full superbike-spec Suzuki. The next round is quite close so we will not have time to make many changes before then, but when we come back from there we should be able to test with the superbike engine and show our best from round three (Albecete 12 hour)."

Christophe Guyot (Team Manager, Yamaha GMT94)
"This is a good result for us. This is a new bike and we have not had as much time to develop it as much as we would have liked. We showed today that we have the pace of a well-developed machine and there is much more power to come from our bike. We will look to another good result in China. After that comes the Albecete 12 hour race where there are double points available and we can really get the season started."

Dean Ellison (Yamaha Phase One Endurance)
"It's been disappointing for me as a rider today, because I believe that we would have finished third if the bike hadn't stopped. All three of our riders were lapping consistently in the 1:25s and a podium finish would have been a great way for us to start the season."
Russell Benney (Team Manager, Yamaha Phase One Endurance)
"We can take a lot of good out of today. We've come running a stock R1 engine and set the fifth fastest lap of the race and generally learned a lot about the bike. Regarding the stoppage: we don't know what happened. The bike came in and all we did was reset the computer and it fired up again. Treating today as a test session it has been useful. The handling of the bike is excellent and we have a lot more power to come, as well as a lot of weight to lose as the season goes on. China is maybe a bit too soon, but by Albecete we should have made some good developments."

Endurance World Championship
Round One – Assen,
The Netherlands 12 April 2004
Results
1. Suzuki Castrol Team (Phillippe, Four, Lagrive) – 3h 1m 29.671s
2. Yamaha GMT94 (David Checa, William Costes, Sebastien Gimbert) +18.397s
3. Yamaha Endurance Moto 38 (Gwen Giabbani, Frederic Jond, Stephane Duterne) + 3 laps
4. WRT-Honda Austria (Truchess, Wilding) + 5 laps
5. Bridgestone Suzuki (Rothig, Schwickerath) + 6 laps
25. Yamaha Phase One Endurance (Dean Ellison, Stephane Mertens, Sebastien Scarnato) +17 laps

British Superbike Round 2 Brands Hatch to
Sean Emmett / MonsterMob Ducati
Brans Hatch, England, April 13th - MonsterMob's Sean Emmett scores BSB's first Ducati 999 victory of 2004 while team-mate Michael Laverty moves up to second in the Supersport series aboard the 749R. Amidst what looked at one point to be a disaster, Emmett and Laverty salvaged a pair of creditable results in front of a massive Bank Holiday crowd at Brands Hatch. Emmett overcame a first race crash to bounce back with his first win of the 2004 campaign in race two whilst Laverty had to battle through from a row five start to claim sixth place in the British Supersport race to move into second place in the series.

Superbike race one saw 34-year-old Sean Emmett crash out at the start of lap two at Paddock Hill bend whilst well placed after a front end slide but the pole position setter defied the pain barrier of a suspected broken finger to claim an emotional start to finish victory at his local track in the day's second outing. As a result, the Londoner moved into fourth in the series after four of the scheduled twenty-six races aboard the Ducati 999F04.

"I don't think I have ever been so disappointed to win a race. I'm relieved and really happy for the team because it's the least they deserve but I am just desperately disappointed. I had visions of doing the double here after being so strong all weekend but that's racing though. It's a win and it's what the team needs and it shows the Ducati is a very strong package and if I can win injured like that, just watch out when I'm feeling fit! It's Snetterton next which is another one of my favourite circuits and I've done the double there. Everyone has their share of bad luck and hopefully I've now had mine. I'll just keep my head down and hopefully I can peg the points back from here," said Emmett.

22-year-old team-mate Michael Laverty looked as if a good result was not on the cards but a spirited performance from the Ulsterman netted him some more important points. The Toomebridge rider struggled with tyre choice problems aboard the Ducati 749 Supersport bike amidst an incident-packed race which saw the safety car out for three laps mid race.

"That was a race of survival for me. I didn't have the grip I needed and I was just spinning everywhere. I can't believe I've salvaged sixth place as I was only riding at 80%," said Laverty.

Team boss Paul Bird was happy with the end results. "Sean did a sterling job in the second race and showed his true character. It's nice to be back on the top step as I was beginning to forget what it was like. It will be a long battle though. Michael also did a good job as we took a bit of a gamble with the tyres and he struggled for grip. I'm happy that he's got second position in the championship as we haven't got him going yet and hopefully we will see some improvements over the next few meetings."

BSB Superbike Race 1
1. Reynolds (Suzuki)
2. Rutter (Honda)
3. Kagayama (Suzuki)
4. Smart (Kawasaki)
5. Mason (Yamaha)
6. Kiyonari (Honda)
7. Corke (Suzuki)
8. Kirkham (Suzuki)
9. Hill (Yamaha)
10. Clarke (Yamaha)

BSB Superbike Race 2
1. Superbike Race 2
2.Rutter (Honda)
3.Reynolds (Suzuki)
4.Smart (Kawasaki)
5.Kagayama (Suzuki)
6.Kiyonari (Honda)
7.Richards (Kawasaki)
8.Thomas (Ducati)
9.Mason (Yamaha)
10. Hill (Yamaha)

Supersport Race
1. Vincent (Honda)
2. Quigley (Suzuki)
3. Andrews (Yamaha)
4. Riba (Kawasaki)
5. Tunstall (Honda)
6. Laverty (Ducati)
7. Murphy (Honda)
8. Jackson (Honda)
9. Robinson (Yamaha)
10. Norval (Honda)

BSB Superbike Standings
1. Reynolds (Suzuki) - 82
2. Rutter (Honda) - 81
3. Kiyonari (Honda) - 60
4. Emmett (Ducati) - 49
5. Smart (Kawasaki) - 47
6. Kagayama (Suzuki) - 4
7. Mason (Yamaha) - 27
8. Thomas (Ducati) - 27
9. Hill (Yamaha) - 26
10. Plater (Yamaha) - 19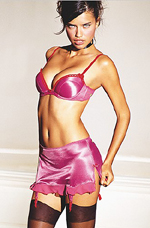 Janet Jackson's Superbowl -Eposure cancels Howard Stern, Victoria's Secret TV Show
April 14th - The over reaction by the US federal government agency the FCC (Federal Communication Commission) to Janet Jackson exposing her breast during the Superbowl Halftime Show a few months ago continues to impact the rest of broadcasting and creates an enviroment that represses the freedom of expression on which our country was founded.
Rather than fineing or charging Janet jackson for her act of "indecent exposure; the FCC fined the unwitting broadcast company CBS some $250,000.
Now in an over reaction to not wanting to broadact what might be perceived as obscene content and be fined for it, Clear Channel radio has dropped the Howard Stern Radio Show from all the radio stations which it owns across America. And now this week, Victoria's Secret has announced it will no longer air its highly popular annual Victoria's Secret fashion Show on national broadcast television because of potentially being fined by the FCC. Hoperfully Victoria's Secret will movie to pay TV like HBO or the Showtime networks where attractive women and explicit languare are more exceptable.
What's next on the government's hit list, pinup calendars and motorcycles? It's time to write your Congressmen and Senators and tell them you want your freedoms left alonem as they are your elected representatives.