2004 MotoGP Championship, Round 2 - Spanish Grand Prix at Jerez June 1/2 2004
First MotoGP race in Europe, Rossi tops qualifying on the Yamaha, but...
When the Rain in Spain falls mainly on the Plain
Sete Giberneau puts Honda on top Race Day
Jerez, Spain, May 1-2nd -Welkom in South Africa was consigned to the history books, as Jerez loomed large this weekend. Many riders believe the World Championship begins for real in Spain at Jerez with round two of this 16-race season. The first race sometimes throws up a freak result due to the unfamiliar nature of Welkom, which is visited only once a year by MotoGP teams (who don't test there either).
But this year it was Jarez that thrw up a freak result as race day for Round 2 was held in a torrential downpour of rain. Under leaden skies and on a soaking track Sete Gibernau (Telefonica Movistar Honda RC211V) took a home win, Max Biaggi (Camel Honda RC211V) scored a solid second and Alex Barros (Repsol Honda RC211V) stepped up onto the third tier of the podium. It was a dominant performance in front of 125,000 saturated race fans as Valentino Rossi struggled with his Yamaha to come home fourth.
Final Qualifying, Saturday May 1, 2004
Polester Valentino Rossi fights off the Honda Hordes in Qualifying
Spanish rain played havoc with final qualifying here at Jerez in Andalucia today. Minutes before the premier class was set to hit the track for a final showdown for grid positions, a cloudburst put paid to any hope riders had of clawing their way up the rankings after yesterday's session. Valentino Rossi (Yamaha) heads the grid, with Sete Gibernau (Telefonica Movistar Honda RC211V) in second place and Carlos Checa (Yamaha) filling the other slot on the three-man front row.
The majority of the MotoGP riders had planned to try final chassis settings and test potential race tyre choices over a simulated race distance this afternoon. But unpredictable weather threw the best-laid plans into confusion, and as so often happens, it paid to put in the best possible lap in the opening session.
The only benefit anyone derived was trying various chassis adjustments to cope with a drying track where rivulets of draining water made efforts to control the 200bhp MotoGP machines hazardous. But the chances of tomorrow's conditions replicating the rare combination produced today are slim. Much work this afternoon was in vain.
For spectators, however, the sight of the world's best riders struggling to contain the brute power of the big bikes was a big plus. And although teams derived little benefit from a bleak hour of final qualifying, the crowd will rarely see riders hanging the rear ends of their machines out in spectacular efforts to assess grip levels on the exits to Jerez's turns.
Slippery track conditions during this afternoon's final qualifying session at the 4.423 km Jerez circuit ensured that none of the MotoGP challengers would improve on their opening day qualifying times. Gauloises Fortuna Yamaha rider Valentino Rossi relied on his first day lap time of 1'40.818 to take his second pole in as many races on the Yamaha YZR-M1, whilst his team-mate Carlos Checa (1'41.427) secured a front row start in third. They share the revised three-rider front row of the grid with Checa's fellow Spaniard, Sete Gibernau (Honda, 1'41.198), second fastest. The weather-affected session started with the track surface still seriously wet in places, drying out faster in others, with the final section of the session providing the quickest lap times. The fastest, although not affecting the grid positions for Sunday's 27-lap MotoGP race, was Kenny Roberts' Suzuki with a time of 1'46.997, second quickest being Troy Bayliss (Ducati, 1'48.224).
Rossi's first day brilliance on the YZR-M1 makes his pole lap the fastest ever at Jerez, a particularly impressive achievement as it came after only two one hour practice sessions. The 25-year-old Italian has an enviable record at Jerez, having won the past three premier class races at the Andalucian track.
Valentino Rossi (Gauloises Fortuna Yamaha), 1st: 1'40.818
"Yesterday was fantastic and that lap was finally what gave us pole position. We did a very good lap time at the end and the bike was also not so bad with race tyres. This afternoon was a bit of a waste of time. It was raining and we were not able to make some modifications we had wanted. We were just going around and around. For tomorrow I hope, for all the riders and all the fans, it will be dry. I have great memories of this circuit; it has always been good to me from the first test I did on the 125 to now. I always like the longer corners here. I think that Sete and Max can be very fast in the wet, also Bayliss."
Gibernau, 2nd fastest, is playing down his chances in tomorrow's race. "My heart says win, but my head is telling me different," he said. "I don't have a good rhythm for the race although I am really motivated for it. I will be going for the win but I know it will be hard. I just want a dry race so we can understand better what's been happening to us so far."
Carlos Checa (Gauloises Fortuna Yamaha), 3rd: 1'41.427
"Finally here I was able to get a good feeling thanks to the technicians and team. They have understood quite well what I have said and we've made improvements. I am able to ride the way I want to, braking and getting on the gas where I want and that has given us a front row start."
Max Biaggi (Camel Honda RC211V) heads the second row in fourth. "We needed to test the bike in dry conditions. Minutes up until the final session it seemed the rain would hold off but instead we've had to make do with the worst conditions possible – in-between weather. I'm on row two which won't be easy to get a good start from."
Makoto Tamada (Camel Honda RC211V), riding on Bridgestone tyres, made progress here with a fifth place. "I'm not 100% in the wet so I'm hoping for a dry race. I've got a good rhythm going and if everything goes to plan I'll be fighting with the front guys. My general feeling with the bike is much better and we'll just have to see what the weather brings."
Things went less well for Nicky Hayden (Repsol Honda RC211V) in seventh on row three. "We had a lot of what we wanted to try today, but we didn't get round to it. We need track time, but so does everyone else. This afternoon was bad because it was wet and dry. We tried a cut Michelin slick just to see how it felt and it was okay but we needed a front as well. It could all be a bit of a gamble tomorrow."
Colin Edwards (Telefonica Movistar Honda RC211V) in eighth place is hoping for a wet race. "We have a good wet weather set-up while at the moment in dry conditions we're having the same problems we had in South Africa."
Alex Barros (Repsol Honda RC211V) is upbeat despite only qualifying ninth. "We were restricted by the conditions. We had some front-end problems in the morning session and then made some adjustments, but in the afternoon it was impossible to tell if we were going the right way. But we've got an idea of both wet and dry set-ups and we're looking forward to the race."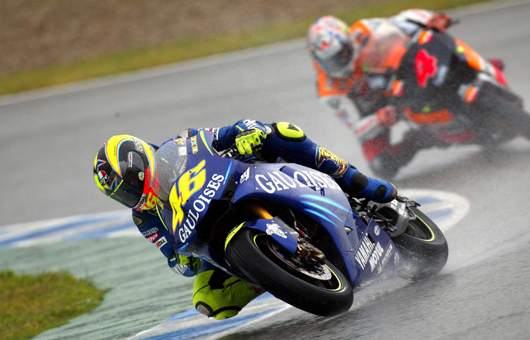 Valentino Rossi (46) attempts to hold off Alex Barros for 3rd, but thefactory Hondas worked better in the wet than the Yamaha M1 and Rossi had to settle for his first non podium finish in 2 years.
Giberneau and the Honda hordes back on top in Sunday's Rain
Raceday, Sunday May 2nd - Under leaden skies and on a soaking track Sete Gibernau (Telefonica Movistar Honda RC211V) took a home win, Max Biaggi (Camel Honda RC211V) scored a solid second and Alex Barros (Repsol Honda RC211V) stepped up onto the third tier of the podium. It was a dominant performance in front of 125,000 saturated race fans. And as the season unfolds, this was a timely reminder that Honda has a tradition of winning it is keen to maintain.
Gibernau excels in the wet and with the track awash since the morning and with even more rain falling as the day went on, he was clearly the man best equipped to shine on this dull, dank day. After his fall here last year this was precisely what the Spanish star needed. He now heads the World Championship points table.
Gibernau qualified second on the front row and led the pack into turn one from the lights. Valentino Rossi (Yamaha) who qualified on pole was right behind him with Biaggi in close attention and Carlos Checa (Yamaha) who also started from the front row was up with the leaders.
Rossi and Checa, both starting from the front row, filed into the first turn behind early leader and eventual race winner Sete Gibernau (Honda).Coming under pressure from the riders behind, Rossi chose discretion at the start, as first Checa and then second place finisher Max Biaggi (Honda) passed him. A fight for second place saw the position swapped between Checa and Biaggi twice, but ultimately Biaggi made a small break, finding himself behind leader Gibernau, whilst Melandri powered through to take third place on lap four. Checa and Rossi held fourth and fifth positions respectively until Rossi mounted a successful attack on lap nine and Alex Barros (Honda) passed Checa soon after.
Rossi survived a huge near-high-side at the exit of the first hairpin on lap 12 and Barros took the opportunity to glide past on the sodden track surface. With Melandri out on lap 19, after falling on the slippy track, Barros was promoted to third, Rossi fourth. After experiencing traction and vision concerns, Checa made a late attack on Colin Edwards (Honda) and duly passed him to finish in sixth place.
But by lap four a pattern to the race was emerging. Sete and Max were the fastest men out there and their RC211Vs were clearly in a class of their own in the appalling conditions. Marco Melandri (Yamaha) was riding an excellent race and was now running third after starting from the fourth row of the grid.
But this was to be the Sete and Max show and as they duelled in the deluge setting fastest laps they opened a gap on Melandri that grew to nearly 13 seconds before their pursuer fell off on lap 19 of this 27-lap contest. Max had lead Sete for one lap before he ran wide and allowed his rival through on lap 17 and then Sete began to stretch his advantage.
As the race closed Sete worked a one a half second lead to a 5.453 second advantage at the flag and at this early stage of the season Max was not about abandon a relatively secure second place in a vain attempt to attack Gibernau. Alex Barros finished a full 52 seconds behind the winner while Rossi came in fourth. Nicky Hayden (Repsol Honda RC211V) worked his way up to 5th at the finish after languishing in tenth during the opening laps.
"I knew my set-up wasn't perfect," said Gibernau. "But the rain compensated for that and the crowd were so good that I felt like I an extra gear. I didn't want to make a mistake like last year and I could feel the pressure Max was putting me under. I had to push where I was strong and this is a good result for us."
Biaggi was happy enough with second. "I gave my best until almost the end," said the Roman. "The I decided to accept second with two laps to go after a big slide when I lost so much ground I couldn't recover it. I want to congratulate Sete who rode superbly and deserved this win. This is my best start to a season since 1998 and I'm really looking forward to Le Mans now."
And for Barros this result was a big lift. "It seems a long time since I've been on a podium. The winter was difficult and now I'm healthy again. I knew I couldn't ride at Sete and Max's pace so I just rode my own race. When I saw Marco crash I tried to keep things safe and take the podium. I look forward to being even more competitive as I get stronger through the season."
For Hayden, in only his second ever wet Grand Prix, fifth place was a fair result. "We made some changes after the morning warm-up and the bike felt good straight away in the sighting lap. I got my head down and decided there was no point just riding around. I caught Valentino at the end and showed him my front wheel but I couldn't make the pass stick. Anyway a good end to a hard weekend."
Colin Edwards (Telefonica Movistar Honda RC211V) finished seventh. "The cold was a big problem for me. I had to see the doctor at the end because I was freezing and in a bit of trouble. But the main trouble was trying to get a feel for the limit of grip at the front end. I'm still a bit gun shy."
Makoto Tamada (Camel Honda RC211V) riding on Bridgestone tyres was short of feel and pitted to find a solution. "These conditions were appalling," said the Japanese. "I decided to pit because I had no feel from the rear at all. But it was just as bad when I tried another tyre. I knew the race was finished for me but I went out again to gather information."
The World Championship points table looks like this with two of the 16 rounds completed: Gibernau 41 points, Biaggi 40, Rossi 38 and Barros 29.
Results MotoGP : (27 laps = 119.421 km) Pos/ Rider / Nat / Team / Motorcycle / Time/ KM/H
1 / Sete GIBERNAU / SPA / Telefonica Movistar Honda Motor / HONDA / 52'01.293 / 137.736
2 / Max BIAGGI / ITA / Camel Honda / HONDA / 52'06.745 / 137.496
3 / Alex BARROS / BRA / Repsol Honda Team / HONDA / 52'53.863 / 135.454
4 / Valentino ROSSI / ITA / Gauloises Fortuna Yamaha / YAMAHA / 52'59.849 / 135.200
5 / Nicky HAYDEN / USA / Repsol Honda Team / HONDA / 53'00.576 / 135.169
6 / Carlos CHECA / SPA / Gauloises Fortuna Yamaha / YAMAHA / 53'08.477 / 134.834
7 / Colin EDWARDS / USA / Telefonica Movistar Honda Mot / HONDA / 53'20.832 / 134.313
8 / Kenny ROBERTS / USA / Team Suzuki MotoGP / SUZUKI / 53'46.350 / 133.251
9 / Shinya NAKANO / JPN / Kawasaki Racing Team / KAWASAKI / 52'07.304 / 132.380
10 / Michel FABRIZIO / ITA / WCM / HARRIS WCM / 52'16.335 / 131.998
11 / Norick ABE / JPN / Fortuna Gauloises Tech 3 / YAMAHA / 52'19.549 / 131.863
12 / Loris CAPIROSSI / ITA / Ducati Marlboro Team / DUCATI / 52'22.550 / 131.737
13 / Alex HOFMANN / GER / Kawasaki Racing Team / KAWASAKI / 52'26.929 / 131.554
14 / Nobuatsu AOKI / JPN / Proton Team KR / PROTON KR / 52'39.533 / 131.029
15 / John HOPKINS / USA / Team Suzuki MotoGP / SUZUKI / 52'59.546 / 130.205
Fastest Lap: Sete GIBERNAU 1'53.508 140.279 Km/h Lap 11
World Championship Positions:
1 GIBERNAU Sete 41, 2 BIAGGI Max 40, 3 ROSSI Valentino 38, 4 BARROS Alex 29,
5 HAYDEN Nicky 22, 6 EDWARDS Colin 18, 7 CHECA Carlos 16, 8 CAPIROSSI Loris 14,
9 ABE Norick 12, 10 NAKANO Shinya 11, 11 ROBERTS Kenny 8, 12 TAMADA Makoto 8,
13 FABRIZIO Michel 6, 14 MELANDRI Marco 5, 15 HOPKINS John 4.
GP250 Round: 2 - Jerez GP250
The 250 race was packed with incident, but sadly not much racing. Roberto Rolfo (Fortuna Honda RS250RW) won by 8.7 seconds from Randy de Puniet (Aprilia) with Fonsi Nieto (Aprilia) second – a full 23.8 seconds behind de Puniet. The track was soaking and it was controlled consistency that brought rewards in the conditions.
Pole man Sebastian Porto (Aprilia) could do nothing to catch the rain men and the Argentine could only manage a distant seventh. But two of the other front row starters had an even worse time of it. Manuel Poggiali (Aprilia) fell on lap one and could not restart, while Danny Pedrosa (Telefonica Movistar Junior Team RS250RW) went down without injury on lap six while lying fourth.
The surprise man of the opening laps was Hiroshi Aoyama (Telefonica Movistar Junior Team RS250RW) who looked like he was capable of matching Rolfo's speed until he parted company with his machine on lap four. There were 11 fallers in a 32 rider field.
Race: 26 Laps Pos. Rider Manufacturer Nat.Time
Circuit: Jerez Circuit Length: 4423 , Lap Record: 1' 44.444 (Daijiro Kato, 2001) , Fastest Lap Ever: 1' 43.959 (Daijiro Kato, 2001)
1 R. Rolfo Honda ITA 52' 20.145
2 R. de Puniet Aprilia FRA +8.740
3 F. Nieto Aprilia ESP +32.623
4 A. West Aprilia AUS +32.844
5 A. Debon Honda ESP +58.884
6 A. de Angelis Aprilia SMR +1' 3.950
7 S. Porto Aprilia ARG +1' 5.322
8 A. Vincent Aprilia FRA +1' 8.923
9 G. Lefort Aprilia FRA +1' 47.081
10 N. Matsudo Yamaha JPN +1' 49.191
11 A. Baldolini Aprilia ITA +1' 55.028
12 T. Elias Honda ESP +2' 1.756
13 H. Marchand Aprilia FRA +1 lap(s)
14 J. Stigefelt Aprilia SWE +1 lap(s)
15 T. Sekiguchi Yamaha JPN +1 lap(s)
Fastest Race Lap:
Pos. Rider Manufacturer Nat. Total Time
1 R. Rolfo Honda ITA 1' 58.815
---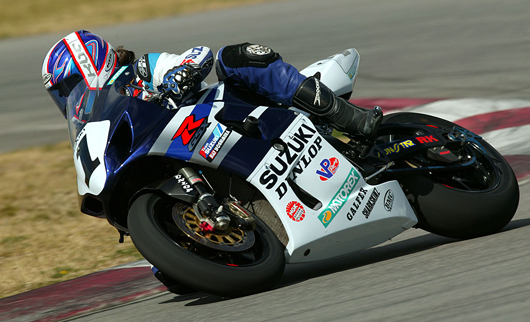 AMA Chevrolet Superbike Championship Rounds 4 & 5 – Infineon Raceway, California, USA

Matt Mladin Continues his AMA Superbike Points lead with 1-4 Finishes at Infinion, Duhamel Takes Race 2
Sonoma, California, USA (Sunday, May 2) – Mat Mladin maintained his place at the top of the points table after completing this weekend's double-header round of the American AMA Chevrolet Superbike Championship at California's Infineon Raceway with a victory and a fourth place finish.

The four times and defending American Superbike champion was in dominating form throughout the weekend continuing his record breaking run with his 35th career pole position and his 28th career AMA Superbike win on Saturday, but a chance to repeat those efforts in today's second national were thwarted by a problem that his Yoshimura Suzuki team were unable to rectify during the course of the race.

With five rounds of this year's championship complete, Mladin continues to hold a 24-point advantage over today's race winner, Honda's Miguel DuHamel (177 to 153) with Jake Zemke (Honda) third with 150.

MLADIN LEADS THE WAY WITH FASTEST TIME DURING QUALIFYING
Friday, April 30: Four times American Superbike champion Mat Mladin smashed the Infineon Raceway Superbike lap record on his way to grabbing provisional pole position for this weekend's double-header American AMA Chevrolet Superbike Championship round after today's opening qualifying session.

Mladin blasted his Yoshimura Suzuki GSX-R1000 around the 2.2 miles (3.54km) 11-turn circuit, stopping the clocks with a time of 1-min 36.917-secs, over half a second quicker that his nearest rival, Honda's Ben Bostrom (1:37.498). Fellow Honda rider Jake Zemke was fractionally slower, setting the third fastest time of 1:37.511, ahead of Mladin's teammate Aaron Yates (1:38.012).

Mladin led both of the morning's free practice sessions, before topping the leader board in the first of the two official qualifying sessions for this weekend's round.

"The first session we were a little bit stale and things `weren't going how I would have liked, but the second session saw us start to get into the groove and it felt good," said Mladin.

"We worked on race set up and tyre selection for much of the day, but when we did put a softer qualifying tyre at the end of the session we didn't do such a good job with it. I got baulked once while I was out there on my fast lap but we still did a good job with it and came away with the fast time."

"Things are looking alright at the moment. We have another 40-minute session tomorrow morning before the first of the two races and we should be able to confirm a few more things in that session."

The competitive nature of this years manufacturers has seen the intense rivalry between the riders and teams being matched by that of the tyre manufacturers. Yoshimura Suzuki's tyre supplier Dunlop, have been working extremely hard over the past 12 months, developing tyres to suit the needs of the modern day crop of Superbikes and arrived at Infineon Raceway this weekend with yet another transporter full of new race rubber for their supported teams to evaluate.

A firm believer of continued development with both the motorcycle and tyres, Mladin relishes the opportunity to test new parts, including tyres.

"Dunlop have a whole bunch of new stuff for us to look at and we're running through them now. There's a lot of new stuff for both the front and rear for everyone to choose from. They (Dunlop) have obviously been under a bit of pressure in the past few months both with their own tyres and from the added tyre competition this year, so it's great to see them respond in such a positive manner. It seems that every race this year Dunlop have some new tyres for us to test, which is great to see and how it really should be."

The Australian rider arrived at Sonoma, north of San Francisco being undefeated in the three Superbike nationals held this year and holds a 24-point lead over Zemke on the championship points table.

Having won both corresponding races last year, Mladin will be aiming to emulate that feat and further build to his points tally as he chases an unprecedented fifth national title.

QUALIFYING, 2004 AMA Chevrolet Superbike Championship
Friday Top 10
1. Mat Mladin (Yoshimura Suzuki) 1:36.917 mins
2. Ben Bostrom (American Honda) 1:37.498
3. Jake Zemke (Erion Honda) 1:37.511
4. Aaron Yates (Yoshimura Suzuki) 1:38.012
5. Miguel DuHamel (American Honda) 1:38.495
6. Eric Bostrom (Ducati Austin) 1:38.516
7. Josh Hayes (Attack Kawasaki) 1:39.310
8. Larry Pegram (Yamaha) 1:40.003
9. Chris Caylor (Empire Racing Suzuki) 1:40.213
10. Geoff May (Suzuki) 1:40.252
COMBINED QUALIFYING, Saturday Top 10
1. Mat Mladin (Yoshimura Suzuki) 1:36.916 mins
2. Aaron Yates (Yoshimura Suzuki) 1:37.266
3. Jake Zemke (Erion Honda) 1:37.361
4. Ben Bostrom (American Honda) 1:37.498
5. Miguel DuHamel (American Honda) 1:37.633
6. Eric Bostrom (Ducati Austin) 1:38.516
7. Josh Hayes (Attack Kawasaki) 1:38.770
8. Larry Pegram (Yamaha) 1:39.962
9. Chris Caylor (Empire Racing Suzuki) 1:40.213
10. Geoff May (Prieto Racing Suzuki) 1:40.252
Mladin Takes Saturday's Superbike Win
RACE ONE, Saturday, May 1st, - Defending American Superbike Champion Mat Mladin has kept his unbeaten race record for this season intact after winning today's fourth round of the American AMA Chevrolet Superbike Championship at Infineon Raceway, California.

In taking out his 28th career AMA Superbike race win, Mladin extends his points lead in the championship to 33-points from Honda's Miguel DuHamel and Jake Zemke (150 to 117) who finished second and third in the first of the weekend's two 28-lap Superbike nationals and are tied on points.

As has been the case for the season so far, Mladin and his Yoshimura Suzuki GSX-R1000 were in dominating form all day. Prior to the commencement of today's Superbike race, Mladin wrapped up yet another Superbike pole position after his record breaking lap time recorded in yesterday's opening session was good enough to keep him at the top of the time sheets and the number one starting position for each of the weekend's races.
The Hondas broke well on Saturday, class rookie Zemke moving into his first ever Superbike lead on the second lap. Zemke controlled the pace until the sixth lap when he was passed for the lead, but led the Honda trio which was second through fourth. That's how they'd finish, though in a different order.

A steady start to the race saw Mladin sitting comfortably in third place on the opening lap, before moving up a spot as he closed in onto the rear of early race leader Zemke. The pair pulled a small gap over the remainder of the field in the opening laps before Mladin made his move to the front on lap six. The pace of the four times American Superbike Champion showed as he became the only rider in the race to drop his times into the 1:37 bracket, reeling off a blistering 1:37.946 on lap seven as he worked at building a gap over Zemke.

Zemke tried to stay with Mladin, but as the race approached mid-distance, the more experienced Mladin was able to put together a number of fast consistent laps as they began to work through the first groups of lapped riders. By race end Mladin crossed the line with a 6.749 second advantage over DuHamel, who worked his up to second on lap 19, leaving Zemke in third which he held to the flag. Miguel's American Honda teammate Ben Bostrom was slowed by tire problems to a fourth place finish.
Zemke admitted making a "rookie" mistake and abusing his tire on the abrasive, hot surface, allowing the more experienced Duhamel to take second and make a run at the leader. Ben Bostrom, who also struck tire problems while in third, fell back to fourth, where he'd finish.

"The race panned out pretty well for us, coming away with the win was what we were after and that's given us that little bit extra buffer on the points table," said Mladin.

"Dunlop have been very good this weekend, arriving here with a whole new batch of tyres for us to try and today's race was another where we were able to put them to good use and they worked well."

"After getting a break on Jake (Zemke) in the first half of the race, the backmarkers became a bit of an issue in the second half, but having that small lead, I was able to get through them as best I could while keeping my lap times as consistent as possible."

"Looking at tomorrow's race, it will start a couple of hours earlier than today's and they are forecasting much higher temperatures, so we'll be keeping a close eye on the weather and track temperatures."

Saturday Results Round 4, 2004 AMA Chevrolet Superbike Championship, Top 10 / 28 laps
1. Mat Mladin (Yoshimura Suzuki) 46:19.27 minutes
2. Miguel DuHamel (American Honda) + 6.749 seconds
3. Jake Zemke (Erion Honda) +17.391
4. Ben Bostrom (American Honda) +26.824
5. Eric Bostrom (Ducati Austin) +29.736
6. Josh Hayes (Attack Kawasaki) +50.377
7. David Stanton (Suzuki) +1:01.126 mins
8. Larry Pegram (Yamaha) +1:20.043
9. Geoff May (Prieto Suzuki) +1:23.614
10. Aaron Yates (Yoshimura Suzuki) +1:26.954
Duhamel Wins Sunday Superbike as Mladin Struggles with Bike Problems
American Honda's Miguel Duhamel had a podium-filled weekend, rolling his Hondas into victory lane as the winner of the Superbike and Formula Xtreme race, as Hondas dominated on a sun-splashed weekend at Infineon Raceway in Sonoma, the heart of California's wine country. In Sunday's Superbike race, the wily French-Canadian made up over two seconds on the final lap to pull off a daring last corner pass of Erion Honda's Jake Zemke, then sped to victory by 0.196 seconds. Teammate Ben Bostrom was fifth.

"I thought, what the hell, maybe give it a shot, maybe I can surprise him at the end," Duhamel said. "Maybe a lapped rider, a little bobble, maybe I can sneak up on him. That's what happened."
After leading the time sheets during the morning warm up session, Suzuki GSX-R1000 mounted Mladin looked set to continue his unbeaten run in the championship, but his machine struck problems early in the race, leaving him unable to challenge the lead group. Unable to find a cure for the problem, Mladin held third place for much of the race before being passed by teammate Aaron Yates with a handful of laps to run, finishing fourth. After running second for a substantial amount of the race, DuHamel converted a last corner pass on Zemke to snatch the win.

"We had a few things go wrong out there today and basically couldn't get the job done," said Mladin. "We tried to get it sorted during the stoppage with the red flag on lap eight, but weren't able to."

"All in all though, we came here looking for a pair of wins and managed to take one of them and we leave here with a 24-point lead in the championship. It was a frustrating way to finish the weekend as we dominated qualifying and the opening race yesterday."

"Our attention will now focus on the next round at Barber Motorsports Park in Alabama. We tested there not long ago and felt good with the package, so we'll be heading there with the same determination and game plan as we did for this weekend."

Minutes after spraying champagne in the Superbike winner's circle, Duhamel and Zemke were battling again, this time in the Formula Xtreme race. Again, the result was similar. Zemke led throughout, but it was Duhamel coming through at the end, though this time with less drama. Duhamel passed Zemke with two laps to go and went on to win by 1.985 seconds, keeping his Formula Xtreme perfect season intact, three for three. Joining Duhamel and Zemke on the podium was Erion Honda's Alex Gobert, making it another Honda sweep. Of the nine possible Formula Xtreme podium positions in 2004, Honda CBR-600RR's have taken eight.

The weekend's success gives Honda a commanding lead in Formula Xtreme, Duhamel leading Zemke 112 to 94 with Alex Gobert third at 83. After five of 18 Superbike races, Hondas are two-three, with Duhamel second at 153 points and Zemke third with 150. Mladin leads with 177.
The championship now heads to Birmingham, Alabama for rounds 6 and 7 of this years AMA Chevrolet Superbike Championship at the Barber Motorsports complex.on the weekend of May 15 & 16.
Sunday Superbike Results:
1. Miguel Duhamel (Honda)
2. Jake Zemke (Honda)
3. Aaron Yates (Suzuki)
4. Mat Mladin (Suzuki)
5. Ben Bostrom (Honda)
6. Steve Crevier (Suzuki)
7. Josh Hayes (Kawasaki)
8. Larry Pegram (Yamaha)
9. Geoff May (Suzuki)
10. Shawn Higbee (Suzuki)
AMA Superbike Point Standings:
1. Mat Mladin (Suzuki) 177
2. Miguel Duhamel (Honda) 153
3. Jake Zemke (Honda) 150
4. Geoff May (Suzuki) 108
5. Lee Acree (Suzuki) 105
6. Larry Pegram (Yamaha) 97
7. Eric Bostrom (Ducati) 96
8. John Haner (Suzuki) 84
9. Ben Bostrom (Honda) 79
10. Cory West (Suzuki) 77