2004 MotoGP Championship, Round 1 - South African Grand Prix
Circuit: Welkom, Crowd: 45000, Temp: 25†C, Weather: Sunny
Rossi Claims His Sensational First Yamaha MotoGP Victory!
Africa's Grand Prix, Welkom, South Africa April 16/17/18 2004 - Valentino Rossi made history with Yamaha today aboard his Yamaha YZR-M1 machine at the Africa's Grand Prix in Welkom by becoming the first rider in the history of the premier class to take back-to-back victories with different constructors. The reigning World Champion, who joined Yamaha in January, is also the first rider in the premier class since Barry Sheene to win the opening race of the season for four years in succession, taking his 23rd consecutive podium in the process and Yamaha's first win since October 2002.
Rossi's win came at the conclussion of of a race long battle with arch rival Max Biaggi on the B'Aggi factory Honda RC211that saw the two riders trading the lead lap after lap right down to the final few corners where Rossi dug deep down inside to pull off the win. As Valentini crossed the finish line he graciously reached out his hand to thank Biaggi for the race, then pulled to the side of the track, parked his Yamaha against to the tire wall, sat on the ground and cried beneath his helmet visor in joy and sheer relief of the moment where he had again proven himself. Valentino then got up, kissed the front of his Yamaha's windscreen, remounted the still running bike and celebratde his victory lap.
Valentino had quit the Honda GP team last year, the dominate team and bike in the sport which helped him earn his 3 preivious Open Class World Championships, to race for the underdog Team Yamaha on the less acknowledged competive M1.
His bitter rival for the MotoGP Championship, Max Biaggi, when previously riding for Yamaha had vowed that on equal equipment to Valentino, he was a better rider and would Valentino. But last year Max got his wish for a works Honda RC211 and still couldn't beat the kid. And this year Valentino make the switch to the "less competive" to Yamaha M!, worked hard with crew chief Jeremy Burgess over the winter to develop the bike, and now in the first race of the year at Welkom proved without a doubt that he, Valentino Rossi with all 3 MotoGP classChampionship titles to his crediton 3 different brands of bikes, is the best rider the sport of motorcycle roadracing has ever had.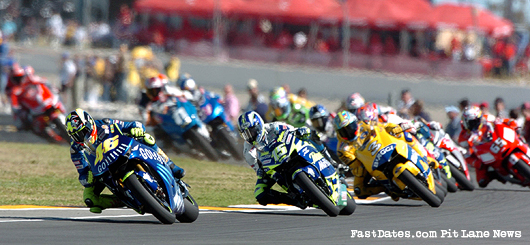 Determination from the start as Valentino (46) leads the Hondas of Giberneau (15) and Biaggi (3).

As a fierce African sun beat down, the new three-abreast grid lined up for this curtain-raising race and scorched into turn one as the red lights went out. Rossi got the holeshot off his pole position with Max and Sete, Nicky Hayden (Repsol Honda RC211V) and Colin Edwards (Telefonica Movistar Honda RC211V) pressing him hard.Rossi started from pole position and led for most of the 28 lap race with less than a second between himself and Honda rival Max Biaggi. The pace soon hotted up to the extent that only three riders could stay with it: Rossi, Max and Sete Gibernau (Telefonica Movistar Honda RC211V). As early as lap four the threesome fought it out with Max taking the lead at the end of the back straight before Rossi snatched it back on the same lap. Max went in front again two laps later and held the lead again before Rossi wrested it back one lap later.
But the early battle for supremacy soon settled down and Rossi and Max maintained a pace that Sete couldn't stay with. By mid-distance of this 28-lap contest Gibernau was a second adrift of the leaders and he fell further back to finish seven seconds down at the end.
Now it was a straight fight between two intense rivals. Rossi seemed content to make the running while Max was rarely less than two feet behind him as Rossi fought to break clear of his rival. On lap 23 Max made another move down the back straight and he then lead three laps in a row before Rossi made a block pass on Max at the penultimate tight right turn.
Max was pushed wide and fought to get back on level terms with just two laps to go. Try as the Roman might, and Max set a new lap record on his final lap of the 4.242km track of 1m 33.208s, he couldn't catch Rossi and finished just over two tenths of a second behind as they crossed the line, with Honda rider Sete Gibernau in third. Checa finished just over 39 seconds later than winner Rossi, having made up three places in the latter stages of the race but not feeling the confidence to push harder.
"I'm happy it was such a great race," said Max. "We kept up an unbelievable pace and had a lot of fun. I didn't even feel tired at the end and I feel I could have run another 28 laps. The team did a fantastic job setting up the new chassis in just four hours of qualifying and this race was a great way to honour Antonio." (Antonio Cobas, who died last week, was Camel Honda's Technical Director)
Ducati MotoGP Team riders Loris Capirossi and Troy Bayliss finished in 6th and 14th places, putting the team in positive mood as they move back to Europe where most of the 16-race campaign will be contested. Neither rider enjoyed the best of times in yesterday's final qualifying session, but both fought back superbly from their starts to score important points in the Desmosedici GP4's first race.Loris Capirossi rode a storming race to sixth place at warm and sunny Welkom this afternoon. The Ducati MotoGP Team rider started from ninth on the grid, ended the first lap in eighth and then spent much of the race closing down Honda riders Nicky Hayden and Colin Edwards. He made it past Edwards, had the pace on Hayden but ended up just two tenths down on the American at the flag.
"I'm very happy with the result, I didn't expect something as good as this after qualifying," said Capirossi. "I gave 110 per cent all the way. We still have to do some work on this new bike but I really believe in Ducati. I think this race demonstrated that I'm very, very motivated for this season and ready to keep working at developing the bike into a winner."
Fortuna Gauloises Tech 3 riders Norick Abe and Marco Melandri finished the race close enough to each other on race time (44' 26.861 and 44' 34.024) with a ninth and 11th position respectively – but their races could not have been more different. Abe scorched into the top ten in his first race on a Yamaha M1 and further enhanced his reputation as a fast and determined racer while Melandri struggled after qualifying seventh fastest.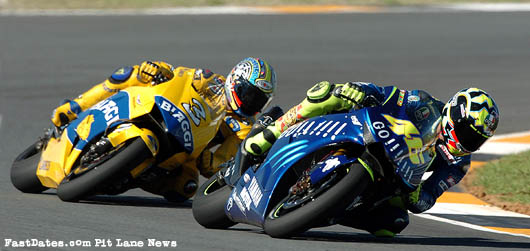 The race quickly turned into a runaway battle for the lead between Biaggi and Rossi in a pass and repass match that continued to the final lap where Valentino pulled out a slight 20 foot lead..
Valentino Rossi, 1st: 43' 50.218 "This is the best race of my career, it's a real surprise for us, for everyone, and it's difficult to explain the emotion. The weekend was perfect, starting with Friday. I rode well and I worked very well with the team. For me the race was perfect as well, starting from pole, I had a good rhythm and a good fight with Biaggi. I want to say a big thanks to my mechanics, especially Jeremy Burgess, and to Yamaha for all their efforts. At the end of the race I had a different emotion to normal; usually when I win I'm really happy but this time it was more and I had to stop for a moment with my bike to take it all in.
"The bike was quite good at full distance, although the tyres did start to move a bit after seven or eight laps, but after that they stayed constant and the bike stayed with me. I was slower in some parts, faster in others but I knew I couldn't make any mistakes if I wanted to win. Yamaha has made such a great effort and so much work to change their situation. Today's race showed that the level of this sport has greatly increased since last year but winning a race like this is not a miracle, it's down to all the hard work we've put in. It was fantastic!"
Carlos Checa, 10th: 44' 29.502
"We've been struggling all weekend to find a good setting and to get a better feeling, but we have not found the way. I didn't have enough grip on the side of the tyre when the bike was at an angle and this is something we are playing with constantly to try to improve. When I'm not confident of the grip my exit from a corner is too slow and it's difficult to pass on the brakes. I pushed hard when I caught up with Abe, but I just didn't have enough confidence. However, this is just the first race and we can still catch up; that is our mission. We have to analyse why this happened and work out how to improve the feeling. We'll see what happens in Jerez and I will look forward to racing there."
Davide Brivio – Gauloises Fortuna Yamaha Team Director
"We couldn't have had a better weekend than this. Of course we know this is not the end of our work; we've only just started and we have to keep going like this the whole season and provide the best possible support to Valentino. He was just fantastic. This was the race everyone wanted to see and it was great to be the winner. I think all the fans will be so happy and everyone at Yamaha as we've worked so hard in the last six months. Unfortunately Carlos has struggled all weekend and didn't have a good first race, but we can learn from this, check what's wrong with him and try to bring him to the front for the Jerez Grand Prix. I think he has the capability to be up front as soon as possible."
Masao Furusawa – General Manager, YMC Technology Development Division
"Racing needs a good rider, bike and organisation; otherwise you can not have a win. An exceptional rider has come to Yamaha and all I can say is thank you to him and his crew. Of course there are many other people involved in the project; other riders, engineers, staff and sponsors and I'd also like to thank them. Valentino really is the genius behind the bike. We've only been testing with him for three months this winter and we've achieved the first goal, now we have another fifteen goals!"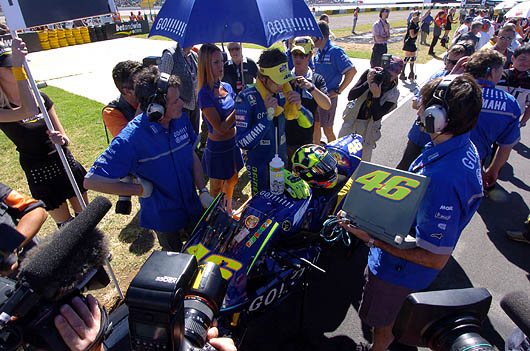 Race classification MotoGP, Round: 1 - South African Grand Prix
Circuit: Welkom , Circuit Length: 4242m
Lap Record: 1' 33.208 (Max Biaggi, 2004) Fastest Lap Ever: 1' 32.647 (Valentino Rossi, 2004)
MotoGP 990cc Race: 28 Laps
Pos. Rider Manufacturer Nat. Total Time
1 V. Rossi Yamaha ITA 43' 50.218
2 M. Biaggi Honda ITA +0.210
3 S. Gibernau Honda ESP +7.255
4 A. Barros Honda BRA +18.667
5 N. Hayden Honda USA +24.094
6 L. Capirossi Ducati ITA +24.375
7 C. Edwards Honda USA +28.855
8 M. Tamada Honda JPN +36.535
9 N. Abe Yamaha JPN +36.643
10 C. Checa Yamaha ESP +39.284
11 M. Melandri Yamaha ITA +43.806
12 S. Nakano Kawasaki JPN +43.920
13 J. Hopkins Suzuki USA +56.028
14 T. Bayliss Ducati AUS +56.558
15 S. Byrne Aprilia GBR +1' 13.831
Fastest Race Lap: 1 M. Biaggi Honda ITA 1' 33.208

Championship standings MotoGP
Pos. Rider Manufacturer Nat. Points
1 Valentino Rossi Yamaha ITA 25
2 Max Biaggi Honda ITA 20
3 Sete Gibernau Honda ESP 16
4 Alex Barros Honda BRA 13
5 Nicky Hayden Honda USA 11
6 Loris Capirossi Ducati ITA 10
7 Colin Edwards Honda USA 9
8 Makato Tamada Honda JPN 8
9 Norick Abe Yamaha JPN 7
10 Carlos Checa Yamaha ESP 6
11 Marco Melandri Yamaha ITA 5
12 Shinya Nakano Kawasaki JPN 4
13 John Hopkins Suzuki USA 3
14 Troy Bayliss Ducati AUS 2
15 Shane Byrne Aprilia GBR 1
Manufacturers Points MotoGP: 1 Yamaha 25 , 2 Honda 20 , 3 Ducati 10 ; 4 Kawasaki 4 ; 5 Suzuki 3 ; 6 Aprilia 1

Race classification GP250
Round: 1 - South African GP250 Circuit: Welkom , Circuit Length: 4242
Lap Record: 1' 35.593 (Sebastian Porto, 2004) , Fastest Lap Ever: 1' 35.300 (Randy de Puniet, 2004)
MotoGP 250cc Race: 26 Laps
Pos. Rider Manufacturer Nat. Total Time
1 D. Pedrosa Honda ESP 42' 4.690
2 R. de Puniet Aprilia FRA +0.536
3 S. Porto Aprilia ARG +5.859
4 M. Poggiali Aprilia SMR +24.561
5 A. de Angelis Aprilia SMR +30.018
6 A. Debon Honda ESP +30.653
7 F. Nieto Aprilia ESP +31.458
8 T. Elias Honda ESP +31.872
9 R. Rolfo Honda ITA +31.940
10 F. Battaini Aprilia ITA +35.643
11 H. Aoyama Honda JPN +36.418
12 H. Faubel Aprilia ESP +36.864
13 A. Vincent Aprilia FRA +39.105
14 D. Heidolf Aprilia GER +43.027
15 S. Guintoli Aprilia FRA +51.493
Fastest Race Lap: 1 S. Porto Aprilia ARG 1' 35.593
Championship standings GP250
Pos. Rider Manufacturer Nat. Points
1 Daniel Pedrosa Honda ESP 25
2 Randy de Puniet Aprilia FRA 20
3 Sebastian Porto Aprilia ARG 16
4 Manuel Poggiali Aprilia SMR 13
5 Alex de Angelis Aprilia SMR 11
6 Alex Debon Honda ESP 10
7 Fonsi Nieto Aprilia ESP 9
8 Toni Elias Honda ESP 8
9 Roberto Rolfo Honda ITA 7
10 Franco Battaini Aprilia ITA 6
11 Hiroshi Aoyama Honda JPN 5
12 Hector Faubel Aprilia ESP 4
13 Arnaud Vincent Aprilia FRA 3
14 Dirk Heidolf Aprilia GER 2
15 Sylvain Guintoli Aprilia FRA 1
---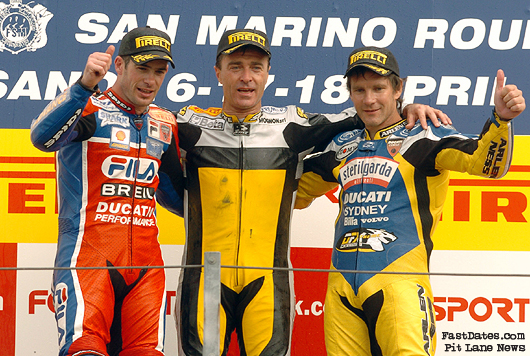 A happy Frankie in the middle of the Podium after Race 2 with Regis Laconi (left) and Steve Martin (right).
SBK World Superbike Championship 2004 Round 3 Misano
Frankie Chili Captures World Superbike Points Lead
with Dramatic Race 2 Win at Misano, Laconi Takes Race 1

Misano Adriatico, Italy, 16-18 June 2004: The fastest Superbike riders in the world had hoped for a dry day of race action, after the ever-changing track in qualifying, but it was another day of drifting parameters and conditions, and which delivered a win apiece to Regis Laconi (Ducati Fila) and Pierfrancesco Chili (PSG-1 Ducati).
Regis Laconi (Ducati Fila) finally launched his World Superbike championship challenge in a big way at the Misano Adriatico circuit with two superb races in front of 45,000 spectators. The 28 year-old French rider won the first, which was stopped six laps from the end due to the rain, holding off first race half leader Troy Corser in the Foggy Petronas Team's highest finish ever and Pier Francesco Chili , before picking up more championship points in Race 2 with second place.
It was the second race that really demonstrated the excitement and competiveness of this year's Championship which hasn't been seen in years. After choosing "wets" for the race, factory Ducati rider Regis led all the way on a drying track until the last lap, when he was passed by Pierfrancesco Chili (PSG-1 Ducati) in an extradordinary come from behind charge from 11th place. Laconi had opted for an intermediate rear tyre, which offered a better pace on a drying track up to the final laps in the 25-lap race. But it was Frankie Chili's decision before the start to trust his luck to a cut dry tire that would prove to be the deciding factor in the closing laps, awarding the now 40 year-old Italian Superbike hero from Bologna the lead on the final lap, and the race win.
Teary eyed on the podium, Frankie explaided his winning tire decision which also secured him a big 20 point lead in the early stages of this years Championship. "I got the choice of my tire from the sky (heaven). Last week my grandmother died and she helped me with the choice, and she was with me on the bike. And she say 'Don't worry, we going to win. Just wait at the beginning (of the race) and we will go toghter to win.'"
Superbike Race One:
In the first of the two Superbike races, scheduled for 25 laps, the victor's laurels went to French rider Regis Laconi (Ducati Fila), who hunted down and caught long term leader Troy Corser (Petronas FP-1) shortly before the morning rains returned and halted the race early. The lap count finally was 17, making for a full points score for all riders who finished in the top 15. In third place, the 998 Ducati of Pierfrancesco Chili was enough to take the 39-year-old rider to a popular podium finish. Just off the podium came the charging Noriyuki Haga (Renegade Ducati) followed by the yellow Ten Kate Honda of Chris Vermeulen in fifth.
The race started in the dry with Frankie Chile taking the lead into turn one followed by the green Foggy Petronas race bikes of team mates Troy Corser and James Toseland. Before the first lap had ended Corser had his FP1 bike in the lead of its first World Superbike race ever and began pulling away to the amazement of the crowd. Troy felt the 3-cylinder machine was perfectly suited to the medium speed corners of the Misano track and he soon had a comfortable 3 second lead.
Frankie soon found himself in a fierce battle for 2nd place with Mauro Sanchini on the Bertochi Kawsaki ZX 10, with Marco slipping past at one point to claim 2nd spot before the slippery track got the best of him and he crashed. Back in 5th place Regis Laconi was charging hard on the ducati 999F04, passing Walker, Garry McCoy who also crashed out his ZX-10 on the damp track, and then Noriyuki Haga on his Ducati.
Regis continued closed down the gap to leader Corser as the dark sky's began to rain on Troy's dry slicks were no longer finding grip. "I just pushed as hard as I could before the performance of the rear tyre started to wear off, especially on the damp patches. So I had to try and keep the times as consistent as possible as I knew someone was catching me, although I didn't know who it was. Laconi's bike was much quicker down the straights so it was no wonder that he did go past me! But my bike worked well and, apart from in one corner, we had the gearing right and also a good set-up."
Troy continued, "I am really pleased for PETRONAS, for the team and also for myself! It's been a while since I was out there leading a race and I can't help being frustrated that I didn't get the win. I didn't get my greatest start off the line but went round the outside of some riders at turn two as I knew I had to be in the top two or three early on to have any chance at all. Chris was in front of me but I got a draught off him and whipped out before then going round the outside of Chili."
Once Laconi was in the lead the rain was coming down pretty strong and he signaled the starter to stop the race the next time they ccrossed the line. "In race 1 I went slowly at the beginning because of the damp track", said Regis in the press room afterwards. "Then I realised that I was faster than the rest so I went to catch them one by one. The last lap was so dangerous and it was a good solution to stop the race."
Superbike Race Two:
With a fully wet track in front of them the field of riders chose mostly full wet tyre solutions. The exception proved to be Pierfrancesco Chili, on his latest spec of 998R, who made slow progress before charging through at up to two seconds per lap faster than his peers. He tracked Regis Laconi and on the final lap took the advantage over his championship rival, as his hard compound wet rear tyre became unsuitable for the drying track. In third place, Steve Martin (DFX Ducati) was fully 32 seconds behind Chili. In fourth, Noriyuki Haga was another charging force, while his team-mate in the Renegade Ducati squad, Leon Haslam, equally his best 2004 finish of fifth.
"The second race was really difficult because I was in the lead for 24 laps and then Chili passed me on the back straight on the final lap", said Regis. "We went for full wets because we thought it was going to rain again. Chili went for an intermediate rear, and he caught me on the last lap. I am very happy because I couldnít do much more today with the tyres I chose. I was sliding the rear around all over the track!. Finally I got the results I wanted to kick start my championship!"
The Pentagon: Chili's win made him the fifth different race winner, the others being James Toseland, Noriyuki Haga, Garry McCoy and Regis Laconi (twice). That is as many race winners are there were in all of the races in 2003. Kawasakis Come Of Age: The Bertocchi Kawasaki team witnessed Mauro Sanchini make some true headway in terms of the competitiveness, of the ZX-10. Sanchini led four of the second race laps, in the early wet laps, before sliding back to 11th due to tyre choice.
Points Standings: The points standings changed significantly in Superbike, with Chili's dazzling rides making him the new clear leader with 97, from James Toseland, who had two tough rides eventually finishing tenth and sixth after an abysmal qualifying in 20th. Laconi and Vermeulen share the 70-pointmark.
Superbike Race 1: (Laps 17 = 69,020 Km)
Pos /Rider /Nat. /Team /Time /Gap
1/R. LACONI/FRA/Ducati Fila/ 28'18.586/
2/T. CORSER/AUS/Foggy PETRONAS Racing/ 28'20.530/1.944
3/P. CHILI/ITA/PSG - 1 Corse/ 28'26.045/7.459
4/N.HAGA/JPN/Renegade Ducati/ 28'28.314/9.728
5/C. VERMEULEN/AUS/Ten Kate Honda/ 28'30.896/12.310
6/C.WALKER/GBR/Foggy PETRONAS Racing/ 28'32.716/14.130
7/S. MARTIN/AUS/D.F.Xtreme Sterilgarda/ 28'33.031/14.445
8/G.NANNELLI/ITA/Pedercini/ 28'55.546/36.960
9/P. BONTEMPI/ITA/Zongshen/ 28'55.965/37.379
10/J. TOSELAND/GBR/Ducati Fila/ 28'56.087/37.501
11/L. HASLAM/GBR/Renegade Ducati/ 29'00.650/42.064
12/I. CLEMENTI/ITA/Kawasaki Bertocchi/ 29'13.228/54.642
13/A. VELINI/ITA/UnionBike GiMotorsport/ 29'20.994/1'02.408
14/I. SALA/ITA/Team Anyway Fidoweb/ 29'23.938/1'05.352
15/G.LIVERANI/ITA/Caron Dream/ 29'23.983/1'05.397
Fastest Lap: 14 Rgis Laconi 1'38.339 148,629 Km/h
Km/h

Riders Championship Standings:
1 CHILI 97, 2 TOSELAND 77, 3 LACONI 70, 4 VERMEULEN 70, 5 HAGA 69, 6 MCCOY 55, 7 MARTIN 54, 8 WALKER 52, 9 BORCIANI 49, 10 CORSER 48, 11 HASLAM 40, 12 SANCHINI 32, 13 NANNELLI 26, 14 CLEMENTI 18, 15 BONTEMPI 14.


Superbike Race 2 : (Laps 25 = 101,500 Km)
Pos /Rider /Nat. /Team /Time /Gap
1/P. CHILI/ITA/PSG - 1 Corse/ 44'29.370/1.484
2/R. LACONI/FRA/Ducati Fila/ 44'30.854/32.259
3/S. MARTIN/AUS/D.F.Xtreme Sterilgarda/ 45'01.629/38.088
4/N.HAGA/JPN/Renegade Ducati/ 45'07.458/41.031
5/L. HASLAM/GBR/Renegade Ducati/ 45'10.401/45.176
6/J. TOSELAND/GBR/Ducati Fila/ 45'14.546/48.557
7/T. CORSER/AUS/Foggy PETRONAS Racing/ 45'17.927/1'01.446
8/L. PEDERCINI/ITA/Pedercini/ 45'30.816/1'04.891
9/L. PINI/ITA/Boselli Racing/ 45'34.261/1'17.110
10/M.BORCIANI/ITA/D.F.Xtreme Sterilgarda/ 45'46.480/1'37.339
11/M.SANCHINI/ITA/Kawasaki Bertocchi/ 46'06.709/1'37.760
12/C. VERMEULEN/AUS/Ten Kate Honda/ 46'07.130/1'44.683
13/C.WALKER/GBR/Foggy PETRONAS Racing/ 46'14.053/1'44.940
14/G.LIVERANI/ITA/Caron Dream/ 46'14.310
15/P. BONTEMPI/ITA/Zongshen/ 44'33.906/
Fastest Lap: 25 Pierfrancesco Chili 1'42.997 141,907

Manufacturers Standings:
1 DUCATI 150, 2 PETRONAS 71, 3 HONDA 70, 4 KAWASAKI 36, 5 SUZUKI 32, 6 YAMAHA 16.
Supersport
A seemingly certain Ten Kate Honda 1-2 ended up with a crash for long time leader Broc Parkes but a win for Karl Muggeridge in Misano, as he continued his high pace without major incident. The Supersport race started in wetter conditions than the second Superbike race, and was delayed by 40 minutes; such was the severity of the immediate pre-race weather. In second place, Kevin Curtain (Yamaha Motor Germany) is now in second place in the championship standings. Championship leader Jurgen van den Goorbergh (Yamaha Italia) went third, ahead of Suzuki rider Katsuaki Fujiwara. A good ride by Kawasaki Bertocchi rider Stefano Cruciani, in a strong podium place for long periods, ended in a crash.
Complete WWS race coverage and results in Tire Chatter column at right.