The number of participants buying passes to the event is growing frenetically and questions are being asked all over the world. Everybody wants to know, "What's Ducati got up its sleeve this time?" Well, those of you who come to WDW will be the first to hear the stunning announcement. Ducati CEO Federico Minoli will deliver the sensational and ultra-secret news about a great Ducati project that will be previewed on the stage at WDW on Saturday, May 22nd.
All motorcycle brands will be welcome. Ducati wants to give everyone a chance to join the world's greatest homage to the joy of motorcycling. Tens of thousands of motorcycling fans from around the world will be there: beginners and experts, bikers and non-bikers, Ducatisti and non-Ducati owners.
This year Ducati is preparing 7 days of amazing thrills for fans everywhere.For the first time, the track will be available to WDW pass holders: week-pass holders will be able to ride the track from Tuesday to Sunday. The track will also be open to Weekend pass holders. An area will be provided in the paddock for engine and frame set-up, so that all participants will be able to have their motorcycles prepared for the track by experts. There will also be an 11,000 feet sales area for Ducati products, with the entire range of Ducati accessories and apparel and the new WDW2004 Line, created just for the event, on display. The WDW Line, currently available online at www.ducati.com, consists of: caps, T-shirts and and useful keychain and porta-pass kits.
And that's not all: for the first time, Ducati will set aside a test ride area (3.4 km in length, open Tuesday to Sunday), where everyone will be able to try out the 2004 range of motorcycles, including the incredible Multistrada and cutting-edge 999 and 749 Superbikes.
But WDW2004 is not just about riding: Ducati is also preparing a fantastic array of leisure activities and entertainment. There will be a relaxation area, where participants can enjoy relaxing professional massages while listening to music; a gym fitted out with the latest Technogym equipment, and a beach area, set up with games like beach soccer and beach volleyball.
Fans at WDW2004 will be able to choose from a dizzying array of special events on the track, from displays by our most famous official riders, to the incredible stunts of Christian Pfeiffer, from an exciting drag car race, to a demonstration flight of Italy's new Mangusta attack helicopter and amazing fireworks displays in the night sky.And thanks to the support of our numerous sponsors, enthusiasts will have a daily opportunity to win prizes, from Alfa Romeo driving courses to dream trips offered by Ventaglio.
Also new at this year's WDW will be the Ducati Garage Challenge, our contest dedicated to Ducati Specials, held in partnership with Desmodromiclub of Rome. The contest will be divided into two main parts. The first part will be online - the ducati.com team, helped by the experts of Desmodromiclub, will select the thirty best entries. The second part will take place directly at WDW, where contestants will go head to head for the title of best mechanic and the best special will be crowned. Ducati Corse's official racers will be among those on the jury.
You also won't want to miss our WDW2004 exhibit of the amazing winners and honorable mentions of the heralded Design your Dream Ducati contest. Come see the incredible passion, talent and imagination of your fellow enthusiasts!Ducati has also organised a series of tours in collaboration with Curve e Tornanti, which will take riders through the most beautiful parts of Italy's historic region of Emilia Romagna.
This year at WDW2004, four laps with renowned former GP racer Randy Mamola on the blazing Ducati Desmosedici biposto will be up for grabs to the highest bidder of our Rider for Health Auction (starting at 500 Euro). All proceeds will go to Riders for Health and Clinica Mobile.
Finally, fans will be able to depart for the event on their Ducatis with hundreds of their fellow fans on Friday, May 21st, from either Rome, Piacenza, Bologna and Pescara, meeting together to create an endless "Big Red Snake" into the Misano circuit. The Big Red Snake was created in 1998 by the members of Desmodromiclub of Rome: in 2002 over 190 bikers rode together to WDW, for 2004 we anticipate more than 300!
And, of course, participants will have the incredible opportunity to chat and talk with our champion racers: the official Ducati Corse riders. There will also be many other sporting VIP present, all with a shared passion for Ducati. To sign up for the event and to get more information, please visit www.wdw2004.com
Event sponsored by Regione Emilia Romagna, Alice, AMD, Brembo, Adler, Dainese, Shell Advance, Fila, Ventaglio, Alfa Romeo, Malaguti, Michelin, Curve e Tornanti, Incorporesano.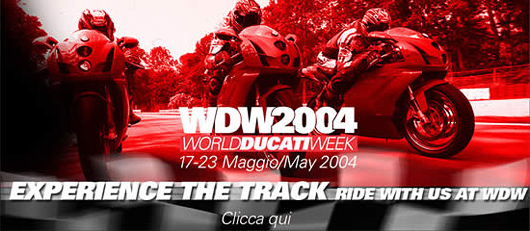 World Superbike Championship 2004 World Superbike Championship
Round 4 Monza, Italy 14-16 May 2004
Preview: World Superbike prepares for Warp Speed at Monza
May 12th - At The Speed of Light: With ultimate velocities of well over 300kmph and average lap speeds of over 190kmph Monza holds the crown as the fastest track on the SBK calendar. Despite the addition of numerous chicanes over the years, speed and power are the most important steps on the Monza podium ladder. Monza is one of the most atmospheric and traditionally sculpted circuits in world racing, a true giant among tracks - and one of the longest - at 5,793km. The oldest permanent European track still in regular use, Monza is located inside a former Royal Park, surrounded by greenery and the remains of the old circuit's steep banking. A place of memories and nostalgia, Monza is still a venue where modern SBK competitors get to practice their slipstreaming and racecraft in a unique fashion.
Leading Light: With no fewer than five different winners in six races so far this year, the 2004 version of World Superbike is as closely fought and unpredictable as ever. The adoption of a blanket 1000cc capacity limit, stringent technical regulation and the innovation of single make Pirelli control tyres have all contributed their part to this phenomenon. The latest race winner is also the pre-Monza championship leader, Pierfrancesco Chili (PSG-1 Ducati 999/998). At Misano on April 18 Chili sent his local crowd (and legions of his loyal fans around the world) into a frenzy of joy, securing his 17th career win, in his 223rd SBK race. The enduring and always entertaining Chili knows what it's like to win at Monza, having secured his first ever SBK victory there in 1995.
Fila Factory Power: Privateer Chili's speed and consistency have delivered him a 20-point championship cushion but at the high-speed academy of Monza, works power is always an important asset. The factory Fila Ducati riders, James Toseland and Regis Laconi, sit second and third overall in the table at present. More than any other riders, they will be looking to exploit any power advantage that their unique Ducati 999F04 machines may have. In this season, in which ultimate performance is within range of more teams than ever before, Monza will be an excellent test of how far the teams equipped with multi-cylinder 1000cc machines have progressed since the first round at Valencia on February 29th.
Honda Powers On: The foremost four-cylinder machine in the championship at present time is the Ten Kate Honda CBR1000RR Fireblade of Chris Vermeulen. The reigning World Supersport Champion has made outstanding progress since his promotion to Superbike, having secured two podiums already. The 21-year-old Aussie now sits in fourth place overall, 27-points off the lead. Monza is a circuit Vermeulen rates very highly and if his still-developing machine has improved sufficiently since Misano, he may be the darkest horse in the Monza firmament. As Vermeulen is the only rider in the top six without a win to his name this season he is particularly keen to join this increasingly inclusive club with all due haste. Other top-level four-cylinder entries come from the Bertocchi Kawasaki, MIR Suzuki and UnionBike Yamaha teams.
Winner's Circle: With Chili, Toseland and Laconi (2) having all won races so far, the other victories have gone to Ducati 999RS riders Noriyuki Haga (Renegade Ducati 999RS) and Garry McCoy (Xerox Ducati Nortel Networks 999RS). Monza will be less of a known quantity for SBK inductee McCoy, as this is his first full season of World Superbike, having enjoyed a glittering GP career.
Petronas Progress: The upwardly mobile Foggy Petronas team, running the unique three-cylinder Petronas FP-1 machine, has experienced a real measure of success this season. First off Chris Walker took a third place at Valencia on the opening day and more recently Troy Corser secured second place in race one at Misano. An interim engine specification will power their Monza assault, before a full revamp comes on stream for the Laguna Seca round in July. The team has managed to squeeze in a test of the new
motor in Spain and it has already been voted an improvement over the previous spec.
Supersport: The fourth round of the World Supersport Championship is expected to be the most knife-edge of them all, despite the recent success of Honda riders at the Monza speed bowl. Last year's winner Chris Vermeulen has moved on to Superbike duty for the Ten Kate Honda team, but the remaining combatants, Karl Muggeridge and Broc Parkes, know that Ten Kate CBR600RR Hondas have secured the past two Monza wins. The other four manufacturers involved in Supersport have already proved to have their own turns of speed this season, and with Championship leader Jurgen van den Goorbergh (Yamaha Italia YZF-R6) finishing second last year, and with his team hailing from the outskirts of Monza itself, there is great expectation from the official Yamaha camp. To underline the challenge, 2002 World Champion Fabien Foret (Yamaha Italia) won the '02 Monza race on his way to the title. Kevin Curtain (Yamaha Motor Germany) is another Monza favourite, and the all-new Suzukis of Katsuaki Fujiwara and Stephane Chambon, plus the factory Breil Ducati 749 of Lorenzo Lanzi, cannot be written off.
Webcam World: The trial use of webcams for interviews and other live coverage of the Superbike World Championship at Misano has been deemed a huge success and will continue for Monza (May 15th and 16th). Seen only on the official website for the series, www.worldsbk.com, the huge number of visitors using the interactive area has delighted the race organizers. The webcam initiative is one in a series of planned improvements to the www.worldsbk.com designed to give visitors not only more news and information on World Superbikes, Supersport, Superstock and the participating teams and riders but also to be directly involved.
Fidoweb provides live interviews, video highlights and video IRC chat facilities through the interactive interface on the SBK website using a minimum of three exclusive cameras. On the Saturday after Superpole, live interviews with the front-row qualifying riders from Superbike and the pole sitter from Supersport take place. During this session, visitors to the site can put their questions, seeing and hearing the answers the riders give those chosen. On the Sunday, there are two more sessions similarly covered following the end of the Supersport and two Superbike races. Other interviews are planned with many of the Championship's leading riders including Pierfrancesco Chili, James Toseland, Regis Laconi, Noriyuki Haga, Chris Vermeulen and Garry McCoy. Other chances to put questions in Italian or English to team personnel will take place over each weekend.
Fidoweb specializes in Internet broadcast techniques and uses the latest digital equipment and satellite links to ensure that everybody with internet access is able to take full advantage of this unique free service. FGSport will study the level of interest and, if it proves as successful as is anticipated, the company plans to expand the service to all events in 2005. The Championship website receives more than 32-million page views, 219-million hits and has in excess of 1,550,000 unique visitors. It is the definitive source of information on the Superbike World Championship.
---
MotoCreations to premier new Ducati based Sport Cruiser
at LA Calendar Motorcycle Show July 17-18th
April 30th, Los Angeles, CA - FastDates.com is excited to announce that designer and race car fabricator Mark Savory of MotoCreations.com based in Chandler, Arizona, will use the Los Angeles Calendar Motorcycle Show, held the July 17-18th 2004 weekend at the Queen Mary in Long Beach,CA, to premier in public his exciting new MotoCreations.com sport cruiser prototype bike based on Ducat'si venerable Monster with the new DS1000 engine.
Most Ducati and custom Harley owners are affluent enough to have more than one bike in thier garage, and many owners have bikes from both genres. However, the current motorcycle cruiser market has little to offer in a bike with the attibutes and advantages of both generes: a cool looking cruiser for bike night with your buddies and crusin' the strip, along with the performance and reliability and sound of a V-Twin production based sportbike. Savory decided to start his new company MotoCreations.com to create the right type of bikes the market was missing. The new MotoCreations Ducati based Sport Cruiser concept bike offers that in spades, and potentially at a very affordable price should it be put into limited production by Savory or mass produced by a manufacturer like Ducati.
You can see the world premier of the new MotoCreations Ducati based cruiser at the July 17-18th LA Calendar Motorcycle Show, along with many other sportbike attractions including the Jardine West Coast Horsepower Dyno Shootout, and The Las Vegas Extremes stunt riding team starring Pauly Sherer and beautiful JoJo Farmer. Complete information is available at http;//www.FastDates.com/BIKESHOW.HTM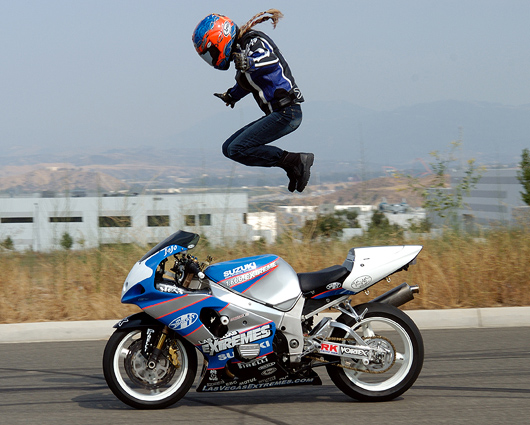 The Las Vegas Extremes will be featured at this year's LA Calendar Motorcycle Show with beautiful 19-year old model JoJo Farmer doing crazy shit like this. Meet JoJo in person and get her newest stunt riding video LVX Girls! Details
HERE
.