Oschersleben, Germany, May 28-30th: At one of the slowest and most tortuous circuit on the SBK calendar first Noriyuki Haga (Renegade Ducati) and then Regis Laconi (Ducati Fila) showed that they had what it took to win in front of an impressive 69,500 crowd. The Japanese may even have taken two wins, had his machine not expired in race two, but Laconiís triumph came after a difficult first race, in which he suffered a pitlane ride through penalty. Other podium players included James Toseland (Ducati Fila), Pierfrancesco Chili (PSG-1 Ducati) and rookie third place rider Leon Haslam (Renegade Ducati).
In The Mix: After two tough races in front of an excellent turnout of 69,500 people two proven powers in World Superbike, Noriyuki Haga and Regis Laconi ended their racedays with a win apiece. Another rider burning his pedigree into the memory of his rivals, Leon Haslam, came of age as he secured his first podium in World Superbike, finishing third in race two. To cap his celebrations, it will be his 21st birthday tomorrow (Monday 31 May), and 21 is the traditional British 'Coming Of Age' birthday celebration, when a youth becomes a man.

Pole Attraction? Troy Corser put the Petronas FP-1 on the pole with a little good luck help from our official SBK FastDates.com Calendar Angels Janelle, Chandi and Nicki.
SUPERPOLE QUALIFYING
Corser takes Petronas FP-1 to Historic SuperPole Win. Regis Leconi is Penalized
The first-ever Malaysian Superbike, the unique and technologically advanced Petronas FP-1 triple, powered Troy Corser to a lap time of 1:27.687 and his 29th career Superpole win – although it was a much more significant development for the manufacturer than for the 1996 World Champion Corser. Having endured some hard times in the past the Foggy Petronas Team took their first ever Superpole triumph in a mood of elation, as Corser stuck in the fastest lap of any qualifying session, with eight riders still to set their single flying lap. The second Petronas of Chris Walker finished Superpole with a second row grid start, and seventh best time.
Fast By Noriyuki: After some disappointments since his Valencia race win back in February the squat and powerful figure of Noriyuki Haga (Renegade Ducati 999RS) rocketed back into global focus after Superpole, another rider like Corser leaping up the grid order after a disappointing regular qualifying session. Haga was second in Superpole, after being eighth in practice. His team-mate Leon Haslam was a disappointed 12th, on the third row for Sunday's pair of 28-lap Superbike races.
First and Second - Rows: Regis Laconi (Ducati Fila 999F04) had another eventful day in World Superbike, as he had one engine fail and one crash in the final untimed regulation qualifying session, eventually running Superpole on his repaired crashed machine. He would finish third on the Superpole stopwatch and will also receive a penalty of a pit lane ride through in race one tomorrow, after his engine kill switch failed to work after his crash. His penalty means that he will be flagged in for a slow speed run down pitlane after five laps, rejoining the race immediately afterwards. The penalty only applies to race one.
James Toseland (Ducati Fila 999F04) struggled with machine set-up and will start the race from the
last place on the second row, in eighth. Frankie Front Row: On the pace all weekend, Pierfrancesco Chili (PSG-1 Ducati 998) will start the Oschersleben races from the last slot on the front row, clawing his way to the upper echelon after a tough competition in the wake of Corser's dominance. Injured privateer Ducati rider Steve Martin (DFX Ducati) swept his way forward to sixth. Toiling Hondas: The Ten Kate Honda CBR1000RR of Chris Vermeulen proved to be a difficult machine to set-up at such an endlessly twisting circuit, and the young World Supersport champion could only finish fifth in Superpole, with much work to complete in morning warm-up.
An even more dramatic situation would arise in Sunday morning's warmup session when front runner Noriyuki Haga would blow his race bike's engine, the team's 6th broken engine of the weekend leaving them with no spare to change to. The Renegade team would pull the engine apart and rebuild it in the hald hour wait before the day's First Race - normally a 4 hour rebuild - and would have Nori back on the grid in time to make the fist race start.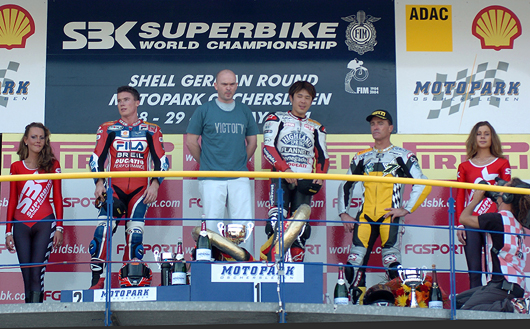 Noriyuki on top of the podium in Race 1 for the secong time this season, flanked by Toseland and Chili.
Race 1: Haga Inherits a Runaway Victory
Pre-race championship leader Regis Laconi (Ducati Fila 999), having been punished with a pitlane Ride Through Penalty after his engine kill switch failed to work in pre-race qualifying, had to watch other riders pick up the first race silverware on offer at Oschersleben. Laconi found himsel in the lead pack immediately off the start and did his best to pass Troy Corser for 3rd position before he was required to pull into the pits for his imposed Ride Through. Regis thumbed a switch on the handlebar of his Ducati which electonically limited his 999F04's speed to the rquired 85kph as he rolled down the length of Pit Lane and then out again to rejoin the field near the back in 20th position. Regis would then turn the quickest laps of the race as he worked his way back to 6th place by the end of the rrace, earning enough valuable points to keep himwell in the hunt in this year's topsey turvey Championship battle.



James Toseland 952) and (7) Franki Chili battled for 2nd behind Haga.
Meanwhile it was Noriyuki Haga (Renegade Ducati) who was unopposed from the first lap in the Oschersleben opener, adding a race win in Germany to his previous race win in Spain. Nori took the race start ahead of chili, Corser, laconi, vermeulen and Toseland and proceed to pull away from his persuers at nealy half a second per lap. With Laconi out of contention after lap 7 due to his penalty, a close fight for second in the final laps went to James Toseland (Ducati Fila 999 F04), from Pierfrancesco Chili (Ducati PSG-1 998RS). Fastest in Superpole, Troy Corser (Petronas FP-1) was a fine fourth, albeit well down on the podium fight, with Steve Martin running a lonesome race into fifth position. Chris Vermeulen (Ten Kate Honda) dropped down the order, in part due to a slipping clutch and only finished 15th. After Michael Shulten (Alpha Technik Honda) crashed, attempting to pass Vermeulen, the highest placed wildcard was Jurgen Oelschl‰ger (Alpha Technik Honda) in eighth place, one behind Leon Haslam.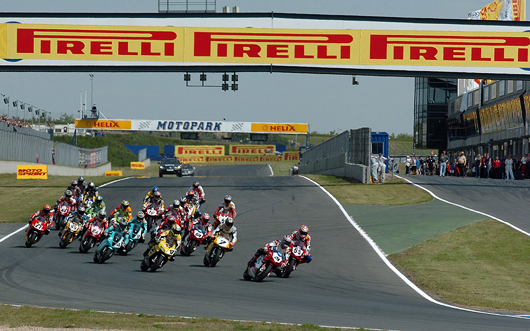 RACE 2: Laconi Puts the Ducks in a Row
Starting on level terms in race two, Regis Laconi was nonetheless left trailing behind Nori Haga for much of the race as the Japanese star agaon again click off lap times half a second quicker than his persuers which included Laconi, Vermeulen, Chili and Corser. Then tragedically on lap 23 of 28 with a 2nd sure win of the day seemingly within his grasp, the well worn engine on his Renegade Ducati gave up the ghost Hagawas forced to retire. Laconi was handed the race win as Fila ducati team mate James Toseland earned his second runner-up place of the day, and his fourth in succession, as he finished 21 seconds down.
Bad luck also struck Frankie Chili for the 2nd race meet in a row as he lost the front end of his PSG-1 Ducati going in Turn One on lap 6 while running strong in 3rd place. The same fate fould befall Troy Corser as the top qualifier crashed out his FP-1 without injury on lap 16.
Another rider burning his pedigree into the memory of his rivals, Leon Haslam, came of age as he secured his
first podium in World Superbike, finishing third in race two. Having changed the tyre choice for the second race Leon Haslam scooped his first podium in SBK racing, an excellent ride from a rider who turns 21 tomorrow. To cap his celebrations, it will be his 21st birthday tomorrow (Monday 31 May), and 21 is the traditional British 'Coming Of Age' birthday celebration, when a youth becomes a man. Steve Martin (DFX Ducati) had a huge highside crash after his engine seized and Garry McCoy (Scuderia Carachi 999RS) held off the close attention of Gianluca Nannelli (Pedercini Ducati 998).
Pirelli Spec Tires
The switch to Pirelli as the exclusive Spec Tire for the SBK World Championship for 2004 and 2005 has added an important major money sponsor to the Championship to help it survive during its current lean years until all the major factory teams return, possibly in 2006. In the mean time Pirelli has no competition from other tire manufacturers where it has to produce special race and qualifying tire compounds each race on a week to week basis to try and win. This is a good thing both for the race teams and the racing to keep everone close and even. Although it certainly isn't the best for turning the quickest lap times.
This week at Oschersleben where the track has remained unchanged in World Superbike from year to year offeres a good indicator for a spec tire performance comparison. Noriyuki Haga's fasted race lap time this year on his new 999RS 04 Ducati was a 1'28.629. This time was some 2.2 seconds slower than Colin Edward's lap record time set back in 2002 on possibly Michelin qualifying tires. With Troy Corser's Superpole timethis year of 1'27.687 also being about 1.2 seconds slower than Edward's time on Michelin Qualifiers.
Giorgio Barbier (Pirelli Racing Manager):"It was really interesting to see what would happen between Laconi and Haga, the race winners today . Toseland and Laconi made the same choice, while Haga and Haslam in the first leg chose different tyres from the Fila Ducatis, and in the second one they made the same choice as the Fila guys, quite good solutions. What we have seen is that people are using one solution to suit their set-up, not just the condition of the racetrack. This is becoming a reality every time. We brought a new front solution here. The B was a new compound and it was used by 90% of riders and they had good results. So we will continue with this tyre to improve the development of the front compounds."
Superbike Race 1: (Laps 28 = 102,676 Km)
Pos /Rider /Nat. /Team / Time /Gap
1/N.HAGA/JPN/Renegade Ducati/ 41'49.906/
2/J. TOSELAND/GBR/Ducati Fila/ 41'55.070/5.164
3/P. CHILI/ITA/PSG - 1 Corse/ 41'55.229/5.323
4/T. CORSER/AUS/Foggy PETRONAS Racing/ 42'02.930/13.024
5/S. MARTIN/AUS/D.F.Xtreme Sterilgarda/ 42'10.088/20.182
6/R. LACONI/FRA/Ducati Fila/ 42'14.660/24.754
7/L. HASLAM/GBR/Renegade Ducati/ 42'17.206/27.300
8/J. OELSCHLÄGER/GER/Alpha Technik/ 42'20.414/30.508
9/G.MCCOY/AUS/XEROX - Ducati Nortel Net./ 42'22.167/32.261
10/M.SANCHINI/ITA/Kawasaki Bertocchi/ 42'27.566/37.660
11/I. CLEMENTI/ITA/Kawasaki Bertocchi/ 42'35.706/45.800
12/G.NANNELLI/ITA/Pedercini/ 42'38.614/48.708
13/A. MEKLAU/AUT/Yoshimura Schäfer Motorsport/ 42'42.384/52.478
14/P. BONTEMPI/ITA/Zongshen/ 42'51.433/1'01.527
15/C. VERMEULEN/AUS/Ten Kate Honda/ 42'53.702/1'03.796
Fastest Lap 6° Noriyuki Haga 1'28.789 148,681 Km/h
Superbike Race 2 : (Laps 28 = 102,676 Km)
Pos /Rider /Nat. /Team / Time /Gap
1/R. LACONI/FRA/Ducati Fila/ 41'50.459/
2/J. TOSELAND/GBR/Ducati Fila/ 42'12.008/21.549
3/L. HASLAM/GBR/Renegade Ducati/ 42'15.144/24.685
4/G.MCCOY/AUS/XEROX - Ducati Nortel Net./ 42'17.872/27.413
5/G.NANNELLI/ITA/Pedercini/ 42'21.080/30.621
6/M.SANCHINI/ITA/Kawasaki Bertocchi/ 42'26.459/36.000
7/C.WALKER/GBR/Foggy PETRONAS Racing/ 42'32.542/42.083
8/C. VERMEULEN/AUS/Ten Kate Honda/ 42'37.403/46.944
9/I. CLEMENTI/ITA/Kawasaki Bertocchi/ 42'37.480/47.021
10/A. MEKLAU/AUT/Yoshimura Schäfer Motorsport/ 42'37.698/47.239
11/P. BONTEMPI/ITA/Zongshen/ 42'46.379/55.920
12/A. VELINI/ITA/UnionBike GiMotorsport/ 42'47.939/57.480
13/J. MRKYVKA/CZE/JM SBK/ 42'08.867/1 Lap
14/C. BERTHELSEN/NOR/Suzuki Netthandelen/ 42'33.805/1 Lap
Fastest Lap 5° Noriyuki Haga 1'28.629 148,949 Km/h
SBK World Superbike Championship Standings:
Riders: 1). .J. Toseland Ducati Ducati Fila 157; 2). R. Laconi Ducati Ducati Fila155; 3). P. Chili Ducati PSG-1 113; 4). G. McCoy DucatiXerox Nortel107; 5). .N. Haga Ducati Renegade 94; 6). Vermeulen 92, 7). Haslam 89, 8). Corser 79, 9). Walker 78, 10). Martin 73.
Manufacturers Standings: 1 Ducati 250, 2 Petronas 112, 3 Honda 99, 4 Kawasaki 64, 5 Suzuki 56, 6 Yamaha 26.
Hondas excluded from Victory in Supersport
Karl Muggeridge (Ten Kate Honda) was at first crowned conqueror of Oschersleben and then, like all top six Honda finishers, was excluded from the results after a discrepancy was found in the homologation of the rear wheel spindle. Broc Parkes (Ten Kate Honda) and Sebastien Charpentier (Klaffi Honda) were also excluded from the podium results, making the eventual winner Stephane Chambon (Alstare Suzuki) from Katsuaki Fujiwara (Alstare Suzuki) and Jurgen van den Goorbergh (Yamaha Italia). Kevin Curtain (Yamaha Germany) fell out of contention, and Fabien Foret (Yamaha), another rider looking like he could take a podium, retired with a seized rear wheel.
Another day spent consulting the rules and regulations of the FIM handbook meant that the original race classification was overturned, and all of the top Honda riders were excluded from the results - for rear wheel
axles which were not as originally homologated. That put all three podium finishers, Karl Muggeridge, Broc Parkes and Sebastien Charpentier out of the reckoning. That in turn left the real race winner as Stephane Chambon (Suzuki); second his Alstare team mate Katsuaki Fujiwara and in third place the championship leader Jurgen van den Goorbergh.
The championship table now reads, Van Den Goorbergh 89, from Muggeridge 62, from Fujiwara 54. There is an appeal in place on this decision, and a final decision will be made at an FIM meeting in Geneva, after the race. The next races, in SBK and WSS championships, will take place at Silverstone, on June 13.

Championship Standings:
1.J. Van den Goorbergh YamahaYamaha Italia89; 2. K. Muggeridge Honda Ten Kate 62; 3. K. Fujiwara SuzukiAlstare Corona47; 4. S. ChambonSuzukiAlstare Corona34; 5. K. Curtain Yamaha Motor Germany 33
---
Party and Attend Free Seminars with
America's Top Custom Bike Builders at the
LA Calendar Motorcycle Show Weekend July 17-18th
The Los Angeles Calendar Motorcycle Show Weekend sponsored by Performance Machine held at the Queen Mary Event Park in Long Beach, CA, continues to grow every year as the most popular consumer street bike show in America catering to custom, cruiser, classic and sportbike enthusiasts. Always the 3rd weekend of July, the 13th Annual Show is scheduled for Saturday July 17th and Sunday July 18th, 2004.
The Show features a huge weekend of activities with over 160 major motorcycle and product manufacturers, exhibitors and venders, together with the leading custom bike from across America. There's an incredible lineup of activities including the Jardine Performance West Coast Horsepower Dyno Shootout - now an exclusive permanent feature attraction at the Show, new bike demo rides from select motorcycle manufacturers, and free complimentary admission to the Queen Mary historic ocean liner. Plus a special appearane by the Las Vexas Extremes stunt sportbike riding team featuring beautiful 19-year old stunt girl JoJofarmer.
As always the LA Calendar Show offers the premier Custom, Sportbike and Classic Bike Contest on the West Coast featuring many of top bike Pro and Amateur builders in America vying for the prestigious Performance Machine Best of Show Trophy. Jesse Rooke will return to premier his latest cutting edge custom in a bid to secure Best of Show for the 3rd year in a row, but competition will again be intense from many other top builders including Paul Yaffe, Don Chica, Ron Simms, Mike Stafford, Cyril Huze, Roger Goldammer, Harold Pontarelli and many others. The Calendar Show, its bikes and builders, and exhibitors receive more national media coverage in major motorcycle magazines including Iron Works and in TV programs on Discovery, Spike, and with our Show's associate sponsor Speed TV's American Thunder. Other major TV networks planning coverage of the Show for their motorcyle programs include the Discovery Channel and Spike TV.
A new attraction this year will be free Bike Builder's Seminars held both days at the Show, conducted by the leading custom bike builders in America as featured in the Iron & Lace calendar. And then on Saturday night aboard the Queen Mary in the historic Observation Room Bar will be the Iron & Lace Calendar Builders Night Party from 9pm on with all the top calendar bike buiders in attendance. For additional details go the Bike Show.
---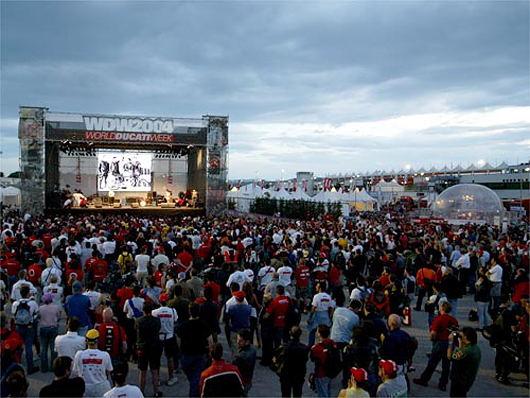 World Ducati Week coverage
HERE
. . . .