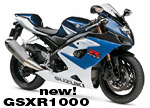 First Look! All New 2005 Suzuki GSXR1000
Pro Italia MV Agusta Open House Sat Oct 9th -
Join Pro Italia, Glendale, CA, Saturday October 9th, as they celebrate the newest marque in their showroom, MV Agusta. They will be hosting the North American unveiling of the MV Agusta F4 1000 "Mamba", #11 of 300 worldwide. They also hope to have an F4 1000 "Ago" edition for your viewing pleasure - another rare treat. Bring a contemporary or vintage MV Agusta for display on Saturday and receive a free MV AgustaT-shirt.
Info: ph 818 249-5707
And of course, our own FastDates.com Calendar Angell "Rockin' Robon" Cunningham will be bring you the world's first test and photos of the new Agusta F4 1000 "Mamba" in the next few weeks. So stay tuned.
Ducati Corse to Triple Tag Team Attack the final
AMA Nationals at VIR with Laconi, Lanzi & Bostrom
Alton (Virginia) - October 6, 2004: When it comes to Superbike Racing, Ducati takes its job very seriously and does not like to loose. Postponed by Hurricane Ivan, the rescheduled AMA season finale taking place this weekend at Virginia International Raceway, with the exciting triple-team of Eric Bostrom, Regis Laconi, and Lorenzo Lanzi riding factory Ducati 999Rs under the Parts Unlimited Ducati Austin banner.
Eric Bostrom, who was sidelined from the original VIR meeting due to shoulder and rib injuries from his Road Atlanta incident, has had three additional weeks to heal and has been given the green light to race by orthopedic specialist Dr. Art Ting.
"I'm probably one of the few people who benefited from Hurricane Ivan, so sometimes things really do work in your favor!" joked the 27-year-old American. "That being said, I'm looking forward to racing at VIR. I haven't raced there in several years and it's one of the better racetracks that we go to. It also seems that the event has been growing every year, so that makes it fun too. And with Regis and Lorenzo there it's going to be quite a full Ducati Squad! The shoulder has been healing nicely and I hope that it isn't a limiting factor in my performance when I get on the bike Saturday."
With the World Superbike season wrapping up this past weekend at Magny-Cours, France, Ducati Fila rider Regis Laconi is now set to take part in the final AMA Superbike race. Regis was a close runner-up by nine points to his team-mate James Toseland in this year's hard-fought series, but was consistently the fastest rider on the track with 7 wins, 5 pole positions and more laps in the lead than any of his rivals. The 29-year-old Frenchman had a brief shakedown with Michelin tires on the short Magny-Cours test-track last Monday before flying out to the U.S.
"World Superbike one week and AMA the next – it's a big change and it's all happening so quickly!" declared Regis. "There isn't much time to prepare for it but I'm very happy to race the same bike on Michelin tires in America. Obviously I know the Ducati 999 very well but the track and the AMA opposition will be different. I have to learn quickly but the good thing is that I have my engineer Ernesto Marinelli and my World Superbike team with me. I will give my best like always so I am sure that we can get a good result."
Ducati Breil factory World Supersport rider Lorenzo Lanzi has visited the Virginia track once before, during a test session in August. In his first year in World Supersport, the 22-year-old Italian finished fifth overall and is now excited about finally getting his AMA debut.
"This is a very important race for me and for Ducati," commented Lorenzo. "Ducati Corse are sending Regis as well and they aim to finish the AMA season with the best possible result. The test in August was actually not that useful as we didn't get much time there because of the rain, but it helped to get to know the track and that's important because this time we've only got Saturday for practice and qualifying. It's not going to be an easy weekend for sure, but I'm going there with the aim of doing well and finishing ahead of as many factory riders as possible. Whatever the result, it's great satisfaction for me to form part of this Ducati super-team."
Ducati plans to make the season finale a special occasion for Ducatisti, fans, and dealers. An AMA Superbike grid with three Ducati 999Rs at VIR is the perfect showcase for a bike the press is calling "The best V-twin ever." Like all AMA races, Ducatisti are welcome at the Ducati hospitality area in Turn 4 for refreshments, food, and celebration of their passion. Dedicated Ducati parking will be available along with t-shirts, free kickstand pads, and door prizes. Don't miss this rare opportunity to see Ducati Corse riders Laconi and Lanzi battle alongside American hero, Eric Bostrom. All three will sign autographs together at the Ducati hospitality for the fans.
Ducat AMA Superbike Team Expanding to 2 Riders in 2005
Oct 4th - Despite an up and down season on the Ducati Austin team with Eric Bostrom this year, Ducati Corse seems intent on keeping the American rider on the 2005 team as well But to help Ducati have a better chance at the winning the AMA Superbike Championship in their biggest market, Ducati will expand their Parts unlimited Ducati Austin team to 2 riders for 2005.
Either Regis Laconi or Lorenzo Lanzi could be that 2nd rider, with their rides in the AMA National this Oct 10-11th weekend at VIR being a partial determining factor.
New 2004 World Superbike Champion James Toseland will certainly remain on Ducati Corse's SBK team for 2005 to finally give Ducati a Number 1 plate to run the following season, as all their previous champions had abidcated. But the number 2 spot on the SBK team could go to Neil Hodgson, Ducati's 2003 Superbike champ who is having a disappointing and financially unsuccessful season in MotoGP this year on the D'Antin Ducati.If Hodgson does return to the Corse SBK team in 2005, then either Laconi or Lanzi are the likely canidates for the second spot on the AMA team.
James Toseland, meanwhile, will be testing a 2005 model 999F atMugello on the Oct 10-11th weekend before heading to las Vegas with his pals to celebrate winning the 2004 SBK World Championship.

Zdenka is Back...
...and Hotter Than Ever!
We'd like to re introduce you to our beautiful FastDates.com calendal Angel, Penthouse Pet and Czech mate Zdenka. This beauty from Prauge has been featured in our calendars since 2001, and was our offical SBK Fast Dates Calendar girl at Laguna Seca in 2002 with those photos appearing in 2003 Fast Dates. Zdenka has also served as the official Aprilia MotoGP umbrella girl (left) at her home circuit of Bruno the last 3 years wearing some pretty sexy domimatrix gear.
Zenka returned to Los Angeles this summer looking hotter than ever and we were happy to shoot her for the next 2006 Calendars, plus a sexy nude pictorial for our Members Corner where you can visit Sexy Zdenka right now!


New 2005 Fast Dates
Garage Girls, Iron & Lace
- Order Now.
Be warned - We under printed this year and will sell out early.
Ask your favorite dealer to order them now, or click on the cover to order online..

---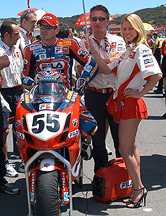 Robin grids Regis Laconi.

Robin does the new
2005 Ducati 999R05
The world's first test only at FastDates.com

FastDates.com Screensavers
- Because Robin Loves You!
• Robin & 999R05 -Stunt Road
• Robin & 999R05 - Scott's Road
• Ducati 999R05 - Front
• Ducati 999R05 - Rear

Robin Cunningham was our offical SBK World Superbike Fast Dates calendar Angel and Team Ducati Corse umbrella girl for World Championship points leader Regis Laconi at Laguna Seca. All the the sexy details are in Fast Dates News.

Also look for "Rockin Robin" featured as hostess on 3 new TV shows premiering this fall. Robin will be hosting the WB Channel's new X-Music Network show starting in September where she will be interviewing hot up and coming new bands. She will also be hosting on Black Belt TV, a new martial arts TV network premiering in November, as well as the new TV series Underwater Odessy about swimming with Dolphins on the ABC Family Channel.

World Superbike Heats up in 2005 with Corser and Haga moving to Japanese teams
Word has it former Wold Superbike Champion Troy Corser will be leaving the uncompetitive Foggy Petronas team after 3 years, possibly to join an expanded Ten Kate Honda SBK superbike team in 2005 alongside race winner Chris Vermeulen. While other top Superbike star Noriyuki Haga will be racing for the European based factory Kawasaki team. It looks like the SBK World Championship will be returning to a very competitive multi-brand series again. Although this year's 5-way title battle was the closest and hardest faught title bout ever, thanks in part to the spec Pirelli tires.

Alstare Suzuki returns to World Superbike in 2005
Oct 4th - The factory supported Alstare team which is sponsored by Corona will mark its return to World Superbike in 2005. Both Troy Corser and Noriyuki Haga are also prime candidates for the Alstare Suzuki team, along with Japanese rider Yukio Kagayama.

Corser's big Bankroll
If Corser leaves the Foggy Petronas team after 3 years, he will be giving up the richest ride in World Superbike, considered to be $1 million per year. Suprisingly with all its millions of dollars to throw around on riders and expensive paddock hospitality camps, the team does not spend the money to build a competitive full 1000cc superbike motor, rather then continue to stretch the limits of their 900cc
3-cylinder GP derived hand granade.

Broc Parkes to Yamaha Germany for World Superbike
Oct 3rd - Runner up behind Muggeridge on the Ten Kate team in World Supersport this season, Aussie Broc Parks has signed with the Yamaha of Germany distributor teamfor 2005 World Superbike.

All the Japanese teamas are returning to the SBK Championship near year under the guise of privateer and national distributor teams. It is extreamely disappointing that America will not have an SBK round in 2005, in what just might be the Championship's most competitive season ever.

Yamaha paves the way for the 2005 American MotoGP
Laguna Seca, USA
Sept 30, /2004 - Yamaha Motor Corporation, USA is stepping up to fund the track safety improvements required by the Federation Internationale de Motorcyclisme (FIM) to homologate the track for the 2005 Red Bull U.S. Grand Prix, round nine of 17 in the 2005 MotoGP World Championship.
In addition to sponsoring the track improvements, Yamaha is serving as the official motorcycle at Mazda Raceway Laguna Seca and as a "Proud Sponsor" of the Red Bull U.S. Grand Prix through 2007.

"We're thrilled by the interest from Yamaha in particular and the motorcycle community overall in this event coming to the U.S.," said Gill Campbell, CEO/general manager of Mazda Raceway Laguna Seca. "Yamaha's generosity has made it possible to bring the MotoGP World Championship back to the USA for the fans to enjoy."

"Helping bring the MotoGP World Championship back to the U.S. was an excellent opportunity for us to show our appreciation for our customers and fans," said Bob Starr, corporate communications manager, at Yamaha Motor Corporation, USA. "And since this race corresponds with Yamaha's 50th anniversary, we could think of no better way to celebrate than with over 100,000 U.S. fans."

Plans for the track improvements were completed in concert with Claude Danis, president and circuit inspector for the FIM, and the necessary permits are being obtained. Work is scheduled to begin in November, with the first phase to increase runoff area in Turn 9 (Rainey Curve). The Turn 9 bridge will be moved Dec. 22 through 24 to an area between Turns 8A and 9. The track will remain open during this phase of construction.

Other changes being made to the circuit include widening the front straight by moving the outside (riders' right) wall back and increasing the run-off area in several turns, including Turn 2 (Andretti Hairpin). These changes will be made when the track is shut down completely from May 2–June 15. The paddock will remain operational during this time.

Tickets for the 2005 Red Bull U.S. Grand Prix are on sale now. General admission tickets and a limited number of paddock passes are on sale via the track's ticket office – 1-800-327-SECA (7322) – during normal business hours or online at www.laguna-seca.com/Tickets.

AMA Supermoto Championship Finale
to be held at
Bally's Las Vegas
PICKERINGTON, Ohio (Oct. 1, 2004) -- AMA Pro Racing announces that the 2004 AMA Championship finale, the AMA Red Bull Supermoto-A-Go-Go, will be held at Bally's in Las Vegas on Saturday, Nov. 13. Additionally, Paris Las Vegas will host the annual AMA Pro Racing Awards Banquet the next day on Sunday, Nov. 14. The two attached hotels are located on the world famous Las Vegas Strip.

"We're thrilled to bring the AMA Red Bull Supermoto A-Go-Go to the Strip in the heart of Las Vegas," said Chris Bradley, AMA Supermoto Series Manager. "Our friends at Red Bull know how to throw a great party and this event will be huge."
Riders expected to compete in the finale include former AMA Motocross champs Jeff Ward, Doug Henry, Jeremy McGrath and Travis Pastrana; three-time AMA Superbike Champion Doug Chandler and former 500cc Grand Prix world champion Kevin Schwantz from road racing; and freestyle motocross legend Mike Metzger. Up-and-coming Supermoto stars such as Chris Fillmore, Ben Carlson and Mark Burkhart and a few prominent regulars from the international ranks, including Jurgen Kunzel, Kurt Nicoll and Alexandre Thiebault are also expected.
Bradley added that the finale is sure to be loaded with even more international stars from around the world, possibly making it the greatest collection of motorcycle racing talent from various disciplines on one track.

"Last year we had interest from several world championship competitors, but they weren't eligible to race based on the qualifying criteria. This year the rules allow FIM world competitors to race in the AMA Supermoto finale. This should lead to a number of additional big name riders competing along side the prominent lineup of riders already slated to race," said Bradley.

Las Vegas resident and AMA Superbike road racer Ben Bostrom, won last year's winner-take-all Supermoto class title at the AMA Red Bull Supermoto-A-Go-Go championship finale in a breathtaking race in what many referred to as the best AMA race of any series last year. Former AMA Motocross Champion, Grant Langston won the Supermoto Unlimited class title. Both are expected to return to Vegas.

The AMA Red Bull Supermoto-a-Go-Go will be pivotal in determining the championship picture as the race pays double points for the first five finishers in both the Supermoto and Supermoto Unlimited classes.

Near the hustle and bustle of the Strip, an entertaining track mixed with high-speed pavement and technical Parts Unlimited UrbanCross and dirt sections will be constructed on the grounds behind Bally's and Paris.

This year's event will be free admission with pit passes available for purchase. Visit www.redbullsupermotoagogo.com and www.amasupermoto.com in coming weeks for detailed event information.
For immediate post-race results, points, live transponder scoring, in-depth series and rider information and much more, log onto www.amasupermoto.com.

Foggy focuses on further development for FPR
Oct 3rd - Foggy PETRONAS Racing riders Troy Corser and Chris Walker scored a top ten double in the final race of the 2004 Superbike World Championship to complete a second season of development for the PETRONAS FP1 and Carl Fogarty's team.

Chris also finished the first race of the day at the French circuit of Magny-Cours in eighth place, although Troy was unable to capitalise on his pole position performance of Saturday when engine trouble brought an early end to his race.

And Carl Fogarty was able to take encouragement from both the final round and the season as a whole as his team enter an extensive programme of winter development of the PETRONAS FP1 – the first Malaysian superbike.

He said: "This was just our second year of development and we have made big steps forward again. There have been a few highs, with our two podiums and two pole positions, and also a lot of top six finishes. The new PETRONAS engine development team have not had much time to get their teeth stuck into the task but now we have a full winter of testing and development ahead of us and there is no doubt that we will be stronger next year, albeit in a stronger championship. So the aim for next year is to be running in the top five or six and challenging for podiums in every race.

"The weekend was an improvement on the previous couple of rounds but we probably expected more after Troy's incredible pole position yesterday. Our hopes were high for a couple of top six finishes and we were only just outside that, so it wasn't a bad weekend."
Troy was lying in sixth place when he was forced to retire from the first race on the 14th lap with a broken engine. And, despite further technical difficulties in the second race, he finished seventh to finish the season ninth in the rider standings with a total of 146 points.

He said: "The season has been a bit up and down. I have been riding well although small problems have meant too much time in the pit box. But PETRONAS and the whole team have done a great job and it should be good for next season. Everything came together for Superpole yesterday and it was fantastic to be finishing the season on such a high. W e were still a little bit slow on top speed up the back straight and, although I was trying to hang on after two good starts, it was a bit frustrating because the bike was much better this weekend."

Chris battled hard in both races to finish eighth, despite also enduring clutch problems from early in the race, to end the season in 11th place just two points behind Marco Borciani with a total of 128.