New 2005 Fast Dates
Garage Girls, Iron & Lace
- Order Now.
Be warned - We under printed this year and will sell out early.
Ask your favorite dealer to order them now, or click on the cover to order online..

---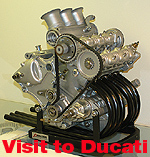 Naked Desmosedici!
Exotic Prototypes,
Naked Pinup Calendars
FastDates.com takes an exclusive visit inside the very exciting Ducati Corse and very boringly restricted
Honda MotoGP Race Shops!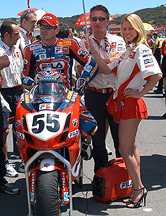 Robin grids World Championship points leader Regis Laconi.
FastDates.com Screensavers - Because Robin Loves You!
• Robin & 999R05 -Stunt Road
• Robin & 999R05 - Scott's Road
• Ducati 999R05 - Front
• Ducati 999R05 - Rear
Robin Cunningham was our offical SBK World Superbike Fast Dates calendar Angel and Team Ducati Corse umbrella girl for World Championship points leader Regis Laconi at Laguna Seca. All the the sexy details are in Fast Dates News.
Also look for "Rockin Robin" featured as hostess on 3 new TV shows premiering this fall. Robin will be hosting the WB Channel's new X-Music Network show starting in September where she will be interviewing hot up and coming new bands. She will also be hosting on Black Belt TV, a new martial arts TV network premiering in November, as well as the new TV series Underwater Odessy about swimming with Dolphins on the ABC Family Channel.
World Superbike Heats up in 2005 with rider moves to Japanese brand teams
Word has it former Wold Superbike Champion Troy Corser will be leaving the uncompetitive Foggy Petronas team after 3 years to join an expanded Ten Kate Honda SBK superbike team in 2005 alongside race winner Chris Vermeulen. While other top Superbike star Noriyuki Haga will be racing for the European based factory Kawasaki team. It looks like the SBK World Championship will be returning to a very competitive multi-brand series again. Although this year's 5-way title battle was the closest and hardest faught title bout ever, thanks in part to the spec Pirelli tires.
Yamaha paves the way for the 2005 American MotoGP
Laguna Seca, USA
Sept 30, /2004 - Yamaha Motor Corporation, USA is stepping up to fund the track safety improvements required by the Federation Internationale de Motorcyclisme (FIM) to homologate the track for the 2005 Red Bull U.S. Grand Prix, round nine of 17 in the 2005 MotoGP World Championship.
In addition to sponsoring the track improvements, Yamaha is serving as the official motorcycle at Mazda Raceway Laguna Seca and as a "Proud Sponsor" of the Red Bull U.S. Grand Prix through 2007.
"We're thrilled by the interest from Yamaha in particular and the motorcycle community overall in this event coming to the U.S.," said Gill Campbell, CEO/general manager of Mazda Raceway Laguna Seca. "Yamaha's generosity has made it possible to bring the MotoGP World Championship back to the USA for the fans to enjoy."
"Helping bring the MotoGP World Championship back to the U.S. was an excellent opportunity for us to show our appreciation for our customers and fans," said Bob Starr, corporate communications manager, at Yamaha Motor Corporation, USA. "And since this race corresponds with Yamaha's 50th anniversary, we could think of no better way to celebrate than with over 100,000 U.S. fans."
Plans for the track improvements were completed in concert with Claude Danis, president and circuit inspector for the FIM, and the necessary permits are being obtained. Work is scheduled to begin in November, with the first phase to increase runoff area in Turn 9 (Rainey Curve). The Turn 9 bridge will be moved Dec. 22 through 24 to an area between Turns 8A and 9. The track will remain open during this phase of construction.
Other changes being made to the circuit include widening the front straight by moving the outside (riders' right) wall back and increasing the run-off area in several turns, including Turn 2 (Andretti Hairpin). These changes will be made when the track is shut down completely from May 2–June 15. The paddock will remain operational during this time.
Tickets for the 2005 Red Bull U.S. Grand Prix are on sale now. General admission tickets and a limited number of paddock passes are on sale via the track's ticket office – 1-800-327-SECA (7322) – during normal business hours or online at www.laguna-seca.com/Tickets.
AMA Supermoto Championship Finale to be held at
Bally's Las Vegas
PICKERINGTON, Ohio (Oct. 1, 2004) -- AMA Pro Racing announces that the 2004 AMA Championship finale, the AMA Red Bull Supermoto-A-Go-Go, will be held at Bally's in Las Vegas on Saturday, Nov. 13. Additionally, Paris Las Vegas will host the annual AMA Pro Racing Awards Banquet the next day on Sunday, Nov. 14. The two attached hotels are located on the world famous Las Vegas Strip.
"We're thrilled to bring the AMA Red Bull Supermoto A-Go-Go to the Strip in the heart of Las Vegas," said Chris Bradley, AMA Supermoto Series Manager. "Our friends at Red Bull know how to throw a great party and this event will be huge."
Riders expected to compete in the finale include former AMA Motocross champs Jeff Ward, Doug Henry, Jeremy McGrath and Travis Pastrana; three-time AMA Superbike Champion Doug Chandler and former 500cc Grand Prix world champion Kevin Schwantz from road racing; and freestyle motocross legend Mike Metzger. Up-and-coming Supermoto stars such as Chris Fillmore, Ben Carlson and Mark Burkhart and a few prominent regulars from the international ranks, including Jurgen Kunzel, Kurt Nicoll and Alexandre Thiebault are also expected.
Bradley added that the finale is sure to be loaded with even more international stars from around the world, possibly making it the greatest collection of motorcycle racing talent from various disciplines on one track.
"Last year we had interest from several world championship competitors, but they weren't eligible to race based on the qualifying criteria. This year the rules allow FIM world competitors to race in the AMA Supermoto finale. This should lead to a number of additional big name riders competing along side the prominent lineup of riders already slated to race," said Bradley.
Las Vegas resident and AMA Superbike road racer Ben Bostrom, won last year's winner-take-all Supermoto class title at the AMA Red Bull Supermoto-A-Go-Go championship finale in a breathtaking race in what many referred to as the best AMA race of any series last year. Former AMA Motocross Champion, Grant Langston won the Supermoto Unlimited class title. Both are expected to return to Vegas.
The AMA Red Bull Supermoto-a-Go-Go will be pivotal in determining the championship picture as the race pays double points for the first five finishers in both the Supermoto and Supermoto Unlimited classes.
Near the hustle and bustle of the Strip, an entertaining track mixed with high-speed pavement and technical Parts Unlimited UrbanCross and dirt sections will be constructed on the grounds behind Bally's and Paris.
This year's event will be free admission with pit passes available for purchase. Visit www.redbullsupermotoagogo.com and www.amasupermoto.com in coming weeks for detailed event information.
For immediate post-race results, points, live transponder scoring, in-depth series and rider information and much more, log onto www.amasupermoto.com.
Kenny Roberts
Out of Action after Motegi
BSB SUPERBIKE STAR KAGAYAMA TO JOIN HOPKINS
IN QATAR
Team Suzuki Press Office – September 28, 2004.
Battered but unbowed after a bruising Japanese GP, the Suzuki MotoGP team take to the new track for the Qatar GP this Saturday, with long-time Suzuki stalwart rider Yukio Kagayama joining team regular John Hopkins for the first of three flyaway GPs over the next three weekends.
Team regular Kenny Roberts Jr. will be out of all three races and for the first two will be replaced by Kagayama, fresh from third place in the British Superbike Championship, where he rode a Suzuki GSX-R1000. Roberts and his team-mate John Hopkins were both victims in a multiple pile-up at the first corner of the last round, at Motegi, when six riders were knocked out of the race.
The horrendous luck put paid to the Suzuki team's high hopes in their home GP. Hopkins had qualified second for a career-first front row start, with Roberts close behind. Both were quick off the line, with Hopkins lying second into the first corner when he was skittled from behind. Potentially the best race of the year lasted only a few hundred yards.
Both Suzuki riders were injured, and 2000 World Champion Roberts not only suffered burns to his neck and right arm when he was pulled into Max Biaggi's machine, but more seriously, dislocated his elbow. Further investigation on arrival home in the USA revealed ligament and bone damage, and Roberts will not be fit to ride until the final round, the Vale! ncia GP on October 31.
Hopkins suffered a gash to his buttoc ks and two broken ribs. Directly on arriving home in England, he began a course of intensive laser therapy, determined to be fit enough to race, to take advantage of the growing strength of the Suzuki GSV-R MotoGP prototype, and of the ever-improving Bridgestone tyres.
Kagayama's return to the team revives memories of the Japanese rider's spirited previous outings, both on the 500cc Suzuki two-stroke GP machine and the 990cc four-stroke GSV-R, introduced for the new MotoGP class in 2002.
It also offers fresh input at a crucial stage of development of the machine. Over recent races, performance and results have been improving steadily and in Japan, a new exhaust configuration boosted mid-range power to offer a continuing improvement.
"What happened at Motegi was the worst of luck, but we're determined to keep going forwards at Qatar and the subsequent rounds," said team manager Garry Taylor.
Capirosi Fighting for Fitness after Motegi
Loris Capirossi is battling to be fully fit for the Qatar Grand Prix. A multiple pile-up at the first corner of the recent Japanese GP left the Italian with a fractured bone in his right foot, the foot he uses to control rear-wheel braking aboard his Ducati MotoGP Team Desmosedici GP4.
"I have been undergoing plenty of therapy for the foot, so hopefully it won't be a problem in Qatar," said Capirossi. "Anyway, it's going to be an interesting weekend for everyone because none of us know anything about the track. Also, it's our first GP in the desert, so we know the heat will make it a tough race. But the fact that it's a brand-new circuit isn't a concern – one hour is usually enough to learn somewhere new. These three back-to-back races aren't a problem because we're getting used to doing so much riding in a short time. The only worry is picking up an injury that might slow you at the next two races or even force you to miss them."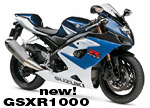 Zdenka is Back...
...and Hotter Than Ever!
We'd like to re introduce you to our beautiful FastDates.com calendal Angel, Penthouse Pet and Czech mate Zdenka. This beauty from Prauge has been featured in our calendars since 2001, and was our offical SBK Fast Dates Calendar girl at Laguna Seca in 2002 with those photos appearing in 2003 Fast Dates. Zdenka has also served as the official Aprilia MotoGP umbrella girl (left) at her home circuit of Bruno the last 3 years wearing some pretty sexy domimatrix gear.
Zenka returned to Los Angeles this summer looking hotter than ever and we were happy to shoot her for the next 2006 Calendars, plus a sexy nude pictorial for our Members Corner where you can visit Sexy Zdenka right now!
Maxsym Launches
GP500 and GP600 Engines
MAXSYM ENGINE TECHNOLOGY, based in Banbury, Oxfordshire, in the United Kingdom, will unveil its GP500 and GP600 racing engines at INTERMOT in Munich, Germany, from September 14th to 19th, 2004.
The company will be found at stand 373 in Hall A1. Its display will include a GP500 for superkarts and a GP600 for Supermoto bikes, as well as a range of components and customer options.
Suitable applications for these engines include motorcycles (both road and Supermoto), ATVs, karts, single-seater race cars, snowmobiles and personal watercraft.
Each engine has an inline twin cylinder configuration and incorporates Maxsym's patented balance system. The net result is, Maxsym claims, a motor that delivers high performance in a lightweight package.
Depending on the version supplied, power output ranges from 75 to 110bhp. Options include either wet or dry sump; electric or kick start; digital fuel injection or carburettor, and either a six-speed sequential transmission or fixed reduction gear (for snowmobiles and PWCs). The design features a reversible monoblock cylinder head so that either the intake or exhaust ports can face forward.
The engines will be available to individuals, race teams and OE manufacturers. Interest is also invited from importers and distributors.

MAXSYM ENGINE TECHNOLOGY
Banbury, Oxfordshire, UNITED KINGDOM
Tel: +44 (0)1608 685155
Fax: +44 (0)1608 685156
E-mail: info@maxsym.com
www.maxsym.com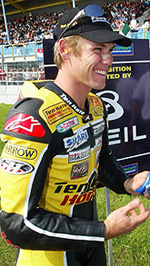 Karl Muggeridge - World Supersport Champion
A spectacular three race winning run at the end of the 2003 World
Supersport season was an impressive feat for the combination of Karl Muggeridge, Ten Kate Honda and the new CBR600RR Honda, but it was just a taster of what was to come. For the complete omplete story go to:
Who the hell is Ten Kate?