Fast Dates Racebike Pinup Calendar September 2004
Instead of that Garfield the Cat calendar, this is what you could be gettin' off to this month. Beautiful brunette Lauren and Noriyuki Haga's factory Aprilia RSVR1000 Superbike. Order Here.
---
Chris Vermeulen (17) lookes at Toseland just in front of him as he fights off Chili, Haga and Laconi just behind, in a race for the history books.
2004 SBK World Superbike Championship, Assen Round 9 of 11
In an Exciting 5-Way Battle for Both Races and the World Championship
Toseland / Ducati and Vermeulem / Honda take Wins at Assen
Assen, Holland, Sept 3-5th -It was one of the most exciting World Superbike rounds ever, with Assen being the second to last round of this year's World Superbike Championship season and 5 riders were still within striking distance of the crown. Both heats at Assen turned into a 5-way battle between those 5 Championship leading riders: Toseland, Laconi, Chili, Haga and Vermeulen. It ended as a split result with Race One and Two proving the same close, but very different outcomes at the end of their 16-lap at hot and sunny Assen circuit in front of a large and enthusiastic mixed European and Dutch crowd of 76,000. When the day ended Toseland moved back on to the top of the points table with his win and second place.
In the opener James Toseland (Ducati Fila 999F004) secured his second race win of the season, holding off Pierfrancesco Chili (PSG-1 Ducati 998). In the second race Toseland had to concede the win. but only after a phenomenal last lap with eventual winner Chris Vermeulen (Ten Kate Honda CBR1000RR) as the exchanged the lead 3 times and crossed the finish line just a wheel length apart, with the 3 other contenders hot on their matching spec Pirellis. it might be a 2 horse race (Ducati vs Honda) on spec tires, but the racing in World Superbike this season is as close or closer than it ever has been, and certainly much more difficult to call than this year's MotoGP and AMA Championships.

Old Dogs and New Tricks: Frankie and the venerable Ducati 998R02, with Calendar Angel Andra Cobb.
Frankie Conquers His Favorite Track in Practice and Superpole
Sept 3/4th - RAPID FIRE FRANKIE: Pierfrancesco Chili (PSG-1 Ducati 998) proved his life affirming pre-race comments at Assen" that life begins at 40" really are true by heading the time sheets in the Superbike class. Already a race winner this year on his 999-engined 998RS machine, the current best lap holder once more proved fastest of the field, setting a 2:04.028s mark as the one hour first timed session drew to a close. Second qualifying and Superpole will determine the final grid positions, but on day one Chili showed his intentions for the entire weekend at Assen, a track he reveres above all others.
ITALIAN INVASION: Gianluca Nannelliís first day riding power put him second in the time sheets, only 0.286 seconds away from provisional pole. It was another impressive showing for the class rookie, on a supposedly outdated 998cc Ducati RS machine, expertly prepared by the Pedercini Team. The 31-year-old is one of four Italian riders on the front row, in a glory day for riders of 998 style Ducatis.
HONDA HOMECOMING: Their bike might be Japanese but the Ten Kate Team is a potent mix of Dutch expertise and Australian riding talent, with Chris Vermeulen (Ten Kate Honda CBR1000RR) once more attacking the stopwatch with some success, despite many niggling problems with machine set-up. The whole Ten Kate squad, including the machine, are SBK rookies, but at present Vermeulen lies only two points from a share of the championship lead.
BUSSEI BLOSSOMS: After a recent return to the Superbike class, after a sojourn in World Supersport, Giovanni Bussei (De Cecco Racing 998RS) has made a mark, none bigger than finishing day one at the challenging and fast Assen circuit in fourth position. He had the satisfaction of not only beating all the works machines but every Ducati 999-based bike on the grid.
WORKS IN PROGRESS: James Toseland (Ducati Fila 999F04) proved to be the best of the official Ducati entries, running his big twin to fifth place, over a second slower than Chili, with a time of 2:05.096. His team-mate, Regis Laconi lost ground in the second sector of the track, finishing a disappointed eighth, clawing his way onto the final place on the second row of the provisional grid.
KWAK ATTACK: A good day for the Bertocchi Kawasaki squad put Ivan Clementi sixth on the score sheet, running his 1000cc Kawasaki ZX-10 at a high pace in the final result. His team-mate Mauro Sanchini (Kawasaki Bertocchi ZX-10) ran out 11th on day one.
RENEGADE RUNNERS: Leon Haslam showed his rate of progress is continuing to gather momentum, as he outperformed his championship-challenging team-mate Noriyuki Haga on day one. His seventh best placing was in marked contrast to Hagaís 14th. The Ducati Renegade Koji 998RS riders are both expected to improve on day two, with the wonderful weather conditions predicted to continue throughout the three days of competition at Assen.
TOP TENS: Steve Martin (DFX Ducati 999RS) and Troy Corser (Foggy Petronas FP-1) completed a complicated top ten at Assen, with the experienced Piergiorgio Bontempi running out 11th on the improving Zong Shen Suzuki GSX-R1000.
SUPERSPORT: Another quite outstanding performance from championship leader Karl Muggeridge (Ten Kate Honda CBR600RR) gave him the upper hand in the first Supersport session, putting a whole second between himself and a chasing pack headed by his own team-mate Broc Parkes (Ten Kate Honda CBR600RR). Muggeridgeís time of 2:06.249 was untouchable, and may even prove to be the pole time in its own right. Sebastien Charpentier (Klaffi Honda CBR600RR) was third, with Muggeridgeís main championship challenger Jurgen van den Goorbergh (Yamaha Italia R6) fourth, and in an overnight front row position.
Friday qualifying times, Superbike World Championship, round 9, Assen: 1 Chili 2:04.028; 2 Nannelli 2:04.314; 3 Vermeulen 2;04.859; 4 Bussei 2:05.086; 5 Toseland 2:05.096; 6 Clementi 2:05.382; 7 Hasalm 2:05.410; 8 Laconi 2:05.459; 9 Martin 2:05.552; 10 Corser 2:05.742; 16 Walker 2:06.665
Free practice times: 1 Vermeulen (Ten Kate Honda) 2:05.644; 2 Laconi (Ducati Fila) 2:05.675; 3 Toseland (Ducati Fila) 2:05.773; 4 Bussei (DeCecco Racing) 2:06.310; 5 Borciani (DFX) 2:06.528; 6 Chili (PSG-1) 2:06.629; 7 Walker (Foggy PETRONAS Racing) 2:06.724; 8 Bontempi (Zongshen) 2:06.752; 9 Haslam (Renegade Ducati) 2:06.795; 10 Haga (Renegade Ducati) 2:06.882; 13 Corser (Foggy PETRONAS Racing) 2:07.134

CHILI TAKES CLEAR SUPERPOLE WIN AT ASSEN
Saturday 4th - THE BOLOGNA EXPRESS: After several close calls earlier in the season, Pierfrancesco Chili (PSG-1 Ducati 998) took his first Superpole win of the 2004 season, running out the victor with a time of 2:03.103 - the fastest official lap of the weekend so far. The 40-year-old phenomenon, the holder of the fastest ever SBK lap of Assen set in 2003, was in untouchable form. He won the otherwise closely contested Superpole by over 0.6 seconds, an age even at such a long track as Assen. Currently fifth in the championship fight, two wins for "Frankie" on Sunday would make the championship battle a five-way affair with two rounds to go.
FILA FORCE FIELDED: After some difficult times in recent events, there were smiles all round in the Ducati pit at the post qualifying prowess of the official factory Ducati Fila squad members, James Toseland and Regis Laconi. Toseland just edged out Laconi for the second best grid position by 0.101 seconds as he strove for his first Superpole win of 2004.
YELLOW PEARL: The Ten Kate Honda CBR1000RR of Chris Vermeulen set the fourth best time of the Superpole session, earning a front row start, nut only after the 22-year-old Australian experienced some front end chatter problems in regulation qualifying. In front of his Ten Kate teamís home crowd, a front row start for the second placed championship contender was a popular result in most areas of the expansive Assen grandstands.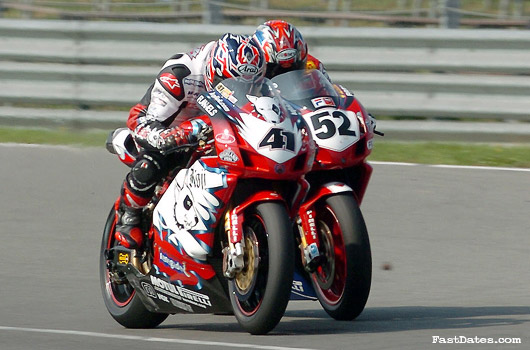 It was Dog eat Duck at Assen as Haga and Toseland trade paint in Race One.
Race One to James Toseland, Fila Ducati 999F04
James Toseland (Ducati Fila) moved back on to the top of the points table with a win and a second place in front of 76,000 fans at a scorching Assen circuit in the Netherlands. Toselandís 45-point haul came in a superb day of racing which saw the top 5 championship contenders battle every inch of the way in the two 16-lap races. Team-mate Regis Laconi finished on the podium with a third in race 1 followed by a fifth place in race 2, when the win went to Chris Vermeulen (Honda).
Toseland declared: "It was great racing today, elbow-bashing with Nori and so close with Chris. I hate great races and finishing second but 45 points out of this weekend is what we need to do if we want to win this championship. There are a lot of people knocking on the door but Iíve just got to ride like this every week until the end of the season."
"There are a lot of British fans who come to Assen and I didnít want to let them down. Here itís such a fast flowing circuit and difficult to pull away, I only got a two second gap in the first race and the other guys were battling behind and slowed themselves down, Then in race 2 I knew they were on my tail, I could hear them at every curve. Fair play to Chris, it was disappointing I finished second but it was good for the championship"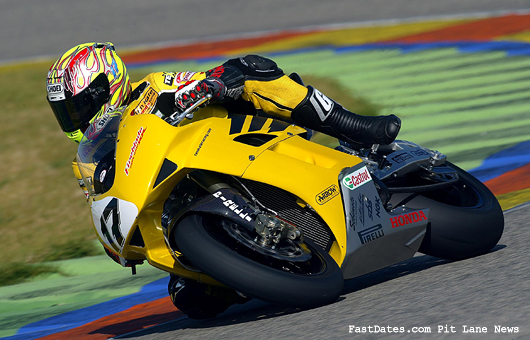 Race Two to Chris Vermeulen, Ten Kate Honda CBR1000RR
: A quite outstanding fight between the two youngest championship challengers went to Vermeulen, who had made changes to his set-up. He attacked Toseland, the front-runner for much of the race once more, and they exchanged the lead three times on the last lap, with Vermeulen just holding on to his lead by 0.037 seconds. Haga was third overall, 0.117 seconds down; in one of the closest ever SBK finishes.
"The second race was quite difficultî commented Laconi."I didnít start very well and then I felt immediately I had movement at the front of the bike when I entered the corner and it got worse and worse. That made me go wide all the time, I tried to do my best to follow but I decided that it was best to settle for fifth and take the points. Itís not the best thing, but itís better than nothing.
"I am sure that the two last races will be good for me because I always have good results at Imola and Magny-Cours. I am confident now, the bike is good, we still have two dayís testing in Magny-Cours so all is not lost for the championship. This is a crazy season, very good for the fans but Iím not too worried about the points situation."
Four riders, separated by 14 points, are still in with a chance of the title as World Superbike heads to Imola on 26 September and then Magny-Cours one week later for its exciting finale.
THE FIGHT CONTINUES: With all the changes of fortune at the front in the Assen races, the championship fight is still desperately tight, with two rounds and four races still to go. 14 points now cover Toseland, Vermeulen, Laconi and Haga, while Pierfrancesco Chiliís second and fourth places at Assen put him 42 points behind Toseland. In a bizarre weekend for the leading championship places, Toseland entered the round in fourth place, and now leads with 255 points. Vermeulen remains a close second, on a new total of 252, while pre-race leader Laconi is now third, with 245 points. Noriyuki Haga, who looked capable of another of his stalk-and pounce wins, failed in this objective in either race, and is now fourth, on 241. The wins totals in SBK 2004 are now Laconi and Haga with five apiece, Vermeulen with four, Toseland two, with Chili and Garry McCoy taking a single each.
Superbike Race 1: (Laps 16 = 96,432 Km)
Pos /Rider /Nat. /Team /Time /Gap
1 / J. TOSELAND / GBR / Ducati Fila / 33'32.879 /
2 / P. CHILI / ITA / PSG - 1 Corse / 33'33.191 / 2.138
3 / R. LACONI / FRA / Ducati Fila / 33'33.307 / 2.450
4 / N.HAGA / JPN / Ducati / 33'39.785 / 2.566
5 / C. VERMEULEN / AUS / Ten Kate Honda / 33'46.626 / 9.044
6 / L. HASLAM / GBR / Renegade Ducati Koji / 33'47.579 / 15.885
7 / S. MARTIN / AUS / D.F.Xtreme Sterilgarda / 33'47.729 / 16.838
8 / G.MCCOY / AUS / XEROX - Ducati Nortel Net. / 33'48.932 / 16.988
9 / M.BORCIANI / ITA / D.F.Xtreme Sterilgarda / 33'50.099 / 18.191
10 / T. CORSER / AUS / Foggy PETRONAS Racing / 34'01.675 / 19.358
11 / G.NANNELLI / ITA / Pedercini / 34'10.932 / 30.934
12 / C.WALKER / GBR / Foggy PETRONAS Racing / 34'21.820 / 40.191
13 / P. BONTEMPI / ITA / Zongshen / 34'23.198 / 51.079
14 / W.NOWLAND / AUS / Zongshen / 34'34.379 / 52.457
15/S. FUERTES/ESP/MIR Racing//1'03.638
Fastest Lap 2° Noriyuki Haga 2'04.360 174,471 Km/h
Superbike Race 1 (Laps 16 = 96,432 Km)
Pos /Rider /Nat. /Team /Time /Gap
1 / C. VERMEULEN / AUS / Ten Kate Honda / 33'31.968 /
2 / J. TOSELAND / GBR / Ducati Fila / 33'32.005 / 0.037
3 / N.HAGA / JPN / Ducati / 33'32.085 / 0.117
4 / P. CHILI / ITA / PSG - 1 Corse / 33'35.873 / 3.905
5 / R. LACONI / FRA / Ducati Fila / 33'38.548 / 6.580
6 / L. HASLAM / GBR / Renegade Ducati Koji / 33'50.141 / 18.173
7 / T. CORSER / AUS / Foggy PETRONAS Racing / 33'55.064 / 23.096
8 / M.BORCIANI / ITA / D.F.Xtreme Sterilgarda / 34'05.239 / 33.271
9 / I. CLEMENTI / ITA / Kawasaki Bertocchi / 34'05.484 / 33.516
10 / C.WALKER / GBR / Foggy PETRONAS Racing / 34'05.783 / 33.815
11 / G.BUSSEI / ITA / DeCecco Racing / 34'08.326 / 36.358
12 / P. BONTEMPI / ITA / Zongshen / 34'08.786 / 36.818
13 / W.NOWLAND / AUS / Zongshen / 34'18.369 / 46.401
14 / S. FUERTES / ESP / MIR Racing / 34'46.250 / 1'14.282
15 / R. MENZEN / NED / Robert Menzen Racing / 35'04.952 / 1'32.984
Fastest Lap 5° Noriyuki Haga 2'04.831 173,813 Km/h
Riders Championship Standings:
1 TOSELAND 255, 2 VERMEULEN 252, 3 LACONI 245, 4 HAGA 241, 5 CHILI 213, 6 MCCOY 163, 7 MARTIN 144, 8 HASLAM 140, 9 CORSER 127, 10 BORCIANI 114, 11 WALKER 112, 12 SANCHINI 79, 13 CLEMENTI 73, 14 BONTEMPI 60, 15 NANNELLI 52.
Manufacturers Standings:
1 DUCATI 430, 2 HONDA 259, 3 PETRONAS 173, 4 KAWASAKI 106, 5 SUZUKI 84.
Muggeridge Takes 5th
Supersport Win in Commanding Style

Karl Muggeridge called on every bit of experience and all his Ten Kate Honda CBR600RR's speed to hold off a quality field of Supersport entrants at hot and sunny Assen circuit, in front of a large and enthusiastic crowd. Chased by Sebastien Charpentier (Klaffi Honda CBR600RR) Muggeridge had it all covered, even if the margin of eventual victory was only 0.157 seconds. Wild card rider Andrew Pitt (Yamaha Italia) secured an excellent podium despite a last corner clash with Kevin Curtain, who crashed out of contention. Muggeridge now leads by 38 points, his win and a lowly fifth place finish by his closest championship challenger Jurgen van den Goorbergh aiding his cause.

His fifth win of the year came after a peerless display of front running, with both regular riders and wildcards not quite able to match his pace throughout.
Controlling things from the front, Muggeridge rode perfectly in the final corners and eventually won by a small but safe margin of 0.157 seconds, from fast Klaffi Honda rider Sebastien Charpentier, with wild card Yamaha rider Andrew Pitt in a distant third.
An imperfect set-up and high tarmac temperatures put Broc Parkes (Ten Kate Honda CBR600RR) in fourth position, seven seconds from the leading pace. Swede Jan Hanson took his private Honda CBR600RR to a fine sixth while regular Klaffi Honda Team rider Max Neukirchner once more belied his age and limited Supersport experience to fight his way through to seventh.
With Alessio Corradi out of the race, thanks to a broken wrist sustained in a Saturday qualifying crash on oil, Denis Sacchetti was the lone Team Italia Megabike Honda rider in residence, and he took 17th place, just out of the points.
For Muggeridge, who extended his championship lead to 38 points as his main rival Jurgen van den Goorbergh, could only finish fifth, Assen was an important race. "There were a lot of guests of the team here this weekend, which added a little something to it all. I was happy just to win the race and make my team happy. Maybe I'll get a job for next year! I'm going to keep pushing until the end, even though our points position is pretty good now. Charpentier is always there but on the day we'll see who can win the next races. Today Sebastien and the rest did not give me any breaks. I was desperate for them to slow down a bit and give me a break but they kept pushing all the way, With the temperature being so high it was very slippery out there. This morning we could set better times in the lower temperatures."
---
MotoGP World Championship Marlboro Portuguese Grand Prix, Round 11
From Pole to Checkers, Rossi takes Portugal
Estoril,Spain, 3/4/5 September 2004 - Reigning World Champion Valentino Rossi put on a show of supremacy today, storming clear to win the Portuguese Grand Prix by more than five seconds from Honda rider Makoto Tamada, who was himself four seconds ahead of Alex Barros (Honda) and championship rival Sete Gibernau (Honda). Fellow Gauloises Fortuna Yamaha rider Carlos Checa also rode a strong race to complete the top five.
Qualifying: Valentino Rossi (Gauloises Fortuna Yamaha) first – 1'38.036
Gauloises Fortuna Yamaha rider Valentino Rossi made a successful start to the Portuguese Grand Prix today by taking provisional pole on day one in Estoril with a 1'38.036. His team-mate Carlos Checa (1'39.163) finished the afternoon 11th fastest, spending much of the session in the top five. Meanwhile Fortuna Gauloises Tech3 riders Marco Melandri (1'38.710) and Norick Abe (1'40.049) went about their business with typical resolve in today's first hour of timed practice. Marco finished the day in a respectable sixth, while Norick ended the session in 15th. With dry patches of sunshine, making for a fast qualifying session with eight riders posting times under 1'39s, Rossi went to the top of the time sheets only ten minutes into the hour-long session. Checa moved into second shortly after. With fifteen minutes remaining Sete Gibernau (Honda) went ahead of Rossi, surrendering the lead to Alex Barros (Honda, 1'38.215) half a minute later. Gibernau then stole the top spot back again with his fastest lap of the day of 1'38.067.
This was only good enough for second, however, as Rossi then put in a flying lap of with just over a minute remaining. Barros finished third fastest, followed by Honda riders Makoto Tamada (1'38.342), Max Biaggi (1'38.609) and Melandri. Checa was unable to better his earlier time as he touched tyres with Gibernau on his flying lap and could not pass him. With Marco now very close to full fitness the Italian charger is now recapturing the form that has made him such a hot prospect in the premier class. His encouraging start to this Grand Prix has boosted his confidence and he is convinced there is more to come in tomorrow's final qualifying session.
"We are ahead now but there is still more work to do, although we did some really good work today and finished first. It's difficult to set-up the bike here because it's an old style track; very tight and full of bumps. For sure it will be tough, especially against Gibernau and Barros who are looking strong. We have found the right tyre today and this was very important. It's going to be a hard race."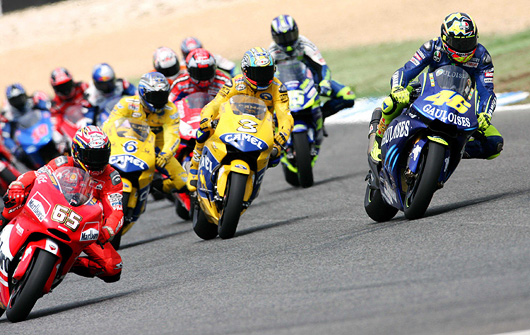 Loris Capirossi (65) overcame a 4th row start with the powerful Ducati to take the lead by turn One. As the pack approaches turn Two, Rossi dives to the inside to take the lead away, and as Capirossi cuts across to close the door he takes out Max Biaggi's (3) front wheel.
Race Day Runaway
Starting from second in perfect sunshine, Rossi was behind Loris Capirossi at turn two but shortly after passed the Ducati rider and took the lead. He was unchallenged for the rest of the 28-lap race and crossed the finish line 46 minutes later, taking his sixth victory in his debut season with Yamaha and the 65th of his Grand Prix career. Checa spent the early part of the race engaged in a battle for fifth with fellow Yamaha rider Marco Melandri (Fortuna Gauloises Tech3), before the Italian fell on lap eight, leaving Checa to hold onto fifth place ahead of John Hopkins (Suzuki).
The only exciting moment in the entire race came on the opening lap when Loris Capirossi catapulted his factory Ducati from his 4th row start into the race lead by the time he got to Turn One. Half way around the first lap Loris was passed for the lead on the inside going into a corner byRossi, pushing Loris out to take a widerentry line and then to turn back in towards the corner's apex. Unknown to Loris, Max Biaggi was trying to follow Rossi's line and when Loris turned back in he took out Biaggi's front wheel and sent the Honda rider crashing to the pavement, out of the race and out of contention for this year's MotoGP Championship. Loris ran wide again as he fought to stay up and ran off the corner, rejoining the race in last place.
Portugal proved frustrating for Melandri – who featured a special one-off Spiderman colour scheme for the 11th round – after losing the front-end of his YZR M-1 when he ran too wide on the entry to turn seven. He avoided injury but felt the hurt of what might have been a top five finish, or better. His team-mate Norick rode a lonely race after trying his utmost to make ground on Colin Edwards and Troy Bayliss. But his tenth place represents another dependable points-scoring performance from the reliable Japanese stalwart.
Rossi (209pts) now leads the Championship standings by 29 points ahead of Gibernau (180), and Max Biaggi (Honda, 158) – the latter crashing out on the opening lap. Checa has moved up the ranks one place into sixth. The MotoGP paddock now packs up to embark on the annual four-race 'flyaway' series before returning to Spain to round off the season. Rossi, Checa and the Factory team will stay on at the Estoril circuit tomorrow to continue their test programme before leaving for the next round in Japan.Valentino Rossi (Gauloises Fortuna Yamaha) first
"This was a super important race for us. It didn't rain last night so the bike had more grip today and my team worked so hard this morning on the bike to improve the set up. My start was not great but I managed to stay first for the first few laps and the tyres held out really well, so I was able to push through right to the end in the lead. I really wanted to push a lot from the beginning because I knew that if someone else was close at the end it would be really hard, because everyone's tyres would be moving around a lot. The bike was great today so thanks to Yamaha and everyone in the team for all the hard work."
Carlos Checa (Gauloises Fortuna Yamaha) fifth
"I am satisfied with the race result because I started from tenth on the grid and I've improved a place in the Championship. After a few laps I felt the tyre go down a bit so I am pleased that I could hold onto my position. However I can't accept the difference between Valentino and I; I know he's the best rider but I feel that I must improve and close the gap between us. We need to analyze my performance today and I am going to push myself and my team to improve for the last five races."
The most commendable rides of the day go to Loris Capirossi who recovered from last place after his off track tangle with Max Biagg on the opening lap, to move back up tho 7th place ahead of Ducati team mate troy Bayliss. And to American John Hopkins in his best finssh everin 6th place on the factory Suzuki, almost catching Carlos Checa for 5th, and finishing nearly half a lap in front of Suzuki team mate and former world champion Kenny Roberts Jr.
Round: 11 - Estoril Grand Prix , Circuit: Estoril, Circuit Length: 4182, Race: 28 Laps
Lap Record: 1' 39.189 (Valentino Rossi, 2003) , Fastest Lap Ever: 1' 38.412 (Loris Capirossi, 2003)
Pos. Rider Manufacturer Nat. Total Time
1 V. Rossi Yamaha ITA 46' 34.911
2 M. Tamada Honda JPN +5.111
3 A. Barros Honda BRA +8.157
4 S. Gibernau Honda ESP +8.312
5 C. Checa Yamaha ESP +17.966
6 J. Hopkins Suzuki USA +18.631
7 L. Capirossi Ducati ITA +23.670
8 T. Bayliss Ducati AUS +25.126
9 C. Edwards Honda USA +25.611
10 N. Abe Yamaha JPN +26.727
11 S. Nakano Kawasaki JPN +44.704
12 J. McWilliams Aprilia GBR +50.511
13 A. Hofman Kawasaki GER +54.372
14 K. Roberts Suzuki USA +59.518
15 N. Aoki Proton KR JPN +1' 32.853
Fastest Race Lap:
1 V. Rossi Yamaha ITA 1' 39.189

Championship standings MotoGP

Pos. Rider Manufacturer Nat. Points
1 Valentino Rossi Yamaha ITA 209
2 Sete Gibernau Honda ESP 180
3 Max Biaggi Honda ITA 158
4 Colin Edwards Honda USA 111
5 Alex Barros Honda BRA 102
6 Carlos Checa Yamaha ESP 93
7 Makato Tamada Honda JPN 89
8 Loris Capirossi Ducati ITA 84
9 Nicky Hayden Honda USA 83
10 Marco Melandri Yamaha ITA 64
11 Norick Abe Yamaha JPN 55
12 Shinya Nakano Kawasaki JPN 46
13 Ruben Xaus Ducati ESP 46
14 Troy Bayliss Ducati AUS 42
15 Kenny Roberts Suzuki USA 37
---
2004 AMA Chevrolet Superbike Championship Road Atlanta, Round 15 & 16

Mladin Extends AMA Superbike lead with Double Road Atlanta Wins
Aussie is the all-time AMA Superbike wins leader at Road Atlanta

Braselton, Georgia, USA , Sept 4-5th - Hot on the heels of his lap record breaking run during yesterday's opening qualifying session for this weekend's double header American AMA Chevrolet Superbike Championship round at Road Atlanta, Australian Mat Mladin blasted that record even further during today's final session before turning that pole position into his seventh race win of the season later in the afternoon.

Mladin and his Yoshimura Suzuki GSX-R1000 have been the fastest combination around the fast 4.087km (2.54miles) Georgian circuit since Friday's opening session, culminating in his 37th career AMA Superbike pole position. His time of 1-min 22.065-secs shattered his pole winning time from last year by 1.455 of a second and set the foundations for today's 25-lap Superbike national.
Hondas filled the podium both days with Ben Bostrom taking a pair of thirds. Bostrom led Sunday's race for the first five laps, but any chance of rejoining the battle for the lead was dulled by lapped traffic. Erion Honda's Zemke struggled with tire grip on his way to fourth place finishes in both races.
Saturday Race One
Chasing teammate Aaron Yates, Mladin moved into the race lead on lap two and held that position till lap seven when the race was red flagged due to a fluids left on the circuit after Kawasaki's Josh Hayes crashed at Turn Four. After a considerable delay to clear the debris from the circuit, Mladin again had to work his way past Yates on the restart, taking the lead on lap two. Once out front, the four-times American champion controlled the pace of the race, working his way steadily through lapped traffic and maintaining his margin over second placed Miguel DuHamel (Honda). The final lap saw Mladin caught in traffic, allowing DuHamel to close the gap significantly, but Mladin held his place at the front, crossing the line 0.400 of a second clear of his rival. The pair finished well clear of a battling trio consisting of Ben Bostrom (Honda), Jake Zemke (Honda) and Yates.

Mladin was pleased that the hard work and effort that his team have put in recently was paying off on the track, not only during qualifying, but also under race conditions.

"Qualifying was good for us, it's always great to get that extra point, especially as we put a good lap together," said Mladin. "We put a qualifier in and got a good lap on that tyre. Suzuki Japan along with our Yoshimura team have been working really hard over the past few months and if it wasn't for that, this championship would have been much harder to chase. That hard work is what winning championships is all about."

"It was also good to come away with maximum points from the race this afternoon, allowing us to open up a 32-point break over our nearest rival (Zemke) and hopefully we can repeat that again tomorrow."

"Today's race did go according to plan somewhat for us. Miguel managed to hang on throughout the race. He was about a second or so back and I had a comfortable break over him heading into the last lap, but we came across three backmarkers in the last chicane that saw the gap between us drop to 0.4 of a second as we crossed the line."

"I don't think that we need to change much on the bike for tomorrow's race. It felt really good pout there today, but we're getting to a point now in the championship where we have to start thinking about it a little bit, so we'll just see how tomorrow pans out."
Miguel Duhamel, 2nd Place Saturday - "I was always within a shot of getting him. Lapped traffic was a little bit not going my way. He got those guys. At the end again I had another outside chance coming into the chicane. I went wide hoping that maybe they'd see the blue flag and they'd go in tight because he was going in tight. That didn't work out. Didn't want to do nothing too crazy by passing him down the hill because it was too tight anyway. Just anyway just came up a little short. Good race. Lap times were good. The team did a great job."
Sunday Race Two
Sunday Sept. 5th– Aiming to repeat yesterday's opening race win, Mladin made a steady start to today's event, sitting in third place behind early race leaders Ben Bostrom and Miguel DuHamel. Mladin's early race pace was highlighted as he posted the fastest lap of the race with a 1-min 23.156-sec lap as he made his move past DuHamel for second, before slipping by Bostrom a lap later to take the lead.

From that point on experience showed, as he was able to dictate and control the pace from the front steadily working his way through lapped traffic and establishing his lead. By the conclusion of the 25th lap, Mladin has worked his lead out to 3.953 secs over DuHamel. Bostrom held a comfortable third, one place ahead of Zemke on the third of the factory Honda's.

"The race obviously went well for us today, but I did push hard in the early laps and made a couple of little mistakes before it all started to fall into place," said Mladin. "Once I was able to pass Miguel and then Ben, I settled in and put about a second gap on them. We kept it stable for a while before we got to the traffic and I did a really good job in being able to get past the backmarkers which allowed us to increase the size of the gap. It all worked out well as I was able to control the pace from about mid-race holding the gap in the three to four second mark and it all worked out."

"I didn't really need to race against Miguel today, as I felt that we had a motorcycle, that if we pushed hard I was confident of what it could do for 25-laps and I didn't want to give away a race while I was thinking about the championship when we could do it without taking any serious risks. The bike was too good to settle for anything less than a win."

The weekend's haul of maximum points for Mladin has given him a 42-point margin over nearest rival Jake Zemke (Honda) 532 – 490, as the series heads to its final weekend of racing for the year at Virginia International Raceway on September 18 & 19.

"We're in a good position now for the last round at Virginia. That 42-point cushion will mean that we can play the first there as it comes, see what the conditions are like when we get there and go from there. If we can finish either right behind, or even in front of Jake in the first race there then the championship should be done and that would be nice."
Miguel Duhamel, 2nd Place, Sunday - "It was a tough race today. It was hotter and a little bit more tricky on the tire. Everybody was in the same boat. Just tried to do our best. Traffic, it was pretty bad for everybody. That's how it goes. Who knows how the race the race would've turned out. It would have been nice to see what we could have done. Mat (Mladin) was definitely riding really good today. He rode good yesterday. There's not much we could do. To be honest, with the lapped riders I was hoping he was going to get caught out somewhere do a little mistake, just give me a little more breathing room to latch back on. He didn't do that."
SUPERBIKE RESULTS SATURDAY 25 Laps
RACE 15 AMA Chevrolet Superbike Championship
1. Mat Mladin (Yoshimura Suzuki) 25 laps
2. Miguel DuHamel (American Honda) +0.400 secs
3. Ben Bostrom (American Honda) +8.056
4. Jake Zemke (Erion Honda) +9.382
5. Aaron Yates (Yoshimura Suzuki) +9.746
6. John Haner (Hooters Suzuki) +1:00.593 mins
7. Geoff May (Prieto Suzuki) +1:06.469
8. Eric Wood (Hooters Suzuki) +1:07.091
8. Sean Higbee (KWS Suzuki) +1:08.776
10. Chris Caylor (Empire Racing Suzuki) -1 lap
SUPERBIKE RESULTS SUNDAY 25 Laps
RACE 16 AMA Chevrolet Superbike Championship
1. Mat Mladin (Yoshimura Suzuki) 35:13.64 mins
2. Miguel DuHamel (American Honda) +3.953 secs
3. Ben Bostrom (American Honda) +10.610
4. Jake Zemke (Erion Honda) +23.813
5. Josh Hayes (Attack Kawasaki) +57.838
6. John Haner (Hooters Suzuki) +1:19.303 mins
7. Larry Pegram (Triangle Cycles Yamaha) +1:23.753
8. Marty Craggill (Corona Extra Suzuki) +1:25.535
9. Eric Wood (Hooters Suzuki) +1:25.655
10. Geoff May (Prieto Suzuki) +1:27.286
2004 AMA Chevrolet Superbike Championship (Points after 16 of 18 rounds)
1. Mat Mladin (532, 8 wins); 2. Jake Zemke (490, 2 win): 3. Miguel DuHamel (477, 4 wins): 4. Ben Bostrom (364, 1 win): 5. Geoff May (344): 6. Eric Bostrom (336, 1 win): 7. John Haner (312): 8. Aaron Yates (298): 8. 9. Eric Wood (284): 10. Josh Hayes (267).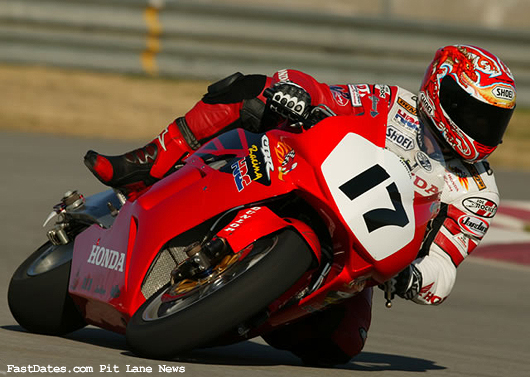 Duhamel Clinches Formula Xtreme Title (If anyone cared.)
In a class only contested by the factory team of American Honda, team rider Miguel Duhamel clinched the inaugural Formula Xtreme Championship, the unprecedented seventh AMA road race title of his illustrious career, in the penultimate round at Road Atlanta in Braselton, Georgia. By finishing second, Erion Honda's Jake Zemke guaranteed that Honda would finish the first season of the 600cc based class one-two.
"It was really tight and really hard and every race win was earned for Jake and myself," Duhamel said after his seventh win of the series. Two others were won by Zemke with American Honda's Ben Bostrom completing Honda's so far perfect season. "I believe that we pushed it hard and we just went for it on the last lap and again today. Just it was just a really tough championship. There were two factory guys, obviously Jake and I were riding up front, but still there's only one place on the podium and it was really hard to get and I feel that this was a tough championship to win this year."
Duhamel is the career wins leader in AMA road racing, extending that number to 79 with this weekend's Formula Xtreme success.