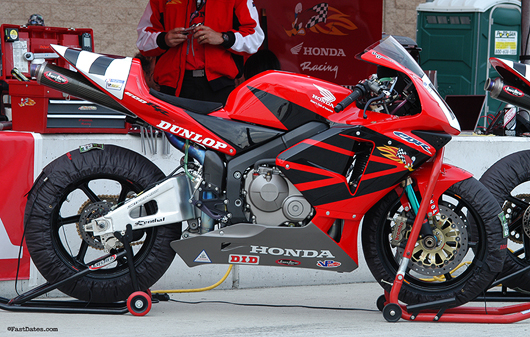 The 600cc Xtreme class features highly modified 600cc Japanese in-line fours modified to Superbike specs, and is currently contested only by, and hence dominated by, American Honda. Above is Miguel Duhamel's Honda CBR600RR. None of the other 3 Japanese teams, plus Ducati, have plans to build expensive "one off" 600cc Extreme bikes to contest the new 2005 Daytona 200 race.
AMA Pro Racing puts the next nail in the Coffin....
Daytona 200 to be opening round of Formula Xtreme 600cc Series!

Editor's note: This week's issue of Cycle News features a round table discussion by CN editors Paul Carruthers and Henry Ray Abrams with AMA Pro Roadracing's chief executive Officier Scott Hollingsworth, director of competition Merrill Vanderslice, roadrace manager Ron Barick, vp of commercial developent John Ferris, director of communications Kerry Graeber, vp Andy Leisner, and director of scoring Ken Rogers.
In theCN interview the Pro Racing Board let it slip out they were "considering" changing the feature class at this coming year's 2005 Daytona 200 Miler from Superbike to 600cc Formula Xtreme, but the discussions up to now regarding this were principally just between AMA Pro Racing and Daytona Speedway, without the formal support of any factory race teams or riders. Said Hollingsworth: "I don't think we're going to share what's been discussed in private discussions with those guys (some of the factory US distributor teams, and not the riders). ... Nobody's commited we're going to do that (change classes for the Daytona 200 Miler) yet."
But within one day of Cycle News going to press with the interview, the decission was made by AMA Pro Racing to make the most important race in AMA roadracing, their crown jewell Daytona 200, now will be a 600cc class contested by possibly just one manufacturer, American Honda
This all comes just as there was a good chance all 5 major Superbike manufacturers would be returning to compete in AMA Superbike Racing in 2005 to the benefit of increasing spectator attendace and re-establishing the lost popularity of professional roadracing in America. As we have mentioned previously, this is all taking place in a climate that AMA Pro Racing has created to continue the decline in spectator attendance and factory team participation at this year's AMA Nationals with its multitude of lightly contested, confuning and duplicate classes.
The 600cc Xtreme class features highly modified 600cc Japanese in-line fours, and is currently contested and dominated just by American Honda, with the other 3 major Japanese distributors expressing no interest in contesting the class for 2005 and beyond. Previously the 600cc Superstock Class, which Extreme has replaced, was contest by all 4 Japanese maufacturers with close and exciting racing. Now it is a class which the world's biggest advocate and supporter of production based road racing, Ducati, has no bike for.
In short, this situation at Daytona has come about because the AMA does not want to loose all the income generated from back gate rider and entry fees during Speedweek at Daytona, their biggest and most popular event of the year for riders and classes. While for the Speedway, paid spectator attendance and profitability at the track during Speedweek does not justify making major and expensive design changes to the track itself to keep it safe for faster Open Superbikes, or to improve the facility in the infieldroadcourse for spectators. Rather than cancel Daytona Speedweek for safety concerns at the out dated facility, the AMA and Daytona have conspired together in secret to just make low cost track changes (see the Track ReDesign Press Release also on this page), and change the Daytona 200 feature race to slower 600cc Xtreme bikesto postpone the inevidible future demise of the facility for roadracing, all at the expense of the continued decline of AMA Superbike and all professional roadracing in America.
PICKERINGTON, Ohio (Black Friday Aug. 13, 2004) -- AMA Pro Racing announced today that the class structure for the 2005 AMA Chevrolet Superbike Championship will remain unchanged. Additionally, it was announced that the 2005 Daytona 200 will feature Formula Xtreme machinery.
The class structure for the 2005 championship remains as follows:
Superbike: 901-1000cc four-stroke, two or more cylinders
Supersport: 0-600cc four-stroke, multi-cylinder
Formula Xtreme: 450cc-600cc four-stroke, multi-cylinder; 595cc-750cc four-stroke, liquid-cooled, twin-cylinder; 850cc-1350cc four-stroke, air-cooled, twin-cylinder
Superstock: 745cc-1000cc four-stroke, multi-cylinder
The current class structure was enacted beginning with the 2004 racing season and is expected to remain in place at least through the 2006 racing season. Proposed 2005 rule changes were announced on July 25 and are currently subject to a 30-day comment period. AMA Pro Racing credential holders can make comments on AMA Pro Racing's RIDERS ONLY website at www.amaproracing.com/ridersonly.
The Daytona 200, formerly part of the AMA Superbike Championship, will now utilize Formula Xtreme equipment. According to Scott Hollingsworth, AMA Pro Racing CEO, this change is being made in response to many of the concerns that have arisen regarding Daytona. "Daytona is a unique place and requires a unique approach. At the same time, Daytona and the Daytona 200 are treasured icons in the racing world," said Hollingsworth. "To keep that event viable while acknowledging the realities posed by modern, 1000cc Superbikes, we will run the Daytona 200 as a Formula Xtreme race. AMA Superbikes will continue at Daytona but now as a sprint race, consistent with the rest of the Superbike events that comprise our championship."Hollingsworth stated that the future direction of the Daytona 200 has been discussed for some t
ime and has included input from manufacturers, riders, team principals, tire companies, as well as Daytona International Speedway and International Speedway Corporation. "In meetings dating back to last year, it became clear that a course change and reducing sustained speeds of the 200 were two primary areas that needed addressing," said Hollingsworth. "There were many innovative ideas put forth but the notion of running Formula Xtreme machinery in the 200 while still showcasing Superbikes was the one idea that had the most merit. From a marketing standpoint, the winners of either race earn plenty of bragging rights because a 200 mile win or a Superbike victory at Daytona are tremendous accomplishments. Another option that was given strong consideration was that of racing Supersport bikes in the 200. However, it's no secret that Formula Xtreme equipment may one day form the basis for Superbikes. This possible 'peek into the future' was the ultimate factor in determining the best long-term solution."
Hollingsworth stated that these changes, as well as the track reconfiguration that was jointly announced yesterday by AMA Pro Racing and Daytona International Speedway, are examples of the responsiveness shared by both organizations. "Together we have examined the issues, listened to all viewpoints and created a strong direction for the future," summarized Hollingsworth.
Along with the Daytona AMA Superbike race and Daytona 200, AMA Supersport and AMA Superstock events will also be featured during Daytona Bike Week beginning on Wednesday, March 9, 2005.
---
New Revised Roadcourse Layout
For Motorcycles at Daytona International Speedway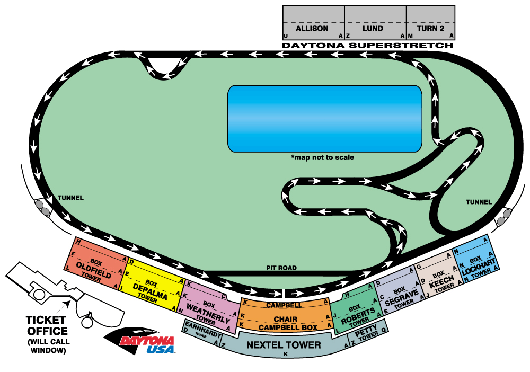 PICKERINGTON, Ohio (Aug. 12, 2004) -- For the sixth time since motorcycles began racing at Daytona International Speedway, competitors will compete on a reconfigured course beginning with next year's Daytona 200 Bike Week, it was announced today. The new configuration will exclude NASCAR Turns 1 and 2 and will shorten the course to approximately 3.0 miles. The previous length of the motorcycle course was 3.56 miles. The Daytona 200 By Arai, scheduled for Saturday, March 12, will now be 67 laps instead of 57.
Since 1961, when motorcycles began competing at DIS, the course configuration has changed five times with distances varying from 2 miles to 3.87 miles. This is the first change since 1985. The infield portion of the course has also been altered with the exit of the infield now located after NASCAR Turn 2.
"After each event, we discuss with the various sanctioning bodies what we can do to make our events better for our competitors and fans," Speedway President Robin Braig said. "The changes in the road course for motorcycles will still provide the exceptional motorcycle racing for which Daytona International Speedway is famous for."
"The reconfiguration underway at Daytona International Speedway is an example of what can happen when a track and sanctioning body proactively work together to create positive change," said AMA Pro Racing CEO, Scott Hollingsworth. "Beginning in December of last year, we've been discussing what was necessary for the long term health of motorcycle racing at Daytona International Speedway. This reconfiguration, along with some additional changes that will be announced in the coming days are the result of that dialogue."
Officials from AMA Pro Racing confirmed that rider involvement will be a valuable part of the construction process. "It's important to us that our competitors are involved with this project so the plan is to bring them to Daytona at the appropriate time to provide input," Hollingsworth said.
2005 AMA Pro Racing events kick off on Wednesday, March 9 with practice and qualifying at the Speedway and the AMA Hot Shoe Series Championship at Daytona Beach Municipal Stadium. AMA Pro Racing practice, qualifying and support races continue on Thursday, March 10 along with the AMA Progressive Insurance Flat Track Championship at Daytona Beach Municipal Stadium. For the second straight year, the Daytona Supercross By Honda will be held under the lights on Friday night, March 11. The 64th Daytona 200 By Arai is slated for Saturday, March 12. Tickets and more information for any of the Daytona 200 Bike Week activities are available online at DaytonaInternationalSpeedway.com or by calling 1-800-PITSHOP.
Editor's Comments: The's a lot of positive spin in the above joint issued Press Release from AMA Pro Racing and Daytona Speedway for the road course revision, which may prove to be no more than a low cost Band Aid for what probably remains a critical wound. Eliminating the banking Turns 1 and 2 may keep Superbike tires a little cooler, but the potential for dangerous high speed blowouts and full throttle 190 mph slides through Turns 4 and the Finish Line / Turn 5 will still remain, as well as the dangerous concrete walls. For spectator viewing the revised and shorter roadcourse moved further back in the the infield without spectator bridges, may prove even less accessable on foot or visible from the front grandstands, so spectators may have even more reasons to stay away.
The real Daytona fix would have been to build a new stadium road course section with great spectator viewing bleachers inside Turns 3 and 4, and eliminate the 2 most dangerous banking turns altogether, but that was obliously too cost prohibitive. Hence, the short pavement change at the back of the track which might only make a bad situation, even worse.California Speedway's similar poorly designed infield road course offering poor spector viewing only drew some 2,000 spectators per day at its AMA Nationals back in May.
---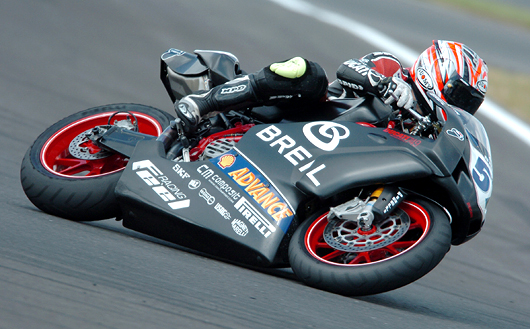 Meet the "Fonz"
Ducati Briel 750 World Supersport rider Lorenzo "Fonzi" Lanzi just might be racing the last two AMA Superbike rounds next to Eric Bostrom on the Ducati Austin factory 999F04 biikes.

The 22-year old Lanzi is a former European, 250 Italian 250 and 250GP rider. This season riding for Ducati on their new 749 V-twin in the highly competitive 600cc World Supersport class, has only finished as high as fourth this season. Ducati says this year in World Supersport is a development year and plans to return with 2 bikes and riders in 2005. But should Lanzi do well in AMA Superbike, perhps things might change?
---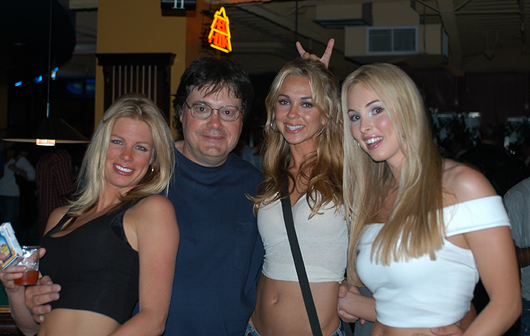 Superbike Girls On Film!
Join us on our trip to World Superbike Weekend at Laguna Seca Raceway with FastDates.com publisher Jim Gianatsis and the official SBK World Superbike and Ducati Corse Fast Dates Calendar Angeles: Robin Cunningham, Andra Cobb and Nicki Lane. All the torrid details and pictures are now in Fast Dates Calendar News!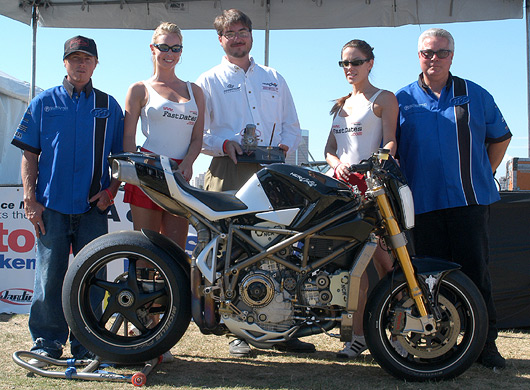 World Class! Scuderia NCR / Poggipolini flew in from Italy with their $164,000 magnesium and titanium 180hp / 297lb. naked Ducati Superbike powered Macchia Nera to win Best Sportbike at this year's Show, elevating our Los Angeles Calendar Motorcycle Show to World caliber status. Poggipolini's distributor John Murray of RaceMetal.com accepts the Show's coveted Desk Set Trophy utilizing a real Mikuni Carburetor. He's joined by Roland and Ted Sands from Performance Machine, plus SBK World Superbike and Ducati Corse FastDates.com Calendar Cover Angels, Miss Great Britain Nicki Lane and Laura Niles.
Huge Turnout of Exhibitors and Spectators!
2004 LA Calendar Bike Show the Best Ever!
545hp! Motorcycle Horsepower World Record is Shattered
Long Beach, CA, July 17-18th, 2004 -The Los Angeles Calendar Motorcycle Show Weekend presented by Performance Machine and the FastDates.com Calendars and Website at the Queen Mary Event Park in Long Beach, CA, continued to grow as the most popular consumer street bike show in America catering to custom, cruiser, classic and sportbike enthusiasts. Always the 3rd weekend of July, this year's show featured a incredible weekend of activities and our first ever sold out participation by 165 major motorcycle and product manufacturers, exhibitors and venders, leading custom bike builders from across the world, together with a 2-day jam-packed crowd of motorcycle enthusiasts. Spectator attendance was estimated to be larger than this year's Laguna Seca World Superbike and AMA California Speedway race weekends combined, confirming the LA Calendar Bike Show as the biggest streetbike event weekend in America.
For the complete story go to 2004 LA Calendar Motorcycle Show.
---
| | | |
| --- | --- | --- |
| | | |
| | | |
| | | Click for Wide Screen: Two girls apparel sponsor Koji brought to the Brands Hach World Superbike weekend get down and dirty in Pit Lane with lots of humping, bumping, grinding and fondling in front of world TV, the media and millions of viewers. FastDates.com is a big supporter of Girls Going Wild on Pay Per View, at Strip Clubs and Bachelor Parties. |

Team Koji Renegade Gets Dirty (Dancing), drops
Miss SBK World Superbike Nicki Lane for being too Clean
Brands Hatch, GB, Aug 6th - Just in case you missed the world television broadcast of the SBK World Superbike Races last weekend from Brands Hatch, it was notable for 2 reasons. The first was Renegade Ducati rider Noriyuki Haga pulling off an incredible double race win aboard the team's Ducati 999RS05 after exciting race long battles with Regis Laconi and Frankie Chili.
The other was the "Dirty Dancing" pit lane victory celebration performed by the Koji girls from Team Renegade's new clothing sponsor. It seems the British clothing company Koji brought 4 of its own girls to the race to add a little 'color' to the Renegade teams's new Koji graphics and the starting grid pagentry. The Koji girls went wild when Haga won the first race and began humping, bumping and grinding on each other in pit lane in front of the SBK World TV feed. Well, it seems the Koji apparel people took offence when we said the Koji girls were acting all 'slaggy like"* in our Tire Chatter section next to the Brands Hatch race report.

Too much class: Miss SBK World Superbike Fast Dates and Ducati Corse girl Nicki Lane.

If you remember last week, we also reported that our beautiful SBK World Superbike Fast Dates girl Nicki Lane, Miss Great Britain, had been hired by Renegade team principal Mark Griffiths to be the team's official Spokesmodel for the remaining World Superbike rounds this season. Nicki did a fantastic job for the team at Brands Hatch, including serving as the offical team umbrella girl for Nori on the starting grid of both races. However, when the other Koji girls started acting "all porn like" on pit row for media attention, our classy Nicki was instructed by the team (and rightly so) to keep her distance from them.

Unfortunately, our accurate reporting of what took place in pit lane with the other Koji girls gave Renegade sponsor Koji the excuse they wanted to demand Team Renegade break their contract (the contract with Nicki was announced on their website) with Nicki as official spokesmodel and not use her again. We're sure Griffith's was caught between a rock and a hard place when it came to appeasing his new sponsor Koji, or keeping a class act like Nicki Lane as spokesmodel (Nicki even gave the team a big promotional plug in a huge feature article about her in the British Sun newspaper the following weekend).
"There will be serious repercussions following this incident (Our news report in Pit Lane News -Ed.), and lawyers have already been instructed accordingly. In the meantime, we insist that the article is removed immediately, and that an apology and correction is published in place of the existing and offending article. I would ask that you sent me an immediate acknowledgement of this e-mail, also confirming that the article has been removed. We will then be in touch further through our representatives in due course." (signed) GM Griffiths, President - Renegade Racing Company Limited
OK Mark, the article has been removed, the correction is printed above, and you have our "sincerest heart felt apology." The Koji girls in question were not acting like silicates, but more like exotic dancers. And we give a huge thumbs down to apparel company Koji and Team Renegade for breaking its contract and not being a class act like our Nicki Lane.
*Definition: Slaggy (a.) Of or pertaining to slag; resembling slag; as, slaggy cobalt.
Slag (n.) A product of smelting, containing, mostly as silicates, the substances not sought to be produced as matte or metal, and having a lower specific gravity than the latter; -- called also, esp. in iron smelting, cinder. The slag of iron blast furnaces is essentially silicate of calcium, magnesium, and aluminium; that of lead and copper smelting furnaces contains iron.
---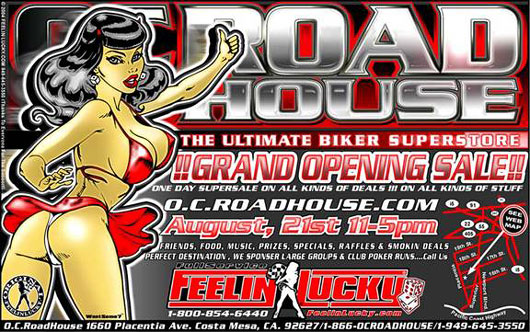 Join FastDates.com at the OC Roadhouse Saturday 21st!
Costa Mesa, CA - Our official FastDates.com apparel designer and supplier , Feelin' Lucky, is opening its first retail consumer store with a big Open House Party this coming weekend at its new location in Costa Mesa, CA. The grand opening celebration for O.C. Roadhouse takes place this Saturday, August 21st from 11am - 5pm. In attendance will be FastDates.com Calendar photographer and publisher Jim Gianatsis, together with one of the beautiful Calendar Angels to autograph and sell the new 2005 FastDates.com Calendars. The OC Roadhouse is located at 1660 Placentia Avenue in Costa Mesa, CA 92627. Phone 949-645-3550. Additional details and map online at OCRoadhouse.com