MotoGP World Championship, Assen Dutch TT Round 6

Rossi Kicks Assen, Ties Up Points Chase
Assen Holland, June 24-26th - Gauloises Fortuna Yamaha rider and reigning World Champion Valentino Rossi once more demonstrated his full repertoire of racecraft by winning his third race in a row, after a last lap of epic skill and determination. A further showing of the significant improvements made to the YZR-M1 were evident when Fortuna Gauloises Yamaha Tech 3 pilot Marco Melandri also secured his second consecutive podium result – taking third behind second place rider Sete Gibernau (Honda). Gauloises Fortuna Yamaha rider Carlos Checa, who started brightly, slipped down the order to finish ninth, fighting against a lack of rear traction.

Assen Thursday Open Qualifying in Rain for Ducs
Assen, Holland, June 24th, - Ducati MotoGP Team riders Troy Bayliss and Loris Capirossi were 5th and 11th fastest in this afternoon's rain-lashed opening qualifying session at Assen. Both riders have two different engines at their disposal here – one 'standard' four-pulse motor and one twin-pulse engine apiece. The new engine – identified by its deeper exhaust note and four exhaust pipes – uses different firing intervals to produce greater traction during the crucial corner-exit acceleration phase. Both riders were impressed by the engine during first tests at Catalunya following the recent Catalan GP.
"It's been a strange day with some very heavy rain," said Ducati MotoGP Team director Livio Suppo. "Troy did a good job this afternoon, mostly riding the four-pulse engine. We saw at Jerez that he likes this engine in the wet, so it made sense to use the four-pulse. Loris started the day on the four-pulse and then jumped on the twin-pulse, which he likes a lot more, he finds it a lot easier to ride. I think we've made a good start, and we hope for better weather tomorrow."
Today was dominated by high winds and torrential rain, in other words traditional Dutch TT weather since this event is often disrupted by poor weather conditions. Three of the last four Assen races have been affected by rain. Ducati MotoGP Team rider Troy Bayliss was fifth quickest in today's soaking qualifier, using the four-pulse Desmosedici motor. The Aussie is almost fully recovered from the heavy tumble he took during the Catalan GP two weeks ago.
"For the first day we're doing pretty good," he said. "Really it just worked out that I spent most of my time on the 'standard' motor because we wanted to try a few things with it. My injuries from Barcelona aren't hampering me but my right ankle still isn't nice and I've aggravated an old back injury. Today I didn't use too much the new twin-pulse engine, but I feel it is definitely a step forward. During the tests we did at Barcelona I did good lap times after 18 laps on a tyre, and the tyre was cooler and looked better than the tyre we used in the race. The new motor is easier to ride and that's what it's all about - making the bike comfortable to ride, so the lap times come easier without going too much above yourself."
Loris Capirossi was 11th but the Ducati MotoGP Team rider knows better weather is forecast for Friday, so he wasn't pushing too hard in the treacherous conditions. Nevertheless, he enjoyed himself with the rider-friendly twin-pulse motor.
"It made no sense to push too hard in such heavy rain," he said. "If the weather is better tomorrow, I will go faster anyway; if it rains again, I will push harder. I tried both engines this morning and spent most of this afternoon with the twin-pulse, working on set-up. The wet can be difficult for me because I'm so light, so I get less traction than other riders, but we found a good wet set-up and that's what counts. I don't care about the lap times at this stage. I prefer the twin-pulse much more than the other engine, especially in the wet. And I think today was the first time I've really enjoyed myself on the Ducati in the rain."

America's Nicky Hayden on the factory Repsol Honda was 9th in qualifying, but would move up for a strong 5th place finish in the race.
Rossi and Checa break records in Assen Final Qualifying
Final Qualifying, Assen June 25th: The Gauloises Fortuna Yamaha team dominated the final qualifying session at Assen, with Valentino Rossi and Carlos Checa filling the top two places on the grid, both their quickest lap times were well under the previous best at the classic Dutch circuit. Fellow Yamaha rider Marco Melandri (Fortuna Gauloises Tech 3) just missed out on making it an all-Yamaha front row start when Sete Gibernau (Honda) slid ahead by 0.821 seconds in tricky conditions. The rains which had blighted all previous sessions held off for the final qualifying, and as the damp track dried conditions improved enough for Rossi to destroy his 2003 best qualifying time with a new record lap of 1'58.758.
Checa was the first rider to beat the previous track best, and he extended his performance still further to qualify second with a lap of 1'59.440. Championship leader Sete Gibernau qualified third on the grid, thanks to his 1'59.903, over 1.2 seconds from Rossi.
With the track drying visibly with each passing lap the MotoGP competition was a fraught affair in the early laps, as each rider tried to put in a quick lap in case the rains returned. Both Checa and Rossi stormed away, setting top three times in the first ten minutes. Rossi, Checa and Gibernau were each at the head of the qualifying lists for a time, but a last lap charge by Rossi took him into a whole new territory, under the 1'59s barrier for the first time ever.
Melandri defied pain and rain to qualify fourth for tomorrow's main event, heading row two – his equal best qualifying performance in the premier class. His Fortuna Gauloises Tech 3 team-mate Norick Abe will start the race in 17th on the sixth row.
What makes Melandri's performance so impressive is the fact that nine days ago the young Italian, who took his first MotoGP podium result only two weeks earlier, was in a Barcelona hospital undergoing surgery. Yet despite this he now starts a race having equalled his best qualifying performance, which he achieved in Catalunya at the previous race. Like the rest of the field the former 250GP champ has more work to do in tomorrow's warm-up session – which is predicted to be dry.
Valentino Rossi (Gauloises Fortuna Yamaha), first – 1'58.758
"The last lap was incredible. We put in the qualifying tyre but at the start of the lap I didn't go at 100%, then on the last two sections I pushed very hard. It was possible to take a good advantage and get pole position. To ride in Assen with these bikes is incredible, difficult to explain. We had a good practice today, used all the final hour to make the bike better. I am quite worried because in the wet we have some problems and in three sessions we have not been able to get the bike 100% the way I want. For tomorrow I hope we can have good weather and make a dry race."
Carlos Checa (Gauloises Fortuna Yamaha), second – 1'59.440
"We must be satisfied because we improved the lap time every time we went out. It was not easy because conditions were still not perfect but we had the feeling step by step and finally we got a really good lap time. It was just Valentino was so fast I could not catch him. Our target was to start in the first row, so we made it. Tomorrow we have to start to set the bike up for the race because we didn't have much time today. We are ready to race anyway and today we all did a great job."
Davide Brivio, Gauloises Fortuna Yamaha team director
"For a team to be first and second is a perfect job, especially as we only had this single session in the dry. We were very good at finding the best possible settings and to have them one-two was just great. Marco Melandri was fourth on his Yamaha so for the YZR-M1 it's great, a big improvement from yesterday. Assen has a lot of corners and our chassis has good agility, good handling, and that helped us a lot. Valentino did a fantastic lap, one second better than last year in just one hour of dry track time. The forecast says that it will be dry tomorrow so I hope that it's not wrong. We have to use the 20 minutes of warm-up as well as possible to look at tyre choices for the race, gearbox settings, all other parameters and every minute will be important."
Round: 6 - Assen TT , Circuit Length: 6027
Lap Record: 2' 0.973 (Valentino Rossi, 2002)
Fastest Lap Ever: 1' 58.758 (Valentino Rossi, 2004)
Date: 25 June 2004 Temp: 14†C

Pos. Rider Manufacturer Nat. 1st Qualifying 2nd Qualifying
1 V. Rossi Yamaha ITA 2' 14.919 1' 58.758
2 C. Checa Yamaha ESP 2' 14.658 1' 59.440
3 S. Gibernau Honda ESP 2' 12.540 1' 59.903
4 M. Melandri Yamaha ITA 2' 17.075 2' 0.724
5 S. Nakano Kawasaki JPN 2' 19.765 2' 0.755
6 A. Barros Honda BRA 2' 13.723 2' 0.977
7 K. Roberts Suzuki USA 2' 15.073 2' 1.182
8 M. Tamada Honda JPN 2' 17.177 2' 1.212
9 R. Xaus Ducati ESP 2' 13.876 2' 1.312
10 J. Hopkins Suzuki USA 2' 17.836 2' 1.593
11 A. Hofman Kawasaki GER 2' 18.074 2' 1.617
12 M. Biaggi Honda ITA 2' 15.102 2' 1.635
13 C. Edwards Honda USA 2' 14.955 2' 1.642
14 T. Bayliss Ducati AUS 2' 14.107 2' 1.707
15 L. Capirossi Ducati ITA 2' 15.558 2' 2.029
17 N. Abe Yamaha JPN 2' 17.715 2' 2.427

Carlos Checa (7) drops back to third ahead of Alex Barros (4) as Rossi (46) closes in on Gibernau (15) to battle for the race lead.
Rossi and Gibernau Tied in Points after another Dramatic Duel
Race Day Saturday, June 26th -A crowd of 90,000 passionate Dutch race fans watched Valentino Rossi (Yamaha) win his third consecutive race of the season and go level on points with Sete Gibernau (Telefonica Movistar Honda RC211V) who was second. Marco Melandri (Yamaha) was third. The bad weather that had caused such problems for riders over the two days of qualifying stayed at bay for race day and although clouds threatened to spoil the party, all three races remained dry today. Many riders were forced to gamble with set-up and not all those gambles paid off.
After a prolonged start procedure after the warm-up lap it was Carlos Checa (Yamaha) who made a super-fast getaway from the grid. He was chased into turn one by Gibernau who then shot past him to lead the pack past the packed grandstands for lap two. Rossi then moved up to challenge and was involved in a race-long contest with Gibernau. With the others unable to match their lap record breaking pace, they eventually left a nine-second gap back to Melandri at the flag.
Alex Barros (Repsol Honda RC211V) was back to something resembling his best form and was third on lap two and chasing Gibernau who was now joined by Rossi. Max Biaggi (Camel Honda RC211V) was running fourth but a trip into the dirt on the fast back section detuned him and he began to slip back.
Gibernau and Rossi were exchanging fastest laps as each sought to break the deadlock early and perhaps make a break. But this evenly matched pair would remain locked in combat for all 19 laps of the 6.027km track.
Marco Melandri (Yamaha) was now making inroads on the leaders and by lap eight, the recuperating Italian, who had surgery on his forearm to cure 'arm pump' ten days ago, was lying fourth. He would soon inherit third on lap 11 when Barros crashed out at turn one. Melandri too would have a big moment at the chicane on the next lap as he tried to close in on the leading duo. He lost time, but could have lost more.
This was now a straight race between the two title protagonists. In the closing laps the pair again exchanged lap records, with Gibernau managing a 1m 59.473s lap and Rossi a 1m 59.473 as they duelled. That lap brought him close enough to dive inside Gibernau on the brakes at turn 12. The pair touched as the fight intensified, Gibernau finished the race with a smashed front mudguard after Rossi had run out of brakes and used Gibernau as a buffer. The pair made contact into the following right-hander as Rossi almost lost the front, leaving the chasing Gibernau nowhere to go and nursing a broken front mudguard. Rossi then waited until the last lap before he pounced. Try as Sete might, there was little time for him to reply.
"Right now we're doing what we can," said Gibernau. "We need to work a bit more and try to get over our problems. I tried to really push hard three laps from the end but ran into chatter problems. He won well and congratulations to Valentino. That must have been a good show for everyone but it's up to us to keep working."
Melandri, who had surgery on his arm just ten days ago, was expected to miss the Assen TT and wait for Rio, next weekend – but the young Italian had other ideas. A change in set-up this morning by his crew gave him a bike he could really work with and as a result his latest performance lifts him to fifth in the World Championship points standings.
Rossi's latest win puts both he and Gibernau on 126 points, although Rossi leads due to his better win ratio – four to two. Checa's points for ninth were enough to keep him fourth in the championship. The Gauloises Fortuna Yamaha Team now leads the teams' championship, and Yamaha also leads the manufacturers' table after the latest successes.
Valentino Rossi (Gauloises Fortuna Yamaha), first
"I stayed quite easily behind Sete at the start but after the tyres started sliding it was not so easy. There were points where I was a little bit faster and it made for a great, great battle. I lost a bit of time with Barros, and with two or three laps to go I made a mistake in the long straight after my foot slipped off the peg, and Sete went away. I tried to not give up and made a very good time before the last lap and had a hard battle of braking with Sete as I tried to overtake. After I got by him, at the next corner I almost lost the front and I thought I would crash. It was a fantastic race for everybody. I think Sete will be a little bit angry but it was a great race between us."
Davide Brivio, Gauloises Fortuna Yamaha team director
"Another victory for us and Valentino makes every one different. This time it was a great overtake from him on the last lap. Each time is something new, a new emotion. Here we are with four wins in six races, we now share the points lead with Gibernau, but we lead the constructors' and team's classifications, which is great for everyone in this project, because we really put in all our effort and energy for this. Unfortunately we could not continue that success with Carlos, who had some problems with the settings. We have to work even harder to put Carlos back on the podium soon."
Marco Melandri (Fortuna Gauloises Tech 3), third
"I said yes – go to Holland and ride my bike. But some people said it was impossible to do this race. I thought I could maybe fight for sixth or seventh but the team did such good work on a set-up, which was new for the race, that it made all the difference. The bike was a little bit nervous at first but then I got used to it. I pushed hard and made a mistake but I was faster than Carlos and then faster than Max and I thought my arm was okay so maybe I thought 'go faster' and despite this my arm was still okay."
Max Biaggi was upbeat about his fourth. "We were in much better condition for this race," he said. "Even if the lap times weren't so good. Thanks to Honda we solved some problems and gave 100% even if I was only fourth. I took risks and being on the grass at 270km/h was a sign of those efforts."

Nicky Hayden (Repsol Honda RC211V) finished fifth. "A tough, fun race," he said. "I could see the guys in front and I was catching them but wasn't quite close enough to make a move. I'm just happy to have a good race and be out there battling after three races that haven't been so good for me."
A sixth place pleased Colin Edwards (Telefonica Movistar Honda RC211V). "I got a good start," he said. "In the first lap I passed a couple of riders and then got stuck behind Nicky who was faster off the corners than me and I couldn't pass him. All-in-all a good race. All I need to do now is qualify better."
Carlos Checa (Gauloises Fortuna Yamaha), ninth
"I didn't get rear traction, stability or grip. When I opened the throttle I did not have any contact. That was the main problem. At the beginning I was able to follow a little bit but after three or four laps I started losing more and more. I changed my riding style but I was not able to fight with the other riders. We need to consider this problem and try to fix it for the next race in Rio. We need to work in that area of rear grip because that was our limitation today. I maintained fourth in the championship but we need to work because I want to fight for the podiums, stay in front and I thought here we would have a good chance. Rio should be a good track for us and we have to see if we are able to make it work well there. We should be okay."
Race classification MotoGP
Round: 6 - Assen TT , Circuit: Assen
Circuit Length: 6027
Lap Record: 1' 59.472 (Valentino Rossi, 2004)
Fastest Lap Ever: 1' 58.758 (Valentino Rossi, 2004)

Race: 19 Laps
Pos. Rider Manufacturer Nat. Total Time
1 V. Rossi Yamaha ITA 38' 11.831
2 S. Gibernau Honda ESP +0.456
3 M. Melandri Yamaha ITA +9.909
4 M. Biaggi Honda ITA +10.183
5 N. Hayden Honda USA +10.300
6 C. Edwards Honda USA +10.801
7 R. Xaus Ducati ESP +13.705
8 L. Capirossi Ducati ITA +14.091
9 C. Checa Yamaha ESP +15.159
10 N. Hodgson Ducati GBR +34.066
11 N. Abe Yamaha JPN +34.414
12 M. Tamada Honda JPN +39.186
13 A. Hofman Kawasaki GER +41.506
14 J. Hopkins Suzuki USA +54.569
15 J. McWilliams Aprilia GBR +1' 4.761
Fastest Race Lap:
1 V. Rossi Yamaha ITA 1' 59.472

Championship Standings MotoGP

Pos. Rider Manufacturer Nat. Points
1 Valentino Rossi Yamaha ITA 126
2 Sete Gibernau Honda ESP 126
3 Max Biaggi Honda ITA 93
4 Carlos Checa Yamaha ESP 56
5 Marco Melandri Yamaha ITA 54
6 Colin Edwards Honda USA 54
7 Alex Barros Honda BRA 48
8 Loris Capirossi Ducati ITA 42
9 Nicky Hayden Honda USA 38
10 Norick Abe Yamaha JPN 33
11 Ruben Xaus Ducati ESP 32
12 Troy Bayliss Ducati AUS 23
13 Shinya Nakano Kawasaki JPN 20
14 Makato Tamada Honda JPN 19
15 Neil Hodgson Ducati GBR 15

Manufacturers standings MotoGP
Pos. Manufacturer Points
1 Yamaha 133, 2 Honda 130, 3 Ducati 54, 4 Kawasaki 25
5 Suzuki 17, 6 Aprilia 14 , 7 Harris WCM 7, 8 Proton KR 7
9 Moriwaki 2
---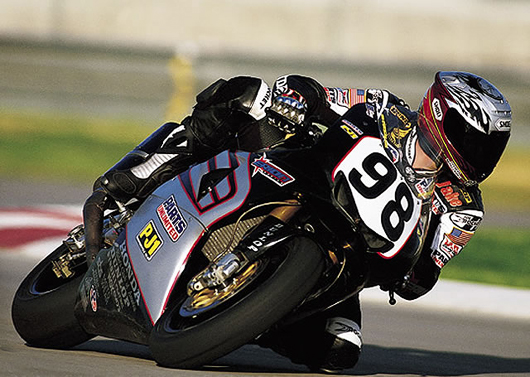 Jake Zenke on the Erion CBR1000RR clinced his first AMA Superbike win at Brainard
AMA Superbike Championship, Round 7 Brainard
Jake Zmeke Caps His First Superbike Win In Minnesota
Brainard, MN, June 27th: Erion Honda's Jake Zemke earned his first career AMA Superbike win with a last lap pass of American Honda's Miguel Duhamel under a light drizzle at Brainerd International Raceway for the Trofeo Ducati sponsored round of the Championship. Duhamel's second place allowed him to close within six points of championship leader Mat Mladin (Suzuki), third today, with seven rounds remaining.
"Brainerd's a pretty special place for me," Zemke said. "I won my first Formula Xtreme race here, I won my first 600 race here, and now I've won my first Superbike race here."

The Superbike Race
Jake Zmeke gridded his Erion racing Honda CBR1000RR on the pole ahead of Suzuki's Matt Mladin, and Team Honda's Duhamel and Ben Bostrom, with lawaski support rider Josh Hayes qualifying 5th quickset to head up row two ahead of Ducat's Eric Bostrom, Aaron Yates and Pascal Picote. With the start it was Hayes who out dived everyone going into turn one and was heading a superbike race for the first time with the new ZX10. For the first 3 laps it became a pass and repass battle for the lead between Hayes, Zmeke and Duhamel with Mladin, Eric and ben bostrom in close persuit. Unfortunately for the fans Hayes began dropping of the pace, around lap 4, possibly because of a wrong tire choice.
The lead battle continued among Duhamel, Zemke, and Mladin, with the Bostrom brothers, Eric (Ducati) and American Honda's Ben at the tail end of the lead quintet. Zemke led the first lap and again on laps six through nine. Then the lead trio began going back and forth. It was on the 15th of 21 laps that Duhamel asserted himself, leading to the final lap.
The French-Canadian veteran began the final lap in the lead, but he made a rare mistake in turn two, running off the side of the track and giving Zemke an opening. For the rest of the lap, Duhamel probed, and was briefly past toward the end of the lap. But Zemke came back and was back in the lead in the final corner where a pair of slower riders had crashed on the wet track. A caution flag meant the battling Honda riders couldn't advance their positions and Zemke had a clear run to the flag.
The race ended literally and figuratively under a cloud, one certainty being that Hondas were one-two for the second race in a row and fourth time this year. The checkered flag flew for the Hondas but a red flag was soon displayed and the spots behind the leaders were temporarily in question.
One that wasn't was American Honda's Ben Bostrom in fifth. Despite choosing the wrong rear wheel width, a problem which hampered his drives, Bostrom was having his best race of the year, right at the tail end of the lead pack and threatening to make it a Honda sweep of the podium. But traffic just over two laps from the end, and the wet final lap, caused Bostrom to lose touch.
On Saturday, Duhamel added to his portfolio by winning his ninth race at BIR. This time it was Formula Xtreme, a hard-fought win over Zemke. The two are the runaway championship leaders, Duhamel at 250 points and Zemke at 235, with Erion Honda's Alex Gobert at 193.
Jake Zemke, First Place
"It was a hard race.We went into the race not knowing what the bike had, but the boys (his team) put it all together for me.

I think I might need to quit racing pro and come here and race club races, having a perfect win streak maybe. I really like the lay-out in the infield because it leaves you the opportunity to change your lines a bit. It's wide enough in the way the corners fit together that you can use a little bit different lines to try things out. Miguel (Duhamel) made a little mistake there coming out of two. I was actually lining him up and that's where I was going to try to pass him anyways. And when he did that, that just opened the door wide open. I was trying to peek in and then all of a sudden someone kicked the door through. Then just came around to the finish; the last two corners were awfully wet."
Miguel Duhamel, Second Place
"Turn two I just carried a little too much speed and went a little wide, a bit wider than I thought. Just sliding a bit and Jake (Zemke) jumped on the chance and passed. Then I was pretty much on him and coming out of the tight right-hander, the bus stop, it was raining pretty bad. He got a slide and I got a good drive on him. And you crossed the bridge and it was just pouring rain. I got in front of Jake and going through the corner I just rolled off and he went for it. I just braked a bit and ran wide.
It's a heartbreaker, I understand that, but they've got to do what they've got to do. It's safety. And that's what it's all about. And they should have just called it. That's my opinion. If you saw what was out there, there's nothing else to say. They pushed it and pushed it. It rained like three laps before, two laps. We just rode really hard everybody. For me it sure was a heartbreaker to lose the race. I'm happy for jake, he finally won one. He's been almost there so many times before. And I'm certainly happier then if it was Mladin (because of the points -Ed)."
Ben Bostrom, Fifth Place
I was on a six inch rim and I found out everybody else was on a 6.25. Maybe I just made a poor mistake. In this case we had a bike that almost steered too good. I could put it anywhere, but I couldn't get off any corners. It was hard to get off turn two and the last corner I was just getting pulled real bad. When I caught up I thought I'd hang and cool off the tire. But the longer I was behind them the harder it was to stay there. What I noticed, though, is that my entry speed is coming back. It's where I used to make time on everyone. I see that coming back. Even though I was really angry I was smiling when I was out there.
AMA SUPERBIKE:
1. Jake Zemke (Honda)
2. Miguel Duhamel (Honda)
3. Mat Mladin (Suzuki)
4. Eric Bostrom (Ducati)
5. Ben Bostrom (Honda)
6. Josh Hayes (Kawasaki)
7. Aaron Yates (Suzuki)
8. Pascal Picotte (Yamaha)
9. Jacob Holden (Suzuki)
10. Geoff May (Suzuki)
SUPERBIKE STANDINGS:
1. Mat Mladin (Suzuki) 358
2. Miguel Duhamel (Honda) 352
3. Jake Zemke (Honda) 348
4. Eric Bostrom (Ducati) 262
5. Geoff May (Suzuki) 241
6. Ben Bostrom (Honda) 210
7. John Haner (Suzuki) 200
8. Aaron Yates (Suzuki) 189
9. Eric Wood (Suzuki) 181
10. Cory West (Suzuki) 167

FORMULA XTREME:
1. Miguel Duhamel (Honda)
2. Jake Zemke (Honda)
3. Vincent Haskovec (Suzuki)
4. Alex Gobert (Honda)
5. Pascal Picotte (Yamaha)
6. Michael Barnes (Buell)
7. Blake Young (Suzuki)
8. Larry Pegram (Yamaha)
9. Heath Small (Yamaha)
10. Nicky Moore (Suzuki)

FORMULA XTREME STANDINGS:
1. Miguel Duhamel (250/5 wins)
2. Jake Zemke (235/2)
3. Alex Gobert (193)