DUCATI MOTOR HOLDING PRESENTS ITS OFFER FOR THE ACQUISITION
OF THE MAJORITY SHARE OF APRILIA
Bologna, Italy, July 7, 2004 Ducati Motor Holding S.p.A. (NYSE: DMH, Borsa Italiana S.p.A: DMH), a leading manufacturer of high performance motorcycles, has presented today an offer for the acquisition of the majority share of the Aprilia Group.
This offer intends to solve the recent financial crisis of Aprilia in order to re-establish its role as a leader, built up over years of hard work and successes in the two-wheel market.
This operation is based on the wish to promote the Italian two-wheel industry consolidation. This new group, first of its kind in Europe, would be able to compete successfully at a global level, thanks to the strengths and peculiarities of each single brand, scale economies and the technological excellence resulting from the combination of each companyís competencies.
"Ours is a long-term industrial project,î said Federico Minoli, Ducati Chairman and CEO. ìWe are not financial investors. We are moved by passion and we are dedicated to the success of Italian bikes worldwide. We are conscious that this success depends on respecting and enhancing the different identities of each single brand, each one directly linked with its products, its history and its territory, where manufacturing sites have to be kept. Technological competencies, the real asset of each company, could be better used in an integrated and coherent development plan that avoids duplication, and that concentrates its investment efforts on technology and innovation. All together these companies will have a great market penetration force, in particular abroad, realizing in the meantime important synergies in sales structures and distribution channels, as well as in purchasing and administrative structures. Our Ducati turn-around experience leaves us confident of the possibility of success and conscious of the responsabilities we are assuming versus an industry sector that has always proudly brought the Italian geniality and passion for the two-wheel industry to the world."
Founded in 1926, Ducati builds racing-inspired motorcycles characterized by unique engine features, innovative design, advanced engineering and overall technical excellence. The Company produces motorcycles in five market segments which vary in their technical and design features and intended customers: Superbike, Supersport; Monster, Sport Touring and Multistrada. The Companyís motorcycles are sold in more than 60 countries worldwide, with a primary focus in the Western European, Japan and North American markets. Ducati has won twelve of the last fourteen World Superbike Championship titles and more individual victories than the competition put together.
Meet Mikuni's "Explict Performance" girl
Andra Cobb
for a
Free Autographed Poster and meet our other
SBK World Superbike FastDates.com Calendar Angels including Miss Great Britain Nicki Lane & Miss Texas Robin Cunningham to pick up your autographed copy our new 2005 Calendars!
Nicki is featured on the cover of
2005 Fast Dates, Iron & Lace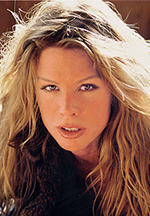 LA Calendar Bike Show
Master of Cermonies!
Meet "Rockin' Robin" Cunningham
our SBK Fast Dates
Superbike Calendar Angel and Ducati Corse Umbrella Girl at 2004 Laguna Seca,
Miss Harley-Davidson,
Miss Texas, Miss Hawaiian Tropic International winner,
and hostess of an upcoming new Rock Band Interview series on Fuse music TV!
Rockin' Robin will blow your socks and shorts off all weekend long as our Hostess and Master of Ceremonies on stage for the Bike Show, and as we party into the wee hours of the night at the Iron & Lace Calendar Saturday Night Builders Party on board the Queen Mary!
- Click Robin's head shot
for more -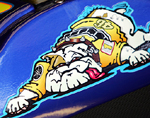 German Grand Prix Preview July 16,17,18, 2003
TITLE PRESSURE MOUNTS AS MAX FINDS FORM

After a riveting Rio Grand Prix two weeks ago where mighty Makoto Tamada (Camel Honda RC211V), riding on Bridgestone tyres, recorded his first win in the premier class, the show moves on to Germany.
Tamada's victory was significant, but so was the fact that the two title protagonists so far both failed to score points Sete Gibernau (Telefonica MoviStar Honda RC211V) and Valentino Rossi (Yamaha) failed to finish the race.
This is the first time this season neither of those riders has scored and it was left to Max Biaggi (Camel Honda RC211V) to pick up the points for second and close to within 13 points of the leading duo who are still locked on 126 points apiece. This key German race now marks the halfway point of this 16-race season and none of the leading riders can afford to slip up here.
Last year this was where Gibernau defeated Rossi in one of the great races of the 2003 season. And there's no reason why this year's contest should be any less enthralling. If both men succumbed to the undoubted pressure in Brazil, then the pair have to take a more measured approach here in Germany. If they don't, then the wily Biaggi could well be the benefactor.
The Sachsenring is where the Grand Prix circus returns to more familiar ground. Rio, like Welkom in South Africa, is something of a one-off race, and unpredictable for that. This is a familiar environment 50-miles south-west of Dresden in eastern Germany and although some riders don't like this roller-coaster of a track they are at least more acquainted with it.
Built near the old public roads circuit, the new Sachsenring is a mere five miles from the old MZ factory the birthplace of the modern two-stroke engine. The track is now 3.671km long after a downhill right-hand bend was added for last year's race. This is now one of the epic corners in Grand Prix racing.
But there's more than just one majestic bend to this demanding track. This is a flowing track that works riders and tyres hard. Rubber gets little time to recover between turns and the right-hand side of the tyre gets little work to get it up to temperature in the early laps before huge demands are made of it in the downhill plunge.
The track is one of the slowest of the 16 venues only three tracks have a lower top speed. Loris Capirossi (Ducati) recorded 283 km/h here in 2003. Indeed, some riders use only four gears out of six available such is the tight nature of this track. Riders also use less full throttle than at any other track.
Gibernau is among the riders that find it tough here, despite his win last year. "It's slow and difficult," he said. "But then again it was one of the best races of my life last year. The last two turns offer good overtaking opportunities and the descent is the quickest and the most difficult part of the track. The bike settings need to be spot-on to get drive out of the slower turns. But the crowd is amazing and I have lots of support from fan clubs based here."
For Biaggi the Sachsenring represents a challenge and the Roman appreciates the demands it makes on a rider. "The track is winding with no real straight," he said. "It's unique. You need a very agile bike and you need it set-up by Saturday because the way qualifying is going these days a front row start is a must. A good grid position is vital here because the first part of the track is very narrow and it doesn't open out until the last part you don't have time to make up positions if you get a bad start here."
Biaggi set pole here last year and also holds the lap record at 1m 24.630s. But his team-mate Tamada will be a threat here. The Japanese rider has endured a great loss recently having flown to Japan last weekend for his Mother's funeral. Grief notwithstanding, Tamada will be racing to win as ever.
Alex Barros (Repsol Honda RC211V) is hardly a fan of this track, but after a tough home race in Brazil, he needs to get back in the groove here as the halfway point of the season approaches. "I'm hoping we can make progress here," he said. "The season so far has been pretty frustrating for the team. There are times when the bike feels great in practice and then it all goes wrong. Sometimes it's the other way round. We had front-end trouble in Rio and this is a track where you don't want front end trouble."
His team-mate Nicky Hayden (Repsol Honda RC211V) has been showing stronger as the season gels and after a third place in Rio, he needs another big result. "The Rio result came at the right time," said the American. "I've had ups and downs this season and I need to string another race together with a front row start and a podium finish. I didn't qualify so well here last year, but I enjoyed the race and learned a lot. I need a few strong finishes to get me where I need to be in the Championship."
Colin Edwards (Telefonica MoviStar Honda RC211V) has been consistent this year, but not as far up the finishing order as he would like. "This is a strange, tight track," said the Texan. "The tyres are under a lot of strain and it's vital to make the right choice so they don't overheat on the left-side. Then there's the downhill right that you have to be careful on in the first few laps because that side of the tyre takes a bit more time to get up to temperature. It's not a track I really like."
Naked Desmosedici! FastDates.com takes an exclusive visit inside the
Ducati Corse MotoGP Race Shop! Plus - See our visit to
Ducati Racing School
At Misani Italy!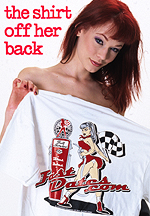 Tyre industry evolving
as globalisation
forces change
OVER past decades, the tyre industry has been a relatively stable market, dominated by only a handful of major names.
Historically, domestic tyre markets prospered and the main players were able to thrive as sales in motor vehicles boomed. This was particularly true in America, whose production of tyres overshadowed that of the rest of the world.
Today, the situation is very different, with fierce competition from Europe and, more importantly, from developing industries in the Far East.
In the USA, only Cooper and Goodyear-Dunlop remain. The main competitors are: in Japan, Bridgestone-Firestone; in France, Michelin; in Germany, Continental, Metzeler and the Italian Pirelli brand; in the UK, the Cooper subsidiary Avon. Of course, many of these firms exist now in a very different corporate format to that in which they started out, with numerous brand purchases and mergers.
The growing Asian tyre market comprises Japanese companies such as Toyo and Yokohama, Hankook and Kumho in Korea, and Vee Rubber in Thailand. The latter firms are forcing down prices and increasing pressure on the industry by profiting from low labour costs.
Goodyear is still the world's largest tyre company, and its plant in Tonawanda, New York, has recent and continuing capital investments in excess of $6.8 million (€5.61 million), which include a development programme for motorcycle tyres. That said, the company is facing significant financial problems and has incurred a high amount of debt. Over the past three years, the manufacturer has lost more than $2 billion (€1.7 billion). This has led to job cuts, the closure of plants and the refinancing of loans.The outcome of this dynamic phase in the history of tyre manufacturing is difficult to predict, but the battle for domination of global trade continues to intensify.