Significant Engine and Suspension Updates for 2005
Ducati 999R jumps by 11hp to 150hp
with its new AMA Homologation Production Bike
July 8th - Ducati's World Superbike homologation model 999R gets some significant updates for the new 2005 model already arriving in American Ducati dealer showrooms as you read this. The most important changes are inside the engine where you'll never see them and include titanium valves, a slightly redesigned components in the desmodromic valve train, different camshaft profiles with higher lift to take advantage of the lighter Ti vales, and a redesinded crankshaft.The result is an even wider powerband at even lower RPM for the 999cc V-Twin which also sees a 11peak hp increase at just 9750rpm, compared to the previous 2003/04 model 999R. Engine redline and ignition cutoff remains at 11,000rpm.
In the chassis deparment the most visible changes are the red painted frame (instead of silver) to match the factory Corse superbikes., the new stamped aluminum rear swingarm that's stronger and lighter like on the team Corse bikes, and the cleaner looking front fairing without the upper air slots. The Ohlins suspension sees some revisions as well with changes to the compression adjustment on the back shock no longer affecting rebound as well (we thought they were separate, before!). The front forks get smaller diamer internal springs inside plastic instead of metal sleeves to reduce weight and oil contamination.
The new 2005 999R does save you a little money as well. The R model now comes to the American market without them Termignoni Race Silencer and CPU kit that was previously packaged in the crate with the 2003-2004 R model bikes, nor the swingarm stand and bike cover. This drops the retail price some $2,000 from $32,000 previously, down to $29,995 for the new 999R05.
Should you still need more power and looks you will be able to purcase separately from Ducati Performance the Termignoni Slip-on Silencer with CPUupgrade Kit (est $1,200 and 7% hp increase), or a complete Stainless Steel ($2,400) or Titanium ($3,200) larger diameter Race Exhaust System (10-15% hp increase) good for160-170hp when you're done. This was factory World Superbike race winning horsepower just 4 years ago - and you'll be getting it with a streetbike running "low compression" 12.45:1 on 91 Octane pump gas!
Ducati USA has 300 of the new 999R05's ordered and being delivered now for the American market. They admit this is a bigger number of R models then they've been able to sell in past years, but they feel with the price reduction and the return to AMA Superbike racing with Eric Bostrom on the Ducati Austin team there should be enough of a demand to sell out quickly.
Our only criticism on an otherwise incredible bike is the new red painted frame is a little to much red on a plain red bike, and we would have prefered they stayed with the silver frame to give the bike more definition, but it was certainly the case of trying to make the R model look like the factory bikes for your extra money. See how the R would look with a silver frame, below, with our 999S Project Bike. Which do you like better?
Look for FastDates.com first world test of the new 999R05 in about 6 weeks.
For complete details and more pictures of the new Ducati 999R05 go to New Sportbike Index
Below, our 2003 model 999S FastDates.com Project Bike was built 12 months ago and featured a carbon fibre front race fairing without the upper air slots, and a full Termignoni Ti Racing Exhaust System with CPU upgrade for 145-150hp just like the new 999R05. Was the Ducati factory watching us? Carbon fibre BST wheels also helped reduce weight some 30 lbs total from stock. For complete details our building theFastDates.com Ducati 999 Project Bike go to Paddock Garage
---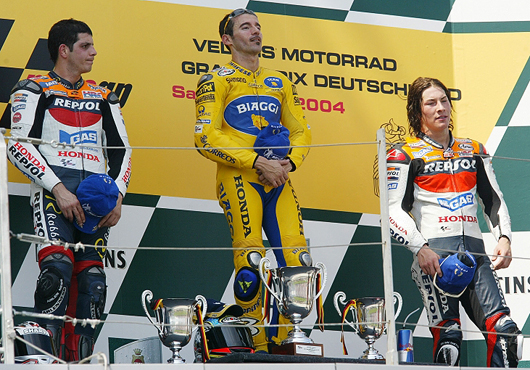 MotoGP World Championship , German Grand Prix, Sachsenring, Round 8
Weather: Bright Sun, 36'c Track: 44'c, Attendance: 93000

Battling Max Biaggi Fights His Way into the Title Chase
Sachsenring, Germany July 16-18th - A sun-soaked 93,000 crowd watched majestic Max Biaggi (Camel Honda RC211V) catapult himself right into World Championship title contention with a crucial first win of the season here in Saxony in eastern Germany. The Roman maestro beat Alex Barros (Repsol Honda RC211V) into second and Nicky Hayden (Repsol Honda RC211V) was third.
Sete Gibernau (Telefonica Movistar Honda RC211V), the man who shared the lead in the overall World Championship points standings going into this the eighth race of the 16-round season, crashed out of the race on lap nine. His title rival Valentino Rossi (Yamaha) finished fourth.
With track temperatures eight degrees higher than even the scorching 36 degrees of yesterday, most riders opted for medium compound tyres front and rear. But grip was again a supremely rare commodity today and it was the men who had the set-up to hook up the rear tyres of their 230bhp MotoGP machines in the closing stages who made the running.
Max started from pole but Rossi dived inside him on the way down from the double left-handed hill turns to lead the first lap momentarily before Max got him back two turns later to lead the pack over the line.
Gibernau was on the move to third by lap two and it looked like the three main contenders for the World Championship would be fighting it out at the front until Carlos Checa (Yamaha) joined them by lap four and then overtook Gibernau for third on lap five before crashing out on the same lap moments later.
Nicky Hayden meanwhile was making a meteoric charge through the field. He started from ninth on the grid and was only in 12th place on lap one. He was fifth by lap seven and then third by lap ten. Then Barros relieved him of third and began closing on Biaggi who led with Rossi in close attention.
By this stage Gibernau had crashed out for his second DNF in a row. Rossi's pitboard informed his of this and on lap 16 Rossi made a move past Biaggi with the prospect of a 25 point haul in sight for a win.
But with more than two thirds of race distance completed Rossi's tyres had had enough and Max re-took the lead on lap 22. Rossi was in trouble and a lap later Barros relegated him to third. Before another two laps had been run, Hayden took the reigning champ for third and Rossi looked in no shape to mount a challenge.
Barros wanted a win though and he hounded Biaggi in the final few laps to finish second by just 0.349 seconds with Hayden third 4.293 seconds adrift of the victor.
There was action all the way down the field with seven riders crashing out. Both Ducati riders crashed, three Yamaha men went down and as well as Gibernau, one Proton crashed and another failed to finish.
Max was delighted with his win that takes him to within one point of current World Championship leader Rossi. "A fantastic weekend," he said. "My Honda was incredible and this was great time to close the gap in the Championship. We worked hard on suspension set-up this morning for the last part of the race and even when Valentino passed me I knew I had the right set-up to be able to get back at him as soon as he made a mistake."

" I'm obviously delighted, these 25 points change the standings and they fire us into an important second half of the season, which should be very hard fought. For this reason it's better to keep our feet on the ground and to continue to work as we have done so far. The bike is improving, the relationship with the team is unbeatable and with both Honda and Michelin we are working superbly."
Barros said, "The race went very well. I made contact with Sete at the start and lost a few places, then I got it together and went after a win. The new exhaust system helped a lot in the slower turns with traction and this is now the first race where I really had a chance to go for a win."
Hayden was equally positive about his German experience. "There's more to come," he said. "I rode hard for the whole race and Alex came past and pulled me though to the front group. I really worked my tyres at the end of the race and I had to keep it together with Rossi behind me – not the sort of guy you want behind you at the end of a race."
Colin Edwards (Telefonica Movistar Honda RC211V) rode a strong race for fifth and said, "We found some more from the bike in morning warm-up and that was great. I got a good start and worked on taking places at every opportunity. From lap three the front started sliding and that was a bit uncomfortable in turns five, six and seven. But a fifth-place finish from the fourth row of the grid has to be okay for now."
Makoto Tamada (Camel Honda RC211V) riding on Bridgestone tyres finished sixth. "I tried to make a few places where I could and I had a good dice with Colin Edwards – he was good on the brakes and I just couldn't make it past him. I also had a bit of vibration from the rear which needs looking at, but I like this track now."
On this tight track, the 250cc race was expected to be a close-fought affair, but no one reckoned on the utter domination shown by winner Danny Pedrosa (Telefonica Movistar Junior Team RS250RW) who strolled to his third win of the season. Sebastian Porto (Aprilia) was second and Alex de Angelis (Aprilia) third.
250cc GP to Pedosa
One of the sensations of the race was rookie Hiroshi Aoyama (Telefonica Movistar Junior Team RS250RW) who started from the third row of the grid in 12th and muscled his way to an eventual fourth – just 0.364 seconds shy of what would have been his first podium finish.
Roberto Rolfo (Fortuna Honda RS250RW) was the early leader with Porto tucked tight beside him as the first lap unfolded. Pedrosa held third and on lap two, the young Spanish star who had already motored past Porto, stole past Rolfo, who eventually finished sixth, for the lead.
He was never troubled and extended the margin between himself and the forlorn pursuer Porto to 4.2 seconds at the flag. The gap had been as high as six seconds before Pedrosa eased off slightly to safeguard this valuable points haul – his third win of the season.
"I knew I'd have to go hard at the beginning," said Pedrosa. "And I just tried to stretch my lead as much as possible until I knew I could get to the finish without pushing too hard. The whole team really did an excellent job here."
Randy de Puniet (Aprilia), Pedrosa's current main rival for the World Championship finished fifth and the overall points standings now show Pedrosa out in front with 155, de Puniet on 130 and Porto third with 108.
Results
MotoGP Race : (30 laps = 110.13 km) Pos/ Rider / Nat / Team / Motorcycle / Time/ KM/H
1 / Max BIAGGI / ITA / Camel Honda / HONDA / 42'23.287 / 155.888
2 / Alex BARROS / BRA / Repsol Honda Team / HONDA / 42'23.636 / 155.866
3 / Nicky HAYDEN / USA / Repsol Honda Team / HONDA / 42'27.580 / 155.625
4 / Valentino ROSSI / ITA / Gauloises Fortuna Yamaha / YAMAHA / 42'27.787 / 155.612
5 / Colin EDWARDS / USA / Telefonica Movistar Honda Mot / HONDA / 42'39.424 / 154.905
6 / Makoto TAMADA / JPN / Camel Honda / HONDA / 42'39.769 / 154.884
7 / Shinya NAKANO / JPN / Kawasaki Racing Team / KAWASAKI / 42'41.764 / 154.763
8 / Kenny ROBERTS / USA / Team Suzuki MotoGP / SUZUKI / 42'46.622 / 154.470
9 / John HOPKINS / USA / Team Suzuki MotoGP / SUZUKI / 42'53.992 / 154.028
10 / Alex HOFMANN / GER / Kawasaki Racing Team / KAWASAKI / 43'03.827 / 153.442
11 / Ruben XAUS / SPA / D'Antin MotoGP / DUCATI / 43'06.999 / 153.254
12 / Jeremy McWILLIAMS / GBR / MS Aprilia Racing / APRILIA / 43'16.078 / 152.718
13 / Neil HODGSON / GBR / D'Antin MotoGP / DUCATI / 43'16.977 / 152.665
14 / Shane BYRNE / GBR / MS Aprilia Racing / APRILIA / 43'36.502 / 151.525
15 / Michel FABRIZIO / ITA / WCM / HARRIS WCM / 43'43.337 / 151.131
Fastest Lap: Alex BARROS 1'24.056 157.223 Km/h Lap 15
World Championship Positions:
1 ROSSI 139, 2 BIAGGI 138, 3 GIBERNAU 126, 4 BARROS 79, 5 EDWARDS 75,
6 HAYDEN 70, 7 CHECA 62, 8 MELANDRI 57, 9 CAPIROSSI 55, 10 TAMADA 54,
11 XAUS 41, 12 ABE 41, 13 NAKANO 36, 14 ROBERTS 29, 15 HOFMANN 24.250cc
Race Classification 250cc: (29 laps = 106.459 km) Pos / Rider / Nat / Team / Motorcycle / Time / KM / H
1 / Daniel PEDROSA / SPA / Telefonica Movistar Honda 250 / HONDA / 41'37.239 / 153.470
2 / Sebastian PORTO / ARG / Repsol - Aspar Team 250cc / APRILIA / 41'41.518 / 153.207
3 / Alex DE ANGELIS / RSM / Aprilia Racing / APRILIA / 41'53.642 / 152.468
4 / Hiroshi AOYAMA / JPN / Telefonica Movistar Honda 250 / HONDA / 41'54.008 / 152.446
5 / Randy DE PUNIET / FRA / Safilo Carrera - LCR / APRILIA / 41'54.205 / 152.434
6 / Roberto ROLFO / ITA / Fortuna Honda / HONDA / 41'55.374 / 152.363
7 / Anthony WEST / AUS / Freesoul Abruzzo Racing Team / APRILIA / 42'09.380 / 151.520
8 / Fonsi NIETO / SPA / Repsol - Aspar Team 250cc / APRILIA / 42'10.005 / 151.482
9 / Franco BATTAINI / ITA / Campetella Racing / APRILIA / 42'14.965 / 151.186
10 / Sylvain GUINTOLI / FRA / Campetella Racing / APRILIA / 42'15.327 / 151.164
11 / Alex DEBON / SPA / Wurth Honda BQR / HONDA / 42'28.021 / 150.411
12 / Chaz DAVIES / GBR / Aprilia Racing / APRILIA / 42'28.173 / 150.402
13 / Joan OLIVE / SPA / Campetella Racing / APRILIA / 42'38.185 / 149.814
14 / Eric BATAILLE / FRA / Wurth Honda BQR / HONDA / 42'39.649 / 149.728
15 / Jakub SMRZ / CZE / Molenaar Racing / HONDA / 42'39.766 / 149.721
Fastest Lap: Sebastian PORTO 1'25.118 155.262 Km/h Lap 4
Championship Positions:
1 PEDROSA 155, 2 DE PUNIET 130, 3 PORTO 108, 4 ELIAS 86, 5 NIETO 83,
6 DE ANGELIS 80, 7 ROLFO 67, 8 AOYAMA 64, 9 POGGIALI 63, 10 WEST 55,
11 DEBON 53, 12 BATTAINI 37, 13 GUINTOLI 23, 14 MATSUDO 15, 15 BALDOLINI 15.125cc:
Race Classification 125cc: (27 laps = 99.117 km) Pos / Rider / Nat / Team / Motorcycle / Time / KM / H
1 / Roberto LOCATELLI / ITA / Safilo Carrera - LCR / APRILIA / 40'03.511 / 148.458
2 / Hector BARBERA / SPA / Seedorf Racing / APRILIA / 40'03.676 / 148.448
3 / Pablo NIETO / SPA / Master - Repsol Team 125cc / APRILIA / 40'04.217 / 148.414
4 / Andrea DOVIZIOSO / ITA / Kopron Team Scot / HONDA / 40'04.226 / 148.414
5 / Mika KALLIO / FIN / Red Bull KTM / KTM / 40'04.584 / 148.392
6 / Jorge LORENZO / SPA / Caja Madrid Derbi Racing / DERBI / 40'04.687 / 148.385
7 / Alvaro BAUTISTA / SPA / Seedorf Racing / APRILIA / 40'04.794 / 148.379
8 / Mirko GIANSANTI / ITA / Matteoni Racing / APRILIA / 40'04.970 / 148.368
9 / Julian SIMON / SPA / Angaia Racing / HONDA / 40'13.147 / 147.865
10 / Marco SIMONCELLI / ITA / Rauch Bravo / APRILIA / 40'15.332 / 147.731
11 / Steve JENKNER / GER / Rauch Bravo / APRILIA / 40'21.478 / 147.356
12 / Simone CORSI / ITA / Kopron Team Scot / HONDA / 40'23.818 / 147.214
13 / Gioele PELLINO / ITA / Abruzzo Racing Team / APRILIA / 40'35.309 / 146.519
14 / Sergio GADEA / SPA / Master - Repsol Team 125cc / APRILIA / 40'35.438 / 146.512
15 / Stefano PERUGINI / ITA / Metis Gilera Racing Team / GILERA / 40'41.067 / 146.174
Fastest Lap : Hector BARBERA 1'27.680 150.725 Km/h Lap 3
Championship Positions:
1 DOVIZIOSO 138, 2 LOCATELLI 131, 3 BARBERA 129, 4 STONER 104, 5 NIETO 88,
6 GIANSANTI 71, 7 LORENZO 68, 8 JENKNER 63, 9 SIMONCELLI 59, 10 KALLIO 40,
11 BAUTISTA 40, 12 PASINI 31, 13 DI MEGLIO 27, 14 SIMON 24, 15 BORSOI 22.
---
Five Former Winners slated to race Mid-Ohio's Honda Super Cycle Weekend
PICKERINGTON, Ohio (July 16, 2004) – Five former Mid-Ohio Superbike winners are slated to take to the track as the AMA Chevrolet Superbike Championship comes to Lexington, Ohio, for the doubleheader Honda Super Cycle Weekend presented by Dunlop Tire on July 23-25. The races are rounds 13 and 14 of the 18-race championship. Defending race winner Mat Mladin, of Yoshimura Suzuki, leads the series holding a 10-point lead over Honda's Miguel Duhamel. Erion Racing Honda's rookie factory rider Jake Zemke is a close third in the standings.
Joining Mladin and Duhamel as former Mid-Ohio Superbike winners are Aaron Yates, Eric Bostrom and Pascal Picotte. All five of these AMA Superbike stars have raised the Mid-Ohio Superbike winners' trophy. Three riders - Mladin, Yates and Doug Chandler - in the 21-year history of Mid-Ohio Superbike racing have won three races at the famous road racing circuit. Mladin, Yates and Duhamel will all vie to become the first four or perhaps five-time Mid-Ohio Superbike winner at the doubleheader.
The series this season has been one of the most competitive in years. Five riders have won this year representing three brands of motorcycles. Mladin not only holds the points lead, but also leads the way with five victories to this point in the series. Duhamel has four wins, while Zemke, Eric and Ben Bostrom have all earned a single win so far this year. Mladin feels good about the upcoming doubleheader after turning in the fastest time in testing at Mid-Ohio a few weeks ago.
"Testing went pretty well for us at Mid-Ohio," said Mladin, the four-time AMA Superbike champ. "We were pleased with the lap times we were able to put in with race tires. We need a couple of wins. That's all that will be acceptable."
In Monterey, Calif., a week and a half ago Mladin and his Yoshimura Suzuki seemed to stem the tide of the fast improving Hondas of Duhamel and Zemke. He looked to have the Laguna Seca race sewn up before a red flag came out and stopped the action. On the restart Mladin moved up and made a serious last-lap bid for the win, but came up just short of former World Superbike star Ben Bostrom.
"The story that hasn't been told enough is that Honda has a motorcycle that's suited well to the 2004 AMA Superbike rules," Mladin claims. "When you get to a track like Mid-Ohio, we're hoping that hard riding and a good motor bike set up on our Suzuki will allow us to make up in different parts of the race track to have a chance to go for the win. We have a close championship and I need to win some races."
While the primary story between Duhamel and Mladin is the championship battle, the two have also traded the lead on the all-time AMA Superbike wins this season. Mladin took the honor from Duhamel, who held the title since 1998. Then Duhamel's mid-season surge gave him back the all-time wins stat. Coming into Mid-Ohio Duhamel has 30 AMA Superbike wins to Mladin's 29. Those numbers could easily change over the course of the doubleheader weekend.
Additionally, Honda holds the all-time Mid-Ohio Superbike win record with nine victories. Suzuki has eight and if Mladin is successful he could make his manufacturer the all-time wins leader for the Mid-Ohio race.
Making a strong surge at the last round of the series was Ben Bostrom. Bostrom finally earned his first win since returning from a successful three-year run in the World Superbike Series that ended in 2002.
"We're back and we're racing again, racing for the win," said a rejuvenated Bostrom. "I had problems beginning back at Daytona when I had an ear infection. It really affected my balance for a long time. It feels so good to get back on the top of the podium again."
When asked how he felt about some people losing faith in his riding. "They had every right to," Bostrom explained. "I'm riding on the best bike on the best team and I should have produced better results than I did. Hopefully everything will turn around now. I'm not racing for the championship so I'm just going out there to win races."
Bostrom did something former World Superbike standouts Scott Russell, Fred Merkel, Doug Polen and John Kocinski were never able to accomplish and that's win an AMA Superbike race upon returning to AMA racing after their world championship stints.
Ben's younger brother Eric won at Mid-Ohio in 2002 and he is hoping to put his Ducati Austin machine atop the podium this year. Bostrom will try to give Ducati only its second win at Mid-Ohio. Doug Polen earned a victory for the Italian maker at Mid-Ohio in 1992.