New 2005 Fast Dates
- Order Now.
Be warned - We under printed this year and will sell out early.
Ask your favorite dealer to order them now, or click on the cover to order online.
DATE SET FOR RETURN OF MOTOGP TO THE USA: RED BULL U.S. GRAND PRIX IS JULY 8-10, 2005
MONTEREY, Calif. (August 23, 2004) - The Federation Internationale de Motocyclisme (FIM) has released the pre-calendar for the 2005 MotoGP World Championship with July 8-10 as the date for the Red Bull U.S. Grand Prix at Mazda Raceway Laguna Seca.
Tickets for the 2005 Red Bull U.S. Grand Prix are on sale now. General admission tickets and a limited number of paddock passes are on sale now via the track's ticket office - 1-800-327-SECA (7322) - during normal business hours or online at www.lagunaseca.com/Tickets.
Renewals will be sent to those who purchased tickets for the 2004 Honda Superbike Classic by the end of August. Non-renewed tickets/camping will be released to sell beginning Monday, October 25, 2004 at 8 a.m. via telephone at 800-327-SECA.
Support events for the Red Bull U.S. Grand Prix have yet to be determined.
Vendor information is available by calling Jeanie Sumners at (831) 648-5111 or jeanies@laguna-seca.com. Hospitality information is available by calling Ann Bixler at (831) 648-5111 or hospitality@laguna-seca.com.
More information on MotoGP World Championship is available online at www.motogp.com.
More information on Mazda Raceway Laguna Seca is available online at www.laguna-seca.com.
The MotoGP Deal for Laguna Seca
The rumor mill has Laguna Seca signing a 5 year deal to secure MotoGP in America, with a special price concession on the $1.5 plus million dollar sanction fee the first 2 years to get the event established here.
Unfirtunately MotoGP gets a exclusive to all the sponsorships and signagre it beings to the track for its one race, so Laguna Seca Raceway must make its sole income form spectator ticket prices and venders.
Knowing that the Laguna Seca facility (aka Mazda Raceway) can not accomodate more than 30,000 people at best,and that they will have production costs around $250,000 (employees, police, advertising, equiment rental, etc), the track will need to make $2 million to turn a profit, they need to charge at least $67.00 for a base general admission ticket.
Combine it with an AMA Superbike weekend, required FIM track imporverments, etc., and ticket prices could start closer to $100 each. Certainly in line with the ticket prices now shown on the Laguna Seca website at $55 for 1-day, $90 for a 3-day General Admission Pass, and $25 Paddock.
SBK looking for new World Superbike Venue
in America
Despite the loss of its veue at laguna Seca, FGSports producer of the SBK World Superbike Championship would like to return to America in 2005. One minor glich is, that at present no motorcycle track in America is FIM approved, including Barbour Motorsports Park.
Preview - Gauloises
Czech Grand Prix, Brno
August 20, 21, 22 2004
The 16-round MotoGP World Championship prepares to recommence after a three week summer interval, reconvening in Brno on August 22. The Gauloises Fortuna Yamaha Team approaches its latest challenge in far better shape than the majority of its rivals, after some outstanding individual and team performances since the start of the season in April.

World number one Valentino Rossi has displayed dazzling winning form in his first Yamaha year. His five 2004 victories thus far are as impressive as they were somewhat unexpected at this early stage of the new partnership. The upshot of the 25-year-old's points gathering performances, and the ever increasing capabilities of the Yamaha YZR-M1, is a 22-point lead over their closest competitors in the Riders' Championship.

Carlos Checa, the Fortuna-branded rider in Yamaha's cosmopolitan factory squad, has experienced an up and down season so far, his pinnacle performance was second at Le Mans in round three. He, like Rossi, is a big fan of the high-speed turns and committed downhill corner entries of the Brno track, a point which gives all involved a high degree of confidence at what is a Gauloises sponsored event.

Rossi's blue M1, as well as an on-track points gatherer, scooped an award from a spectator survey conducted at the Donington MotoGP weekend from British biking weekly Motor Cycle News (MCN). The bike was voted best designed machine of 2004, while the factory team was blessed with the accolade of favourite team in the paddock, proof of the overall prowess and high profile of the Yamaha factory effort.

Surfing high on the wave of Rossi's latest crushing triumph at the Donington Grand Prix three weeks ago, the team nonetheless continued its relentless pace of development by staying in situ to test one day later. The aim to solve some set-up issues which had appeared on occasion this year was achieved. After this successful one-day test the team has enjoyed its longest break since the start of 2004, recharging batteries in readiness for the final gruelling segment of the season.

ROSSI REFRESHED AND DETERMINED
Out to repeat his perfect performance of race victory, fastest qualifying time and lap record in last year's Brno event, Rossi knows he will have to labour hard in qualifying to repeat his 2003 success story.

"I made a beautiful race in Brno last year," said the Italian. "It's not necessarily my favourite circuit and I really don't know how the M1 will go there as it's so diverse; high speed but still with many turns, up and downhill sections, adverse cambers, et cetera. Anyway, Checa was good there last year and Yamaha is very fast there traditionally."

Rossi knows he has to keep the pressure on his opponents at this vital part of the season. "Although I'm leading the championship it's not by enough points to feel safe yet, every point from now on is crucial if we are to think about being in a position to win the championship. The win in Donington before the summer break was magic but there were still some problems and room for improvement. We made some good progress in the one-day test after Donington, where we tested new front fork settings and engine mapping. The stability felt better and it was a worthwhile day - but we still have a way to go."

Rossi acknowledges that it is not only himself he has to consider at Brno. "This year has so far been a real surprise and we have made remarkable progress. But Honda have made a lot of progress at the same time, and Sete and Max are stronger now than ever. I know that Yamaha will have been working non-stop through the summer break to make even more improvements, so let's see what happens in Brno. The riders have had three weeks off so everyone should be revitalized. It's certainly going to be a great second half of the season, perhaps with even better battles than there have been in the first half."
Rider's Race Quotes From Bruno MotoGP
Sete Gibernau, Telefonica MoviStar Honda, 1st: "That was an incredible race - entertaining but at the same time very hard. If that's the way it looked from the outside, then just imagine what it was like for us! First of all I want to say thanks to Honda, to Mr Kanazawa, for all the support they have offered us from the start of the season and for the new material we have received here at Brno.
Unfortunately we didn't have time to test it because of the weather. We wanted to win this race and it was a tough decision but the whole team thought it was best to go with what we knew despite a big effort from HRC. We were competitive in the wet and the dry and the result was ideal. Michelin also contributed with a good tyre choice despite the fact that there was very little time to decide what was best. I am sure we will get to Estoril even stronger and more motivated."
Fausto Gresini Team Manager: "Today it was important not to make any mistakes and to get some points back in the championship. It wasn't easy to leave the new material in the box but Sete preferred to concentrate on the race and use the bike he already knew so this is a great result for him and the team. It was fundamental to get back on the top step of the podium. Tomorrow we'll concentrate on the tests we have organised alongside Honda, who are keen to prepare as well as possible for what promises to be a very tough end to the season."
Max Biaggi , Camel Honda (Michelin Tyres): 3rd: "First of all I have to thank my team and Honda because despite the problems we had during the weekend, in the short time between the end of the warm-up and the race they managed to get in shape to fight for the podium. I think I put the rest in, firstly with a good start, probably my best of the year, and then fighting tooth and nail for the top spots. We weren't right in the braking areas, and now we have two test days where I want to get the bike ready to take on Estoril."
Sito Pons – Camel Honda (Team Principal) : "it was a great day for our team with Max on the podium and Makoto fourth. I can't say I'm 100% satisfied though, because we lost points in the overall standings to our main rivals. Nevertheless that is recoverable if we remember that there are still six races left this year. Now we will focus on the two test days here tomorrow and Tuesday in Brno, to refine the bike's set-up and because we can hope for better days than these in terms of the weather."
Makoto Tamada, Camel Honda (Bridgestone Tyres): 4th: "It was a shame about the grid position, my whole race depended on the start to see if I could get amongst the top guys. I would have preferred a fourth place where I fought with the top riders. Anyway, the race served to get some important information for our development, and to improve our chances, especially because after Estoril comes Japan, my home race and I want everything right so I can return to winning ways there!"

Colin Edwards, Telefonica MoviStar Honda, 7th: "We put a soft tyre on in the warm-up which we ruled out for the race because it was spent after six laps. We went for a harder tyre - the same as the other Honda and Michelin riders - but it didn't work well with my chassis. I started to get some chattering problems after a few laps and it prevented me from pushing forward. To really get over the chattering problem I need the new chassis from Honda - I am the only Honda rider on Michelin tyres using the same chassis as at the start of the season."
Nicky Hayden, Repsol Honda, dnf - crash: "This morning was really good. It was nice to be fastest. We decided to use a slightly harder tyre in the race as I wanted to be there at the end fighting. In the race everything felt okay. I could run at the pace of the leaders but I didn't really have anything on them. There were a few places on the track I was loosing on them but generally I was having a quiet race just learning. Towards the end I could see the guys in front moving around and I thought with my conserved tyres I could be in with a chance. I just made a little mistake in turn 1. Max got in really hot under Valentino and I got kinda' sucked in. I saw what was going on out of the corner of my eye and just lost concentration for a fraction of a second. One moment the door was opening the next I was on the floor. I just wanted to keep pushing and not cruise around in fourth; that would have been no good. It's not cool to crash out with only a few laps left but it's all definitely part of learning."
Alex Barros, Repsol Honda, dnf - crash: "For the first time this weekend the front tyre felt a little bit on the limit in the warm up this morning. In the race I made some small mistake in the early stages and Valentino and Max get past me. I then have to really concentrate and get my position back again. The machine did not feel as good as in the qualifying days; the front was not giving me so much confidence. When I took back second position I open the throttle, not using any break and the front just goes. We need to look at the telemetry. It was a very small crash, very little damage but it was impossible to get going again. We test here for the next few days and we need to find and answer to the front grip problems before we get to Portugal."
Lanzi is Quicker at VIR
Eric on the Ropes?
VIR, Aug 14th - Lorenzo Lanzi did lap quicker than Eric Bostrom at the Virginia International Raceway test. In Lanzi's first ride at the track, andin America, and the Corse Supersport rider lapped slightly faster than Eric Bostrom after a two-day test plagued by rain. Ducati's World Supersport rider backed up last weeks impressive lap times at Mugello in Italy where he was quicker than Bostrom there, as well. Eric's fast lapat VIR was a 1:26.7 while Lanzi posted a 1:26.4.
Ducati's plan is to now have Lanzi join Bostrom at the VIR race on an equal Ducati Superbike on Michelin tires.
Lanzi will not be racing at Road Atlanta as there is a date conflict. The World Supersport series is in action at Assen on the Atlanta weekend
Great Pricing for Aprilia Sportbikes in USA
Consumer concern over financial problems at Aprilia of Itally have slowed bike sales significantly in America. Our local dealer in Los Angeles says they are discounting the hot new RS Mille and Mille R as much as $2,000 off suggested list price to help them sell. If you've been waiting to get a great sportbike at a great price, this is now the time to make your best dealer with your dealer. Pro Italia in Glendale, CA, is one Aprillia dealer offering a special $2,000 bike discount pricing.
Aprilia Confirms Buyout Agreement with Piaggio
8/13/04 Woodstock, GA - Aprilia World Service USA Inc. is pleased to communicate the announcement of the industrial and strategic agreement between Piaggio and Aprilia. In the agreement, Piaggio will obtain a 100% stake in the Aprilia group.

Ride With World Champions!
GP Riding Academy at
Phillip Island in November
ICR Moto Generation announces the appointment of three World Championship racers as chief instructors for the ICR Grand Prix Riding Academy in November 2004.
Daryl Beattie, Andrew Pitt and Kevin Magee are set to provide a rewarding and memorable experience for a limited number of international motorcycle riders at the world class Phillip Island Grand Prix Circuit, Melbourne, Australia.
Catering to all levels of male and female riders, participants undertake an intensive and comprehensive motorcycle riding and race skills academy with five days on the track. All tuition comes packaged with an all inclusive luxury 8 day/7 night package, which includes luxury accommodation, transfers and all meals in Australia, nightly entertainment, tours and sightseeing and much more.
LEARN FROM THE PROFESSIONALS
Cornering, Braking, Passing
Throttle Control, Lean Angle
Track Position, Body Position
[more] 8 DAYS, All expenses paid
7 NIGHTS .Luxury accommodation 5 DAYS RIDING. The track bikes:
Each rider is provided with an ICR edition 2004 Honda CBR 600RR to ride whilst at the event... and bikes are race track prepared, running the latest Michelin Pilot Power tyres. ICR GP Riding Academy events are an all expenses paid experience that others only dream of... with one lucky participant winning a brand new ICR edition Honda CBR 600RR, delivered to their door... simply for attending this event.
grandprixacademy.com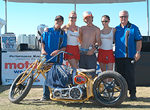 LA Calendar Bike Show Happenings
Above: Resse Rooke wins Again! Jardine West Coast Horsepower Dyno Shootout sees new world horsepower record at 545hp!
Naked Desmosedici! FastDates.com takes an exclusive visit inside the
Ducati Corse MotoGP Race Shop!
Plus - See our visit to Ducati Racing School at Misano!