New 2005 Fast Dates
- Order Now.
Be warned - We under printed this year and will sell out early.
Ask your favorite dealer to order them now, or click on the cover to order online..

HAYDEN BREAKS COLLARBONE IN TRAINING ACCIDENT
Sunday 29th August 2004 - Repsol Honda Team star, Nicky Hayden broke his right collarbone in a training accident in Italy yesterday afternoon (Sunday). The 23-year-old American fell from a Honda CRF450 whilst training in Pavia, near Milan in northern Italy. He is under the care of MotoGP doctor, Dr Claudio Costa, and has had a plate inserted by the specialist in a short operation yesterday afternoon.
A decision as the whether Hayden will take part in the next GP in Estoril, Portugal, scheduled next weekend (Sept 3rd- 5th) will be taken after his condition has been accessed by his medical team and the Repsol Honda Team in due course.
Nicky currently sits in 6th position in this year's MotoGP Championship with 63 points a good distance behind the Championship leaders Sete Gibernau, also on Honda, with 167 points and Yamaha's Valentino Rossi.
This is Nicky's 2nd season on the factory Repsol Honda MotoGP team and he is finally starting to finish near the front of the pack on a consistant basis after a lackluster first season. Depending on how this broken collarbone affects Nicky in the few remaing races of the year could determine his fate with the Honda GP Team for next season. Even if the injury does affect his rding , his only saving grace is that Honda has very few new riders that are waiting in the wings.
2005 MOTOGP CALENDAR
The provisional calendar for the 2005 season of the MotoGP World Championship has been released by the FIM.
APRIL 10 Jerez Spain Rd 1
17 TBD: Welkom or Jacarepagua Round 2
MAY 1 Shanghai China Rd 3
15 Le Mans France Round 4
29 Mugello Italy Round 5
JUNE 5 Catalunya Spain Rd 6
19 Donington Park Great Britain
Round 7
25 Assen Holland Round 8*
JULY 10 Laguna Seca USA
Round 9**
24 Sachsenring Germany Round 10
AUGUST 28 Brno Czech Republic Round 11
SEPTEMBER 18 Motegi Japan
Round 12
OCTOBER
1 Qatar Qatar Round 13*
9Sepang Malaysia Round 14
16 Phillip Island Australia Rd 15
30 Estoril Portugal
Round 16
NOVEMBER
6 Valencia Spain Round 17
* = Saturday race
** = MotoGP class only
DATE SET FOR RETURN OF MOTOGP TO THE USA: RED BULL U.S. GRAND PRIX IS JULY 8-10, 2005
MONTEREY, Calif. (August 23, 2004) - The Federation Internationale de Motocyclisme (FIM) has released the pre-calendar for the 2005 MotoGP World Championship with July 8-10 as the date for the Red Bull U.S. Grand Prix at Mazda Raceway Laguna Seca.
Tickets for the 2005 Red Bull U.S. Grand Prix are on sale now. General admission tickets and a limited number of paddock passes are on sale now via the track's ticket office - 1-800-327-SECA (7322) - during normal business hours or online at www.lagunaseca.com/Tickets.
Renewals will be sent to those who purchased tickets for the 2004 Honda Superbike Classic by the end of August. Non-renewed tickets/camping will be released to sell beginning Monday, October 25, 2004 at 8 a.m. via telephone at 800-327-SECA.
Support events for the Red Bull U.S. Grand Prix have yet to be determined.
Vendor information is available by calling Jeanie Sumners at (831) 648-5111 or jeanies@laguna-seca.com. Hospitality information is available by calling Ann Bixler at (831) 648-5111 or hospitality@laguna-seca.com.
More information on MotoGP World Championship is available online at www.motogp.com.
More information on Mazda Raceway Laguna Seca is available online at www.laguna-seca.com.
The MotoGP Deal for Laguna Seca
The rumor mill has Laguna Seca signing a 5 year deal to secure MotoGP in America, with a special price concession on the $1.5 plus million dollar sanction fee the first 2 years to get the event established here.
Unfirtunately MotoGP gets a exclusive to all the sponsorships and signagre it beings to the track for its one race, so Laguna Seca Raceway must make its sole income form spectator ticket prices and venders.
Knowing that the Laguna Seca facility (aka Mazda Raceway) can not accomodate more than 30,000 people at best,and that they will have production costs around $250,000 (employees, police, advertising, equiment rental, etc), the track will need to make $2 million to turn a profit, they need to charge at least $67.00 for a base general admission ticket.
Combine it with an AMA Superbike weekend, required FIM track imporverments, etc., and ticket prices could start closer to $100 each. Certainly in line with the ticket prices now shown on the Laguna Seca website at $55 for 1-day, $90 for a 3-day General Admission Pass, and $25 Paddock.
SBK looking for new World Superbike Venue
in America
Despite the loss of its veue at laguna Seca, FGSports producer of the SBK World Superbike Championship would like to return to America in 2005. One minor glich is, that at present no motorcycle track in America is FIM approved, including Barbour Motorsports Park.
Lanzi is Quicker at VIR
Eric on the Ropes?
VIR, Aug 14th - Lorenzo Lanzi did lap quicker than Eric Bostrom at the Virginia International Raceway test. In Lanzi's first ride at the track, andin America, and the Corse Supersport rider lapped slightly faster than Eric Bostrom after a two-day test plagued by rain. Ducati's World Supersport rider backed up last weeks impressive lap times at Mugello in Italy where he was quicker than Bostrom there, as well. Eric's fast lapat VIR was a 1:26.7 while Lanzi posted a 1:26.4.
Ducati's plan is to now have Lanzi join Bostrom at the VIR race on an equal Ducati Superbike on Michelin tires.
Lanzi will not be racing at Road Atlanta as there is a date conflict. The World Supersport series is in action at Assen on the Atlanta weekend
Great Pricing for Aprilia Sportbikes in USA
Consumer concern over financial problems at Aprilia of Itally have slowed bike sales significantly in America. Our local dealer in Los Angeles says they are discounting the hot new RS Mille and Mille R as much as $2,000 off suggested list price to help them sell. If you've been waiting to get a great sportbike at a great price, this is now the time to make your best dealer with your dealer. Pro Italia in Glendale, CA, is one Aprillia dealer offering a special $2,000 bike discount pricing.

Ride With World Champions!
GP Riding Academy at
Phillip Island in November
ICR Moto Generation announces the appointment of three World Championship racers as chief instructors for the ICR Grand Prix Riding Academy in November 2004.
Daryl Beattie, Andrew Pitt and Kevin Magee are set to provide a rewarding and memorable experience for a limited number of international motorcycle riders at the world class Phillip Island Grand Prix Circuit, Melbourne, Australia.
Catering to all levels of male and female riders, participants undertake an intensive and comprehensive motorcycle riding and race skills academy with five days on the track. All tuition comes packaged with an all inclusive luxury 8 day/7 night package, which includes luxury accommodation, transfers and all meals in Australia, nightly entertainment, tours and sightseeing and much more.
LEARN FROM THE PROFESSIONALS
Cornering, Braking, Passing
Throttle Control, Lean Angle
Track Position, Body Position
[more] 8 DAYS, All expenses paid
7 NIGHTS .Luxury accommodation 5 DAYS RIDING. The track bikes:
Each rider is provided with an ICR edition 2004 Honda CBR 600RR to ride whilst at the event... and bikes are race track prepared, running the latest Michelin Pilot Power tyres. ICR GP Riding Academy events are an all expenses paid experience that others only dream of... with one lucky participant winning a brand new ICR edition Honda CBR 600RR, delivered to their door... simply for attending this event.
grandprixacademy.com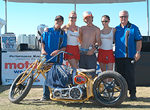 LA Calendar Bike Show Happenings
Above: Resse Rooke wins Again! Jardine West Coast Horsepower Dyno Shootout sees new world horsepower record at 545hp!
Naked Desmosedici! FastDates.com takes an exclusive visit inside the
Ducati Corse MotoGP Race Shop!
Plus - See our visit to Ducati Racing School at Misano!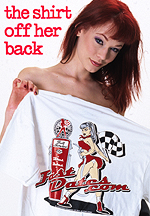 Click for more of Chandi at the O.C. Roadhouse calendar signing.