New 2005 Fast Dates
- Order Now.
Be warned - We under printed this year and will sell out early.
Ask your favorite dealer to order them now, or click on the cover to order online..

---
Before Ivan: LANZI AND BUSSEI WERE TEAMED UP FOR AMA FINALE AT VIR
Alton (Virginia) - September 14, 2004: Italians Lorenzo Lanzi and Giovanni Bussei will team up with Parts Unlimited Ducati Austin for the season finale at the AMA Superbike race at Virginia International Raceway this weekend. The two races at the 2.25 mile (3.62 km) road course will wrap up the 2004 season, which saw the return of a full factory-supported Ducati team to the American series.
Eric Bostrom suffered shoulder and rib injuries from a high-speed crash at Road Atlanta that will force him to miss the final round. "It's really disappointing to miss this race, but after visiting with Dr. Ting, it became clear that it wouldn't be safe to ride so soon," explained the 27-year-old from Las Vegas, Nevada. "We'll be visiting him again next week to see which direction we need to go to quickly get the shoulder up to full strength. And I'm still going to be in Virginia to meet with fans and support the team, Ducati, and all of our partners."
Ducati Corse's factory World Supersport rider Lorenzo Lanzi has visited the Virginia track once before during a test session in August. The 22-year-old from Cesena, Italy, currently sixth in the World Supersport points table, is excited about his AMA debut.
"I'm feeling really good about the AMA race – hopefully we can get a good result," declared Lanzi. "I like the VIR track a lot. It's a beautiful place, full of ups and downs and very safe. The bike is going well and in the couple of tests I've done, I've gone well with the Michelins. My rivals out on the track will be different, but this race is a new stimulus for me as I will be up against some really strong riders."
World Superbike veteran Giovanni Bussei is no stranger to the Parts Unlimited Ducati Austin team, having raced with them in the latter half of the 2003 season. Bussei was poised for a podium finish last year at VIR when he mistook the penultimate lap's waving white flag (not used in European racing) combined with a checkered flag in the background, as signaling the end of the race. The Turin-born Italian rider, who will celebrate his 32nd birthday on Wednesday, is looking forward to working again with some familiar faces.
"I'd like to say a big thanks to Ducati for giving me the chance to race the AMA season finale. It's really great to be going back for this race as part of the factory Parts Unlimited Ducati Austin team," commented Bussei, who returned to World Superbike at Brands Hatch with a private Ducati 998RS after racing the first half of the season in World Supersport.
"Last year I had some good races with the 998, including this one at Virginia, but this will be a new experience for me with the 999. I rode the bike for the first time last week at Mugello and I feel pretty sure I can get a good result for the team at VIR.

DUCATI MOTOR HOLDING CONFIRMS ITS INTEREST IN APRILIA GROUP
The Apriia saga continues....
Piaggio is out, Ducati is back again in an attempt to buy part or all of the major manufaturer who is some $265 million in debt, Aprilia posted a $52.9 million dollars loss on $643 million in sales in 2003......
Bologna, September 9th, 2004, Ducati Motor Holding S.p.A. (NYSE: DMH, Borsa
Italiana S.p.A.: DMH), a leading manufacturer of high performance
motorcycles today confirmed its interest in the Aprilia Group, reiteratingits offer made on July 30th, 2004.
In addition, Ducati has confirmed its interest in Moto Guzzi and Aprilia's off-road project, recognizing an indicative value of Euro 40 Million for these assets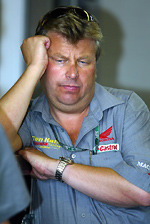 Who the Hell is Ten Kate?
And how are they beating the factory teams?


August is over,
Zdenka is Back...
...and Hotter Than Ever!
Sure, the month of August was a slow week in motorcycle racing. There's nothing left in American roadracing for AMA Pro Racing to screw up. There hasn't been any new up and coming riders in years. There's no new 600cc Supersport bikes so the print magazines can bore us with their annual "Exclusive 600cc Supersport 6-way Shootout!"
That just leaves us, FastDates.com, with all the cool stuff like hot bikes and cool babes, including this month, the world's first test of the new 2005 Ducati 999R Superbike with the mouth wattering Miss Texas and World Superbike girl, Robin Cunningham.
And for you real sexverts, we'd like to introduce you again to our beautiful FastDates.com calendal Angel, Penthouse Pet and Czech mate Zdenka. This beauty from Prauge has been featured in our calendars since 2001, and was our offical SBK Fast Dates Calendar girl at Laguna Seca in 2002 with those photos appearing in 2003 Fast Dates. Zdenka has also served as the official Aprilia MotoGP umbrella girl (left) at her home circuit of Bruno the last 3 years wearing some pretty sexy domimatrix gear.
Zenka returned to Los Angeles this summer looking hotter than ever and we were happy to shoot her for the next 2006 Calendars, plus a sexy nude pictorial for our Members Corner where you can visit Sexy Zdenka right now! Who says summer has to be boring?

Ducat's i Delima
Who will Ducati select replace Bostrom at VIR?
(See Ducati Press Release at right) Hopefully Ducati Corse might send a current World Superbike contender Toseland, Laconi, or even Frankie Chili to come over and race the final AMA race at VIR along with Lorenzo Lanzi. The only probem is that all 3 of these winning Ducati riders are in the points racelead for the World Superbike Championship and can't risk crashing and being hurt at a back water race in Podunk, Virginia.
But America is Ducati's biggest market and they can't be embarassed.
Ducati definetly needa a rider capable of beating Suzuki's Matt Mladin and winning the race at VIR. But there just aren't any "up and coming" Americans worth investing in.
Particularly for a 1-time race coming in cold, Ducati needs to bring a proven and current WSB Ducati winner.
Former World Superbike winners Troy Bayliss and Ruben Xaus are again a good choice to head a new Ducati Corse team in America in 2005, but they are unfortunately racing the Japane motoGP the same weekend as VIR. Lorenzo Lanzi may be their only rider choice for VIR this year when there are so many American riders in America, but non capable of winning the AMA National on a factory Ducati.
Who do you think Ducati should put on Eric Bostrom's Superbike for VIR and why?
Web@FastDates.com
GAULOISES FORTUNA YAMAHA TEAM PREVIEW
Japanese Grand Prix
Motegi, Japan
September 17, 18, 19 2004 ROSSI AND CHECA BEGIN THEIR GRAND TOUR OF THE EAST
Gauloises Fortuna Yamaha Team riders Valentino Rossi and Carlos Checa, leading forces in the ever-growing MotoGP circus, now leave the European arena behind in their quest for their next haul of championship points, starting at Motegi in Japan. The Japanese Grand Prix, the lone event in Yamaha's home country this season due to safety modifications being carried out at Suzuka, kicks off an Asian and Middle Eastern run of MotoGP events over the next few weeks. Formerly known as the Pacific GP, Motegi has taken over Suzuka's formal title as the Japanese Grand Prix.
After Rossi's sixth win of the year at the recent Estoril round and a positive post-race test in readiness for the end of season intercontinental races, the whole Gauloises Fortuna Yamaha Team approaches the Motegi event with high expectations. Rossi, winner of the last three World Championships in the MotoGP class, has adapted to the Yamaha YZR-M1 in a spectacularly successful manner, winning the season opener at Welkom, and following it up with additional victories at Mugello, Barcelona, Assen, Donington and now Estoril. His most recent triumph gave him an impressive and significant 29 point lead, as his main championship rival Sete Gibernau could only finish fourth overall in Portugal.
After a positive Estoril result for Rossi's team-mate Carlos Checa, in both race and post-event test sessions, the 31-year-old London resident approaches the final flyaway races with genuine prospects for improving his championship position of sixth, before the season concludes in his native Spain in Valencia on 31 October.
Rossi's win at Estoril was his 39th in the premier class and his 65th Grand Prix victory overall, a remarkable achievement for a 25-year-old rider who took both the 125cc and 250cc World Championship crowns before his move to the premier class in the 2000 season.
ROSSI STRONGER
THAN EVER
Having improved his win average for the season to over 50% of all races, Rossi has every reason to feel confident in his and his team's abilities as Motegi approaches. London-resident Rossi, born in the Marche region of Italy, fully realises the importance of this race, held in front of all the Japanese factory personnel. He is nonetheless encouraged by the results of the recent Estoril test, where small changes to his YZR-M1 gave him slightly more fulsome and smoother bottom range power.
"Each remaining race is really important now we're heading towards the end of the season," said Rossi. "Motegi will be really important and may be the hardest race for us. It's a Honda track and they will have an extra wildcard rider there. It will be quite difficult to beat everyone but I will try. Acceleration is the big requirement at Motegi; there are three 5th gear straights and one 6th gear. Hopefully we will find the horsepower we need."
Motegi, although impressive in scale and build quality, is not a classic circuit in Rossi's eyes. "It's not one of my favourite tracks but I will give it my best go," stated Valentino. "The flyaways are more difficult anyway because Europe feels more like you're at home, you have your motorhome there, also I have the Yamaha truck where I get changed, and you have all your own equipment. The flyaways are less homely; you feel a bit more alone."
Rossi's ultimate aim is still to be isolated at the very top of the championship table come late October, but knows it may take that long for the title to be decided. "I still think it's possible that the championship could be decided at the last race, but for sure it would be better if not!"
Rossi's pre-race thoughts once more turn to how to overcome his competitors in Motegi and especially extend his lead over his main championship competitor.
"The Estoril victory was really important because Gibernau seemed to be so strong at the Czech Grand Prix," affirmed Rossi. "There were five Honda bikes in the first five places at the Motegi race last year, so it will be quite hard for us there. But everyone in the team wants that victory so we'll go for it!"
DUCATI MARLBORO MEN BEGIN OVERSEAS ODYSSEY
The Ducati Marlboro Team arrives at Twin Ring Motegi to begin a gruelling run of four overseas races over just five weekends. Competing in the Land of the Rising Sun for the first and only time this year, the Italian squad is anxious to continue the progress made with its Desmosedici GP4 over the last few months.
Although riders Loris Capirossi and Troy Bayliss didn't get close to the podium at the Marlboro Portuguese GP on September 5, both men rode determined races, racing through the pack from the fourth and fifth rows of the grid. But there's no doubt that they face another tough weekend at Motegi, a Honda-owned circuit constructed by the Japanese manufacture to celebrate its 50th anniversary in 1998, at a cost of US$350 million.
"We think this may be our most challenging race of the year," says Ducati Marlboro Team director Livio Suppo. "We never test in this track and we've only been there once in 2003 for the Pacific GP. Last year we had a tough time at Motegi, but we really learned a lot, so we're approaching this year's race in a positive state of mind. Although our results at Estoril don't look that great, our race pace was good, so I think we again showed we are improving. We know that we are heading in the right direction, so we'll keep going in that direction."
The Motegi track is very stop-and-go, dominated by slow-speed hairpins, so the most important performance factors are braking and low-gear acceleration. This requires a delicate compromise in set-up.
"At Motegi you need to set up the bike mostly for braking and acceleration, rather than corner speed," says Ducati Marlboro Team technical director Corrado Cecchinelli. "But you have to be careful, because the two things usually don't come together. If we choose the correct springs and suspension settings we can improve braking without hurting the bike's attitude during acceleration and vice versa. Last year at Motegi we had a tough time, but it was our first visit to the place, so at least now we know what the troubles may be."
After Sunday's racing the MotoGP circus continues its end-of-season overseas odyssey, with the Marlboro Qatar GP two weeks hence, followed immediately by the Marlboro Malaysian GP and the Australian GP. The season concludes at Valencia, Spain, on October 31.
CAPIROSSI HOPES FOR BETTER LUCK AT MOTEGI
Loris Capirossi may only have finished seventh at Estoril two weeks ago but his ride was one of the most impressive of the day, considering he had been rammed off the track on lap one, regaining the tarmac in 19th place. At Motegi he hopes for better luck so he can display to full effect the recent improvements made to his Ducati Marlboro Team Desmosedici GP4.
"I like Motegi very much," says Capirossi. "The track isn't particularly technical - just full throttle, brake, full throttle, brake. And all the hairpins make it very difficult for a rider to make a real difference over his rivals. But some sections are quite enjoyable. My favourite is under the bridge and then through the fast series of curves. I think the most important aspect of bike set-up is braking stability for all the hairpins.
The bike gets better and better, so my current aim is to keep making progress, going for the best championship position and working to make sure we have an even better bike for next season."
Loris's third place of Motegi in 2002 was also the last time a two-stroke 500cc GP bike scored a podium finish.
BAYLISS RETURNS TO MOTEGI WITH A POINT TO PROVE
Troy Bayliss is looking forward to riding Motegi, after enjoying his first visit to the track last year. Unfortunately the Ducati Marlboro Team rider's race ended after a few hundred metres, when he was taken out by another rider. So like team-mate Capirossi, the Aussie is also hoping for some help from Lady Luck at Motegi.
"I enjoyed riding the track last year," says Bayliss. "But we didn't really get things so good for the race, then I got taken out at the first corner, which was a bit of a bummer. Overall it wasn't a great weekend, so hopefully we'll have a better weekend this time around. It's a pretty straightforward kind of a track. What you really need is good braking stability into all the hairpins because you can make up a lot of time on the brakes. And you need good low-gear acceleration and traction for the hairpin exits.
We've had a couple of good results this year - Mugello and Donington - and we've made some pretty good progress, but it's also been a bit frustrating at times. But all you can do is keep working at it."
THE TRACK
Twin Ring Motegi is stop-and-go in character with few high-speed corners. The track features plenty of slow turns linked by medium-length straights which puts the emphasis on braking and acceleration performance. It's not so popular with many MotoGP riders because they feel the track's uninspiring layout doesn't test their riding skills to the limit. On a positive note, the track is grippy, smooth and pretty safe. The venue hosted its inaugural Grand Prix, the Japanese GP, in 1999. Over the past four years Motegi's world round has been called the Pacific GP, but this time the track once again hosts the country's national GP.
The circuit, christened Twin Ring Motegi because it features both a Grand Prix track and an Indy oval, is one of the newer circuits on the GP calendar. The venue is located in the hills to the north west of Tokyo, between the cities of Mito and Utsonomiya. Motegi's construction entailed a massive civil engineering project that included the razing of seven hills and the filling of two valleys.
MOTEGI DATA
Twin Ring Motegi: 4.801km, 2.983 miles
Lap record: Valentino Rossi (Honda), 1m 48.885s
Pole position 2003: Max Biaggi (Honda), 1m 47.696s
Notes From Assen WSB
LEON ROARS: Leon Haslam could not quite stick with the leaders at Assen, but he took his Renegade Ducati Koji 999RS machine to an excellent brace of sixth places. He stuck with the leading bunch for a period in each race, and his 20 points in total keep him in eighth place overall.
MCCOY KEEPS IT REAL: Garry McCoy (Xerox SC Ducati 999RS) had an up and down Assen, taking a battling eighth place in race one but suffering a technical problem in race two. He looked like the rider who won a race at Phillip Island earlier in the year, as he rampaged through the middle order in race one.
DIFFERENT STROKES: A high point of seventh for Troy Corser was the best result for the Foggy Petronas team, on their updated and uprated FP-1 three cylinder machines. The 900 triples were a little outgunned at Assen, with Corser riding well in a lonely race two but Chris Walker not getting into contention.
PRIVATE PARTY: Steve Martin (DFX Ducati) was a strong seventh in race one, but a crash in race two ruined what was a promising day for the seasoned Aussie rider. His team-mate Marco Borciani scored a ninth and an eighth, with the last two riders in the top ten of race two being Ivan Clementi (Bertocchi Kawasaki ZX-10) and Petronas pilot Chris Walker.
Naked Desmosedici! FastDates.com takes an exclusive visit inside the
Ducati Corse MotoGP Race Shop!
Plus - See our visit to Ducati Racing School at Misano!