New 2005 Fast Dates
- Order Now.
Be warned - We under printed this year and will sell out early.
Ask your favorite dealer to order them now, or click on the cover to order online..

---
Tara Moreland
does FastDates
Certianly the most beautiful umbrella girl with the rockin'est body on the AMA National circuit is sexy Team Corona Suzuki umbrella girl Tara Moreland.
A professional spokesmodel from Lafayette, Louisiana, Tara will be flying out to Los Angeles next month to shoot with us for the 2006 FastDates.com Calendars.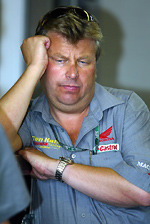 Who the Hell is Ten Kate?
And how are they beating the factory teams?
Rescheduled: AMA Chevrolet Superbike Championship Final at VIR to Oct 9th & 10th, PICKERINGTON, Ohio (Sept. 14, 2004) -- AMA Pro Racing today announced the AMA Chevrolet Superbike Championship event at Virginia International Raceway and AMA Supermoto Championship event at South Boston Speedway scheduled for this weekend have been postponed due to complications related to Hurricane Ivan. AMA Pro Racing is continuing discussions with both Virginia International Raceway and South Boston Speedway regarding possible make-up dates.
Sept 17th -AMA have announced that the weekend of October 9 & 10 has been nominated as the new date for the postponed final round of this year's American AMA Chevrolet Superbike Championship at Virginia International Raceway.
2004 AMA Chevrolet Superbike Championship (After 16 of 18 races, 2 races remain @ VIR)
1. Mat Mladin (532, 8 wins);
2. Jake Zemke (490, 2 win):
3. Miguel DuHamel (477, 4 ):
4. Ben Bostrom (364, 1 win):
5. Geoff May (344):
6. Eric Bostrom (336, 1 win):
7. John Haner (312):
8. Aaron Yates (298):
9. Eric Wood (284):
10. Josh Hayes (267).


August is over,
Zdenka is Back...
...and Hotter Than Ever!
We'd like to re introduce you to our beautiful FastDates.com calendal Angel, Penthouse Pet and Czech mate Zdenka. This beauty from Prauge has been featured in our calendars since 2001, and was our offical SBK Fast Dates Calendar girl at Laguna Seca in 2002 with those photos appearing in 2003 Fast Dates. Zdenka has also served as the official Aprilia MotoGP umbrella girl (left) at her home circuit of Bruno the last 3 years wearing some pretty sexy domimatrix gear.
Zenka returned to Los Angeles this summer looking hotter than ever and we were happy to shoot her for the next 2006 Calendars, plus a sexy nude pictorial for our Members Corner where you can visit Sexy Zdenka right now! Who says summer has to be boring?

Imola World Superbike Preview
10th round Sept 23-26th
SBK TITLE CHASE ENTERS PENULTIMATE PHASE AT IMOLA
FOUR AND SIX: As the 17th season of World Superbike approaches its penultimate round there has never been quite so much at stake, for quite so many riders. Any one of six top competitors have a mathematical chance of the title but, in more realistic terms, four riders will be contesting the final two rounds with full expectations of winning the title. New technical rules for 2004, making all engine configurations more competitive, plus the adoption of a single tyre supplier, have been the prime factors behind this most closely contested of seasons.
MOTORWAY CITY: The 4.933km Imola circuit hosts World Superbike for the fourth time this year and the city centre parkland circuit has been the scene of some breathless SBK action in each of those years. The fast and flowing nature of the venue, combined with the undulations laid out by Mother Nature mean that even the proliferation of speed calming chicanes do little to hamper the ridersí high overall pace around the lap. With lap times over 160kmph on average, Imola is one of the fastest on the calendar and rated as a true riderís circuit - where the machine performance is important but always secondary to the input of the rider.
CLOSE TO HOME: Such has been the keen competition in SBK this season that the championship battle features four riders within a mere 14 points of each other. With a total of 100 points up for grabs for any who can win the final four legs of the championship, first of all at Imola and the final round at Magny Cours in France, there are no certainties at this point. Regis Laconi (Ducati Fila 999F04) lost his championship lead to his team-mate James Toseland (Ducati Fila 999F04) at the previous Assen round, but the French ace still sits in third place overall, only ten points from Englishman Toseland. Imola is almost a ëhomeí race for both factory Ducati riders, as Imola is a short Autostrada blast away from the Ducati Fila teamís headquarters in Borgo Panigale, Bologna. With the vociferous ëDucatistií in attendance Imola will be its usual cauldron of crimson banners on raceday. Each factory rider has an individual reason to feel confident for Imola, with Laconi the only current SBK rider to have won at the venue, while Toselandís resurgence gave him a win at the most recent 2004 SBK event in Assen.
FOUR CYLINDER CHIEF: SBK rookie Chris Vermeulen (Ten Kate Honda CBR1000RR) has consistently belied his relative Superbike inexperience and trails Toseland by only three points, 255 to 252. With the reigning World Supersport Champion having an unquestioningly spectacular impact in the premier class, another new SBK star has been born. Vermeulenís current championship position is also a remarkable achievement for both his Ten Kate Team, which also made the jump to Superbike this year, and the new-for-2004 Honda CBR1000RR Fireblade, in its first season of international competition. Raising their game at every crossroad they have come to so far, the Ten Kate trinity of rider, team and four-cylinder machine have scored a quartet of impressive wins so far.
FOURTH HORSEMAN: Noriyuki Haga (Ducati 999RS) currently lies fourth in the championship, 14 points from Toseland, but he is nonetheless holder of a 2004 winning record the envy of all except Laconi, with five full-pointers under his belt so far. Fully in the hunt, Haga is the most experienced of all the current championship contenders, but has yet to win a Superbike race at Imola.
THE DYNAMIC DUO: Pierfrancesco Chili (PSG-1 Ducati) has had a typically eventful season so far in SBK, with a single race win on his hybrid 998/999 machine, five DNFs in total and arguably more column inches in the media than any other single rider. The local hero, 40-years-old and in his 22nd year of senior racing competition, may be a remote 42 points from the lead at present, but at Imola, riding a wave of local emotion, he could perform in a fashion that sometimes only Chili can. A rider with an even more up-down season than Chili is the most experienced SBK rookie imaginable, Garry McCoy (Ducati Xerox SC 999RS). A single race winner at Phillip Island, McCoy has taken only two further podiums, despite his best efforts and a dramatic tail steering style. At a fast track like Imola, McCoy could find things going his way, despite being surrounded by Superbikeís best exponents.
Ducati SBK -
MAGNY-COURS TESTING
Sept 16th - Regis Laconi and James Toseland completed preparations for the last two rounds of the World Superbike championship with a two-day test session at Magny-Cours, France, the venue for the season's finale on October 3.
Almost two days of good weather in the Nevers area enabled the two Ducati Fila riders to lap without any problems and find some good settings for the French circuit in view of the race.
Regis Laconi, whose best time was 1'43.0 on race rubber, declared: "We worked a lot on chassis settings here and I was very happy with the feeling. We started with the same front-end problem as at Assen, but over the two days we sorted that out and I was able to run very quick and at a very constant pace. I'm optimistic for the race."
James Toseland, with a time of 1'43.2, was just a couple of tenths of a second off the pace of his French team-mate. "These two days were very positive, we were trying to get the bike to work good around this difficult circuit and we succeeded. We tested a number of different tyre compounds, both front and rear, and made some changes to the bike, but I found that I was also pretty happy with my Assen set-up with which I won last Sunday's race."
Four riders, Toseland, Vermeulen (Honda), Laconi and Haga (Renegade Ducati) are still in with a chance of the title as World Superbike heads to Imola next week and then Magny-Cours seven days later for its exciting finale.
Ducati presents its new 2005 model line at Intermot in Munich -
President talks about Aprilia
Munich, September 14, 2004 – The gates are opening at the 4th edition of INTERMOT, the international motorcycle and bicycle show in Munich. The
first motorcycle manufacturer to meet the press was Ducati, which presented its new line for 2005.
The entire world of Ducati is on display in an 800 square meter space at stand number 705. Ducati is set to welcome thousands of fans of this
celebrated Italian motorcycle maker with its full range of bikes,
accessories and apparel destined for stores and racetracks in 2005.
"Irrespective of the fluctuations of the market, which are sometimes favourable and other times not, as during this particularly difficult year,
the development of the Ducati range of bikes is always based on two fundamental criteria" commented Federico Minoli, the Chairman and Managing-Director of Ducati.
"For the Superbike segment we are transferring all the innovations and appearance of the racing bike to the streetbike
product, whereas for the other families, we continue to innovate in the best Ducati tradition, albeit remaining faithful to the aesthetic and technological principles that have always characterised our marque."
"As far as the Aprilia group is concerned - continued the Ducati Chairman - the situation remains unsettled, with a decision expected from the pool of financing banks on the future of the company. Ducati has confirmed its offer for the acquisition of the entire group and also its interest in only the Moto Guzzi brand and in Aprilia's off-road
project.
Our interest is linked to an industrial plan that foresees the relaunching of the products and the brands. The success of Ducati demonstrates that
products with a strong personality and a precise market positioning are the most effective way of taking on the Far East's major motorcycle
manufacturers, rather than the sheer weight of numbers of bikes produced."
There are many new offerings from Ducati. Each family has been upgraded to improve performance, comfort and style, including the 999 SBK range and the new Multistrada s shown at left.
DISAPPOINTING GRAND PRIX OF JAPAN FOR DUCATI MARLBORO TEAM
Motegi (Japan), Sunday 19 September 2004 - The Grand Prix of Japan proved to be a disappointing race for the Ducati Marlboro Team as both riders were involved in crashes and failed to finish.
Like last year, the race at the Motegi circuit in Japan began with a tremendous pile-up at the first corner which involved six riders including Loris Capirossi. The Italian, who lay immobile on the ground after the crash, suffered slight concussion and two bone fractures to his right foot. It was a day to forget also for team-mate Troy Bayliss. Sixteenth on the starting-grid, the gritty Australian was making a fantastic recovery when he crashed five laps from the end while in fifth position.
The good performance of the Ducati Marlboro Team riders on Friday and Saturday, when both Loris and Troy were quick on race tyres, was not transformed into a similar result in the race.
"This could have been our best race of the season, but instead it was a day to forget" declared Livio Suppo, director of the Ducati Marlboro Team. "During the warm-up Loris was third quickest and Troy was also in a good position. Unfortunately Loris was involved in a bad crash at the first curve and was unable to demonstrate all his potential. Troy, after starting in sixteenth position, was having an incredible race, but he crashed while in fifth place five laps from the end. In 2003 on this track we were struggling a lot, but this weekend's qualifying demonstrated how much the bike has progressed since last year: unfortunately we were unable to get a good result to confirm this progress".
Loris Capirossi's Grand Prix of Japan came to an end at the first corner, when he was involved in a big crash, together with five other riders. The Italian, who had been consistently quick over the weekend and third in the morning warm-up, was convinced a good result could have been possible today. Now Loris is faced with a race against time to recover for the Grand Prix of Qatar.
"I don't know what happened, I just found myself on the ground" admitted Loris afterwards in the Clinica Mobile. "It was a pity, but that's racing and these things can happen. This could have been an important race for us: we had gone well during qualifying and in the morning warm-up and were convinced we could have obtained a good result, instead it all came to an end at the first curve. This is a strange track and last year there was also a crash involving 4 or 5 riders, including Troy. I'm now just going to have to do well in the next race."
Ducati Marlboro Team rider Troy Bayliss gave the spectators at Japan's Motegi circuit an exciting race: after starting from the sixth row, he managed to get up to fifth place with a spectacular recovery. Unfortunately Troy's race came to an end when he crashed out with five laps remaining.
"I got a reasonably good start and I had a good race despite starting from sixteenth on the grid. I was really disappointed about the crash because I was riding well. It's better to have a crash in fifth position than sixteenth position, so I'm leaving here on a positive note because I was doing OK. I look forward to the next race, I'm going to go home and train like mad to get ready for Qatar".
Naked Desmosedici! FastDates.com takes an exclusive visit inside the
Ducati Corse MotoGP Race Shop!
Plus - See our visit to Ducati Racing School at Misano and the ducati factory!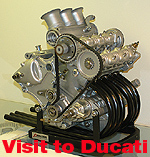 RC Factory Tour
On Thursday 16th September a group of journalists were given a unique opportunity - the chance to see inside the headquarters of HRC (Honda Racing Corporation and MSD (Motor Sports Developments) at the Honda R&D Asaka Center.
Located within the boundary of Tokyo's never-ending conurbation, the HRC headquarters hosted 16 journalists, from six countries, who were given a guided tour of HRC's management offices, plus technical insights into the design, bench testing, development and assembly departments.
With 50 HRC and 70 MSD staff on site, and the MSD staff a small part of approximately 2,000 Honda R&D workers in total, the outright scale of operations was something of a surprise to those who imagined never-ending rows of computers, personnel and top-secret ante-rooms.
The scope of operations undertaken by HRC and MSD is nonetheless unparalleled, with off road and track racing machines sharing space on the various shop floors, plus cyberspace time on the computer aided design screens.
The design floor of HRC is where the ideas generated inside the company are first given substance, albeit only as a visual 3D version in the first instance. Sophisticated software is then used to produce the final design parameters, for all components on the machines.
After production of the actual parts, the engines and complete machines are assembled, ready to be tested on one of numerous dynamometers, of rolling road, static bench test and chassis evaluation varieties.
In the assembly department machines are painstaking prepared, with full factory RC211V engines brought to life alongside the ongoing meticulous assembly of a customer SWS two-stroke, or a four-stroke World Trials machine – or even a downhill racing mountain bike, complete with integral gearbox.
The entire visit was designed to prove HRC's modernistic philosophy, that it should be an open and approachable company, with the only real secrets being those under development by the leading edge engineering groups in HRC and MSD.
The factory visit was followed-up by the latest of Honda's technical briefings, held for the first time in Japan,
after first qualifying at the Motegi MotoGP race.
LA DUCATI DAY
October 14th La Honda,
(San Francisco region) CA
Motivated Ducati owners in the San Francisco Bay Area and Ducati North America wil organize a full day of biker activities in La Honda, California to support the La Honda Fire Department
MH900evoluzione Owners Club, Ducati North America. BevelHeaven.com and Doc
Wong will host La Ducati Day 2004 on October 10th, 2004 in La Honda, California.
The activities include Ducati Garage Challenges, auctions, raffles, Concourso Ducati, technical seminars, food, music and other fun events!
LDD2004 takes place in La Honda, California situated in the beautiful Santa
Cruz Mountains California, now renamed "La Ducati".
This area is home to
some of the most beautiful motorcycling roads in California. Admission to La Ducati Day 2004 is FREE. Arrive with your Ducati and enjoy the day with fellow Ducatisti. Some of the events listed below have a modest entry fee, of which 100% goes
to the La Honda Fire Brigade.

· ·Sportbike Suspension Setup Clinic
Jim Lindemann and Gary Jaehne will measure and tune your motorcycles suspension to match your weight/riding style, all for a $30.00 donation to the La Honda Fire Brigade.
· ·Raffles
Attendees can purchase raffle tickets to win very cool prizes that will be raffled off during the event.
· ·Auction Area
Charity auction to raise money for the La Honda Fire Brigade.
· ·Ducati Clubs Area
Participating Ducati Clubs and groups will be able to display in this area. No fee for Ducati Clubs to participate, but must provide club volunteers to work the Helmet Check/Welcome area, Parking Area and other duties for the event.
· ·Concorso Ducati Area
Ducati Concours d'Elegance brought to you by BevelHeaven.com - $10.00 entry
fee for participants, general admission is free.
· ·Swap Meet Area
Attendees who register will be allowed to display and sell, barter or trade their Ducati related items in this area. A $15.00 fee will be charged to display. If you would like to register to display, please contact Hans Mellberg.
· ·Tech University Classroom style seating area for technical discussions/sessions on riding, maintenance, etc. Free attendance.
· ·Vendor Area
Retail vendor display area, where manufacturers and dealers will have the latest Ducati parts and accessories available to browse and purchase.
· ·Ducati Garage Challenge Area
Ducati Garage Challenges: A $5.00 fee will be charged for each Ducati Challenge entered.
For further information please visit www.ducatiusa.com
www.ducatiowners.com/LDD2004/
or contact:
Vincent Chiaro
PR and Event Coordinator
Ducati North America
Ph. +1-408-343-4414
vchiaro@ducatiusa.com
John Clelland, President MH900Evoluzione Owners Club
johnc@ducatiowners.com