FastDates.com December 2004
Superbike, MotoGP Racing & Calendar Girl News
Official Calendar of the SBK World Superbike Championship
Home of the official SBK Fast Dates & Team Ducati Corse Umbrella Girls
Oh my god!... Supermodels get naked in Brazil!
The 2005 Pirelli Calendar
Images for editorial review use curtesy Pirelli

On November 18th 2004, at the Copacabana Fort in Rio de Janeiro, was the world premiere of the Pirelli 2005 Calendar, the most exclusive world event for beauty lovers, fashion followers and photography connoisseurs.

Shot by world-renowned French photographer Patrick Demarchelier, the 2005 Pirelli Calendar chose the spectacular setting of Rio de Janeiro, the metropolis that, as Naomi Campbell says (appearing for the third time in the "The Cal") "reflects the Brazilian people's energetic and positive spirit".


17 year old supermodels get loose in Rio de Jenerio for Pirelli.
Demarchelier has grasped and assimilated the spirit of Brazil: 'O espirito do Brazil' is in fact the title chosen for the backstage film and of Rio de Janeiro, a city dominated by strong contrasts, required a masterly use of light to express strong contrasts and obtain striking portraits, black and white only
The black and white photographs investigate the most mysterious aspects of the models seeking out the invisible source of their allure: alongside the already mentioned Naomi Campbell (Victoria's Secret, America's Next Top Model) are Filippa Hamilton and Isabeli Fontana (already chosen by Bruce Weber for the 2003 edition), Adriana Lima (the current featured model for Victoria's Secret and Maybeline cosmetics), Diana Dondoe, Erin Wasson, Euguenia Volodina, Julia Stegner, Liliane Ferrarezi, Marija Vujovic, Michelle Buswell, "Valentina" and Valeria Bohm.
A truly an international cast with three Brazilians, two Americans, one Russian, one Montenegrin, one Romanian, one Swede and one German, ranging in age from a just turned 17 to the legerndary Naomi Campbell in her mid 30's. For the inside story on the very sexy, and very nude calendar go to Pirelli 2005.
---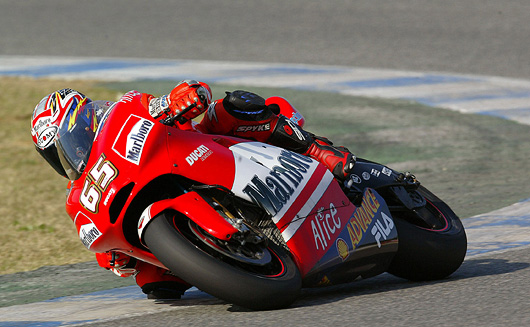 MotoGP Winter Tests –Valencia, Spain
Ducati Desmosedici riders 1-sec quicker than factory Hondas
Capirissi and Checa Pick up the Pace Even More
Ducati Beats Record Times at Valencia MotoGP Tests
MotoGP Test Valenca, Spain November 24-26, 2004 - The Ducati Marlboro Team has concluded its 2004 testing schedule in the best possible way at Valencia, Spain. Thanks to superb performances by its two riders, the Italian team went quicker than the 2004 pole mark set by Tamada (1m32.81s) and Biaggi's fastest lap (1m33.58s) recorded just over one month ago in the final GP of the season. They continued to improve on the top times they set over the other factory teams at last week's MotoGP 3-Day Test in Valencia, Spain.
After yesterday's rain, perfect conditions today allowed Loris Capirossi and Carlos Checa to put in a full day's work and conclude the final tests of the year with interesting times.The Italian Capirossi was particularly quick on Bridgestone qualifying tyres, coming back and setting an excellent 1m32.67s in his 62 laps.
Loris Capirossi, on the evolution version of the Desmosedici GP4 with changes to the frame and the new swing-arm, tested a variety of suspension and chassis set-ups. The Italian said that he was pleased with the results obtained and motivated by the changes made to the bike and the new Bridgestone tyres.
"I am really satisfied with what we have been able to achieve on the one day that the track was dry, but I wasn't sorry that I got a chance to test the Bridgestone wets yesterday, which proved to be extremely valid tyres" commented Capirossi. "I'm pleased with the way things are going and the working method we are using. Today we did a lot of laps and tried a number of changes, obtaining some good times. It's as if we are about to start 2005 . and I'm feeling confident already".
Carlos Checa, with a total of 65 laps on the prototype Desmosedici GP5, was the quickest rider on the track with race tyres, setting a time of 1m33.09s. The Spanish rider, who preferred to focus on race set-up and not use qualifying tyres, has adapted quickly to the numerous changes he has encountered after signing for the Ducati Marlboro Team - bike, team and tyres - and has clearly demonstrated his motivation and professionalism.
Superbike rider Régis Laconi's period as Ducati Desmosedici development team test rider came to a positive end with a best time of 1m35.78s. Régis's total of 44 laps also included a crash, which luckily finished without any serious consequences. The Frenchman, who focussed on electronics and engine mapping work on the Italian V4 machine, has offered valid support in the development of the bike that will race in next year's MotoGP World Championship, for which Ducati Corse was appreciative of his professional and positive attitude demonstrated in these tests.
The Ducati Marlboro Team's next testing session is scheduled for January 22-24, 2005 at the Sepang circuit in Malaysia.
The change to Bridgestone tires from Michelin has helped put the Ducati Desmosedici back on top of the time sheets in winter tests.
Honda teams complete successful two-day test at Valencia
Honda MotoGP teams wrapped up their 2004 testing programme with a two-day test at the 4.005km Ricardo Tormo Circuit at Valencia, Spain. The heavy rain that fell on Monday washed away the series of test planned for the day restricting the riders to rain tyre testing and alternative engine mapping to cope with the conditions.
Nicky Hayden (Repsol Honda) put in just 26-laps yesterday. The American trying various engine settings in search of a smoother power delivery from his RC211V 990cc Honda around the twisty demanding circuit.
The Telefonica MoviStar Honda riders elected to sit out the day. Wet weather specialist Sete Gibernau confident he had nothing to learn while his new tem mate, Marco Melandri felt he lacked the necessary experience on the RCV to conduct meaningful testing in wet conditions. Makoto Tamada was not too unhappy with the conditions. The Konica Minolta Honda rider made the most of the wet track testing Michelin rain tyres for the first time, gaining invaluable experience as he continues his
adjustment to the performance of the tyres he will use in 2005. The final day of testing was held in bright but chilly weather. Track conditions were not optimal early on damp patches dotting the circuit. But
having lost almost a complete day to the weather yesterday the riders wasted no time in getting to work.
Nicky Hayden put in a solid 70 laps today to complete his test programme. The young American more than happy with the rapport he has established with his new technical crew during the five days they have worked together. Telefonica MoviStar riders Sete Gibernau and Marco Melandri were particularly busy, Gibernau working hard assessing the remaining untried parts in the time available to the team. Melandri put in another marathon 101 lap day, improving as the day went on. The Italian ending the test with
a lap time to equal the best of team mate Gibernau. Makoto Tamada had high hopes for the day but managed no more than 20 laps failing to establish a good feel for the cool track surface.Honda rider lap times and quotes.
Nicky Hayden; 1m 33.7s - 70 laps. "Generally it was a good few days of testing we had in Jerez and Valencia. It was really good to be working with the new team and everyone seems to be gelling real well. We're got a pretty good base setting and I'm pleased to go into the winter break with a positive feeling. It took a while today for the track to dry out and there were a lot of guys jumping off everywhere; we just took our time and had a solid day. I'm off the Japan for some PR work than back home next week for a little rest but I know it won't be long till I'm really wanting next year to come and to get back on the bike."
Sete Gibernau: 1m 33.4s - 85 laps. "Today the weather was good so we worked hard continuing the work started in Jerez. I needed dry conditions to lap at a good pace in order to better understand all the material that we had to test yesterday and today with the purpose of creating the best package of what we have. I'm satisfied of the work of today, it's a hard work but absolutely necessary in this time of the year."
The other major factory MotoGP teams including Yamaha and Suzuki concluded their testing LAST WEEK
Chicks That Kick Ass
Justine Jolie

How would you like to find this beautiful young redhead under your Douglas fir this Christmas?

One of the prettiest girls ever in the adult film industry, Justine Jolie got her start just a few years ago under the previous stage name" Swan" in the Hustler's Barley Legal videos and on the internet. And while she has had boyfriends, she has never worked in adult with guys, just solo or usually with other girls. In fact, Justine really loves working with girls more than anything, and once you've seen one of her movies we're sure you'll agree.

You will find Justine Jolie featured n the 2005 Garage Girls Calendar, as well as in some very revealing pictorials in our Members Corner.

Between shoots, Justine does like to dress trendy and hip, and to let people know about her favorite motorcycle pinup website. Here, Justine is showing off our FastDates.com T-Shirt, in White or Black, a perfect Christmas gift for you and your girlfriend this season. Treat her right or Justine will. ORDER HERE
2004 Supermoto FIM World Championship, Finestrat Finale

Van Den Bosch and KTM Clinch S1 Title,
Aprilia's Giraudo Wins S2 with New Electronic Injection V-Twin
at the 2005 World Supermoto World Championship Final
Nov 27-28th Finestrat, Spain: The final round of the Supermoto World Championship was particularly exciting, with famous MotoGP stars such as Marco Melandri or Andrea Dovisioso enjoying the great suspense concerning the S2 title. Thierry Van Den Bosch secured his S1 title in the first final, but everyone had to wait the last lap of the S2 Superfinal to know the name of the 2004 Champion. Unexpectedly, Jerome Giraudo who arrived in Latina second in the standings clinched his first title and offered a nice present to Aprilia. Second overall after leading most of the season, Max Verderosa offered the manufacturers title to Honda.
There was no real suspense in the S1 class, and in the first final Thierry Van Den Bosch secured easily his title with another win. " My goal was to take the title in the first final, and I reached it quite easily. Boris has a better start than I, but in the off-road section I made a pass and then stay focused on my race. I improved my lap time several times and managed a good gap with Boris," said VDB just after this race. Winner of the second final and the super final, VDB had a perfect day and confirmed his domination during this final round.
" It's always difficult to compare two titles, and my first one two years ago will always stay in my memory as it was a new championship. But this one is also really nice for me, especially after a difficult season in Supersport. I learned a lot there, and even if some people thought that it would be difficult for me to get another Supermoto title I'm glad to get it. I'd like to thank all my team, our sponsors such as Michelin or Red Bull and my personal sponsors. They trusted me, and I'm happy to give them something back. I want to dedicate this title to Mr Seurat, who died this year.He was the first manager who offered me a ride in Supermoto," analysed later the KTM leader.
Second in the standings, Boris Chambon was never able to really challenge his leader; fourth and third in the finals "Lupo" was fifth in the superfinal when he had to retire with a rear tyre puncture. Gerald Delepine won his battle against Eddy Seel and Ivan Lazzarini for the final third position; Gerald had one of his best weekends with a third and second position in the finals, and another second place in the superfinal.

" I'm really happy to end the season with a great result, especially after two difficult rounds in Greece and Italy. In fact we found the right settings of the bike early yesterday and we saw immediately the difference; it was my first season with the team and our new bike, next year can only be better for us and I hope I will be able to fight for the title" said Gerald who finished just in front of Eddy Seel.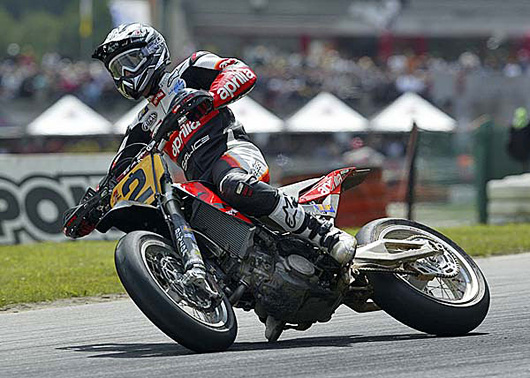 Jerome Giraudo stuffs his winning S2 Class 450cc Aprilia into a turn.
An incredible S2 450cc Class race brought the season to a close as Aprilia and their twenty-four year-old French rider, Jerome Giraudo, brought down the house by winning the Supermotard S2 World Championship Title. Presenting themselves at the start with a seemingly insurmountable disadvantage of twenty-six points behind Massimo Verderosa riding his Honda, Aprilia's flag bearers progressively made up the difference in the space of two heats only then to conquer and win the final by surpassing all rivals, bringing themselves to the top of the classification.
It is a victory with huge implications; not only did Aprilia take the lead from the debut, but they did it with a project decidedly innovative. For the first time ever they introduced into the category a bi-cylindrical propeller, representing a technical choice until now considered to be almost impossible.
"I honestly did not think it was possible to recover from such a deficit – said the rider from Nice – it makes the win even more gratifying. To triumph in a season so tightly contested from the beginning is an amazing result. When Aprilia decided to revolutionize the category by introducing a two-cylinder engine, not to mention an electronically controlled, I thought that at least a year would have to be spent for development purposes. Instead, everything worked perfectly and the results they produced only improved with time. I have to say that the technical staff did an incredible job, riding on the shoulders of Aprilia's impressive legacy in competitive races.
---
Ducati 2004 World Championship Winner
Commerative 999R FILA Edition
November 15th: Ducati is celebrating their win of the 2004 World Superbike Championship with the release of this special edition 999R painted in Team Ducati Corse FILA livery. The bike is an interisting mix of the now discontinued 2004 season 999R limited production model on which the winning 999F04 factory superbikes were based, using the short stroke 144hp 999R04 engine, and the old style vented front fairing to retain the Champiuonship bikes' look. But it also gets the new the new 999R05 chassis with the new style sheet aluminum swingarm and Ohlins suspension, including the radial front brakes and forged lightweight marchessini wheels. The mainfront fairing assembly is also the R spec fiberglass
Suggest retail price for the 999R FILA edition is $24,995 which is a great price in Ducati's world, considering the previous edition 999R03 cost $32,000, although it did come with a $3,200 Termignoni race pike and match CPU module. While the new 999R05 with the updrated new 150hp engine sells for $29.995 without a race pipe. And the new 999S05 with 140hp does come with a slip-on race silencer and CPU for $23.995. See your Ducati dealer now for a piece of WSB history. Ducati 999R04 FILA Screensaver
---
Mamba Mia! World Superbike Girl and FastDates.com Calendar Angel gets down on her knees (sliders that is) to give us a blow by blow impression of the hot new Italian Superbike and leaves us beggin' for more!
Rock On
World Superbike Girl &
Christmas Angel Janelle is
in the 2005 Calendars
Order Now for Christmas!

New 2005 Fast Dates, Garage Girls, Iron & Lace
Calendars

---



Hanging out with
Patrick Demarchelier
---
Supermodels who
like to get wet...
The Good, the Sexy,
and the Beautiful...
Hot Chicks Who Rock!

Bostrom, Polen, Edwards at Long Beach Show
Dec 3rd - Parts Unlimited Ducati Austin AMA Superbike racer Eric Bostrom will be at the Long Beach IMS show Friday, December 3rd from 8-9pm to sign autographs in the Ducati corporate booth. Join us in wishing him well for the upcoming season.
Saturday from 11:00am-1:00pm and Sunday 10:00am-12:00pm, World Champion Doug Polen will also be signing autographs at the Ducati corporate booth.
Don't forget to check out the Ducati Monster Challenge and see all the unique and custom Ducati Monsters.
Yamaha also pulled a suprise unannounced appearance of newly signed MotoGP rider Colin Edwards in their exhibit all day on saturday, along side Valentino Rossi's MotoGP Championship winning M1.
World Superbike Signs
Full Grid for 2005 Championship
Dec 1st - FGSsport already has a fuller than needed permanant entry list signed up for 2005 with 32 bikes and riders vying for the 30-bike entry grid, including the 6 manufacturers teams. Aprilia is still considering a WSB team after its withdrawl for MotoGP.
For comparison, MotoGP has recently been runing a partially empty starting field down around 22-24 bikes this year. With the loss of Aprilia and the Ducati Antin teamfor 2005, it now may be even smaller
Aprilia throws in the cards on MotoGP
As expected, with new parent company Piaggio now in control, Aprilia has announed it will withdraw from MotoGP in one attempt to stop the huge loss of cash flow that was driving them towards bankruptcy.
However, Aprilia will remain in the 125cc and 250cc GP class where they are the top winning manufactuer with major sponsor support, and profitabiy making money selling bikes and parts to other non factory teams.
In the meantime, as Piaggio reviews Aprilia's marketing buget, they will ask if Aprilia can return to World Superbike where the costs are lower and the bikes are directly related to the sportbikes they sell.
We spoke to Robert Pandya, president of Aprilia USA, amd Robrt told FastDates.com that all their USA marketing plans are on hold until they hear from Piaggio.
Robert said they also still have (4) remaining Mille Factory Nera Superbikes in their US warehouse should anyone be interested in the $30,000 carbonfibre bodied Aprilia Superbike. if you remember that price included a free set of custom made matching leathers and a trip to the Aprilia factory in Italy. but we're sure if you waived those unnecessary, if now unavailable extra's you problably could get your delaer to order one for about $5,000 less....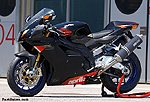 World Superbike Looks forward to American return
The Flammini brothers at FGSsport and promoter Dan Murphy at FAST remain outraged that MotoGP came in at a bargain price to pull their prime USA venue at Laguna Seca Raceway away from them in for 2005-2007. Plans are underway for return a of World Superbike to America beginning in 2006, possibly with 2 races at different tracks.
Prime track choice on the list has to be Dan Murphy's other AMA race venue, Road Atlanta, while Portland Interntional Raceway and Virginia International Raceway are also being considered if they can upgrade their facilities.
An then, Laguna Seca might be convinced to host both a separate motoGP and SBK roung, with one race in July and the other in October. Taking the October date at laguna would certainly mean replacing the current Sports Car Race Weekend at Laguna which had dwindled in size in recent years.
Back in the late 90's the LeMans type World Sports Cars raced at Laguna with all the top tema s including Mercedes, Porsche and McLaren. You thought Superebikes geting around Laguna in the low 1'40s was quick? The WSC fully enclosed 2 seater race coupes with ground effects and 800hp+ were doing laps a full 20 seconds faster while running 2- cars side by side in the corners at twice the G's. Mercedes and Porsche withdrew from WSC racing in 2001 when they had proved all they neede to prove, and the $2 million Mercedes CLK GTR cars all got airborne at LeMans that year in the turbulance behind other race cars being lapped and they were destroyed. Image doing 240mph down the Mulsane staright and your car suddenly lifts off the ground, shoots straight up in the air for 300 feet and cartwheels a few times before landing back down somewhere outside the track. Every driver was fortunately to walk away after the event.
Mercedes now concentrates on racing Touring cars in the exciting German Touring Masters Series (DTM) which SpeedTV, unfortunately, only sometimes shows here in America during the slow winter months. Imagine the equivalent of Formula One quality Trans-Am sedans driven by top factory F1 and WSC drivers. Incredible Racing!


Robin grids Regis Laconi.
Robin Cunningham was our offical SBK World Superbike Fast Dates calendar Angel and Team Ducati Corse umbrella girl for World Championship points leader Regis Laconi at Laguna Seca. All the the sexy details are in Fast Dates News.
2005 AMA Superbike Championship Schedule Announced
Laguna Seca AMA Superbikes combined with MotoGP Weekend
PICKERINGTON, Ohio (Oct. 22, 2004) -- AMA Pro Racing has released its schedule for the 2005 AMA Superbike Championship. Highlights include a round at Mazda Raceway Laguna Seca in conjunction with the MotoGP World Championship event and the debut of a new track configuration for the Daytona 200.
"2005 is going to be an exciting year for fans of AMA road racing," said Scott Hollingsworth, AMA Pro Racing CEO. "We're looking forward to showcasing AMA Superbikes alongside the exotic MotoGP bikes at Mazda Raceway Laguna Seca as well as returning to all the other great tracks that make up our championship. Plus, with five different riders, on three brands of motorcycles winning AMA Superbike races in 2004, the stage is set to see another closely contested series next year."
The 2005 AMA Superbike Championship Schedule:
Date Location
March 10-12 Daytona International Speedway, Daytona Beach, Fla.
April 22-24 Barber Motorsports Park, Birmingham, Ala. (Superbike Doubleheader)
April 29-May 1 California Speedway, Fontana, Calif. (Superbike Doubleheader)
May 13-15 Infineon Raceway, Sonoma, Calif. (Superbike Doubleheader)
May 21-22 Pikes Peak International Raceway, Fountain, Colo.
June 3-5 Road America, Elkhart Lake, Wisc. (Superbike Doubleheader)
June 25-26 Brainerd International Raceway, Brainerd, Minn.*
July 8-10 Mazda Raceway Laguna Seca, Monterey, Calif. (Superbike Doubleheader)
July 22-24 Mid-Ohio Sports Car Course, Lexington, Ohio (Superbike Doubleheader)
Sept. 2-4 Road Atlanta, Braselton, Ga. (Superbike Doubleheader)
Sept. 17-18 Virginia International Raceway, Alton, Va.*
* Tentative. To be confirmed.