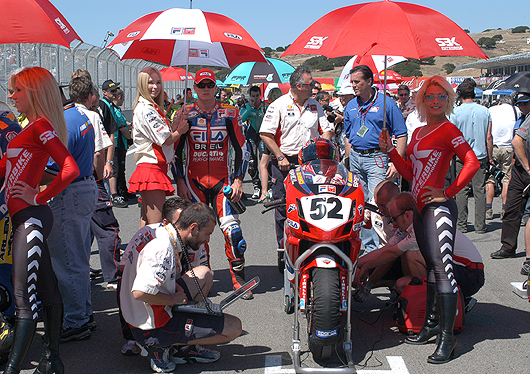 World Superbike Gets Stronger -By Jim Gianatsis
Japanese Big Four Return to World Superbike for 2005!
Oct 20th - With the announcement this week from Yamaha Racing Communications that Yamaha Moto Europe is going to return to the SBK World Superbike Championship in 2005 with a 2 rider team based out of their Italian distributorship, it now appears that all four major Japanese manufacturers: Yamaha, Honda, Kawasaki and Suzuki are returning to World Superbike. The loss of the major Japanese factory teams to MotoGP is now over, and the SBK Championship can look forward to regaining its stature and rivalry to MotoGP as the world's most important roadracing series.
Most of the Japanese teams are still in the process of coming together and selecting riders, but the Ten Kate Honda of Germany based team with Chris Vermeulen and former Superbike Champion Troy Corser is already firmed up. While another factory supported team, PSG-1 Kawasaki have sign Chris Walker, formerly of Foggy Petronas. And with so many new team now looking for riders, there's going to be a lot of out of work MotoGP riders next month who will be very happy to have another top level World Championship to move to, particularly other former Ducati World Superbike Champions like Troy Bayliss and Neil Hodgson.
Some might say the Japanese are returning to World Superbike through the back door, using European distributor run teams, to save face in returning to the series which they abandoned 2-3 years ago for the glamour of 4-stroke MotoGP. But we welcome them back in any way, shape or form. And the fact they are returning through already established distributor teams in various European countries means they have an establshed infrastructure of shops, staff, mechanics and transporters already in place. Their costs will be less, they can support more teams with money, bikes and parts. And these already established teams can come out swinging from the first race. We are going to have some incredible racing in World Superbike for 2005.
But not to forget, we also had some incredible racing in 2004 World Superbike. Despite the 1-2 brand dominance, it was certainly the closest Championship ever with 5 riders in contention for the title win from week to week. And the title going down to the final round at Mangy Cours between James Toseland and Regis Laconi.
And don't let us forget, much appreciation must go to Ducati for continuing to support the superbike championship through its lean years to help it survive, both for us fans and for the important marketing tool in is for manufacturers. The Japanese factories lost sight of this important aspect the last few years, and a dramatic decline in Japanese sportbike sales and spectator race attendance (in America and Japan in particular) was the result.
Acknowledgment and appreciation also needs to go out to FGSport president Paolo Flammini and marketing director Robert Wicks for enduring the criticism and allowing Pirelli Tires to come in as the major SBK Championship sponsor to allow the SBK Championship to financially survive in its lean season. And it is acknowledged now by all that the use of required Pirelli spec tires has allowed the racing to be closer and more exciting. Spectators can't see spec tires being a second a lap slower, but they certainly can see the closer racing.
Next year in 2005, instead of seeing 5 riders fighting for the lead at the front of the pack in World Superbike, we just might be seeing 10-15 riders!
And here in America, an acknowledgment of disappoint goes to Laguna Seca Raceway for not renewing its contract with World Superbike. And to AMA Pro Racing for not creating a world class environment for its class rules, race tracks and promoters so World Superbike could find another home in America -the world's biggest sportbike market. Ironic, isn't it?
Yamaha Motor Europe's officially-supported Yamaha Motor Italia squad will switch from the Supersport World Championship and enter a two-rider team in the 2005 Superbike World Championship
October 21st : Yamaha's Italian distributor has been one of the most active teams in the history of the Superbike World Championship. Between the inauguration of the series in 1988 and 1994, Yamaha Motor Italia, under its former name of Belgarda, financed and managed its own superbike programme - taking several race wins and regularly finishing in the top five in the series championship. In 1995, when Yamaha decided to make an official entry into the championship it was only natural that the factory team was based at the Yamaha Motor Italia workshops.
Yamaha withdrew from the series at the end of the 2000 season, after Noriyuki Haga finished second in the championship, to concentrate on development for the YZR-M1 MotoGP project and exploring new four-stroke technologies also for the benefit of future production models. Between 2001 and 2004 Yamaha Motor Europe focused its attention to supporting the YZF-R6 entry in the Supersport World Championship.
Yamaha will confirm the rider line-up for its 2005 world superbike campaign at a later date.
Laurens Klein Koerkamp (Yamaha Motor Racing - European Racing Operations manager):
"Yamaha Motor Europe felt the time was right to return to world superbike. Our MotoGP programme is now firmly on track and since we last competed the regulations have been changed to allow four-cylinder 1000cc sportsbikes to enter the championship. The R1 is Europe's best selling supersport bike and has already proven its competitiveness in 2004, winning the Endurance World Championship and claiming the top four positions in the European Superstock Championship. We are sure that our return to world superbikes will further reinforce the R1's sporting image.
"Next year is Yamaha's 50th anniversary. Racing is part of our corporate DNA. In 2004 we enjoyed possibly our greatest ever season with Valentino Rossi winning the MotoGP world championship and Stefan Everts enjoying his fourth straight motocross world title with Yamaha. I am pleased that we will mark our anniversary by challenging for all the major world championships."
Claudio Consonni (Yamaha Motor Italia Racing General Manager): "Racing is part of our company's spirit and an important marketing tool for Yamaha Motor Italia. We have been involved in world supersport for many years and have never hidden our desire to return to a series we have been involved with from the first days of the championship. The team, headed by former superbike and supersport rider Massimo Meregalli, has an experienced group of engineers, many of whom previously worked with the factory superbike team. They have already started work building the bikes and we are all really looking forward to our new challenge."
Yamaha Motor Germany will manage Yamaha's sole official entry in the Supersport World Championship with Australians Kevin Curtain and Broc Parkes riding the 2005 model YZF-R6.
World Superbike Secures Exclusive Championship Deal
with EuroSpeedway Lausitz, Europe's Premier Race course
Klettwitz (Germany), October 20, 2004. Starting on 9-11th September 2005, the Superbike World Championship at EuroSpeedway Lausitz is the only World Championship race taking place in Germany. As part of a three-year-contract with the Series Organiser FGSport, EuroSpeedway Lausitz has been able to secure for itself one of the most prestigious motosport series in the world up to 2007. The Superbike World Championship is at home on the most renowned racing courses in Europe, Asia, and the United States and offers high-class two-wheel-sports in a total of three categories: Superbike, Supersport, and Superstock. Tickets for this motor sports highlight in Lausitz are now available at prices between 9 Euros (for Fridays in the Silver category) and 59 Euros (for weekends in the Gold category). Call the ticket hotline at 01805 / 88 02 88 or order tickets online at www.eurospeedway.de. Up to March 31st, 2005, early birds will be granted a 10 percent discount if they book seats.
With regard to the Superbike World Championship, Hans-Jˆrg Fischer, Managing Partner and CEO of EuroSpeedway, said: "By securing the Superbike Motorbike World Championship, we have brought back the highest league of international motorbike sports to Lausitz. A three-year-contract secures us the World Championship up to 2007 and the Ring and our region can be proud of that. We shall have a lot of highlights in the 2005 Season with the Superbike Motorbike World Championship on our 4.3 kilometre long FIM Grand Prix Track, DTM taking place on our 4.5 kilometre long FIA Grand Prix Course on 1st May, two ASCAR Races on the 2 Miles Superspeedway as well as a number of other events which we will announce in the coming weeks."
Paolo Flammini, FGSport CEO, said: ìWe are extremely happy to have brought the German Round into the one of the most prestigious facilities in the world. I am sure that the EuroSpeedway Lausitz event will represent one of the highlights of the next world SBK season.î
---
120,000 fans packed the track at Valencia to watch Rossii reconfirm his title at the season's final race, here ahead of Honda's best: Tamada, Baggi, and Hayden (who will crach out), being reeled in by Bayliss on the Ducati..
MotoGP World Championship, Grand Prix of Spain, Round: 16 of 16

Rossi Closes Out the 2005 MotoGP Season in Style at Valencia
Ricardo Tormo Circuit, Valencia, SP, Oct 29-31st: Newly recrowned 2005 World MotoGP Champion Valentino Rossi (Gauloises Fortuna Yamaha) secured an incredible ninth win of a glorious championship winning season after a hard fought battle at today's Valencia Grand Prix. Down in sixth after a tricky start, Rossi used his improving pace to good effect, ultimately winning by a margin of 0.425 seconds ahead of second-placed rider Max Biaggi (Honda) and final podium finisher, Troy Bayliss (Ducati). Rossi broke the three hundred point barrier with his Valencia victory, scoring a total of 304, despite two non-finishes this year.
PRELUDE TO THE VALENCIA FINALE
With Valentino Rossi crowned World Champion for the fourth successive year in the premier class after his latest astonishing win at the Australian Grand Prix, the Gauloises Fortuna Yamaha team can look forward to one final challenge at the final race of the year in Valencia, Spain. As Yamaha's Factory team leads the Team Championship by just one point, it will be up to both Rossi and his team-mate Carlos Checa to finish the season on respective high notes and help secure the only title that still remains undecided in this year's MotoGP World Championship.

Since Rossi's stunning inaugural victory with Yamaha at the first race of the year at Welkom in April, the combination of rider and machine has proved even more potent than anyone in the team had dared hope. Rossi has scored a new Yamaha win record in one season thanks to eight victories in the premier class this year. The charismatic Italian has also taken five pole positions riding the inline-four Yamaha YZR-M1, and is now one of only four riders who have won four successive premier class world titles in the history of the sport.


125cc, 250cc, and now 4-time MotoGP World Champion Valentino Rossi
Checa's return to Europe will signal not just a homecoming to his native land, but the last race in his long association with the Yamaha Factory Team, which began in 1999. Checa, like every other rider in MotoGP, has found Rossi a force to be reckoned with this season, although he proved his determined ability when he scored second to Rossi's fourth at Le Mans and was on pole at the Qatar round just a few weeks ago. In front of his home crowd for the third time in 2004, Checa is particularly keen to end his season in style with a good result, and is a tantalising two points away from improving his championship finish to overall seventh. He will not be short of support in his quest, as Valencia has consistently enjoyed the best spectator attendance records in recent MotoGP history.
ROSSI HUNGRY FOR ANOTHER WIN
For 2004 World Champion Rossi, Valencia offers him the chance to concentrate on a single race without the championship fight creating an additional distraction. "I wanted to go to Valencia with the championship itself closed, and that is now possible. Before our championship victory in Australia I was feeling a little scared of Valencia because the Spanish riders always go for it so much. I know Sete will be going for it there and it would have been a really pressured showdown. I am still really looking forward to racing there, it will be a lot less pressure for me now. I still want a great result of course!"
The very nature of the Valencia circuit may not play into Rossi's hands. The multiple World Champion said, "I was never certain that Valencia would be a good track for the M1 because we haven't tested there. We knew that we could do well at Sepang and Phillip Island, the last two tracks, because of the good results of our tests earlier in the season. Valencia could be another matter, but we will see."
Rossi is looking forward to the last leg of his remarkable 2004 campaign, and even further ahead to his 2005 collaboration with Yamaha. "We will have another great battle in Valencia," he remarked, "but for sure I am staying with Yamaha next year. It is going to be hard next year because Sete and Max will be on factory Hondas, and will come back very strong. But we too will be even stronger than this year, because we have all the data from the full season."
CHECA DETERMINED TO SIGN OFF IN STYLE
For Checa, the Valencia race will be a landmark in his career, and in the recent history of Yamaha, as it will be the Spanish rider's final outing on the M1.The team just announed it has signed American and former Honda World Superbike Champion Colin Edwards to join Valentina Rossi on the factory Yamaha team for 2005. But Carlos will not be without a factory rider next season, as Ducati will announce on Sunday that they have signed Carls to join Loris Capirossi on the factory Corse team for 2005, replacing Troy Bayliss.
"The track layout is not the most interesting but it is important for me in many ways, especially as the circuit is in Spain," said Carlos. "In fact, it is possibly the most important track for me."
The last race has significance to any competitor, as Carlos recognises. "As a rider of any nationality you always want to have a good last race in your season, as this is the result you will take into the winter with you. To get a good result in front of that home crowd would be fantastic as well."
Of his final Yamaha season, and the future, Checa commented, "We have done well in some races, in some we have been not so good and maybe I am thinking about next year already. For Valencia I want to find the best settings on the bike and see how good a chance we have. I would like to do well at Valencia; it is my last race with Yamaha after six years so I want to finish in a really good position."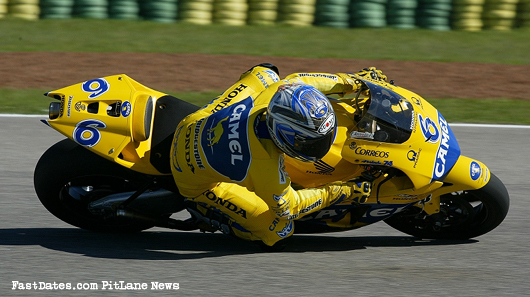 Above: Tamada heads the time sheets and takes Pole going into Sunday's race.
FLYING TAMADA ROMPS TO THIRD POLE OF SEASON
Final Qualifying October 30th - MotoGP final qualifying was torn apart by Makoto Tamada (Camel Honda RC211V), riding on Bridgestone tyres, here at Valencia. He set a 1m 32.815 second lap to grab pole and the nearest man to that time was his team-mate Max Biaggi (Camel Honda RC211V) who joins him as second fastest on the front row. Valentino Rossi (Yamaha) qualified third.
Rossi, going for pole position after his outstanding championship-winning season, ran off track half way through the session, on the second corner of the track. He almost brought the M1 to a halt unscathed, but toppled over at walking pace and returned to the pit to allow the machine to be checked over. His mishap caused him to drop through the order for a time, but the final exchanges of the lead put him third overall, gaining an all-important front row start and securing himself the award for the fastest qualifier of the year.
In sunnier, warmer conditions than yesterday, Tamada really got to grips with the 4.005km Cheste track. The Japanese ace timed his flying lap to perfection with two minutes of the hour-long session to go and although Max stayed out to try and best Tamada's time in the dying moments, he was to remain 0.016 seconds away.
Nicky Hayden (Repsol Honda RC211V) was the first man to go faster as the session got underway and the American would end up on row two as fifth fastest qualifier. He was fastest in the morning hour of free training, shaving 1.9 seconds from his Friday time.
Sete Gibernau (Telefonica MoviStar Honda RC211V) topped the timesheet in the early stages and although he starts from row two in fourth, the Spanish World Championship runner-up is just 0.121 seconds shy of the pole time and well in contention for the race tomorrow. Colin Edwards (Telefonica MoviStar Honda RC211V) looked strong and hoisted himself to pole with 15 minutes to go. But he couldn't sustain the effort required to continue the improvement and had to be content with an eventual eighth place on the third row.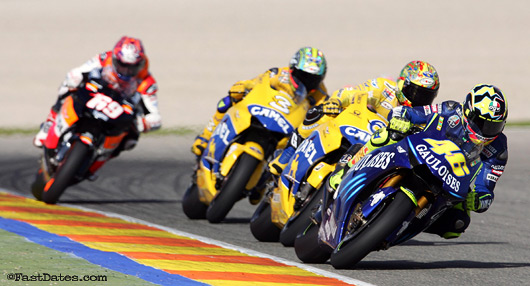 Rossi works his way into the lead at the mid point of the race, chased by Honda's Tamada, Biaggi and Hayden.
Hayden will crash out a few laps later, with Troy Bayliss coming from nowhere on the Ducati to take 3rd.
ROSSI RECONFIRMS HIS TITLE IN A HARD FAUGHT RACE ON SUNDAY
The final race of this intriguing 16-race season ended with a win for the newly recrowned 2005 World MotoGP Champion Valentino Rossi (Yamaha) with Max Biaggi (Camel Honda RC211V) in second place and Troy Bayliss (Ducati) third. A crowd of 122,000 watched from the hillsides of this natural amphitheatre in bright sunshine.
Max and pole-sitter Makoto Tamada (Camel Honda RC211V), riding on Bridgestone tyres, were the first into turn one closely followed by Sete Gibernau (Telefonica MoviStar Honda RC211V). Max led, but he was swiftly overtaken by Tamada who then made the early running.
By lap three an early pattern was set among the front-runners as Sete barged into Max on lap three in a bid to get on terms at the sharp end of the race. But Tamada couldn't sustain his lead as Rossi moved up the order to lie second to Makoto on lap five.
Aftera poor start Rossi immediately set about reducing the margin of advantage enjoyed by early leader Makoto Tamada (Honda), and on lap six he made a determined inside pass to lead the race for the first time. A gritty duel between the pairing saw Tamada pass on turn one of lap seven, leading the ranks ahead of Rossi, Nicky Hayden (Honda) and Biaggi.
Rossi grabbed the lead back from Tamada at the esses and was never again headed – but the action would continue behind him. Troy Bayliss in fifth was making ground on the leaders and the order now was Rossi, Biaggi, Tamada, and Nicky Hayden (Repsol Honda RC211V). To the rapture of the 122,000-strong crowd, Rossi went back into a final leading position with a pass on the entrance to the last chicane.
Hayden was lucky to stay on board and even more fortunate not to collect Max as he fought to keep his RC211V on track under braking for turn one on lap 21. On the next lap he slid off to leave Rossi, Max and Bayliss in the top slots as Tamada dropped back.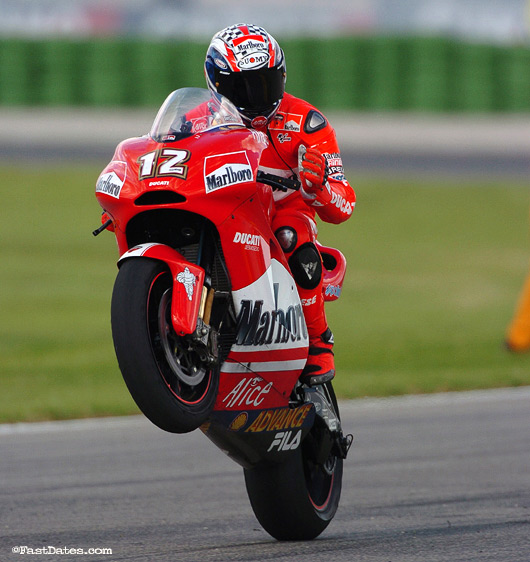 Troy Bayliss was spectactular in his swan song for Ducati, turning the quickest laps mid race to reel in the leaders and take 3rd just behing Rossi and Biaggi. Ironically, Tory's relacement on the Ducati Corse team for next season, Carlos Ceca crashed out while running well behind the former World Superbike Champ. Unfortunately for Troy his spectactular podium finishat Valencia was too little, in an otherwise lackluster season where the last race was too late.
That's how it finished with Gibernau getting past Tamada on the penultimate lap to take fourth. Alex Barros (Repsol Honda RC211V) was sixth and Colin Edwards (Telefonica MoviStar Honda RC211V) was eighth.
Rossi's team-mate Carlos Checa had an eventful sign-off race for the Factory team, with which he has ridden for six years. The Spaniard crashed out, remounted, and finally fought hard for a 14th place finish and two championship points. These were sufficient for Checa to keep seventh place in the championship overall.
Rossi and Checa's combined season efforts on track, and the behind-the-scenes labour of their crews and Yamaha's engineers, delivered the Gauloises Fortuna Yamaha squad the Teams' Championship, with a total of 421 points.
The Fortuna Gauloises Tech3 riders Marco Melandri and Norick Abe had a tough time here in Valencia during the final race of the 2004 season. Abe managed a top ten finish while luckless Melandri crashed out of contention while trying to avoid another rider.
Abe's tenth place was not enough to satisfy the evergreen Japanese star; a change in tyre choice for the race prevented him from continuing the early race charge he was making from his fifth row start. Marco parted company from his YZR-M1 when he was trying to avoid getting involved in a Loris Capirossi (Ducati) 'moment' on lap ten. He was lying 12th when the front-end folded on him as he made a bid to steer clear of the fellow Italian.
Valentino Rossi (Gauloises Fortuna Yamaha) First : "To win nine races has been unbelievable for everybody and we also won the team award, which was not so bad either! The finish of the season was perfect for us, three in a row. It was more difficult for me today than in Sepang and Phillip Island because I find this track worse than them. I slid at the start and lost some time but after two or three laps I was able to recover. Tamada was looking very strong, and I had a tough fight with him until he slowed and dropped back. My rhythm improved and I was able to push 100% to the end. Then there was a fight with Biaggi behind, and he was very strong. It is unbelievable to win here, and wonderful in front of this crowd. This year really has been unforgettable for me, my mechanics and Yamaha."
"A second place is not really how I wanted to end this Championship," said Max. "The race was tough especially in the opening laps. I was immediately involved in the Tamada, Hayden, Sete battle until Sete's strange manoeuvre that nearly knocked me off. Luckily I saw him coming and had a chance to go wide and avoid him. But getting back on terms after that was tough."
Sete said. "I made a mistake with tyre choice. We chose a hard tyre, which was not the way to go. I lost time in the opening laps and then from halfway through the race to the end grip improved but by then I was too far away. It's a shame because I wanted to end the year with a win."
Makoto Tamada said, " My battle with Rossi was good. I got a good start and the first part of the race was good for me too. But I lost rear grip and I knew this race would not be easy. I went hard at the beginning because I thought this would happen."
Carlos Checa (Gauloises Fortuna Yamaha) 14th: "I couldn't quite go at the speed of some of the other riders and I think I pushed the front too hard and then fell. I got restarted because even though the bike wasn't perfect after the crash I wanted to get some points for the team championship. It was good because I also scored enough points to keep seventh place in the table. This was my last race with Yamaha so quite an emotional day, now I will start a new era."
Davide Brivio, Gauloises Fortuna Yamaha team director: "I don't need to say too much about what this year means because it is obvious. We won the first race and the last race and nine races in total. We were first in the riders' championship and the teams' championship, and won the qualifying competition. It is difficult to imagine anything better. We have to say thank you to Valentino, and to all the team and engineers for the fantastic job. They should all feel proud to have been part of this project this year. Also thanks to Carlos because even if he fell off, he got back on and fought all the way, as he knew that the points he scored were important to all of us. We wish him well for his future."
Jeremy Burgess, Valentino Rossi's crew chief: "I have to say that we didn't expect to have to win so many races to win the championship but it turned out that way, due to a couple of tumbles and finishes off the podium. We had to get as many points as we could so we had to win as many races as we could. Now we can look forward to next year."
MotoGP Round: 16 - Valencia Grand Prix
Circuit: Valencia , Circuit Length: 4005
Lap Record: 1' 32.815 (Max Biaggi, 2004)
Fastest Lap Ever: 1' 32.815 (Max Biaggi, 2004)

Race: 30 Laps
Pos. Rider Manufacturer Nat. Total Time
1 V. Rossi Yamaha ITA 47' 16.145
2 M. Biaggi Honda ITA +0.425
3 T. Bayliss Ducati AUS +3.133
4 S. Gibernau Honda ESP +6.128
5 M. Tamada Honda JPN +7.768
6 A. Barros Honda BRA +14.675
7 S. Nakano Kawasaki JPN +23.315
8 C. Edwards Honda USA +27.441
9 L. Capirossi Ducati ITA +29.403
10 N. Abe Yamaha JPN +31.537
11 A. Hofman Kawasaki GER +40.951
12 J. Hopkins Suzuki USA +1' 2.014
13 J. McWilliams Aprilia GBR +1' 4.637
14 C. Checa Yamaha ESP +1' 8.042
15 N. Hodgson Ducati GBR +1' 9.364
Fastest Race Lap:
1 M. Biaggi Honda ITA 1' 32.815

Riders Championship standings MotoGP
Pos. Rider Manufacturer Nat. Points
1 Valentino Rossi Yamaha ITA 304
2 Sete Gibernau Honda ESP 257
3 Max Biaggi Honda ITA 217
4 Alex Barros Honda BRA 165
5 Colin Edwards Honda USA 157
6 Makato Tamada Honda JPN 150
7 Carlos Checa Yamaha ESP 117
8 Loris Capirossi Ducati ITA 117
9 Nicky Hayden Honda USA 117
10 Shinya Nakano Kawasaki JPN 83
11 Ruben Xaus Ducati ESP 77
12 Marco Melandri Yamaha ITA 75
13 Norick Abe Yamaha JPN 74
14 Troy Bayliss Ducati AUS 71
15 Alex Hofman Kawasaki GER 51

Manufacturers standings MotoGP
1 Honda 355; 2 Yamaha 328; 3 Ducati 169
4 Kawasaki 95; 5 Suzuki 73; 6 Aprilia 39
7 Proton KR 15; 8 Harris WCM 12; 9 Moriwaki 7



Race classification GP250
Round: 16 - Valencia GP250
Circuit: Valencia, Circuit Length: 4005
Lap Record: 1' 36.398 (Shinya Nakano, 2000)
Fastest Lap Ever: 1' 35.885 (Marco Melandri, 2002)
Race: 27 Laps
Pos. Rider Manufacturer Nat. Total Time
1 D. Pedrosa Honda ESP 44' 10.176
2 T. Elias Honda ESP +8.086
3 R. de Puniet Aprilia FRA +27.412
4 F. Battaini Aprilia ITA +31.620
5 C. Davies Aprilia GBR +34.059
6 F. Nieto Aprilia ESP +34.784
7 R. Rolfo Honda ITA +40.352
8 N. Matsudo Yamaha JPN +46.761
9 H. Faubel Aprilia ESP +46.770
10 A. Baldolini Aprilia ITA +58.235
11 D. de Gea Aprilia GER +1' 3.287
12 A. Vincent Aprilia FRA +1' 5.615
13 J. Smrz Honda CZE +1' 6.024
14 A. Debon Honda ESP +1' 6.858
15 J. Olive Aprilia ESP +1' 10.842
Fastest Race Lap:
1 D. Pedrosa Honda ESP 1' 36.957
Championship standings GP250
Pos. Rider Manufacturer Nat. Points
1 Daniel Pedrosa Honda ESP 317
2 Sebastian Porto Aprilia ARG 256
3 Randy de Puniet Aprilia FRA 214
4 Toni Elias Honda ESP 199
5 Alex de Angelis Aprilia SMR 147
6 Hiroshi Aoyama Honda JPN 128
7 Fonsi Nieto Aprilia ESP 124
8 Roberto Rolfo Honda ITA 116
9 Manuel Poggiali Aprilia SMR 95
10 Franco Battaini Aprilia ITA 93
11 Anthony West Aprilia AUS 88
12 Alex Debon Honda ESP 82
13 Chaz Davies Aprilia GBR 51
14 Sylvain Guintoli Aprilia FRA 42
15 Naoki Matsudo Yamaha JPN 41

Manufacturers standings GP250
Pos. Manufacturer Points
1 Honda 354
2 Aprilia 344
3 Yamaha 44


---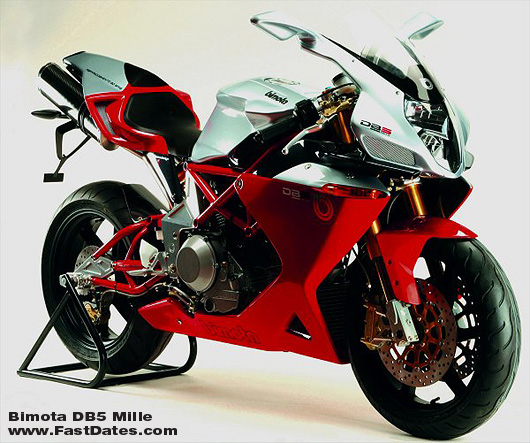 The new Bimota DB5 looks like the budget sportbike Ducati should be offering based on their 1000DS 2-valve aircooled 87hp engine. But with Bimota's high quality components and lower volume production this hot new sportbike will fetch a high end superbike price.
Bimota Bounces Back at Intermot with 2 Exciting New Bikes!

October 2004: Three years after an Italian court closed Bimota and declared the company bankrupt the maker of some of the most beautiful, expensive and desirable bikes in the world has been revived with new management and new money. At the recent Intermot show, Europe's biggest motorcycle expo held in Munich, Germany last month, Bimota unveiled a prototype, a new model and their current SB8K bike.
The bike on which the tiny Rimini manufacturer is pinning its hopes is the DB5, built around the Ducati 1000DS L-twin motor that powers Ducati's 1000SS sports bike, the Multistrada and the 1000 Monster
The bodywork has been kept to a minimum so you can see the classic air-cooled motor.
This project was conceived with the ambition to take Bimota back to its origins: compactness, lightness and refined mechanical details were the initial inputs in the execution of a dream completely Made in Italy. The styling by Sergio Robbiano, enhances the aggressiveness of the DB5 by leaving most of the mechanical parts in view; it could be compared to a jewel-studded precious piece of art.
.
It features a trellis frame and a unique tubular trellis swing-arm, with Ohlins suspension at each end and an underseat exhaust system. The bodywork has been kept to a minimum so you can see the classic air-cooled motor with its exposed cam belts and dry clutch doing their thing.

Also unveiled was the Tesi 2D prototype powered by the 1000DS twin, but with the famous hub-centre steering system designed by Bimota engineer Pierluigi Marconi in the late 1980s for his thesis – hence the name "Tesi". A dream, re-interpreting Bimota1s traditional characteristics which have left an indelible mark in the history of the motorcycle, models such as the HB1, KB2 Laser, DB1 and other designs which have never been forgotten by enthusiasts all over the world.
The system – and the minimal chassis on which it pivots – have been further developed by ex-Bimota technician Rodrigo Ascanio who now has his own engineering set-up under the name VRM.
The Tesi also has no bodywork to speak of, so you can see the suspension system at work – see below for a bigger view of this unique motorcycle
Also shown was the SB8K which is the current and updated result of Bimota's previous commitment with the Suzuki TL1000S V-twin motor. It's painted in Anthony Gobert's colours to commemorate his attack on the World Superbike championship with the original SB8R. Now somewhat outdated, though beautiful executed in the Bimota tradition, the SB8K will have to carry the company until the DB5 becomes available.
Bimota Tesi 2D -Breathtakingly trick. The only question is why put Ducati's tamest 2-valve aircooled streetbike motor in an exotic hand built GP Chassis? This puppy is beggin; for a Testrasretta motor, radiators mounted in the tail.

---
World Superbike
party girl
meets fast Italian playboy.
Comming Next Week! MV Agusta F4 1000 Mamba - Exclusive First World Test
Mamba Mia! World Superbike girl and FastDates.com Calendar Angel "Rockin' Robin" Cunningham gets down on her knees (sliders that is) to give us her impression of the hot new Italian Superbike and leaves us beggin' for more!