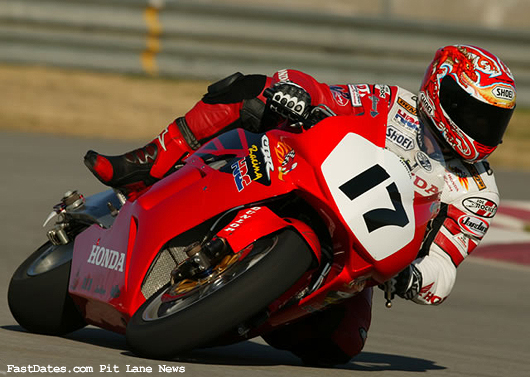 The Man, Miguel duHamel was invincible at VIR.
AMA National Superbike Championship, Round 11 of 11
Duhamel is purfect at AMA Superbike Finale at VIR
while Mladin Secures his 5th Superbike Championship Title
Alton (Virginia) - October 9-10th, 2004 - American Honda's Miguel Duhamel made history yet again, becoming the first rider to win three AMA professional road races in one day by sweeping both ends of the Superbike double-header while adding his eighth Formula Xtreme win as well, on a warm day at Virginia International Raceway, site of the final round of the AMA Chevrolet Superbike Championship. In addition, his fifth and sixth Superbike wins of the year moved him back into a tie for most career wins. What makes the feat even more impressive is that prior to today Duhamel had never won a race at VIR.
"Everything worked out really well," Duhamel said. "Yeah, today was really good and everything, but still you've got to be humble. You still got to be able to say you were lucky."
Meanwhile the even bigger story was Mat Mladin who took a record fifth AMA Chevrolet Superbike Championship with a sixth place finish in Race One of the Superbike double-header at VIR as five Suzukis filled the top-ten places. The Yoshimura Suzuki rider needed to finish second if Honda's Jake Zemke took maximum points, but he raced for the win while Zemke fell back, pitting at one point and eventually pulling out with ! about five laps remaining. The race ended with Mladin holding an insurmountable 557 points lead over his Honda team rivals Zemke and duHamel.
For Mladin and the Yoshimura Suzuki team there's no need to change the number plate again this year.

Saturday Qualifying Sees Duhamel on a Charge
Saturday - Defending AMA National Superbike Champion Matt Mladin, Yoshimura Suzuki GSXR1000, was just pushed off pole on the final lap of qualifying for tomorrow's AMA Superbike double-header final round at Virginia International Raceway by arch rival Miguel Duhamel. Duhamel's best lap knocked Mladin from the top spot and denied him the extra championship point after the Australian had dominated much of the 25-minute session towards is quest for a 5th AMA Chaampionshiop title.
"Qualifying went well for us and to be honest I couldn't tell you what any of the others were up to as we were focussed on what we need to do over the weekend," said Mladin.

"We've got a job to do this weekend, so that's our focus and we'll take it as it comes. I wasn't too perturbed about producing a fast lap today and sticking my neck out to get pole. We went out and posted a good time early in the session, but were unable to get under that mark later on, but we're still in good shape. I'm not going to risk throwing away a championship just to get pole position during qualifying."

Due to the rescheduling of this weekend's final round (as a result of the threats of Hurricane Ivan) the AMA made a number of changes to the event structure of the weekend. The event was trimmed back to a 2-day meeting, with two practice sessions and a single qualifying session assigned to the Superbike competitors.

"The format seemed to work alright, but if they (the AMA) are going to run so many classes, then it may not work. You really don't have a lot of time to do anything as far as figuring out tyres that will last the race, let alone which offer the best grip. Depending on how many classes they plan to run, will determine if the 2-day format could work or not. We're down significantly on track time compared to our regular schedule."

And in another first, both 100km (28-lap) Superbike races will be held on Sunday, giving riders and teams approximately one and a half hours to turn their machines around for the final race of the championship.
Next to Mladin on the front row was Ben Bostrom ahead of Mladin's team mate ! Aaron Yates in fourth.
Then came current Championship second-placed Jake Zemke in front of Josh Hayes. On the first flying lap of qualifying, Zemke set the mark of 1:26.861. Then Mladin went to the top at the 20:45 mark with a 1:26.292. Hayes was third in front of Marty Craggill until the 20 minute point when Yates moved up to second.
Mladin backed up his first lap with a 1:26.336, still under Yates' time and still on pole. When Yates came past he couldn't narrow the gap. But Duhamel could, taking the top spot at 18:30 with a 1:25.369, nearly the fastest lap of the weekend.
Ben Bostrom took over the second spot near the 16 minute mark while Mladin was in the pits for a tyre change. The new tyre propelled Mladin to the top time - a 1:25.169 that was the fastest lap of the weekend.
Halfway into the 25 minute session it was Mladin in front of Duhamel, Bostrom and Yates. Zemke was next with Suzuki's Geoff May sixth, Hayes seventh, ! and Larry Pegram eighth.
On his follow-up lap Mladin was in the 24's, his 1:24.925 approaching Nicky Hayden's qualifying record.
Duhamel strengthened his position with 11 minutes to go, but only briefly. Just past the 11 minute mark Bostrom shot to the top with a lap of 1:24.863.
Mladin started his final flying lap with less than three minutes to go, but he abandoned it on the track. His 1:24.542 would have to stand up: Bostrom began his final lap with under a minute to go the same as Zemke. The flag was out when they came across the line, neither with a better lap.
Duhamel was the only rider left on the track at speed and he saved his best for last, lowering the lap record to 1:24.404. Mladin was dropped to second; Ben Bostrom was third with Yates, who took over fourth with less than two minutes to go, at the end of the front row.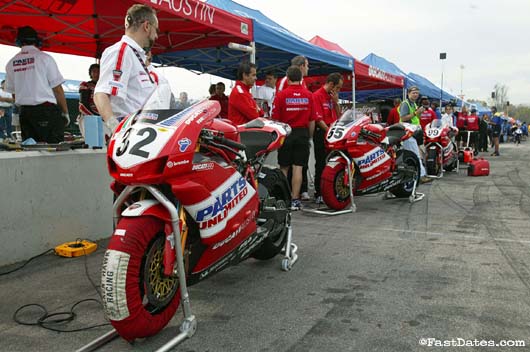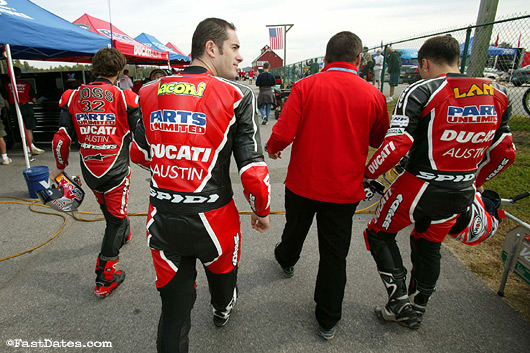 They came, they saw, they walked away...somewhat defeated. Ducati brought SBK stars Laconi and Lanzi to back up Eric Bostrom. But the steamroller attack fizzled on the AMA home court, just like when SBK goes to strong home court countrys like Engalnd and Japan. Ducai will be back in force with a full team in 2005.
Row 2 Start for Europeans Lanzi and Lacioni - Eric Bostrom Withdraws from the Weekend
Parts Unlimited Ducati Austin's three-rider team kicked off the Virginia International Raceway weekend with promising performances from Europeans Regis Laconi and Lorenzo Lanzi, but also with the unfortunate withdrawal of American Eric Bostrom from the event.

Laconi and Lanzi, racing for the first time in AMA Superbike competition, qualified on the second row for tomorrow's races. The Ducati 999 pilots saw a hectic day, with two 30-minute practice sessions and one qualifying period held in cool and clear fall conditions at the scenic Virginia track.
World Supersport rider Lorenzo Lanzi qualified seventh with a time of 1:25.892, despite a late crash that left him unhurt. "Lorenzo was doing really well. He was up in fourth place with just a few minutes to go," explained Racing Manager Tom Bodenbach. "Unfortunately, they had to bring his bike back on the crash truck."
Despite never haven ridden at Virginia International Raceway before, World Superbike rider Regis Laconi qualified eighth with a time of 1:26.556. "Regis was doing well for his first time on the track. He hit the curb with his knee so we ended his qualifying session a little early," said Bodenbach.
"With the short practices, we have to go step-by-step to make sure we don't go too far or do something wrong," commented Laconi. "I am new to this track and these tires, and we had only 30 minutes in each session. For the race, I think I will be happy. We will see tomorrow, but we have changed some small things on the bike for the warm-up. This track is a lot like the European tracks. We are still learning, trying to get a bike that will run in the 1:25s."
"The knee is okay," continued the Frenchman. "At first we were a little worried but it is not a problem."
Eric Bostrom attempted to come back from injuries sustained in his Road Atlanta crash, but the Pikes Peak winner is out after declaring himself unfit to race.
"I'm really disappointed not to be racing this weekend," said Bostrom. "I just didn't have the strength to ride fast laps. What makes it even worse is that we really improved the bike for Atlanta. The Michelin tires were working great and they really suit the Ducati well. The team had made some progress with the handling and I was looking forward to getting the results I think we are capable of earning."
Superbike Qualifying VIR:
1. Miguel Duhamel (Honda) 1:24.404
2. Mat Mladin (Suzuki) 1:! 24.542
3. Ben Bostrom (Honda) 1:24.574
4. Aaron Yates (Suzuki) 1:25.263
5. Jake Zemke (Honda) 1:25.746
6. Josh Hayes (Kawasaki) 1:25.866
7. Lorenzo Lanzi (Ducati) 1:25.891
8. Regis Laconi (Ducati) 1:26.556
9. Geoff May (Suzuki) 1:26.922
10. Larry Pegram (Yamaha) 1:27.551

AMA Superbike Points, 16 of 18 rounds
1. Mat Mladin (532, 8 wins);
2. Jake Zemke (490, 2 win):
3. Miguel DuHamel (478, 4 wins):
4. Ben Bostrom (364, 1 win):
5. Geoff May (344):
6. Eric Bostrom (336, 1 win):
7. John Haner (312):
8. Aaron Yates (298):
9. Eric Wood (284):
10. Josh Hayes (267).

Two Round Knockout by Duhamel on Sunday
Originally scheduled to run three weeks ago, but postponed because of worries about the remnants of Hurricane Ivan, the VIR weekend was compressed from three days to two. That meant three races today, with two of Duhamel's in a row. The heavy workload didn't faze the superfit French-Canadian.
RACE ONE, MLADIN WINS 5TH SUPERBIKE TITLE:
In the first 28-lap Superbike race, Miguel Duhamel waited until the final lap to steal victory from the Suzuki of Aaron Yates. Mat Mladin has taken a record fifth AMA Chevrolet Superbike Championship with a sixth place finish in the first race of the Superbike double-header at Virginia International Raceway today as five Suzukis filled the top-ten places.
The race was a thriller to the flag with Duhamel passing Yoshimura Suzuki's Aaron Yates on the final lap to take the win by 0.126 seconds. Ben Bostrom was 15 seconds back in third ahead of Lorenzo Lanzi and Regis Laconi. Josh Hayes was seventh well in front of Lion Racing's Jacob Holden on a Suzuki. Then came Prieto Racing's Geoff May (Suzuki) and Mike Smith on a Junkyard Special Suzuki.
Yates took the lead on lap two with young Italian Lanzi going with him. Mladin and Zemke were close behind but ahead of Duhamel and Laconi with Ben Bostrom further back in front of Hayes, May and Holden.
Mladin closed on Lanzi on the third lap and was up to second by the time they hit the stripe. And on the fifth lap, he forced ahead of team-mate Yates just pa! st the start-finish line to take the lead as Duhamel closed on Lanzi. Zemke was now 3.614 seconds behind the leader with Ben Bostrom in his shadow and his hopes were fading fast.
Mladin's lead was 0.735 ending the sixth lap, Yates holding a similar gap to Duhamel - who was now up to third. Lanzi was about the same distance back in fourth. Then there was a gap of over two seconds to Ben Bostrom who'd just made his way past Zemke, but only for a lap. Duhamel was past Yates and up to second and on Mladin early on lap eight, taking the lead later in the lap. Yates also made his way past, so when they crossed the stripe, it was Duhamel, Yates, Mladin and then a gap to Lanzi.
Bostrom took fourth from Lanzi on the 10th lap and was now 2.54 seconds behind Mladin who, in turn, was nearly two from the leader Duhamel. Halfway into the race and the top three - Duhamel, Yates and Mladin - were together covered by 0.673 seconds, then four more to Bostrom, with Lanzi alone in front of team-mate Laconi! . Hayes was having a lonely ride in seventh, as was May and Holden.
Championship contender Jake Zemke, Erion Honda CBR1000RR, pitted due to concentation problems from his crash and mild head concussion suffered on Saturday, and tire problems around the 16th lap, he was a lap down at that point. The leaders were on the 23rd lap when Zemke pulled out of the race for good.
Mladin had his bad luck on the 18th lap when he dropped from third to a distant sixth, nearly 20 seconds back. The championship was still his but the race win was out of reach: Yates had taken the lead from Duhamel on the same lap and with Mladin's drop, Bostrom was now up to third. Lanzi and Laconi were next, then Mladin followed at some distance by Hayes, then Holden and May.
Mladin raced past Laconi on the 21st lap but at a distance of nine seconds to Lanzi. Not that it mattered… The AMA's live points update showed Mladin with 556 to Duhamel's 510 and Zemke's 490.
The drama would come down to the final lap whether Yates could take his first win of the year and first in over a year. Taking the white flag, Duhamel drafted by Yates and took the lead holding it to the line to win by 0.126 seconds.
The Yoshimura Suzuki rider needed to finish second if Honda's Jake Zemke took maximum points, but he raced for the win while Zemke fell back, pitting at one point and eventually pulling out with ! about five laps remaining. The race ended with Mladin holding an insurmountable 557 points. Race winner Miguel Duhamel took over second with 510 and Zemke dropped to third on 490.
RACE TWO, PENALISED MLADIN RACES TO 4TH:
The race began under a cloud with newly-crowned Chevrolet AMA Superbike Champion Mat Mladin jumping about 30 feet from his starting spot as he tried to end his Championship season with a race win. As he appeared to be back-pedalling, the lights went off and the rest of the field was prompted by an AMA official to take off, setting off a potentially dangerous situation. Mladin pulled down the pit lane and served his stop and go and when he completed the third lap, he was well out of the top 15.
The second race results were the same, but with less drama. Duhamel made his way to the front on the 10th lap and steadily pulled away, eventually winning by 7.317 seconds. Again it was Yates in front of Ben Bostrom. Erion Honda's Jake Zemke didn't take part in the second race after withdrawing from the first race. Zemke had hit his head in a Saturday morning high-side and the lingering effects meant he had trouble
concentrating during the Superbike race. On top of that, he had to pit to change a rear tire. By then his hopes of winning the Superbike championship were over and he felt the prudent thing to do was to pit.
Newly-crowned Chevrolet AMA Superbike Champion Mat Mladin raced to fourth place in the second leg and final race of the 2004 series at Virginia International Raceway as team-mate Aaron Yates took his second runner-up place of the day. the Yoshimura Suzuki's five-time AMA Champion – who now shares the record of 32 Superbike wins with today's race winner Miguel Duhamel – charged back through the pack from a stop-and-go penalty! Duhamel completed his second Superbike sweep of the year, winning both legs of the rescheduled event following last month's hurricanes.
Yates led with Duhamel taking second from Lanzi on the sixth lap, setting up a replay of race one, only this time, Yates had a three-second cushion and Duhamel had some catching up to do. Seven laps in and Mladin was up to 14th and on the next lap he was up to 11th, but nearly 25 seconds from the leaders.
At the halfway mark, Mladin had cut leader Josh Hayes' lead to 4.560 seconds. His lap times were among the fastest, but Duhamel was even faster, which is why he had 2.3 seconds on Yates at this point with Ben Bostrom alone in third. The Ducati Austin team raced together in fourth and fifth, and then Hayes with Mladin closing… the pass would come on lap 17. Mladin's next move came on Laconi on lap 26. It got him to fourth with Lanzi having pitted a few laps earlier with a mechanical problem.
The Championship was won by Mat Mladin, Suzuki GSXR100, who finished sixth and fourth in the Superbike races. Duhamel led the Honda team to a strong second, third, and fourth in the first year for the constantly improving Honda CBR-1000RR, a machine that won 10 of 18 races this season.
FORMULA XTREME: Duhamel's domination of the Formula Xtreme race was complete. Except for the few hundred yards entering turn one, he led all the way, winning by 4.218 seconds. The win came at the end of a long, historic day which may never be replicated. But it wasn't the first time he'd won three races in a weekend. That was done earlier this year at Road America where he won the same three races-two Superbike and Formula Xtreme-over the course of two days.
Duhamel had clinched the Formula Xtreme championship in the previous race at Road Atlanta and Zemke secured second. Between them and Ben Bostrom, they won all 11 races of the championship on the Honda CBR-600RR. The momentum from the Formula Xtreme race puts the Honda team ahead of the pack in the run-up to the first race of the season, the March Daytona 200, run for the first time in 2005 on Formula Xtreme machinery.
Miguel Duhamel, First Place, Race One
My bike was quite a bit faster. I doubt that he (Yates) could have got a draft and passed me, but he could've definitely made it close at the start-finish line. The bike worked great. It was a really tough race. When I was out there behind Aaron (Yates), I was just 'Man, alright, this is pretty tough.' I might have to do the best I can but don't want to be stupid either.
Superbike Race One
1. Miguel DuHamel (American Honda) 28 laps
2. Aaron Yates (Yoshimura Suzuki) - 0.126 seconds
3. Ben Bostrom (American Honda) - 15.333 secs
4. Lorenzo Lanzi (Ducati Austin) - 19.679 secs
5. Regis Laconi (Ducati Austin) - 30.885 secs
6. Mat Mladin (Yoshimura Suzuki) - 40.983 secs
7. Josh Hayes (Attack Kawasaki) - 49.063 secs
8. Jake Holden (Lion Racing Suzuki) - 59.019 secs
9. Geoff May (Team Prieto Suzuki) - 71.338 secs
10. Mike Smith (Suzuki) - 76.813 secs

Superbike Race Two
1. Miguel DuHamel (American Honda) 28 laps
2. Aaron Yates (Yoshimura Suzuki) - 7.317 secs
3. Ben Bostrom (American Honda) - 10.522 secs
4. Mat Mladin (Yoshimura Suzuki) - 15.266 secs
5. Regis Laconi (Ducati Austin) - 19.290 secs
6. Josh Hayes (Attack Kawasaki) - 47.881 secs
7. Marty Craggill (Corona Extra Suzuki) - 67.120 secs
8. Mike Smith (Suzuki) - 67.672 secs
9. Geoff May (Team Prieto Suzuki) - 71.944 secs
10. Jeremy Toye (Yamaha) - 1 lap
Final 2004 AMA Chevrolet
|Superbike Championship Standings
1. Mat Mladin (557)
2. Miguel Duhamel (514)
3. Jake Zemke (490)
4. Ben Bostrom (393)
5. Geoff May (366)
6. Eric Bostrom (336)
7. Aaron Yates (331)
8. John Haner (312)
9. Eric Wood (295)
10. Josh Hayes (291)
600cc Formula Xtreme:
1. Miguel Duhamel (Honda)
2. Vincent Haskovec (Suzuki)
3. Doug Chandler (Ducati)
4. Mike Ciccotto (Buell)
5. Opie Caylor (Suzuki)
6. Nicky Moore (Suzuki)
7. Heath Small (Yamaha)
8. Darin Edwards (Suzuki)
9. Derek Keyes (Suzuki)
10. Carlo Gagliardo (Yamaha)
---
The Doctor was in the house at Sepang.
MotoGP World Championship,Malaysian Grand Prix, Round: 14 of 16
Rossi back in Command at Malaysian Grand Prix
Sepang, Malaysia, October 9th - Valentino Rossi (Gauloises Fortuna Yamaha) secured his seventh win of the season and extended his championship lead at Sepang today, in hot and steamy conditions. With air temperatures hitting 40°C it was a tough task for the Italian, who led from lap four to the very end, setting a new lap record no fewer than three times. The eventual record lap was set at 2'03.253 on lap eight. Rossi's team-mate Carlos Checa finished a fighting ninth, after experiencing chatter problems.
Saturday Qualifying
Gauloises Fortuna Yamaha rider Valentino Rossi took his YZR-M1 to a new all-time qualifying best of 2'01.833 this afternoon to secure pole position for tomorrow's Malaysian Grand Prix. Rossi will share the front row with Alex Barros (Honda, 2'02.228) and Shinya Nakano (Kawasaki, 2'02.278).Title contender Sete Gibernau (Telefonica MoviStar Honda RC211V) will be lining right up behind Rossi as fourth fastest on the second row.
Rossi was quickly out of pit lane as threatening dark clouds gathered near the Sepang circuit. The track stayed dry, however, until the final minutes of the session, and Rossi duly posted the best lap of the weekend mid-way through the one hour. A further attempt to improve his time was on course until an isolated spot of rain affected the track adhesion so that few riders could improve their times. Rossi's 2004 lap time was almost two full seconds better than his own circuit best lap from the 2003 event.
Rossi's team-mate Carlos Checa (2'02.602) will make a third row start after finishing with the ninth-best time, 0.769 seconds from the pole time.Checa, who worked hard to improve his qualifying and race set-up, secured ninth place on the grid after spending the early part of the session in the top ten. The Spaniard went over 1.5 seconds faster today than he did in his crash-affected session on Friday.
Both Fortuna Gauloises Tech3 riders improved on their qualifying performances of yesterday with a tenth place on the grid for Marco Melandri (2'02.852) and a 16th place start for Norick Abe (2'04.284) in today's final hour-long session. Today Marco immediately put yesterday's aggravation behind him, and despite a fall in the morning free training session, the Italian worked tirelessly in the Malaysian strength-sapping humidity. He achieved a comfortable race set-up and reckons on a strong showing in tomorrow's 21-lap contest.
Norick starts from the sixth row and the hugely experienced Japanese man knows he has to find the key to optimising his race set-up in the short 20-minute warm-up tomorrow. But he's done this before, and successfully unlocked the potential of his YZR-M1 machine at the final opportunity.
Valentino Rossi (Gauloises Fortuna Yamaha) pole - 2'01.833
"We did a great job and we worked a lot on the race set-up. Tomorrow's race will be hard on the riders, on the bikes and especially on the tyres. We did a long run with the same tyre and on both the rear and the front we started some laps with used tyres to simulate real race conditions. My rhythm is good, and I think it will be possible to make 2:02s laps at the beginning, and it will then be down to the condition of the tyres. But we will try to stay not far from that pace. I hope we can have a dry race tomorrow as the Michelins are running well here."
The Race
Rossi slipped straight into second place on the first lap behind Alex Barros (Honda), with Checa fourth. Rossi and Barros switched places several times until Rossi made his final pass stick on lap four. Honda rider and eventual second place finisher Max Biaggi was close behind, and his personal best laps meant he could not be easily shaken off by the leading pair.
Rossi managed to maintain and extend his advantage, lapping inside the 2'03s, eventually finishing the race 3.6 seconds ahead of Biaggi. Meanwhile Checa was fighting his own battle, sandwiched between Sete Gibernau (Honda) and Loris Capirossi (Ducati), until the latter finally broke past Checa on lap 15. Honda's Makoto Tamada swept past Checa shortly afterwards, and then past Gibernau on lap 16, aiding Rossi's championship aspirations and leaving Gibernau seventh in the race. Shinya Nakano (Kawasaki) also passed the slowing Checa, the Spaniard finishing an eventual ninth.
Fortuna Gauloises Tech3 riders Norick Abe and Marco Melandri encountered different problems here in the Malaysian heat. Marco failed to finish after crashing and Norick toughed it out to come home 12th after a technical problem occurred mid-race. Norick made a super-fast start from the sixth row of the grid after struggling during qualifying and was running as high as 11th on the opening lap. But by lap ten he couldn't put the considerable power of his YZR-M1 down properly after the drive chain began jumping the rear sprocket. As usual he raced as hard as ever to the finish despite this trouble.
Marco's run of rotten luck continues. A mechanical problem prevented him from starting the sighting lap. Regulations therefore dictated that had to start from the back of the grid. This he did with typical gusto and the Italian ace was up to 12th before he crashed at the final turn on lap nine.
Rossi now leads the championship by 30 points with just two rounds left to run, and a maximum 50 points available for any single rider. He sits on a total of 254 points, ahead of Gibernau's 224, with Gibernau his only title contender.
Valentino Rossi (Gauloises Fortuna Yamaha) first
"That was a brilliant race. It was very important for me to make a good result here, especially after Qatar. We were very motivated, not only me but also all the mechanics, because what happened in Qatar was bad for us. We made two good tests in the winter at Sepang and we have done a lot of kilometres. We have improved the bike at this track, and I like the place a lot.
"Today the bike worked very well, even if the race was difficult. I made a good start, but Barros made a better one. I followed him and tried to attack. I thought it was possible to go faster than the 2'03s or 2'04s but today we had seven or eight degrees more temperature than yesterday, and that made it very tough for the riders and the tyres. After Barros, Biaggi arrived, and we had a very good rhythm for all the 21 laps. With 30 points it is a good advantage but we need to keep concentration at 100% because the championship lead was 39 points before Qatar, then much less after it. The battle is only over when it's over, and it's certainly not over yet!"
Race classification MotoGP
Round: 14 - Malaysian Grand Prix , Race: 21 Laps
Circuit: Sepang, Circuit Length: 5548
Lap Record: 2' 3.253 (Valentino Rossi, 2004)
Fastest Lap Ever: 2' 3.253 (Valentino Rossi, 2004)

Pos. Rider Manufacturer Nat. Total Time
1 V. Rossi Yamaha ITA 43' 29.146
2 M. Biaggi Honda ITA +3.666
3 A. Barros Honda BRA +9.299
4 N. Hayden Honda USA +19.069
5 M. Tamada Honda JPN +21.155
6 L. Capirossi Ducati ITA +21.268
7 S. Gibernau Honda ESP +21.881
8 S. Nakano Kawasaki JPN +22.167
9 C. Checa Yamaha ESP +23.150
10 T. Bayliss Ducati AUS +32.615
11 C. Edwards Honda USA +33.958
12 N. Abe Yamaha JPN +44.302
13 R. Xaus Ducati ESP +55.235
14 Y. Kagayama Suzuki JPN +1' 9.580
15 J. McWilliams Aprilia GBR +1' 10.376
Fastest Race Lap:
Pos. Rider Manufacturer Nat. Total Time
1 V. Rossi Yamaha ITA 2' 3.253
ChampionshipStandings MotoGP

Pos. Rider Manufacturer Nat. Points
1 Valentino Rossi Yamaha ITA 254
2 Sete Gibernau Honda ESP 224
3 Max Biaggi Honda ITA 188
4 Alex Barros Honda BRA 144
5 Colin Edwards Honda USA 136
6 Makato Tamada Honda JPN 131
7 Carlos Checa Yamaha ESP 109
8 Nicky Hayden Honda USA 107
9 Loris Capirossi Ducati ITA 94
10 Marco Melandri Yamaha ITA 75
11 Ruben Xaus Ducati ESP 72
12 Shinya Nakano Kawasaki JPN 70
13 Norick Abe Yamaha JPN 68
14 Troy Bayliss Ducati AUS 48
15 Alex Hofman Kawasaki GER 43

Manufacturers Standings MotoGP
1 Honda 315, 2 Yamaha 278, 3 Ducati 137, 4 Kawasaki 82, 5 Suzuki 68, 6 Aprilia 34, 7 Proton KR 15, 8 Harris WCM 12, 9 Moriwaki 7
---
A championship pairing - Miss Great Britain and FastDates.com Calendar Angel Nicki Lane with 2004 SBK World Superbike Champion, Britian's James Toseland.
SBK World Superbike Championship, Magny Cours Round 11 of 11