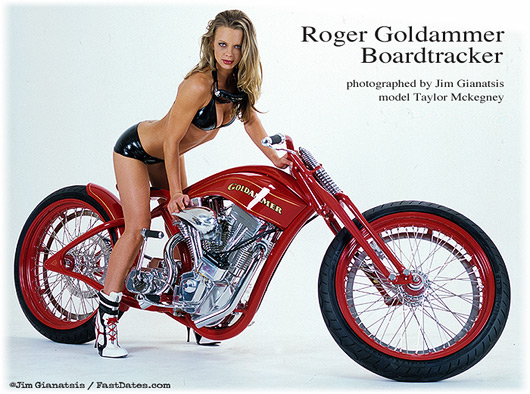 Former World Superbike girl and 2000 Fast Dates Calendar cover model Taylor McKegney gets set to fire up the world's best custom bike which just happens to be a modern day version of a classic 1920s board track racer. Taylor remains completely up to date in our exclusive world permier and photo shoot of the Goldammer Boardtracker for the 2006 Iron & Lace and FastDates Calendars.
Canadian Roger Goldammer wins 1st Official World Championship
of Custom Bike Building with a radical retro boardtrack racer
Morgan Hill, California, October 9th 2004 -The first annual Official World Championship of Custom Bike Building has been won by Roger Goldammer of British Colombia, Canada, who is currently featured in the FastDates.com 2004 Iron & Lace Calendar. The noted parts engineer and motorcycle craftsman demonstrated a level of attention to detail and dedication to excellence that had judges, fellow competitors and event visitors alike drooling over his exquisite homage to boardtrack racers of old.
Goldammer carried off the cut-glass trophy, diamond-and-sapphire Championship ring, and $25,000 cash top prize in the freestyle class of the World Championship by the narrowest of margins. The independent panel of judges drawn from the US and European motorcycle Press placed Jesse Jurrens and Michael Prugh of Independent Cycle, Rapid City, South Dakota second, with Belgian builder Fred 'Krugger' Bertrand third.
The contest, widely described by competitors and judges alike as the highest standard custom bike competition any of them had ever seen, attracted 64 entries in total, across three classes, with 47 of them in the prestigious Freestyle class from which the World Champion was chosen.
The number of entries far exceeded the organisers' expectations and featured an extraordinary variety of custom bike design styles and motorcycle engineering innovations. Superb choppers were on show, but far from dominating the competition, the event demonstrated and reflected the glorious individualism and multiple strands of custom motorcycle engineering that have resulted in the sector achieving unprecedented levels of public exposure and popularity worldwide in recent years.
As befitting the name and ambition of the contest, the top ten Freestyle entries reflected the truly international nature of the custom V-twin industry, with five Americans, two Germans, a Canadian, a Belgian and a Frenchman taking the top spots. The American Motorcycle Dealer magagine produced ProShow competition which constitutes the Official World Championship was presented and generously supported by Global Motorsports Group custom V-twin sector parts distributor Custom Chrome at its 18th annual Dealer Show at Morgan Hill, California.
FastDates.com is excited to offer the world's first exclusive pictorial and story on the Goldammer Boardtracker in the Iron & Lace Garage.
You'll also find revealing pictures of beautiful Taylor McKegney free with your Iron & Lace Garage membership in Members Corner .

Look for additionl news releases and pictures of other winners and entrants of all classes being placed in the World Championship registry in the event web site at www.amdproshow.com as soon after the conclusion of the event as possible.
---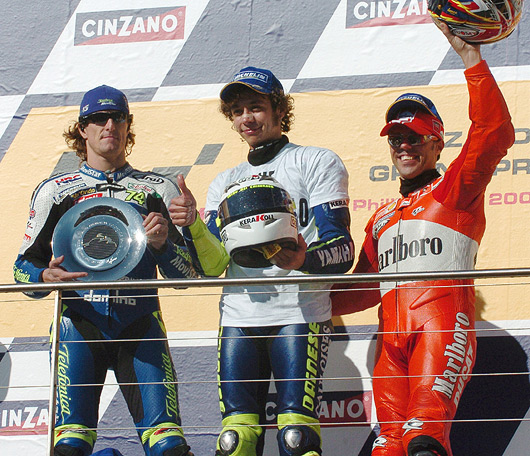 Gibernau, Rossi and Capirossi on the Philip Island podium. To Honda's dismay Valentino Rossi reconfirmed himself as the world's best motorcycle racer on any brand of bike, period.
MotoGP World Championship, Grand Prix of Australia, Round: 15 of 16
Rossi Takes 2004 World Title with Yamaha at Phillip Island
Australia, Phillip Island, Australia October 15- 17th 2004 - Valentino Rossi (Gauloises Fortuna Yamaha) secured the 2004 Riders' Championship today at Phillip Island after winning an intense 27-lap battle with his main championship rival Sete Gibernau (Honda). The win gives Yamaha its first title in the premier class since 1992, and Rossi has now won more victories in one season than any Yamaha rider in history.
Ducati Marlboro Team rider Loris Capirossi stormed to a brilliant third-place finish. In cool, bright sunshine the Italian rode an ultra-determined race, battling for position until the very end. Team-mate Troy Bayliss also enjoyed a great race with the group fighting for fifth place, finally finishing ninth.
Gibernau Snatches MotoGP Pole
On a bright, fresh day at Phillip Island on the Bass Strait Sete Gibernau (Telefonica MoviStar Honda RC211V) took his fifth pole position of the season so far – just when he needed it most. The Spanish star recorded a lap time of 1m 30.122 seconds, one tenth of a second faster than Valentino Rossi (Yamaha) in second. Loris Capirossi (Ducati) completes the front row in third.

It's Sete's next to last chance to catch Rossi for the title.
Gauloises Fortuna Yamaha riders Valentino Rossi and Carlos Checa had very different finishes to their Phillip Island final qualifying session today, Rossi just missing out on pole position while Checa fell, without injury, in the final minutes of the session. Rossi, however, was not quite able to improve on his provisional pole position time from Friday, a 1'30.222, due to some set-up difficulties. The reigning World Champion will start tomorrow's Australian Grand Prix from second place on the grid. His team-mate Checa (1'31.359) will now start the race from the fifth row, having set overall 13th best time today.
Rossi, who came in for a new rear tyre just before his final assault on the stopwatch, was only overhauled by one rider today, his sole championship rival Sete Gibernau (Honda), who took the best time of 1"30.122. If Rossi finishes anywhere ahead of Gibernau in tomorrow's showdown he will win the championship, and even if Gibernau wins the race, second place would be enough for Rossi to lift the trophy.
Ducati Marlboro Team riders Loris Capirossi and Troy Bayliss achieved one of their best qualifying performances of the year at Phillip Island today, putting their Ducati Marlboro Team Desmosedici GP4s on the first and third rows of the grid. In cool, blustery conditions this afternoon, the pair were two of the strongest men on the track, running third and fourth in the closing minutes, Capirossi completing the session in third, just 0.491 seconds off Sete Gibernau's pole position. Bayliss ended up ninth, less than three tenths off the front row despite losing time when he ran into a corner too hot.
Checa made rapid improvements in the first part of the hour-long session, improving his position twice inside the first ten minutes, going to fifth fastest on race tyres. Slowly dropping through the order, he was to finish 13th, crashing out on his final attempt to set an improved time. As riders used the major part of the hour to work on race tyre endurance tests, Carlos Checa (Yamaha) was among the first riders to improve his time from yesterday. But his early elevation to fifth place proved a false dawn and he starts from 13th place tomorrow after crashing at the end of the session.
Behind in 14th lies Nicky Hayden (Repsol Honda RC211V) who had a wretched day. The American can't seem to fathom a range of set-up troubles that have ruined his weekend so far. But the other Honda men are all top ten qualifiers with only Max Biaggi (Camel Honda RC211V) in seventh off the front two rows. The Roman is still trying to eliminate chatter problems on corner entries here at this demanding 4.4km track.
"For the sake of a few thousandths of a second I'm on the third row," said Max. "And that's a bit frustrating. But the bike is getting better all the time and even though there's a bit of chatter that we haven't been able to completely dial out, I think we can reduce it in the warm-up tomorrow."
Colin Edwards (Telefonica MoviStar Honda RC211V) heads the second row as fourth fastest qualifier and the Texan looks strong here. "I've got to be happy as I'm only half a second away from the pole time. The start of the session wasn't so good for me, but when we went back to my previous race tyre set-up things got better."
His team-mate Sete has gradually pieced together the parts that have made him the fastest man here so far this weekend. "I had a good session this morning," said the World Championship challenger. "I'm into a good rhythm here, and I need to be, because tomorrow will be a very complicated race. But I'll just concentrate on riding my own race."
Makoto Tamada (Camel Honda RC211V), riding on Bridgestone tyres, qualified fifth on row two. "There's still a bit more work to do," he said. "But we worked our way through a lot of variables today and we've already chosen our race tyres. The start will be crucial tomorrow and then we'll see what happens from there."
A second row start from sixth was the best Alex Barros (Repsol Honda RC211V) could manage. "I got caught behind Abe when I was on my second qualifying tyre and I lost a lot of time," said the Brazilian. "I know I could have been faster with a clear track. But I think I'll have a good race rhythm tomorrow and I'm looking forward to it."
His team-mate Hayden in 14th said, "That was terrible. My bike just didn't feel right from the start and we just seemed to have a load of problems. That really threw my rhythm and then on a fast qualifying lap I pushed the front and ran off-track. Hopefully we can get some feeling back and start fresh tomorrow."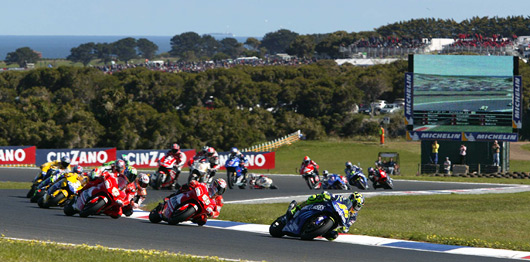 Rossi Cliches the Championship on Race Day with One round remaining
The MotoGP race had all the drama now expected of the premier class events. It was a fierce, close race played out in front of 43,000 sun-splashed Aussies. And Valentino Rossi (Yamaha) won it with his title rival Sete Gibernau (Telefonica MoviStar Honda RC211V) second and Loris Capirossi (Ducati) third
This race was a 'must win' for Gibernau and the Spanish title challenger did everything he could to snatch victory. But Rossi, who only had to finish second to clinch the World Championship, was better on the day and his win here now puts him beyond Gibernau's reach for the 2005 MotoGP Championship with still one round remaining.
But there was consolation for Honda here in the form of the Constructors' World Championship title. The 'Big H' now has an unassailable lead with one round to go after six RC211Vs finished in the top eight here. This is Honda's 16th consecutive Constructors' title.
Gibernau who started from pole, tore into turn one in third place after Capirossi got the holeshot. He spectacularly rode around the outside of Rossi into turn two, bravely boxing his rival in behind Capirossi as he then fired his machine past the Ducati rider to take command of the 27-lap race. Gibernau then worked at his high-speed race rhythm to stretch his rivals to breaking point around the rollercoaster 4.4km of Phillip Island. He had pulled out a 0.55 second gap by lap six. But Rossi was determined not to let his rival break clear and by the next lap the gap was down to just 0.2 seconds.
Rossi seemed content to stay with Gibernau until lap 22 when he made his first real move to grab the lead – and succeeded. But on the next lap Gibernau stole it back and the scene was set for a proper grudge match in the closing laps.
Rossi reduced Gibernau's long-term lead from 1.195 seconds to almost nothing on the seventh lap of the 4.448km track. On lap 19 Rossi made a successful move up the inside at the first corner, but could not shake Gibernau immediately. Gibernau re-passed him on the first corner of lap 23.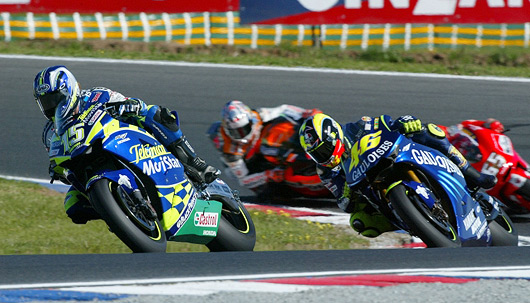 Rossi (46) paced Gibernau until lap 23 when the battle for the lead really heated up. Just behind, Capirossi (65) matched the leaders pace and recaught and passed Barros (henind) for 3rd on the Ducati.
Rossi, determined to be champion in true style, overtook again before Gibernau pushed to the front at Honda corner, as Rossi ran wide. The decisive move came when Rossi made a seemingly impossible and final pass on the inside going back into the entrance of Lukey Heights. He held on to take a magnificent victory, by 0.097seconds, and his fourth premier class title.
The last lap will linger in the memory. With a World title at stake it was as intense as they come. Gibernau held the advantage into turn one and through the early stages of the final tour until Rossi pounced at the Southern Loop. Gibernau then spectacularly retook the lead at the Honda Hairpin. But Rossi then dived inside at Lukey Heights and held on to win.

"Today was a fantastic finish to a fantastic championship. This track is great and today there was a hard battle until the last lap. In some parts I was faster than Gibernau and some other places slower. I was sure of my feeling on the bike though. I made a bit of a bad start but wanted to stick with Sete. I managed to pass him early on in the race but he came back, and then at the end it became a great battle again. The last lap was a lot of fun for everybody watching it. I want to say thanks to everyone who has worked so hard, to Yamaha and all my team. It was fantastic, thank you. I think this year has been my best championship winning year."

Sete was as disconsolate as any rider who has given their all trying, and narrowly failing. "I tried my best," he said. "I congratulate Valentino and his team – they won this time, but I'll be back again next year."
Loris Capirossi scored his first podium of the year today, proving that the non-stop work from the Ducati Marlboro Team and Ducati Corse is finally paying off. The Italian spent much of the race duelling with Alex Barros, finally getting the better of the Brazilian during the final few laps and crossing the line just ten seconds down on winner Valentino Rossi. Capirossi also set a new lap record during the race, three tenths inside Rossi's previous record.
"First of all my thanks go to Ducati, our sponsors and to everyone else for believing in us," said Capirossi who dedicated the race to his friend Luca. "This season has been pretty hard for us but finally we are back on the podium. This is like a new beginning for us - I'm so, so happy! It was a great race, the first few laps weren't easy because the track temperature was so low but once the tyres were hot I tried to go with Valentino and Sete, but I was taking too many risks, so I decided to let them go. Then Alex caught and overtook me, so I decided to follow him and attack in the final laps, when my pitboard also told me that Colin was catching us. We continue working here over the next few days, already working towards 2005."
Five Rider Island Brawl for 4th Place
Ducati Marlboro Team rider Troy Bayliss spent most of the race in the midst of a five-man group fighting for fifth place. The Aussie made an amazing start from the third row of the grid, muscling his way into third place early in the first lap, then settling down to a prolonged battle with Colin Edwards, Nicky Hayden, Max Biaggi and Makoto Tamada. It was his next-to-last ride on the factory Ducati MotoGP team as the former World Superbike Champ will not have his contract renewed next year.
"That was a half decent race for me, I'm pretty happy with it because we finished closer than usual to the front guys," said straight-talking Bayliss. "I got a good start; I knew I would because we run the bike quite long at this track. But once I was stuck in the middle of that group there wasn't a lot I could do, we still need a better set-up."
There was action all the way down the field too. Colin Edwards (Telefonica MoviStar Honda RC211V) finished fourth after putting in his best qualifying work so far this season to start from fourth on the grid.
He said, "I got a bit boxed in at the start," he said. "I was seventh on lap one and then got stuck behind Bayliss and Biaggi while I was trying to get on terms with the front guys. The on the final turn Barros made a mistake which let me through, but I couldn't reach Capirossi for the podium."
Alex Barros (Repsol Honda RC211V) finished fifth. "I'm just really disappointed," he said. "I lost a bit of time trying to get past Capirossi at the start and then I tried to chase the leaders, but didn't really have any grip. I tried to get past Capirossi for a podium on the final turn, but went into a big slide and Colin came past. It's not where I want to be, I know I am better than this."
His team-mate Nicky Hayden (Repsol Honda RC211V) was sixth. "You put yourself in a hole when you have to start from the fifth row," he said. "I got a good start and made some pretty good passes on the first lap. It took me a while to get up with Biaggi and it was good fun racing the boys. It would have been a whole lot more fun racing for the lead though."
Max Biaggi (Camel Honda RC211V) was seventh and said, "That was a difficult race. One week ago I was on the podium in Malaysia – and now today I'm in trouble. We never really got to grips with set-up here. I couldn't put the power down properly, we were very short of grip. But I fought hard for the position and could do no more."
Makoto Tamada (Camel Honda RC211V) finished eighth ahead of his team mate Max Biaggi, and was unhappy with himself. "It was hard to do any better than this," he said. "I just wasn't as competitive as I wanted to be. It wasn't really a bike or tyre problem, it was just hard to overtake people throughout the whole race. It was my mistakes that didn't let me do better than eighth."
Rossi's team-mate Carlos Checa finished in tenth after his own tough battle around the challenging Phillip Island circuit. Checa, fighting his way past the middle order, was 11th on lap 13, involved in a personal duel with his fellow Catalan Ruben Xaus (Ducati) for most of the race. He was a clear tenth, having been boxed in on the first lap from a fifth row grid position.
Aside from Rossi, in the 55-year history of Grand Prix racing only three riders, Giacomo Agostini, Mick Doohan and Mike Hailwood have won four or more consecutive premier class titles. Only six riders before Rossi have scaled the heights of taking four premier class titles throughout their entire careers.
Dacide Brivio, Yamaha Team Director- "This is like a dream come true for us all. Like a movie with the best-ever storyline. If we wrote a script it could not have been better or more exciting. It was a hard job for all our engineers and Yamaha took a big risk supporting Valentino in this challenge. This was also a big motivation for everyone and our engineers were obviously just waiting for the opportunity to show what they can do."
Double Top for new Spanish 250cc World Champ Dani Pedrosa and Honda
Spanish motorcycle racing star Dani Pedrosa raced to a calculated fourth place at the Australian Grand Prix, held at Phillip Island today to claim the 250cc World Championship. At the age of nineteen years, and 18 days old Pedrosa is the youngest ever 250cc World Champion.
The outrageously talented youngster's quarter litre success follows on the back of his triumphant march to the 125cc title he won in 2003. Pedrosa is the first to achieve the feat since Carlo Ubbiali in 1960.
Quiet and deep thinking by nature Pedrosa was absolutely delighted with his successful season, at the post race press conference he said. "For me this is a dream, but the reality is I'm the one who accomplished this but to have been able to do so I have to think of all the people in the dark corners. People who helped me in very difficult moments and all the people in who helped me in racing, MoviStar and Honda, my team. We have all accomplished this. Of course all the people at the Blume Rehabilitation Residence in Espludas (Barcelona). The Doctors, physiotherapists, a lot of people however small their contribution, they all played an important part. I thank them all."
"Of course I wanted to win the race today, it would have been the ideal way to win the championship. That's what I tried to do but with the crash yesterday and the problem in the warm up then the wind late in the race I lost a little confidence and let Poggiali pass me to make sure I took the title. I was just trying to finish the race. When I crossed the line everybody was cheering and I started to shout inside my helmet. Then I looked for the people with the Spanish flag and the Champion tee shirt but I didn't know which corner they were at then I saw my friend Marcelo Carbone waiting for me and all was OK."
Pedrosa won the title in fairy tale fashion at the circuit where just 12 months ago he crashed breaking both ankles, injuries which took five months to heal and badly hampered his preparations for his 250cc campaign. In fact Dani did not test his championship winning Honda RS250R-W until three weeks before the opening race of the season.

The final round of the championship takes place at Valencia on October 31, with the present championship table featuring Rossi on 279 points, Gibernau on 244 and Max Biaggi (Honda) on 197.
Race classification MotoGP
Round: 15 - Australian Grand Prix
1. VALENTINO ROSSI (ITA) Gauloises Fortuna Yamaha 41'25.819
2. Sete Gibernau (SPA) Telefonica Movistar Honda +0.097
3. Loris Capirossi (ITA) Ducati Marlboro Team +10.486
4. Colin Edwards (USA) Telefonica Movistar Honda +10.817
5. Alex Barros (BRA) Repsol Honda Team +10.851
6. Nicky Hayden (USA) Repsol Honda Team +12.210
7. Max Biaggi (ITA) Camel Honda +12.847
8. Makoto Tamada (JPN) Camel Honda +12.965
9. Troy Bayliss (AUS) Ducati Marlboro Team +18.607
10. CARLOS CHECA (SPA) Gauloises Fortuna Yamaha +21.245
Championship Standings MotoGP

Pos. Rider Manufacturer Nat. Points
1 Valentino Rossi Yamaha ITA 279
2 Sete Gibernau Honda ESP 244
3 Max Biaggi Honda ITA 197
4 Alex Barros Honda BRA 155
5 Colin Edwards Honda USA 149
6 Makato Tamada Honda JPN 139
7 Carlos Checa Yamaha ESP 115
8 Nicky Hayden Honda USA 117
9 Loris Capirossi Ducati ITA 110
10 Ruben Xaus Ducati ESP 77

Manufacturers Standings MotoGP
1 Honda 315, 2 Yamaha 278, 3 Ducati 137, 4 Kawasaki 82, 5 Suzuki 68, 6 Aprilia 34, 7 Proton KR 15, 8 Harris WCM 12, 9 Moriwaki 7
---
A championship pairing - Miss Great Britain and FastDates.com Calendar Angel Nicki Lane with 2004 SBK World Superbike Champion, Britian's James Toseland.
SBK World Superbike Championship, Magny Cours Round 11 of 11