Demarchelier has grasped and assimilated the spirit of Brazil: 'O espirito do Brazil' is in fact the title chosen for the backstage film and of Rio de Janeiro, a city dominated by strong contrasts, required a masterly use of light to express strong contrasts and obtain striking portraits, black and white only
The result is a truly unique version of the Pirelli Calendar, made up for the first time of 22 pages. The Calendar closes with a lively collage of shots "stolen" by the great photographer in a famous Rio discotheque, during the party that concluded the shooting.
The black and white photographs investigate the most mysterious aspects of the models seeking out the invisible source of their allure: alongside the already mentioned Naomi Campbell (Victoria's Secret, America's Next Top Model) are Filippa Hamilton and Isabeli Fontana (already chosen by Bruce Weber for the 2003 edition), Adriana Lima (the current featured model for Victoria's Secret and Maybeline cosmetics), Diana Dondoe, Erin Wasson, Euguenia Volodina, Julia Stegner, Liliane Ferrarezi, Marija Vujovic, Michelle Buswell, "Valentina" and Valeria Bohm.
A truly an international cast with three Brazilians, two Americans, one Russian, one Montenegrin, one Romanian, one Swede and one German, ranging in age from a just turned 17 to the legerndary naomi Campbell in her mid 30's. For the inside story on the very sexy, and very nude calendar go to Pirelli 2005.
MotoGP Winter Tests –Valencia, Spain
New MotoGP Teams Prepare for 2005: Ducks Kick Ass, Little Nicky Totals His Honda
Ducati Marlboro's new rider Carols Checa
sets record pace on Bridgestone Tires at MotoGP Tests
MotoGP Test Jerez de la Frontera, Spain November 24-26, 2004. The Ducati Marlboro Team has successfully wrapped up its third and final day of testing at the Jerez circuit in Spain. In collaboration with Bridgestone technicians, Loris Capirossi and Carlos Checa worked non-stop for three days on the testing programme aimed at finalizing the new tyres for next season. Both riders put in numerous sequences of laps on their Desmosedici machines, and for the first time also used qualifying rubber.
The team's new signing from Spain, Carlos Checa, was in great form today, recording 1m40.065s on qualifying tyres, almost eight-tenths of a second quicker than this year's pole mark set by Valentino Rossi (1m40.818s).
Carlos totalled 56 laps and his best time of 1m41.246s on race tyres clearly demonstrates that he has quickly adapted to the Italian bike and the Japanese tyres.
Loris Capirossi lapped on the same pace as Carlos and out of a total of 67 laps, the Italian set a best time of 1m40.926s on qualifying tyres and 1m41.392s on race tyres.
"I am really pleased with these first tests with Bridgestone tyres" declared Loris. "The feeling with the front is already good and this afternoon we did a 20-lap long-run, maintaining a constant pace. For the first time I also tried the qualifying tyres: for sure these have a great potential, but I prefer not to take any risks for the moment. I can't wait to get to Valencia on Monday to continue testing with the new tyres and developing our bike".
Today was also the final day of testing at Jerez for World Superbike rider Régis Laconi with the development team Desmosedici. Laconi continued to work with the new electronic components, the Frenchman completing 56 laps and setting a best time of 1m41.853s.
"We are really pleased with the way the tests went" commented Filippo Preziosi, Ducati Corse Technical Director. "The weather conditions were favourable and we were able to get through a lot of work in these three days and obtain some important results. The basis for the start of our new partnership with Bridgestone is excellent. Now we have some good reference data with the new tyres and confirmation that our bike adapts well to their characteristics. As always in racing, there is still a lot of work to do but our morale is high, we are satisfied and this certainly means we are off to a good start!"
Following these successful tests at Jerez, the Ducati Marlboro Team will remain in Spain next week for two more days at Valencia on Monday 29 and Tuesday 30 November, the final session of 2004 before the start of the winter testing ban.
Team Honda has Gibernau Quickest
Over in the Honda camp, Day Two of a three-day test saw Sete Gibernau being the fastest RC211V rider on day two of Jerez test Warm sunny conditions again prevailed on day two of the three-day MotoGP test at Jerez, Spain allowing the Honda teams a full day of testing that ended at 18.00. The teams dedicated the best part of the day to tyre testing with Michelin and it was Spaniard Sete Gibernau (Telefonica
MoviStar Honda) who emerged as the fastest RCV rider on the day.
Gibernau worked hard evaluating a range of chassis and suspension combinations before moving on to tyre testing with Michelin. His new teammate, Italian Marco Melandri ran an incredible 101 laps of the 4.423km
circuit today basically getting in as many kilometers as possible on the 5-cyclinder 990cc Honda. The Italian steadily improved his speed and consistency during his 101 lap stint slightly under his lap time of yesterday.
For American Nicky Hayden (Repsol Honda), fastest Honda on the opening day, today was one to forget. He crashed at high speed but escaped unscathed but his RCV was extensively damaged. The team is investigating the cause of the crash. The damage badly disrupting his test programme. Extensive tyre testing scheduled for today was postponed until tomorrow.
Makoto Tamada (Konica Minolta Honda) covered 77 laps today running exactly the same time as his best of yesterday, 1m 41.9s. Tamada worked together with Michelin technicians to on various tyres sizes and combinations as he adjusts to the performance of his new tyre supplier.
Sete Gibernau: 1m 41.036s - 70-laps: "I'm testing here at Jerez all the material that Honda is bringing me in
order to understand and evaluate all the material we already have. My goal in fact is to create the best package that will be the base for the next season. In particular today I tested a different chassis and a new front fork. I tried to do quality laps maintaining a constant pace on 1'41" in order to understand and evaluate the material we have."
"We also did some tyre testing. Michelin, in fact has asked us to test a new front tyre, so I'm very happy because we are all working hard in the
same direction. Tomorrow I will go on doing more comparative testing, I have a lot of stuff to test but this is necessary in order to get the best package."
Marco Melandri: 1m 42.023s - 101 laps: "I'm very happy of the work done today, my feeling with the bike has improved and I felt much more confident. I have improved my pace and this is the most important thing. I have a lot of work to do, my lap time is still not so high but at the moment I want to proceed step by step. I'm very happy of my new team, there is a very good atmosphere and we work with motivation, they make me enjoying riding."
Nicky Hayden: 1m 42.0s - 62 laps: "This morning didn't really get going like yesterday. I had a pretty big crash that really messed the whole day up. HRC are looking into the causes but it was third gear and the bike went straight up and down. We've only got one machine here and the crash really did a number on the bike and the boys had to change nearly everything! Physically I was okay in the crash but it shook me up quite a bit. We managed to get out there again towards the end of the day and put in quite a few laps but I never got back in the times that I know I should be doing. I've had better thanksgiving days in my life before but that's what you get in the sport. Some days are better than others and today wasn't one of the good ones."
Makoto Tamada: 1m 41.9s - 77 laps: "We made no technical changes to the bike today I have to learn to
understand the feeling of the Michelin tyres over a distance so we concentrated on running a lot of kilometres today. Tomorrow we will try different front suspension settings with various tyres and hope to get even
better understanding of how the Michelins perform."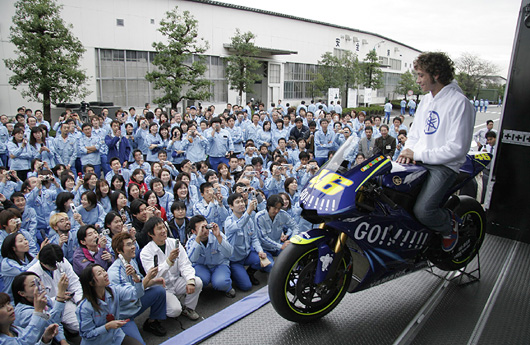 Valentino Rossi made a visit to the Yamaha factory in Japan on November 19th before flying to Spain for the tests, and then off on a 8 week winter vacation for the World Champion.
Reigning Champion Rossi, and new team mate Edwards
Gauloises Fortuna Yamaha Team finishes 2004 with positive test
Nov 26th: The Gauloises Fortuna Yamaha Team rounded off its championship-winning 2004 season today with a third and final day of testing in Sepang. Valentino Rossi and his 2005 team-mate Colin Edwards enjoyed another hot and dry day at the Malaysian circuit and now head off for a well-earned winter break.
World Champion Valentino Rossi completed 44 laps, once again spending time refining the set-up of the 2004-spec M1. He also completed a long distance run on the new 2005-spec prototype version of the bike. Rossi posted his fastest time of the three-day test today with a lap of 2'02.35s.
Speaking after the test, Rossi said, "We've been working on the new bike lots during these three days; it seems we do more and more testing every year, and start even earlier! Yamaha has put in a lot of effort to bring this bike here and enable us to start work on it in the right direction for next year, so it was very important for me to be here.
"Not every part of this prototype bike is new, but Yamaha has changed a lot. We are aiming for more stability in the rear end, but we want to keep the sweet handling. We are also looking for a little more horsepower; as everyone knows, which is one area we need to improve on. We're still not quite there yet, but Yamaha's engineers will continue this work during the winter and then I am sure we will be nearer our goal when we meet again in January. I'm now looking forward to a long holiday!"
Colin Edwards rode just 13 laps today on the 2004-spec bike, finishing his day early having completed the work he set out to do during the test. He posted a best lap of 2'04.31s.
Team Director Davide Brivio commented, "We are pleased with the progress we've made during this test. In January we will start to work more specifically on set-up of the new bike. We were fortunate to be able to enjoy good weather during this test; at 6pm today it started to rain heavily, so we were very lucky!
"The team has been working very well together during this test. We are looking forward to continuing the work we have begun here when we reconvene in January. It has been a fantastic season for all those involved in the project, and everyone has worked very hard to make it a success. Now I hope that they all enjoy a very relaxing holiday, before we arrive back here in January to continue the hard work!"
The team will return to the Sepang circuit to recommence its winter test schedule on 22 January.
Times:
Valentino Rossi (Yamaha) 2'02.35 (44 laps)
Colin Edwards (Yamaha) 2'04.31 (13 laps)
SBK World Superbike Winter Tests

TROY CORSER KICKS ASS!
Quickest on old 2003
Team Corona Suzuki GSX-R 1000
Valencia, Spain, Nov 16-18th: Although Troy tried his best, he was unable to get into the 1:35 second bracket in the third and final day of testing at Valencia today. The team had decided to run until 1530 today, but Troy's second crash called a halt to their plans fifteen minutes or so before time. Troy was desperately close to his target and ended with a lap of 1:36.00 - the fastest time of the day and the tests. Troy's pair of crashes were slow speed tip-offs and he was unhurt both times. In the morning, he slid off in the middle of the second turn and in the afternoon he fell in the left-hander going on to the back straight.

Troy:"I am very happy with this first test, because I feel that we have all gelled together really well and already I feel we are a team.

We spent a lot of time today testing tyres and working on the engine's mapping to try and cure a bit of an over-run in the turns. We tries some different ideas, but I guess we didn't fix it, because I crashed twice! Both were low speed affairs and I wasn't injured at all, but it gave the mechanics some work to do!

Considering this is my first time on a four cylinder bike since '97, the tests have gone really well because already I feel part of the bike. Now I'm looking forward to the next test and staying ahead of the opposition.



Troy bested Team Ducati Corse riders at the Valencia test who were on their new 999F 2005 spec bikes. While Troy was on the old spec 2004 Suzuki GSXR1000. All the Suzuki teams including Alstare Suzuki will be switching to the all new and even fsster 2005 model GSXR1000. It's looking like 2005 will be another a great season of SBK racing. More

.Overall fastest times (3-day)
1 Troy Corser (Aus-Alstare Suzuki Corona Extra) 1:36.00
2 Laconi (F-Ducati) 1:36.10; 3 Toseland (GB-Ducati) 1:36.9
4 Muggeridge (Aus-Honda) 1:37.2; 5 Gimbert (F-Yamaha) 1:37.2; 6 Lanzi (I-Ducati) 1:37.3; 7 Martin (Aus-Petronas) 1:37.3
8 Pitt (Aus-Yamaha) 1:37.5; 9 Walker (GB-Kawasaki) 1:39.00
10 Sanchini (I-Kawasaki) 1:39.30; 11 McCoy (Aus-Petronas) 1:39.60
---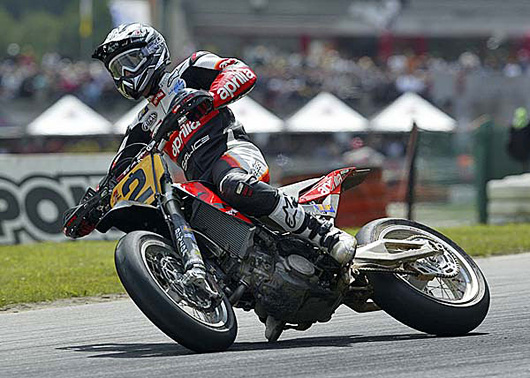 Aprilia Wins Supermoto S2 World Championship
with New Electronic V-Twin!

Nov 28th Finestrat, Spain: At the incredible race which brought the season to a close at Finestrat (in Spain), Aprilia and her twenty-four year-old French rider, Jerome Giraudo, brought down the house by winning the Supermotard S2 World Championship Title. Presenting themselves at the start with a seemingly insurmountable disadvantage of twenty-six points behind Massimo Verderosa riding his Honda, Aprilia's flag bearers progressively made up the difference in the space of two heats only then to conquer and win the final by surpassing all rivals, bringing themselves to the top of the classification.
It is a victory with huge implications; not only did Aprilia take the lead from the debut, but they did it with a project decidedly innovative. For the first time ever they introduced into the category a bi-cylindrical propeller, representing a technical choice until now considered to be almost impossible.
"I honestly did not think it was possible to recover from such a deficit – said the rider from Nice – it makes the win even more gratifying. To triumph in a season so tightly contested from the beginning is an amazing result. When Aprilia decided to revolutionize the category by introducing a two-cylinder engine, not to mention an electronically controlled, I thought that at least a year would have to be spent for development purposes. Instead, everything worked perfectly and the results they produced only improved with time. I have to say that the technical staff did an incredible job, riding on the shoulders of Aprilia's impressive legacy in competitive races.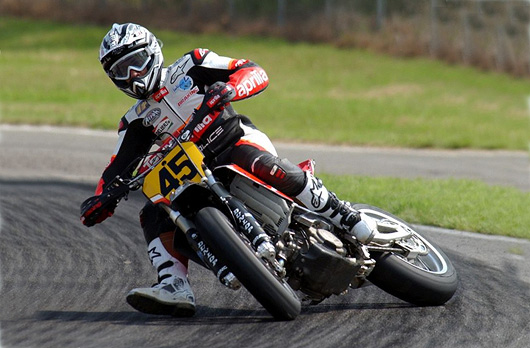 ---
Ducati 2004 World Championship Winner
Commerative 999R FILA Edition
November 15th:
Ducati is celebrating their win of the 2004 World Superbike Championship with the release of this special edition 999R painted in Team Ducati Corse FILA livery. The bike is an interisting mix of the now discontinued 2004 season 999R limited production model on which the winning 999F04 factory superbikes were based, using the short stroke 144hp 999R04 engine, and the old style vented front fairing to retain the Champiuonship bikes' look. But it also gets the new the new 999R05 chassis with the new style sheet aluminum swingarm and Ohlins suspension, including the radial front brakes and forged lightweight marchessini wheels. The mainfront fairing assembly is also the R spec fiberglass
Suggest retail price for the 999R FILA edition is $24,995 which is a great price in Ducati's world, considering the previous edition 999R03 cost $32,000, although it did come with a $3,200 Termignoni race pike and match CPU module. While the new 999R05 with the updrated new 150hp engine sells for $29.995 without a race pipe. And the new 999S05 with 140hp does come with a slip-on race silencer and CPU for $23.995. See your Ducati dealer now for a piece of WSB history. Ducati 999R04 FILA Screensaver