FastDates.com November 2004
Superbike, MotoGP Racing & Calendar Girl News
Official Calendar of the SBK World Superbike Championship
Home of the official SBK Fast Dates & Team Ducati Corse Umbrella Girls

Calendar Angels Gone Wild at Laguna Seca!
(No riders or mechanics were
harmed in the filming - honest!).


World Superbike party girl meets fast Italian playboy.
---
Neil Hodgson looks forward to burning up a lot of American race tracks in 2005.
Attacking AMA Superbike for Ducati in 2005....
World Superbike Champ Neil Hodgson Interview

Nov. 2004: The 2003 World SBK champion Neil Hodgson will be returning to Superbikes next year, lining up alongside Eric Bostrom in the two-rider Parts Unlimited Ducati Austin team for a totally new challenge – the Ducati Corse attack on the AMA Superbike Championship.
The 30-year-old from Burnley, England (born November 20, 1973) comes off the back of a difficult season in MotoGP but is relishing the thought of this new challenge, where he will come up against riders of the calibre of multiple AMA title winner Mat Mladin, the legendary Miguel Duhamel and ex-Ducati L&M factory WSBK rider Ben Bostrom as well as brother Eric, on unfamiliar circuits like Daytona, Brainerd and Road Atlanta.
We caught up with Neil to ask him for his thoughts on next season:
Neil, are you happy to be back with Ducati Corse?
I felt like I never left actually because my contract ran through, but it's great to be back anyway. I'm definitely happy to be racing Superbikes again. I enjoyed my experience of riding MotoGP bikes but I'm not going to miss them. In that championship, you only have a chance of winning if you are in the right team on the right bike.
And I would imagine you're happy to be back on a 999?
Yes, really happy. It's the bike I made my name on last year. I know a lot of people think the Ducati 999 was the best bike in the world when I rode it and then everyone got on it and started criticising it. I think it's an absolute winner; it suits my style and I can't wait to get back on and burn some laps.
What sort of a challenge will AMA Superbike be?
A huge challenge and a lot of people are underestimating how difficult it's going to be. I'm not, I know what lies ahead but I'm also aware that Ducati are making a major effort to win this title. It's not going to be a walk in the park, it looks like it's going to be the toughest year in my career and I'm going there to fight and enjoy my racing. If all goes according to plan, then hopefully I can win the title, but I know it's going to be the hardest thing I've ever had to do.
You'll be racing at several unfamiliar tracks like Mid-Ohio,
Brainerd and Pikes Peak – any thoughts on that?
Yes, I've never even heard of half of them! All I know is that I've watched a lot of AMA races this year and the tracks look fantastic, a few dodgy ones, but the general layout of most of the circuits looks really imaginative, similar to English tracks: a bit old, undulating but with a lot of character. People say they are dangerous but motorcycle racing is dangerous anyway. I'm not a crasher so it should suit my style.
And of course you'll have Eric Bostrom as team-mate next year...
I don't know Eric too well, but I feel that we are very similar: both easy-going and pretty normal guys. Although we raced together a couple of times in World Superbike, I never got the chance to battle on the track with him, but now I will, even though he's my team-mate! I'm sure we will work well together in the Parts Unlimited Ducati Austin team and can help each other to get the best possible results.
What's the opposition going to be like? You know some of these AMA guys?
I've raced against all of them some time in my career and I know how talented they are. There are probably 4 or 5 very good riders. Even though the depth of field isn't too great, to beat the top 4 or 5 is as hard as anything.
In a way you're a bit like another British champion, Nigel Mansell, who went to the USA to do Indycar after winning in Formula 1...
Exactly, I'm looking forward to the rivalries as well. To me that's part of the sport, part of the racing. If everything is rosy and everyone says nice things, that's OK but you need the rivalry, the 'needle', the 'You hate me ... great, I'm gonna beat you, bring it on' sort of thing. I enjoy all that intensity.
Are you going to be based in the states or commute back and forth?
In the next couple of weeks I'm going to make a decision on that. It might be easier to base myself there.
For Ducati in general and Ducati North America, the AMA Championship is very important. There's going to be a lot of focus on you and you are going to have a high profile over there.
That's probably why it's better to live there. If I'm constantly rushing back home, then that's not good for Ducati and I understand that aspect, the PR side of things. I know the way Ducati work; I've worked with them before.
What was the worst thing about your MotoGP year?
Not being what I thought it would be. I thought the package I would have was more competitive and it wasn't. It's just that realization. It's all ifs, buts and maybes... and now I'm moving on. I've no bitter feelings about it, but now it's important to come back and do something else.
Where does Neil Hodgson see his future from here?
A year in AMA and we'll see how it goes. If I can win in AMA I'll be the happiest man in the world. Then I'll have a rethink. I'm at a bit of a crossroads but I can't really predict what will happen after. Even last year was a crossroads, but I've always fancied America and now it's the right timing for me. We'll see how it goes. If you win you can pick and choose to stay or move on – it's as simple as that. The AMA Championship poses a great challenge both to me personally and to Ducati as they haven't won it for many years. I would like to make history and be the first rider ever to win the British and World Superbike Championships and the AMA Championship. The main thing that I have discovered this year is that I cannot race just to make up the numbers. I need to win!
Neil Hodgson's first appearance for the Parts Unlimited Ducati Austin AMA Superbike team is scheduled for January 3-5, 2005 in testing at the legendary Daytona circuit in Florida.
---
Maria kicks ass on the grass court at Wimbledom on her way to winning tennis most prestegious tournement.
Chicks that Kick Ass: 17 year old tennis supermodel sensation
Maria Sharapova by FastDates.com
Nov 2004 - The hottest, sexiest, most beautiful woman in sports today is 17-year old Russian sensation Maria Sharapova. This 6 foot tall teenager looks just like like a top supermodel, while she now one of the world's top professional sport athletes who is is kicking ass in the Women's Tennis Association (WTA) World Championship tour. Maria finished off the 2004 season winning the WTA Championship season final in Los Angeles at Staples Center, normally home of the Los Angles Lakers basketball team. Some 5 months earlier Maria had set the tenis world on its head when she came almost out of almost nowhere (ranked 32nd in the world in 2003, up from 186th at age 15 in 2002) to defeated American veteran Serena Williams at Wimbledon in England, the sport's premier tourament.
Genre(s): Sports, Idol Worship,
Future Supermodel

Maria Sharapova

Supergirl of Tennis
We were on hand at the WTA World Championship Final to see beautiful 17-year old 6-foot tall sensation Maria Sharapova collect a $1 Million Dollar check and a brand new Porche SUV for her win over Serena Willams in the tournament finale.

Maria follows in the footsteps of previous women's tennis superstars Martina Hingis and Anna Kourkonova in returning a beautiful woman to the fore front in world sports. And she has done them one better by proving her ability as a top athlete by winning the 2 most prestegious events of the 2004 season, the WTA Final, and Wimbledon earlier this year.

This year with her tournamet wins and placing, along with product endorsements for major companies incluiding Nike and Motorola, Maria has probably earned somewhere between 5 and 10 million dollars. Equivalent to the top men of motorsports, inlcluding Valentino Rossi in MotoGP.
More SHARAPOVA
---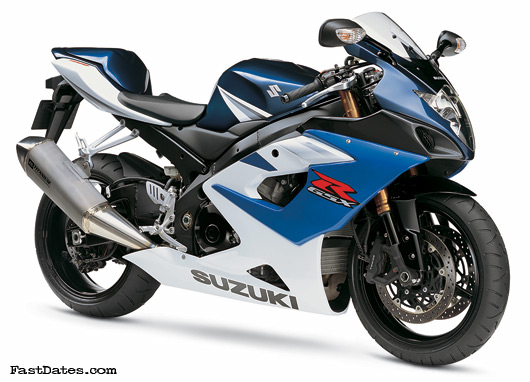 The all-new 2005 GSXR1000 -platform for another AMA Championship title?
MORE
---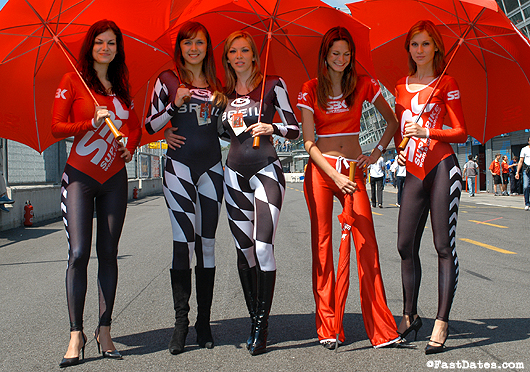 World Superbike Gets Stronger - By Jim Gianatsis
Japanese Big Four Return to World Superbike for 2005!

With the announcement this week from Yamaha Racing Communications that Yamaha Moto Europe is going to return to the SBK World Superbike Championship in 2005 with a 2 rider team based out of their Italian distributorship, it now appears that all four major Japanese manufacturers: Yamaha, Honda, Kawasaki and Suzuki are returning to World Superbike. The loss of the major Japanese factory teams to MotoGP is now over, and the SBK Championship can look forward to regaining its stature and rivalry to MotoGP as the world's most important roadracing series.
Most of the Japanese teams are still in the process of coming together and selecting riders, but the Ten Kate Honda of Germany based team with Chris Vermeulen and former Superbike Champion Troy Corser is already firmed up. While another factory supported team, PSG-1 Kawasaki have sign Chris Walker, formerly of Foggy Petronas. And with so many new team now looking for riders, there's going to be a lot of out of work MotoGP riders next month who will be very happy to have another top level World Championship to move to, particularly other former Ducati World Superbike Champions like Troy Bayliss and Neil Hodgson.
Some might say the Japanese are returning to World Superbike through the back door, using European distributor run teams, to save face in returning to the series which they abandoned 2-3 years ago for the glamour of 4-stroke MotoGP. But we welcome them back in any way, shape or form. And the fact they are returning through already established distributor teams in various European countries means they have an establshed infrastructure of shops, staff, mechanics and transporters already in place. Their costs will be less, they can support more teams with money, bikes and parts. And these already established teams can come out swinging from the first race. We are going to have some incredible racing in World Superbike for 2005.
But not to forget, we also had some incredible racing in 2004 World Superbike. Despite the 1-2 brand dominance, it was certainly the closest Championship ever with 5 riders in contention for the title win from week to week. And the title going down to the final round at Mangy Cours between James Toseland and Regis Laconi.
And don't let us forget, much appreciation must go to Ducati for continuing to support the superbike championship through its lean years to help it survive, both for us fans and for the important marketing tool in is for manufacturers. The Japanese factories lost sight of this important aspect the last few years, and a dramatic decline in Japanese sportbike sales and spectator race attendance (in America and Japan in particular) was the result.
Acknowledgment and appreciation also needs to go out to FGSport president Paolo Flammini and marketing director Robert Wicks for enduring the criticism and allowing Pirelli Tires to come in as the major SBK Championship sponsor to allow the SBK Championship to financially survive in its lean season. And it is acknowledged now by all that the use of required Pirelli spec tires has allowed the racing to be closer and more exciting. Spectators can't see spec tires being a second a lap slower, but they certainly can see the closer racing.
Next year in 2005, instead of seeing 5 riders fighting for the lead at the front of the pack in World Superbike, we just might be seeing 10-15 riders!
And here in America, an acknowledgment of disappoint goes to Laguna Seca Raceway for not renewing its contract with World Superbike. And to AMA Pro Racing for not creating a world class environment for its class rules, race tracks and promoters so World Superbike could find another home in America -the world's biggest sportbike market. Ironic, isn't it?
---
Ducati Announces its 2005 Superbike Teams
World Champion Neil Hodgson confirmed for AMA Superbike!
Nov 8th - Ducati Corse's 2005 Superbike programmes are now taking shape with the triple announcement of an unchanged line-up in its World Superbike factory team, the debut of a young Italian talent in a satellite World Superbike structure and a redoubling of its efforts to win the AMA Superbike championship.
24-year-old Brit James Toseland, who won the 2004 World Superbike championship on a Ducati 999F04, will defend the title on the '05 version of the bike that won ten of the 22 races on the calendar. One month ago at Magny-Cours, James became the third British rider to win the Superbike crown, and his team-mate will once again be the 29-year-old Frenchman Regis Laconi, who has also been confirmed as Ducati factory rider for 2005.
"This past week has been brilliant, first winning the MCN Man of the Year award and then having my position with Ducati Corse confirmed for 2005," commented Toseland. "It's fantastic to start the season with the same team that I won the championship with and I'm hoping that our relationship will continue to be as successful. I learned an awful lot last year and I feel confident about retaining the world championship. I can't wait to get started."
"I am very happy to be reconfirmed by Ducati; this is what I wanted," declared Laconi. "Next year I will try and win the championship for sure, I came very close this year but unfortunately I made some mistakes, even though I was nearly always the quickest rider out on the track... c'est la vie! It's sure to be more difficult next year but I know that Ducati will be working harder than ever over the winter to prepare an even more competitive bike for the 2005 season."
A third Ducati 999 will also be raced in World Superbike by the talented Italian youngster Lorenzo Lanzi. The 23-year-old from Cesena earned his promotion with a string of positive results in World Supersport, where he finished fifth overall, and he will campaign a 999RS for the satellite SC team run by Stefano Caracchi. The Bologna-based team will also continue with the Supersport race programme of the Ducati 749R that Lanzi took to its debut this year.
"I am really pleased to have this new challenge, above all because I will have the same Supersport team of mechanics with me," declared Lanzi. "Once again I move up a category after a year, and for this reason it's not going to be easy, but I will be riding the 999RS, which is a very competitive bike, and we hope to get some good results."
The final piece in the jigsaw for Ducati Corse's Superbike plans comes with the announcement that Toseland's fellow Brit and 2003 WSBK champion, Neil Hodgson, will line up alongside Eric Bostrom in the Parts Unlimited Ducati Austin AMA Superbike team for next season. After a difficult year in MotoGP on a Desmosedici GP3, the 31-year-old from Burnley is happy to return to the 999 bike that took him to the 2003 WSBK title and is also relishing this tough new challenge.
"Having had a disappointing experience in MotoGP, it's such a relief to be back where I belong with Ducati Corse," declared Hodgson. "The AMA Championship poses a great challenge both to me personally and to Ducati as they haven't won it for many years. I would like to make history and be the first rider ever to have won the British and World Superbike Championships and the AMA Championship. Being back with the 999 is going to be so natural for me and I can't wait to start testing. The main thing that I have discovered this year is that I cannot race just to make up the numbers. I need to win!"
Toseland, Laconi and Lanzi will be in action next week on November 16-18 in three days of testing at Valencia, whereas Neil Hodgson's first appearance for the AMA Superbike team is scheduled for January 3-5, 2005 in testing at the legendary Daytona circuit in Florida.
Championship GSE Team Returns to British Superbike
Nov. 8th - After a single season away from competitive track action GSE Racing will make a welcome and eagerly anticipated return to the circuits of the UK, having confirmed their intention to compete at the top level in the prestigious 2005 British Superbike Championship. Running high specification Ducati 999F04 V-twin machinery the GSE squad will be a two-rider team, with the riding line up to be released in due course. GSE Racing will also renew a partnership with Dunlop tyres, a co-operation which has previously netted British Championships and World Superbike race wins.
The 2005 version of GSE Racing will feature largely the same backroom staff as in previous years, headed up by owner and Team Principal Darrell Healey. Team Manager Colin Wright will once more control the racing operations of the double British Championship winning team. GSE will return to the 13-round British Series with the full blessing and support of Ducati Corse.
Having secured two previous crowns in the British Championship, with Troy Bayliss in 1999 and Neil Hodgson in 2000, the credentials of the GSE Racing operation are unquestioned. A return to active duty for GSE will be a momentous occasion for British racing as a whole, thanks to their successes in World Championship competition.
Having always run Ducati V-twin machinery, with strong support from the Borgo Panigale-based Ducati Corse concern, the GSE team has won four World Championship races in its own right. Moreover, the ability to spot, support and develop talent has seen three former GSE Racing riders promoted to full factory status in Ducati's World Superbike team. Of even more significance, Troy Bayliss, Neil Hodgson and now James Toseland have all gone on to ultimate World Superbike success, with Hodgson and Toseland taking their crowns only one season after their move from GSE to the factory team.
Team Principal Healey stated, "After one year out of racing our hunger to return is evident in the attitude of the staff and our new riders. Ducati has once more supplied us with high-level machinery, for what looks like it will be an even more competitive season than last year. We are a British team, so racing at home, in one of the most prestigious race series on earth, is an exciting prospect for us all."
Ducati Corse Superbike Program Director, Paolo Ciabatti, added, "We are really glad to be able to work again with GSE Racing. Our relationship, which began in 1998, has been growing stronger and stronger over the years and has brought to Ducati many successes, thanks to the team's very professional management and to their ability to select and motivate their riders. After one year of absence from the racetracks, we are happy that GSE have confirmed their loyalty to Ducati for their BSB comeback".
The first round of British Championship competition is scheduled for March 26 – 28, at the Brands Hatch Indy Circuit, a short hop from the GSE Group Headquarters, at Ashford in Kent.
---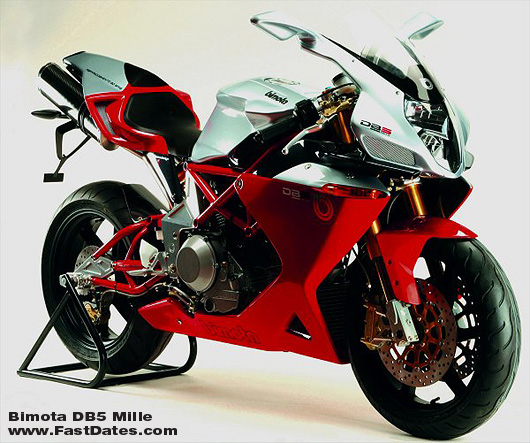 Bimota Bounces Back at Intermot with 2 Exciting New Bikes!
October 2004: Three years after an Italian court closed Bimota and declared the company bankrupt the maker of some of the most beautiful, expensive and desirable bikes in the world has been revived with new management and new money. At the recent Intermot show, Europe's biggest motorcycle expo held in Munich, Germany last month, Bimota unveiled a prototype, a new model and their current SB8K bike.
The bike on which the tiny Rimini manufacturer is pinning its hopes is the DB5, built around the Ducati 1000DS L-twin motor that powers Ducati's 1000SS sports bike, the Multistrada and the 1000 Monster
The bodywork has been kept to a minimum so you can see the classic air-cooled motor.

Also unveiled was the Tesi 2D prototype powered by the 1000DS twin, but with the famous hub-centre steering system designed by Bimota engineer Pierluigi Marconi in the late 1980s for his thesis – hence the name "Tesi". A dream, re-interpreting Bimota1s traditional characteristics which have left an indelible mark in the history of the motorcycle, models such as the HB1, KB2 Laser, DB1 and other designs which have never been forgotten by enthusiasts all over the world.
Also shown was the SB8K which is the current and updated result of Bimota's previous commitment with the Suzuki TL1000S V-twin motor. It's painted in Anthony Gobert's colours to commemorate his attack on the World Superbike championship with the original SB8R. Now somewhat outdated, though beautiful executed in the Bimota tradition, the SB8K will have to carry the company until the DB5 becomes available.
More Details and Photos HERE


New 2005 Fast Dates
Garage Girls, Iron & Lace
Below: Superbike girl Nicki Lane goes Hog Wild in Iron & Lace!
Win A Free Calendar
Contest for November!
The first reader who can tell us the name of which girl has been featured on more FastDates.com Calendar covers than any other model, gets a free 2005 calendar of your choise. Email your entry, with yur name, address and calendar selection to Web@FastDates.com

---

-

Massimo Meregalli (Yamaha Motor Italia team coordinator)
"Everything has gone surprisingly well today. We started at 10 o'clock this morning because always on the first day you expect little things to be not working properly, but we had no problems at all. We expected to come here with a new bike and start very slowly, but actually our speed has been ok, although the point of this test is to work on making Andrew comfortable on the bike and to gain as much data as possible to help us with our development work. This bike is nothing like the one we expect to use next season. Most of the engine parts we are using are 2004 Yamaha kit parts and a lot of the parts are still standard, like the pistons and swingarm, which is only slightly modified version of the stock one."


DUCATI MOTOGP TEAM TO RACE WITH BRIDGESTONE
The Ducati MotoGP Team has agreed with Bridgestone, one of the world's largest tyre-producing companies, to take part in the 2005 MotoGP World Championship.
The excellent results obtained by the Japanese tyre manufacturer in just three years of participation in MotoGP, culminating in two race wins during the 2004 championship, and the opportunity to differentiate from Ducati's chief rivals in such an fundamental component as tyre supply were the underlying reasons behind this choice.

"We are very satisfied to have reached an agreement with Bridgestone," declared Claudio Domenicali , Ducati Corse CEO. "Like us, the Japanese company has been present in MotoGP for not many seasons, but it has already proved that it is capable of producing successful tyres, while simultaneously demonstrating a notable capacity for development. For our part, we ended the 2004 season on an upward trend and we are convinced that the collaboration with Bridgestone will represent a further step forward in our attempt to gain a competitive advantage in a championship that is becoming increasingly demanding and exciting."

The Ducati MotoGP Team will appear with Bridgestone in the next tests at Jerez de la Frontera, Spain, from 23-25 November, and will continue development work with the new tyres the following week, November 29-30, at Valencia.
"I would like to offer my sincerest gratitude to Michelin, and in particular Pierre Dupasquier and Nicolas Goubert, for the support they have given us in many years of collaboration," concluded Domenicali.

"Together with Michelin, we won 8 World Superbike Riders' titles and made our debut in MotoGP last year, winning our first race and finishing on the podium ten times. The relationship has been excellent both on a technical and personal level. A big thanks also for allowing us to start to work with our new partner from the next test onwards. This is a truly sporting gesture that is much appreciated and it shows that the rapport between our two companies continues to be excellent."

British Champs
Monster Mob Closes
4 Year Winning Relationship With Ducati
MonsterMob Ducati team owner Paul Bird wishes to announce that his highly successful four-year partnership with Ducati Corse will come to an end with the Cumbrian-based team's participation in the 38th running of the Macau Motorcycle Grand Prix race on November 20th.
MonsterMob will enter two Ducati 999 superbikes in the classic Far East race for riders John McGuinness and Stuart Easton , after which the team will take another direction for the 2005 season.
Paul Bird Motorsport has had a truly successful relationship with the Italian manufacturer over the last four years, during which time it consolidated its position as Ducati's satellite team in the competitive British Superbike championship, which it won twice in successive years. It also won a total of 34 BSB races, in addition to two World Superbike races at Brands Hatch in 2003.
After the late Steve Hislop's title success (together with Stuart Easton taking the British Supersport crown) in 2002, followed by Shane 'Shakey' Byrne lifting the crown again in 2003 before moving onto MotoGP, the MonsterMob Ducati squad finished fifth overall in this year's British Superbike championship with the experienced Sean Emmett aboard the factory-supported Ducati 999RS04, winning two races and finishing on the podium a further six times.
"It was an extremely difficult decision to take to leave Ducati," declared Paul Bird , "and it really left a lump in my throat when I thought of what we have accomplished over the last four years. However we realised that the time had come to do something different. Quite simply we needed a new challenge for 2005, when we aim to extend our team to run three Superbikes in BSB and that is going to be one really big task."
He continued, "I would like to thank Ducati Corse, and in particular Paolo Ciabatti, for everything they have done for us since the start of our relationship, because without their contribution none of this success would have been possible and a big thanks also to Ducati UK, who have given us their help and support over the past four years."
Paolo Ciabatti , Ducati Corse Superbike Program Director, added: "We are really sorry that our collaboration with Paul Bird Motorsport has come to an end. In winning two BSB titles with Steve Hislop and Shane Byrne, they have given us a lot of success in the UK and proved to be a very capable and professional team. But above all we would like to thank them for bringing honour and credit to Ducati in BSB over the past four years. We wish Paul, Phil, Stuart and everybody in the team all the best for the future."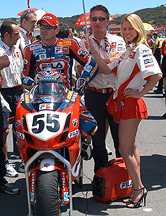 Robin grids Regis Laconi.
Robin Cunningham was our offical SBK World Superbike Fast Dates calendar Angel and Team Ducati Corse umbrella girl for World Championship points leader Regis Laconi at Laguna Seca. All the the sexy details are in Fast Dates News.
2005 AMA Superbike Championship Schedule Announced
Laguna Seca AMA Superbikes combined with MotoGP Weekend
PICKERINGTON, Ohio (Oct. 22, 2004) -- AMA Pro Racing has released its schedule for the 2005 AMA Superbike Championship. Highlights include a round at Mazda Raceway Laguna Seca in conjunction with the MotoGP World Championship event and the debut of a new track configuration for the Daytona 200.
"2005 is going to be an exciting year for fans of AMA road racing," said Scott Hollingsworth, AMA Pro Racing CEO. "We're looking forward to showcasing AMA Superbikes alongside the exotic MotoGP bikes at Mazda Raceway Laguna Seca as well as returning to all the other great tracks that make up our championship. Plus, with five different riders, on three brands of motorcycles winning AMA Superbike races in 2004, the stage is set to see another closely contested series next year."
The 2005 AMA Superbike Championship Schedule:
Date Location
March 10-12 Daytona International Speedway, Daytona Beach, Fla.
April 22-24 Barber Motorsports Park, Birmingham, Ala. (Superbike Doubleheader)
April 29-May 1 California Speedway, Fontana, Calif. (Superbike Doubleheader)
May 13-15 Infineon Raceway, Sonoma, Calif. (Superbike Doubleheader)
May 21-22 Pikes Peak International Raceway, Fountain, Colo.
June 3-5 Road America, Elkhart Lake, Wisc. (Superbike Doubleheader)
June 25-26 Brainerd International Raceway, Brainerd, Minn.*
July 8-10 Mazda Raceway Laguna Seca, Monterey, Calif. (Superbike Doubleheader)
July 22-24 Mid-Ohio Sports Car Course, Lexington, Ohio (Superbike Doubleheader)
Sept. 2-4 Road Atlanta, Braselton, Ga. (Superbike Doubleheader)
Sept. 17-18 Virginia International Raceway, Alton, Va.*
* Tentative. To be confirmed.

See how Kate Beckinsale deals with pesky Monsters...
Kerry Bryant Leaves Jardine
to Open His Own
Exhaust Design Company
Nov 1st - A legend in the motorcycle exhaust industry, Kerry Bryant has left Jardine / Doug Thorley Headers after a 3 year position there as Vice President of Marketing / Sales / Engineering Director, to open his own Exhausr system design and production company called Area No Limits with his wife Jennu and sons Kenny and Kelly.
"After 25 years of helping bring success to companies like SuperTrapp/Kerker, White Brothers, and Jardine, it's time for me to move on to my own venture, with my family. Many of you know that I am very close to my wife Jenny (who many you have worked with), and sons Kenny (24) and Kelly (19).
We've opened a facility called "AREA P". Obviously most of you know what I've specialized in through-out my career. Area P continues and expands upon that specialty. You can reach us at areapnolimits@sbcglobal.net
Or visit the website we recently began creating/building at www.areapnolimits.com for more info.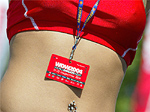 Complete Event Coverage Here.
Plus join us for an exclusive visit to the Ducati Corse Race Shop!