FastDates.com January 2005
Superbike, MotoGP Racing & Calendar Girl News
Official Calendar of the SBK World Superbike Championship
Home of the official SBK Fast Dates & Team Ducati Corse Umbrella Girls


"Rockin Robin" Cunningham
evalutes the new
MV Agusta F4-1000
Mamba and Ago with sexy
SCREENSAVERS!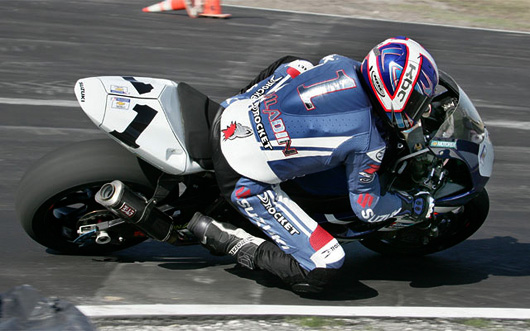 Not yet fully developed and a hodge podge of mixed parts from last season's bike, Matt Mladin aboard the new 2005 Suzuki GSXR1000RR decimated the rest of the field in just the first 2 days of the 3-day test.
AMA 2005 Pre-Season Test, Daytona International Speedway, Daytona Beach, Florida, USA
Redesigned Daytona Track Still Not Safe?
Maladin on All-New 2005 Yoshimura 2005 GSXR
is 1-sec Quicker Than His Rivals!
Matt Then Crashes into Dangerous Daytona Walls,
Injured and Knocked Unconscious, Misses Final Day of Test
Daytona Beach, Florida, USA (Wednesday, January 5) –- Defending American Superbike champion Mat Mladin has sent an early warning to his rivals competing in this year's championship by setting the fastest time on each of the opening two days of the scheduled three-day test at the world famous Daytona International Speedway.
With one day remaining at the test, Mladin has posted the fastest time so far with a 1-min 40.309-sec lap of the revised 2.95-mile circuit. His pace setting times were overshadowed by a late afternoon crash on the second day, resulting in the 32-year-old Australian being transported to nearby Halifax Medical Centre for observation.
After initially saving a ferrous rear wheel slide on the exit of the new Turn Five section of the course, Mladin was unable to regain full control of his Yoshimura Suzuki and was forced to jump clear before striking a trackside safety barrier.
"Essentially I got the thing sideways exiting one of the new turns, changing up from first to second for a short amount of time and it was at that point when I clicked second that it went sideways and spat me over the top," said Mladin, as he prepared to leave Daytona and return to LA.
"I actually got it back under control, but as soon as I looked up I realised that there was a wall approaching and I was forced to jump off it. From what I've been told they said I impacted the wall pretty hard, somewhere in the region of 80mph. It was a wall that was on the outside of one of the existing turns that used to be part of the race track."
"I was unconscious for quite a while and didn't start to become coherent until I arrived at the hospital. As a result I've got a bit of concussion and the headaches that go with that, along with a swollen left ankle as a result of a small fracture."
"I'm heading back to LA now and hope to be seeing a specialist first thing tomorrow. At this stage I'm planning on being back in Australia by Saturday, unless the doctor has other ideas. I'm hoping that no surgery will be required so that the recovery time is minimal. Other than that I feel okay. The foot is fairly swollen after taking a good hit."
"Aside from this incident, the opening two days of the test were very promising for us. The new ''05 Suzuki GSX-R1000 was very good and was quick through the speed trap there, so itss all shaping up very nicely in that regard at present. We were quickest at the end of each day which is always good. As with any of these tests where you are preparing a new bike there are lots of things to work through and so far so good."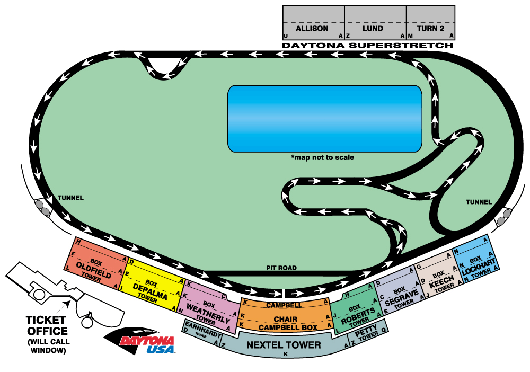 Above: The newly revised Daytona motorcycle course for 2005 is still among the most unprofessional and overly dangerous racetracks in Ameirca. But The Speedway won't justify the expense to build a properly designed infield course for a once a year race that draws so few paying spectators. While the AMA won't give up it's biggest source of income from the multitude of classes which run there throughout Bike Week.
Complete details HERE
Mladin returned to the circuit briefly on Wednesday morning, moving about on crutches before heading to the airport and returning to California.
This weeks test gave competitors in this year's American Superbike Championship, their first look at the revised layout. The changes to the famous circuits infield has taken the NASCAR Turns One and Two out of play, leaving the riders with a tight, yet demanding addition to the infield, while the overall length of the motorcycle course has decreased by over half a mile. The changes were met with general appreciation from the riders in attendance. Fine-tuning of the changes will continue as riders provide circuit staff and race officials with additional information.
Mladin commenced the test riding a hybrid machine made up of components from his last year's championship-winning bike and his brand new 2005 model Suzuki GSX-R1000. Day two saw him switch to one of his new 2005 machines, as his team went through the regime of machine setup and preparations that will form the basis of Mladin's mount for his championship defence.
The opening day saw the five-time American Superbike champion post a time of 1:42.107. A day later and aboard his latest spec machine, Mladin dropped his times by almost two seconds as his worked his way through the latest batch of tyres made available by Dunlop and designed to suit the unique demands of the ultra fast Florida circuit.
Mladin and his Yoshimura Suzuki team will undertake a number of further pre-season tests before the series heads back to Daytona for the opening round of the championship on March 12.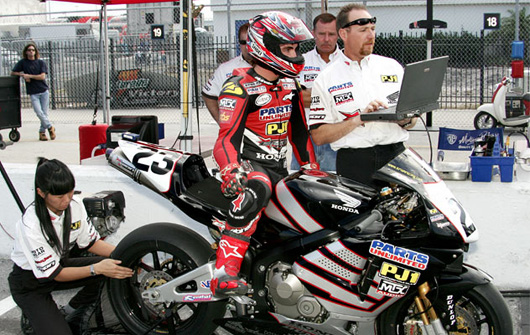 Miguel and crew chief Rick check the latest sportbike news and lap times on FastDates.com before taking the econo racer CBR1000RR Superbike out on the track. Budget cutbacks at America Honda have Miguel's wife working on the bike.
Quickest Overall Times at the end of the 3 Day Test:
1. Matt Mladin, Suzuki GSXR1000, 1:40.309
2. B. Spies, Suzuki GSXR1000, 1:40.411
3. Miguel DuHamel, Honda CBR1000RR, 1:40.987
3. Neil Hodgsonm Ducati 999, 1:41.027
4. Eric Bostrom, Ducati 999, 1:41.078
5. Aaron Yates, Suzuki GSXR1000, 1:41.106
6. Jake Zemke, Honda CBR1000RR, 1:41.386
7. Jason Disalvo, Yamaha YZFR1, 1:41.498
8. Tommy Hayden, Kawasaki ZX10, 1:42.084
9. Damon Buckmaster, YamahaYZF-R1, 1:42.117
10. Jason Pridmore, Suzuki GSXR1000, 1:42.150
11. Geof May, Suzuki GSXR1000, 1:42.334
12. Steve Rapp, Suzuki GSXR1000, 1:42.540
13. Vincent Haskovec, Suzuki GSXR1000, 1:42.719
14. Josh Hayes, Kawasaki ZX10, 1:42.945
15. Aaron Gobert, Yamaha YZF-R1, 1:42.268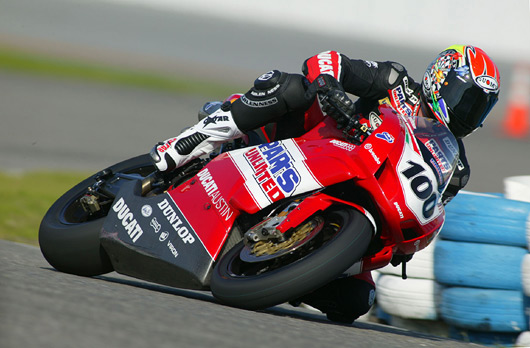 World Champion Neil Hodgson weaves and dodges around the walls, tire barriers and traffic cones that make the newly revised Daytona motorcycle course still among the most unprofessional and overly dangerous racetracks in Ameirca.
World Champ Hodgson & Eric Bostrom Report on Daytona Tests
Ducati Corse Press Department, Daytona International Speedway (Florida), Thurs, Jan 6th: Parts Unlimited Ducati Austin riders Neil Hodgson and Eric Bostrom completed three promising days of testing with their Ducati 999s at the Daytona International Speedway on Wednesday. The duo began preparations for the 2005 AMA Superbike campaign which is scheduled to begin at Daytona in March. Both riders recorded impressive top speeds on the recently revised 3.0 mile (4.8 km) circuit. Hodgson's Ducati 999 was the fastest bike at the test, having motored through the speed trap at 194.635 mph according to the AMA's timing equipment.
Neil was particularly impressive in his first US test as an AMA Superbike regular, the British rider turning in a positive 1m40.711s on the final day, which was good enough for third quickest overall. The former World Superbike champion got up to speed on the unique Daytona speed bowl best known for its fearsome banked sections.
"It's really good to be here. I love Daytona and its history and I like racing on classic circuits like this," said the 31-year old Isle of Man resident. "It was a bit of an eye-opener, coming here. It looks a lot easier on television, that's all I can say -- you know, (with) the banking and everything. But it's exciting!"
"It was going really well working with Neil. He gave us a good direction with the bike and his lap times continued to drop after the riders lapped enough to clean off the circuit and give more grip," said Parts Unlimited Ducati Austin race engineer Luca Ferraccioli.
Eric Bostrom turned in a best lap of 1m41.1s late on Wednesday, although the lap was credited to his teammate on the AMA's timing monitors. His lap time was good for fifth quickest over the course of the three-day test.
Bostrom, who set pole and was a contender for the win in last year's 200-mile race at the Speedway, saw his lap times remarkably drop by over a second in the morning session on Wednesday. In the afternoon, Eric rode Neil's 999 to set his quickest time of the day as he continued to improve.
"I'm happy with the way things are going. It was definitely a good test for us. The Dunlop tires were good, I'm still learning the front and I'm still looking for one more second," said Eric. "The new suspension link we tried seemed to really help on the banking and my confidence is just getting better with each lap."
Eric continued: "We learned some things when I rode Neil's bike. His settings did some things a little better than mine and we'll have to see if that can translate to my set-up or not. I think there's a lot to learn from having a teammate and I look forward to it this year."
"I think it was very positive," said chief mechanic Gary Medley of the test. "We got a lot of information from Eric over the three days and the team worked well together. With a few more tests, we will be ready for the season."
The Parts Unlimited Ducati Austin team will test again this spring before the 2005 AMA championship begins at Daytona on March 13th.
---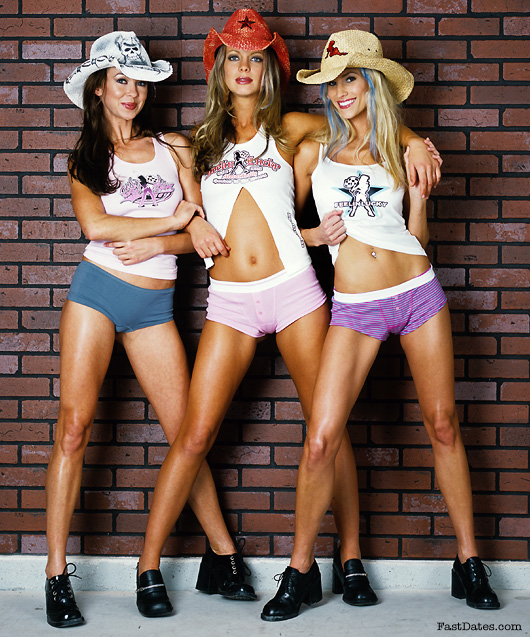 Our favorite tag team, SBK Fast Dates World Superbike girls (left to right) Andra Cobb, Taylor McKegney and Chandi Mason got together with us last month for the shooting of the 2006 Garage Girls calendar sponsored by Feelin' Lucky. All three girls are profiled in FastDates.com's
Meet the Models
and featured in
Members Corner
.
Our SBK Fast Dates World Superbike Angels are Feelin' Lucky
SBK Corona World Superbike Championship
Renews Fast Dates Calendar Endorsement
Feelin' Lucky apparel sponsors Garage Girls

Los Angeles, CA, Jan 1st 2005: The FastDates.com Calendars and Website is proud to announce that FGSport has renewed its SBK World Superbike Championship's endorsement of the the Fast Dates Racebike Pinup Calendar for 2005 to cover the upcoming 2006 Fast Dates Calendar, currently in production. The endorsement is part of a mutual promotion between SBK and FastDates.com in which the new 2005 SBK Corona Extra Superbike World Championship logo and the top factory superbikes will be featured in the 2006 Fast Dates Calendar, on the FastDates.com Website and in all related advertising for the calendar.
In return, along with SBK's endorsement of the Fast Dates Calendar,
the beautiful FastDates.com Calendar Angeles calendar models are the officially SBK Fast Dates Calendar Girls. And the Fast Dates Calendar and FastDates.com Website featuring in Pit Lane News its excellent coverage of World Superbike coverage will continue to bea featured banner link on the official SBK webite at WorldSBK.com.
Along with SBK, the Fast Dates Calendar is sponsored by Performance Machine, the leader in aftermaket billet machined wheels and controls for motorcycles; and Jardine Performance, manufacturer of high performance motorcycle exhaust systems as used by Team American Honda.
The mutual endorsement between The SBK World Superbike Championship and Fast Dates continues the friendship between both parties which first began with the 1997 Fast Dates Calendar, as explained by FastDates.com Calendar publisher Jim Gianatsis.
"We are excited to continue our close relationship with the world's most excing and important production based roadracing series," said Jim. "The upcoming 2005 SBK World Superbike Championship is already shaping up to be one of the most exciting season's ever with the return of all the major Japanese factory supported teams. It's unfortunate there will not be an SBK round in America this year, but we look forward to World Superbike returning to America for 2006.
In the meantime, it gives us a great reason this year to travel to one of the other international rounds of the SBK World Championship to photograph the next Fast Dates Calendar. I'm looking at getting our crew together for the Brands Hatch, British round on August 5-7th. It should be pretty wild as the race there draws close to 100,000 fans. I'll have to remember to get an air horn, and keep the models out of the pubs"
While SBK superbike fans can still look forward to complete race coverage throughout 2005 on the FastDates.com and WorldSBK.com websites, on SpeedTV with same day broadcast, while enjoying the top factory superbikes and beautiful SBK Fast Dates Angels featured in the Fast Dates Calendar.
We are also excited to announce that Feelin' Lucky apparel will be the title sponsor of the upcoming 2006 Garage Girls Calendar. Feelin' Lucky is a well known manufacturer and retailer of motorcycle event apparel which is a favorite at major street bike events like Laughlin, Daytona and Sturgis. Sponshorship of the popular FastDates.com Garage Calendar will provide Feelin' Lucky with lots of additional promotional exposure as they continue to grow in all sections of the motorcycle market.
Gianatsis Design Associates just concluded the photo shoot for the 2006 Feelin' Lucky Garage Girls Calendar featuring 3 very beautiful current and former SBK Fast Dates Calendar Angels: Andra Cobb (2006), Chandi Mason (2005) and Taylor McKegney (2000). The shoot took place on a garage style set in the Gianatsis Design studio with photographer Jim Gianatsis, makeup and hair by Lisa Rukus, adhearing to the reknown Garage Girls theme of sweaty and grimey, yet very beautiful pinup models in skimpy apparel "...hard at work without the motorcycles getting in the way!"
---
Pit Gear
How to go really Fast without falling off.

Faster
The best feature documentary movie about motorcycle racing ever made.


Valentino Rossi
The best motorcycle racer ever, biography by Matt Oxley.





Great Tool Sets
Even Greater low prices!

Avril Lavigne
Rocks Your World
(Caution: You will fall off this)
---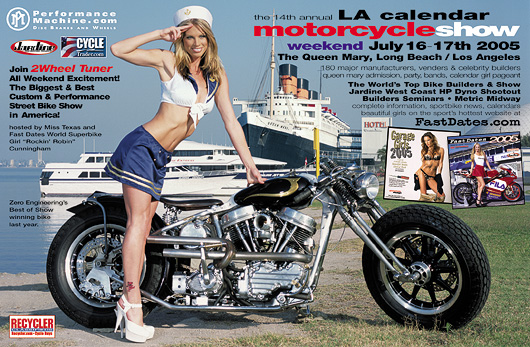 2Wheel Tuner joins LA Calendar Motorcycle Show as Associate Media Sponsor
Jan 1st: The hot new extreme sportbike magazine 2Wheel Tuner has joined our Los Angeles Calendar Motorcycle Show as an Associate Media sponsor. The 6x yearly magazine based out of Motor City with cool dude Todd Lamb at the throttle is the only American sportbike magazine at present which has the coolness to feature hot chicks on the cover and inside their magazine, along with the extreame stunt bikes. Naturally we had to get them together with FastDates.com and the "world's biggest custom and performance streetbike show!"
If you've got a wild street modified metric sportbike you'll defintely want to bring it to our Show on July 17th to get a shot at the very special 2Wheel Tuner Best Sportbike trophy. The above LA Calendar Motorcycle Show ad will now begin running in Wheel Tuner through to our July, Show and features our own SBK Fast Dates World Superbike Girl and Bike Show hostess with the mostess "Rockin' Robin" Cunningham. The former Miss Texas and Hawaiian Tropic Interntional winner doesn't know it yet (and don't tell her), but she's scored the cover of the next 2006 Fast Dates Racebike Pinup Calendar which will premier at the Show. Meanwhile, you can find out more about 2Wheel Tuner magazine and subscribe on their website: 2WheelTuner.com
Genre(s): Sports Idol,
Future Supermodel

Chicks That Kick Ass
Maria Sharapova

Supergirl of Tennis
We were on hand at the WTA World Championship Final to see beautiful 17-year old 6-foot tall sensation Maria Sharapova collect a $1 Million Dollar check and a brand new Porche SUV for her win over Serena Willams in the tournament finale.

Maria follows in the footsteps of previous women's tennis superstars Martina Hingis and Anna Kourkonova in returning a beautiful woman to the fore front in world sports. And she has done them one better by proving her ability as a top athlete by winning the 2 most prestegious events of the 2004 season, the WTA Final, and Wimbledon earlier this year.

This year with her tournamet wins and placing, along with product endorsements for major companies incluiding Nike and Motorola, Maria has probably earned somewhere between 5 and 10 million dollars. Equivalent to the top men of motorsports, inlcluding Valentino Rossi in MotoGP.
More SHARAPOVA

New MotoGP Regulations for 2005 feature no Rain haulted Races
Jan 1st, 2005: Here is the breakdown of new regulations appropriate to the MotoGP class for 2005 released by the Grand Prix Commission in Barcelona on December 14th 2004. Most significant is that a race will no longer be stopped by rain. In the past the race leader could stop the race at any point because of rain, and if the race had run 2/3rds distance the leader would be declared the winner. Otherwise the bikes returned to the pits for a change to rain tires, and then lined up for a restart in the order they were running when the race stopped. Now it is up to the rider alone to decide if he wants to continue to race with slicks once it starts raining, or if he needs to make a pit stop during the race to change to rain tires in order to finish the remaining race distance.

MotoGP Schedule reduced to one official qualifying session
* Friday Free Practice: 10h00 - 11h00
* Friday Free Practice: 14h00 - 15h00
* Saturday Free Practice: 10h00 - 11h00
* Saturday Qualifying Practice: 14h00 - 15h00
* Sunday Warm Up: 09h45 - 10h05
* Sunday Race: 14h00

No more MotoGP races stopped by rain
* A race will not be interrupted for climatic reasons and riders who wish to change tyres or make adjustments must enter the pits and do so during the actual race.

Fuel Tanks
* Fuel tanks of all construction types must be filled with fire retardant material or be lined with a fuel cell bladder. In the MotoGP class, fuel tanks made of non-metallic composite materials (carbon fibre, aramid fibre, fibreglass, etc.) must be fitted with a fuel cell bladder, or have passed the FIM test standards for composite material fuel tanks as described in the FIM Fuel.
* In defining fuel tank capacity all containers of the motorcycle capable of supplying fuel to the carburettors/injectors may be taking into account.
* Refuelling may only be carried out from an unpressurised container, and the motorcycle fuel tank may not be pressurised above atmospheric pressure at any time, other than the small pressure increase due to normal tank ventilation to the atmosphere on the moving motorcycle.
* No fuel on the motorcycle may be more than 15°C below ambient temperature. The use of any device on the motorcycle to artificially decrease the temperature of the fuel below ambient temperature is forbidden.

---
There's more! Go to Pit Lane News Next Page
Hot Calendar Girl and Bike News! Go to: Fast Dates • Berm Busters • Iron & Lace
click to see much more ...