FastDates.com February 2005
Superbike, MotoGP Racing & Calendar Girl News
Official Calendar of the SBK World Superbike Championship
Home of the official SBK Fast Dates & Team Ducati Corse Umbrella Girls

World Superbike girl Andra
works on her tan! See her now in the 2005 Fast Dates Calendar & Members Corner!

SBK Fast Dates World Superbike girl Rockin' Robin Cunningham heats up Pit Lane aboard Chris Vermeulen's Ten Kate Honda CBR1000RR. We show and tell you how you can modify your own CBR1000RR to Ten Kate World Superbike, and Al Ludington's Miguel Duhamel AMA Superbike specs exclusively in Paddock Garage.
2005 Corona Extra Superbike World Championship

Its a Bumper Crop for possible Winners in the most
Competitive SBK World Superbike Championship Ever!
It marks a dramatic turn-around from just 18 months ago when the Championship was seemingly relegated to the saving sponsorship of Pirelli and its spec tires in order to survive without the major Japanese teams. But now World Superbike is back with a vengence with the start of the 18th consecutive World Superbike season just around the corner at the Losail circuit in Qatar on February 24-26. The final line up of competing manufacturers, teams and riders indicates that the 2005 SBK Corona Extra Superbike World championship is in for its most competitive season on record. The confirmed entry of 30 riders is the envy of almost any global Motorsports series, with six manufacturers represented by proven - and soon-to-be – stars of the SBK firmament.
Thanks to its carefully crafted technical regulations and a single make tyre strategy, SBK has never been a more accessible and evenly matched series. Up to ten riders are approaching SBK 2005 with realistic expectations of an outright championship win; if they can keep up an impeccable level of consistency. Given the circumstances of the 2005 season, there should be something approaching 15 possible race winners, at any one round of the scheduled 12 - from Qatar in February to the finale in France on September 9. The only disapoint for the immediate future is that World Superbike was not able to keep America on its schedule this year.

Noriyuki Haga tests the factory Yamaha R1 Superbike at Phillip Island in his first ride back on a Yamaha Superbike since the ill-fated 2001 season when he almost clinched the Championship. Can Nori do it this time? Can he catch ultra fast Troy Corser on the new Suzuki GSXR1000? Is Chris Vermeulen on the Honda CBR1000RR the winning ticket. Or can Xerox Ducati copy their performance from past years?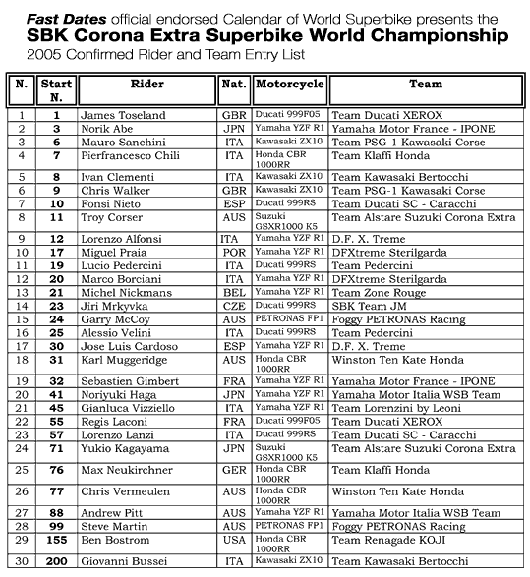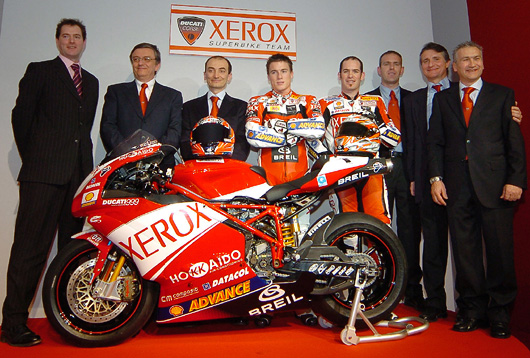 Protagonists revealed at the Team Ducati Xerox 2005 press launch included (from left to right): Richard Wergan, Head of Marketing Communications for Xerox Europe, Ducati CEO Carlo Biaggi, Ducati Corse CEO Claudio Domenicali, team pilots and reigning Wolrd Champion James Toseland with runner-up Regis Laconi, Technical Director Ernesto Marinelli, Team Director Paolo Ciabatti, Team manager Davide Tardozzi.
DUCATI
The Bologna based manufacturer of high performance vee-twin motorcycles to the masses is the most successful in the history of the sport, having won 13 manufacturers' and 11 riders' championships. For the first time in several seasons Ducati riders are not quite the most numerous on the SBK grid, but quality has not been sacrificed in the new era of Ducati's SBK participation.
The factory Ducati Corse squad, sponsored by Xerox this season, can boast the talents of both the champion and runner up in the tightly contested 2004 title battle. Englishman James Toseland (who at 23 was the youngest champion in the history of the Superbike division) is once more teamed up with Frenchman Regis Laconi on the full factory 999F05 machines.
A very welcome and full-strength Spanish element is introduced to the class once more this year, with 250GP race winner Fonsi Nieto partnering 2004 Supersport rider Lorenzo Lanzi in the Team Ducati SC – Caracchi squad, a long-standing entry which enjoys close links with the factory.
Private entries having kept faith with Ducati are Team Pedercini's Lucio Pedercini and Alessio Velini, and Czech rider Jiri Mrkyvka, who will have the pleasure of riding on his home track this year, at Brno on 17 July.
Chris Vermeluen on the Yen Kate Honda is a top contender for the Championship win this year.
HONDA
In its debut SBK season Honda's CBR1000RR Superbike secured four race wins, one factor in the obvious popularity of Honda machinery for 2005. A plethora of top names have opted for Honda motive force, including Winston Ten Kate riders Karl Muggeridge (2004 Supersport Champion) and Chris Vermeulen (2003 Supersport Champion and winner of those four Honda SBK victories in 2004).
In 2004 Renegade Ducati Koji won six races through the season, but for 2005 a change of rider and machine will see a single man Renegade Honda KOJI team opt for CBR power. The CBR will be piloted by seven-time SBK race winner Ben Bostrom; a very welcome high profile American rider in the cosmopolitan '05 rider line up.
Arguably the best-loved star in World Superbike, the 40 year-old Italian Pierfrancesco Chili will team up with 21-year-old German youth Max Neukirchner in a Klaffi Honda line up of contrasting experience levels. The Austrian squad, headed by former World Sidecar Champion Klaus Klaffenbock, is new to World Superbike, but has extensive track time and podium experience in World Supersport to call upon.



Yamaha World Superbike team mates Andrew Pitt (right) and Noriyuki Haga (left).
YAMAHA
By far the most numerous of all the machines on display will be from the Yamaha stable, a full third of the permanent grid of 30 riders choosing the 2005 YZF-R1. The most closely supported squad will be the Yamaha Motor Italia pairing of serial 2004 race winner Noriyuki Haga and 2001 World Supersport Champion Andrew Pitt.
Yamaha Motor France have enticed three-time 500cc Grand Prix winner Norick Abe into one of their riding slots this season, making it a double attack from Japan in terms of the entire Yamaha effort. Sebastien Gimbert, such a sensation at the final Magny Cours races in 2004, is gearing up for a full time assault with YMF this year.
Italy's Marco Borciani and Portuguese Miguel Praia will run for the DFX team in the DFXtreme Sterilgarda set-up, with Spaniard Jose Luis Cardoso (a Spanish Championship regular and GP competitor of years gone by) and 2004 European Superstock Championship winner Lorenzo Alfonsi team up in the DFXtreme squad.
Two single riders teams will also run Yamahas, European Superstock runner-up Gianluca Vizziello in the Team Lorenzini by Leoni camp and Belgian Michel Nickmans in the Team Zone Rouge pit garage.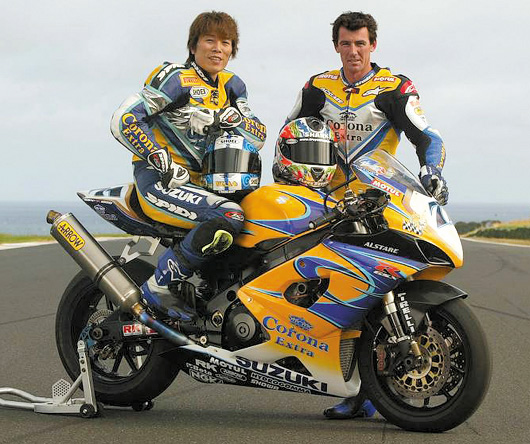 Troy Corser (right) has been fastest rider in World Superbike preseason testing on the Suzuki GSXR1000. The Alstare Corona team is joined by Japanese rider Yukio Kagayama (left), probably a requirement from Suzuki of Japan to assure the team gets front line factory bikes.
SUZUKI
Short on numbers, but big on talent, experience and possibility, is the Alstare Corona Extra squad, with 1996 SBK Champion Troy Corser (soon to be married to long term partner Sam) and new SBK team inductee Yukio Kagayama on their books.
Corser needs no introduction to the class but Kagayama has been making a name and garnering wins in the tough British Championship for the past two seasons. Both Suzuki riders have already set good testing times at Phillip Island on the 2005 GSX-R1000K5.
KAWASAKI
The PSG-1 team are no strangers to the top step of the podium, thanks to their now dissolved partnership with Pierfrancesco Chili. Having adopted Kawasaki ZX-10s for the 2005 season, they will run British star Chris Walker and experienced ZX-10 pilot Mauro Sanchini. Having scored a second place last year Walker in particular is the rider Kawasaki are pinning most hopes on.
Perennial SBK competitors, Bertocchi Kawasaki, will run Ivan Clementi and the always high profile Giovanni Bussei on their ZX-10s. After gaining knowledge of the machine in 2004, Bertocchi is a well-placed team for 2005.
PETRONAS
Back for a third full year of track action the Foggy Petronas FP-1 three cylinder machine cuts a distinctive sight and emits a distinctive noise, both on and off track. With two podium finishes and two Superpole wins on the board last year, the Petronas team have invested Aussie pairing Garry McCoy and Steve Martin with the responsibility for their combined hopes and dreams in 2005.
Each experienced rider is eager to maintain their overall top seven statuses from 2004, with McCoy a winner in race two at Phillip Island and Martin a three-time Superpole winner. Each has swapped a private Ducati for the high-profile 900 Petronas triple, one of the most exciting pieces of technology ever to grace World Superbike, run by a team with four-time SBK champion Carl Fogarty at its head.
WORLD SUPERSPORT 600cc
With several top Supersport exponents submitting to the gravitational pull of the Superbike class, the Supersport season is shaping up to forge a new generation of middleweight stars, as well as providing another real challenge for the 'old guard.'Strong entries from all four Japanese factories and Ducati are led by some household names in Supersport, while others have opted for youth and enthusiasm.
Champions for the past three years, Ten Kate Honda, have Katsuaki Fujiwara and Sebastien Charpentier on their CBR600RRs, while former World Champion Fabien Foret and one-time European Superstock Champion Michel Fabrizio fill slots in the Team Italia Megabike Honda pit garage. Johan Stigefelt from Sweden adds his 250GP experience to his own Stiggy Motorsports Honda outfit.
The Yamaha Motor Germany team heads Yamaha's perennially competitive presence with their R6 product; Aussies Kevin Curtain and Broc Parkes will be forming a serious double act.
The Ducati effort, undertaken on 749R twin-cylinder equipment, comprises two single rider squads - one for Jurgen van den Goorbergh in the Selmat camp and the other servicing Gianluca Nannelli, who rides for Team Caracchi.
Kawasaki riders include former SBK factory Aprilia pilot Alessandro Antonello (Team Kawasaki Bertocchi) and NCR Ducati privateer David Garcia (Team Lightspeed Kawasaki).
The final line-up of the Moto 1 Suzuki team from France is yet to be decided, but is expected to feature two strong riders. The Alstare Corona Extra Suzuki push gets behind Spaniard Javier Fores.
SUPERSTOCk FIM CUP 600cc
For 2004 the successful European Superstock Championship has been upgraded and renamed the Superstock 1000 FIM Cup. It will have a 'little brother' in the Superstock 600 European Championship, with both series included in each European round of the SBK series
The big Superstock class features an entry which hints at the future of the continued flowering of the SBK grid, as former champion Vittorio Iannuzzo runs one of four MV Agustas which will grace the Superstock sessions with its Italian four-cylinder pace
NEW BEGINNINGS - 2005 Season Kicks off at Qatar on February 24th
The first race for the Superbike and Supersport competitors takes place at the Losail circuit in Qatar, with action beginning on Thursday 24 February, culminating on raceday, Saturday 26. The first of 12 rounds, Qatar is a new adventure for all SBK competitors, who will enjoy a two day test on the preceding weekend, to familiarise themselves with the circuit.
As always, FastDates.com's Pit Lane News will provide the web's most complete, timely and best coverage of World Superbike racing. Same day race coverage is normally posted in Pit Lane News on Sunday afternoon, just a few hours after the race. Our coverage is a compulation from the world TV broadcast, together with the offical factory team press releases, rider's quotes and press photography.
For additional information go to www.worldsbk.com

In 2004 the Superbike World Championship achieved the following:
- More than 2-billion worldwide television viewers
- Live broadcasts on 89 television networks covering 170 countries
- 2,275 broadcast hours with a television media value in excess of US$ 610-million
- 1,000,000 race spectators
- More than 34-million Internet page views on www.worldsbk.com
- More than 4 million readers on FasDates.com
---

Click for more Jenna and the other SI Swimsuit Models and to vote for your favorite!


Our FastDates.com Favorite!
Jenna Gets Dumped fromTop 3 on Sports Illustrated Model Search
Jan 26th - Our favorite Calendar Angel in the Sports Illustrated Swimsuit Model Search on NBC TV is 19 year old cutie Jenna from Dallas Texas. On the 4th week of the Show, Jenna was cut from the top four girls, down from the 12 contestants that began. Her extreamely sexy 120 lbs. in a fantasticaly proportioned 5'9" package is a cross between the beautiful baby girl face of tennis star Anna Kournikova with the rockin' body of a Brooke Burns. Jenna must be what Texas hosiptality is all about.
We thought the judges made a huge mistake in eliminating Jenna who they said us "too pinupy" for the SI Swimsuit Calendar, and who didn't fare as well as the other 3 finalistson the fashion model catwalk . Big Mistake! And we thought a swimsuit pinup calendar was all about cute pinup models with rockin' bodies.

Needless to say, we've got our phone call into Sports Illustrated now to book Jenna (right) for our FastDates.com Calendars!
The 3 remaining girls are now one flat chest Blond with no boobs whats ever, and two very simialr and less atractive Brunettes, one with really bad attitude. We really thing Sports Illustrated really screwed up with their entire top 12 pick in general (exception Jenna), and in their decision to eliminate Jenna from the top 3 finalists who are being flown to Bora Bora for the magazine shoot. They should have eliminated one of the similar looking brunettes and kept Jenna as the prerequest pinup model us guys do want to see in a swimuist pinup calendar.
Don't forget to watch the Show on NBC Wednesdays 8/7pm. And you can vote online now for your favorite model.

Just click on Jenna's picture and we will take you to heaven to visit the NBC website and vote for your favorite of the remaining girl now!

Imagine a hot biodied long legged 5'9" Anna Kournikova with great boobs and you've got Jenna. Were the SI judges blind?
---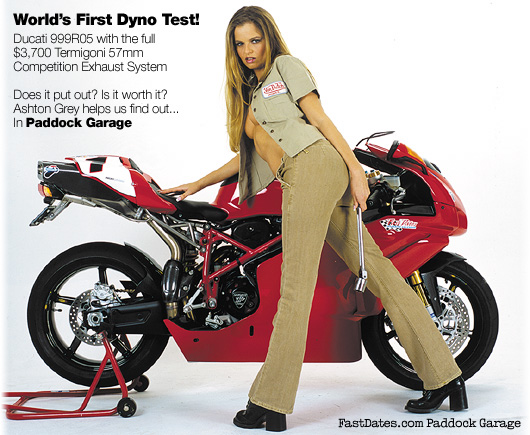 Another FastDates.com World exclusive!
First Dyno Test of the hot new Ducati 999R05 Superbike
with the $3,700.00 Termignoni Full Race Exhaust System
Is this now the world's fasterst, most powerful production Superbike? For all that money she cost, she better put out! We spend our hard earned bucks before you have to. Find out 4 months before the print rags kiss butt to score a free system from Ducati and then still won't tell you the truth if it doesn't put out.
We strap the 999R05 to the Evoluzione Cyclesport Factory Pro Tuning dyno a make it scream for more! Includes sexy screensavers of Penthouse centerfold Ashton Grey tightening the screws on Bologna's hottest number.
Now in FastDates.com Paddock Garage
---
hot off the mouse pad from Sudco....
Daijiro Commerative GP Helmet Computer Mice
You wouldn't ride your bike without a helmet, would you? So why take a chance on safety when surfin' the web on your favorite sportbike website like FastDates.com or, on that very ....mature website. Your mother always told you to use protection against those naughty pop-up windows, and now you can with this exciting new laser roadrace helmet computer Grand Prix Mouse direct from Japan and now available in the USA from Sudco International.
The Grand Prix Mouse is an exact 1/15th scale replica of the Shoei helmet worn by 250cc World Grand Prix Champion Daijiro who passed away tragicaly in 2003 from a race injury, and became the first Japanese rider to be inducted into the MotoGP Hall of Fame. His commerative GP Helmet Mouse is available in the two different trademark Blue / Yellow and Red / Yellow color schemes worn by Daijiro, and have all the hot race features like an 800dpi optical laser for smooth tracking, left/right click functions for precise turn-in, and a quick throttle scrolling function. Included is a long, 36in. detachable USB cable for stealth operation when the tech inspector stops by. The GP Mouse is compatible with both superstock Windows (98 and later) and superbike Apple OS machinery.
Get your entry in now before the grid is full. The Daijiro Commerative Grand Prix Mouse is only available in America retail direct from Sudco International for $47.00.

Phone weekdays 1-323-728-5407 8am -6pm PT
SUDCO INTERNATIONAL, 3014 Tanager Avenue, Commerce, CA 90040.
Phone (323) 728-5407 • Fax (323) 728-8060 • www.Sudco.com
Fast Dates Calendar Motorcycle Roadracing News. Complete coverage of the SBK World Superbike, AMA National Superbike and MotoGP World Championship. Fast Dates Calendar and Umbrella Girsl. Max Biaggi, Valentino Rossi, Ben and Eric Bostom, James Toseland, Regis Laconi, Loris Capirossi, Troy Bayliss, Troy Corser, Noriyuki Haga. Ducati 999 Monter Multistrada, Yamaha R6 R1, Honda CBR600RR CBR1000RR, Kawasaki ZX6 ZX6RR ZX10, Suzuki GSXR600 GSXR750 GSXR1000, Aprilia Mille, MZ Agusta F4 Brutale