FastDates.com February 2005
BEST VIEWED with Browser Preferences/Fonts settings on 12 pt Size or Smaller
Superbike, MotoGP Racing & Calendar Girl News
Official Calendar of the SBK World Superbike Championship
Home of the official SBK Fast Dates & Team Ducati Corse Umbrella Girls

Happy Valentine's Day!
- from the Fast Dates Angels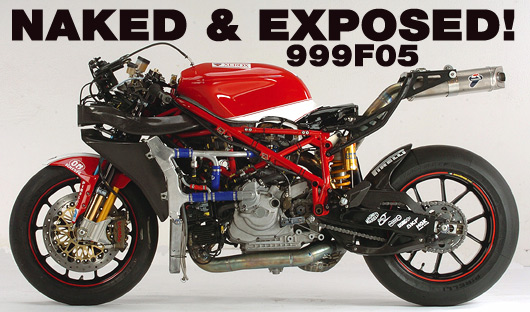 We go under the covers to fully reveal Team Ducati Corse's latest 999F05 World Superbike weapon for the 2005 season. But it doesn't stop there. We get even more explicit with exclusive 1224 wide Screensavers in both nude and scantily clothed PG-rated versions for your down loading pleasure. If this doesn't get you off, you're really wacked and nothing will. Take me to to Ducati 999 Superbike Heaven.


Click for more Alicia and the other SI Swimsuit Models!
Alicia Hall Wins Sports Illustrated 2005 Swimsuit Model Search
Feb 10th - Alicia Hall, a tall and willowy 5' 8" 20-year old beauty from Las Vegas, NV, was selected the winner of the first ever Sports llustrated Swimsuit Model Search which ran for 6 weeks on NBC television.
Jenna's profession is web design, and her favorite pass times are watching basketball , designing clothes, and also persuing a musical career. Not a new commer to talent and beauty competitions, back in 2003 at age 19 Alicia competed in TV's Starsearch in the Spokesmodel Category with a win one week, along with our own FastDates calendar model Joanna Krupa (Joanna appears on the cover of this month's Trump magazine).
A total of 12 lovely amateurs from local castings across America were selected to compete in the TV Search, where the judges eliminated the girls each week based on their performance in photo shoots and runway modeling shoes. Our favorite model pick, Jenna, made it to the top 3, but was eliminated because the judges felt she liiked to much like a pinup model! That left Alica and Shanon, a Public Relations major from Dallas. TX,and engages to be married, in the final two.

The winner from the final 2 contestants, Alicia and Shannon, was susposedly selected in online voting by visitors on the NBC and Sports Illustrated websites, though no vote tally has been disclosed, and we might suspect the SI judging panel still held sway over the selection of the winner - but it is their pageant and we'd probably do the same. Especially with the grand prize being a reported $1,000,000 modeling contract with NEXT models and a feature pictorial in the 2005 Illustrated Swimsuit Magazine Annual which hits newstands on February 15th.
While not any more beautiful than some of the other contestants, Alicia was probably the most deserving to win the dream modeling contract with Sports Illustrated and NEXT for the adversities she had to overcome in growing up. Jenna came from a poverty stricken and broken family, and had spent much of her childhood in foster homes. The show's final eposode took us to Jenna's last foster home where her adopting and much loved family lived in a broken down trailer park.
The funniest part of the Show's final program was when Alicia met up with her natual sister back home in Las vegas, and they recount the time when they wre living out of a car for 3 months with their destitute parents. But rather then tell their little girls they had been evicted from their home, her father told the they they were living in the car because they were traveling... " on vacation."

Just click on Alicia's picture and we will take you to heaven.
Look for Alicia in the 2005 Illustrated Swimsuit Magazine Annual which hits newstands on February 15th.
Get Hooked-up with the SI Girls here:
Sports Illustrated Swimsuit Model Search 2005

Sports illustrated Swimsuit Model Collection
---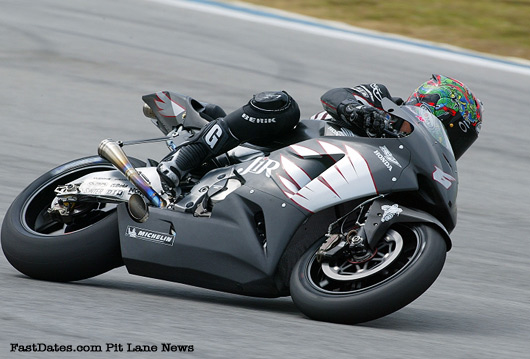 Makoto Tamada headed the time sheets at Sepang on the Konica Minolta Honda RC211V, still in primer paint.

2005 MotoGP World Championship

Tamada and Honda RC211Vs Top Sepang MotoGP Tests
Sepang (Malaysia), 11- 13th February 2005 - Three days of torrid weather conditions (33° air/60° track) and severe cases of the flu for some of the top riders greeted all the teams for the 2005 MotoGP world championship at the Malaysian circuit for the second and final winter test session scheduled for Sepang. Very little grip and high humidity inevitably conditioned thistests.

Fastest man on the final day, and for the three-days, was Konica Minolta Honda rider Makoto Tamada. Japanese star Tamada arrived at Sepang suffering from a bout of flu but the Japanese star had recovered well enough to put in a fast lap at 2m 00.955s at the end of the final day while testing Michelin qualifying tyres.

Honda's RC211V dominated the three-day MotoGP tests at the 5.548km Sepang circuit, Malaysia today. The new grand prix machine has steadily improved performance over the three-days with extensive work on chassis, suspension and the electronics while working closely with tyre supplier Michelin. HRC Engineers and the team technicians emerge from the test in optimistic fame of mind as they prepare for the next three-day test, at Phillip Island, Australia on February 17-19.

Rossi and Edwards get back to Work on the Yamaha
The Gauloises Yamaha Team's busy winter testing schedule resumed in Sepang today, as the team began the second three-day test of the year at the Malaysian circuit. Just over a fortnight since they were last here, reigning World Champion Valentino Rossi and his new Yamaha team-mate Colin Edwards were back on board their 2005-specification YZR-M1s, once again sharing the track with the large majority of their fellow MotoGP competitors.

Rossi completed 58 laps and was fifth fastest in the unofficial standings with a best time of 2'02.53, despite suffering from a fever which worsened as the day wore on. He spent much of the day testing Michelin tyres, whilst also doing some work on the engine braking settings of his M1. Like his team-mate, Edwards' day was largely focused on tyre work with he and his team also spending some time changing the front and rear settings. He set a fastest lap of 2'02.98 from a total of 63, which was the ninth fastest time of the day. The Quickest man on the track was Honda man Sete Gibernau with a time of 2'01.76, followed by fellow Honda riders Alex Barros (2'02.12) and Makoto Tamada (2'02.41). Loris Capirossi set the fourth fastest time of the day on his Ducati, just ahead of Rossi with a lap of 2'02.47.
Valentino Rossi, (2'02.53, 58 laps)

"I had a fever today and I didn't feel so good. As the day went on I felt more and more weak and I began to find it hard to focus on the bike. I thought it was a good idea to stop a little early, as we had already done all the work we wanted to do. We worked a lot on tyres today and also on engine braking; we had a few things to improve on this from the last test and we managed that today, so we achieved what we needed to do. I am going to go to sleep early tonight and I hope to feel better tomorrow!"
Colin Edwards (2'02.98, 63 laps)

"We had a few difficulties starting out today; for some reason the bike didn't feel the same as last time, but once we sat down and discussed things, everything got better. We did a lot of tyre work and didn't change much on the settings throughout the morning, but this afternoon we played around a bit with the front and rear settings, and made some good improvements. It felt even hotter than at the last test, but I'm pleased because I was doing consistently fast laps during the hottest part of the day."

Capirossi sets quickest time for Ducati squad despite feeling feverish.
Ducati Marlboro Team rider Loris Capirossi joined his team-mate Carlos Checa on their new Desmosedici GP5 machines for further shakedown testsand, despite a high temperature, carried on with the scheduled test programme. The Italian rider completed 54 laps on the new GP5 which had been tested by Shinichi Itoh yesterday, setting a best time of 2m02. 47s.

"Today I lapped pretty good, but I was worn out by the end of the day" declared Loris. "I'm not feeling very well, so I get tired pretty quickly and above all my reactions are a bit slow. However I am quite satisfied because I managed to quickly find something that enabled me to set some good times immediately: now my hopes are high for the next couple of days".

Carlos Checa, who also tested the new GP5, also went well, the Spanish rider finishing the day with a total of 58 laps and a best time of 2m02.56s. "We worked well and are improving step by step, even though I still have to get into the swing of things" commented Checa. "I tried several different tyres, some with a good potential, others which lasted well. Now my bike has a good balance and we have ahead of us a couple of hard days of work that I want to get the best out of!"

Tester Shinichi Itoh was also on the track today, the Japanese rider completing 58 laps with the Desmosedici GP4 of the Ducati-Bridgestone Tyre Test Team and setting a best time of 2m04.30s. In preparation for his work with the team this season, Itoh tried several different set-ups in order to get to know the behaviour of the bike, which is fundamental for the development of the tyres.

Honda unveil 2005 RC211V on opening day of the Sepang MotoGP test
The 2005 MotoGP teams and riders returned to the Sepang circuit in Malaysia, for the second winter test of the year. Seven riders, racing in the colours of four Honda teams took to the 5.548km grand prix circuit eager to test the 2005 version of the RC211V 990cc V-5 four-stroke machines that they will race in the 17-round world championship series. All seven RCV riders started the test with basically the same equipment, the chassis and engine configurations that were confirmed as optimal for the RCV from the technical data gathered during the test at Sepang last month.

The Repsol Honda factory team machines of Max Biaggi and Nicky Hayden, plus the Telefonica MoviStar liveried machine of Sete Gibernau featuring more advanced. electronic systems to those employed on the RCV's tested by the satellite team riders. With an ambient temperature of 35', high humidity and a track surface temperature over 50' (43' in January) that offered less grip than at the previous test held at the circuit the MotoGP riders faced a tough shakedown test day.

The Honda rider least affected by the energy sapping heat and poor track conditions proved to be Sete Gibernau who claimed the honour of fastest Honda man on the day. Spaniard Gibernau was immediately at home on his new mount and quickly found a base set up to work from. Once established he used the set up to test chassis and suspension settings before moving on to test new race rubber from tyre supplier Michelin. His best lap time of 2m 01.765s was half a second off his fastest time set in the January test.

Gibernau's new Telefonica MoviStar Honda teammate Marco Melandri shared Gibernau's impression of the 2005 RCV. The young Italian immediately felt comfortable on the new bike and despite the oppressive heat he soon found a good rhythm. Melandri worked from the set up he was happiest with at the last Sepang test, tried several alternative electronic adjustments before reeling off a series of consistently fast laps.

Repsol Honda factory riders Max Biaggi and Nicky Hayden had an eventful day. Biaggi slid off his RCV at turn 11 escaping injury. The RCV was not so lucky sustaining crash damage. Later in the day as he exited his pit box the Italian collided with teammate Nicky Hayden who was entering his pit. Both riders emerged from the incident unscathed Biaggi particularly happy not to hurt himself as he is now close to full fitness following his winter recuperation from a broken ankle sustained in November.

Biaggi treated his day as a shakedown test trying various small adjustments to the rolling chassis in a bid to find the optimum base setting to suit his style. He was not looking for a fast lap ending the day 8/10ths of a second off his best time set during the January tests.

Hayden worked in the same direction as his teammate before concentrating his attention on the suspension of his RC211V in preparation for chassis testing tomorrow. The former American Superbike Champion put in a marathon 87 laps the track temperature so high he could not get within one-second of his best time at the last Sepang test.

Camel Honda teamsters Alex Barros and Troy Bayliss emerged from day one of the three-day test in very different moods. Brazilian Barros used his vast experience of the RCV to continue where he left off in January and despite the poor conditions out on track was quick to find a good base set up to work from. He spent his day working on the front forks in combination with new front tyres from Michelin.

By contrast teammate Bayliss admitted he was disappointed with his days work and ended the first day of three one and a half seconds slower than he had been at the January tests. The Australian, a former World Superbike Champion, was unable to find his rhythm and a late afternoon crash did not help matters. Bayliss has an optimistic view of life and is confident his chief mechanic, Santo Mulero, will find solutions to his difficulties with the base set up of the RC211V.

Japanese star Makoto Tamada arrived at Sepang suffering from a bout of flu but still managed to put his Konica Minolta Honda RC211V through a grueling 60-lap stint. Working from data gleaned at the last test and changes to the electronics Tamada slowly lowered his lap time on the poor surface. The popular Japanese rider ended the day in positive mood with a lap time half a second faster than on his previous visit.

Day 2 Sepang MotoGP Test - Rossi and Capirossi out with the Flu, Biaggi Quickest
Saturday Feb 12th - Valentino Rossi, who turns twenty-six next week, was unwell and unable to ride. Rossi felt progressively worse throughout the first day of testing but the Italian had hoped to be recovered enough to ride today. Unfortunately this was not the case and he was forced to spend the day resting in the hotel in the hope that he will be well enough to resume his testing program tomorrow. Rossi was not the only rider to be suffering today; Fortuna Yamaha rider Ruben Xaus was watching from the pit wall, sidelined by minor injuries picked up at the last test, and Loris Capirossi (Ducati) was also sick and headed back to his hotel after just ten laps left him feeling too ill to continue.

Testing included the MotoGP teams from Honda, Ducati, Suzuki and Kawasaki, as well as the Fortuna Yamaha Team. Honda rider Max Biaggi recovered from two crashes yesterday to post the fastest time of the day in 2'01.501, while the next three positions were filled by his fellow Honda riders Sete Gibernau (2'01.686), Nicky Hayden (2'01.717) and Alex Barros (2'01.786).

Max Biaggi - Repsol Honda: 2m 01.50s - 62 laps.
"The fast lap time didn't really matter yesterday and it doesn't matter too much today but it's still good to record the fastest lap of the day – for everyone in the team, from the last technician to the first engineer. But we are still at the beginning of a long path and we still have a lot of new parts to try so the hard work will continue tomorrow. I didn't even try new tyres today - the track is very slippy because of the high temperature and humidity but tomorrow we will try the new tyres from Michelin."

Day 3 Sepang MotoGP Test - Tamada tops times as Honda RC211V takes top three spots
The 2005 Honda RC211V claimed the top three fastest times on the final day of the three-day MotoGP test at the 5.548km Sepang circuit, Malaysia today. The new grand prix machine has steadily improved performance over the three-days with extensive work on chassis, suspension and the electronics while working closely with tyre supplier Michelin. HRC Engineers and the team technicians emerge from the test in optimistic fame of mind as they prepare for the next three-day test, at Phillip Island, Australia on February 17-19.

Fastest man of the day, and for the three-days, was Konica Minolta Honda rider Makoto Tamada. Japanese star Tamada arrived at Sepang suffering from a bout of flu but the Japanese star had recovered well enough to put in a fast lap at 2m 00.955s at the end of the final day while testing Michelin qualifying tyres.

Repsol Honda factory rider Max Biaggi has settled in well with his all new team and his best lap time was just 2/100ths of a second slower than Tamada's best. The Italian achieved all the objectives crew chief Erv Kanemoto had set for the new team and now moves on to further testing at Phillip Island in confident mood.
Biaggi's teammate, American Nicky Hayden, expected more of his day following his good day yesterday but he could not find a good rhythm early on but rallied as the day went on to find the speed and consistency he will need when the championship opens in April.

Loris Capirossi returned in the morning and immediately set a respectable time of 2m01.452s in his 42 laps. The Italian was also out on the track in the afternoon but was forced to call it a day as he continued to feel the effects of flu. "It was a pity I was unable to get the most out of these days here at Sepang, but I wasn't really feeling well at all" declared Capirossi. "However I'm pretty pleased with what we managed to do, I like the bike a lot and I can immediately set a good pace. Hopefully I'll be in top form at Phillip Island".

Team SUZUKI MotoGP put the Suzuki GSV-R race bike through many gruelling tests at the hot and humid Malaysian circuit. All aspects of theie new bike were scrutinised to give the technicians and riders more valuable data about the GSV-R's performance and handling capabilities. New engine mapping and control systems were tested along with the latest front and rear tyre compounds from Bridgestone.

Kenny Roberts Jr and John Hopkins were both positive about the progress made since visiting the circuit last month. Roberts Jr lapped the 5.5km track in a time of 2min02.07secs on race tyres, which is over a second inside the current lap record, held by World Champion Valentino Rossi.

Roberts Jr said: "The guys are working really hard to get the GSV-R at the top of its game. The bike has a lot of potential and it's certainly capable of a good lap time, the target now is to make it capable of those lap times over a race distance. The good news is that Suzuki knows exactly what it has to do to achieve just that."

Hopkins clocked a time of 2min02.19secs -over 2.5 seconds quicker than his race lap time at Sepang last year. Equally as pleased with his performance as Roberts Jr
Day 1 Unofficial Lap Times:
1. Sete Gibernau (Honda) 2'01.76
2. Alex Barros (Honda) 2'02.12
3. Makoto Tamada (Honda) 2'02.41
4. Loris Capirossi (Ducati) 2'02.47
5. VValentino Rossi (Yamaha) 2'02.53
6. Carlos Checa (Ducati) 2'02.56
9. Colin Edwards (Yamaha) 2'02.98
Day 2 Unofficial Lap Times:
1. Max Biaggi (Honda) 2'01.501
2. Sete Gibernau (Honda) 2'01.686
3. Nicky Hayden (Honda) 2'01.717
4. Alex Barros (Honda) 2'01.786
5, Carlos Checa (Ducati) 2'01.891s.
8. Colin Edwards(Yamaha) 2'02.378
Day 3 Unofficial Lap Times:
1. Makoto Tamada (Honda) 2'00.955
2. Max Biaggi (Honda) 2'01.015
3. Alex Barros (Honda) 2'01.159
4. Valentino Rossi (Yamaha) 2'01.275
5. Loris Capirossi (Ducati) 2'01.452
6. Kenny Roberts (Suzuki) 2'02.07
7. John Hopkins (Suzuki) 2'02.019
9. Colin Edwatds(Yamaha) 2'02.641
---

SBK Fast Dates World Superbike girl Rockin' Robin Cunningham heats up Pit Lane aboard Chris Vermeulen's Ten Kate Honda CBR1000RR. We show and tell you how you can modify your own CBR1000RR to Ten Kate World Superbike, and Al Ludington's Miguel Duhamel AMA Superbike specs exclusively in Paddock Garage.


2005 Corona Extra Superbike World Championship

Rain Dampens SBK Pre Season Testing in Spain
Valencia (Spain), February 7- 8th: The Ducati Xerox Team, which was presented to the international press at the Ducati factory in Bologna last Thursday, saw its 2005 World Superbike campaign get off to a wet start on the first day of a two-day testing session in Valencia, Spain.

Rain fell most of the morning at the Ricardo Tormo Circuit and the cold and wet conditions prevented James Toseland and Régis Laconi from putting in much track time on their Ducati 999 F05 factory machines as they start the countdown to the new season, which gets underway in three weeks time in Qatar.

Laconi (45 laps) was the quickest rider throughout the day with a time of 1m41.3s while Toseland (40 laps) recorded a 1m43.6s, but today's times are not significant due to the poor weather and track conditions.
2004 champion Toseland was slightly disappointed with today's testing: "We haven't done many full laps and it's been a disappointing day because I was looking forward to this last test before going to Qatar", he declared.

"We haven't been able to do much all day, the track dried up a bit but it was intermediates to slicks and we didn't get a good run at it today. I feel ready and the bike's ready but we've still got to test everything. It's just a case of having more time to do some more laps", concluded Toseland.

Ducati Xerox team-mate Laconi was of the same opinion, the Frenchman commenting: "Today it was really hard out there, the cold and the wet didn't allow us to conclude much. Towards the end of the day we fitted a 'slick' on the rear but the track still had patches of damp all around and it was impossible to push hard. Let's hope things will improve tomorrow to enable us to leave for Qatar with a better idea of where we are" he added.

On Tuesday, testing was cut short early in the afternoon as rain continued to lash the Ricardo Tormo circuit in Valencia, forcing riders and engineers to pack up early. Cold and wet throughout the scheduled two-day test meant that very little dry-weather track time was completed, but James Toseland and Régis Laconi were both quick in these conditions and declared they were satisfied with the set-up and the handling of the Ducati 999 F05 on the wet track.

Toseland was slightly quicker than his French team-mate today, the 24 year-old from Sheffield recording a time of 1m52.3s in his 18 laps. "It was a pity about the weather conditions because I really wanted to come here and put in some endurance lapping on the bike to sort everything out" declared the reigning world champion, "but it's not a problem and we're in a good position as we go to Qatar for two more days of testing".

"The 999 F05 is ready, we've just got to get rid of the teething problems you usually have with a new bike. There are a lot of new parts and we've got to test everything. Everything is looking good, it's just a case of having more time to do more laps", added Toseland.

Laconi, just a couple of tenths of a second slower in his 23 laps, was upbeat about his and his bike's performance despite crashing late in the morning. "Today was OK in these conditions", declared Régis. "We were running full wets because it was raining a lot out on the track but we worked very well to improve the 999's handling and set-up in these conditions. The track was very slippery and I lost the rear on the entry to the final right-hander and had a small crash but there is no problem".

"I am happy about what we found this morning and it feels so great to work with my engineers in the team again. We've still got a few things to do but I can't wait for the season to start", he concluded.

Former MotoGP star Norik Abe Tests with Yamaha France on the R1
New Yamaha Motor France rider Norick Abe may have hoped for better weather for his two-day test on his Yamaha YZF-R1 but the Circuit Ricardo Tormo track surface remained wet for both days of his acclimatisation test, hampering his preparations for his rookie season in the Superbike World Championship.
A veteran of the MotoGP field, and a three-time MotoGP race winner for Yamaha, rode the 2005 R1 at Valencia, in what proved to be treacherous conditions.

Despite the inclement weather on day one Abe completed 41 laps, setting a best time of 1'46.15 as he got to ride on a track, if not a machine, he knows well. The torrential rain which heralded the second morning of testing looked as if it might wipe out the entire day but Abe carried on to set 29 laps, although conditions did not enable him to improve on his first day time.

The Yamaha Motor France team could not complete all the tests they had planned; such was the condition of the circuit throughout. One more two-day test at the Losail circuit in Qatar, the venue for the first of 12 world superbike rounds in 2005, separates the entire paddock from the first race. With Abe having raced there in MotoGP last season, he is well acquainted with the circuit's nuances; an advantage he will draw on as testing begins on February 19. Abe's track knowledge will also be of great assistance to his team-mate Sebastien Gimbert, who had already planned to sit out the Valencia test. The two-leg race itself breaks world superbike's tradition of Sunday racing by being held on a Saturday, February 26.

"Today was the same as yesterday. Both days were not like a real test because we could not make the performance better, just because of the weather. Maybe in Qatar, in the two-day test, we can try many different settings on the bike, which even in this bad weather feels strong. I was not sure how the R1 racebike would be. I thought that it would maybe have a softer chassis than I'm used to, and much less power, but I was surprised. Even though we were limited by a wet track, the bike felt stiff and the power was not so bad. Still less than a MotoGP bike, but not by as much as I expected. The whole bike feels good; it feels like a racebike. I think it will be the first time in Qatar for most of the other riders, but it will be the first time racing the R1 for me. So it will be a bit of a balancing act."

The Yamaha Motor Italia squad with Noriyuki Haga elected to miss the test due to the inclement weather.
Norick Abe (Yamaha Motor France)

The World Superbike teams now heads to Qatar for the final two days of pre-season testing on February 18-19 in preparation for the opening round of the 2005 championship at the Losail circuit in the Arabian peninsula state on February 26th.
Our Favorite Girls That Kick Ass

Kristen Bell as Veronica Mars

A Modern Day Nancy Drew
heats up UPN Television, Tuesdays 9/8C
In the wealthy, seaside community of Neptune, the rich and powerful make the rules, they own the town and the high school, and desperately try to keep their dirty little secrets just that…secret. Unfortunately for them, there's Veronica Mars, a smart, fearless 17-year-old apprentice private investigator dedicated to solving the town's toughest mysteries.

Veronica (Kristen Bell) actually used to be one of the popular girls, walking the halls of Neptune High with the rest of the "beautiful people." But it all came crumbling down around her after her best friend Lilly was murdered and her then-Sheriff father Keith Mars (Enrico Colantoni) was removed from office for naming Lilly's billionaire father, Jake Kane, as the lead suspect.

During the day, Veronica must negotiate high school like any average teenage girl. At night, Veronica helps with her father's struggling, new private investigator business, sneaking through back alleys and scoping out no-tell motels with a telescopic-lens camera and her math book in an attempt to uncover the California beach town's darkest secrets.

More Kristen Bell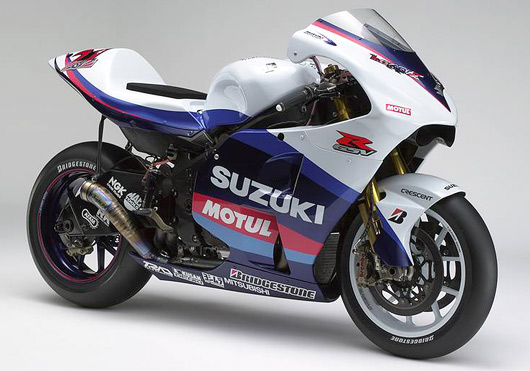 Team Suzuki MotoGP unveils new look GSV-R
Team Suzuki MotoGP unveiled a striking new paint-scheme for its 2005 version of the Suzuki GSV-R at Bridgestone's New Year Reception in Tokyo today. The launch was held in partnership with Bridgestone to showcase the Japanese tyre-manufacturer's motor-sport plans for 2005. Team SUZUKI MotoGP is committed to Bridgestone as a long-term technical partner and was honoured to launch its new cutting edge design at the reception.
The new GSV-R livery is designed to reflect the excitement, determination and passion that Suzuki is investing into its flagship race bike and team. The GSV-R showcases all of Suzuki's corporate racing colours in the design with a strong emphasis on white to make sure that it stands out from the crowd. The inspiration for the design has come from Suzuki's historical racing heritage with a bloodline that can be traced to the World Championship winning RGV of Kevin Schwantz in 1993. The fresh-faced GSV-R will make its racing debut at the opening round of the MotoGP World Championship at Jerez in Spain on April 10th, where Factory riders Kenny Roberts Jr and John Hopkins will be going for glory.

"This is an important step forward for Suzuki Motor Corporation and especially the MotoGP team, " said Paul Denning-Team Manager. "We are competing both to win and to promote Suzuki's global image, and the GSV-R now has the design and aggressive styling the firm's performance pedigree demands. It looks fantastic, in my opinion, and I am proud to be associated with such a great looking motorcycle.
"It is also very significant that the new design was revealed at Bridgestone's headquarters in Japan. This openly demonstrates the close links between Bridgestone and Suzuki and our determination to work together successfully in MotoGP."
---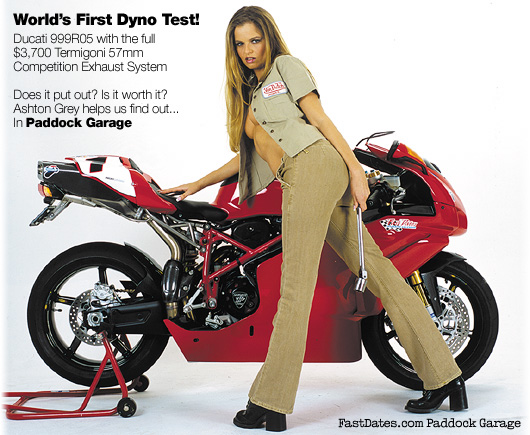 Another FastDates.com World exclusive!
First Dyno Test of the hot new Ducati 999R05 Superbike
with the $3,700.00 Termignoni Full Race Exhaust System
Is this now the world's fasterst, most powerful production Superbike? For all that money she cost, she better put out! We spend our hard earned bucks before you have to. Find out 4 months before the print rags kiss butt to score a free system from Ducati and then still won't tell you the truth if it doesn't put out.
We strap the 999R05 to the Evoluzione Cyclesport Factory Pro Tuning dyno a make it scream for more! Includes sexy screensavers of Penthouse centerfold Ashton Grey tightening the screws on Bologna's hottest number.
Now in FastDates.com Paddock Garage
Fast Dates Calendar Motorcycle Roadracing News. Complete coverage of the SBK World Superbike, AMA National Superbike and MotoGP World Championship. Fast Dates Calendar and Umbrella Girsl. Max Biaggi, Valentino Rossi, Ben and Eric Bostom, James Toseland, Regis Laconi, Loris Capirossi, Troy Bayliss, Troy Corser, Noriyuki Haga. Ducati 999 Monter Multistrada, Yamaha R6 R1, Honda CBR600RR CBR1000RR, Kawasaki ZX6 ZX6RR ZX10, Suzuki GSXR600 GSXR750 GSXR1000, Aprilia Mille, MZ Agusta F4 Brutale