FastDates.com February 2005
BEST VIEWED with Browser Preferences/Fonts settings on 12 pt Size or Smaller
Superbike, MotoGP Racing & Calendar Girl News
Official Calendar of the SBK World Superbike Championship
Home of the official SBK Fast Dates & Team Ducati Corse Umbrella Girls

SBK Fast Dates World Superbike girl Rockin' Robin Cunningham heats up Pit Lane aboard Chris Vermeulen's Ten Kate Honda CBR1000RR.
Honda CBR1000RR Race Preparation
We show and tell you how you can modify your own CBR1000RR to Ten Kate World Superbike, and Al Ludington's Miguel Duhamel AMA Superbike specs exclusively in Paddock Garage.
---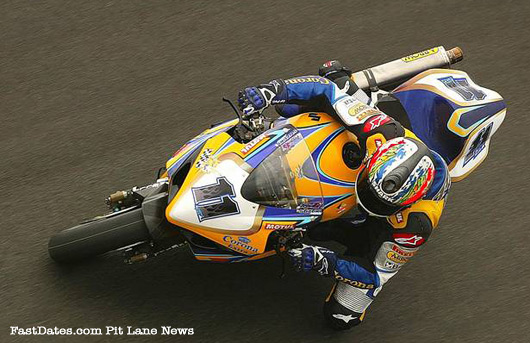 Yukio Kagayama at speed on the new generation GSXR1000. The Alstare Corona team is a full privateer team with no factory Suzuki support in Superbike. Corona is now the first major corporation to fully sponsor the World Superbike Championship.

2005 Corona Extra Superbike World Championship

Team Corona Suzuki Tops the Time Sheets as the World Superbike Kicks Off
SBK World Superbike Final Pre-Season Tests at Qatar

LOSAIL CIRCUIT, QATAR 19-20 FEB. 2005 The last day of testing before the World Superbike Championship kicks off at Losail in Qatar provided better track conditions for all 29 Superbike riders, and most made good use of their opportunities to set much improved lap times overall. The Suzuki pairing of SBK rookie Yukio Kagayama and his Alstare Corona Extra team-mate Troy Corser (suffering from the flu somewhat) went 1-2 in the timing sheets overall, with Kagayama setting an excellent best of 2'01.480 on his GSX-R1000, posted late in the final session.

(Editor's note: The SBK round at the Quatar track gives us a rare chance to compare World Superbike to MotoGP times. Last October at the Qatar MotoGP, Carlos Checa, SPA (Yamaha) set the track Qualifying record on Friday at 1'58.988 - a full 2.5 seconds quicker than Kagayama's SBK Testing time. Colin Edwards turned the quickest race lap at 1'59.23 secs. Such is the difference 100 less pounds and 40 more horsepower makes).
Team Corona Suzuki with the new model GSXR1000 was quickest at Qatar with Yukio Kagayama (left) and teammate Troy Corser. They look set to clinch the opening round this coming weekend.

Close Competition: With so many bikes gathering on the Superbike grid come the start of practice on Thursday 24th February, a good morale-boosting performance was a keen desire for all comers. With the top two Suzukis not just fast but consistently fast, the figure of Jose Luis Cardoso (Yamaha DFX Extreme) proved the closest challenger, going third quickest, with a 2'01.797 lap.

Reigning Champs: The factory Xerox Ducati 999F05 of Regis Laconi recovered from some early setbacks to post fourth best time. World Champion James Toseland experienced a fast highside crash at turn 13 his Xerox Ducati, causing his team some concern, until a visit to the medical centre proved him cleared of any fractures. He was seen later walking around pitlane at close of play, ready to make a quick recovery for the first rounds of his title defence, having dropped to tenth fastest.
Almost There: Sebastien Gimbert (Yamaha Motor France) secured a magnificent fifth place, having led the ranking with only minutes of the final 2 hours and 20 minute session remaining. Gimbert is a full time SBK rookie, but a veteran of some excellent performances at Brands Hatch and Magny Cours last year. On a good day for riders new to the championship, wildcard Spaniard Ivan Silva Albertola (La Glisse Yamaha) went sixth fastest, another SBK star in the making.
Top Kawasaki: Chris Walker (PSG-1 Kawasaki ZX-10) ran out a promising seventh, no mean feat in what is proving to be a closely contested series for all riders. He was within one second of Kagayama's leading time, with a 2'02.442. To underline the fact that the Qatar race and the 2005 Superbike series in general will be an unpredictable affair, Marco Borciani (DFX Yamaha) made a big jump from 25th on day one to eighth on day two, one place ahead of Noriyuki Haga (Yamaha Motor Italia) and two up on the luckless Toseland. Two more big names, Norick Abe (Yamaha Motor France) and Andrew Pitt (Yamaha Motor Italia) found the pace tough and had to settle for 11th and 12th respectively. Lorenzo Lanzi (Scuderia Caracchi Ducati) fought hard for his 13th place in the run-up to his rookie SBK race.
Honda Riders Struggle: A flu virus, rampant in the pit garages at Losail, claimed the best efforts of Karl Muggeridge (Winston Ten Kate Honda) and his team-mate Chris Vermeulen. With their heavily modified bikes unable to show their best due to their riders' illness, Pierfrancesco Chili (Klaffi Honda) took his hastily prepared machine, without a full race spec as yet, to 14th, the top Honda slot over the two days. Vermeulen was 15th, Muggeridge 17th, after posting a very small lap count. Ben Bostrom (Renegade Honda Koji) ended 23rd overall.
Fonsi Drops Down: Fonsi Nieto (Scuderia Ducati 999RS) slipped down the order after a bright showing on day one, ending his two days in 20th place. Rookie of the year max Neukirchner, on a roadbike engined Klaffi Honda, was 21st overall, happy with his induction into the bigger class.
Tough Time For Aussie Pair: Foggy Petronas FP-1 three-cylinder riders Steve Martin and Garry McCoy had torrid times against the more powerful 1000cc machines, taking their 900cc machines to only 24th and 27th places.

WORLD SUPERSPORT
Winston Ten Kate Honda rider Sebastien Charpentier set his fastest time of the test in the first session on Sunday morning, and it proved the fastest one of all, at 2'04.259. His countryman, and 2002 World Champion Fabien Foret (Team Megabike), scored a second place overall, improving his best to a 2'05.083. Top Yamaha runner was the officially supported Aussie Kevin Curtain (Yamaha Motor Germany) despite him falling and twisting his knee on the previous day. Michel Fabrizio (Team Italia Megabike Honda) slotted in fourth, putting his Team Megabike machine on what would be a front row grid position in normal qualifying. Top Ducati man was tireless charger Gianluca Nannelli, who finished his two days on an SC Caracchi Ducati sixth. Young Spaniard Javier Fores scored a top ten time riding an Alstare Corona Extra Suzuki.
Our Favorite Girls That Kick Ass

Kristen Bell as Veronica Mars

A Modern Day Nancy Drew
heats up UPN Television, Tuesdays 9/8C
In the wealthy, seaside community of Neptune, the rich and powerful make the rules, they own the town and the high school, and desperately try to keep their dirty little secrets just that…secret. Unfortunately for them, there's Veronica Mars, a smart, fearless 17-year-old apprentice private investigator dedicated to solving the town's toughest mysteries.

Veronica (Kristen Bell) actually used to be one of the popular girls, walking the halls of Neptune High with the rest of the "beautiful people." But it all came crumbling down around her after her best friend Lilly was murdered and her then-Sheriff father Keith Mars (Enrico Colantoni) was removed from office for naming Lilly's billionaire father, Jake Kane, as the lead suspect.

During the day, Veronica must negotiate high school like any average teenage girl. At night, Veronica helps with her father's struggling, new private investigator business, sneaking through back alleys and scoping out no-tell motels with a telescopic-lens camera and her math book in an attempt to uncover the California beach town's darkest secrets.

More Kristen Bell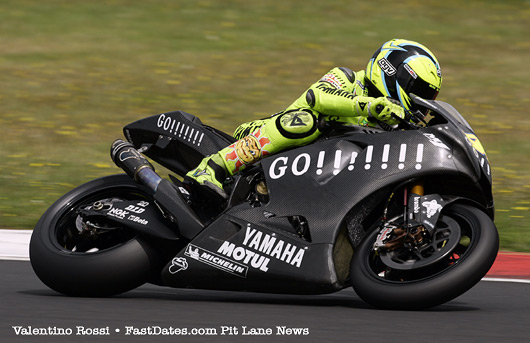 MotoGP Team Tests Phillip Island

Yamaha, Honda, Ducati and Suzuki all on pace with their new 2005 bikes
Rossi, Haden, Checa Quickest at Phillip Island MotoGP Tests
Phillip Island, Australia, Feb. 17- 19th - The curtain came down on the three-day MotoGP test at Phillip Island, Australia today with most of the top teams leaving for home in confident mood. Team technicians and engineers now head back to base to analyse the data gathered from the latest of 2 three-day tests, and for the riders to recharge their batteries after six grueling day's work over the last 10 days. All riders present from the Yamaha, Honda, Ducati and Suzuki MotoGP teams, except Sete Gibernau, took advantage of the last opportunity to test at the Australian circuit before they will race there in October. Nearly all lapped under Loris Capirossi's circuit lap record of 1'31.102, set last year. A few drops of rain fell at around midday on the last day, forcing the teams to take a short break, but the day's testing schedule was unaffected.
The Gauloises Yamaha Team closed another stage in its demanding winter test programme today in Phillip Island, Australia, with Valentino Rossi taking the unofficial fastest lap time of the three days. In slightly cooler conditions than the previous two days, the Italian rider recorded a best time of 1'29.68, faster than his own circuit best time of 1'30.068 set during the 2003 Phillip Island round. Rossi's new team-mate Colin Edwards also improved on his previous two days with an unofficial 1'30.23, quicker than his 2004 Australian Grand Prix official qualifying time of 1'30.625.

Valentino Rossi (1'29.68, 57 laps) - Quickest
"This morning we tried some different settings from yesterday and they worked better. We found more agility in the bike. Then we continued testing tyres for Michelin, which were good. The test has been quite positive and we have collected some useful information which we'll continue to work with when we return here soon."
Three Honda RC211V riders broke the 1m 30s barrier at Phillip Island. Repsol Honda factory team riderNicky Hayden was the fastest of the over the three-day with his best time of today at 1m 29.780s. The American put the 2005 version of the 5-cylinder 990cc RCV through an extensive 106-laps at one stage running a race simulation distance which was 28-seconds faster than his race time at the GP held last October.
Hayden's Repsol Honda teammate Max Biaggi worked even harder putting in 120-laps as he worked his way through a long programme of tyre testing for Michelin. At the end of the final day Biaggi was close to exhaustion but pronounced himself happy with the results of the three-day test and the performance of his new technical crew.
The Camel Honda team saw Alex Barros spend his last day testing the new front forks HRC brought to Phillip Island but at the end of the test had yet to find the optimum settings in combination with the range of front tyres he tried. Teammate Troy Bayliss left the track in more buoyant mood than following his three-day test at Sepang last week. The Australian, a former World Superbike Champion, has steadily improved on each of the three-days and his eager to et to the next MotoGP test, at the Losail circuit in Qatar on March 1-3, to continue the progress made at Phillip Island.
Sete Gibernau (Telefonica MoviStar Honda:) had completed his test programme yesterday and took no part in the action today. His teammate, Italian Marco Melandri, did test and set impressive lap time his fastest of the day on his 20th lap of the session. Melandri is in his first season with the RC211V and has steadily improved his consistency to the point where he feels able to go for fast single laps times when the teams get to Losail next month.
Konica Minolta rider Makoto Tamada was another who sat out the day's action. Tamada crashed heavily on Thursday and was sidelined with severe bruising to his left hand and left foot. The popular Japanese rider will be fit to test at Losail.Honda rider lap times and quotes.
Nicky Hayden, Repsol Honda: 1m 29.780s -2nd Quickest
"Today was the best day of the test for me, I got a good, long run in and recognised a bit more where we need to improve, both myself and the machine. I felt good and we made some positive steps forward and the race time I did was 28 seconds faster than my race time last year so we're pretty happy with that - but it's still not enough. We'll take away what we've learnt here and move on to Qatar. I tried both chassis options that we've got and we learned a lot about the differences but overall I just felt more consistent today and some of that's down to me getting into a rut yesterday. We're still a new team but the atmosphere's good and we're gelling really well."
Max Biaggi, Repsol Honda: 1m 29.880s - 120 laps - 4th Quickest
"I am tired today after so many laps but I wanted to give Michelin the information they needed from the tyres they asked me to test - but I was praying for the red light at the end of the pit lane to end the day's testing! At times today it was a little difficult as there were some spots of rain, which did little for your confidence, especially in the fast sweep into turn one. Overall we have had a good test and confirmed our feeling and direction with the machine set-up following last week's test in Sepang. We know the areas we need to improve on and we have three tests in March to achieve that."
Makoto Tanaka, Repsol Honda Team Manager:
"Overall we've had three good days here at Phillip Island. Max probably did too many laps today but it was good that he tried the tyres for Michelin Nicky had a good day today and discovered some areas of set-up which improved his performance. We know we still have a lot of work to do and will continue to work hard towards improving the machine in the next tests in Qatar and Spain."
The Ducati Marlboro Team successfully concluded its Australian testing program with both team riders among the top 5 quickest as the Ducati engineers and riders continued development work on the Desmosedici GP5 with the new Bridgestone tyres. Development work with the latest Bridgestone tyres is continuing and Carlos Checa and Loris Capirossi were able to use the Australian track for numerous tests with rear tyres, some new and others used previously, but all the while keeping the same set-up to concentrate exclusively on the different tyre reactions.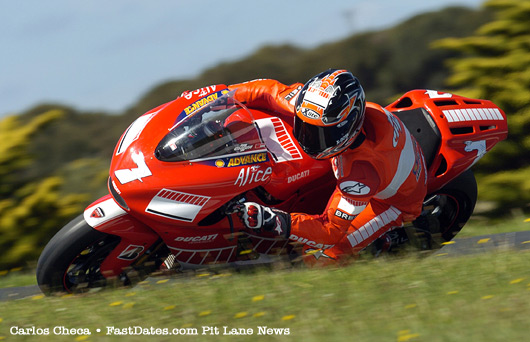 Carlos Checa, Team Marlboro Ducati:1m 29.86sec -3rd Quickest
Spanish rider Carlos Checa was in particularly good form today, ending the test with a best time of 1m29.86s over 88 laps. Satisfied with the three-day testing session in Australia, Carlos tried to put in the maximum number of laps on the most promising rear tyres.
"I am really happy with this testing session, with my team and with my bike" declared Carlos. "We found a good base set-up for the Desmosedici and some very interesting indications on which to work in the future. Now it's time for a short break and then we'll be back to work in Qatar".
Loris Capirossi, Team Marlboro Ducati: 1m 30.18sec - 5th Quickest
On the final day Loris Capirossi focussed on suspension set-up but also on mapping work for the powerful Desmosedici engine and at the end of the day was pleased with the bike's better 'driveability'. Loris ended the Phillip Island session with a quickest time of 1m30.18s after completing 59 laps..
"I'm generally pretty pleased with my pace, which was quite good for several successive laps at around 1m30s" said Capirossi. "We still have to do a bit more work over the longer distance, but I and my team are ready!".
Satisfaction about the Australian tests was also expressed by Ducati Marlboro Team technical director Corrado Cecchinelli, who commented: "Even though we lost a bit of time today due to a few drops of rain, we are very pleased with the way the test went: we did many consecutive laps in race set-up and gained a lot of information on how to evolve both the suspension set-up of the bike and the rear tyres. Even though we know that the weather conditions for the race will be a bit different, we gathered a lot of information which will be useful next October."
Phillip Island Unofficial Lap Times:
1. Valentino Rossi (Yamaha) 1'29.68 (57 laps)
2. Nicky Hayden (Honda) 1'29.78
3. Carlos Checa (Ducati) 1'29.86
4. Max Biaggi (Honda) 1.29.88
5. Loris Capirossi (Ducati) 1'30.18
6. Colin Edwards (Yamaha) 1'30.23 (52 laps)
7. Alex Barros (Honda) 1'30.55
8. John Hopkins (Suzuki) 1'30.86
9. Troy Bayliss (Honda) 1'30.90
10. Marco Melandri (Honda) 1'30.90
11. Kenny Roberts (Suzuki) 1'31.21
12. Ruben Xaus (Yamaha) 1'31.98
13. Toni Elias (Yamaha) 1'32.16
---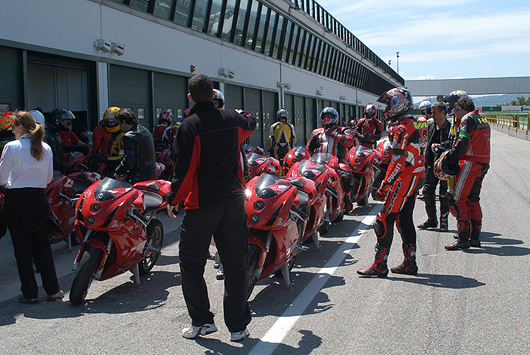 Ducati Riding Experience 2005 adds Master Racing Class
Bologna, Italy Feb 15th - For the fifth year in a row, Ducati in Italy will be organizing a series of riding courses aimed at those who would like to learn how to ride a motorcyle or improve their street or track skills.
The 2004 edition of Ducati Riding Experience saw a massive influx of attendees, both male and female, with a total of 1300 registrations (an increase of 27% over the previous year). Among those 38% were women with an average age of 32 and 62% were men with an average age of 35. Another interesting figure is that 10% of people registering in 2004 had also completed a course in 2003, while 9% enrolled for a second course (at a higher level) in the same year. We (FastDates.com editor Jim Gianatsis) attended the DRE Racing Course at Misano following the Monza World Superbike Race and had an incredible Italian motorcycle vacation. Our instructor at DRE was none other than former Superbike and GP racer Marco Luchinelli. Story Here.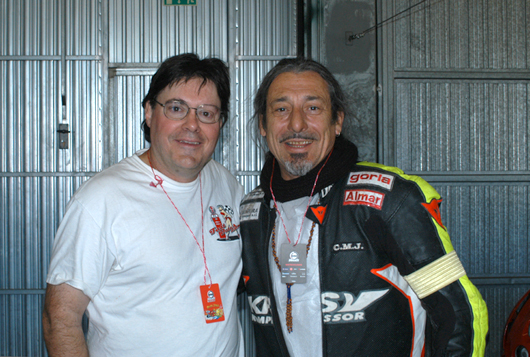 The editor attended the DRE Race School at the Misano GP circuit with instructor Marco Luchinelli.
The courses, which will take place from March until October, consist of a full day of riding sessions combined with classroom time. All the courses will take place in the prestigious "Enzo e Dino Ferrari" circuit of Imola.
The DRE school presents an impressive line-up of instructors including World, European and National champions and features five different classes for all skill levels. As a brand new feature for 2005, two extra courses have been introduced: the Men's Basic Course is aimed at men who are absolute beginners, have never ridden a bike and would like to become involved in motorcycling, while the Master Racing Course, is for expert riders who want to take part in racing (such as the new Ducati Desmo Challenge series) and wish to build upon their existing track skills.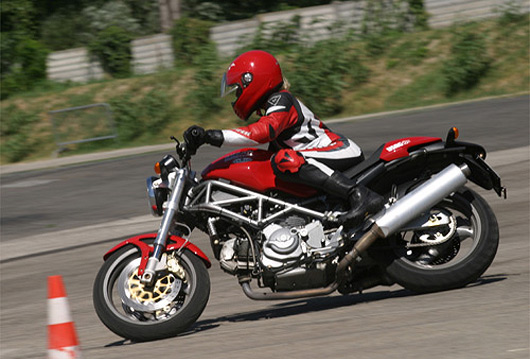 Uncensored inter racial action! The DRE Schools feature lots of Hot Chicks on Fast Ducs.

The following courses are available in 2005:
Women's Basic Riding Course
Aimed at women without riding experience who would like to get involved in the motorcycle world. The course will take place in the paddock using reduced power Monster 620 motorcycles. Price: 216 Euro, taxes included.
Men's Basic Riding Course
New for 2005! Aimed at men without riding experience who would like to get involved in the motorcycle world. The course will take place in the paddock using Multistrada 620 motorcycles. Price: 216 Euro, taxes included.
Intermediate Riding Course
This course is aimed at men and women who already have some riding experience but want to improve their skills. The course covers common road situations and tips on how to tackle them using specific riding techniques. The exercises are designed to help riders maintain better control of their bikes and avoid potentially dangerous everyday situations through better technique. After a practice phase in the paddock, students will be able to try out their new skills on the track.
Monster S2R and Multistrada 1000 motorcycles will be used for this course. Price: 280 Euro taxes included.
Racing Course
Aimed at expert motorcyclists (men and women) who have the desire to increase their knowledge of riding technique on the track. 999 Superbikes will be used for this course and students will be divided into groups based on experience (declared by rider).
Price: 750 Euro, taxes included.
Master Racing Course
New for 2005! This year's new master course is aimed at riders who wish to participate in competitive races on the track such as the "Ducati Desmo Challenge". 2005 spec 999 Superbikes will be used and, in order to ensure the best possible learning environment, student groups will not exceed three per instructor. Lessons will focus on improving circuit riding techniques and maximising each rider's overall performance. Price: 999 Euro, taxes included.
The cost of the course includes: the use of motorcycle, lunch and the open cafè area, welcome kit, the presence of a photographer and special rates at nearby hotels. It does not includes any type of insurance.
This year's edition of the DRE also introduces an opportunity to rent riding gear (leathers, helmets, gloves, boots) at the time of registration on www.ducati.com

2005 Schedule:
* March 24 * April 14 * April 29 * April 30 * May 10 * June 30 * July 7 * September 6
* September 23 * October 20
REGISTRATION AND INFORMATION The registration will be done exclusively through our website, www.ducati.com from the end of February. Payment can be made by credit card or bank transfer.
Those who participated in DRE 2003, participants who attend more than one course at the DRE 2005 and Official Ducati Club Members will be offered a special price on the purchase of the 2005 DRE courses. The reduced price will be calculated upon registration with www.ducati.com
For more information please visit the www.ducati.com website or send an email to dre@ducati.com.
---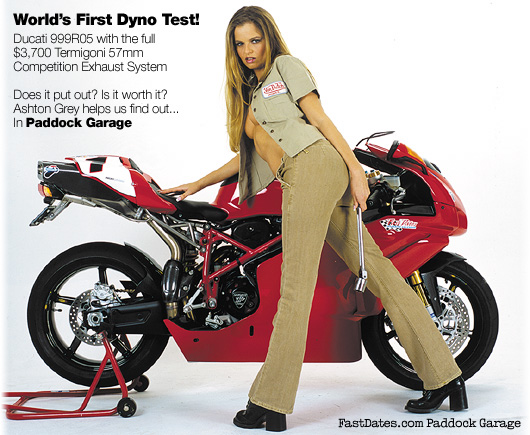 Another FastDates.com World exclusive!
First Dyno Test of the hot new Ducati 999R05 Superbike
with the $3,700.00 Termignoni Full Race Exhaust System
Is this now the world's fasterst, most powerful production Superbike? For all that money she cost, she better put out! We spend our hard earned bucks before you have to. Find out 4 months before the print rags kiss butt to score a free system from Ducati and then still won't tell you the truth if it doesn't put out.
We strap the 999R05 to the Evoluzione Cyclesport Factory Pro Tuning dyno a make it scream for more! Includes sexy screensavers of Penthouse centerfold Ashton Grey tightening the screws on Bologna's hottest number.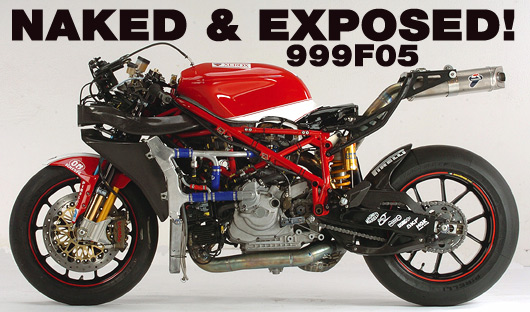 We strip it down to fully reveal Team Ducati Corse's latest 999F05 World Superbike weapon for the 2005 season. But it doesn't stop there. We get even more explicit with exclusive 1224 wide Screensavers in both nude and scantily clothed PG-rated versions for your down loading pleasure. If this doesn't get you off, you're really wacked and nothing will.
Now in FastDates.com Paddock Garage
Fast Dates Calendar Motorcycle Roadracing News. Complete coverage of the SBK World Superbike, AMA National Superbike and MotoGP World Championship. Fast Dates Calendar and Umbrella Girsl. Max Biaggi, Valentino Rossi, Ben and Eric Bostom, James Toseland, Regis Laconi, Loris Capirossi, Troy Bayliss, Troy Corser, Noriyuki Haga. Ducati 999 Monter Multistrada, Yamaha R6 R1, Honda CBR600RR CBR1000RR, Kawasaki ZX6 ZX6RR ZX10, Suzuki GSXR600 GSXR750 GSXR1000, Aprilia Mille, MZ Agusta F4 Brutale