2006 FastDates.com Calendars World Premiers!
Here On Line July 1st!
And Live with the Angels,,,
LA Bike Show July 16-17th
Brands Hatch SBK Aug 7th
Exclusive Early Preview!
Get a full look NOW of all the 2006 Calendar photos in the Members Corner Calendar Gallery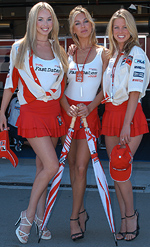 World Superbike Girls!
Our official SBK Fast Dates World Superbike girls are featured in
Member's Corner!
Includes FREE Access with to
Paddock Garage
---
Pierre Treblanche
Leaves Ducati
Bologna, Italy, June 1st - Pierre Treblanche, director of motorcycle design for Ducati in Italy, has reportedly left the company this past week after Ducati management declined to renew his normally reoccuring 2-year contract.

It was Treblanch who took over and spearheaded the design department at Ducati in the mid 1990's after legendary designer Massimo Tamburini left the company. It was Tamburini who designed the landmark Ducati 916 Superbike, the most successful and argueably the most attractive sportbike design ever. Treblanche left some big shoes to fill, and now works with MV Agusta where he designed the even more beautiful MV F 4.

Unlike his predecessor, Treblanche's bike designs have always been somewhat less inspiring and controversal. The most noteable being the ME900 Hailwood Replica, the current 999 Superbike models and the Multistrada. And while Treblanche's designs have never been called beautiful, both the current 999R Superbike and Multistrada S have been named by many publications including FastDates.com and Cycle world as Bike of the Year for being the best bikes on the market or in their respective categories.

Due to be released this fall is the much anticipated line of Ducati Sport Classics, a line of attractive 3 retro bikes which Treblanche, who has a passion for classic bikes, also created.

Criticism was that Treblance wasn't a leading edge designer and Ducati's bike sales may have suffered because of it. But then again, not as many bikes have earned the long term sales success and enthusiastic fan base that Ducati has achieved. Particular withDucati's design department being kept under tight budget restraints to the benefit of huge racing program and an industry leading marketing department.

There is no immediate word on where Treblance may end up working. Susposedly he has a 2 year non compete clause in his contract which will prevent him from designing any where for that period.

David Checa to race at Mugello with Fortuna Yamaha
Mugello, Italy, 31/5/2005 - Reigning World Endurance Champion David Checa will compete in the Italian Grand Prix next weekend with the Fortuna Yamaha Team. The Spanish rider will replace Toni Elías, who is still recovering from an injury sustained during a day of tests following the French Grand Prix at Le Mans.

Elías underwent an operation in Barcelona after fracturing the radius and scaphoid of his left wrist and rupturing the ligaments that link the triquetral bone and the radius. The rider also fractured the outside of his left fibula and his leg was put in a cast. According to Doctor Xavier Mir from the Instituto Dexeus in Barcelona, who has been responsible for the treatment issued to Elías, the Fortuna Yamaha rider requires a five-week recovery period from the time of the crash, assuming the injuries recover in a favorable manner.

Elias' misfortune gives Checa the opportunity to make his debut in MotoGP, the world's premier motorcycle racing series, with a factory he already knows well. This season Checa and Yamaha already enjoyed a spectacular victory at the 24 Hours race at Le Mans.

Checa, 25, competed in the 250cc World Championship from 2000 until 2002, firstly with Honda and then later with Aprilia, taking a best ever finish of sixth place in his final appearance at the 2002 Valencian Grand Prix. The rider from Sant Fruitós de Bages (Barcelona, Spain) has been racing since 1996 and regularly competes in four-stroke categories such as the World Endurance, Supersport and Superbike championships.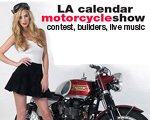 The Biggest Streetbike Show in America!
July 16-17th 2005
$70,000 in Awards!
• World Record Jardine Dyno
• 2-Wheel Tuner Sportbike Class
MotoCreations.com Ducati Class
• AMD World Championship of Bike Building Qualifying Round
Exhibitor Information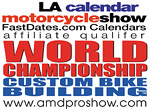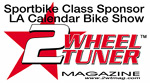 DJ Samantha Lee and Ballentine appearing at
LA Calendar Bike Show
Long Beach , July 16-17th - Beautiful DJ Samantha Lee (Samanthalee.com) has just been confirmed to spin her original tunes both days in the exciting new Metric Midway at this July's LA Calendar Motorcycle Show. The Metric Midway features our exclusive, Jardine West Coast Horsepower Dyno Shootout, the new Motocreations.com Ducati bike display, and the 2Wheel Tuner magazine Sportbike Contest.
Stop by Sammys website to preview her tunes which will rock the Midway all weekend between blasts of the Jardine Dyno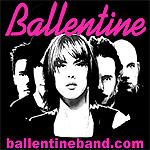 Plus, just one of the incredible bands performing on stage throughout the weekend at the other end of the Queen Mary Park is Ballentine, an LA based pop/punk/rock band, began by touring internationally with the USO. Shortly after, they signed an "In-Theater" documentary deal with MovieTunes, which led to having numerous songs from their album, "4U" played in over 20,000 AMC/Carmike Theaters nationwide. Heather (lead vocals) and Frank (bass/vocals) starred on ABC's nationally televised summer reality show, "The Ultimate Love Test" which exposed Ballentine's music to millions of viewers.
Most recently, Ballentine signed a recording contract and national distribution deal with OME (Original Man Entertainment) and Lightyear / WEA (Warner/Electra/Atlantic).
Their album "4U" is now available in stores nationwide. Ballentine's approach to music effortlessly blends Pop-Punk and Rock & Roll, creating their signature Rock/Pop-Punk fusion.
Get the Ballentine 4U CD!

DUCATI NORTH AMERICA'S GROWTH LEADS TO RESTRUCTURE OF MARKETING DEPARTMENT
With sales in North America up 18% YTD, Ducati strengthens marketing efforts.
Cupertino, CA – June 2nd, 2005 – Ducati North America's marketing department is undergoing changes as a result of the increased success of the brand in North America. Year-to-date sales are up 18% and Ducati will take advantage of this position to restructure the marketing department to continue the momentum into 2006.

Dan Carson joins the Marketing department as Event Manager. He has been a contractor for Ducati the past 8 years. Carson possesses a wealth of experience and first-hand knowledge of all Ducati's major events.

Vincent Chiaro will have a revised role with the addition of Dan Carson as Event Manager. Chiaro will now focus on press fleet activities, press relations, as well as website and press release content in his job of PR Coordinator.

Sian Goad is new to Ducati in the Marketing Coordinator role. Most recently, Sian served for two years as Vice President of Marketing for a motorcycle luggage and apparel company. Her responsibilities include co-op advertising, dealer marketing support and advertising coordination.

Director of Marketing, John Porter, will be leaving the company at the end of June. He made significant progress in the turn-around of Ducati North America after the move from New Jersey to California. Ducati CEO, Michael Lock, will act as both CEO and Director of Marketing during this interim period. Lock has vast experience in marketing from his years as Marketing Director for Triumph in Europe and as a Marketing Manager with Honda Europe where he was responsible for four European countries. His expertise will be vital to overall strategy of Ducati marketing in North America.

Coordinating all the efforts of the Marketing Department will be the responsibility of Sarah Bogosian, Marketing Manager. She will run the daily operations of all marketing projects and report directly to Michael Lock.
Super Angel Janelle
We just added some super hot new pictures of SBK Fast Dates Calendar Angel Janelle Perzina in her Portfolio in the Meet the Models Gallery. Click on the photo above to get ahead.
Win the ultimate Track Attack Premier track day with Niall Mackenzie at Donington Park, England
YOU could win a Track Attack Premier track day with Rizla Suzuki Team Performance Co-ordinator and triple BSB Champion Niall Mackenzie at the full Donington Park GP circuit worth £195 in this free to enter competition.
You'll need your own bike for the track day on Saturday, July 2nd, at the Leicestershire circuit. You'll get 20-mins per hour on track between 9am and 5pm. All abilities of rider are welcome and there are top-quality instructors on hand for your benefit.
As the winner of this competition you'll get special attention from Niall as well as a pillion ride around the track if you are brave enough!
There are plenty of activities on the day with computer games and Scalextric to try your skills in-between sessions. There is a free all day buffet, starting with bacon sandwiches followed by a hot lunch and afternoon tea. That's on top of free tea and coffee all day long - and there is a free gift for every participant and a cloakroom to boot!
For further details on these fantastic Track Attack Premier track days, call Caroline on (011) 44 1332-819503 now. If you book a track day and mention Rizla Suzuki, you will receive a complementary pillion ride with Niall, normally costing £20, absolutely free.
To enter the competition, simply log on to www.rizla-suzuki.co.uk and go to the Express Insurance Competition Corner and answer the simple question.
The competition ends on Monday 27th June 2005 at 4pm.
DUCATI ANNOUNCES SPECIAL PARKING PASS PROCEDURE FOR 2005 DUCATI ISLAND AT RED BULL U.S. GRAND PRIX
Free Ducati-only parking still available for free on Ducati Island during the Red Bull U.S. Grand Prix but be sure to pre-register!
Cupertino, CA – June 3rd, 2005 – Anticipation continues to build for the 2005 Red Bull U.S. Grand Prix race at Mazda Raceway Laguna Seca as American fans prepare to see exotic prototype motorcycles, like the Ducati Desmosedici, for the first time on their home soil. Ducati owners enjoy a privileged status at Mazda Raceway Laguna Seca, many making Ducati Island their home base for the weekend. The Island is located just inside turn three and has been a staple of the Ducati experience since 1998 with special hospitality, gear check, vendors, autograph sessions, and Ducati-only parking available to all Ducati owners. Due to the overwhelming success of Ducati Island, parking for the GP will be limited this year.

In order to accommodate as many Ducati parking spots as possible on Ducati Island, Ducati has created a pre-registration procedure. This new procedure must be completed online at www.ducatiusa.com . Owners will receive a Ducati Island parking pass by mail valid for parking one motorcycle on Ducati Island. Keep in mind, that a parking pass is required to park on Ducati Island this year but does not guarantee a place on the Island. Parking is limited by physical capacity and will be first come, first serve to anyone with a pass. Parking passes are valid for all three days of the race weekend.
McGuinness wins delayed Isle of Man TT
Superbike race
John McGuinness powered to victory in the delayed Isle of Man TT Superbike race, breaking the outright race record time as he chalked up his seventh success on the Island.
The Morecambe rider was hot on the charge from the start, completing his first lap of the 37.73 mile Mountain Course in a remarkable time of 17m 59.94secs, an average speed of 126.879mph which was just the job to take him eight seconds clear.
Ulsterman Richard Britton was riding strongly, and pushing hard aboard his Honda, but the unrelenting pace of McGuinness was giving him no opportunity to make up any ground, and as they pitted for the first of two pit-stops to change rear tyres and take on fuel the Yamaha rider had increased his lead to 19 seconds, maintaining an average speed of a little over 126mph.
Adrian Archibald, riding the TAS Suzuki was running third, but by the end of the third lap had moved ahead of Britton who was experiencing some machine problems that led to his eventual retirement from the race.
McGuinness was having no problems, stretching his lead to 28 seconds at half distance, although on the fourth lap, Archibald matched his time to give some hope to his team of better things to come.
However, a super-quick pit-stop by McGuinness gave him a seven seconds bonus on his rival, leaving him 35 seconds clear after five laps, and having sufficient advantage to even consider easing off a little on the sixth and final dash around the Island.
"I decided to use the same tactics that earned me three wins last year – that was to get my head down and go for it from the start, making a good break. The bike felt really strong, particularly over the Mountain."
His victory, by 36.3 seconds over Archibald came in a record time of 1hr 49m 25.74s, an average speed of 124.124mph. "Brilliant, what else can I say – it was a relatively trouble free all of the way – there were on or two damp patches, and I had a slide or two, but nothing to worry about."
"The organisers certainly made the decision by postponing the race from Saturday – the conditions were horrible then, today they were 99.9% perfect."
Archibald had to settle for second best with Honda rider Martin Finnegan in third, some 76 seconds down on Archibald with Ian Lougher, also riding a Honda Fireblade, a further half minute back fourth, from the Yamaha of Ray Potter and Guy Martin on a Suzuki.
Isle of Man Results
Po / Name / Machine / Time
1 / John McGuinness / 1000 Yamaha R1 / 1h 49' 25.74"
2 / Adrian Archibald / 1000 Suzuki GSXR / 1h 50' 02.04"
3 / Martin Finnegan / 1000 Honda CBR / 1h 51' 18.16"
4 / Ian Lougher / 1000 Honda CBR RR / 1h 51' 42.70"
5 / Raymond Porter / 1000 Yamaha R1 / 1h 52' 09.16"
6 / GUY MARTIN / 1000 Suzuki / 1h 52' 22.87"
7 / Jason Griffiths / 1000 Yamaha / 1h 52' 26.88"
8 / Chris Heath / 998 Honda CBR / 1h 53' 05.38"
9 / Jun Maeda / 1000 Honda CBR RR / 1h 53' 55.19"
10 / Ian Armstrong / 1000 Yamaha R1 / 1h 55' 03.55"
11 / Nigel BEATTIE / 1000 Yamaha / 1h 55' 07.12"
12 / GARY CARSWELL / 1000 Yamaha R1 / 1h 55' 23.25"
13 / John Barton / 1000 Suzuki GSXR / 1h 55' 32.99"
14 / CHRIS PALMER / 1000 Yamaha R1 / 1h 55' 33.64"
15 / PHILIP STEWART / 1000 Suzuki GSXR / 1h 56' 01.32"
Round Seven – Bennetts British Superbike Championship
Kiyonari At The Double Knockhill, 27 June - Ryuichi Kiyonari charged to a brilliant winning double in the seventh round of the Bennetts British Superbike Championship, finishing comfortably ahead of his HM Plant Honda team-mate Michael Rutter, at Knockhill.
The 22 year old Japanese rider forged clear from his pole position in each of the 30 lap races, winning the first by twelve seconds, and then taking the second race by seven seconds.
"It was very hard for me – Michael is riding fast and well, so it was necessary for me to get away and ride hard and well to keep clear of him," smiled Kiyonari who has now won eight races this season.
Rutter admitted: "I have do something about him – I can't let him keep getting away like this and need to start winning some races."
The two Honda riders romped clear of the pack, twice in the opener, Kiyonari broke the lap record and then Rutter in his vain pursuit in the second race reduced the record to 49.651seconds, an average speed of 94.15mph.
It left the rest playing catch-up, but Michael Laverty was rising to the challenge, taking his and the Stobart Honda team's first podium of the season with a first race third.
Results Bennetts British Superbike Championship – Round Seven – Knockhill
Race One – 30 laps
1 R Kiyonari HM Plant Honda 25m 04.260
2 M Rutter HM Planrt Honda 25 16.798
3 M Laverty Stobart Honda 25 28.952
4 G Richards Hawk Kawasaki 25 30.621
5 L Haslam Airwaves Ducati 25 30.992
6 G Lavilla Airwaves Ducati 25 31.653
Race Two – 30 laps
1 R Kiyonari HM Plant Honda 25m 06.287
2 M Rutter HM Plant Honda 25 13.409
3 G Lavilla Airwaves Ducati 25 21 809
4 M Laverty Stobart Honda 25 22.977
5 L Haslam Airwaves Ducati 25 23.760
6 J Reynolds Rizla Suzuki 25 25.435