2006 FastDates.com Calendars World Premiers!
LA Bike Show July 16-17th
Brands Hatch WSBK Aug 7th
Exclusive Early Preview!
Get a full look NOW of all the 2006 Calendar photos in the Members Corner Calendar Gallery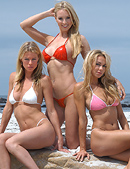 World Superbike Girls!
Our official SBK Fast Dates World Superbike girls are featured in
Member's Corner!
Includes FREE Access with to
Paddock Garage
---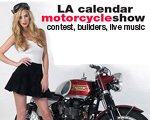 The Biggest Streetbike Show in America!
July 16-17th 2005
$70,000 in Awards!
• World Record Jardine Dyno
• 2-Wheel Tuner Sportbike Class
MotoCreations.com Ducati Class
• AMD World Championship of Bike Building Qualifying Round
Exhibitor Information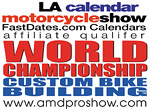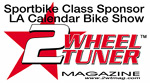 DJ Samantha Lee and Ballentine appearing at
LA Calendar Bike Show
Long Beach , July 16-17th - Beautiful DJ Samantha Lee (Samanthalee.com) has just been confirmed to spin her original tunes both days in the exciting new Metric Midway at this July's LA Calendar Motorcycle Show. The Metric Midway features our exclusive, Jardine West Coast Horsepower Dyno Shootout, the new Motocreations.com Ducati bike display, and the 2Wheel Tuner magazine Sportbike Contest.
Stop by Sammys website to preview her tunes which will rock the Midway all weekend between blasts of the Jardine Dyno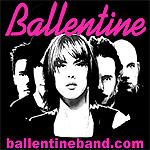 Plus, just one of the incredible bands performing on stage throughout the weekend at the other end of the Queen Mary Park is Ballentine, an LA based pop/punk/rock band, began by touring internationally with the USO. Shortly after, they signed an "In-Theater" documentary deal with MovieTunes, which led to having numerous songs from their album, "4U" played in over 20,000 AMC/Carmike Theaters nationwide. Heather (lead vocals) and Frank (bass/vocals) starred on ABC's nationally televised summer reality show, "The Ultimate Love Test" which exposed Ballentine's music to millions of viewers.
Most recently, Ballentine signed a recording contract and national distribution deal with OME (Original Man Entertainment) and Lightyear / WEA (Warner/Electra/Atlantic).
Their album "4U" is now available in stores nationwide. Ballentine's approach to music effortlessly blends Pop-Punk and Rock & Roll, creating their signature Rock/Pop-Punk fusion.
Get the Ballentine 4U CD!

Factory MotoGP Teams Stay at LeMans to Test
Monday, 16th May - Following their double podium in the French Grand Prix yesterday, Gauloises Yamaha Team riders Valentino Rossi and Colin Edwards rounded off their successful weekend with a one-day test at the Le Mans circuit today. Despite threatening-looking dark clouds hanging overhead for most of the day, the rain stayed away and the team was able to do some valuable work on a dry track.
Current series-leader and yesterday's winner Rossi and his team-mate Edwards, who took his debut MotoGP podium for Yamaha on Sunday, continued to develop their 2005-spec YZR-M1s, testing some new engine parts from Japan and working on engine mapping and settings as well as testing tyres for Michelin.
Almost the entire MotoGP line-up stayed on to test today, as well as some 250cc teams. The fastest lap of the day was in a time of 1'33.70, set by Honda rider Marco Melandri, who finished fourth yesterday. Carlos Checa (Ducati) was second fastest with a lap of 1'33.78 and Rossi was third with a best lap of 1'33.97 after 54 laps. Yesterday's runner-up Sete Gibernau (Honda) was fourth with a time of 1'34.07 and Edwards, who completed 52 laps, was fifth with a best time of 1'34.10.
The team will now enjoy a well-deserved two week break, before reconvening in Mugello in just over two week's time for the Italian Grand Prix, round five of the MotoGP World Championship.
VALENTINO ROSSI – 1'33.97, 54 laps
"I think today's test was okay and quite useful. We tried some new parts for the engine to give us some more power and although the difference is not big, I think it is good. We worked a lot on engine mapping in order to try to have better acceleration and we made some improvements in this area, which is very important. Of course we continued to work on the general set-up and also tested some new tyres with Michelin, from which we found some good options to use in Mugello. Overall we've got some positive things to take to Mugello, so it has been a good finish to the weekend."
COLIN EDWARDS – 5th, 1'34.10, 52 laps
"Today we've made more steps forward in the right direction. We've been playing with the suspension and continuing to experiment with the mapping to try to find ways to make the bike easier to ride and more forgiving. It's definitely getting better. We tested some tyres and found a new front that we're happy with. We spent a lot of time on the settings, going over what we learned during the weekend so that we can hopefully just fire away when we go to Mugello. I'm 100% positive that we've found a good setting to enable us to get there and be quick from the start."
DAVIDE BRIVIO – GAULOISES YAMAHA TEAM DIRECTOR
"Of course it's hard to work for one more day after a busy weekend, but we had a great result yesterday and we want to keep winning! Our race department work continually to find ways to improve the bike and as soon as they have something new they bring it to the track for us to test. We received some small engine parts from Japan and Valentino tried them today. He liked them so we will try to prepare them in time for Mugello. We also worked on the electronics and mapping with both riders – an important part of MotoGP. We tried some tyres, Michelin are constantly making developments this year so there are always new things to test! It's a positive end to the weekend but we've got a long way to go until the end of the season so we will keep working hard!"
UNOFFICIAL LAP TIMES
1. Marco Melandri (ITA) Movistar Honda MotoGP 1'33.70
2. Carlos Checa (SPA) Ducati Marlboro Team 1'33.78
3. VALENTINO ROSSI (ITA) Gauloises Yamaha Team 1'33.97
4. Sete Gibernau (SPA) Movistar Honda MotoGP 1'34.07
5. COLIN EDWARDS (USA) Gauloises Yamaha Team 1'34.10
6. Toni Elias (SPA) Fortuna Yamaha Team 1'34.35
7. Loris Capirossi (ITA) Ducati Marlboro Team 1'34.54
8. Nicky Hayden (USA) Repsol Honda Team 1'34.58
9. Troy Bayliss (AUS) Camel Honda 1'34.68
10. Shinya Nakano (JPN) Kawasaki Racing Team 1'34.78
11. Olivier Jacque (FRA) Kawasaki Racing Team 1'34.88
12. John Hopkins (USA) Team Suzuki MotoGP 1'35.01
13. Kenny Roberts (USA) Team Suzuki MotoGP 1'35.32
14. Ruben Xaus (SPA) Fortuna Yamaha Team 1'35.39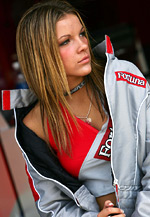 Umbrella Girl Apparel?
Dear Fast Dates,
I'm a huge Honda superbike Fan. I own a 2004 RC51 painted in West Honda Pons trim. I've been looking to the ends of the earth to find a West Honda Pons Umbrella girl outfit for my girlfriend. To complete the package as it were. If could you point me in the right direction it would be greatly appreciated. I would graciously submit any resulting photos to your web site. Thank you in advance for any help you can offer.
Kind Regards, Matthew Troy

Dear Matt, You'll never get the trick spandex umbrella uniform from a factory team. They only custom make enough for their own use (meaning expensive). Nor would they sell it to appear somewhere they can not control. Team Ducati Corse has my FastDates.com Calendar models return all their team grid girl apparel at the end of the race day.
However, you can buy some licensed team apparel from
http://www.grandprixlegends.com, They have team shirts and caps that you can match to a skirt, but the spandex umbrella girl stuff you'll have to make yourself if you really want it. Meanshile, you are more than welcome to send us a picture of your bike and girlfriend in a bikini!
Best regards,
Jim Gianatsis, Director
FastDates.com
Spies Riding with
Broken Tailbone
Yoshimura Suzuki's hot young rider Ben Spies broke his tail bone in testing at Barbour Motorsports park 6 weeks ago.He kept the injury quiet the first month, but he has continued to ride and race has not allowed it to heal and he has been in a lot of pain at the past 2 AMA Superbike rounds at Infinion and Pikes Peak.
AMA Tech Bulletion Causes Confusion among Superbike Teams
Once again the AMA suprised the factory teams, this time just before the Infinion Superbike round when they issued a tech bulletion stating - "Covers that retain oil must be repalced by covers designed specifically to improve resistance to breaking and grind through in the event of a crash. Replacement covers must be made of machined aluminum."
The rule was so vaguely worded that it left team managers dazed and confused. Did the word "cases" include complete complete engine cases, primary covers, or just wet clutch and ignition covers?
Chuck Miller at team Honda, as well as the other team managers, never knew there was an immediate problem with ground through side covers spilling oil on the track. Nor did he know of any aftermarket comapny making the parts which the team could buy. And why couldn't cast magnesium or alumin covers be used, or steel cover guards over the stcock covers?
Also, the AMA has not researched to find out what approved machined aluminum covers are stronger than stock covers (obviously if the machined case is thinner than stock it can be weaker). Or if thicker machined cases will reduce cornering clearance and cause increased crashing as a result.
Sometimes the best intentions can cause more problems then they resolve if not throughly thought out.
New machined covers are required to be on all AMA Superbikes by the Laguna seca round in July.
American Honda's
Shame & Embarassment
OK, so American Honda's VP of the Motorcycle Division Ray Blank sits on the AMA Pro Racing board and devised the 600cc Formula Extreme class to give Honda a race class they could win without having to go head to head with any other manufacturers. And then he talked the AMA into turning the classic Daytona 200Superbike race into the one brand Honda 600cc Extreme race. Now American Honda flaunts its arogarance by running 2-page $10,000 ad spreads weekly in Cycle News touting its uncontested race wins in Formula Extreme. The above ad appear in Cycle News on Tuesday, just a day after their
1-2 Zemke and Duhamal win in the extreme class at California Speedway against no other factory teams.
It's not enough that American Honda has single handedly almost destroyed American roadracing, but now they falunt it to us on a weekly basis in their race win ads. For shame.
Pit Lane News does not cover cover the AMA 600cc Formula Extreme Championship because it is not a vialble or newsworthy race class.
Super Angel Janelle
We just added some super hot new pictures of SBK Fast Dates Calendar Angel Janelle Perzina in her Portfolio in the Meet the Models Gallery. Click on the photo above to get ahead.
Keith Ball Leaves Hot Bike Group as Editorial Director
Legendary V[Twin editorial garu Keith "Bandit" Ball of Bikernet.com, associate sposnor of our LA Calendar motorcycle Show, has relinquished his short 6 month reigns as the editorial directer of Primedia's American Motorcycle Group and returned to freelancing. Here'sKeith's official announcemnet from his website Bikernet.com
"My commitment to the readers of Bikernet was etched in stone. I would not abandon them. My commitment to Primedia was to help them direct their AMG titles for two years, if they bought Bikernet, and six months if they didn't. I honored my commitment.

So what's the deal? I helped the AMG staff (American Motorcycle Group) build a freelance team all over the country for expanded editorial coverage. We redesigned all three titles and gave each a strong individual face. With the October issue of Hot Rod Bikes the name will change to Bike Works for a tech bible re-launch. We expanded their involvement with events from two events to 10. We Sponsored Carrie Repp's Road House Tour and supported Billy Lane's Blood Sweat and Gears tour along with Bikernet.

I struggled with the big guys behind Primedia for a strong internet presence, but budgets held me back. I hope they will remedy that aspect. I pushed open doors to involve our titles with Build or Bust and Build-Off programming and hopefully someone will follow through. The list goes on.
So what's next? I'm coming home to Bikernet, but will continue to freelance write and work with the HOT BIKE Staff on special issues. And goddamnit, now I can finish my Sturgis chop."
Jim Gianatsis / FastDates.com Calendars Signs Licensing Deal with VintageArte.com
Our own world renown motorcycle photographer and publisher of the FastDates.com Calendars and Website, Jim Gianatsis has just signed a licensing agreement with VintageArte.com for them to market on line selected images from Jim's incredible 35 year archive of motorcycle racing and pinup photography.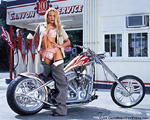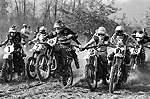 The Jim Gianatsis collection of motorcycle photography will be available online at VintageArte.com beginning in June 2005.
Round Five – Bennetts British Superbike Championship – Mondello Park
Mondello Park, GB, May 15th - Ryuichi Kiyonari and Gregorio Lavilla took the victories in the fifth round of the Bennetts British Superbike Championship at Mondello Park, but Michael Rutter with second and fifth placings holds a 46 points advantage in the title stakes.
HM Plant Honda rider Kiyonari, returning after missing the previous round through injury, led throughout the opening race, with Rutter somewhat fortunate to take second place, coming eight seconds down after Glen Richards had tumbled out and then Leon Haslam had slowed with gear problems.
Lavilla took his Airwaves Ducati into third place, but, he overcame a dreaful start to carve through the pack and win next time out. "I felt much better on the warm-up lap, and though this will be a good race, but then I made a poor start.
"I decided to take it step by step, and got ahead of my team-mate Leon Haslam, but then thought I had allowed him to close up too much, but I held on to win – that is unbelievable," enthused Lavilla as he savoured the victor's champagne for the first time.
His winning margin was 0.018seconds with Haslam happy with second place: "I led for much of the race, but am still pleased with the result, which is very good for my team – I had a bit of a coming together with Kiyonari, but held onto my place."
Rutter had complained of front end problems, particularly in the first race: "it was just a case of sticking at it – I thought that I would have to settle for fourth, but then Glen went straight and on, and Leon slowed." He had himself been involved in an opening lap tangle.
Pole starter Jonathan Rea clipped the back of his bike going into the first corner: "I felt something, but didn't really know who it was – I had intended to keep well clear of Rea, but it didn't work out that way."
Kiyonari ended the day with a smile: "very hard races, make me very tired, very pleased though with points and results."
Chris Martin and Danny Beaumont took the victories in the British Superbike Cup but James Buckingham with a third and then a second place holds the lead in the title stakes.