2005 SBK Corona World Superbike Championship, Round 4 of 13

Troy Corser Doubles Valencia World Superbike
Valencia Spain, April 22-24th - Alstare Corona Extra Suzuki rider Troy Corser won his fourth and fifth races of the 2005 season at Valencia today, scoring an immaculate double to finish off an almost perfect weekend of race action. Chris Vermeulen (Winston Ten Kate Honda) proved the closest challenger to his countryman, taking his Honda to a brace of second places, albeit nine and five seconds down on the 1996 World Champion's race times. Corser's team-mate Yukio Kagayama battled his way to third in race one, but a new rider joined the 2005 podium ranks, when popular Briton Chris Walker (PSG-1 Kawasaki) ran to a clear third place in leg two, having harried Vermeulen for most of the 23-laps.

World Superbike's incredible depth of talent and competition this season . Click for the BIG PICTURE.
PREVIEW
As the World Superbike and World Supersport teams leave behind the fly-away sector of the season, the much-used testing circuit of Valencia adopts the guise of full-on race venue once more. Starting a run of ten grueling Euro based races, the Spanish round of the series may also offer some respite from the series of weather interruptions which have afflicted the season so far. The stadium style circuit of Valencia places particular strain on the left side of tyres thanks to the frequent low gear turns and lots of time spent at high lean angles.
With three additional classes joining the championship this weekend, two all-new ones for the 2005 season, the 86 riders in the 2004 paddock have now grown to 156, stepping up the technical and logistical challenge for Pirelli to another level.
The dominance shown thus far by Suzuki is expected to be challenged much more strongly, by high class entries from other four-cylinder manufacturers Yamaha, Honda, and Kawasaki, plus twin-cylinder kings Ducati and the three-cylinder runners Petronas. A podium finish in Australia by class rookie Max Neukirchner Honda) , has shown that the level playing filed offered by the adoption of high quality control tyres from Pirelli allows new talent to shine through. The close nature of the competition, through out the field is testimony to the effort put in by Pirelli, the scale of operations a testimony to the commitment of the entire Pirelli brand. In World Supersport the other protagonists will be trying to take a win away from Winston Ten Kate Team, as Sebastien Charpentier found the Pirelli's new front tyre the perfect partner for his all-new front end suspension package in Australia.
There are no less than three new classes to see at Valencia. The Superstock series, running since 1999, is once more aimed at the younger rider, but this year the monotyre series has been promoted to FIM World Cup status, and has seen the minimum age raised to 20. This has allowed the formation of a 600cc version, the Superstock 600 European Championship. This new initiative, on very stock machinery to reduce costs and performance parameters, will field riders between 15 and 20 years of age. The 1000cc Superstock category will run on Pirelli Dragon SuperCorsa tyres, like the Supersport class, with the 600cc version on Diablo Corsa tyres; racing street tyres to allow to these new young riders to face the challenges of a tough and competitive championship. This entry level championship features non-extreme machinery, making the Diablo Corsa tyres the perfect fitment. In addition to these new series, which will feature at five rounds of the main Superbike circus from now on, Valencia will host a Suzuki GSX-R European Cup 2005 race. This is an invitational category, featuring identically prepared GSX-R750s, supplied and maintained by Alstare. Looked after by Fabrizio Pirovano, the machines in the series will be liveried in the national colours of the riders, of which there will be 27, 22 permanent plus wildcards. The identical machines will feature Pirelli Diablo Corsa tyres on the rims. The same tyres you can fit on this bike to enjoy riding every day or on track days with your friends.
Pirelli staff will enter the Valencia race celebrating the success of their products under the extreme conditions encountered by the GMT Yamaha squad of William Costes, Sebastien Gimbert and David Checa, victorious in the classic 24-Heures Du Mans endurance race on Pirelli tyres. Gimbert, now an SBK regular will be in attendance as usual in Spain, but adding to the mix will be the fulsome talents of Checa, riding as a wildcard and adding even more talent to an already high-quality grid.
Friday Practice Under Warm Spanish Skies
Action Stations: Alstare Corona Extra Suzuki rider Troy Corser scored yet another early season high with the fastest time of the opening day, heading up both unofficial and official qualifying session at Valencia. The championship leader set a time of 1'35.954, almost 0.8 seconds faster than his closest rival, when it really mattered this afternoon. Each session was held in almost ideal conditions with just a gentle breeze blowing around the stadium-style circuit.
Walker Strolls On: An outstanding first period for Chris Walker (PSG-1 Kawasaki) saw him well up the qualifying order from the start to the finish. Ultimately second quickest on his ZX-10, hard work in the chassis and suspension department, plus a machine capable of posting the highest top speed of the day, 288kmph, conspired to help the Englishman's effort.
Klaffinators: The Klaffi team has made a serious impact in World Superbike in 2005, a superb effort in its rookie season in the top category. Despite a recent collarbone operation for Pierfrancesco Chili, to repair the break he suffered at the Phillip Island race, the experienced Italian set third fastest time of all. He was closely followed by his rookie SBK team-mate, Max Neukirchner, who is still working on suspension set-up. Third in race two in Australia, Neukirchner has already shown his true talent, and at the first time of asking on his full spec machine at Valencia, he secured fourth best time, 1.173 seconds from provisional pole.
Muggeridge Fifth: Winston Ten Kate riders Karl Muggeridge and Chris Vermeulen had differing fortunes on day one, with Muggeridge well in the leading mix; his more experienced Superbike team-mate Vermeulen in 16th place. Diversity was the key in the top positions at Valencia, as Yukio Kagayama (Alstare Corona Extra Suzuki) and Ivan Clementi (Bertocchi Kawasaki) went sixth and seventh fastest respectively.
Martin Up Front: A second row provisional qualifying position was a good reward for the Petronas team on day one, with Steve Martin taking eighth fastest time in a highly competitive session. His speed saw the fastest Petronas ahead of the fastest Ducati, to the immense satisfaction of the entire Petronas effort. That honor this weekend was taken by the SC Ducati 999RS of Lorenzo Lanzi, ninth fastest on his booming V-twin.
Yamaha Hanging Tough For Day Two: Fastest Yamaha R1 rider on display in Spain was Yamaha Motor France IPONE rider Norick Abe, an SBK rookie but a hugely experienced rider in other classes of global races. He was the last rider inside the top ten. Jose Luis Cardoso (DFX
Extreme Yamaha) and Ivan Silva (LaGlisse) gave the first day its first smattering of Spanish flavor, going 13th and 14th respectively. Official entries from Noriyuki Haga and Andrew Pitt, both Yamaha Motor Italia, and Sebastien Gimbert (Yamaha Motor Italia) struggled somewhat on day one. Gimbert crashed, yet still set 17 laps to go 15th. Haga was 21st, Pitt 24th.
Ducati Doldrums: The competitiveness of the 2005 season was perfectly illustrated by the fact that the official factory Ducati pairing of Regis Laconi (Xerox Ducati 999F05) and James Toseland were in 11th and 12th positions after day one, behind a whole gaggle of fast multi-cylinder entries. Toseland was a race one winner last year, Laconi the winner of the greatest number of 2004 individual legs.
Other Notable Names: Petronas rider Garry McCoy's 17th place came after 21 laps of action, with local wild card rider Davide Checa (GMT94 Yamaha) scoring the top number of circuits, matching his qualifying position of 27. Local hotshot Fonsi Nieto (SC Ducati 999RS) is still adjusting to life on a big cc V-twin., and ran out 18th fastest of the 33 prospective qualifiers. The SBK 'big grid' saw Ben Bostrom, aided by some new team personnel and machinery, 20th out of 33.
Friday Practice: 1. Corser (Suzuki) 1m35.954s; 2. Walker (Kawasaki) 1m36.731s; 3. Chili (Honda) 1m37.003s; 4. Neukirchner (Honda) 1m37.127s; 5. Muggeridge (Honda) 1m37.146s; 6. Kagayama (Suzuki) 1m37.159s ... 11. Laconi (Ducati Xerox) 1m37.566s; 12. Toseland (Ducati Xerox) 1m37.648s.

Corser takes Superpole in the Shimmering Sunshine
Saturday - Superpole Qualifying: Alstare Corona Extra Suzuki rider Troy Corser proved peerless once more adding Superpole to his fastest times from all regulation qualifying sessions. The championship leader set a Superpole best of 1'35.954, 0.449 ahead of second best rider over a single lap, Chris Vermeulen (Winston Ten Kate Honda). It was Corser's first Superpole win of the year, the 31st of his long career.
Top Ducati: Regis Laconi (Ducati Xerox) continued his good form in qualifying into Superpole, going third fastest overall and starting from the front row of the grid. His experience was a marked contrast to the woes suffered by his team-mate, James Toseland (Ducati Xerox) who failed to make the Superpole cut by fully seven places. The front row will be completed by rookie star Max Neukirchner (Klaffi Honda), replicating his top-class performance in regulation qualifying. The 22-year-old German once more outperformed his team-mate, Pierfrancesco Chili, who qualified 12th, despite his recent collarbone surgery.
Second Row Rowdies: Andrew Pitt once more installed himself as the best Yamaha prospect, running his Yamaha Motor Italia machine into fifth place on the grid, ahead of his fellow Aussie Karl Muggeridge (Winston Ten Kate Honda). Chris Walker once more flew the Kawasaki PSG-1 standard high in qualifying, following up his fourth fastest time in regulation with a seventh fastest time in Superpole. His was the top ZX-10 on show. He also made it five different marques in the top seven places, proof positive of the competitiveness of the new SBK formula.Last rider on row two proved to be Norick Abe (Yamaha Motor France) once more putting in an impressive result in what is his rookie SBK season.
Row Three: Second in the championship overall at this stage, Yukio Kagayama (Alstare Corona Extra Suzuki) was only ninth fastest, 1.2 seconds away from the Superpole win. He nonetheless took a small victory over his fellow Japanese Noriyuki Haga (Yamaha Motor Italia), who was one place behind, finishing off the top ten. First wildcard out the pack was Davide the Checa, the World Endurance ace putting smiles on the faces of his GMT94 Yamaha squad by following up Superpole qualification with a third row start in 11th. Chili rounded out row three in 12th.
Fourth Row: First non-factory Ducati belonged to Lorenzo Lanzi (SC Ducati 999RS) who headed up final Superpole qualifier Steve Martin (Petronas FP-1), as the Aussie improved to 14th grid position, from 16th in regulation. Sebastien Gimbert (Yamaha Motor France). In a superbly close Superpole, all top 15 riders were within 1.6 seconds of each other. The exception was Ben Bostrom (Renegade Honda KOJI) who experienced technical difficulties with the front brake in his fast lap
and was not credited with a time.
Regulation Pre Superpole Qualifying: The final one hour regulation qualifying session, which determined who went forward to Superpole, and all grid positions from 17th back, was tortuous for some riders, most notably World Champion James Toseland. In a field of 33, he qualified 23rd, thanks to his best time from Friday, 1'37.648. Trouble with the front end of his machine as the seconds of the final session ticked away prevented him from making one last ditch qualifying attempt. Garry McCoy (Petronas FP-1) was also out of the Superpole mix, 18th on his three-cylinder machine. To the surprise of many onlookers, Spanish Formula Extreme expert Jose Luis Cardoso (DFX Extreme Yamaha) just missed Superpole, going 17th. Local hero Fonsi Nieto (SC Caracchi Ducati) was 24th, the last rider on the sixth row of the grid. For the first time this year, Ben Bostrom (Renegade Honda KOJI) secured his Superpole start.
There was no joy for James Toseland as the reigning champion failed to qualify for Superpole due to a problem when there were just a few minutes remaining of the morning's second and final qualifying hour. As a result the 24-year-old will start from row 6 of the grid in tomorrow's two 23-lap races.
"I didn't make Superpole because I had a problem with the front end of the bike three minutes before the end of the session and after I had changed the tyre I went out again but just missed the flag by a couple of seconds" commented James. "Unfortunately we've been going in the wrong direction during qualifying and when you go in the wrong direction, it all becomes that bit more difficult. We managed to sort out Friday's problems with the front suspension but then I had no grip in the rear so we went back to yesterday's settings and that wasn't much better. I'm on a factory Ducati so I know I shouldn't be in this position. You can't really win races from 23rd on the grid, but I'm sure I can do a good race pace tomorrow so let's see what we can salvage from here".
STARTING-GRID: 1. Corser (Suzuki) 1m35.676s; 2. Vermeulen (Honda) 1m36.125s; 3. Laconi (Ducati Xerox) 1m36.356s; 4. Neukirchner (Honda) 1m36.447s; 5. Pitt (Yamaha) 1m36.558s; 6. Muggeridge (Honda) 1m36.565s; 7. Walker (Kawasaki) 1m36.847s; 8. Abe (Yamaha) 1m36.862s; etc.
TV COVERAGE: Eurosport (Europe) - Sunday 24 April, 1200 Race 1 (live), 2300 Race 2 (delayed); British Eurosport (UK) - Saturday 23 April, 1500 BST Superpole (live); Sunday 24 April, 1100-1530 BST Race 1 & 2 (live); La7 (Italy) - Saturday 23 April, 1700 Superpole (delayed); Sunday 24 April, 1610-1900 Race 1 & 2 (delayed).
United States - SPEEDTV (delayed) 7am Eastern /10am Pacific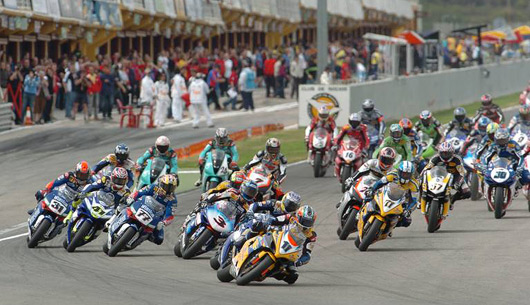 Troy Corser (11) took command of both races quickly from pole position.
Sunday Race One
Troy Corser was, once more without equal on track, ran up a near ten second margin of victory on his big GSX-R, finally outpacing Honda man Vermeulen by 9.116 seconds - and some 12 seconds head of Corser's own team-mate Yukio Kagayama. Norick Abe (Yamaha) was trying to pass Vermeulen for second when he fell on lap 22 of the 23. Chris Walker took his big yellow PSG-1 Kawasaki to a safe fourth place, having run in the podium mix for long periods of time. The local crowd had a top ten finisher to applaud, as Sergio Fuertes secured ninth place on his Reynolds Motorrad Suzuki.
Race 1: 1 Troy Corser (Aus-Alstare Suzuki Corona Extra), 2 Vermeulen (Aus-Honda), 3 Yukio Kagayama (J-Alstare Suzuki Corona Extra), 4 Walker (GB-Kawasaki), 5 Haga (J-Yamaha), 6 Gimbert (F-Yamaha), 7 Chili (I-Honda), 8 Toseland (GB-Ducati), 9 Fuertes (E-Suzuki), 10 Checa (E-Yamaha).
Sunday Race Two
With Corser away and clear once more, after some early interventions by Andrew Pitt (Yamaha Motor Italia), a right royal battle for second between Vermeulen and Walker was only decided on the final laps, as Walker slowed to take a safe third - his first such placing of the season. Despite complaints about machine set-up and the increase in afternoon temperatures reducing available tyre grip, Norick Abe (Yamaha Motor Italia) was a fine fourth, but only after his team-mate Pitt was forced to slow with an electrical misfire, eventually finishing eighth.
"It's been a perfect weekend and I want to thank the whole Alstare team for making it all possible," said Corser afterwards. "Conditions were very variable today - due to the change in track temperature - but we had done all the groundwork in qualifying and were ready for anything. I used the same rear tyre for both races but it didn't work as well in race two because the temperature was higher.
"The first race was pretty comfortable for me and I just controlled things right from the start and left the rest to sort themselves out. In race two, I was a bit surprised to see Andrew Pitt get off the line ahead of me and lead into turn one. I wanted to pass him as soon as possible because I wanted to run my own race, so I overtook him on lap two. I then pushed quite hard for about eight laps and made a bit of a break, but in doing that, I think I must have worn the rear tyre out a bit. So I eased the pace, conserved the tyres and kept and eye on my pit-board.
"The wind in race two was a bit of a problem because it was different in different parts of the circuit. But it was great to do another double and extend my lead in the championship to 31 points."
Race 1: (Laps 23 = 92,115 Km)
Pos /Rider /Nat. /Team / Time /Gap
1 / T. CORSER / AUS / Alstare Suzuki Corona Extra / 37'31.052 /
2 / C. VERMEULEN / AUS / Winston Ten Kate Honda / 37'40.168 / 9.116
3 / Y. KAGAYAMA / JPN / Alstare Suzuki Corona Extra / 37'43.840 / 12.788
4 / C.WALKER / GBR / PSG-1 Kawasaki Corse / 37'47.919 / 16.867
5 / N.HAGA / JPN / Yamaha Motor Italia WSB / 37'48.934 / 17.882
6 / S. GIMBERT / FRA / Yamaha Motor France-Ipone / 37'57.547 / 26.495
7 / P. CHILI / ITA / Klaffi Honda / 37'59.836 / 28.784
8 / J. TOSELAND / GBR / Ducati Xerox / 38'07.656 / 36.604
9 / S. FUERTES / ESP / Reynolds Motorrad / 38'10.576 / 39.524
10 / D. CHECA / ESP / Yamaha GMT 94 / 38'10.827 / 39.775
11 / I. CLEMENTI / ITA / Kawasaki Bertocchi / 38'11.099 / 40.047
12 / B. BOSTROM / USA / Renegade Hon / 38'13.993 / 42.941
13 / G.BUSSEI / ITA / Kawasaki Bertocchi / 38'18.557 / 47.505
14 / L. ALFONSI / ITA / D.F.X. Treme / 38'18.637 / 47.585
15 / I. SILVA / ESP / LaGlisse / 38'20.045 / 48.993
Fastest Lap 2° Troy Corser 1'36.721 149,068 Km/h
Race 2 : (Laps 23 = 92,115 Km)
Pos /Rider /Nat. /Team / Time /
1 / T. CORSER / AUS / Alstare Suzuki Corona Extra / 37'52.057 /
2 / C. VERMEULEN / AUS / Winston Ten Kate Honda / 37'57.418 / 5.361
3 / C.WALKER / GBR / PSG-1 Kawasaki Corse / 37'59.241 / 7.184
4 / N.HAGA / JPN / Yamaha Motor Italia WSB / 38'02.657 / 10.600
5 / N. ABE / JPN / Yamaha Motor France-Ipone / 38'03.960 / 11.903
6 / B. BOSTROM / USA / Renegade Koji / 38'11.257 / 19.200
7 / Y. KAGAYAMA / JPN / Alstare Suzuki Corona Extra / 38'11.402 / 19.345
8 / A. PITT / AUS / Yamaha Motor Italia WSB / 38'15.303 / 23.246
9 / D. CHECA / ESP / Yamaha GMT 94 / 38'16.844 / 24.787
10 / P. CHILI / ITA / Klaffi Honda / 38'17.356 / 25.299
11 / S. GIMBERT / FRA / Yamaha Motor France-Ipone / 38'17.552 / 25.495
12 / M.NEUKIRCHNER / GER / Klaffi Honda / 38'19.890 / 27.833
13 / I. CLEMENTI / ITA / Kawasaki Bertocchi / 38'23.396 / 31.339
14 / G.VIZZIELLO / ITA / Italia Lorenzini by Leoni / 38'25.070 / 33.013
15 / L. ALFONSI / ITA / D.F.X. Treme / 38'26.081 / 34.024
Fastest Lap 2° Troy Corser 1'37.756 147,490 Km/h
Lap Record: 2003 Neil Hodgson 1'35.007 151,760 Km/h
World Superbike Points (after 3 rounds): 1 Troy Corser 141, 2 Yukio Kagayama 110, 3 Vermeulen 90,
4 Laconi 54, 5 Abe 44, 6 Neukirchner 41, 7 Haga 40, 8 Pitt 39, 9 Walker 38, 10 Toseland 30.
Manufacturers - 1. Suzuki 150; 2. Honda 93; 3. Yamaha 65; 4. Ducati 64; 5. Kawasaki 50; 6. Petronas 1.

Kagayama (71) holds off Neukircher (94) in Race 2 before falls allowed Bostom (155) up to 8th.
Muggeridge Down, Neukirchner Flies: Karl Muggeridge (Winston Ten Kate Honda) had another tough day, being run off track in race one (to eventually retire), and then crashing in race two. Another top Honda hopeful, Max Neukirchner, suffered the biggest highside of the season on the fast approach to the final corner on the opening lap, launching himself and bringing down Lorenzo Lanzi's Ducati. The Italian rider broke his collarbone as a result, missing race two. In race two Neukirchner recovered sufficiently to record a 12th place finish. His team-mate Pierfrancesco Chili struggled with pain and fatigue in his broken collarbone area to take a seventh and a tenth place finish.
Bostrom Moves On Up: Ben Bostrom (Renegade Honda Koji) was a disappointed 11th and then an excellent sixth on his CBR1000RR Fireblade, happy to be running back inside the top ten, and securing 14th position in the championship.
Disasterous weekend for Ducati Xerox Team: Round 3 of the World Superbike Championship proved to be a difficult weekend for the Ducati Xerox Team as Régis Laconi missed both races due to a crash in the morning warm-up, while James Toseland did the best he could from a sixth row starting-grid position.
"Unfortunately it was a weekend to forget for us" declared Ducati Xerox Team director Paolo Ciabatti. "This morning Régis was quicker than everyone in the warm-up but his crash meant that he could not take part in the two races, in which I am sure he would have given Corser a hard time. James on the other hand, was unable to find the right direction in qualifying and this conditioned his two races on Sunday. Now is the time to concentrate on Monza and focus all of our energies on the next round, which is traditionally an important appointment for Superbike and for Ducati".
Laconi was ruled out of the action today after a crash half-way through the morning warm-up, when contact was made with a slow-moving rider on the outside of the final curve. Laconi suffered concussion and was immediately examined by on-circuit doctors before being taken to Valencia hospital for an MRI scan, and for precautionary reasons a decision was taken for him not to race.
"I am fine but now I just need a few days to recover for Monza. It's a track I like, we are at home and Ducati is always very fast" declared Laconi. "This was a very big crash and I feel very lucky because I could easily have broken something and been out of action for some time. I am obviously disappointed because I wanted to take part in the second race, but I did receive a big bang on the head and was unconscious for a few minutes so the doctors said it was better that I didn't."
James Toseland finished eighth in race 1 from his 23rd grid position and 19th in the second race after he had to make a pit-stop to change the front wheel following a lap 4 incident caused by another rider. "I was riding round with people I shouldn't be riding round with, given the qualifying position" said Toseland.
In race two his charge to the front was halted when Garry McCoy fell after a contact with wildcard Ivan Silva (La Glisse Yamaha), running Toseland off the track. Restarting, he came in to fit a new front and finished 19th and last, lapped while in the pits.
"I got a decent start again but going into turn 4 and a Yamaha came steaming underneath me and pushed me really wide. I was lucky to stay on and then had to change the front tyre because the brakes were locking up. Monza is the next race, we just need to find some traction because there's not much wrong with the top speed of the bike. We're struggling and we need to find the form again but there's nothing wrong with the bike and nothing wrong with me. We rode hard in the first race but couldn't really do much more after going off the track in race 2."
Petronas No Score: One race finish for Steve Martin was not enough to score a point for the three-cylinder entries at Valencia, with his 17th place not quite enough for a point. Another rider leaving with a no score is local hero Pablo Nieto, 17th and then a retiree on his SC Ducati 999RS.
Supersport Race:
Winston Ten Kate Honda rider Sebastien Charpentier scored his second race win of the season, battering his way through the last lap after what looked like a tactile fight with his following team-mate, Katsuaki Fujiwara. Yamaha honor was upheld with third for Kevin Curtain (Yamaha Motor Germany) some 21 seconds down on the leading battle. Michel Fabrizio (Team Italia Megabike Honda) was overwhelmed by the charge of Curtain, with his team-mate Fabien Foret (Team Italia Megabike Honda) fifth, and Broc Parkes rounding out the top six on his Yamaha Motor Germany R6. Barry Veneman was top Suzuki finisher, seventh on his Suzuki Netherlands GSX-R.
The next rounds of the World Superbike and Supersport series take place at Monza on May 8.
Girls That Kick Ass!

Kristen Bell as Veronica Mars

A Modern Day Nancy Drew
heats up UPN Television, Tuesdays 9/8C
In the wealthy, seaside community of Neptune, the rich and powerful make the rules, they own the town and the high school, and desperately try to keep their dirty little secrets just that…secret. Unfortunately for them, there's Veronica Mars (Kristen Bell), a smart, fearless 17-year-old apprentice private investigator dedicated to solving the town's toughest mysteries.

During the day, Veronica must negotiate high school like any average teenage girl. At night, Veronica helps with her father's struggling, new private investigator business, sneaking through back alleys and scooping out no-tell motels with a telescopic-lens camera and her math book in an attempt to uncover the California beach town's darkest secrets.

More Kristen Bell

The 2005 Multistrada 1000Smodel features Ohlins race quality suspension front and rear, along with carbon fibre bits like the front fender and cam belt covers. Also on our bike is the Ducati Performance Termignoni exhaust silencer. Our tester is beautiful SBK Fast Dates Ducati Corse World Superbike girl Robin Cunningham.
SBK Fast Dates Ducati Corse girl and bikini clad Tomb Raider Rockin' Robin Cunningham
gets into some hard core action with the Ducati Multistrada 1000S DS
2005 FastDates.com Bike of the Year Award
Ducati Multistrada 1000S DS
It's no secret the Ducati's Multistrada 1000 DS which was first introduced back in 2003 was one of our favorite motorcycles. The somewhat quirky looking, do everything aircooled V-twin Desmo did everything really well. It may not have been the world's best bike in any one particular category from canyon carver, to off road adventure bike, to around town commuter, to cross country tourer -but it was very close. It does excel in everything really well.
No other bike on the market is quite capable of matching the Ducati Multistrada for overall versatility, performance and just sheer riding pleasure. Now with the introduction of the new upgraded Ohlins suspended 1000S model for 2005 the Multistrada has become so close to perfect in so many categories that, as an overall package the staff at FastDates.com, the world's premier streetbike website, feels the new Multi S is the world's best streetbike. It's so good in fact, we decided to create an award and make the Multistrada 1000S our first ever FastDates.com Bike of the Year for 2005. Our congratulations go out to Ducati and Multistrada designer Pierre Terblanche for creating the perfect bike.
Complete Ducati Multistrada S Feature Story with Rockin' Robin HERE!
---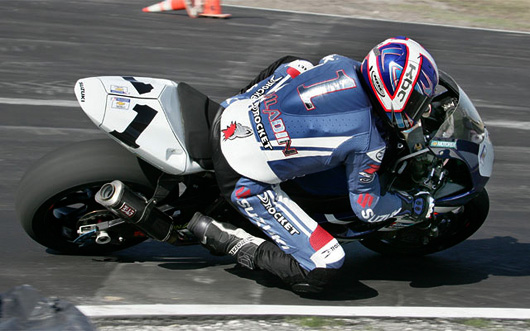 The only view anyone saw of him all weekend, the untouchable Matt Mladin.
2005 AMA Superbike Championship, Round 2 of 11

Mladin Doubles Down in Alabama, leads Yoshimura Suzuki Sweep
Birmingham, AL, April 22-24: Team Yoshimura Suzuki's Matt Mladin totally dominated both rounds of the AMA Superbike Championship this weekend at Barber Motorsports Park in Alabama, completely outpacing his pursuers by as much as 1 second per lap as needed to secure both Saturday and Sundays 23 lap races by some 10 seconds. It was nearly a Team Yoshiura sweep of the podium both days with team mates Aaron Yates and Ben Spies besting Ducati's Neil Hodgson on Saturday for the remaining 2 podium spots. While Sunday's Race 2 saw Hodgson improve on his bike's setup to finish 2nd ahead of Spies, as Yates had to pull into the pits to replace a damaged tire while running second ahead of Hodgson.

The once dominate American Honda distributor team of Miguel DuHamel, Jake Zemke and Kurtis Roberts, forced to race this year without the much more competitive and expensive CBR1000RR's built by HRC of Japan, are struggling this year on their budget home built copies. In the pecking order of things, the new G5 Suzuki GSXR1000 is a generation ahead of the rest of the field and particularly unbeatable in the hands of Mladin. The factory Ducati 999F05 in the hands of ex World Champion Hodgson looks to be the only contender, and the Hondas will be barking for table scraps.
Friday Practice
The Parts Unlimited Ducati Austin team of Eric Bostrom and Neil Hodgson spent much of Friday with their factory Ducati 999s parked and watching the rains fall at the 2.3-mile Barber Motorsports Park circuit. A controversial afternoon qualifying session was red-flagged and eventually cancelled just minutes after it began prematurely. Heavy winds and hail began to fall shortly after the riders were signaled to begin the qualifying period, which was started several minutes before the scheduled time of 4:30 PM.
"They decided to drop the green flag about ten minutes early, and the people that were ready got to go. We were thinking of the schedule, so we got left out," says Eric Bostrom. "Neil and I both made one circulation, but not a lap at speed. Then the red flag came out."
While the AMA would not rule the session times invalid, they did refuse to award any rider the provisional pole position.
"It's not the end of the world, it's just frustrating," says Hodgson, who will have the opportunity to qualify tomorrow morning for the Barber races. "As a rider, you've come here with some built-up nerves and anticipation of a good day. This race is what I call the real beginning of the season and you just want to get started after all the time off since Daytona. And you get here and this develops."
Hodgson says the lack of track time hasn't helped any with his acclimation to the AMA-style doubleheader with one race on Saturday and one on Sunday. "What seems weird to me now is knowing that I'll be racing tomorrow afternoon. In all my years racing, I've always had four hours of total practice before the races. Thankfully, we tested here, and the situation (with the weather) is pretty much the same for everyone else."
In a rainy AM practice, Hodgson was a fine third quickest with a time of 1:39.502. Bostrom was clocked at 1:43.579, which was 14th place in the session standings.
Tomorrow's morning qualifying will set the grid for the two 28-lap, 100 kilometer Superbike races, the first of which is to be held at 3:50 PM local time on Saturday.
Friday Practice times: 1. Spies (Suzuki) 1:37.966, 2. Mladin (Suzuki) 1:39.098, 3. NEIL HODGSON (PARTS UNLIMITED DUCATI AUSTIN 999) 1:39.502, 4. Matthew McBride (Kawasaki) 1:40.153, 5. Aaron Yates (Suzuki) 1:40.460, 6. Miguel DuHamel (Honda) 1:41.174 … 14 ERIC BOSTROM (PARTS UNLIMITED DUCATI AUSTIN 999) 1:43.579
Mladin is Perfect on Both Race Days
2005 AMA Superbike Championship and Mat Mladin and his new Suzuki GSX-R1000 remained perfect for both Saturday and Sunday's AMA Superbike rounds at Barber Motorsports Park, quickly storming into the lead of both days' 28-lap races and quickly storming away the pack behind at a rate of a second per lap in the beginning each race of the 2.3-mile raceway, then backing off to win by about a 10-second margin.
Even for a five-time champion who has made a career out of demoralizing and relentless domination, it's difficult to recall any time in which Mladin's grip on the series has appeared any tighter than it does now.
Just as he did on Saturday, the Aussie opened his lead to double digits before taking his time through the lappers and claiming the checkered flag on one wheel. This caution and celebration decreased his advantage at the conclusion of the contest, but it remained a still-imposing 9.740 seconds.
"It's been a good weekend for us," Mladin said nonchalantly. "It was another good race. The tire didn't hook up quite as good as yesterday; it was certainly a bit of a struggle to do some of the lap times for the first 15 to 18 laps. It might have been just a little bit warmer track temperature or something, but things just weren't quite as comfortable. But other than that, it was a good race -- can't complain. The new bike is unbelievable and the tires are working great overall. It's been a great start to the season."While it became fairly evident that there wasn't likely to be much of a race for the win as early as lap 1, there was some hope for a dogfight to decide the runner-up position.
Saturday Race One
Mat Mladin did it again -- he took the early lead, logged lap after flawless lap, and walked away with his 34th career AMA Superbike race win this afternoon at Barber Motorsports Park. After working past a quick-starting Aaron Yates in just over a lap's distance, the Aussie put in multiple laps that were actually tenths of a second quicker than the best his rivals could manage in qualifying, let alone race conditions. This rapid pace saw Mladin build up his advantage around the scenic 2.3-mile circuit by second-sized chunks for a time rather than the usual tenths or hundredths.
His lead was in double digits by lap 17 of 28 and hit its zenith a single lap later (11.245) before Mladin eased his pace and coasted to a still-lopsided 7.395-second margin of victory.
"It was a good race," Mladin said afterwards. "We thought off qualifying that we had a little bit of pace so we wanted to try to get the lead as quick as possible and then try to get away. And that's what happened. That's it. We just have a little better set-up than these guys at the moment and we were able to do it."
As Mladin escaped from the field, Yosh teammate Yates clung onto his tail for a few precious laps. This gained him a gap on the rest of the field, and for most of the contest, the Georgian put in a lonely ride in second. Thankfully the battle for third was considerably more intriguing. Ducati Austin's Neil Hodgson and third works Suzuki entry Ben Spies duked it out for the majority of the race with Spies repeatedly looking for a way past the very experienced Briton.
After a couple near misses with the lappers earlier in the race, Spies finally used them to his advantage, running up the inside of Hodgson and a group of slower riders simultaneously entering Turn 6 on lap 24. The bold maneuver paid off, and the young Texan followed it up with a few stellar laps to end any thoughts Hodgson may have had about a response.
Spies explained, "We just came out of that bottom corner (Turn 5) and going up the middle straight I saw a bunch of lappers coming up; he kind of got on the outside of them and didn't get a really good run. I just went all the way to the inside, and then he all the sudden cut to the inside too. We almost had to come to a standstill with the way I was entering the corner. I just got by him and put my head down and got a gap."
Spies' late charge was so effective it had him thinking about a possible runner-up finish. He cut two seconds off Yates' advantage within a couple laps and moved within a half-second of his teammate. The Georgian stepped his pace back up, however, and gave himself just enough breathing room to secure second place.
"After I got by Neil, I put down something like a '26.0 with three laps to go, and I saw how quickly (Yates) came back to me. I thought we might have something for him, but then he saw +0 on his board and he sped up a couple tenths a lap. I was like, 'I'm on the podium if I keep it up so I better not do anything too stupid.'"
"It feels good, said Aaron Yates of his day, "Second place, good points. But Mat was so far up front there, it's a little hard. But we're working on our bike and trying to get it going better. We still have a little more work to do so that we can get it up on top. I always seem to struggle finishing the turns late on these things. You get to sliding around there and not really being able to drive forward."
Hodgson maintained fourth and picked up a second consecutive rock-solid finish to open his AMA Superbike career. American Honda's Miguel DuHamel crossed the line a little more than three seconds behind the former World Superbike champ after chasing the Hodgson/Spies battle and thinking he might have a shot at a podium for a time. The Canadian attempted a late charge of his own, but his tires refused to cooperate, forcing the former AMA Superbike champ to accept fifth. DuHamel's teammate, Jake Zemke, dropped out of the race while running sixth on lap 10. His absence turned a tight fight between second Ducati Corse pilot Eric Bostrom and the Jordan Motorsports' duo of Jason Pridmore and Steve Rapp into a battle for sixth. Late in the contest the basketball legend's riders dropped the Ducati star and made it an all Jordan scrap for sixth. Ultimately, Pridmore claimed the spot with Rapp in seventh a half second back. Bostrom followed them home in eighth.
Saturday Superbike Race Results: 1. Mladin (Suzuki) 2. Yates (Suzuki) 3. Spies (Suzuki) 4. NEIL HODGSON (PARTS UNLIMITED DUCATI AUSTIN 999) 1:39.502, 1:40.153, 5. DuHamel (Honda) 6. Pridmore (Suzuki) 8. ERIC BOSTROM (PARTS UNLIMITED DUCATI AUSTIN 999)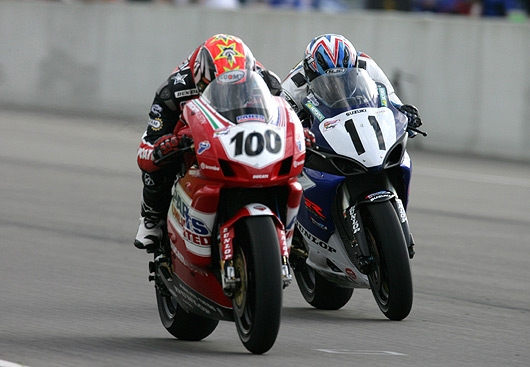 Hodgson drag races Yates down the front straight. The V-Twin Ducati had the bite out of the corners while the 4-cylinder GSXR had the power to smoke the rear tire at will which may have cost Yates a podium spot in Race 2.
Sunday Race Two
In Sunday's Superbike race Mladin's Yoshimura Suzuki teammates, Aaron Yates and Ben Spies, ran with Ducati Austin's Neil Hodgson in the race's early stages until the young Texan Spies dropped off the pace of the Georgian and Briton ever so slightly. Yates and Hodgson settled into a nice duel before second-placed Yates suddenly pulled into the pits to fit a new rear while working lap 18. Hodgson couldn't believe his luck, finding himself all alone in second with just a handful of laps remaining.
Just as he did on Saturday, the Aussie opened his lead to double digits before taking his time through the lappers and claiming the checkered flag on one wheel. This caution and celebration decreased his advantage at the conclusion of the contest, but it remained a still-imposing 9.740 seconds.
"It's been a good weekend for us," Mladin said nonchalantly. "It was another good race. The tire didn't hook up quite as good as yesterday; it was certainly a bit of a struggle to do some of the lap times for the first 15 to 18 laps. It might have been just a little bit warmer track temperature or something, but things just weren't quite as comfortable. But other than that, it was a good race -- can't complain. The new bike is unbelievable and the tires are working great overall. It's been a great start to the season."
Hodgson, the 2003 World Superbike champ held onto the position and proved once again that he's already one of the AMA's elite even at this early stage in his American racing career. Hodgson commented, "It was a tough race -- a long race, especially when Aaron pulled out. It made it more difficult for me because it was quite boring then because I was completely on my own. Up until that point I was quite enjoying it -- just sort of planning where I could pass Aaron because I was quite comfortable sitting behind him. I was really shocked when he started looking around and pulled into he pits. I thought that was strange, but I was quite happy though."
While the much-anticipated battle for second evaporated, a slugfest that emerged for third didn't disappoint. After dropping his pursuit of Hodgson and Yates, Spies continued going backwards until he found himself three full seconds behind a charging Miguel DuHamel.
The American Honda legend may have had a few thoughts of joining the scrap for second himself but soon had a resurgent Spies on his hands. The Texan started tracking the Canadian down with a little over seven laps remaining before closing to within striking distance on lap 23.
Sunday Superbike Race Results: 1. Mladin (Suzuki), 2. NEIL HODGSON (PARTS UNLIMITED DUCATI AUSTIN 999) 1:39.502, 1:40.153, 3. Spies (Suzuki) 5. DuHamel (Honda), 4. DuHamel (Honda, 5. Eric Bostrom (Ducati), 6. Josh hayes (kawsakai), 7. Vincent Haskovec, (Suz). 8. Aaron Yates (Suz), 9. Martin Craggil (Suz), 10> John Haner (Suz).
---
British Superbike, Round 3 of 13

Michael Rutter Doubles
on HM Plant Honda
at Mallory BSB
Mallory Park, GB, April 22-24th -Michael Rutter took a devastating double victory at the third round of the Bennetts British Superbike Championship in front of his home fans at Mallory Park in Leicestershire. The HM Plant Honda Racing star took maximum points and the championship lead after his team-mate Ryuichi Kiyonari was injured in an incident earlier in the day.

Kiyonari Dominates
Practice and Qualifying
British Superbike season points leader, Honda's Ryuichi Kiyonari will start from pole position for the Mallory Round on Sunday. Rizla Suzuki's Scott Smart will start from seventh and John Reynolds from 9th in tomorrow's third round of the British Superbike Championship at Mallory Park in Leicestershire.
Scott worked hard during both qualification sessions on the handling of his Rizla Suzuki. He eventually qualified 7th, disappointed not to have had a clear lap at the end of the session to improve his time.
JR suffered from cramp in his broken right leg in the morning session. A massage helped the British Superbike Champion through second qualifying and he took an impressive 9th place to head the third row on the grid.
Both Rizla Suzuki riders were well under the 1.39-mile long Mallory Park track record of 51.722s. Superbike racing starts at 13:15 tomorrow, Sunday, April 24th. It will be covered live on Sky Sports and a highlights program will be broadcast by Channel 4 the following Sunday.
Scott: "We worked to refine the handling on my Rizla Suzuki today and we have achieved a lot. I will now sit down with my crew and decide on a final set-up for the races. We will then trial that in morning warm-up and hopefully go even faster than today.
"Seventh on the second row is a fair starting position, but I was only one tenth of a second behind fourth. I didn't get a final flying lap at the end of qualification but I am sure I could have challenged for the front row."

JR: "In first qualifying I was suffering from cramp in the back of my right leg. Now the bones are healing, I am asking more of the muscles and they are protesting. I had a massage in-between qualification sessions and felt 100 per cent better in the afternoon. I'll be going back to the physiotherapist tomorrow before the races.
"My Rizla Suzuki crew has been incredible again. Everything I ask for I get and my GSX-R1000 is absolutely on the money. It is capable of going a full second faster if I was fully fit. I'm starting to enjoy my riding and racing again and that is the best feeling in the world."
Mallory Park Qualification: 1: Ryuichi Kiyonari (Honda) 50.593, 2: Michael Rutter (Honda) +0.223, 3: Glen Richards (Kawasaki) +0.390, 4: Dean Thomas (Kawasaki) +0.651, 5: Karl Harris (Honda) +0.665, 6: Leon Haslam (Ducati) +0.702, 7: SCOTT SMART (RIZLA SUZUKI) +0.752, 8: Gregorio Lavilla (Ducati) +0.846, 9: JOHN REYNOLDS (RIZLA SUZUKI) +0.904, 10: James Buckingham (Suzuki) +0.944.
Race Day Doubles for British Hero Rutter
Michael Rutter on the the HM Plant HondaCBR1000RR became the first rider to break team mate Ruichi Kiyonari's early season domination of the British Superbike Championship. Rutter powered to a winning Mallory Park double, moving ahead of his team-mate Ryuichi Kiyonari who was ruled out the action as he took a bruising in a heavy tumble early on in the opening race. The exciting Japanese rider, unbeaten prior to that, faces a race against time to be back in action at the Cheshire circuit, and, along with Sendo Kawasaki rider Steve Plater, will be having a scan to determine his fitness to participate.
The First Race was stopped after Kiyonari crashed on the approach to Edwina's chicane. The 22-year-old Japanese star lost control under heavy braking, ran on to the grass and parted company with his HM Plant Honda Racing CBR1000RR Fireblade. After being temporarily knocked unconscious, Kiyo recovered in the circuit medical centre from concussion, but played no further part in the day's proceedings.
Rutter led the first race from start to finish after the restart using the power and handling characteristics of his factory Fireblade to best effect. Third into the first turn, the 31-year-old Midlander swept into the lead on the entry to Edwina's chicane before establishing a race-winning advantage. With the help of a new lap record (0:51.590) on lap three, the HM Plant Honda Racing star's winning advantage over Glen Richards was more than six seconds at the chequered flag.
The Second Race was stopped and restarted twice with one consistent factor – Michael Rutter at the head of the Superbike field on the all-conquering factory HRC-prepared Fireblade. The final positions were decided at the third time of asking over 12 laps of the 1.39-oval circuit. Rutter made the early running with Glen Richards, before the Kirkby Mallory resident made good use of his local knowledge to pull away over the shortened race distance.
Rutter, the runner-up in last year's British Superbike Championship, is keen to build on his success, and is eager for Kiyonari to be back on track: "I would rather have been winning with him out there and am keen for more success - there is a long way to go in the championship and my focus is all about winning races.
"There's no doubt that the bike is going well at the moment and the input from both HRC and Michelin has been invaluable - we're seeing the fruits of our labour now," smiled Rutter who holds a 19 points advantage over his team-mate.
"I aim to be riding at Oulton Park, and I was happy for Michael that he took the victories - I feel OK except for a bit of a sore head and neck and will out there if I am fit to ride," said Kiyonari who has bitter-sweet memories of the circuit from his first visits last year.
Between them the two Honda riders have won all six races so far, but the opposition is closing in on them. Gregorio Lavilla, whose presence in the Airwaves Ducati team for the remainder of the season has been confirmed, is riding superbly and poses a real threat, although he has not ridden the circuit before.
Results
Bennetts British Superbike Championship – Round 3
Race One – 25 laps
1 M Rutter HM Plant Honda 21:48.024
2 G Richards Hawk Kawasaki 21:54.730
3 L Haslam Airwaves Ducati 21:58.378
4 S Emmett Virgin Mobile Samsung Yamaha 21:59.323
5 S Smart Rizla Suzuki 22:01.489
6 D Thomas Hawk Kawasaki 22:05.662


Race Two – 12 laps
1 M Rutter HM Plant Honda 10:27.220
2 G Richards Hawk Kawasaki 10:28.166
3 G Lavilla Airwaves Ducati 10:28.217
4 D Thomas Hawk Kawasaki 10:29.241
5 L Haslam Airwaves Ducati 10:29.733
6 K Harris Honda UK 10:35.610
Championship standings
Michael Rutter 119
Ryuichi Kiyonari 100
Gregorio Lavilla 88
Glen Richards 83
Sean Emmett 65
Leon Haslam 62