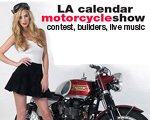 The Biggest Streetbike Show in America!
July 16-17th 2005
$70,000 in Awards!
• World Record Jardine Dyno
• 2-Wheel Tuner Sportbike Class
MotoCreations.com Ducati Class
• AMD World Championship of Bike Building Qualifying Round
Exhibitor Information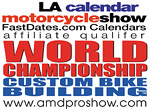 British Superbike
Round 2 Thruxton
Ryuichi Kiyonari continues to steamroller the locals
April 10th, Thruxton, GB- Japanese rider Ryuichi Kiyonari on a Honda CBR1000RR continued to dominate in British Superbike for the second race meeting in a row, handily wiining both races today and take a commanding points lead in the world's most competitive National superbke series. Former World Superbike rider Gregoria Lavila on Ducati, and former British Superbike champ Michael Rutter, Honda mounted, traded the other 2 podium spots both races behindKiyonari.
RIZLA SUZUKI racer Scott Smart found extra performance from his GSX-R1000 during a tough day's racing at the second round of the British Superbike Championship at Thruxton.
Smart finished seventh in the opening race at the Hampshire circuit. He then altered the rear suspension settings on his Rizla Suzuki for the second race and despite pulling out on lap 13, came back to the pits upbeat that he has unlocked extra performance that will let him race at the front in the future.
British Superbike Champion John Reynolds took a battling 14th place finish in the first race. Still suffering from a broken right leg, JR was outside of the points and struggling against the bumpy nature of the track in the second race when his crew called him into the pits to retire rather than risking further injury.
Former Formula One commentator Murray Walker joined Rizla Suzuki at its home Thruxton circuit to lend his support to the team. He spoke highly of JR's bravery in racing at one of the fastest tracks in the UK. Honda's Ryuichi Kiyonari won both races.
The BSB teams go to Oulton Park on Friday 15th April for an official BSB test before the Championship resumes with the third round at Mallory Park on April 24th. Channel Fourin GB will be showing highlights of today's racing next Sunday morning - featuring a competition to win a pillion ride with Rizla Suzuki at Mallory Park.
Race One Result: 1: Ryuichi Kiyonari (Honda) 28:05.231, 2: Michael Rutter (Honda) +9.672, 3: Gregorio Lavilla (Ducati) +12.111, 4: Leon Haslam (Ducati) +15.791, 5: Sean Emmett (Yamaha) +15.817, 6: Karl Harris (Honda) +17.628, 7: Scott Smart (Rizla Suzuki ) +18.340, 8: Dean Thomas (Kawasaki) +18.615, 9: Glen Richards (Kawasaki) +25.311, 10: Tommy Hill (Yamaha) +32.655, 14: JOHN REYNOLDS (RIZLA SUZUKI) +45.634.
Race Two Result: 1: Kiyonari 28:45.734, 2: Lavilla +0.444, 3: Rutter +1.298, 4: Emmett +7.055, 5: Richards +8.896, 6: Thomas +9.066, 7: Haslam +9.188, 8: Harris +10.392, 9: Jeremy McWilliams (Honda) +21.668, 10: Steve Plater (Kawasaki) +21.833, DNF: John Reynolds), DNF: Scott S,art (Rizla Suzuki).
BSB Championship Standings after two of 13 rounds: 1: Kiyonari 100, 2: Lavilla 72, 3: Rutter 69, 4: Emmett 46, 5: Richards 43, 6: Harris 38, 7: Haslam 35, 8: Thomas 31, 9: Scott Smart (Rizla Suzuki) 17, 10: John Reynolds (Rizla Suzuki) 16.
DUCATI MARLBORO MEN FOCUS ON NEW
ENGINE-BRAKING SYSTEM
Marlboro Spanish Grand Prix, Jerez, Friday practice, April 8 - Ducati Marlboro Team riders Loris Capirossi and Carlos Checa used today's opening two practice sessions for Sunday's Marlboro Spanish GP to continue development work on Ducati's innovative new engine-braking system. After initial tests last month, both riders had both their bikes fitted with the new unit for the first time, illustrating the factory's confidence in this new technology. The new system is designed to optimise braking stability by reducing excessive engine-braking forces, and has the added advantage of slightly reducing fuel consumption.
"We are using the new system because we know that the best place to really stress new parts is at a race," said Ducati Corse director Filippo Preziosi. "During testing you can ride many laps without problems, but it is under pressure in a race situation that you find new limits, which gives us better information to improve. Today is the first time that we have focused 100 per cent on the new system. After just two hours of track time we're very happy with progress. We have already matched our best time on race tyre from our November tests here and we're not so far from the front guys. It's encouraging but we still don't know how long it will take us to find all the benefits of new system, but we are working towards that."
CAPIROSSI NINTH
ON DAY ONE
Loris Capirossi ended the first day of the 2005 MotoGP season in ninth spot. The Ducati Marlboro Team man spent much of both sessions working on the new clutch system, which has undergone minor improvements since the team tested here two weeks ago.
"I'm still getting used to the system - it feels very different to ride with, like you've switched off the engine when you brake," said the Italian. "But it already has its good points and I believe it will give us a real advantage by improving stability during heavy braking, that's why we're sticking with it. At the moment the new system isn't quite as the same level of the standard system but it gets better every session. We had some trouble this morning but made a big improvement this afternoon."
CHECA'S SHOULDER
IS 80 PER CENT
Carlos Checa slid off during this afternoon's practice session, thankfully not aggravating the shoulder injury he sustained when he tumbled at Catalunya last month. The Spaniard is having to play catch up here because he missed last month's group Jerez tests, following that fall at Catalunya.
"It wasn't a big crash," said the Ducati Marlboro Team rider, so far 16th fastest. "I went down at the hairpin at the end of the back straight, just before the gravel trap. My shoulder is probably about 80 per cent at the moment, but I thought it might be even worse before I got here. I have a lot to do here because I missed the tests - I'm getting my feeling back after a few weeks off, as well as working on set-up and the new clutch. I've had better days but I'm confident we will improve tomorrow."

Coming Soon! 2006
FastDates.com Calendars
Exclusive Early Preview!
Get a full look NOW of all the 2006 Calendar photosin the Members Corner Calendar Gallery

World Superbike Girls!
Our official SBK Fast Dates World Superbike girls are featured in
Member's Corner!
Includes FREE Access with to
Paddock Garage
Rossi-Gibernau duel boosts TV audiences for MotoGP opener
The heart-stopping 45-minute battle between World Champion Valentino Rossi and his long-standing rival Sete Gibernau in MotoGP's 2005 season opener, the Gran Premio Marlboro de España in Jerez, saw huge support from TV viewers worldwide. Unsurprisingly, the largest audiences were recorded in their respective countries, Italy and Spain, where viewers of both Mediaset (Italia 1) and Televisión Española enjoyed the thrilling showdown live in their homes, with the race remarkably taken to the final corner by both riders.
An average of over 7 million spectators enjoyed Rossi's win through Italia 1, representing a market share of 34.4%. At the broadcasting peak, during the last lap of the race in Jerez, almost 8 million fans were tuned in. In total, the transmission reached 11.5 million spectators.

A similar phenomenon occurred in Spain. Although the huge 127,000 crowd present at the circuit and the TV viewers at home were unable to celebrate their home-hero's victory, TVE's main channel scored its largest race audience since Alex Crivillé's World Championship win in 1999. The average viewing figures for the race were 3.7 million, with an average share of 38%. The "golden minute" of the broadcast, immediately before the dramatic outcome of the race, recorded 5.5 million viewers (46% market share).

Another good example of the success of MotoGP's first race of the season was the audience in the United Kingdom through the BBC. The average viewing figure for the show was 1.2 million (14% market share), one of the largest for MotoGP broadcasts, and well above the regular network audience for Sunday lunch-time.

This data reflects the massive interest in the 2005 MotoGP World Championship, with fans across the globe eagerly waiting for the next round in the Rossi-Gibernau showdown, which takes place in Estoril on Sunday April 17th at the betandwin.com Grande Premio de Portugal.
Hot Shots!
Fast Dates Calendar shoots Rossi's MotoGP Championship Yamaha
With Heather Caroline
April 14th - The world's hottest race bike and centerfold model - The Fast Dates Calendar is shooting next week Valentino Rossi's World Championship winning Yamaha M1 MotoGP bike for our next calendar with beautiful red haired Playboy Playmate Heather Caroline. Just for the fun of it we also tossed in Roland Sands' (RolandSands.com) "Hard Rock" custom for the Iron & Lace Calendar, and a Graves Yamaha R1 Superbike. What more could any guy want, except maybe a sponsored ride?
If you are a good boy we might show you some photo out takes in a few weeks.
But for now its back to work....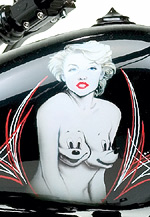 Marilyn does Mickey
Living too close to Disneyland in Florida? Iron & Lace Calendar bike builder Cyril Huze got a little wacked with his latest custom bike paint job featured on the cover of the 2005 Cyril Huze calalog! CyrilHuze.com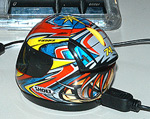 Daijiro Commerative GP Helmet Computer Mice
GP Helmet Mouse is available in the two different trademark Blue / Yellow and Red / Yellow color schemes worn by Daijiro, and have all the hot race features like an 800dpi optical laser for smooth tracking, left/right click functions for precise turn-in, and a quick throttle scrolling function. Included is a long, 36in. detachable USB cable for stealth operation when the tech inspector stops by. The GP Mouse is compatible with both superstock Windows (98 and later) and superbike Apple OS machinery.
Available in America from Sudco International to Dealers,
and Retail direct for $47.00.

Phone weekdays
1-323-728-5407 8am -6pm PT
SUDCO INTERNATIONAL
www.Sudco.com
Supermodels who
like to get wet...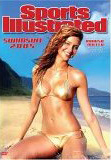 Sports Illustrated
Swimsuit 2005 DVD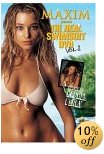 Maxim Swimsuit DVD
hosted by MTV's Rachel Perry
---
The Death of Professional Roadracing in America
contined....
Don Emde Comments on AMA
Pro Racing and American Honda
Don Edde won the Daytona 200 in 1972 aboard a Yamaha TZ350. He now publishes a dealer trade magazine Parts Magazine.This is a leter he sent to us and Cycle News to follow up on a column in Cycle News last week by contributing journalist Henry Ray Abrams on the demise of this year's Daytona 200, relagated to a one brand Honda showcase attended by less than 5,000 spectators.
FastDates.com has been voicing a similar opinion since August of 2004. We are glad to see someone else in the Industry havng the courage to speak on the factors contributing to the demise of pro roadracing in America. -Ed.
I wanted to comment on Henny Ray Abrams' thought-provoking Chicanery column ("A Farce") that ran in the March 23rd issue of Cycle News. In my opinion, the two biggest issues that cloud the direction of roadracing by AMA Pro Racing is the number of classes that they run and the structure of the AMA Pro Racing Board of Directors.
First, it seems clear to me that the AMA's goal is to have lots of classes so that most, or all, of the manufacturers can win a class championship. Kind of like the Olympics when the "Medal Count" is what teams shoot for rather than any single Main Event.
I know some people don't like to hear "Back in my day,"but…back in my day, yes, we had some preliminary races during Daytona Bike Week, but there was one big shoot-out on the last day with all the big dogs on the track at the same time. That's the kind of Daytona 200 that I won, as did Kenny Roberts, Wayne Rainey, Freddie Spencer, Scott Russell and others in their day. There needs to be a Main Event and that is what we didn't have this year at Daytona.
There are two key classes of motorcycle sportbikes – 600s and 1,000s. But we have four classes in the AMA series. Sure, some allowances need to be made for the Ducatis and other brands that emerge with less cylinders, but that can be worked out. But there is no need to have two classes each for 600s and two for 1,000s. The fan confusion is really hurting the sport.
Secondly, I don't have anything against Ray Blank or American Honda, I think Honda makes great products. But it is totally wrong, in my opinion, that only a representative from Honda should sit on the AMA Pro Racing Board and participate on all the decisions are being made, while the others sit by their mailbox waiting for the news to arrive about what the rules of racing will be.
A few years back when it was announced that this one manufacturer would sit on the board, people wondered if decisions would be unbiased. Now, I think the answer is clear. As Keith McCarty replied in the "Chat Room" interview on page 16, they were notified about the switch to Formula Xtreme machines for the 200 in August. Don't tell me that's when Honda first knew about it. And look at the number of rule changes that have effected the Superbike class in the past three or four years as Mat Mladin and Suzuki have continued to succeed. I could be wrong, I hope I'm wrong, but that has always appeared to me to be "strategic." Whatever the reasons have been, the result was that this year the defending champion of the race was already on his way home when the Daytona 200 started. And the Yamaha and Kawasaki team trucks were somewhere in East Texas heading west.
As a result of its "for-profit" corporate structure, the AMA Pro Racing board is not required to publish its meeting minutes, so we don't know what proposals are brought forward and how the voting goes. But I'd say the board should have been overly sensitive to the possible criticism of the bias issue, but they failed completely to do so. So how else should they think the public and industry would react to a "Daytona 200 by Honda," with only the four factory-support Honda rider pummeling a field of privateers?
Even during Bike Week and since, I've had conversations that range from "we have to fix the situation at the AMA" to "it's not fixable." Fixing what we have would seem to be the best direction as we'd hold everything together in one series. But if the latter is true, then the AMA and Honda can go do their series and the rest of the sport can go do something else. I think there are some people and organizations out there that could run events that could be very fan-friendly even with just three-of-the-four Japanese brands.
Whichever way this goes, the most important aspect is that there is a level playing field for all the participants and that everyone has an equal voice. As Henny Ray pointed out, big changes are needed and it's going to take people with some balls to make them.
- Don Emde, Laguna Niguel CA
What do You Think?
Write us at:
Web@FastDates.com