FastDates.com March 2005
BEST VIEWED with Browser Preferences/Fonts settings on 12 pt Size or Smaller
Superbike, MotoGP Racing & Calendar Girl News
Official Calendar of the SBK World Superbike Championship
Home of the official SBK Fast Dates & Team Ducati Corse Umbrella Girls

Jeff Ward bailed out, but Paris is ready for the Daytona Formula Xtreme race - Watch out Miguel!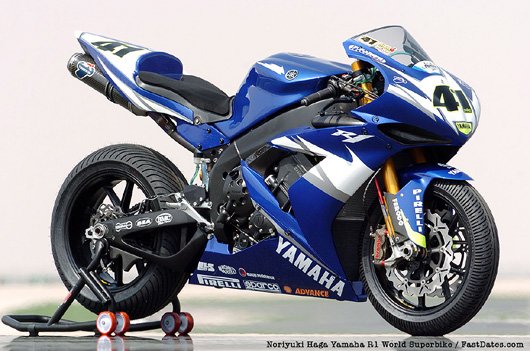 Yamaha of Europe will show you how to build Noriyuki Haga's R1 factory Superbike this month in Valencia, Spain, or you can stay home and also see how in Paddock Garage. With free 1224 Giant Screensavers of Nori's bike!
Free Yamaha Racing School through Yamaha of Europe
March 1st - After last year's success, the Yamaha Race Training (YRT) is coming back. The 2005 YRT will be held from March 20th to March 23rd at the Ricardo Tormo Circuit in Valencia, Spain. The YRT is set up once again to help the pre-season preparations and improve the knowledge of the technical set-up and machine tuning of the 2003/2004/2005 YZF-R6 and the 2004/2005 YZF-R1, equipped with (certain) YEC kit parts.
Unfortunately, for Yamaha racers in America, Yamaha USA does not want to acknowlede the school, nor do they offer through American dealers any of the full range of official Yamaha Racing factory parts for the R1/R6 sportbikes and YZF motocross bikes. It is a sad state of affairs due to the product liability and persoanl injury lawsuit climatehere in America that most of the Japanese manufacturers in America do not want to be directly associated with assisting customers to go roadracing in any way from sponsoring track riding schools to selling you the factory racing parts that are readily available from distributors in european countries. The brave exception to this is US Suzuki GSXR Champiuonship Finals. It's just one more reason why the U.S. based motorcycle distributors are helping the AMA Pro Racing with The Decline of Motorcycle Roadracing in America.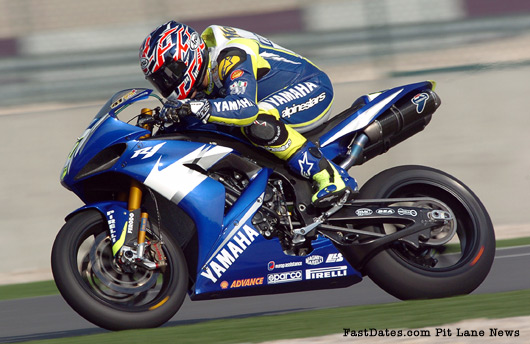 Yamaha Race Training (YRT) is:
• For SUPERSPORT, SUPERBIKE & SUPERSTOCK teams with race license, racing the 2003/2004/2005 YZF-R6 and 2004/2005 YZF-R1 ONLY!
• A 3- day Race Training, including theoretical sessions and practical education at racetrack on how to set-up and tune the bike.
• It's organised by Yamaha Motor Europe – education and advise given by race engineers from Yamaha Japan, Yamaha Europe racing staff, as well as some of the leading tyre and suspension manufacturers and 2D Datarecording.
• FREE OF CHARGE. Costs that the teams will have to pay are travelling costs, eventual hotel facilities, food, fuel, tyres and other machine consumables.
Theoretical education:
1. Technical presentation (05 models R1 and R6)
2. 2D data kit
3. Suspension – setting up and maintenance of front forks and rear shocks
4. 2005 YEC Kit manual presentation (incl. installing and tuning)
Location & Date:
• Sunday 20th March (arrival teams) to Wednesday 23rd March (inclusive) at Ricardo Tormo circuit, Valencia, Spain. For more information and route description, please visit the website: www.circuitvalencia.com
How to Register:
For detailed program information and for registrations, please contact your national Distributor before February 23rd! To find who to contact at your distributor, please see list below as listed on the Yamaha-racing.com website in the Racing Parts Section under YRT: http://www.yamaha-racingparts.com
For complete information and parts sources for preparing the Yamaha R1 and R6 superbikes for roadracing vist our Paddock Garage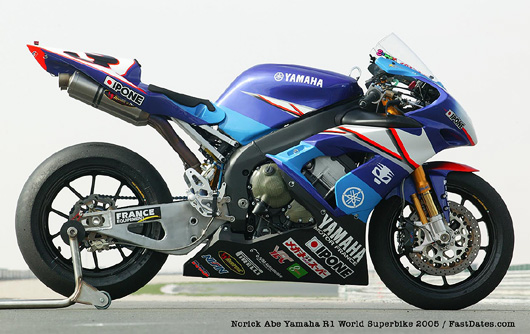 Yamaha of Europe will show you how to build Norick Abe's R1 factory Superbike this month in Valencia, Spain, or you can stay home and also see how in Paddock Garage. With free 1224 Giant Screensavers of Abe's bike!
---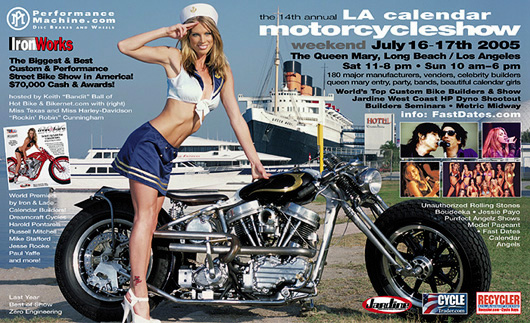 FastDates.com and Performance Machine present the 2005
LA Calendar Motorcycle Show Weekend July 16-17th 2005
Featuring the new Metric Midway with 2-Wheel Tuner Sportbike Class and MotoCreations.com Ducati Class, World's top Builders and Custom Bikes, Jardine Dyno Shootout, Famous Builders Seminars, and zillions of Beautiful Girls
Los Angeles, March 1st - The Los Angeles Calendar Motorcycle Show Weekend sponsored by Performance Machine and held at the beautiful Queen Mary Event Park on the Pacific Ocean in downtown Long Beach, CA, continues to grow every year as the most popular consumer street bike show in America catering to custom, cruiser, classic and sportbike enthusiasts. Always the 3rd weekend of July, the 14th Annual Show scheduled for Saturday July 16th and Sunday July 17th, 2005. The Show features a huge weekend of activities with an expected 180 major motorcycle and product manufacturers, exhibitors and venders, together with the leading custom bike from across America. Associate Sponsorship support for the premier streetbike event weekend in America is provided by Iron Works magazine, Jardine Performance, Trader Publications, Trader Express, Connection Magazines, Quick Throttle Magazine, 2-Wheel Tuner, FastDates.com Calendars & Website, The Los Angeles Times / ReCycler / Cycle Buys, Bikernet.com and SPEED TV's American Thunder.
There's an incredible lineup of activities including the Jardine Performance West Coast Horsepower Dyno Shootout - an exclusive permanent feature attraction at the Show. Another exclusive feature are the Calendar Bike Builder's Seminars held both days at the Show, conducted by the leading custom bike builders in America as featured in the Iron & Lace Calendar. You'll meet many legendary builders with their latest bikes including 3-time Show winner Jesse Rooke, plus Russell Mitchell, Don Chica, Mitch Bergeron, Paul Yaffe, Mike Stafford, Harold Pontarelli, Ron Simms and others. Plus exciting new builder Dreamcraft Studios with the next world premier their latest rolling piece of techno artwork featuring the world's first fully machined 1-piece billet chassis. Each builder will be available to meet at their bike displays with free autographed posters, and at their Builder's Seminars where they will tell fans how they really build their bikes. It's not Reality TV, it's live!
This year's Show will place a special emphasis on the growing metric cruiser market with the exciting new Metric Roadhouse and Midway. Located right inside the main Spectator Entrance / Exit of the Show, the LA Calendar Bike Show Metric Roadhouse and Midway will feature an exciting host of activities to draw the entire range of streetbike enthusiasts throughout the weekend. Targeted activities in the Metric Roadhouse Roadhoue include the Jardine West Coast Horsepower Dyno Shootout, the Metric Cruiser and 2-Wheel Tuner Sportbike and MotoCreations.com Ducati Bike Show Contest classes with leading edge metric customs and sport bikes, a beautiful girl DJ spinning hot tunes, along with great food and beverages throughout the weekend.
On Saturday night Show promoter Jim Gianatsis hosts the Iron & Lace Calendar Builders Night Party beginning at 9pm on board the historic Queen Mary ocean liner in the Observation Room Bar with live musical entertainment by a sensational new national female recording artist. Many of the top Iron & Lace Calendar bike builders together with other top celebrity builders attending the Show weekend will be there, together with fans and the beautiful FastDates.com Calendar Angels featured in the Iron & Lace Calendar.
As always the LA Calendar Show offers the premier Custom, Sportbike and Classic Bike Contest on the West Coast featuring many of top Pro and Amateur bike builders in America vying for the prestigious Performance Machine Best of Show Trophy. Performance Machine and show producer Jim Gianatsis have bolstered the already huge $60,000 Bike Show awards purse with an additional $10,000 in Case prize money for Best of Show and Best PM Equipped Bike at the Show. Expect 3-time LA Calendar Motorcycle Show winner Jesse Rooke to return to reveal his latest cutting edge custom in another bid to secure the coveted Performance Machine Best of Show title. But competition will again be intense from many of world's top builders like last year's winner Shinya Kimura from Zero Engineering who flew in from Japan to took home the Best of Show trophy with one of his famed retro choppers that have customers on a 4-year waiting list.

Highlighting a full weekend of live entertainment, this year's LA Calendar Motorcycle Show features a Classic Rock 'n' Roll and Blues Festival both days. Returning is the hugely popular Unauthorized Rolling Stones out of San Francisco together with the Janis Joplin style rock/blues vocals of the beautiful Boudeeka. Alternating on stage will be beautiful blues rock singers Jessie Payo on Saturday, and Shari Puorto on Sunday. Also featured both days will be the beautiful Purrfect Angelz with their sizzlin' Las Vegas style stage shows which set the Show on fire, literally, with the sexy outfits, and stage routines which include fire twirling and lap dancing!

Showcasing the Calendar Girls theme of the Calendar Bike Show will be the premier of the 2006 FastDates.com Calendars with the beautiful SBK Fast Dates World Superbike and Iron & Lace Calendar Angels in attendance. Featured is TV and movie star Miss Texas "Rockin' Robin" Cunningham who will be hosting the stage activities both days, assisted by the legendary Keith "Bandit" Ball of Bikernet.com and biker magazine fame. Plus there will be the FastDates.com Calendar Girl Model Search Pageant presented by CaliforniaHostess.com with their own sexy models, plus the beautiful Hooters Girls and Archie's Ice Cream Girls.
You can find out more about The LA Calendar Motorcycle Show, the Bike Contest and all the available weekend activities here at at Bike Show
---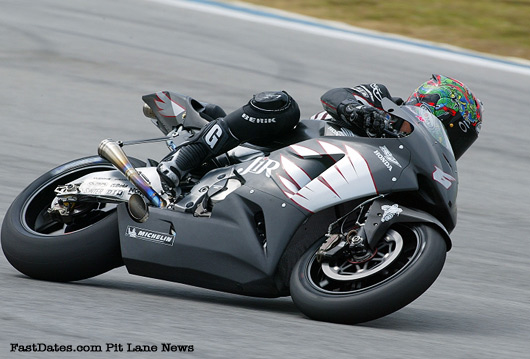 Tomada and the Honda were quickest in this week's MotoGP testing at Losail

MotoGP World Championship Test Losail, Qatar.

Nicky Hayden quickest on opening day of Qatar test
Losail, Qatar, March 1-3rd: The Repsol Honda team riders, Nicky Hayden and Max Biaggi, together with Konica Minolta team rider Makoto Tamada, had flown to Qatar directly from Tokyo. All three plus many stars of both two and four wheeled racing had taken part in the annual Honda Motor 'Kick off party' where the company officially announced the Honda racing programme for the 2005 season.

Both riders set times inside the official lap record as they sought the ideal set up for their RC211V V5 990cc MotoGP machines. Hayden quickly established a good base line and went on to set a time faster than pole position time set at the Qatar GP in October of 2004. The young American ended his 82-lap stint around the 5.400kms desert circuit confident there is more to come over the next two days of testing.
Biaggi struggled to find his way early on but by the end of the day was beginning to feel comfortable with his RCV and the direction the team are working in

The Telefonica MoviStar Honda team stole the show at the inaugural Qatar GP with a superb one – two finish for Sete Gibernau and his, now departed, teammate Colin Edwards. Gibernau has a fever and elected to sit out day one. His new teammate, Marco Melandri, did test and put in his best performance since switching to the Honda RC211V for the 2005 campaign.

Following three full test sessions prior to Qatar Melandri has worked step by step towards finding a base set up he was comfortable with before he thought about setting fast lap times. Today everything worked well for the young Italian and he was second fastest man behind Hayden, but more importantly he set consistently fast times while tyre testing.

The Camel Honda team of Alex Barros and Troy Bayliss were restricted to just 53 laps between them due to a shortage of fuel. Brazilian Barros continued his experiments with the new front fork while Bayliss chased a sound base set up to work from for the remaining two-days of the test.

Makoto Tamada made a cautious start to the test still feeling the effects of his big crash at the last test. The Konica Minolta rider worked on confirming what the team had learned about the new RCV before getting down to serious testing tomorrow. Honda rider lap times and quotes:

Makoto Tamada takes top spot on Day 3 at Qatar
Japanese Honda rider Makoto Tamada ended the three-day MotoGP test at Qatar with a scintillating lap time of 1m 57.63s round the 5.400kms Losail circuit. Tamada's time was an incredible 2.3s faster than pole position time set at the GP last October.

The Konica Minolta Honda rider and his technical crew have established a solid base line setting for the Honda RC211V with the Michelin tyres Tamada will use this season. Over the winter testing period Tamada has found the rhythm and consistency he will need if he is to challenge for major honours when the season begins in earnest, at Jerez, Spain on April 10.

Makoto Tamada, Konica Minolta Honda: 1m 56.63s - 77 laps.
"I'm very happy for what we have globally done in these three days since I have been the fastest rider during the second and the third day. My major satisfaction, apart from the lap times we have obtained, is the feeling I found with the bike. We confirmed also on this circuit after the performances during the Sepang and Phillip Island tests, that the package we have at our disposal for the season 2005 is at a highest level compare to the one we had the past season. Therefore I'm very trustful and I hope to be able to always perform at the maximum level during the season which is about to begin."

Nicky Hayden has grown in stature with each test aboard the new 2005 Honda RC211V 990cc V-5 grand prix machine and departs for his Kentucky home for a well earned rest. The Repsol Honda rider has developed a good feeling with his RCV that has instilled a high level of confidence as the 17-round championship series approaches. He rounded off the test with by setting his fastest time of the three-days, two seconds faster than his qualifying time at the Qatar GP last October.

Repsol Honda, Nicky Hayden: 1m 57.33s – 79 laps.
"After three days here we're really starting to put it all together. I really enjoyed it here in Doha. There have been fewer riders around and we have really made some good progress. The conditions here have been good; less windy today. I'm back to Kentucky for a few days before coming back to Europe for the final tests before the season starts proper. I feel we're in good shape; the team is working real good, and the bike is working well."

Teammate Max Biaggi's final day was one of mixed fortunes. Biaggi and the team achieved most of their objectives set for the day but their efforts were hampered when Biaggi lost the front end at turn 12 and slid off his RCV. The Italian was unscathed and the machine suffered only superficial damage allowing the team to complete their test programme.

Max Biaggi, Repsol Honda: 1m 57.94s – 37 laps.
"Today was not the best day. We had wanted to make a race simulation but we make a small mistake and I lose the front end of the machine in Turn 12. There was not so much damage but it was hard to get re-started again. We struggled with the set-up of the bike here both on the first day and today. However, we have much data and we tested several interesting parts from HRC and in some cases we have some good results. The team is so strong and motivated. I really look forward to the next test at Barcelona and then move onto racing."

Telefonica MoviStar Honda rider Sete Gibernau shook off the after effects of the fever which has plagued him at Qatar to set second fastest time on the final day of the test. The Spaniard's condition restricted the number of laps he put in and the team elected to spend the time they had available to tyre testing.

Sete Gibernau, Telefonica MoviStar Honda: 1m 57.32s – 57 laps.
"Considering my physical conditions, I can be quite satisfied of the work done. We focused on tyre testing and even if I was not 100% fit, I did the minimum work required for this test session. We are confirming the work done in Malaysia and Australia, there is still some things to improve and I hope that there will be some new things for Barcelona."

Gibernau's impressive young teammate Marco Melandri has shown his step by step approach to testing has paid off and he has mastered the power and handling characteristics of his RC211V. Melandri ran for 78-laps today mainly testing tyres running a race simulation distance to gauge tyre wear and behaviour as the race develops.

Marco Melandri, Telefonica MoviStar Honda: 1m 57.31s – 77 laps.
"This 3-day test session in Qatar was very positive for me, I'm happy of the method of work we have used here. I believe that, mentally, I have done an important step forward. I have learned from the Australian test session and I came here more relaxed and with clear ideas. Today we made some small modifications to the bike and worked a lot on tyre testing. This afternoon I made a race –distance endurance with very positive results: I lapped consistently on low 1'58"even at the end of the race. For me it's very important to understand the bike and see how it changes on a race distance.

The Camel Honda team of Alex Barros and Troy Bayliss made progress today despite a crash for Barros while testing a new front tire. Bayliss improved on his best lap times of yesterday while working to find optimum machine balance using race tyres. The Camel team will remain at Losail for an extra day of testing tomorrow.

Ducati Marlboro Reports on its Testing in Qatar
Capirossi and Checa prepare for forthcoming IRTA tests with an improvement in lap times and satisfaction for the work carried out in collaboration with Bridgestone.

Doha (Qatar), 3 March 2005 - The Ducati Marlboro Team concluded the third and final day of testing at the Losail circuit in Qatar, the fourth scheduled test for the development of the Bridgestone-shod Ducati Desmosedici GP5. Loris Capirossi and Carlos Checa made the best of today's final session, which took place in perfect weather conditions (28° air/33-50° track) on a surface that gradually improved over the three days.
The Qatar circuit is particularly tough on the front tyre, so both riders concentrated on getting the best performance from the bike exclusively in a race configuration.

Ducati Marlboro Team engineers also managed to identify several promising set-up and tyre solutions, which clearly have to be developed in the next scheduled tests before the start of the championship.
Loris Capirossi succeeded in improving on yesterday's performance, and the Italian recorded a best time of 1m57.320s in his 54 laps.

"I am quite pleased with the work we have done over the past three days. We're still not 100% right with the front but we are on the right path" commented Capirossi. "The GP5 is also going really well on this track and I am sure that the tyres will show further improvement before we come here to race in October. I didn't want to use a qualifying tyre because we concentrated on development work that was far too important to be distracted by the search for sensational times: we are working calmly, there will be time for that in the future".

Team-mate Carlos Checa was just a fraction of a second behind Loris, the Spanish rider recording a best time of 1m57.350s in his 60 laps. "We got through a lot of work today: it wasn't easy and I think that everyone should be pleased with the results obtained" declared Checa. "We improved a lot since the first day but what is really good is the constant progress that we made: it means that we worked well on a track that last year didn't give much satisfaction either to Bridgestone or to the Ducati Marlboro Team. We are improving all the time and this test puts me in a good frame of mind for the future".

With the start of the 2005 MotoGP championship just around the corner, the development of the Desmosedici GP5 is continuing in parallel with the promising partnership with the Japanese tyre constructor.
The Ducati Marlboro Team's next testing appointments are as follows:
March 18-20, Barcellona - IRTA Test
March 25-27, Jerez de la Frontera, IRTA Test
---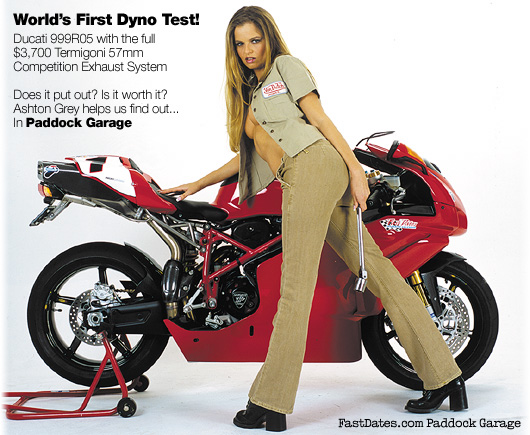 Another FastDates.com World exclusive!
First Dyno Test of the hot new Ducati 999R05 Superbike
with the $3,700.00 Termignoni Full Race Exhaust System
Is this now the world's fasterst, most powerful production Superbike? For all that money she cost, she better put out! We spend our hard earned bucks before you have to. Find out 4 months before the print rags kiss butt to score a free system from Ducati and then still won't tell you the truth if it doesn't put out.
We strap the 999R05 to the Evoluzione Cyclesport Factory Pro Tuning dyno a make it scream for more! Includes sexy screensavers of Penthouse centerfold Ashton Grey tightening the screws on Bologna's hottest number.
---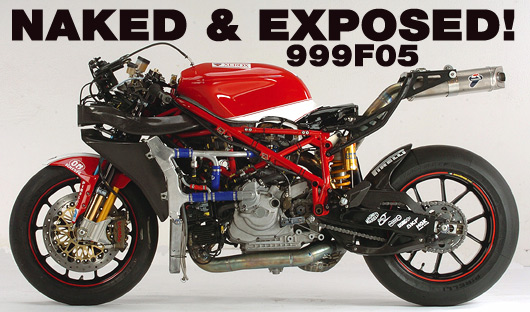 We strip it down to the bare frame to fully reveal Team Ducati Corse's latest 999F05 World Superbike weapon for the 2005 season. But it doesn't stop there. We get even more explicit with exclusive 1224 wide Screensavers in both nude and scantily clothed PG-rated versions for your down loading pleasure. If this doesn't get you off, you're really wacked and nothing will.
Now in FastDates.com Paddock Garage
Fast Dates Calendar Motorcycle Roadracing News. Complete coverage of the SBK World Superbike, AMA National Superbike and MotoGP World Championship. Fast Dates Calendar and Umbrella Girsl. Max Biaggi, Valentino Rossi, Ben and Eric Bostom, James Toseland, Regis Laconi, Loris Capirossi, Troy Bayliss, Troy Corser, Noriyuki Haga. Ducati 999 Monter Multistrada, Yamaha R6 R1, Honda CBR600RR CBR1000RR, Kawasaki ZX6 ZX6RR ZX10, Suzuki GSXR600 GSXR750 GSXR1000, Aprilia Mille, MZ Agusta F4 Brutale