FastDates.com March 2005
BEST VIEWED with Browser Preferences/Fonts settings on 12 pt Size or Smaller
Superbike, MotoGP Racing & Calendar Girl News
Official Calendar of the SBK World Superbike Championship
Home of the official SBK Fast Dates & Team Ducati Corse Umbrella Girls


Jeff Ward may have backed down from racing on the Daytona banking, but Paris Hilton was ready! Unfortunately AMA tech wouldn't pass her scooter with mirrors and a girl's gotta look good when she pulls in to Victory Circle. Right?
---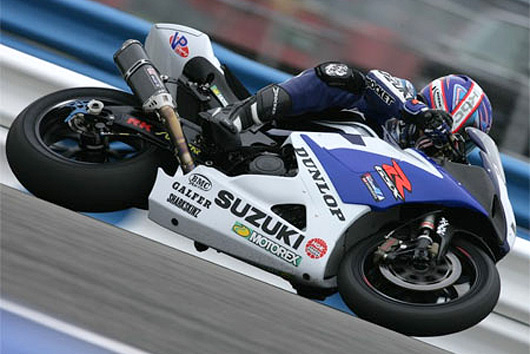 Mladin and the new generation Suzuki GSXR1000 kept on winning today at Dayona.

2005 AMA National Roadracing Championship, Round 1 of 11

Mladin Wins Daytona supershort Superbike Season Opener
American Honda buys the uncontested 200 Miler Xtreame Race
Daytona Beach, FL, Mar. 8-12th, 2005 Team Yoshimura Suzuki's Mat Mladin claimed his 4th AMA Superbike National victory at Daytona today, bringing the newest generation GSXR1000 home ahead of England's Neil Hodgson on the factory Ducati Corse 999F05, and Matt's Yoshimua Suzuki team mate and new Superbike sensation Ben Spies riding his 2nd ever Superbike race.

The now shorted 15 lap Daytona Parts Unlimited Superbike race played out all too quickly before and estimated 5,000 spectators on saturday morning , possibly the smallest fan turnout ever at Daytona Speedway in the last 30 years. The relegation of the premier Superbike class to a shortened sideshow contested by just 3 factory teams, was due in part to tire safety concerns imposed by the banked Daytona Speedway, and the the multiple bike classes structured by AMA Pro Racing which diversified and eliminated factory full factory fields in all the classes, particularly Superbike and the now showcased "Extreme" 200 miller which followed.

The Superbike final was followed an hour later by the once world famous Daytona 200 Miler, now relegated to a non-spectactular, essentially non-event featuring the AMA's modified 600cc Formula Xtreame class contested only by American Honda with its 3 factory Honda / Team Erion Racing riders of Miguel Duhamel, Jake Zemke and Kurtis Roberts. Only 2 private support team riders, Vincent Havoseck on the Emgo Suzuki GSXR600 and Josh Hayes on the Attack Kawasaki ZXR600 were able to hang with the factory Hondas after the start, but they both retired early with mechanical problems just 10 laps into the 58 lap race.

The remainder of the heavy populated 62 rider grid in the American Honda sponsored Daytona 200 was comprised of privateer riders on essentially stock 600cc SuperSport class bikes who were unable to match the pace of the American Honda front runners on what were essentially highly developed and very expensive 600cc Superbikes, and the other riders fell to being lapped by the factory Honda race leaders just just 4 laps into the race. The race would play out just as expected with American Honda's Miguel duHamel taking the win, and Erion Honda's Kurtis Roberts doing an excellent job in his return to AMA racing (after 2 disasterous years in MotoGP with his father's Proton team) to hold off Jake Zemke for 2nd in a 1-2-3 team American Honda CBR6000 sweep.

Suzuki Factory Riders lead by Rookie Ben Spies Dominate Superbike Practice
Wednesday Morning Mar. 9th- Yoshimura Suzuki's Superbike rookie Ben Spies continued his impressive form displayed in the preseason by logging the fastest lap of the opening AMA Superbike practice of 2005. The Texan ripped off a 1:40.505 around the revised Daytona International Speedway despite less than ideal conditionsto set quickst times in practice this morning before rain closed the track activities.

Spies said afterwards, "It's kind of slick out there, but it was good to get out there and get up to speed. We actually had a little problem with the bike, and when we get that fixed, we'll drop some time off for sure. But it was good just to get out there and look at the track."

Just behind the 20-year-old Spies on the on thetime charts were his two veteran Yoshimura Suzuki teammates, Mat Mladin (1:40.933) and Aaron Yates (1:41.166). Former 2003 World Superbike champ Neil Hodgson was next best (1:41.425), proving that he's quickly getting up to speed with both his Ducati Austin 999F05 and the intimidating racetrack.

The Superbike/Superstock class restriction is a thing of the past (In order to fill the deleated grids in AMA Superbike- Ed), and a number of Superstock aces decided to utilize the Superbike practice session. Not surprisingly, they had a significant impact on the charts; Yamaha USA's Aaron Gobert actually ended up the fifth fastest man on the track, registering ahead of sixth-placed Jake Zemke on the American Honda CBR1000RR. Team M4 EMGO Suzuki's Geoff May was a fairly remarkable seventh, followed by fellow Superstocker Tommy Hayden and factory-supported Superbike runners Josh Hayes (Attack Kawasaki) and Jason Pridmore (Jordan Motorsports).

Race favorites Miguel DuHamel, Kurtis Roberts, and Eric Bostrom all finished the opening session outside the top ten.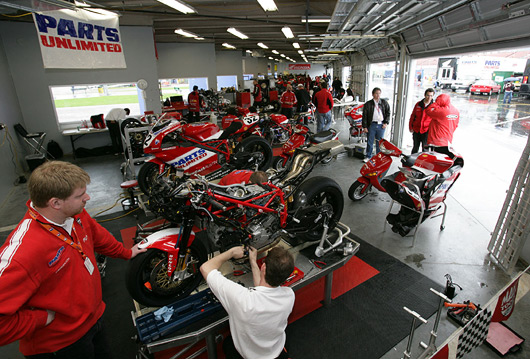 The teams take shelter from the rain in the new Daytona Garages built primarily for the Speedway's big money maker NASCAR. The AMA does not race in the rain because of the safety concerns associated with many of America's older race tracks, and the added cost to the privateer riders of necessary wet weather tires.
AMA National Roadrace Activities at Daytona Speedway rained out Wednesday
Wednesday Afternoon Mar. 9th, 2005 - The Wednesday afternoon schedule of the opening round of the 2005 AMA Superbike Championship at Daytona International Speedway has officially been rained out. AMA Pro Racing made the decision to cancel the rest of the day's program just after 3:00pm with the afternoon's persistent rain shower showing no signs of letting up. The Thursday and Saturday schedules will remain unaltered. Grid positions for the Pro Honda Oils Supersport and Repsol Superstock contests will be based on 1. last year's points standings, 2. pre-entries, 3. and post-entries.
Official Anouncement:
Due to the wet track conditions, all remaining practice and qualifying sessions have been cancelled for Wednesday afternoon. As per the Supplemental Regulations published for this event, race grids will be determined using the system detailed below. Should circumstances prevent qualifying from being run, riders for each affected class will be gridded as follows:
• Pre-entered riders based on current point standings (in this case, current points are from the final standing from the 2004 season)
• Pre-entered riders without points by date of entry
• Post-entered riders by order of entry
• At the option of the AMA, past champions, and/or riders from FIM World Superbike and MotoGP may be added to the field.
Mat Mladin Aces Superbike Superpole for Saturday's Shortened National
Thursday 10th - Mat Mladin, the all-time AMA Superbike pole king, claimed the 38th of his career today at Daytona International Speedway with a 1:38.232 while leaving his rivals shaking their heads in astonishment of his frightening pace. "It went good. Everyone can see we have a great motorcycle this year. To have three Suzukis on the front row is amazing. It just goes to show the strength of the Suzuki, and what they've given to us for this year's race season. I think you're going to see a lot more of (the Suzukis at the front).
"I couldn't have done a better lap. '38.2 is all I had. I got a little bit of help from Neil -- a little bit of a draft and a couple tenths freebie. It was a good lap for us, and it's nice to get pole for the first race. I'm looking forward to getting the race done on Saturday and getting out and doing some more testing to sort this motorcycle out a bit better. It's definitely working well, but we've got some work to do before to get to some of the other racetracks. I think we're all looking forward to the season."

Once the Yoshimura Suzuki ace ripped off an incredible 1:38.232, even his closest competitors knew they were beat. Mladin's teammate, Ben Spies, who qualified second with a 1:38.963, said, "We definitely wanted pole, but we came in and saw that he did a '38.2. I didn't think we had anything for that."
Ducati's Neil Hodgson qualified third in his AMA Superbike debut with a 1:39.884 aboard his Austin 999F05 and was all that prevented the Yoshteam from qualifying 1-2-3, as third factory Suzuki star Aaron Yates picked up the final spot on the front row, just fractions slower than the Brit (1:39.894). Hodgsen remarked about Mladin's Pole, "I don't know where Mat found a shortcut. That lap time is very, very impressive. I don't think most people realize just how quick that is."
Challenging Mladin for the unofficial 'hero of qualifying' honor was Team M4 EMGO Suzuki newcomer Geoff May. The Georgian has been dropping jaws all week long, but increased his profile even further by qualifying his GSX-R1000 in fifth, ahead of all three factory Hondas and a number of other imposing rider/bike combos. Showing, as the Alstare Corona team proved in World Superbike 2 weeks earlier, that the newest generation Suzuki GSXR1000, even in the hands of a privateer teams, was even more potent than a factory kitted Honda CBR1000RR. With Mladin's shocking Pole speed, what stands out most was just how quick the brand-new GSX-R1000s are already.
Joining May on the second row will be American Honda teammates Miguel DuHamel and Jake Zemke, as well as Attack Kawasaki's Josh Hayes. The renewed depth of the premier class is clearly evident on the grid sheet; the third row features second Ducati Austin entry Eric Bostrom, Jordan Motorsports' Jason Pridmore, Erion Honda's Kurtis Roberts, and Pridmore's teammate, Steve Rapp.
The 15-lap, 70k AMA Superbike season opener will be contested starting at 11:15am Saturday morning.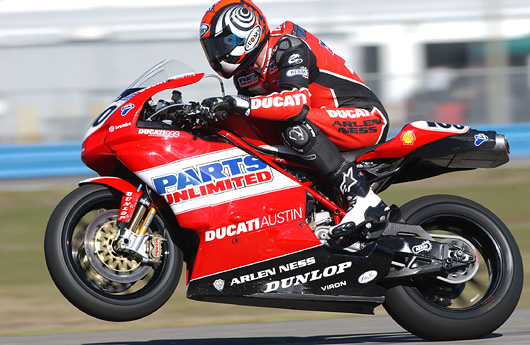 Hondson, in his first visit to Daytona since 10 years ago, finished just 2.5 seconds behind Mladin.

Superbike National to Mladin, Hodgson posts a Strong 2md for Ducati
Saturday 11th - Matt Mladin was the favorite going in to Saturday morning's Parts Unlimited sponsored AMA Superbike race having posted a qualifying time some 1,5 seconds on Thursday, then backing it up in Saturday morning warmup with a lap time 1 second quicker with race tires than anyone else. His closest contender was former 2003 World Superbike Champion Hodgson who would start next to him on the front row, followed by the Suzuki's of Spies and Yates. Somewhat surprisingly the American Honda CBR1000RR bikes of Miguel duHamel, Jake Zemke and Kurtis Roberts were back on row two and not in the hunt, the team not being able to afford HRC built lease bikes any longer, and relegated to build their bike from stock with aftermarket parts.
" I'm hungry for '05 for sure, maybe more than ever," said Mladin just before the start. " Suzuki really stepped up to the plate with the new motorcycle and we've dome some good things to it. It's looking very positive for the moment. We've got a motorcycle that, from the first race is already far ahead of the last motorcycle we finished the last race season on in 2004.

"And I'm pumped. I've worked out hard at home and lost losts of weight. I'm where I was at age 16-17, which is tough when you're coming up on age 33."
The Superbike race start off pit row saw Neil Hodgson off the line first and cut his Ducati quickly over to the first turn apex, just clipping Mladin's front wheel and almost putting the Aussie on the pavement. Matt baked quickly to avoid hard contact, then got back on the gas to follow Hodgson through the Turn One with team mate Yates on his rear Dunlop. Down the back pit straight and into the Horseshoe Corner, both Mladin and Yates slipped inside Hodgson to take the point. The two Suzuki riders would then trade the lead a couple of times in the next two laps as Hodgson struggled to find his pace, and was passed by Miguel Honda for 3rd, with Ben Spies back in 5th. Josh Hayes on the very competitive Attack Kawasaki ZX10 was out on lap 2 with mechanical problems.
The race quickly shook out on lap 5 with Mladin pulling away from Yates, and then Hodgson found his pace and repassed both Duhamel and Yates to return to 2nd place, about 2 seconds down on the race leader. Things would stay that way pretty much for the remaining 10 laps of the race. The order at the mid-way point was Yates, Hodgson 3.2 seconds behind, then Yates, DuHamel, Spies, Zemke, Geoff May, Jason Pridmore, Roberts, and Steve Rapp.
The other Ducati Corse team rider Eric Bostrom was back in a disappointing 11th place behind three privateers on less developed production bikes. Last year's excuse that Eric was the sole rider on the Ducati Austin team and didn't have the all the help needed to set up his bike couldn't be an excuse any longer. Neil Hodgsen had tested Eric twice before this weeks race to help set up the bikes, and now Eric was running 2.5 seconds off Hodgson's pace on the exact same bike. Unfortunately Ducati Corse had signed Eric to a 2-year contract last year, and will now have to suffer with his lack luster performances for another season. Just as Ducati and Honda suffered previously with his brother Ben..
The short race finally saw a bit of action starting around lap 10 as Jake Zemke got his Honda on the move, passing both Ben Spies, and then a lap later team mate Duhamel to move into 4th. Then Spies found the rythm he had been missing up until then and went on the charge. When Duhamel and Zemke got tangled up in back markers and missed their line into the back chicane, Spies moved into 3rd place and held it to the finish.
"We got a really bad start, and from the middle of the race Ifelt real uncomfortable,' explained Spies afterwards. "I had a big gap to catch Aaron (Yates) and i didn't think i could make it up. Then the Hondas, we got in traffic and they went straight (at the chicane) and I said 'All Right! (Ben now finding himself sitting in 4th). If i want to get on the podium i better get with it.' I just put my head down, got in the 1.39s and just caught Aaron on the last lap. It sucks for him when it's that draft pass on the banking (coming off the Turn 4 banking going to the Finish Line) and you're just setting him up to draft past at the finish line."
Matt Mladin took his 4th Daytona Superbike win and postey his 39th AMA Superbike victory, followed by Neil Hodgson on the Ducati splitting the two other Yosh Suzuki riders Spies and Yates, then Zemke, Duhamel, Jason Pridmore on the Team Jordan Suzuki, Geoff May, Kurtis Roberts and Steve Rapp.
" We're really happy with the victory here today. The new GSXR1000, what can you say, winning right out of the box. The next race we're really looking forward to as well. We will be doing more testing, the bike will be even better, and we're really looking forward to getting into the season, " said the race winner.
Neil Hodgson was just as happy with his 2nd place on the 999F05 Ducati. "This track is so different -really weird. I wasn't looking forward to the race. But i've got to be consistent in the Championship. i got 2nd and pretty good points here. I'm really looking forward to getting into the Championship now.
"We've got 3 tests (before the next National at Barber April 23-24rd), we've got loads of things to test. Ducati in italy has been working so hard. They got caught off guard (This season with the GSXRs in SBK and AMA) so they'll be shipping some stuff out even for next week to test -some World Superbike parts, so we're only going to get stronger!"
AMA Superbike National, 15 laps
1. Mat Mladin (Suzuki)
2. Neil Hodgson (Ducati)
3. Ben Spies (Suzuki)
4. Aaron Yates (Suzuki)
5. Jake Zemke (Honda)
6. Miguel Duhamel (Honda)
7. Jason Pridmore (Suzuki)
8. Geoff May (Suzuki)
9. Kurtis Roberts (Honda)
10. Steve Rapp (Suzuki)
AMA Formula Xtreme 200 Miler, 58 Laps
1. Miguel Duhamel (Honda)
2. Kurtis Roberts (Honda)
3. Jake Zemke (Honda)
4. Danny Eslick (Suzuki)
5. Chris Peris (Yamaha)
6. Jason Perez (Yamaha)
7. Michael Barnes (Yamaha)
8. Ty Howard (Yamaha)
9. Taylor Knapp (Yamaha)
10. Simon Turner (Yamaha)
---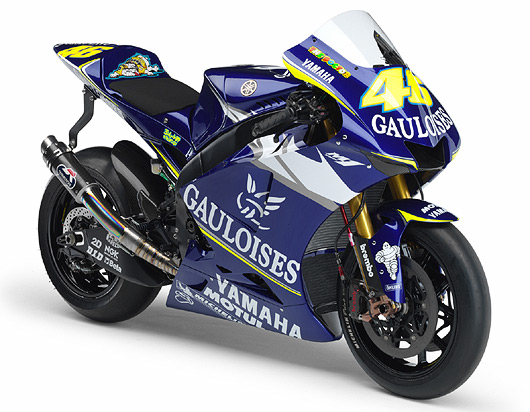 Yamaha Unviels Rossi and Edwards' new YSR-M1S
March 7th - The new 2005-specification Gauloises Yamaha Team YZR-M1s were displayed for the first time in their new livery today, during a press conference attended by Valentino Rossi and Colin Edwards. The reigning World Champion and his new team-mate were the guests of honour at Yamaha's '2005 Motor Sports Press Conference', which took place in Tokyo this morning. Team Director Davide Brivio and Senior Management representatives from Yamaha Motor Company joined the two riders on stage to talk about Yamaha's plans for MotoGP in 2005 and beyond.
Valentino Rossi, now in his second season as a Yamaha rider, talked about his year so far and his goals for the forthcoming season. "We have done a lot of test runs during the off-season. Things aren't quite 100% yet, but the machine and the engine are already much better than last year. It's nice to see the M1 in its final 2005 livery. I hope I can win the title again this year on this new bike, but winning is never easy! I was very happy to win nine rounds in last year's Championship and I think that is a good target for this year too. I hope everyone will be cheering for me!"
Rossi's new team-mate Colin Edwards, who recently turned 31, spoke about his return to Yamaha after a seven-year absence. "I was last with Yamaha in the 1998 season in the World Superbike Championship and I am very happy to be back. I saw how good the team and machine were last year, so I was excited when I got the offer to come back to the Yamaha side. I am also glad that there will be a US round at Laguna Seca this year for the first time in a while. I hope to have a bit of an advantage there, but I will be giving my best shot in all the races."
Team Director Davide Brivio, who enters his fourth season as the Yamaha Factory Team Director, commented on the new bike and the task facing the riders. "We're very pleased with the look and design of the new bike, as well as with its performance so far during testing. This is going to be a very exciting season and a big challenge for both riders. After this we are flying directly to Phillip Island for our fourth test of the year and we hope to continue the good work we've been doing so far with the development of this new bike, with the aim of having it ready for the first race in a month's time."
Senior Managing Director of Yamaha Motor Company Tsuneji Togami, Senior General Manager Masao Furusawa and Shigeto Kitagawa, head of the Engineering Department in charge of developing the 2005 YZR-M1, were three of the Yamaha Motor Company representatives present at today's Japanese event.
Mr. Togami launched the press conference by stressing the importance of Yamaha's race activities for fulfilling Yamaha's corporate mission of "We create Kando – Touching your heart", saying, "Through our motorcycle racing activities we want to stimulate the motorcycle racing scene, to bring motor sports closer to people and to help raise the next generation of people who will lead these sports into the future."
Mr. Kitagawa then highlighted the four key goals of the YZR-M1 development project in 2005 as improving the balance of the machine's handling stability, boosting acceleration performance and top speed, balancing high power with fuel economy, and making the machine more robust in terms of its adaptability to different track conditions. "Besides winning a second consecutive rider title," he commented, "We also intend to go for the manufacturer's title with the new M1."
Inside the YSR- MIS
Three years after making its racing debut Yamaha's YZR-M1 clinched the riders' title at the hands of multiple MotoGP World Champion Valentino Rossi. In what has been considered to be the most significant and memorable victory in the championship's illustrious history, 2004 was a culmination of the gifted Italian's superhuman ability and the technical ingenuity of Yamaha's Technology Development Division. The latter, headed by 52-year-old Masao Furusawa, provided the foundation – or menu as Furusawa likes to describe it – for Rossi to refine the M1 into a package capable of claiming no less than nine victories from 16 starts in 2004.
M1S Engine
Engine type: Liquid-cooled, in-line, 4-cylinder, 4-stroke with 16-valve DOHC
Displacement: 990cc
Ignition: Magneti Marelli with adjustable mapping - NGK spark plugs
Carburation: Fuel injection
Lubrication system:
Wet sump - Motul Oils
Data recording: 2D
Maximum power: More than 230ps
Maximum speed: Over 330 km/h
Transmission Type: 6-speed cassette-type gearbox, with alternative gear ratios available
Primary drive: Gear
Clutch: Dry multi-plate slipper clutch
Final drive: Chain - DID
YSR Chassis and running gear
Frame type: Twin-spar aluminium frame, multi-adjustable steering geometry, wheelbase, ride height, with aluminium swingarm
Front suspension: Fully-adjustable Öhlins inverted telescopic forks
Rear suspension: Braced aluminium swingarm with single Öhlins shock and rising-rate linkage
Front/rear wheels: 16.5 inch front, 16.5 inch rear, available in a variety of rim widths
Front/rear tyres: Michelin, 16.5 inch front, 16.5 inch rear, available as slick, intermediate, wet and hand-cut tyres
Front brake: Twin 320mm carbon discs with radial mounted four-piston Brembo calipers
Rear Brake: Single 220mm ventilated stainless steel disc with twin-piston Brembo caliper
Weight: 148kg, in accordance with FIM regulations
Fuel capacity: 22 litres, in accordance with FIM regulations
Rossi's 'menu' was decided well before the 25-year-old Italian signed with Yamaha for 2004, but the selection process and the development of the bike that followed began in earnest the first time Rossi tested in Sepang, Malaysia in January 2004. It was here the flamboyant Italian chose the direction for both the M1's Deltabox aluminum chassis and its 220-plus horsepower engine – having initially had four of each to choose from. Based on these decisions the M1 found a new lease of life and continued to make significant inroads during pre-season testing before clinching its first unexpected win at the opening race held in Welkom, South Africa.
Engine
From the sidelines Yamaha may have looked as though it had opted for the same in-line four-cylinder configuration for 2004, but Rossi's M1 boasted a revised firing order and four-valve cylinder-head – the latter replacing the original five-valve head design. For Valentino the advantages were instantly noticeable – a more predictable power delivery, improved tyre wear and better drive – especially in the closing stages of the race.
The revised firing interval ensured the M1 retained the advantages of its compact in-line four-cylinder design with the added bonus of a power delivery resembling that of a V engine layout. As for the layout itself Yamaha has chosen a four-axle configuration for more compact engine, making the axle distance within the transmission system narrow. You only need to hear the M1 to know there was something very different about the 2004 machine. So much so that many media nicknamed this latest incarnation as the 'big bang' M1. For 2005 Yamaha's engineers have delved further into identifying the ideal firing cycle in an effort to increase the peak power without sacrificing the 'sweetness' of the delivery.Meanwhile the four-valve per-cylinder head has offered improved midrange and a flattened torque curve. This move from five to four-valves has raised a few eyebrows with the media; especially since the YZF-R1 is continuing with the five-valve head format. But as Furusawa explains: "Although the M1 and R1 share a number of technical innovations they are designed for different environments – the M1 is a 145kg, 230-horsepower 'pure' prototype racing machine and as a result its temperament needs to be tamed to be controlled so that the rider can explore the limits consistently lap after lap. This is where the four-valve cylinder head helps to achieve the required 'milder' delivery. The R1, however, is a 172kg 180-horsepower road bike designed to be fast, powerful and exciting in the real world. Hence the five-valve head design."
One feature that Rossi came to appreciate after his first test aboard the M1 was Yamaha's trademark reverse rotating crank layout. Put simply the reverse (compared to the rotation of the front and rear wheels) rotating crank partially counteracts the gyroscopic forces created by the front and rear wheels. Gyroscopic forces – which can be simulated by spinning a bicycle wheel in your hands while holding the axel – normally hinder the bike's ability to turn in responsively. On the M1 the reveres rotating crank partially neutralizes this force and as a result lightens the M1's turn-in response. Basically Rossi only needs to think where he wants the bike to go and its there. Just take a look back at some of the passing moves he made under brakes last year to see the advantages.
To ensure that both Rossi and new signing Colin Edwards are given the best chance to take the factory M1 to the limit Yamaha introduced the Engine Management System (EMS). Yamaha's software is run through a Magneti Marelli EMS which is 25-percent smaller and lighter than its predecessor and is responsible for monitoring the engine braking – or Idle Control System (ICS) –and Traction Control System (TCS).
The ICS works as follows. During acceleration the rider controls the throttle twist grip which is directly linked to the opening of the four throttle bodies. However the amount the throttle bodies open under deceleration is shared by the input of the rider and that of the ICS. Although the rider can completely close two throttle bodies with the twist grip the ICS influences the movement of the remaining two throttle bodies by holding them slightly open at the appropriate time – controlling the amount of engine braking as a result.
For 2004 the performance of this system was influenced by real-time feedback control based on tyre wear, weather conditions and circuit grip. This replaced the pre-set mapping that was programmed in prior to each race. Meanwhile it has been a similar approach with the M1's Traction Control System which also factors in a number of variables including chassis performance, track conditions and tyre wear for a real-time evaluation.
Chassis
The chassis is where there have been the most visual changes from 2003 to 2004, and in 2005 it is a similar story. However although the chassis has progressed further the conceptual direction remains the same – neutral handling and predictable feedback.
The rear swingarm is without doubt the most obvious with the introduction of the inverted 2004 unit. This design remains a feature in 2005, lowering the centre of gravity and allowing the new rear shock linkage to be centralized more around the ideal circular mass of the bike – in turn improving responsiveness. The swingarm itself became longer over the duration of the 2004 season, a move that has continued for this season. In simple terms the longer swingarm can actually slow the steering character of the bike, but it has the added advantage of making it 'easier' to slide the rear of the M1 into and out of turns by responding more predictably. This is essential in the latter stages of the race when tyre wear becomes a factor and the grip deteriorates.
On the main chassis the longer upper engine mounts have been revised, again, as have the twin main spars. These changes have been made in an effort to retain the same vertical and twist rigidity as 2004 while reducing the lateral rigidity – effectively increasing front-end feel at high lean angles, when the advantages of suspension travel is reduced. Suspension works most efficiently when it is moving directly up and down – during times such as heavy braking or acceleration in a straight line. But as a bike leans over the efficiency of its suspension is progressively reduced. The more you lean effectively the less suspension travel you have available and as a result the more bumps can affect your stability and confidence. The M1's new chassis design effectively compensates for this shortfall at high lean angles while still offering the rigidity required for hard straight line braking.The overall dimensions of the YZR-M1 have also seen it stand taller to help get the weight over the front of the bike during these times of deceleration. This effectively pushes the weight of the bike directly down the fork legs, pressing the front tyre harder into the track and increasing traction as a result. Previously the M1's geometry had more of a tendency to push the weight behind the front wheel, rather than down onto it, which literally pushed the front tyre further along.
The aerodynamics has also been improved for 2005 while improving rider protection and reducing the drag coefficient. The front air intake is also more effective while still allowing increased airflow to pass through to the hand built radiator – improving the cooling efficiency. In addition the fuel tank has been reshaped, firstly to accommodate the new-shaped pressurized air box, and secondly to centralize the fuel mass closer to the centre of gravity.
For Furusawa the 2004 M1 was what he considered: "85-percent of the bike I really wanted to build for Valentino. The 2005 M1 is much closer to what I feel our MotoGP World Champion deserves."
Valentino Rossi and Colin Edwards now fly directly to Phillip Island, Australia for three days of testing from 9th-11th March, before returning to Europe next week for the first of the two official IRTA tests in Barcelona.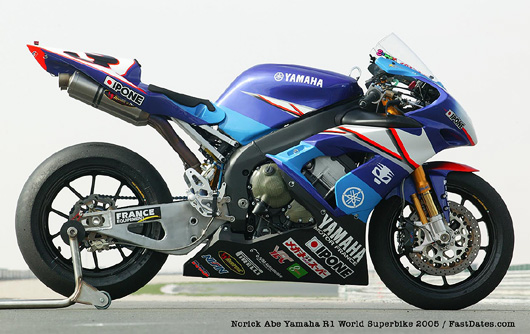 Yamaha of Europe will show you how to build Norick Abe's R1 factory Superbike this month in Valencia, Spain, or you can stay home and also see how in Paddock Garage. With free 1224 Giant Screensavers of Abe's bike!
---
GAULOISES YAMAHA TEAM TEST

Bad Weather Conditions for Team Yamaha MotoGP Teasting at Phillip Island
Phillip Island, Australia, Wed. March 9th -Gauloises Yamaha Team riders Valentino Rossi and Colin Edwards were back in action for their fourth test of the year in Phillip Island, Australia, today. Unfortunately, low temperatures and some rain made for difficult testing conditions and the team were unable to work as effectively as they had hoped. After heavy rain yesterday, it had eased to a slow drizzle today before stopping mid-morning. However the sun failed to appear and as a result the track never dried out properly and remained slippery throughout the day.
Despite the bad weather, Rossi and Edwards completed a total of 51 and 60 laps respectively, albeit with slightly slower lap times than at the last Phillip Island test two weeks ago. The riders focused mainly on testing tyres for Michelin and working on the set-up of their YZR-M1s. Edwards was slightly faster than Rossi, setting a best lap of 1'31.27, while the World Champion finished the day with a fastest time of 1'31.38. After three tests this year alongside most of their fellow MotoGP competitors, for this test the Yamaha Factory Team riders are joined only by the Spanish Fortuna Yamaha Team duo of Ruben Xaus and Toni Elias. Xaus was third fastest, completing 78 laps with a best time of 1'33.02, whilst Elias completed 80 laps and set a fastest time of 1'33.19.

Colin Edwards (1'31.27, 60 laps) "The track conditions were really bad; it was so slick because it had rained all day yesterday. I did 60 laps but a lot of that was just trying to lay down some rubber on the track. We worked a bit on set-up and tried some tyres, but it was cold and therefore difficult to get the tyre temperature high enough to do much useful work. We were doing good things two weeks ago here but we didn't have the same feeling today, but I am sure things will improve with the weather!"

Valentino Rossi (1'31.38, 51 laps) "Today the weather was bad – cold and raining so we couldn't test as we wanted. We worked a bit on bike settings and tested some tyres, but with the weather like this it was difficult to judge any changes. It was much colder than the last time we were here, and this is why the lap times are slower. I hope tomorrow the temperature will improve and then we can do some proper testing."
Davide Brivio, Gauloises Yamaha Team Director

"Unfortunately the weather didn't allow us to test properly, but we've got two more days to continue and we expected that we might lose one day to the rain. The forecast is better tomorrow. Despite all this, we were able to do some work and get some feedback from set-up changes and the tyres we've been testing for Michelin. However we need higher temperatures to confirm these things tomorrow."
Ends
Unofficial Lap Times:
1. Colin Edwards (Yamaha) 1'31.27
2. Valentino Rossi (Yamaha) 1'31.38
3. Ruben Xaus (Yamaha) 1'33.02
4. Toni Elias (Yamaha) 1'33.19

Fast Dates Calendar Motorcycle Roadracing News. Complete coverage of the SBK World Superbike, AMA National Superbike and MotoGP World Championship. Fast Dates Calendar and Umbrella Girsl. Max Biaggi, Valentino Rossi, Ben and Eric Bostom, James Toseland, Regis Laconi, Loris Capirossi, Troy Bayliss, Troy Corser, Noriyuki Haga. Ducati 999 Monter Multistrada, Yamaha R6 R1, Honda CBR600RR CBR1000RR, Kawasaki ZX6 ZX6RR ZX10, Suzuki GSXR600 GSXR750 GSXR1000, Aprilia Mille, MZ Agusta F4 Brutale